Thinking of using skippable YouTube video ads? Wondering which TrueView ads you should try?
In this article, you'll discover three types of YouTube TrueView ads to improve lead generation, brand awareness, and sales.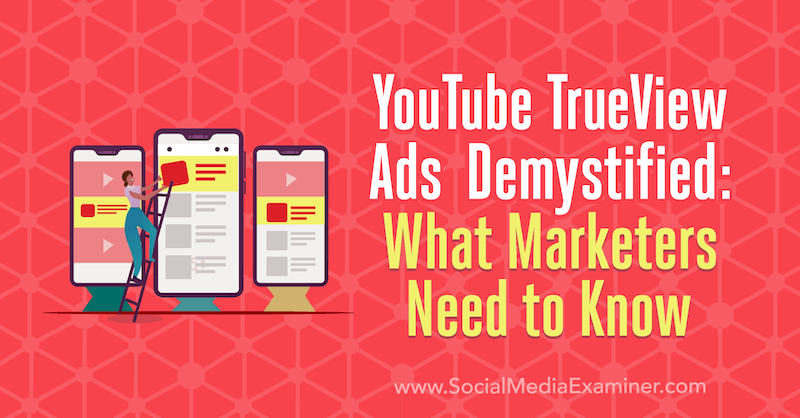 Note: This article assumes you know how to properly set up a YouTube ad campaign. Read this article for step-by-step instructions.
#1: YouTube TrueView Video Discovery Ads for Search Visibility
It's easy to forget that YouTube is a massive search engine. YouTube advertisers can capitalize on this search intent with TrueView discovery ads. This ad format is the only option that lets you target only YouTube search results. And by doing so, your business can be in a prominent position to gain people's attention.

Unlike a YouTube TrueView in-stream ad, you pay for every click on your TrueView discovery ad. When people click on your ad, they aren't sent to your website; they're sent to the watch page of the YouTube video you chose to advertise.
The "action" for these campaigns is to have someone engage with your business. Besides watching the video, people can perform a variety of actions such as:
Subscribe to your channel.
Like or dislike the video.
Share your video.
Add your video to a YouTube playlist.
Comment on your video.
Look for other videos from your channel.
Click on any links in your video description.
Not all actions have to be conversions on a website. It's common in a top-of-funnel campaign to just want to build awareness for your brand but TrueView discovery ads can also drive deeper action.
After people click on a TrueView discovery ad, any other action they perform on your video page or channel is free. You can then remarket to those people on the Search Network, with Gmail ads, or with additional YouTube campaigns.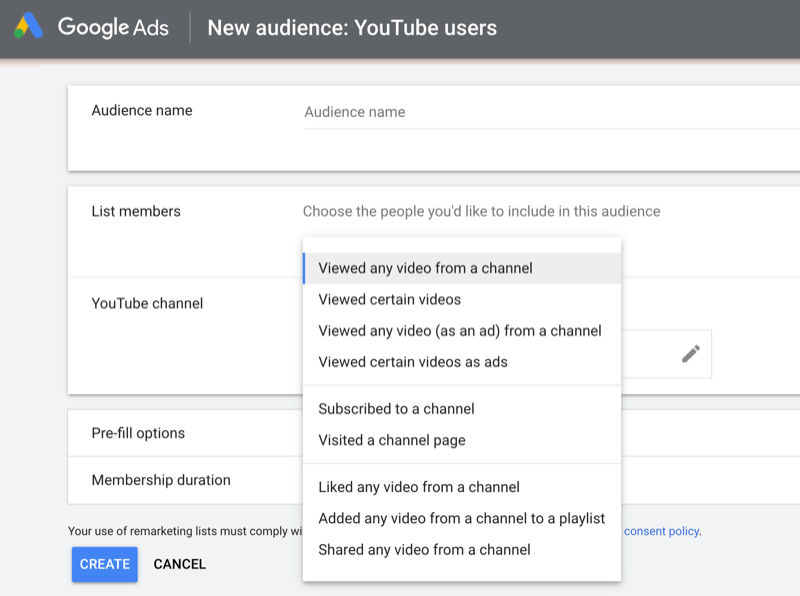 TrueView discovery ads are great for building your brand and growing your channel but you can also take those actions from the initial engagement to get more aggressive with next-step remarketing campaigns.
#2: YouTube TrueView Video Shopping Ads to Enhance Product Consideration
If you're an eCommerce business, you'll want to consider YouTube TrueView for shopping ads, which let you place products from your Merchant Center feeds next to your TrueView in-stream ads.
Here's an example of what this type of ad looks like on YouTube:
🌟 Ready to Supercharge Your Social Marketing Strategy? 🌟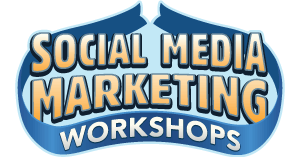 Struggling with your social marketing? You're not alone. The solution? The Social Media Marketing Workshops!

During these live 2 hour deep-dive workshops, you'll discover what's working now on Instagram, Facebook, TikTok, YouTube, and LinkedIn. Skyrocket your engagement, broaden your reach, and amplify your sales.

Become the marketing hero your company and clients need—without leaving your home!
🔥 Save $670 on an All-Access Ticket! Sale Ends Tuesday! 🔥
GET YOUR TICKETS NOW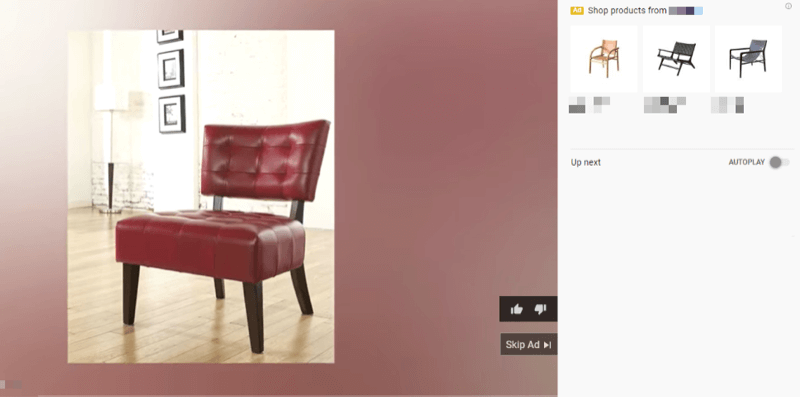 The products you see in the image above are from the account's product feed. The product cards at the top right send users directly to those product pages from the YouTube ad.
To add products to your YouTube video campaign, you have to select the Product and Brand Consideration campaign goal and then the Shopping subtype. While the goal is for viewers to eventually purchase something, they may need to be nurtured a bit. This is especially true for expensive products so Product and Brand Consideration sets the proper campaign expectations.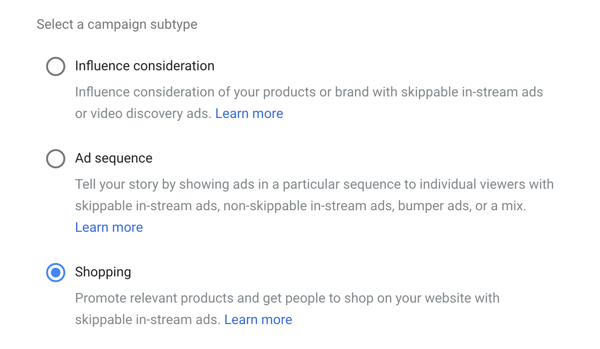 When you get to the part of the campaign setup where you can choose your products, there are a few ways you can select which products show up alongside your video. It's important to understand the differences because only a maximum of six different products will show up per ad view. Here's a rundown of your options:
None—Use All Products: Every product on the feed linked to your campaign is eligible to show alongside your ad.
Choose Specific Products: While only six products will be displayed, you can pick up to 10 products that are eligible to show alongside the video ad. Out-of-stock products can be selected but they won't be visible within the ad until the feed shows those products are back in stock. You can search for products by URL, product title, or Shopping ID.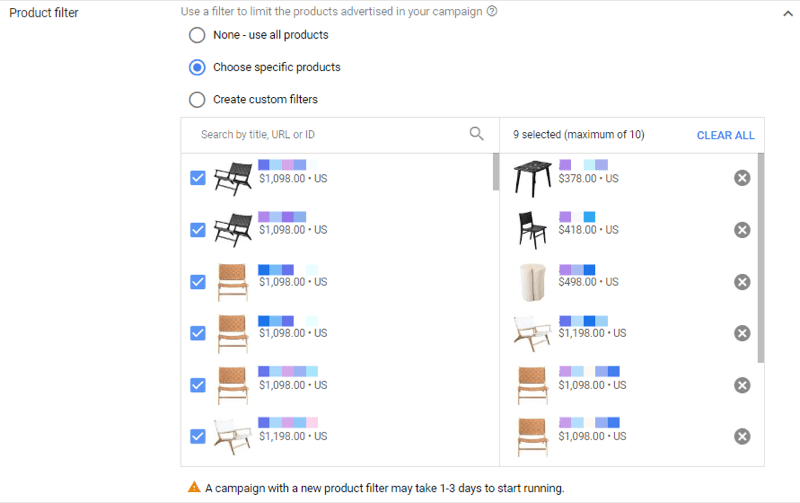 Create Custom Filters: I recommend using the five custom label columns in your product feeds to better categorize your inventory. When you use very specific custom labels, you can create hyper-focused TrueView for shopping campaigns using product groupings important to your business.
Now that you understand what TrueView for shopping is, I want to point out a few downsides that may change how you want to use this feature.
First, products are added at the campaign level. Even if your targeting is different in each ad group, you can't change the way you select your products at the ad group level. For ad testing purposes, you can change the video ad creative but the product selection will remain the same. If you want to test different product selections for different videos, you'll need to create a new campaign every time.
Second, if you decide to choose products via custom labels, you can only choose one custom label per campaign. You can't add multiple custom labels to your product selection targeting.
Finally, TrueView for shopping campaigns don't show up in the Google Ads Editor. You have to manually build every TrueView for shopping campaign within the Google Ads interface. Yes, it may take some time, but mapping out your targeting, creative, and product selection will make the setup process easier.
#3: YouTube TrueView Video for Action Ads to Drive Engagement Conversions
TrueView for action ads are a type of campaign that you can run via Google Ads. To set up this campaign type, select one of these goals when creating a campaign in Google Ads: Sales, Leads, or Website Traffic. The Drive Conversions subtype is the only option available because that's the main idea for these campaigns.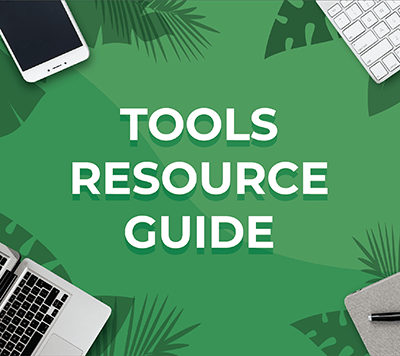 Looking for something to make your life easier?
Discover the tools we recommend to drive engagement, save you time, and boost sales across your entire marketing funnel or business.
Whether you need help planning content, organizing social posts, or developing your strategy, you'll find something for every situation.
FIND YOUR NEXT FAVORITE TOOL
Google Ads offers several options for you to drive action from these campaigns. Call-to-action extensions (described later in this article) are available but I want to spend time on two action features that are underutilized in YouTube campaigns—site link extensions and lead gen forms.
Sitelink Extensions
Sitelink extensions aren't just for YouTube search ads anymore. With a TrueView for action campaign, you can use sitelinks with some limitations.
YouTube sitelink extensions only show up on mobile devices as you see in this example: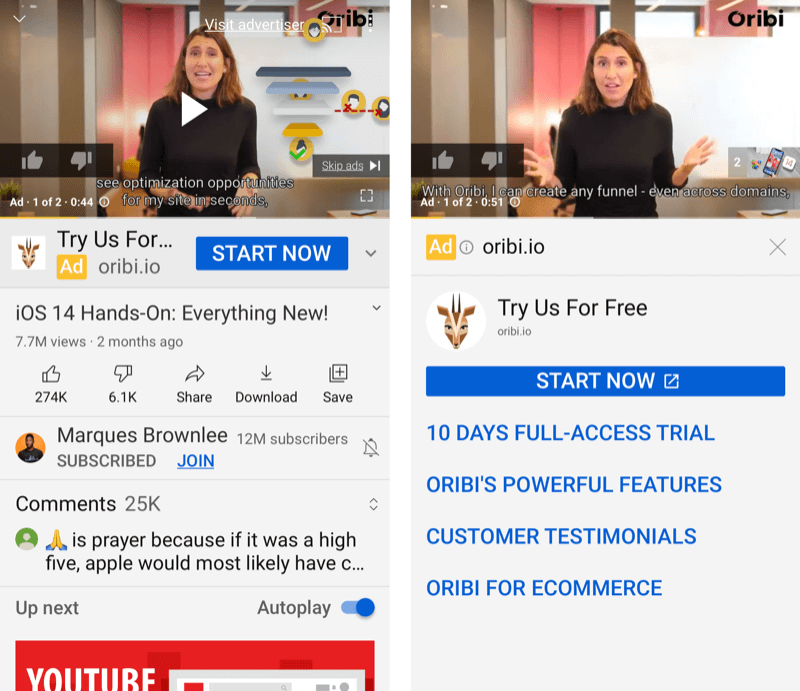 Additionally, you have to remove video partners from your campaign settings. This means your sitelink extensions will only show up on video ads on the YouTube property.
You can have up to four sitelink extensions to help drive more traffic to specific pages of your website. Again, that's great for conversion, but depending on who you're targeting, it may not be the best user experience.
Remember, people go to YouTube to watch videos and they tend to stay on the platform. If people aren't clicking on your sitelink extensions, it may simply be that they don't want to leave YouTube. If that's the case, you should try the next action feature in a TrueView for action campaign: Lead gen forms.
Lead Gen Forms
Google already has a lead form extension for Search Network campaigns but now video campaigns have the same extension. Before you can use lead forms, you have to meet the following requirements:
You've spent more than $50K lifetime in your Google Ads account.
You have a history of Google policy compliance.
You aren't in a sensitive vertical (e.g., adult content, medical, etc.).
If your business is eligible, you can create a form when you set up a new YouTube ad campaign. Add a headline and description and then choose from a variety of optional elements to include on your form.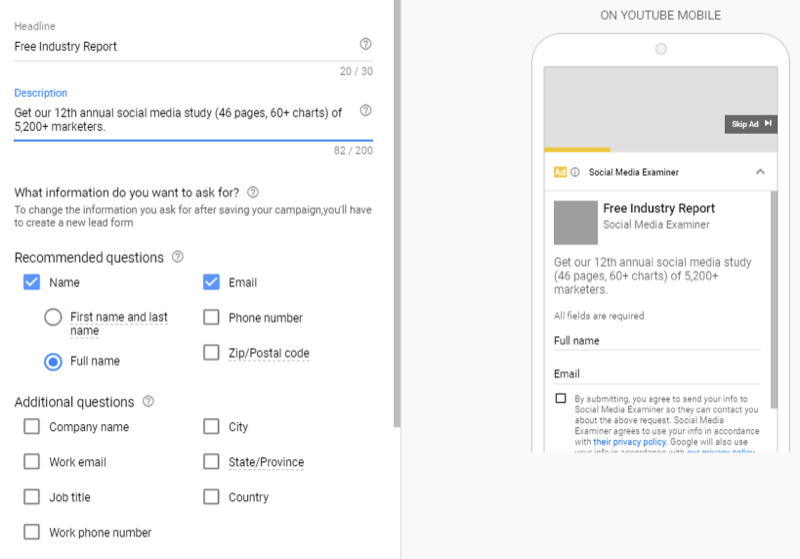 Depending on your industry, you may want to add questions to your form to help prequalify users.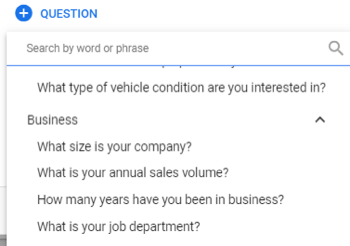 After you've chosen your desired form fields and added any relevant questions, you can create the post-submit message. People will visit your site to either download the freebie you talked about or just explore your site. You can use this message to let people know someone will be reaching out to them soon.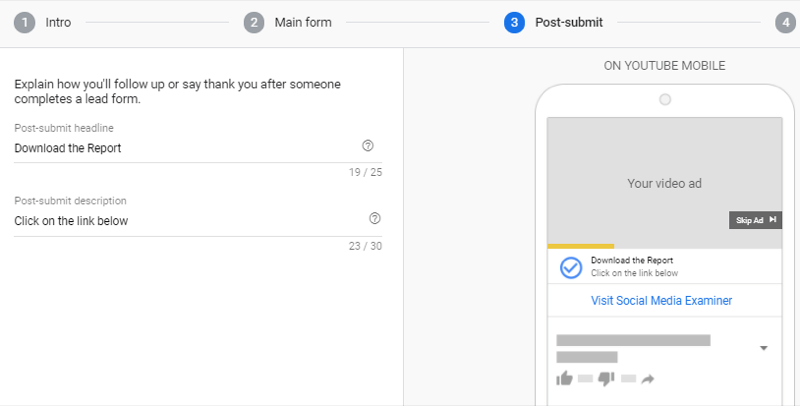 Once you start generating leads from your lead form, there are two ways you can collect them. One option is to set up a webhook integration to feed the leads directly to a specific app or CRM. Alternatively, you can manually download the leads directly from the campaign settings. The only caveat with a manual download is you can only download leads from the last 30 days.
Bonus: YouTube Call-to-Action Extensions
YouTube's call-to-action (CTA) extensions are the most common element advertisers add to their video campaigns in Google Ads. You've most likely seen this feature when watching videos on YouTube. Here's an example featuring a CTA extension promoting Grammarly: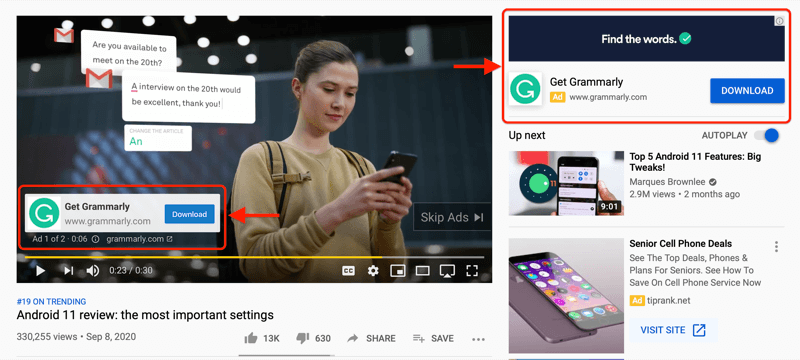 While the in-stream ad plays, the CTA extension appears in two places. The first is a CTA overlay on the ad itself. The second is above the recommended videos section. While the extension appears in two places, both instances have the same elements:
Headline—up to 15 characters
CTA (blue button)—up to 10 characters
Final URL
If viewers skip the ad, the CTA extension above the recommended videos remains on the screen. This gives viewers more time to consider whether they want to continue engaging with your brand.
A "view" can still count if the viewer clicks on your CTA extension to go to your website, which means you'd pay for the interaction even if the view was free. This is a cost-effective way to drive more traffic.
As a YouTube advertiser, you don't get a lot of space to convey a robust message but that's okay. You have the opportunity to test more than one video ad per ad group. With each video ad, you can test a new CTA extension and work on optimizing for the best video ad message.
Your ad should not only keep the user engaged but also lead to the most conversions or actions that are important to the campaign goal. By testing, you might find you need to change the video creative, use a different headline, or opt for a more aggressive CTA, for instance.
With proper ad testing, you can work toward improving engagement and traffic to your landing pages from your YouTube ads. While this extension is optional, it's a must in my opinion.
Conclusion
The main benefit of running a YouTube video campaign using TrueView in-stream ads is the amount of consistent, free brand awareness you can get. Unless you're using bumper (6 seconds) or unskippable ads, you only pay for views if someone watches at least 30 seconds of the video. If your video is shorter than 30 seconds, you only pay if the viewer watches the entire thing.
While building brand awareness is great, you can do a lot more to get viewers to take action directly from your YouTube ads. The tactics above will help you set up your video campaigns in Google Ads to either get direct conversions or simply move the user to the next step on the customer journey.
Not every option will be right for every industry. Take the action options into consideration with the most important part of your campaign: Your video creative. Find out what resonates with each audience at every stage of the funnel
What do you think? Which of these YouTube TrueView ads will you try? Share your thoughts in the comments below.
More articles on YouTube marketing:
Get Your FREE Course: Web3 for Beginners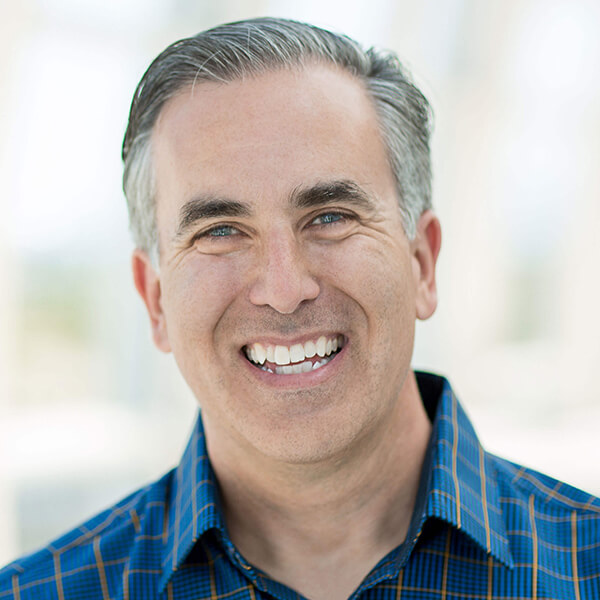 Curious about Web3, but don't know where to start or who to trust?

Introducing Web3 for Beginners, a course taught by Michael Stelzner, the founder of Social Media Examiner.

Learn the basics of Web3 and apply it to your business with this FREE comprehensive course.
CLICK HERE TO GET FREE ACCESS