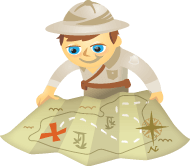 Are you using YouTube as part of your social media marketing strategy?
Do you want to reach more viewers and optimize the quality of your videos?
There are a whole host of lesser-known YouTube features that creators need to utilize to improve the quality of their content and expand their reach.
In this article you'll discover how to use these tools to increase watch time, attract subscribers and drive more traffic to your website.
#1: YouTube Audio Library
How many times have you watched a video online, only to exclaim afterwards that it was "the music that made it"?
Music evokes a strong emotional response in an audience. The right track has the power to create a really magical moment. Choose the wrong audio and you risk killing the mood in the blink of an eye.
It's tough to find the right music for a video, especially if you're on a budget. The YouTube Audio Library helps make the job a lot easier.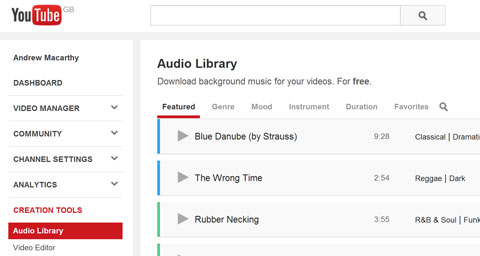 Access the YouTube Audio Library through the Creation Tools menu in the Video Manager section of your YouTube account. Filter the list by genre, mood, instrument or duration, and then preview the track. Hit the download icon once you've found the perfect song.
The YouTube Audio Library offers over 150 royalty-free instrumental backing tracks for you to use in videos uploaded to the site (or wherever else you choose). It's the perfect way to increase the impact of your videos.
#2: YouTube Fan Finder
What if YouTube offered you free ad space on its website, directed at people who are likely to enjoy your content? Well, that's exactly what they're doing with Fan Finder.
The YouTube Fan Finder program invites you to submit up to five "channel ads" that will target people that the site believes are most likely to love your content and become a regular viewer. Channel ads are short videos that show off your brand and content in an effort to get viewers to click over and check you out.
To get started, all you need to do is upload a channel ad as if it were an ordinary video. Then submit it for review via the Fan Finder page, which can be found under the Channel Settings menu in the Video Manager section of your YouTube account. Once there, click the Select Your Channel Ad button and choose which video you want to use.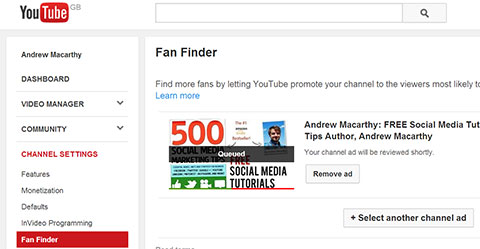 YouTube recommends that you keep your channel ads short and engaging. Use clear and repeat branding throughout so that viewers remember you.
The Conference You've Been Waiting For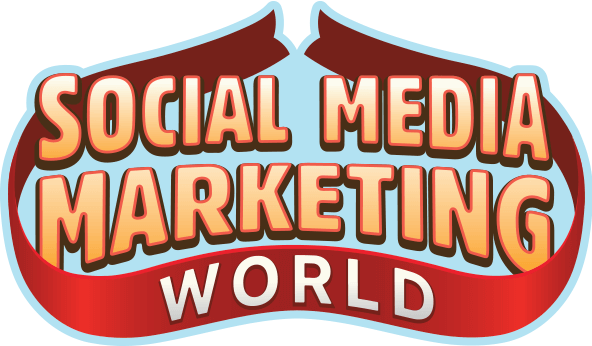 As a small business marketer, you can probably only pick one or two events to attend each year. Get back into the game with an unbeatable conference experience and expert training at Social Media Marketing World in sunny San Diego, California—from your friends at Social Media Examiner.
🔥🔥 As a valued reader, you can save $670 if you act now! Sale Ends Friday!
CLICK HERE TO LEARN MORE
Succinctly communicate what your channel is all about (e.g., is it funny, educational, inspiring, etc.?) and feature a clear call to action (either spoken or as an annotation) to explain why that targeted viewer should subscribe.
Remember, people may have never heard of your channel before, so introduce yourself and grab their attention in the first 5 seconds, as the TrueView ad format that is used is skippable after that amount of time.
#3: Associated Website Annotations
Everyone knows that you can insert a call to action and a link to a website in a YouTube video's description. However, you can also add a clickable link to a website of your choice using an annotation within the video player itself.
You can do this with associated website annotations. Here's how:
First, verify ownership of your YouTube account via a quick two-step telephone process at http://www.youtube.com/verify.
Next, add your website as an associated website in Google Webmaster Tools, and complete a second short verification process to confirm that you own the domain before you can link it to your YouTube account.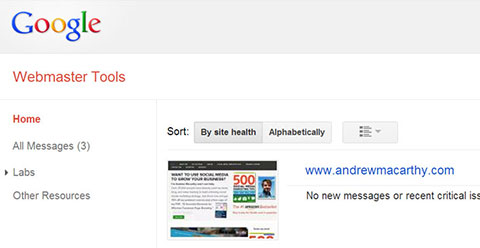 After that, visit the Advanced section of the Channel Settings menu of your YouTube account (via the Video Manager page). Add your website URL to the box next to Associated Website. If everything has gone correctly, you will see a green Success circle next to the Associated Website box.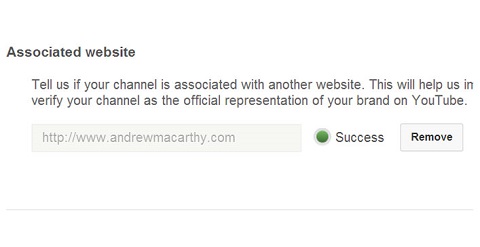 Now you can add a clickable link directly to that URL within a video. Insert any annotation type, mark it as an associated website link and type your full website URL into the box provided, as pictured below.
Get Expert Social Media Marketing Training from the Pros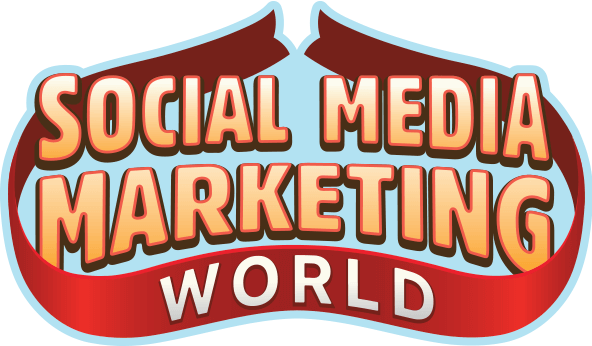 Want to get ahead of the competition and learn how to diversify your social marketing strategy?
Learn from the industry's most trusted experts, rub elbows with other smart marketers, and take your marketing to the next level during this 3-day event in sunny San Diego, California.
CLICK TO LEARN MORE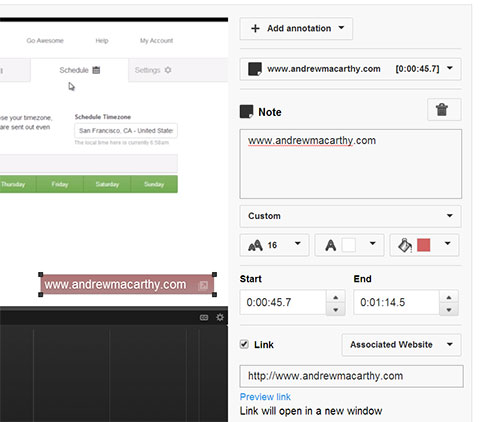 If you add a watermark to your videos, one obvious use for this function is to place a transparent associated website annotation right on top of it for the duration of your content.
Alternatively, if the annotation is on the show, you can audibly direct viewers to click on it as a way to drive traffic to your website.
#4: InVideo Programming
After you attract viewers to watch one of your videos, the next crucial step is to keep them watching. You certainly don't want them to click off and watch a competitor. The key to this is to create a strong brand identity, as well as a regular stream of compelling content.
InVideo Programming, which rolled out in October 2012, helps you reinforce channel branding and drive viewership. It allows you to embed a clickable thumbnail of your channel logo or a video, across all of the videos on your YouTube channel.
To start, visit the Video Manager page and choose InVideo Programming from the Channel Settings menu. From there, you will be able to upload a watermark to display over a video or videos you want to highlight to viewers.
For a watermark, YouTube recommends you use a transparent image with just one color, so that it doesn't distract too much from the active video.
Rather than a logo, mine simply says "FREE Social Media Tutorials." I deliberately colored it blue to mirror an ordinary web link.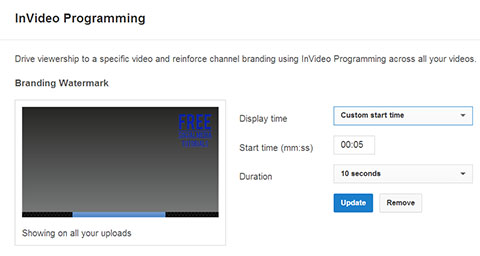 You can also add a featured video, and accompany it with a caption to further encourage viewers to click and check it out.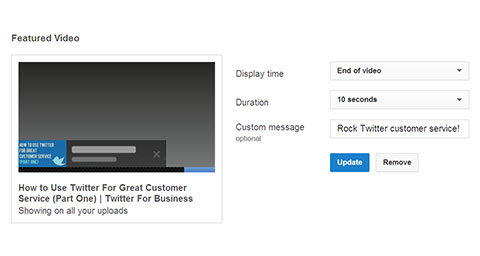 For either option, you can decide when the images will appear; at the start, end or for a custom duration within your videos.
I like my watermark to be present throughout and have my featured video thumbnail appear according to the time that my YouTube Analytics' audience retention data tells me is, on average, when viewers are most likely to lose interest.
#5: YouTube Live Events
Although Google+ Hangouts on Air has offered live streaming capabilities on YouTube for quite a while, a separate service called YouTube Live Events was rolled out to all users with verified accounts that are in good standing (i.e., no strikes) at the end of last year.
What makes YouTube Live Events different from Google+ Hangouts on Air is the greater set of features it offers. These additions can make your broadcast much more professional than simply using a webcam and built-in mic.
In addition to the basic scheduling options available for hangouts, YouTube Live Events includes the ability to set up multiple cameras and choose your encoder, including YouTube's own Wirecast program. The free version of Wirecast includes basic switching, transitions and picture-in-picture. You can also add live closed captions and view real-time data, such as the number of concurrent streams and the average watch session length, during your broadcast.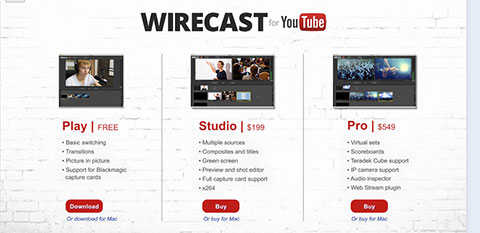 To enable Live Events, head over to Video Manager and click the Features link underneath the Channel Settings section. In here, scroll down to find and switch it on.
If you want to schedule and build a live broadcast, return to the Video Manager, choose Live Events from the left-hand menu, then follow the step-by-step instructions.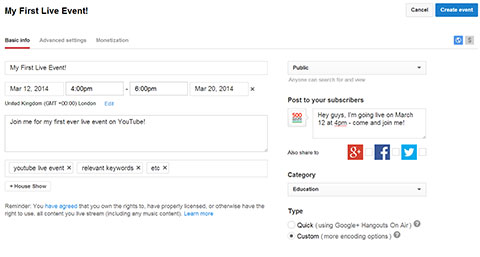 If you plan to use the full feature set available, make sure to check Custom under Type of Broadcast after entering all of the basic info.
Final Thoughts
A few small tweaks using the tools above could make a noticeable difference to your YouTube content and marketing strategy. Start with one tool or jump in and try all five. Be sure to track and analyze the impact using YouTube and Google Analytics. You'll be pleased with the results.
What do you think? Have you tried any of these tools before? Which one will you try first? I would love to hear your thoughts about what works for you and what doesn't. Please share your comments in the box below.
Curious about NFTs, DAOs, and Web3?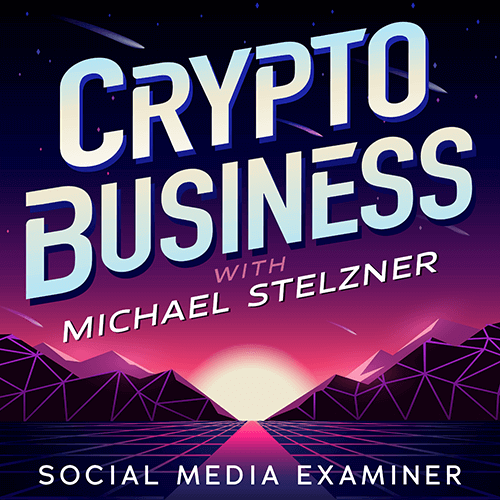 Follow the Crypto Business podcast to find out how NFTs, social tokens, DAOs (and so much more) will affect your business in the near future.

Every Friday, host Michael Stelzner interviews leading industry experts about what works right now in Web3 and what to expect in the future, so you can prepare your business for the shift, even if you're a total newbie.
FOLLOW THE SHOW