Want to simplify your content creation process? Wondering how AI tools can help?
In this article, you'll discover how to use AI tools to enhance your content marketing workflows.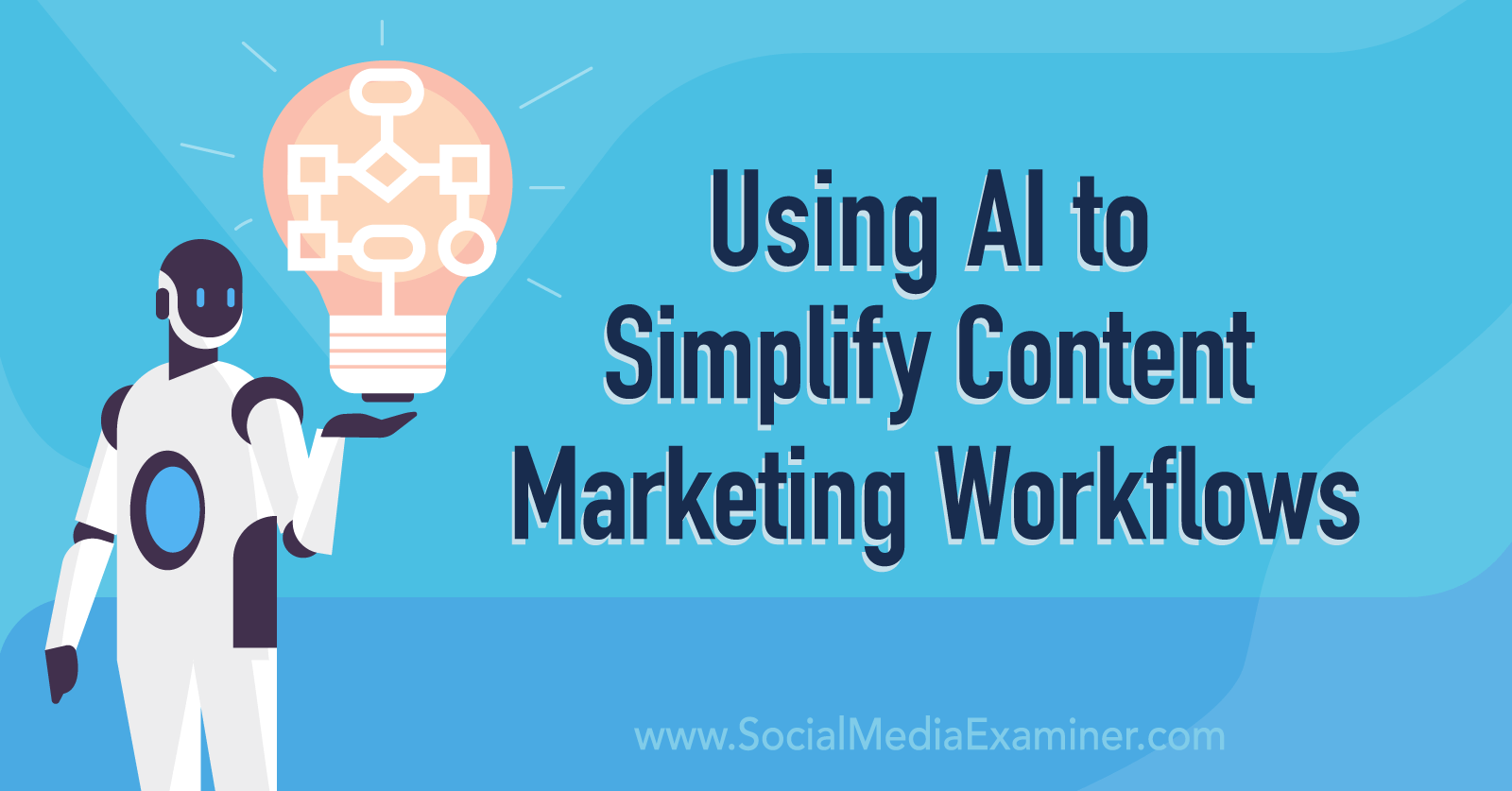 Why Should Content Marketers Pay Attention to AI?
In a rapidly evolving digital landscape, the role of content marketing has never been more critical. Yet, to succeed in this dynamic arena, content marketers must adapt to new tools and technologies that are reshaping the way brands engage with their audiences. AI stands out as a game-changer.
Despite fears many marketers have about the rise of AI, these tools can give us the ability to tap into a range of superpowers. AI has the potential to redefine how we create, distribute, and optimize content. It can be used to create content across various mediums such as text, images, and audio at a professional level and scale. It can also refine existing content and make it more effective.
Every content creator knows they have a huge problem, often knowing they wrote something great, but not knowing if anyone cares or if it's really what their target audience wants. AI tools can do more than just provide post-publication analytics; they can predict content performance in advance.
Aside from its capabilities in content creation and performance prediction, AI can also help marketers focus on meaningful and impactful work. By eliminating some of the less desirable aspects of content creation, AI allows marketers to focus more on the storytelling and creative aspects of their work. It helps ensure that the time and effort spent on creating content is worthwhile.
Common Content Marketing Challenges AI Can Solve
Over-reliance on CEOs or Thought Leaders for Content Creation
Many brands tend to involve their CEOs in creating thought leadership content. This strategy, however, can lead to issues as these key individuals often end up managing the entire process, eventually hindering the production of high-quality content.
Take, for example, Marketing AI Institute's strategic shift in the format of their podcast, The Marketing AI Show. Founder and CEO, Paul Roetzer, originally managed all the interviews, came up with the questions, and conducted all of the background research. Eventually, he and CCO, Mike Kaput, realized that this wasn't sustainable.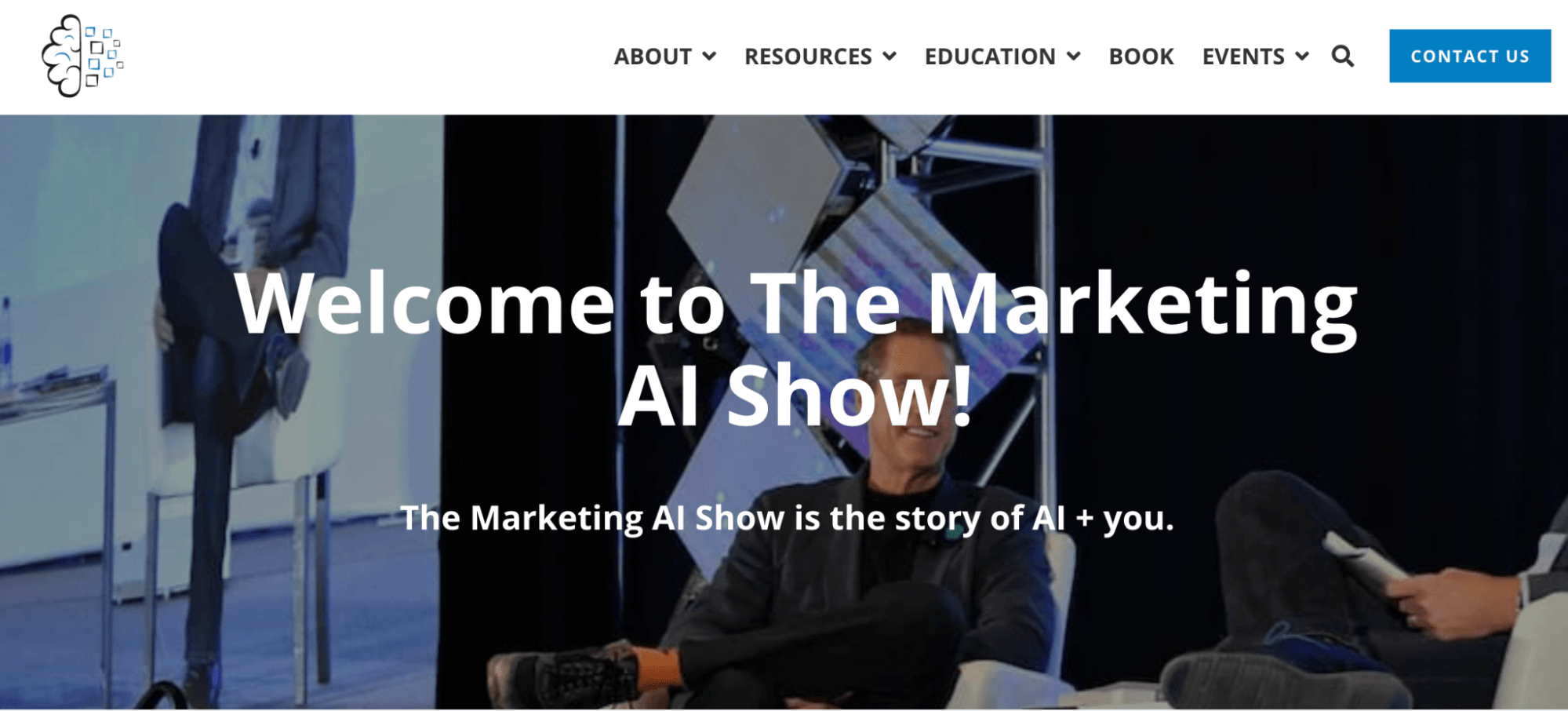 Why couldn't another team member or technology do the leg work? Paul became the interviewee. Paul and Mike now discuss the latest AI news during each episode.
This change not only saved time but also set the stage for further automation and augmentation using AI. This approach enabled the team to keep track of the latest AI news, allowing for more timely and relevant discussion topics, which led to an improved podcast experience for the listeners.
Failure to Repurpose Content
Repurposing content can maximize its reach and utility. Many companies tend to create a lot of content and then move on to the next topic without considering how the existing content can be utilized in different ways.
Creating Too Much Unrelated Content
Using a shotgun approach to content that doesn't support your marketing efforts can lead to inefficient use of resources, burnout, and poor results.
How to Develop an Effective Content Marketing Strategy With AI Tools
While AI technologies can significantly enhance the efficiency of content creation by expanding on certain topics, human intervention is still crucial. Domain expertise enables humans to enrich AI-generated content with unique perspectives and insights. This level of sophistication is currently beyond AI capabilities.
The future of content creation should focus on unique insights and perspectives that can't be duplicated by competitors with a click of a button. That said, there are a number tools that can make your content creation more efficient. Here's how to get started.
#1: Expedite Preparation of Content
AI cannot always replace human curation and judgment in content creation, so bringing human expertise and experience to finding out what your audience is actually going to enjoy is a bit of the secret sauce.
It's helpful to have a central news repository where your team can collaborate on content creation, a place where people can drop in interesting news and curate it.
Then, you can process the news with AI.
Tools, such as Writer.com, ChatGPT, and Claude.ai can be instrumental in summarizing and simplifying complex news topics for your audience. These tools can help frame topics for compelling podcasts, for example, and make technical jargon approachable for marketers.
Researching can be more efficient too, with the introduction of generative AI platforms, like Perplexity AI.

This tool provides paragraph descriptions of search results rather than a list of links, saving marketers significant time. Say, for example, you're doing a podcast script on Meta's Llama model. You can ask it to give you a bulleted list of the technical details of the model, like how many parameters, when it was released, etc. It's also helpful with vetting statistics and gives you footnotes to links where the information came from, thereby making fact-checking a breeze.
#2 Create and Repurpose Content
Applying AI to create and repurpose your core content (i.e., podcast) can streamline your production process.
AI Tools for Video and Audio Creation
Descipt for example, is an audio and video-editing suite that helps you do everything from quickly captioning a podcast to editing the audio and video.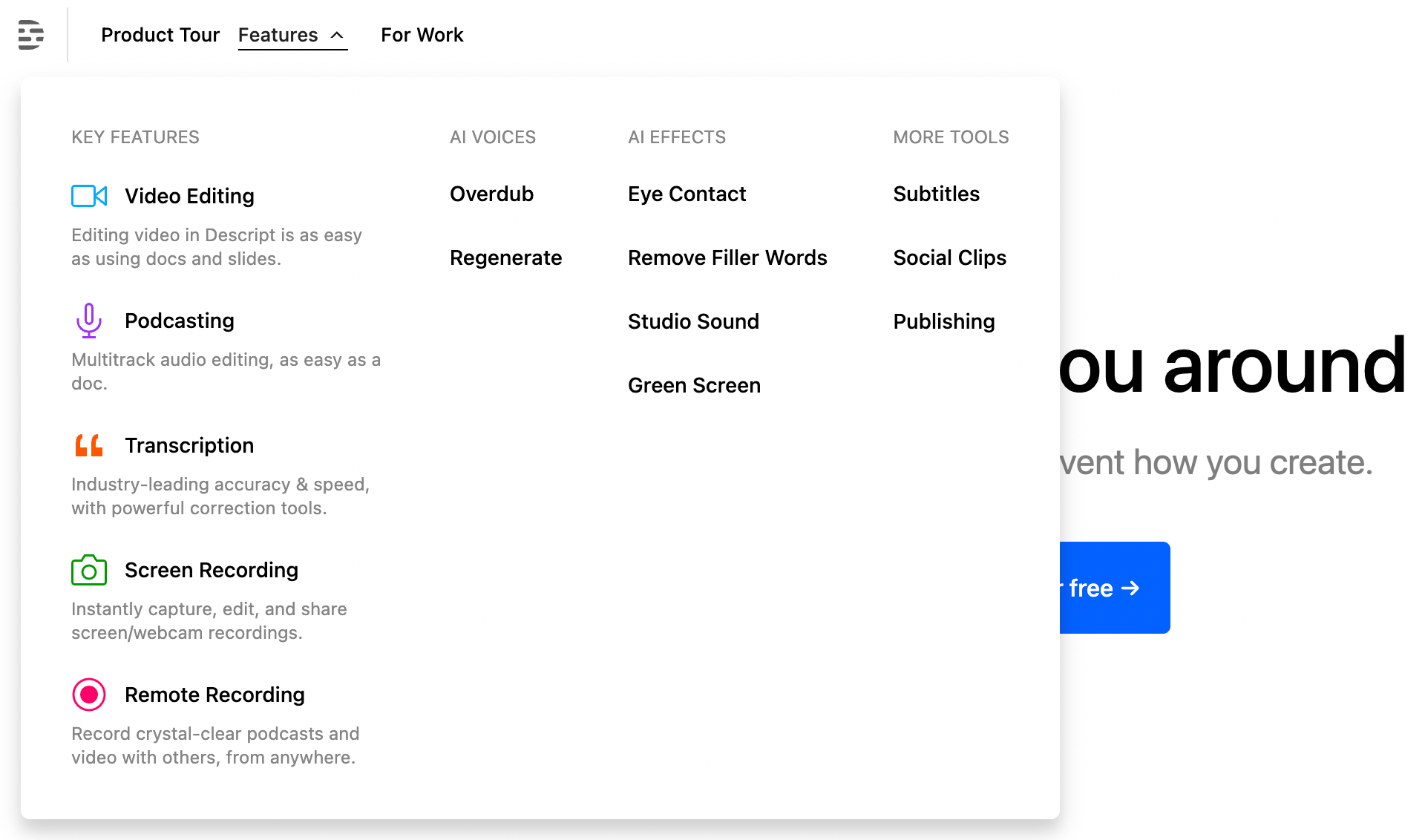 You can produce professional-level audio and video content more quickly and cost-effectively than with a hired production company. The final podcast episode can then be used to create a variety of content assets based on its main topics.
Strategically choosing topics can maximize content repurposing and audience engagement. Let's say you just produced a podcast. Choose three main topics from that podcast that you think will resonate with your audience and can maximize your engagement. These topics can then be turned into individual articles, amplifying the reach and impact of the original content.
You can even use AI tools to help break down your podcast transcripts into summaries, bullet points, and key takeaways. This raw material can then be used by content writers to create blog posts, articles, and other content.
AI Tools for Social Media Posts
A lot of AI-powered tools overlap to help streamline the content creation process. Jasper.ai, can help you with publish consistently on social media platforms.

Take the three articles or blog posts you just created from the transcripts of your podcast, for example. You can turn those into a range of shares for LinkedIn, Facebook, Twitter (X), etc. This doesn't just automate your shares, it gives writers, creators, and marketers a ton of different ideas. It lifts some of the cognitive burden of having to look at a blank page, and say, "Oh my God, I've got to write 100 tweets about these 3 articles".
AI Tools for Short-Form Video Creation
When it comes to short-form video, using AI tools to help expedite the process of cutting up long-form video into shorter clips is a time saver. Tools like Gloss.ai, Munch, and Opus Clip will take your long-form video of any type, find the most interesting parts, and give you small promotional clips.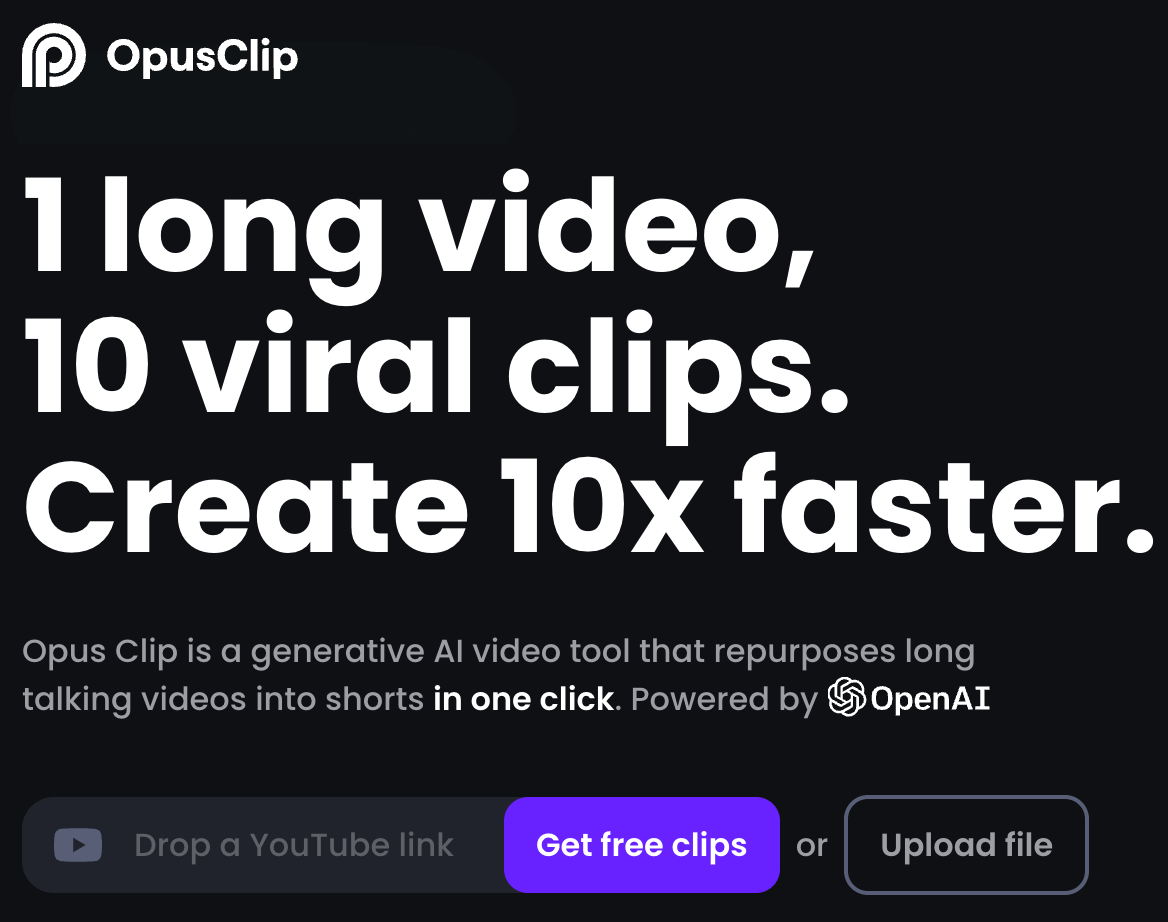 Other Notes From This Episode
Where to subscribe: Apple Podcasts | Google Podcasts | Spotify | YouTube Music | YouTube | Amazon Music | RSS
✋🏽 If you enjoyed this episode of the Social Media Marketing podcast, please head over to Apple Podcasts, leave a rating, write a review, and subscribe.
---
Stay Up-to-Date: Get New Marketing Articles Delivered to You!
Don't miss out on upcoming social media marketing insights and strategies! Sign up to receive notifications when we publish new articles on Social Media Examiner. Our expertly crafted content will help you stay ahead of the curve and drive results for your business. Click the link below to sign up now and receive our annual report!