Wondering how to make great TikTok videos? Looking for a proven organic content strategy?
In this article, you'll discover how to develop and execute a TikTok plan that works.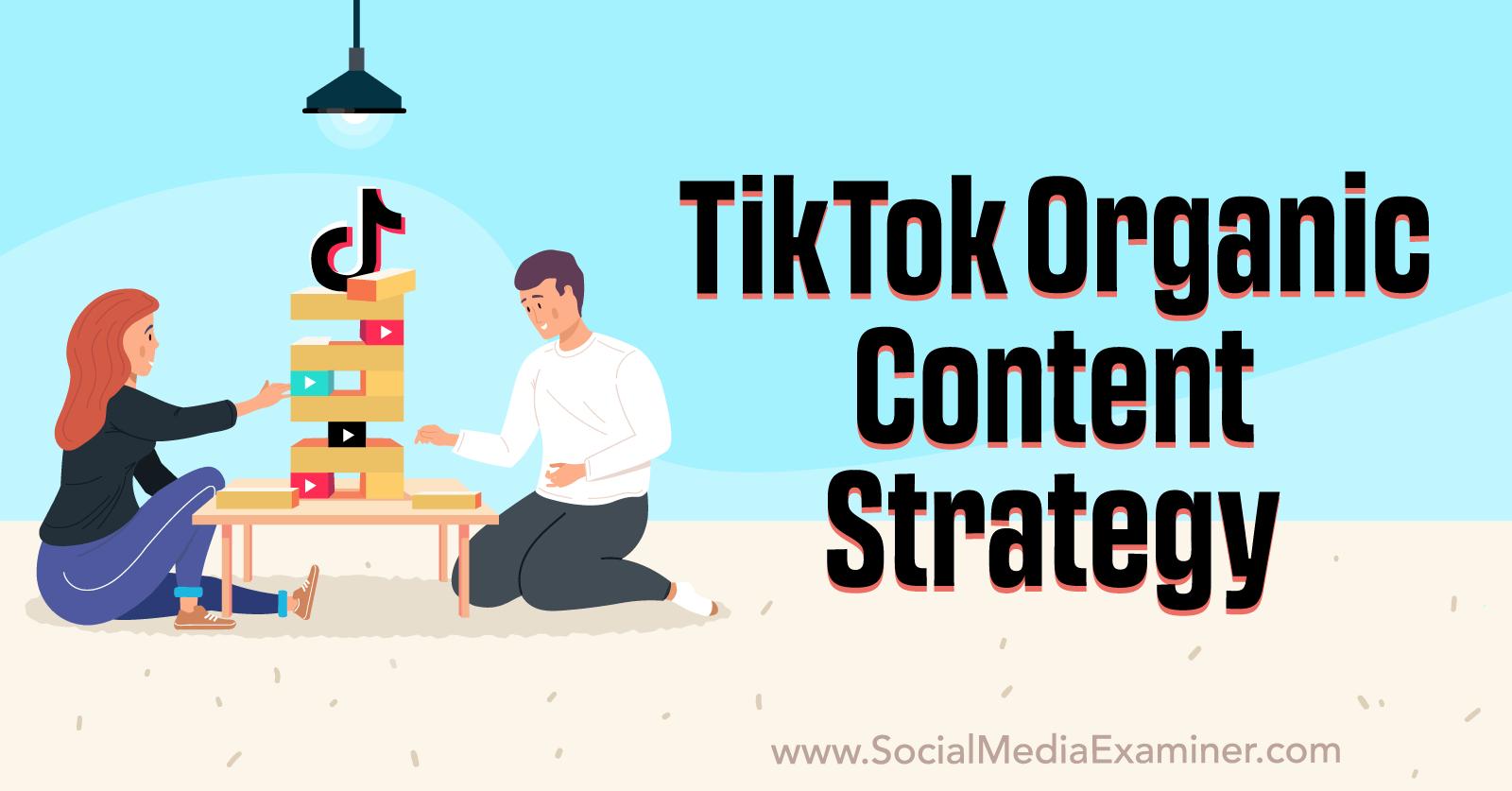 Why Organic Content Rules TikTok
Over the past 3 years, all of the other social media platforms have been playing catch-up with TikTok. From Facebook to YouTube, Twitter to Pinterest, every social network has found a serious competitor in the short-form video app.
TikTok has disrupted social media by pioneering short-form content. Quick, vertical videos of 15 seconds or less have started to take over the internet. What's more, these videos don't require a huge ad budget or high production value. The most successful short-form video is simple, authentic, and organic.
That makes TikTok content a winning strategy for most brands, especially startups or eCommerce businesses that are low on assets but big on time and energy. There are three main benefits to being on the platform.
Marketing costs: With the right content, you can make a huge impact on TikTok without spending on TikTok ads.
Online attention: Like it or not, short-form video has become the most popular media format online. Organic TikTok content will help you get and retain attention from your target audience.
Repurposable content: TikTok's taking over, which is good news for overworked social media managers. Once you've created short-form video content for the platform, you can reuse it across other social networks to save time and effort.
#1: The 3 Types of Content a Business Needs on TikTok
In this guide, we're going to look at how to create a successful TikTok marketing strategy with organic content that gets attention and conversions on TikTok. Before we dive into the specifics of scripting, filming, and editing your content, we need to talk about what exactly you're creating.
Start by figuring out the main content pillars for your brand. These are three or four key content types that convey your message, brand identity, and community. Every brand is different but we're going to look at some of the most common content pillars here.
Most brands on TikTok will need to create content including:
Trends content that picks up on viral audio, jokes, and styles on TikTok.
Series of related videos that keep viewers coming back for more.
Community engagement content to activate your followers and create loyal customers.
Let's go through these types of TikTok videos one by one.
Trends Content
On TikTok, trends mean audio. Different sound clips work like hashtags on the platform. You can tap on the background audio of a video to see more videos that use the same sound and you can use that sound in your videos, too. Often, specific audio will be matched with a specific meme or joke.
This viral audio on TikTok has been used in over 4 million videos.
Trends are a powerful pillar of organic content because they have the potential to go viral. If you post a video using the right trend at the right time, you could get millions of views.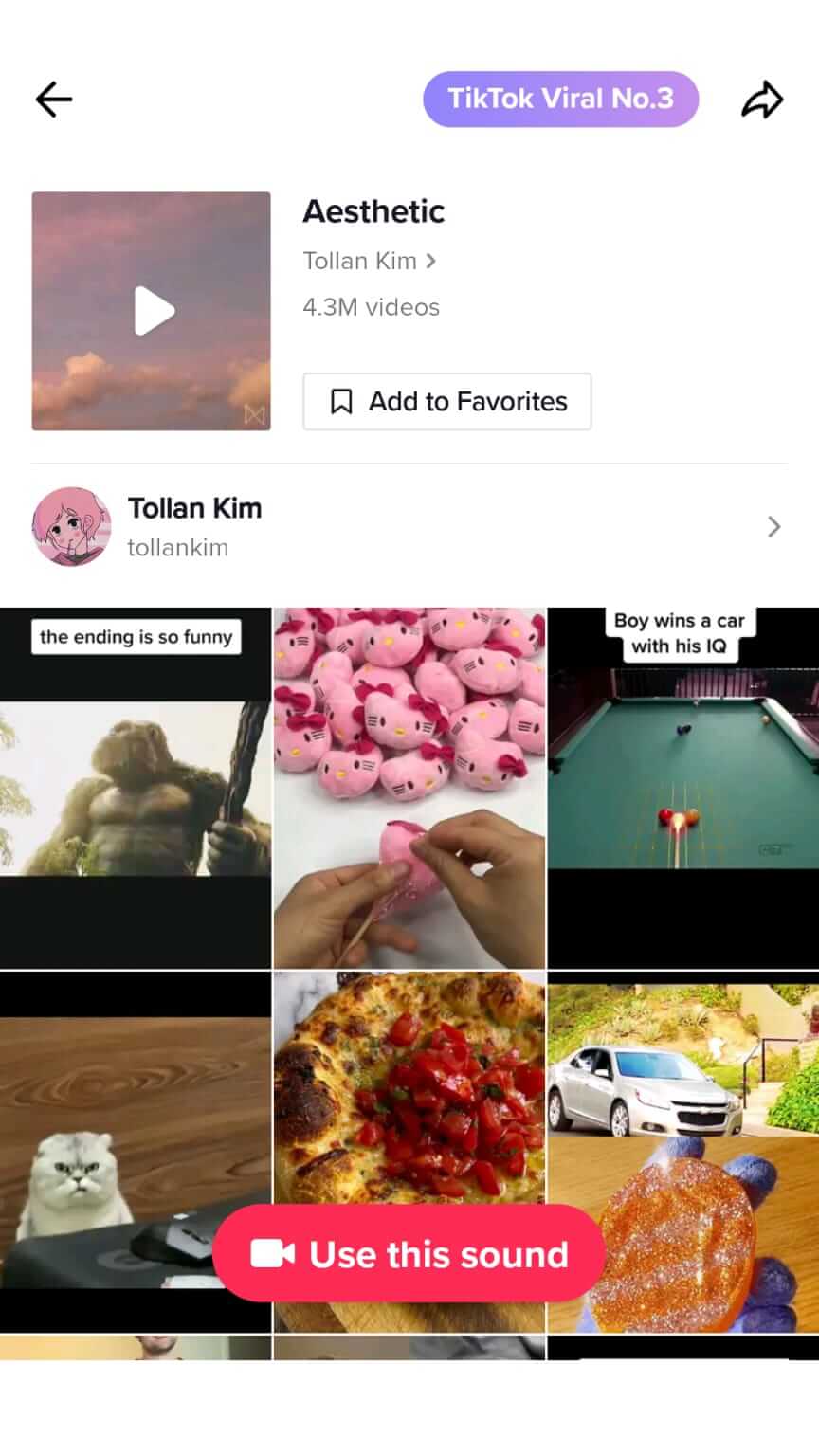 However, trends start and end quickly. You'll need to stay in touch with what's happening on TikTok. To that end, it's worth spending 15 minutes a day simply scrolling through videos to see what the latest trends are. Don't think of this as aimlessly consuming content; instead, you're studying what works.
If you see a video template that could be a good fit for your brand, tap on the audio and check out how many other people are getting in on the trend. Don't try to post on every trend that you see. Instead, focus on trends that could help you convey your message.
Trend videos help you produce a high volume of content without putting in too much effort on production or original scripting. They also show that you understand TikTok from the inside.
But one last word of warning: if you only post trend videos, then you won't get conversions. To turn your trend video viewers into new customers, you'll need original content, too.
Original Content
Original content is the most important pillar in your organic TikTok content strategy. Unique videos about your brand, story, process, products, and services will get you a dedicated audience of fans. Unlike trend videos, you won't be competing with others for attention on the same theme. You can create something totally new.
For example, you can produce series of videos that encourage people to come back and view more content. When you create these videos, make it abundantly clear that they're part of a series.
Add text overlay that states the video is part of a series; for example, "Packing deliveries part 3" or "episode 1".
Be sure to state each video's series number. That way, if someone stumbles across a later video, they'll visit your profile to view the earlier clips.
Encourage viewers to check back for more clips in the future.
TikTok also has a Playlists feature so you can group series at the top of your profile page. This makes it even easier for people to find your best original content!
This brand pins video playlists to the top of its profile and labels individual videos with episode numbers to keep viewers coming back for more.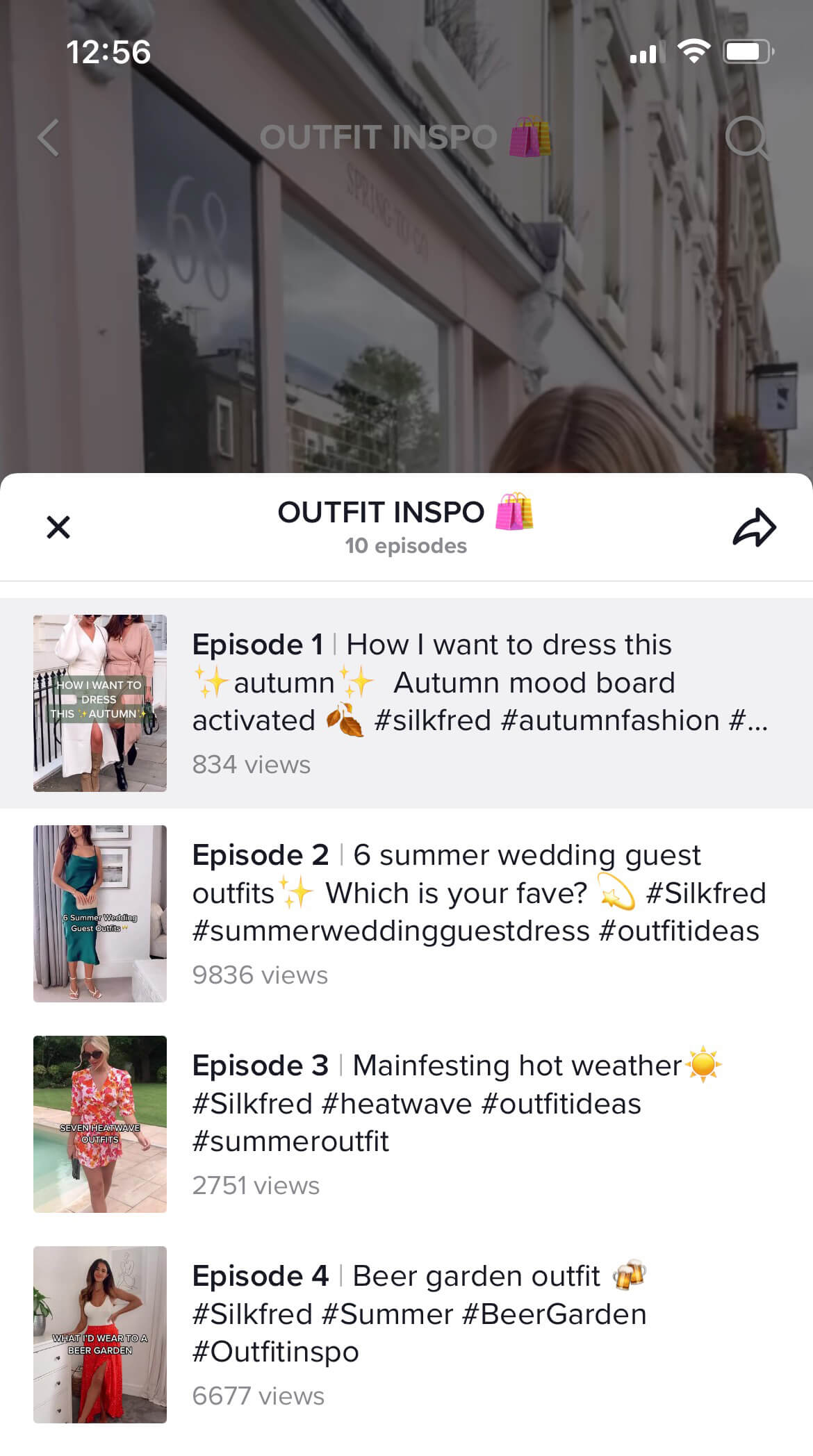 A significant portion of your original videos should focus on your products and services. Try to find fun, engaging ways to show off different product features, tutorials, hacks, tips, and tricks. Videos like this should make up the bulk of your organic content on TikTok.
Community Engagement Content
Community engagement is the last pillar in your organic TikTok content strategy and every brand needs to include it.
TikTok is unique among social media platforms because it allows you to reply instantly to comments on your videos with new video responses. As well as liking and replying to comments in text format, you should use the video response feature to increase your content output.
This video is based on a comment from a viewer, which you can see included as a sticker in the clip.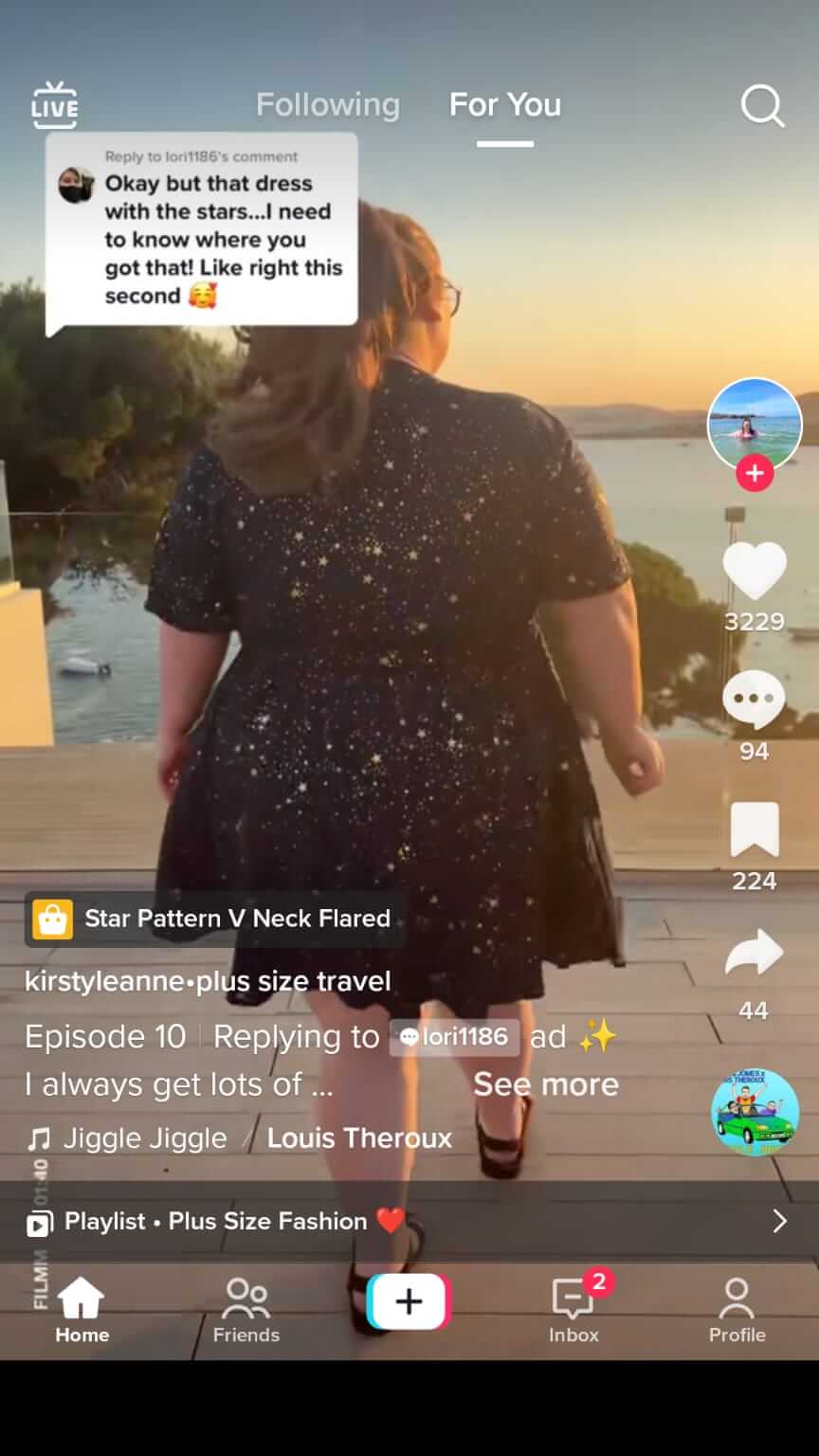 Community engagement serves two main purposes:
It increases the impact of your original content by responding to comments on original clips.
It builds relationships with potential customers.
You can think of this as a bit like a content funnel. Trends content brings new viewers to your profile, original content retains their attention, and community engagement cements their loyalty. Original content takes the most effort to produce but you can keep up a steady flow of new videos by sharing trends and community engagement clips, too.
#2: How to Script and Edit Your TikTok Content for Success
Once you've figured out which types of content you want to post, it's time to develop a content flow. We recommend three stages:
Content scripting. Plan every word, frame, special effect, and text overlay in your video.
Content creation. Film the short-form video according to your script.
Editing and approval. Add any extra effects, cut unnecessary time, and get final approval to post. Ideally, you should have videos approved at least a week in advance of posting.
Why Script Your TikTok Content?
Scripting a 15-second video might sound like overkill. But there are very good reasons to script your organic content so precisely.
First, scripting actually saves you time in the long run. It's easier to create content fast when you have a clear plan.
Creating a script also protects you from producing content that doesn't have a clear goal or strong opening. When you only have 15 seconds to work with, you can't afford to be vague or boring. Writing a script helps keep your content slick and focused.
Scripting can also be useful when you work with content creators or influencers. A detailed script means that no talking points will get overlooked.
Finally, scripting makes it easier to look back over your content and see what worked. You can test different elements within a content series or monitor which video styles get the most engagement.
How to Script TikTok Content
So what should you include in a content script?
A rough verbal outline of what you want to say. This doesn't have to be word-for-word, just enough detail to make sure that you remember everything you want to include.
A plan for the visual elements you want to include. Are you following a specific trend or video template? Do you need to include shots of a specific product or scene? Will you wear anything specific or dress casually?
A specific audio. Choose this in advance to set the tone for your content.
Write a detailed draft of any text overlays you want to include. You can also specify the font style or size you want to use.
Describe the general tone of the video. You can give pointers for body language, mood, and speaking style, too.
List any special effects, filters, or sound effects and when to use them.
It's a good idea to include specific links to any audio, video inspiration, or special effects that you use. Over time, you'll build up a reference library of video elements that work well, saving you even more time for future content creation.
How to Edit TikTok Content
When it comes to editing your short-form video, you have two options: TikTok's native editing tools or third-party apps.
TikTok's native editing tools are pretty good. They already include filters, retouching tools, effects, photo collage tools, and various overlay and special effect options.
However, if you have the time to use external editing tools, they're worth it. One of the best apps is CapCut, which was created by ByteDance, the company behind TikTok.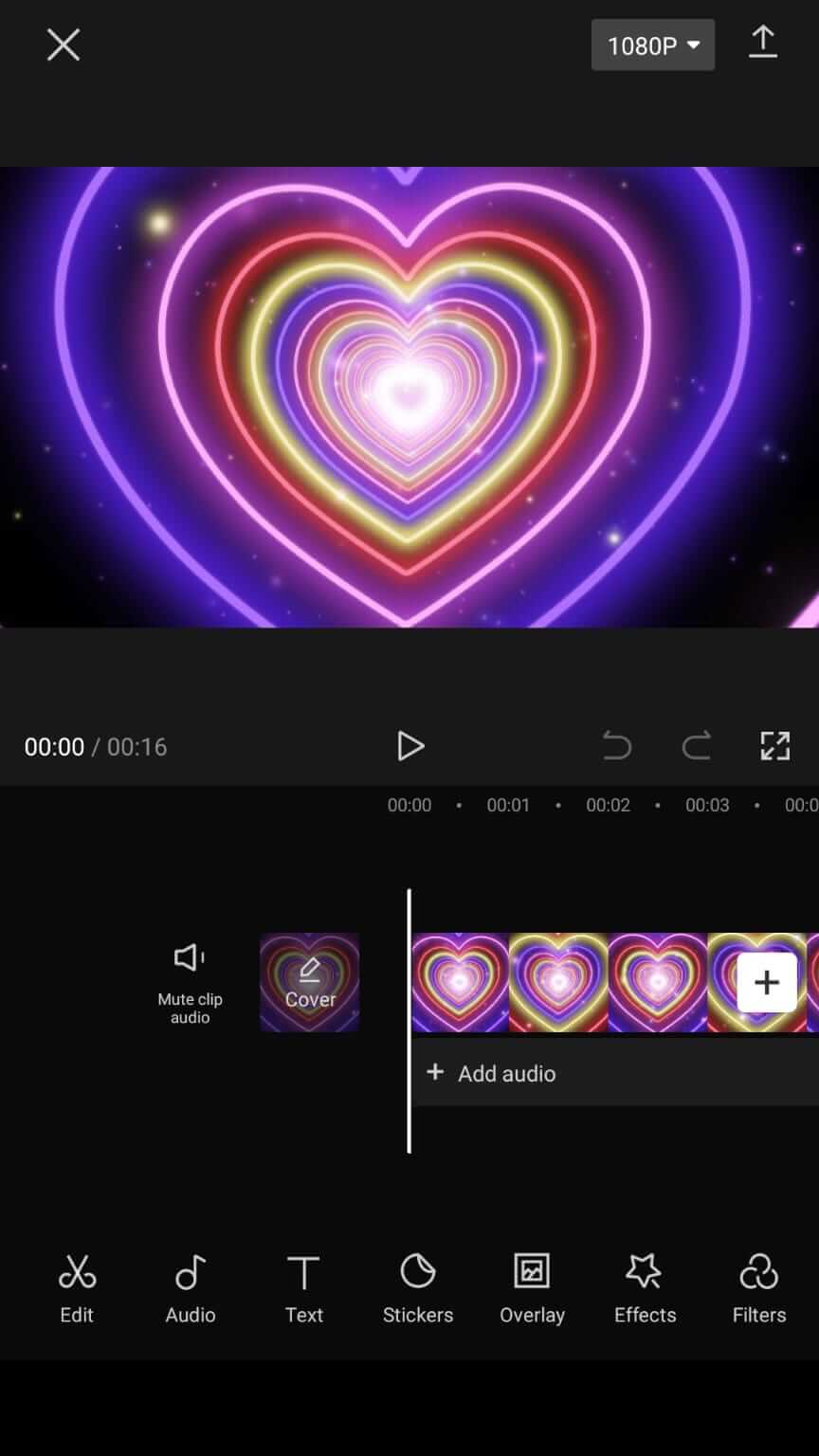 CapCut has all of TikTok's basic editing tools plus extra capabilities. It also has the major benefit of exporting video without TikTok's watermark. This means that you can repost your edited video content on other social networks without including the TikTok label.
#3: Tips to Get More From TikTok Content
By now, you should have a good idea of your main content pillars and a content workflow to get you posting organic short-form video on TikTok.
But there's more! Here are three extra tips to get even more out of your organic TikTok strategy.
Establish a Sustainable Post Frequency
On any social network, consistency is key. Posting one amazing video a year won't get you results. Posting five, less highly produced videos each week will get you a large and active audience.
You'll need to establish a posting cadence that maintains quality, quantity… and your work-life balance. The best frequency for most brands is five to seven posts per week. However, if you can only be consistent with three posts a week, it's better to stick to that number than post inconsistently.
If seven videos a week sounds like a lot, remember that you're trying to learn about your audience while you post. It's OK if not every video is perfect. Think of those less successful posts as research. Over time, a greater proportion of your posts will have an impact.
You can make things easier for yourself by using scheduling tools. You can schedule video posts through the TikTok desktop app or via third-party apps such as Later. Tools like Later will also help you redistribute content on other social networks.
Adopt a Creator Persona
TikTok's posting style is usually in first-person. Videos show one person facing the camera.
But who should that person be? It doesn't have to default to you, the social media manager. You can get creative with your creator persona.
Think about who your brand wants to show. Is your messaging aspirational, relatable, authentic, exclusive, or diverse? Can you find creators who fit the bill? Remember that you always have the option to work with content creators or influencers to expand your creator persona.
Some brands choose to never show a human face or use a mascot instead. But these tend to be brands that are already big. If you're still building your audience, then a human touch will help you connect with more people.
The Duolingo account on TikTok is known for using a comedy mascot instead of a human face in its videos but this is an exceptional strategy.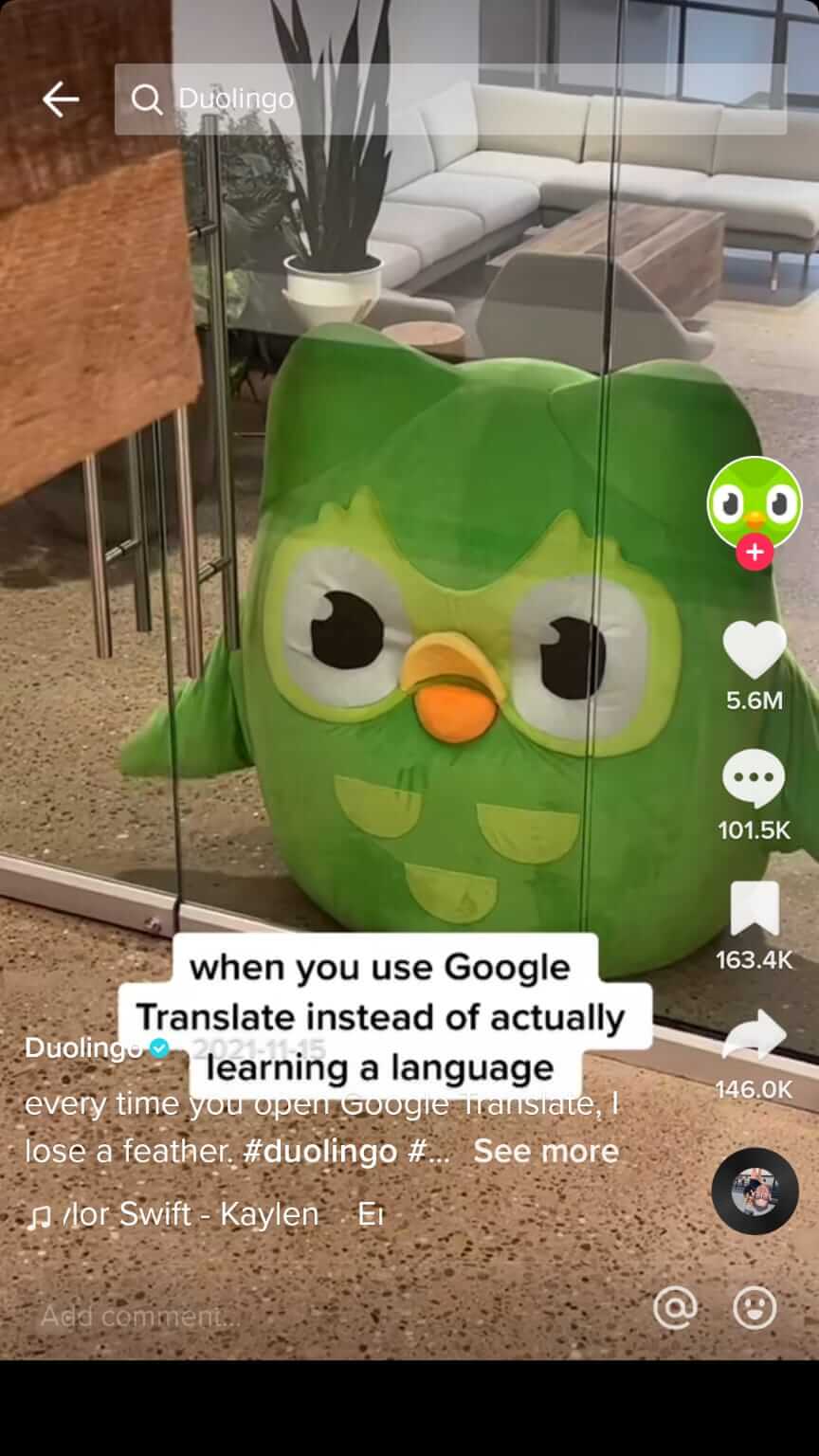 Repurpose Short-Form TikTok Content
TikTok's unique formula of short-form, endlessly scrolling content has taken over social media. So you're not really creating a TikTok strategy; you're creating an entire social media strategy. If you don't reshare your short-form videos to other platforms, you're leaving money on the table.
Yes, in an ideal world, you'd create tailored content for each different social network. But this is the real world. Most social media managers won't have the time or budget to create individual streams of content. However, they do have the time and budget to redistribute their best TikTok content to other social networks.
Short-form video content is the future and you need a strategy now. With this content workflow, you'll be ready to take over social media, starting with TikTok.
Other Notes From This Episode
Where to subscribe: Apple Podcasts | Google Podcasts | Spotify | YouTube Music | YouTube | Amazon Music | RSS
✋🏽 If you enjoyed this episode of the Social Media Marketing podcast, please head over to Apple Podcasts, leave a rating, write a review, and subscribe.
---
Stay Up-to-Date: Get New Marketing Articles Delivered to You!
Don't miss out on upcoming social media marketing insights and strategies! Sign up to receive notifications when we publish new articles on Social Media Examiner. Our expertly crafted content will help you stay ahead of the curve and drive results for your business. Click the link below to sign up now and receive our annual report!