Wondering how to sell more on TikTok? Looking for a content strategy designed around business goals?
In this article, you'll discover a proven TikTok content strategy designed to build awareness, support consideration, and drive conversions.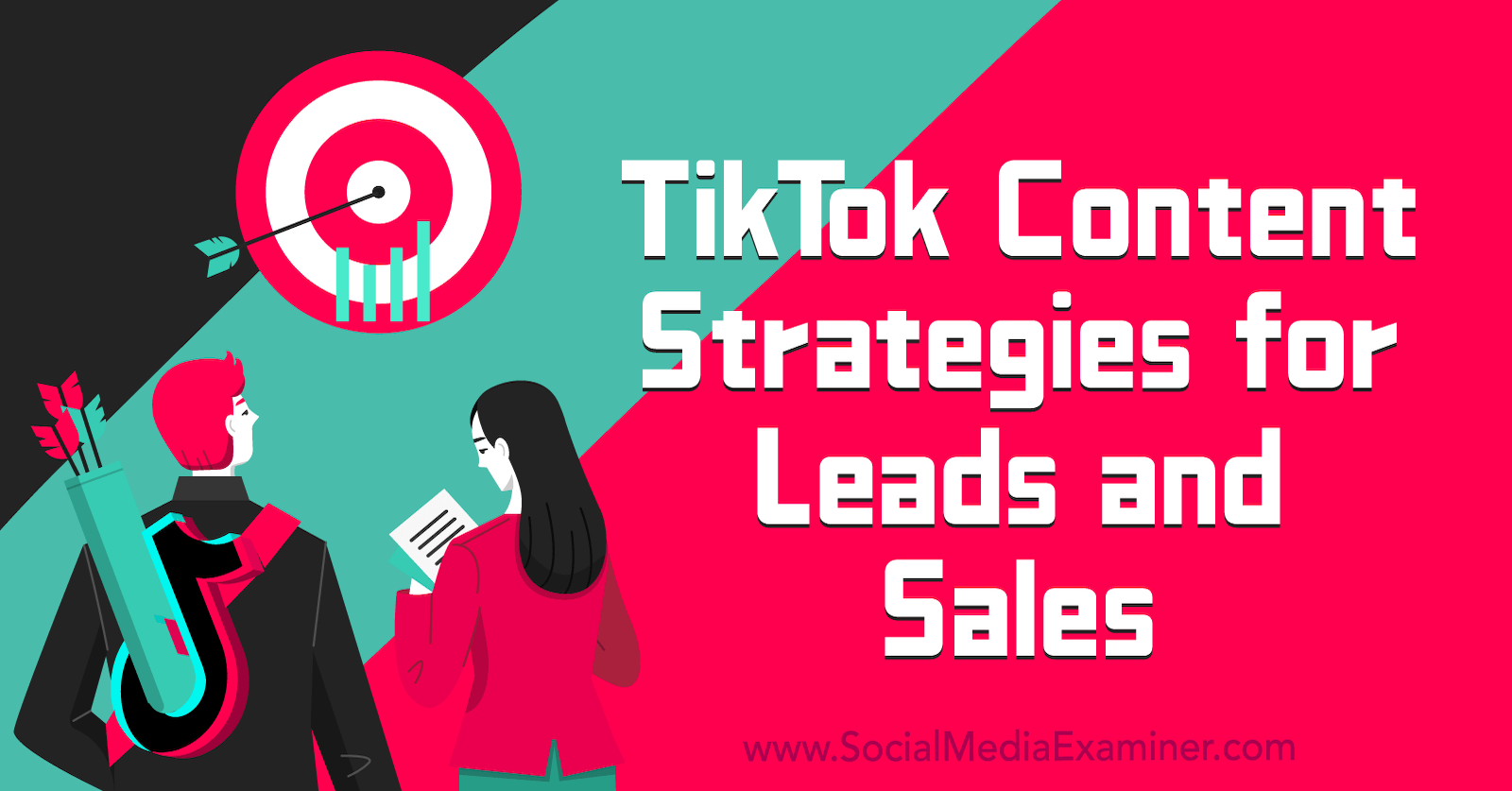 Why Short-Form Vertical Video Is the Future
TikTok might be the youngest of the big social networks but it's quickly become dominant. That success has been driven by TikTok's focus on short-form vertical video.
But why is it so effective?
There are two reasons and one of them is very unexpected.
The Future of Social Media
TikTok is popular with marketers right now because it offers the most organic reach in the shortest timeframe. Other social media platforms such as Instagram and Pinterest have more limited reach and take longer to build an audience.
TikTok is popular with consumers because people have a seemingly endless appetite for short-form video. These video clips are entertaining and brief and encourage endless scrolling.
Now other social networks are scrambling to catch up with Reels on Instagram; Watch on Facebook; Shorts on YouTube; and more video content on Pinterest, Twitter, and LinkedIn. You can even add videos to your Google My Business page or see them featured in TV reports.
If you can create an effective content strategy on TikTok, you'll soon be able to apply it across your other social media marketing channels.
The Future of SEO
By this time, most people have heard about TikTok as a social network and source of content.
But you might not have heard about TikTok as a search engine. There's enough content on the platform and the search function is smart enough that people can use long-tail keywords to find whatever they're looking for.
Video and audio content have been a growing part of search results for a while but nobody saw this exact trend coming. We used to think that Google's dominance as a search engine was unassailable. But now social search is taking over and even changing how search engines organize their results.
That's a major opportunity for social marketers. You can apply your SEO knowledge and content strategy to TikTok adapted for the new short-form vertical video format.
#1: How to Create a TikTok Content Strategy
It's famously easy to go viral on TikTok or grow your account fast. That's one big reason why the platform is so popular with creators and, increasingly, marketers.
But remember, though, you're not just on TikTok for views and likes. You're aiming for leads and sales, which means you need a lead-generating content strategy.
Just like a sales funnel, you can divide your TikTok strategy into three different types of content, moving from content with broad appeal to highly targeted, converting content.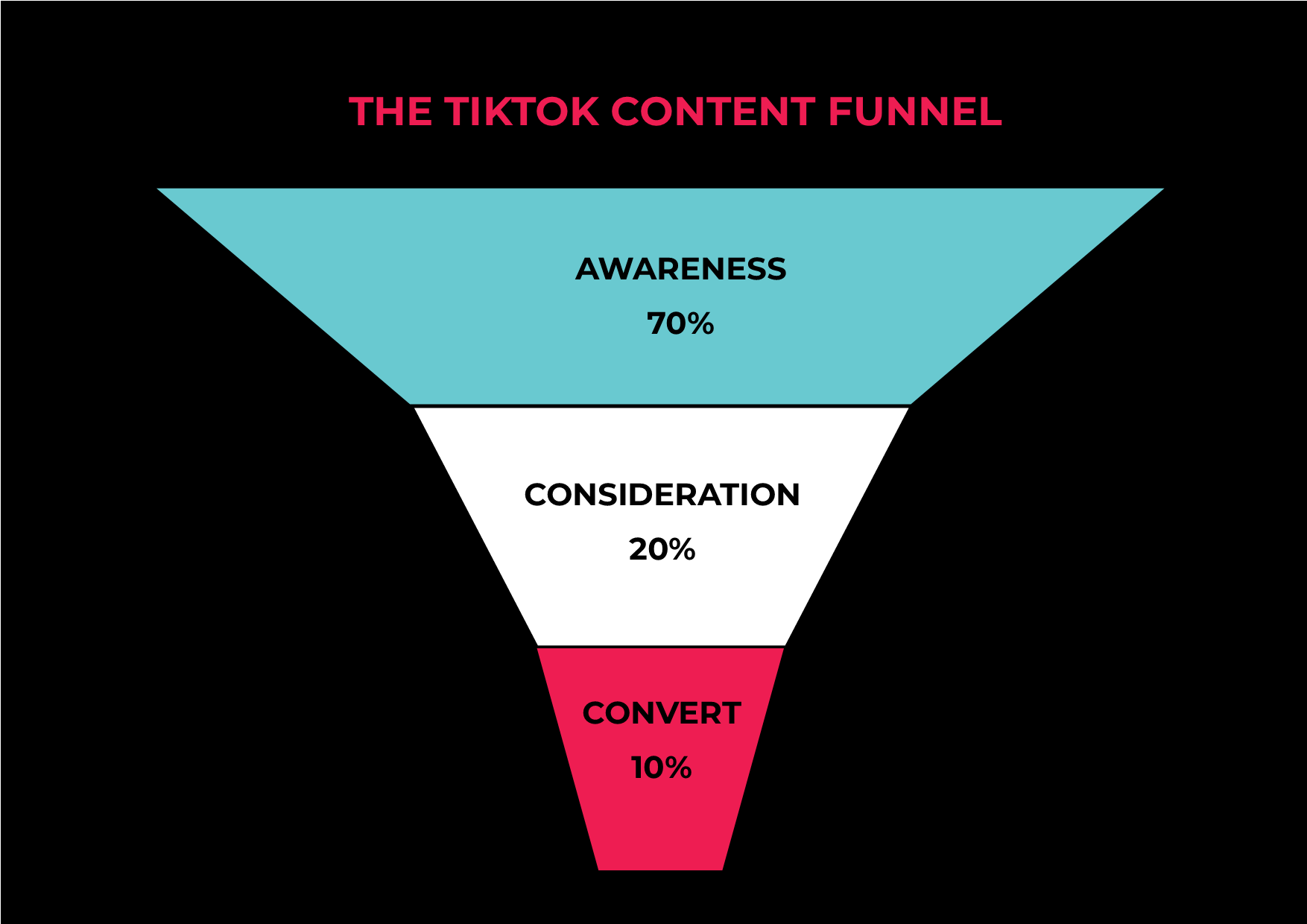 Awareness. These videos will make up about 70% of your posts. They're aimed at a broad audience, with the potential to go viral and increase your reach on TikTok. You'll see high viewing figures but low conversion rates. That's fine. At this stage, you're just trying to build brand awareness.
Consideration. This is a much smaller part of your content strategy, but in many ways, it's the most important element. About 20% of your posts should be dedicated to developing a relationship with viewers who are already aware of your brand. Share expertise, information, and entertainment that teach people to like and trust you.
Conversion. At just 10%, this is the smallest portion of your content. Your conversion content will feature short videos with very clear calls to action. You'll see very low viewing figures on these videos but they should have comparatively high conversion rates.
Direct Search Versus the Algorithm
In this kind of TikTok content strategy, you're focusing on search to target your ideal customer.
It's important to understand that most people still discover content via the For You page; most TikTok users don't find videos through direct search.
However, the users who do actively search for content are highly likely to convert into customers. That's why it's worth focusing on search. You're aiming for quality over quantity.
This doesn't mean that we're ignoring the For You page altogether.
The TikTok algorithm is extremely smart. If someone watches and likes one of your TikTok videos, the algorithm will show them more content from your account.
So if you build an effective content strategy, you may find that the algorithm sends people through your content funnel even if they haven't used the search bar. It'll detect their interest in your most viral posts and gradually show them more of your TikTok videos, moving through consideration to conversion.
#2: How to Create the 3 Types of TikTok Content for Your Strategy
The first step in any content strategy is to understand your audience.
Start by thinking about the buyer persona for your ideal customer or target audience. (You may well have more than one!). Ask yourself:
What do they want?
What do they need?
What interests them?
Who else do they follow?
Which of your products or services are specifically relevant to them?
Next, you'll need to research the competition. It's time to use the TikTok search function yourself.
Type relevant keywords into the search bar such as your product category or industry. Filter the results by the Most Liked > All Time.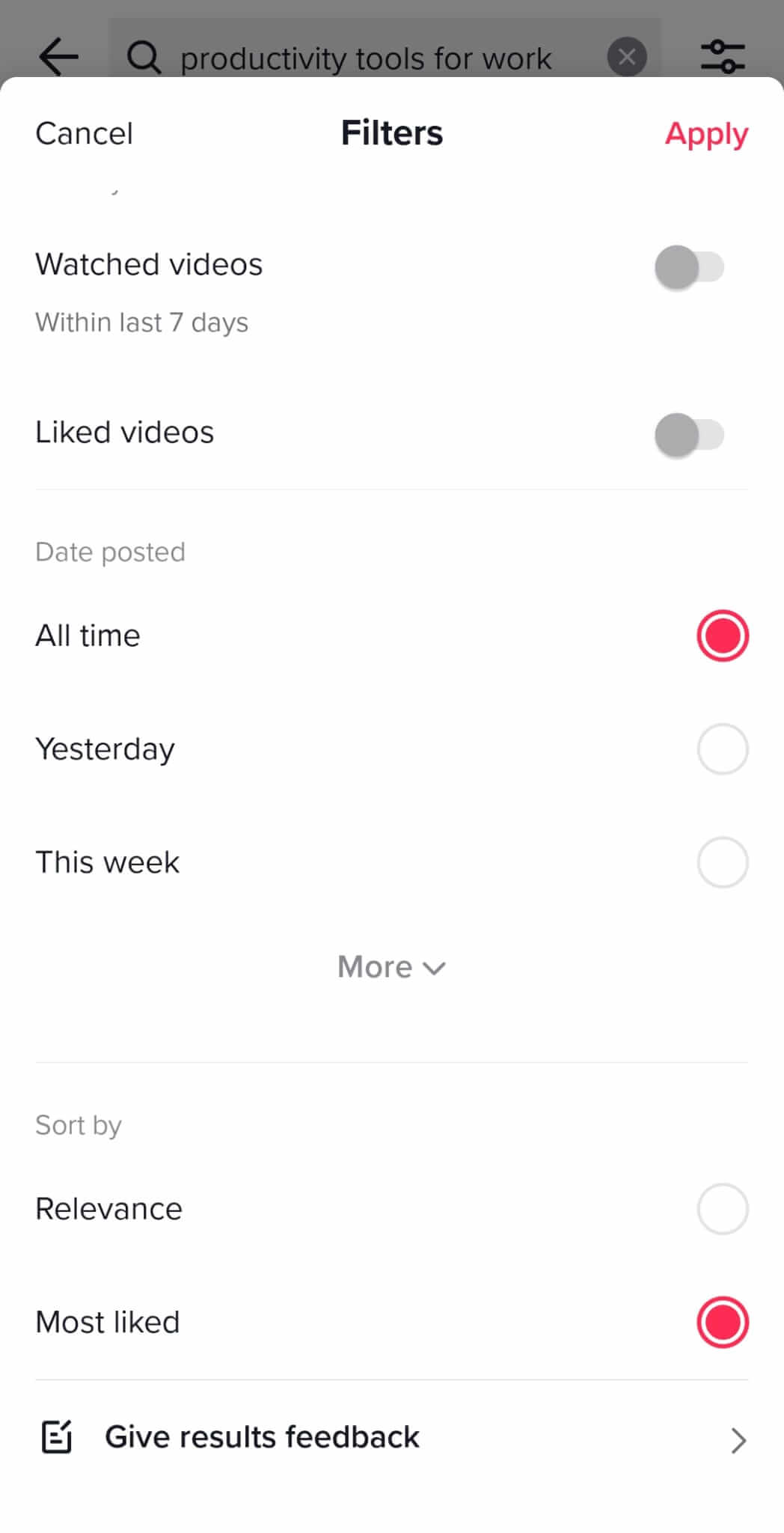 Then watch those videos and take notes. What formats do they use? What kind of language or keywords are people using? Which topics are popular?
You can also check the comments on popular videos for ideas. Look for topics that really resonated with the audience or that people have requested more information about.
This research phase will arm you with ideas for creating content. Next, it's time to drill down and think about the different types of content for the awareness, consideration, and conversion stages of your TikTok marketing funnel.
Create Viral Content for Awareness
In the awareness phase, you want to create content that reaches as many people as possible through a broader audience. It should be short, entertaining, and informative.
For example, videos that show quick hacks or useful tools, or explain hot topics in your niche are often popular.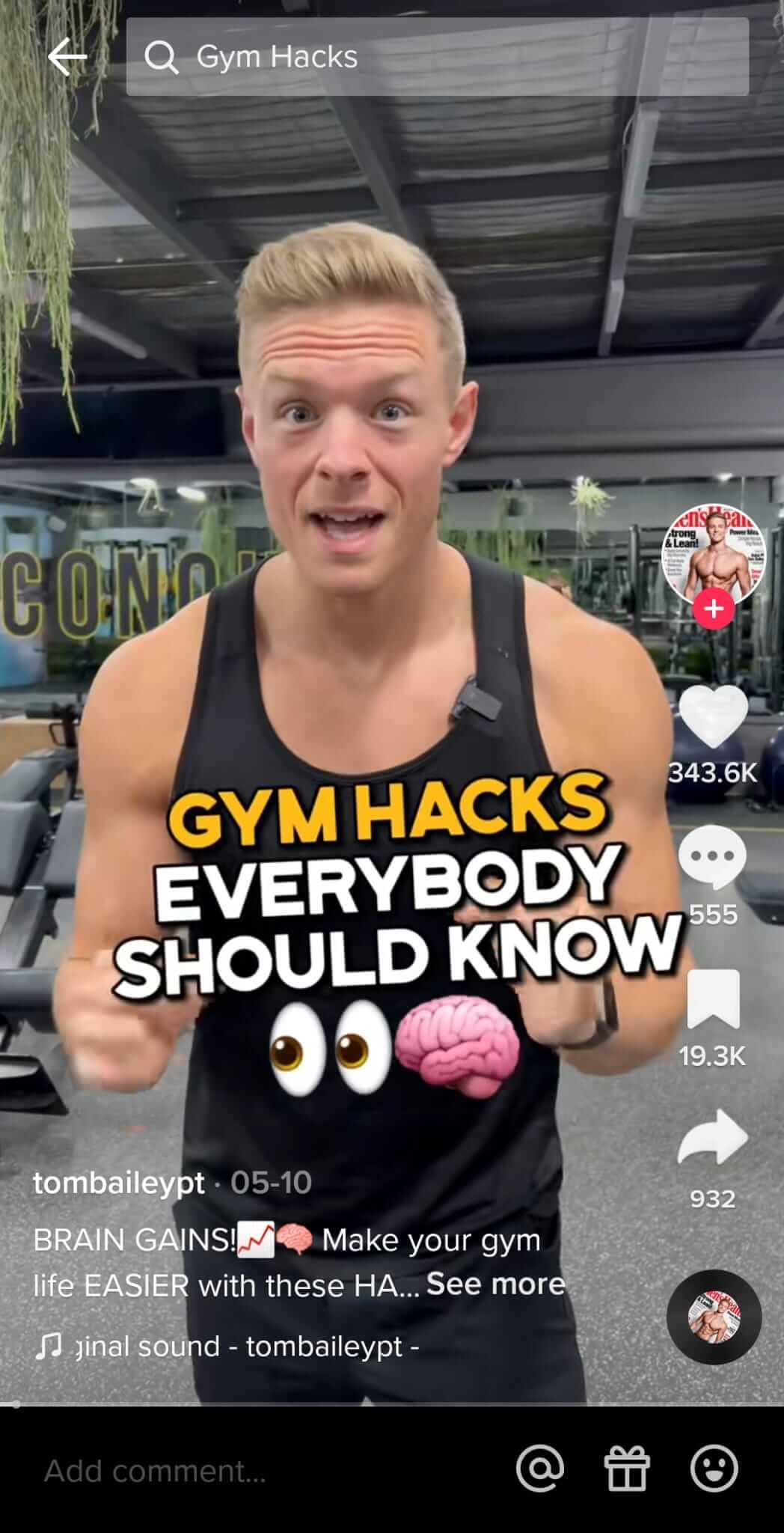 You can also experiment with different TikTok trends and video formats to connect with people. For example, a popular format right now is the "fake conversation," where you pose as two different people and then edit the two videos to make it look like you're having a discussion. You can use this trend to get extra attention for your content while it remains popular.
Remember, this content will account for about 70% of your posts. You're going to be creating a lot. So as well as finding formats that are popular on TikTok, make sure you're choosing something sustainable. The "fake conversation" format is fun but it takes a lot of editing time so it might not be the right fit for busy small business owners. You'll know best which formats feel comfortable and achievable for you.
Create SEO Content for Consideration
In the consideration phase, you want to take a deep dive. Even though this is only 20% of your content, it'll take up more of your research and creation time because it's building the core of your audience.
Here's how to research content that will develop your audience:
Make a list of four or five categories where you have products, services, or expertise to offer.
Under each category, come up with 5–10 information points that you could outline in a 30-second video.
Make videos based on each information point in each category. See which topics are most popular with your audience and then keep focusing on them.
For example, if you were a personal trainer, you might use the categories flexibility, weight loss, home workouts, and running tips. Then you'd have 5–10 video ideas to test for each one of those categories.
You can also use your keyword research and comments to choose potential topics. If you answer a specific question or use a specific keyword in your video, make sure you include it in the video description to make it easier for more people to find your content.
Actionable Content for Conversion
Finally, there's the other 10% of your video content: getting people to convert.
Start by understanding exactly what you want people to do. Do you want them to sign up for emails, schedule a sales call, download a freebie, or make a purchase?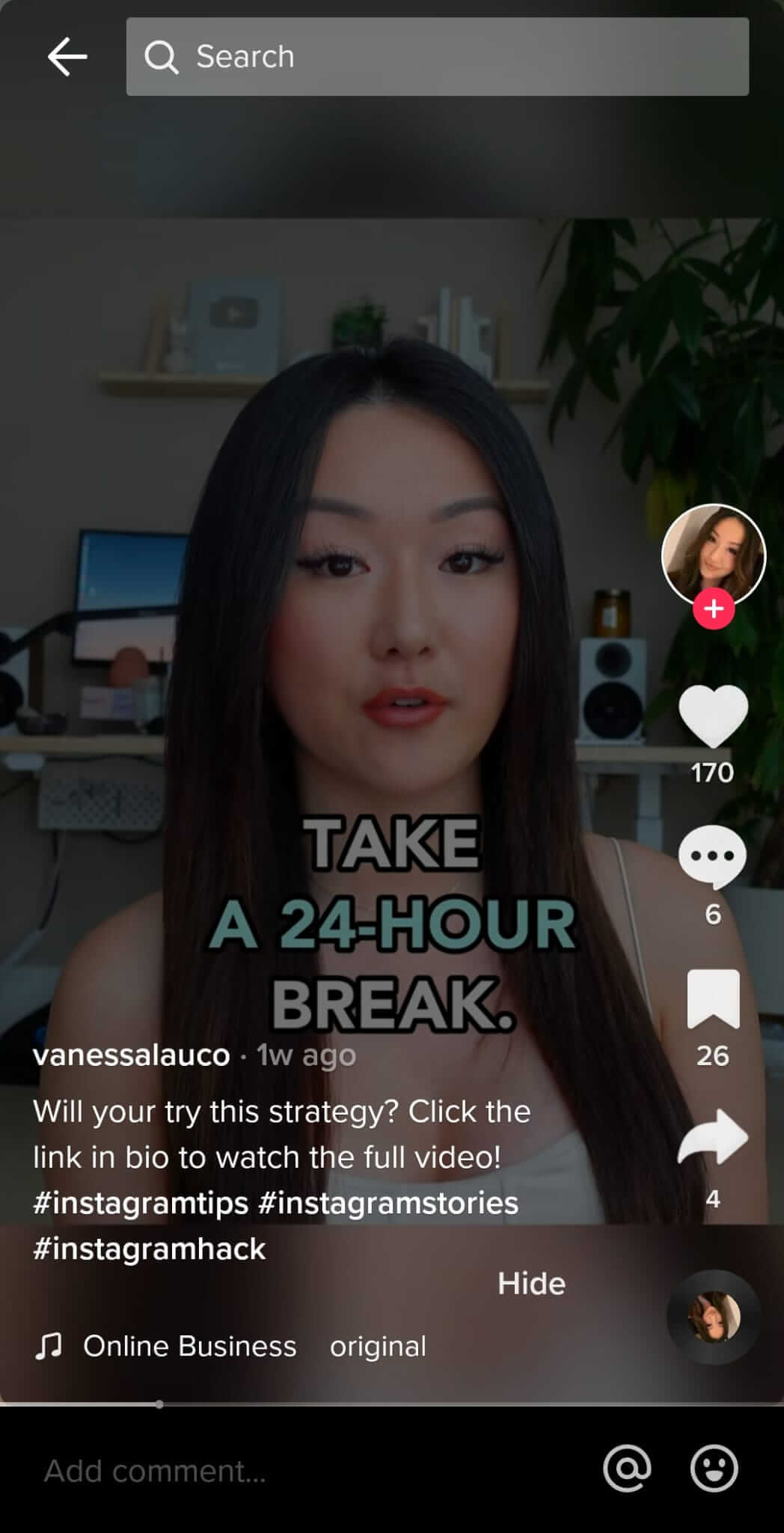 Whatever it is, you'll need a very clear message—something that will fit into a 15- or 30-second video. Tell people what's on offer, why they need it, and how to get it as simply as possible.
On TikTok, you mostly convert through directing people to the link in your bio. So you'll need to optimize your bio as well as your videos. You have 80 characters and just one link to use so choose wisely. You can always use a link expander service such as Linktree or Beacons if really necessary.
Is It Ever OK to Recycle Content?
Creating a short-form video content strategy from scratch can seem like a lot of work.
Don't panic! You can reuse content from time to time.
Since TikTok surfaces content through the For You page, you can get away with reposting videos repeatedly. You'll want to leave some time between reposts—a month, for example—but it won't damage your standing with the algorithm.
It's also a good idea to change a few small variables, even if the video itself is the same. Experiment with using a different thumbnail, description, hashtags, or audio when you re-upload your videos.
In fact, once you've built up a library of content and you know what works, you can regularly reshare content to take some of the effort out of your strategy. It's OK to be a little lazy as long as your content is still engaging and valuable to new viewers.
#3: How to Use TikTok Analytics in Your Content Strategy
Compared to other social networks, TikTok doesn't offer super-detailed analytics just yet. But there are a few key metrics that will help you refine your content strategy.
Video watch rate is your single most important metric. This percentage tells you how often people watched your video all the way through or even if they watched it repeatedly. It's a key signal for the TikTok algorithm about the value of your content.
The audience retention graph is a new feature on TikTok, although you might be used to it from YouTube. It shows you whether and when people stop watching your videos. Monitor your video length and look for patterns in audience retention. For example, if you make 30-second videos but people stop watching halfway through, then switch to 15-second clips.
Like-to-view ratio is another key signal for the TikTok algorithm. If you can maintain at least a 10% rate—1 like for every 10 views—then your reach on the platform will continue to grow.
UTM parameters can help you track conversion rates from TikTok. Add them to the link in your bio so you can see when web traffic comes from your TikTok page. Because you can only have one link on your profile, you won't be able to see which clicks come from specific videos. If you compare video views with clicks for individual days, though, you should be able to guess which videos are most successful.
You can use all of this data to keep improving your content strategy. Focus in on the topics and formats that get the biggest response so you get the most return for your efforts.
With a clear content strategy and a good understanding of your audience, you'll get more leads and sales from TikTok than ever before.
Other Notes From This Episode
Where to subscribe: Apple Podcast | Google Podcasts | Spotify | RSS
✋🏽 If you enjoyed this episode of the Social Media Marketing podcast, please head over to Apple Podcasts, leave a rating, write a review, and subscribe.
---
Stay Up-to-Date: Get New Marketing Articles Delivered to You!
Don't miss out on upcoming social media marketing insights and strategies! Sign up to receive notifications when we publish new articles on Social Media Examiner. Our expertly crafted content will help you stay ahead of the curve and drive results for your business. Click the link below to sign up now and receive our annual report!