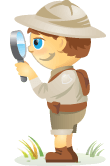 Have you ever wondered why people decide to become fans of Facebook pages?  Understanding the reasons people become fans can help your business or brand develop better strategies.
In this article, I take a look at two studies.
The first reveals why consumers fan businesses on Facebook. The second one examines how marketers are keeping up with the ever-changing world of social media.
#1: Nearly 40% of Consumers "Like" Companies on Facebook to Publicly Display Their Brand Affiliation to Friends
As Facebook grows, we're able to learn even more about the behaviors and preferences of its users. As Facebook continues to change, new stats surface to give us an even better idea of how consumers on Facebook prefer to interact with brands and companies. A new report released by ExactTarget and CoTweet found that discounts and "social badging" were the primary reasons consumers Like brands on Facebook.
Nearly 40% of Facebook users who become fans do so to receive discounts and promotions and 39% become fans to show their support for a brand to their friends. Just as interesting is how these stats compare to Twitter and email marketing. Only 23% of respondents said they follow brands on Twitter and about 10% say they subscribe to email notifications for the same reasons.
Here are some other interesting facts from the report:
43% of the Facebook users surveyed said they Like, or are fans of, at least one brand on Facebook.
34% of Facebook users say they Like brands in order to stay informed about company activities.
33% say they Like brands to get updates on future products.
Among Facebook users who Like at least one brand, only 17% say they're more likely to buy after Liking that brand on Facebook.
"Consumers use Facebook to interact with friends, be entertained and express themselves through their public affiliation with brands—factors that combine to create a potent viral marketing platform," said Jeff Rohrs, principal, ExactTarget's research and education group. "By engaging consumers on Facebook in a way that keeps them entertained, brands have an unprecedented opportunity to mobilize Fans and get introduced to their friends."
Lead the Social Charge Instead of Playing Catch Up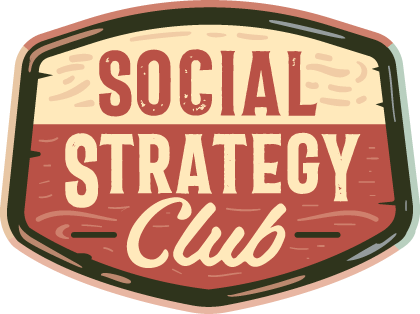 Sick of wondering "What now?" everytime a social platform changes or the market shifts?
Get a look at where the social media marketing industry is headed—before it happens—with insightful trends analysis delivered weekly.
Let the Social Strategy Club be your secret competitive advantage.
CLICK TO LEARN MORE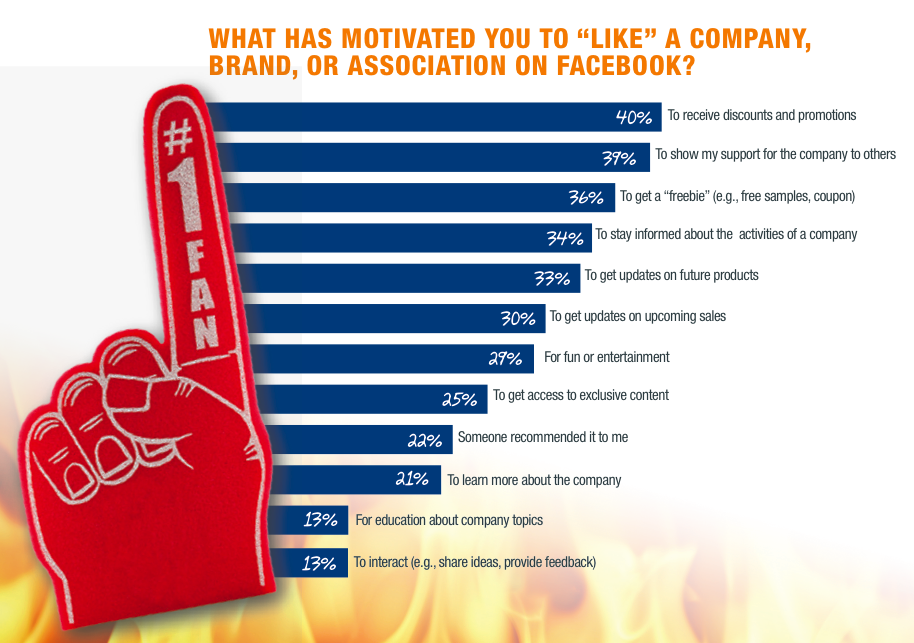 #2: Marketers Are Challenged to Stay Up-to-Date on the Latest Social Media Developments
It's no surprise that marketers are struggling to stay current with the constantly fluctuating social media trends.
In a recent survey by The Creative Group, 65% of U.S. marketing executives considered it at least somewhat challenging to keep up.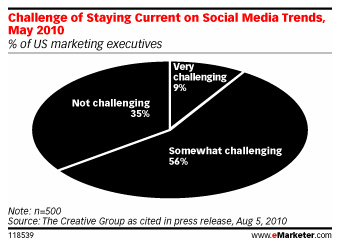 In addition, 23% of respondents cited the best resource for staying up-to-speed on social media is conferences or seminars. Surprisingly, and coming in second at 18%, was attending networking events or industry association meetings.
Only 14% cited Twitter, Facebook and LinkedIn posts as their resource of choice for staying current, while a low 7% cited blog posts as their main resource.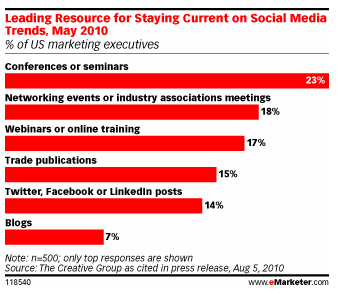 "Networking becomes even more important during periods of rapid change," said Donna Farrugia, executive director of The Creative Group. "Many marketers are aware of broad social media trends, but they need nuts-and-bolts information on how to most effectively use new channels. That's where insight from peers on what worked and did not work for them can be most valuable."
We want to hear from you! Do you agree with these findings? How do you stay current with all the social media changes, updates and new trends? Let us know your comments in the box below.
Get Expert Social Media Marketing Training from the Pros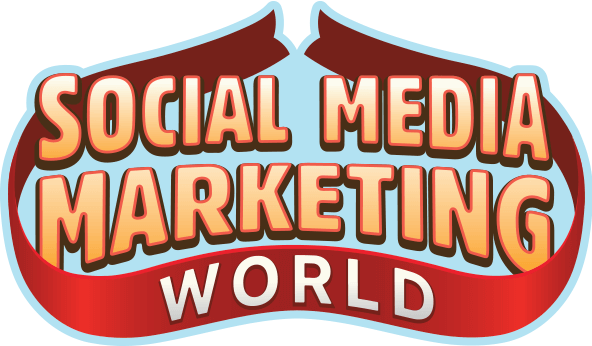 Want to get ahead of the competition or learn how to diversify your strategy?
Learn from dozens of the industry's most trusted experts, rub elbows with other smart marketers, and take your marketing to the next level during this 3-day event in sunny San Diego, CA.
CLICK TO LEARN MORE
Experience The World's Largest Social Media Conference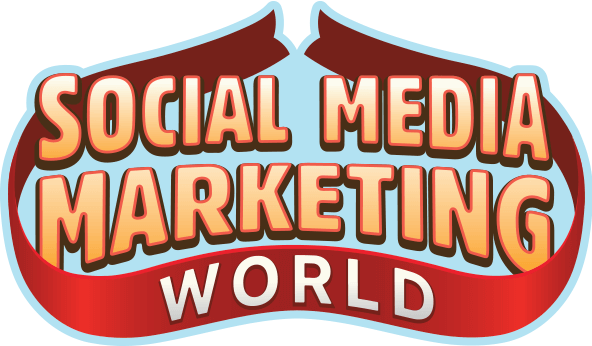 Quality marketing training, actionable takeaways, and beneficial connections—that's just a fraction of what you can expect at Social Media Marketing World! Join thousands of smart marketers in sunny San Diego this spring and level up your marketing.
🔥 Sale ends Tuesday! 🔥
GET TICKETS NOW