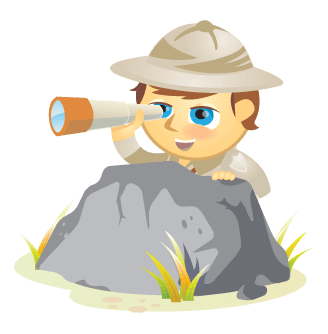 When Michael Stelzner started Social Media Examiner in October 2009, he never dreamed it would become so successful so quickly.
As of March 2011, Social Media Examiner has 59,000 email subscribers, 33,000 Facebook fans, over 60 writers and half a million page views per month.
In addition, the site has generated almost $2 million in sales; ranks among the top 12 websites on two Technorati lists – business and small business; and ranks among the top 1,500 websites in the entire United States, according to Alexa.
"We didn't do anything unique," Stelzner said. "We simply employed great content with smart social media marketing and our community did the rest. And any business can achieve great results."
Listen to Michael share more of the story.
Here's How Your Business Can Thrive With Social Media
Would you like to learn the tactics of social media from pros like Stelzner—all from the comfort of your home or office? If so, keep reading.
Imagine how much it would cost you to attend a week-long conference with 22 different experts in a faraway city. The conference fee, airfare, hotel room, rental car and restaurants would set you back several thousand dollars.
But you can attend an online conference with 22 different social media pros for a fraction of that cost.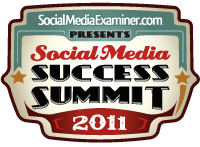 Yes, we're talking about Social Media Examiner's upcoming third-annual social media conference, Social Media Success Summit 2011.
You may have been one of the 2,500 attendees at last year's summit and now you're wondering if you can skip this one. We don't recommend it!
Social Media Marketing Society (Ongoing Online Training)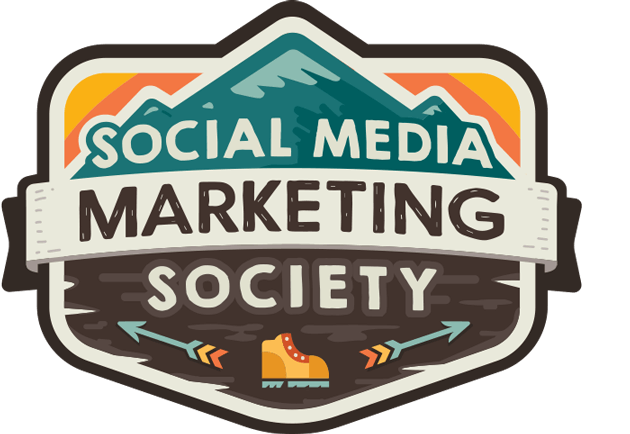 Want to gain marketing confidence and accelerate your career? Try the Society to discover new marketing ideas, improve your results, get support, and become indispensable. Join us for ongoing training, insight from pros, and a community of supportive marketers who understand you.
START YOUR TRIAL MEMBERSHIP
"LinkedIn and Facebook have gone through many changes just in the last two months," Stelzner said.
If you're one of those 59,000 Social Media Examiner subscribers, you already know that, right? Because you've read the following stories:
Put Google Analytics to Work for Your Business (Online Training)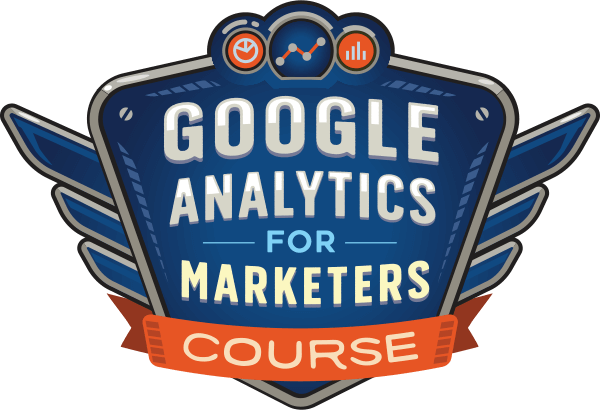 Ever thought, "there's got to be a better way" when it comes to tracking your marketing activities? Are you forced to make decisions based on limited data? With the right training, you can use Google Analytics to measure all of your marketing efforts with certainty.
You'll stop the leaks in your ad spending, justify your marketing spend, gain the confidence you need to make better marketing decisions, and know what's working at every step of the customer journey. Let the world's leading analytics pro show you the way. Check out our new Google Analytics for Marketers course from your friends at Social Media Examiner.
CLICK TO LEARN MORE: ANALYTICS TRAINING
All of these articles were published in the last two months.
Learn What Works in Social Media Marketing
"We have a whole new lineup this year," Stelzner said. "And the major emphasis in this summit is monitoring and tracking your social media marketing results."
Nearly all of the presenters have either authored a social media book or manage social media programs for well-known corporations.
You'll hear from Boeing, Verizon, Intel, Citigroup and Cisco. Here's a partial list of the 22 presenters:
Jeremiah Owyang, Altimeter Group
Brian Solis, author of Engage
Mari Smith, co-author of Facebook Marketing: An Hour a Day
Frank Eliason, Citigroup
Mario Sundar, LinkedIn
David Meerman Scott, author of Real-Time Marketing and PR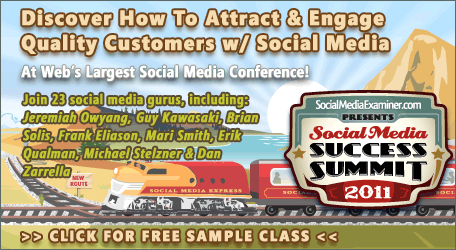 And here's a sample of what you'll learn: Facebook news feed optimization, how big B2B brands are using social media, how to use LinkedIn to grow your business, how to attract local customers using Facebook Places and the 6-step process for measuring social media return on investment.
Last year's attendees included General Mills, American Express, Coca-Cola, Microsoft, 3M, Kellogg's, General Electric, MetLife, Fox TV, U.S. Army, NCR, Ben & Jerry's, Xerox, Capital One, Disney and thousands of small businesses.
There are only 2,500 spots and a lot of them have already been taken. Grab yours before it's gone!
Sign up here to see a FREE sample class or take advantage of the half-price sale. It's only available for a limited time! Last year's summit sold out.
Did you attend last year? What did you think? What are your social media plans? Please leave your comments in the box below.