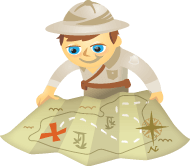 If I were going steady with any social networking site, I would have to call LinkedIn my main squeeze.
Ahhh yes, the lovely LinkedIn.
She warms me up with friendly introductions to powerful decision makers. She brings a smile to my face from the absurd amount of targeted traffic to my websites. And she goes WAY over the top with the number of direct sales referrals she gives me.
It's a digital romance we have, and I'll profess my love for her 'til the end of time. 😉
In all seriousness, I'm a big fan of LinkedIn because of the direct business I receive from it. And although I've written books about LinkedIn, given webinars and presentations on the topic and written articles like Top 5 Ways to Market Your Business With LinkedIn, I've never done a dedicated article about the advanced applications… until now.
Get More With LinkedIn Applications
In this article I want to share with you the top apps you can leverage to get more leads, traffic, product sales, brand awareness, ticket sales, investors, sponsors, consulting engagements and more.
Let's dig into some of my favorite apps and how to get more from them.
Add Your Blog to LinkedIn
Surprisingly, I've seen some of the top bloggers in the world miss out on displaying this app. Failing to include this WordPress app on your profile is a huge mistake because it can help you drive more traffic and shows those who come to your profile how to learn more about your expertise.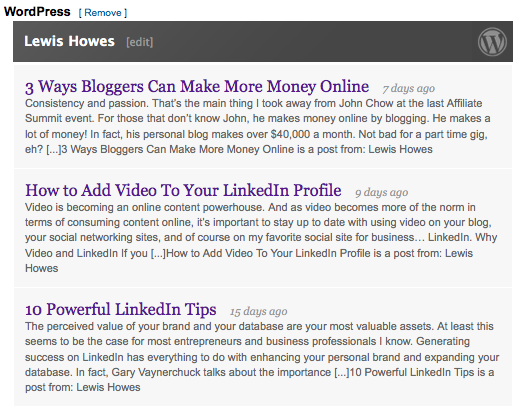 Autoplay a Video!
Imagine someone lands on your profile and instead of seeing the same old boring profile, they hear a voice. This voice either comes from you or a raving fan giving a testimonial. This technique is used so rarely that people can't help but be shocked when they hear a voice and watch a video on your profile.
Adding the SlideShare.net app allows you to showcase presentations you may have, but it also allows you to add a video that autoplays when people land on your profile. Currently the video must be on YouTube for it to work, but it definitely adds a nice touch. Learn more about how to add video to your LinkedIn profile here.
Showcase Your Books or Others' Books
Many bloggers are coming out with their own books, but are forgetting about a valuable resource to help promote and sell more of them: their LinkedIn profiles! The Reading List by Amazon is great because it helps you to stand out while adding to your credibility.
Even if you don't have a published book on Amazon, you can still add this app and include the top books that you're currently reading to give others a better sense about your interests and ongoing education.

Syncing With Twitter on LinkedIn
I synced my Twitter account to LinkedIn when this app first launched. Some said they were annoyed when they saw all of the Twitter updates come to their home feed, but after about a week people got used to it.
I find that I often get as much or more interaction from my Twitter updates that sync to LinkedIn than those same updates on Twitter. Your messages don't get lost in the feed as much on LinkedIn and there are threaded conversations similar to Facebook so you can continue the dialogue for days after.
Get Expert Social Media Marketing Training from the Pros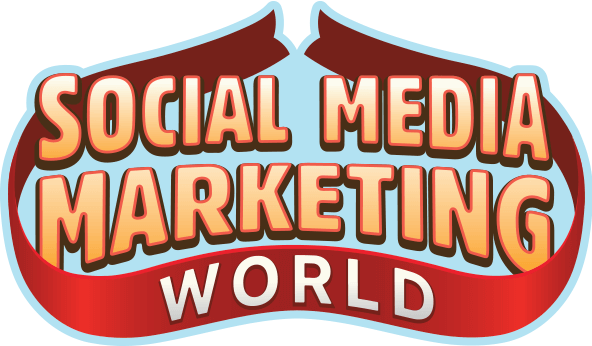 Want to get ahead of the competition or learn how to diversify your strategy?
Learn from dozens of the industry's most trusted experts, rub elbows with other smart marketers, and take your marketing to the next level during this 3-day event in sunny San Diego, CA.
CLICK TO LEARN MORE
Become the Social Media Marketing Rockstar for Your Business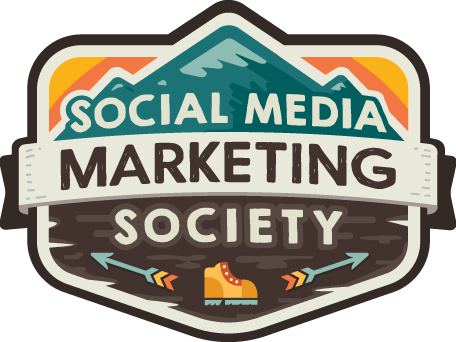 Meet your secret team that makes you look like a social media genius and empowers you to embrace change! We're a genuine community of marketers from your friends at Social Media Examiner. And we're here to support you. Think of us as your career insurance policy. We keep you focused on what matters. We make sure you won't be left behind as the changes keep coming. Join the Social Media Marketing Society. Get access to monthly online training, expert support, and a thriving community of marketers who will empower you to succeed.
JOIN NOW - CLOSES SOON
I recommend doing this if you're active on Twitter as you will look like you're interacting on LinkedIn and continuing to stay on top of the minds of your LinkedIn connections even if you don't use LinkedIn very often.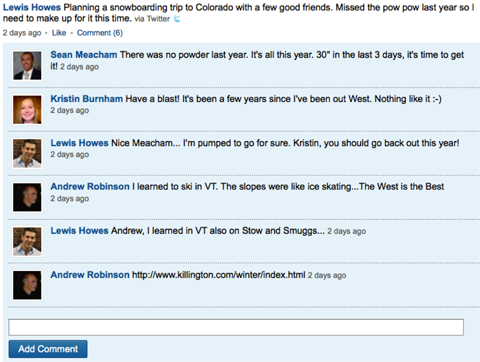 Feature Your Events on LinkedIn
Hosting a major industry conference, regional networking event or maybe a small TweetUp and want to get more exposure and ticket sales? If so, look no further than the most powerful events promotion tool online today—LinkedIn Events app.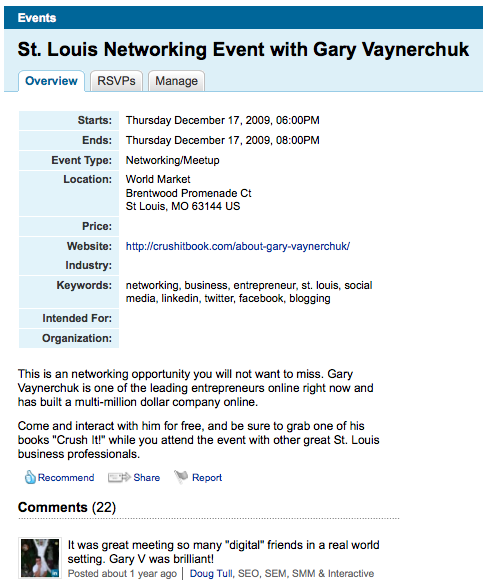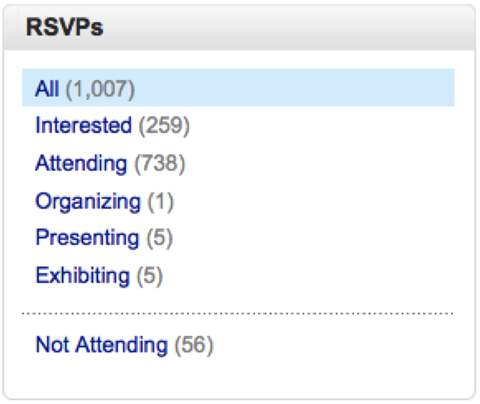 You can see how many people have RSVP'd for your event, who's interested and who's exhibiting. You can also see a picture of those who are attending or interested, their industry, how you're connected to them, what company they work for and more.
There are a few features I wish they would add to help event organizers promote better (like adding a messaging ability to all of those members who are interested), but other than that, I love the way you can use this app to get the word out about your events.
More Advanced LinkedIn Apps
There are a handful of other apps I haven't mentioned that help a variety of industry professionals.
Business Apps:
There are a number of general business apps. Some of my favorites include Box.net Files, Tripit Travel, Google Presentation, Huddle Workspaces and Polls.
Legal Apps:
There are two apps specifically for lawyers. The Legal Updates app allows you to "get legal news that matters to you and your business. (Lawyers, upload your articles and other content. Be found for your expertise on LinkedIn)."
The Lawyer Rating app allows you to "showcase your Martindale-Hubbell® Peer Review Ratings™ and Client Review Ratings™ to further validate your stated credentials and help you make the right connections."
Designer App:
The Creative Portfolio Display allows you to "showcase your creative work in your LinkedIn Profile with the Creative Portfolio Display application. Free, easy to manage, and supports unlimited multimedia content."
There are a number of other apps that you may or may not feel are valuable to include on your LinkedIn profile, but my suggestion is to try a few out and see how you like them.
Since the release of the advanced application section on LinkedIn, they continue to release new apps every so often. Make sure to check the application section for future updates, or find out more by following the LinkedIn blog.
Have you tried using any of the advanced LinkedIn applications on your profile? If so, what is the one you like the best, and why? I'd love to read your thoughts in the comments box below.
Experience The World's Largest Social Media Conference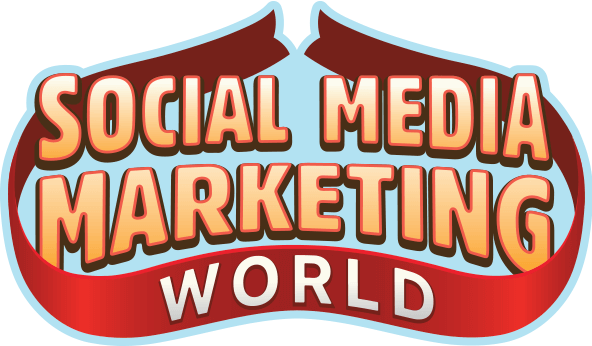 Quality marketing training, actionable takeaways, and beneficial connections—that's just a fraction of what you can expect at Social Media Marketing World! Join thousands of smart marketers in sunny San Diego this spring and level up your marketing.
🔥 Sale ends Friday! 🔥
GET TICKETS NOW