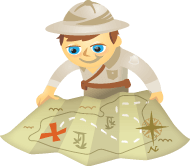 LinkedIn is the most powerful social networking site to help you grow your business.  It makes Twitter, Facebook and YouTube seem like social networking sites for kids.
If you want to hang with the big players—a place where connections are made, leads are generated, and deals go down—then you need to spend more of your time on LinkedIn.
Although other sites have their purpose in the business world and many people utilize multiple social networking sites, LinkedIn is still the number-one place to market your business.  Here are ways to use LinkedIn and get results:
#1: Use LinkedIn Groups & Receive Tons of New Leads Daily
How would you feel if you had a sales funnel that brought in roughly 50 to 100 fresh, highly targeted leads every day? You'd feel pretty confident about putting food on the table next week, right?
Well, creating a LinkedIn group gives you the ability to generate an amazing number of leads from high-end decision makers.
Here are some great groups to closely examine:
Here's how to maximize your LinkedIn group:
Add keywords in the description of your group to increase your search rankings on LinkedIn's search section.
Add keywords in the title of the group to be found on Google.
Add your company website or blog to the group to drive traffic to your site.
Add your blog RSS feed to the group so every new article is automatically posted to the home page of every group member.
Send a weekly message that adds value for group members and drives traffic back to your site.
Connect people in the group by making introductions to those who could potentially do business with one another.
All of these points will help you generate more leads for your business.  If your sales funnel is set up correctly, you will have more than enough prospects to grow your business.
Make sure you create a group that fills a need for the audience you're targeting in your business field. This will ensure that every person who joins the group is a qualified lead.
#2: Ask Questions & Build Your Credibility
I've asked a number of questions using LinkedIn Answers because it's a great way to get the answers you need from some of the top experts in the world.
One question I've asked was, "How often are you answering questions for others on LinkedIn?" I received about 20 responses, but one answer stood out from the rest.
I had an individual share that he spent about an hour a week answering questions and he was getting three to five new clients a month bringing in roughly $3,000 to $5,000 extra in monthly revenue.  Not bad for answering a few questions, huh?
Here are some tips for answering questions:
First, set up the "Answers Application" on the bottom right-hand side of your home page for the subjects you know best.
Your Guide to the Future of Business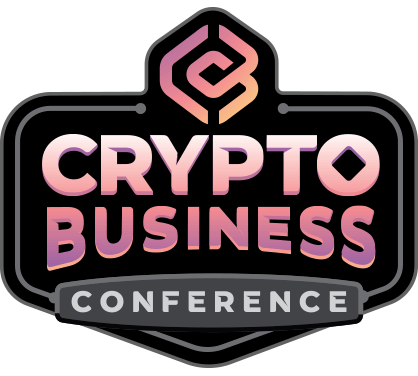 The Web3 renaissance opens up new opportunities for entrepreneurs, creators, and marketers who are ready to embrace the changes. But, who can you trust?

Introducing the Crypto Business Conference; a premium event for anyone who wants to learn how to put Web3 to work for their business.

Join us in sunny San Diego, California, for the first-ever crypto conference for business pioneers…not finance and tech nerds. You'll get actionable, business-building ideas from proven innovators—without all the techie jargon.
CLAIM YOUR SEAT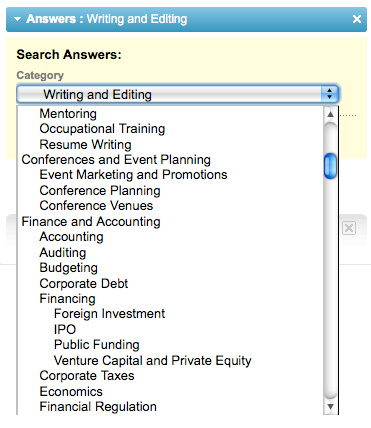 This image shows a sampling of the categories you can monitor.
Then, when you see a question pop up that you know the answer to, follow these steps:
Launch Social Projects Faster and Easier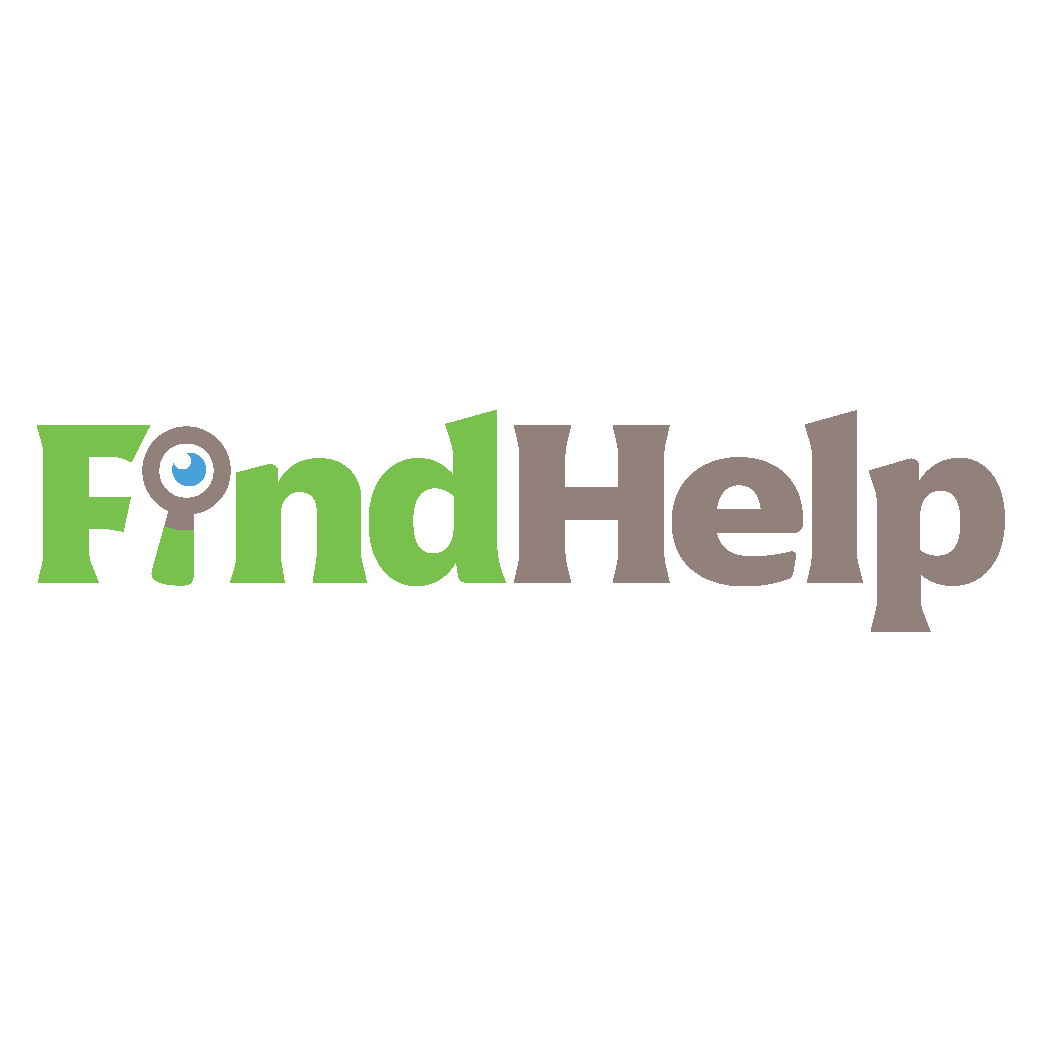 Looking for a content creator, campaign manager, or strategist for your social channels or a special project?

Find the right expert for even the most complicated project or campaign in just a few clicks with our new FindHelp marketplace. You'll have more time to focus on other areas of your business without sacrificing your social presence. Browse highly qualified Facebook and Instagram experts today.
FIND HELP TODAY
Research the person who asked the question, and find a way to tie in a personal response with something from their LinkedIn profile.
Be as helpful and resourceful as possible when answering the question.  Give tips, website links with additional information, or even recommend someone who is the best expert on that topic.
Leave the answer with an open invitation for more communication by asking them to contact you privately if they need any extra help.
All of these tips will help you gain the most out of answering questions, and will help you build powerful relationships that will grow your business.
#3: Create Powerful Events
Hosting an event is a great way to build your business (see events under the 'More…' news in the LinkedIn navigation bar).  LinkedIn has an events platform that allows you to target thousands of professionals for free.
I threw close to 20 events around the country last year and I used LinkedIn to promote them, getting approximately 500 paying attendees per event.
Due to the viral nature of LinkedIn, once someone RSVPs to your event, it shows up on the home profile of everyone that person is connected to, spreading the message for you.
Creating an event on LinkedIn is simple.  Answer a few questions and start promoting your event.  Send an invitation to the people who would be interested in the event based on region or niche. You will notice a wealth of opportunities from hosting your own event.
This image shows what the events page looks like in LinkedIn.
#4: Run an Advanced Search in Your Target Market
It's so easy to generate leads from LinkedIn.  The advanced search function helps you get in touch with the exact people you're going after.
Simply click on "advanced" on the top right side of your home page next to the search box.  This will take you to a clean page where you can input anything you need to find the exact lead you are seeking.  You can search by industry, keywords, company and title, to mention a few.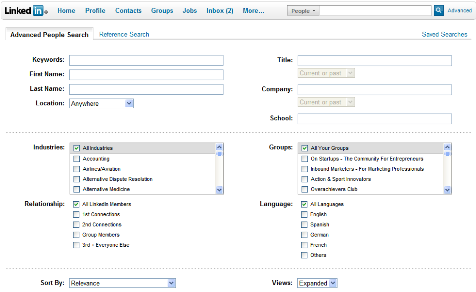 #5:  Send Personal Messages
Once you find leads, you want to send them personalized messages.  The best way to drop any walls—and give yourself the best chance of making a sale—is to connect with someone on as many personal levels as possible. Look at their profile, find out which companies they've worked for in the past, which school they attended, what groups they're in, listed hobbies and who your mutual connections are.  Then, write a personal message like this one:
Hi Tom,

I noticed that we're both connected to Mary, Jeff and Bob; we both played basketball back in college; and we're both in Toastmasters International speaking club.

I would love to connect with you to learn more about your experiences at Xyz Company. I believe there are a number of ways we could help one another.  Would you be free for a brief chat in the near future?

Looking forward to connecting soon and I'll be sure to tell Mary I contacted you. I'm sure she would love to know I reached out to say 'hi.'

Thanks,
Lewis
Personal messages seal the deal and give you a greater chance of future opportunities.
Now Go Grow Your Business With LinkedIn!
If you follow these tips, you'll begin to understand why LinkedIn is the best social networking site for building your business. There are number of ways to attract leads, connect with powerful decision makers and market your business. LinkedIn's niche-specific filters and search features can help you reach the right people in your field.
Make a point of staying active on LinkedIn. Continue to update your profile and add new contacts. The more you put into it, the more the entire network will work for you.
Are you using LinkedIn? How is it working for you? I look forward to hearing what success stories your LinkedIn network brings you. Share your comments below.
Curious about NFTs, DAOs, and Web3?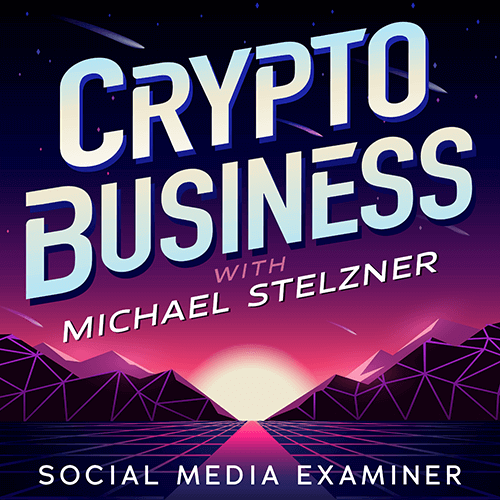 Follow the Crypto Business podcast to find out how NFTs, social tokens, DAOs (and so much more) will affect your business in the near future.

Every Friday, host Michael Stelzner interviews leading industry experts about what works right now in Web3 and what to expect in the future, so you can prepare your business for the shift, even if you're a total newbie.
FOLLOW THE SHOW