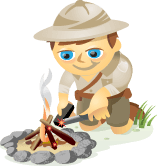 Are you befuddled by all the social media tools out there? Are you wondering if Radian6 is a good choice for your organization? Do you need a way to compare different vendors? Keep reading for a comprehensive review…
If you're looking for a social media monitoring tool, you've probably noticed that it's quickly becoming a confusing landscape. For those who are new to social media and looking for tools to manage their presence, it's difficult to know how to compare one vendor to the next. Here's the skinny on where Radian6 fits into the picture.
Where does Radian6 fit into the social media measurement landscape?
Radian6 helps brands ensure that no post is missed.
We offer unequalled coverage of the social web and provide metrics to measure what is being said, and by whom. —David Alston, CMO Radian6.
Primarily, Radian6 is a monitoring tool. It can help you monitor brand mentions across the social landscape and the new Engagement Console offers you an end-to-end presence management tool.

For consideration: Think about how much "noise" you have in your space. In order for monitoring to be actionable you want to keep in mind that for industries and brands that are targets for spammers it can take a considerable amount of work to filter and find the "meaningful" conversations. I experienced this problem myself, as CareOne and the entire debt relief industry are hounded by spammers and it required intervention from Radian6 to get it in line.
Tip: Many people start by putting in keywords that are used in SEO and paid search. To narrow your results, sort them by comment count. Because comments indicate more engagement, it's more likely that the conversations are meaningful. Look for other words that are used frequently with your keywords and add them as modifiers to narrow your results to conversations, rather than spam bots.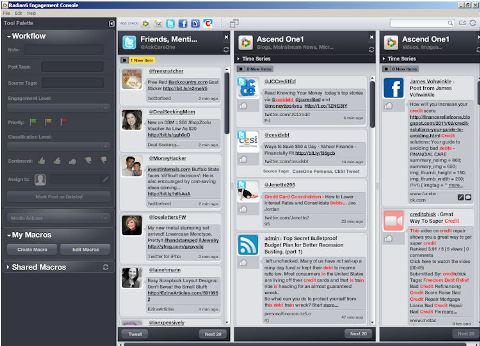 What are Radian6's greatest strengths?
"Radian6 offers users comprehensive coverage of discussions on the social web, covering hundreds of millions of blogs, comments, the public Facebook API and the full Twitter firehose. In addition to this coverage, Radian6 is scalable within an enterprise, allowing online comments to be assigned within the business, to customer service, sales, marketing and so forth. Radian6 also integrates with other enterprise applications like Salesforce.com and analytics like Webtrends, Omniture and Google Analytics." —David Alston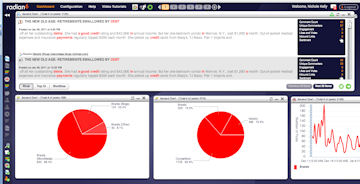 In the landscape of monitoring tools, while competitors are on the rise, Radian6 has had a very comfortable and secure position in the market. I think this is because of two things. First, they entered the market early and got popular social media bloggers to test them out and recommend them. Second, they quickly gained popularity among enterprise organizations with big brand names as being the go-to choice.
For consideration: Radian6 is a very comprehensive tool that gives you a one-stop shop for engaging on your social channels. The workflow aspect is a key consideration for enterprise-level organizations. However, for smaller businesses or teams with one or two people it may be overkill. Additionally, their pricing model can get expensive quickly for larger teams. It starts at $1k+ per month.
Tip: Take advantage of the free tools out there for a while. See what you like best about them and see what they're lacking. Create a list of absolute must-haves and nice-to-haves. When you're looking at different providers you can use this checklist to make sure they have what you need. Anything they're offering that isn't on your absolute must-have or nice-to-have lists will likely end up being an unused feature.
If Radian6 is integrated with Salesforce, Webtrends, Omniture and Google Analytics, can they provide ROI data?
The short answer is no. Based on the integration David described to me, there's no way to follow the conversation back to the revenue. The integration was mostly done from a customer service perspective.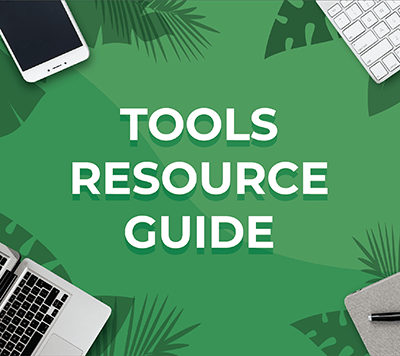 Looking for something to make your life easier?
Discover the tools we recommend to drive engagement, save you time, and boost sales across your entire marketing funnel or business.
Whether you need help planning content, organizing social posts, or developing your strategy, you'll find something for every situation.
FIND YOUR NEXT FAVORITE TOOL
"For Salesforce, it's designed in such a way that, for example, if you find a customer service issue in Radian6, you can link the record of what you find in Radian6 back to the customer record. In terms of Google Analytics, Webtrends or Omniture, you can create an XML report of the 10 terms that get captured in Webtrends that you want to import into Radian6. You can then overlay the Webtrend data on those keywords with the information inside Radian6 and do kind of a pivot to sort by items like time on site." —David Alston
For consideration: The level of conversion tracking was described by Alston as items like lead forms that are set up as goals within your web tracking software. In my experience, this type of conversion data is nice but unless it was an online sale it doesn't attach to revenue.
🌟 Ready to Supercharge Your Social Marketing Strategy? 🌟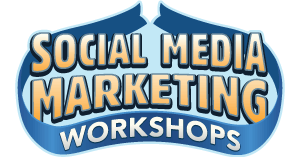 Struggling with your social marketing? You're not alone. The solution? The Social Media Marketing Workshops!

During these live 2 hour deep-dive workshops, you'll discover what's working now on Instagram, Facebook, TikTok, YouTube, and LinkedIn. Skyrocket your engagement, broaden your reach, and amplify your sales.

Become the marketing hero your company and clients need—without leaving your home!
🔥 Save $670 on an All-Access Ticket! Sale Ends Tuesday! 🔥
GET YOUR TICKETS NOW
Tip: While Radian6 doesn't provide ROI data within its interface, it doesn't mean that you can't get to it through other channels. You may need to work with a consultant who can help you quickly identify where to connect the pieces to get to revenue.
What are Radian6's biggest weaknesses?
There are a several things that I think Radian6 could do better.
Up-front Effort for Workflow Features
From a workflow perspective, it's great to be able to assign tasks and tags to posts; however, to be effective, you need to create a system of tagging up front or you'll end up with a large clean-up effort later. It was a great improvement when they released the Engagement Console which allows you to write macros. This cuts down significantly on the number of clicks it takes to assign a post and tag it. But it does take a lot of forethought and setup to get that working well.
David acknowledges that this can be a challenge.
"Because the Engagement Console was designed to optimize usage in a team environment, it requires users to think through the tagging, classification and macro systems they would like to use in advance. This takes an investment to create (we call it a "playbook"), but it's definitely worth it once it has been set up. The latest addition of administrative functionality in the Engagement Console means a single super-user can help pull this all together for the team, thus saving more time."
Two Interfaces
As a user you'll find that there are two interfaces for you to use. The Engagement Console is where you manage your social media channels, tag posts, assign them and so on. I liken it to your HootSuite or TweetDeck interface on steroids. This is what you'll likely use every day. Then you have the Radian6 dashboard which aggregates all of your stats into pretty little charts and you can get data based on specific timeframes.
I found it awkward that the Radian6 dashboard is web-based and the Engagement Console is a desktop app. I would have preferred to have them both as web apps.
No Smart Phone App
For those who manage their presence on the go, there's one big missing piece of the puzzle. You can't use Radian6 on a smart phone because there is no app. I asked David about this and he said to "stay tuned" but I've been hearing that for over a year now so I'm becoming a little skeptical on their ability to make it happen in the short-term. If I were at Radian6, this would be my top priority. For users, it creates a disconnect from presence management and forces us to use other tools on our phones.
I'd rather look for all of my stats on my smart phone, and using the Engagement Console means I have to get reporting in two locations, which is not my preference.
Pricing
There are three fees. One is a per-seat license. The second is a per–topic profile fee. A topic profile is where you tell it what data you want to pull in. If you want to separate data, there is only so much you can do within one topic profile. An agency managing multiple clients would need at least one topic profile per client and it's the most expensive item on the list. The third fee is based upon the volume of posts that come into your topic profile.
While the initial volume range that comes with your topic profile is reasonably high, you'd be surprised at how quickly you can exceed it. You can use keyword refinement to bring this down. These are all monthly fees that make up your core price. While I think Radian6 is certainly the Cadillac in the space and their price indicates that, it's up to you to decide if it's worth the money.
Summary
Radian6 is a great platform that's equipped with a lot of bells and whistles. From my perspective, it was clear the company is dedicated to continual innovation of the tools. To decide if it's right for you, you'll need to look at your list of absolute must-have and nice-to-have features and see if buying the "whole farm" makes sense for your organization. My feeling is that for most one- or two-person operations it may be a little overkill and pricey, but for corporate marketing teams I think it's a reasonable choice.
Read these posts for more on measuring social media and its impact on brand awareness, looking to track social media metrics and 5 ways to use social data to grow your business.
What do you think? Are you a Radian6 user? If so, what would you add to the list of strengths? How about weaknesses? Did you switch from Radian6 to another tool? If so, which one did you pick and why? Please join the conversation and leave a comment in the box below.
Get Your FREE Course: Web3 for Beginners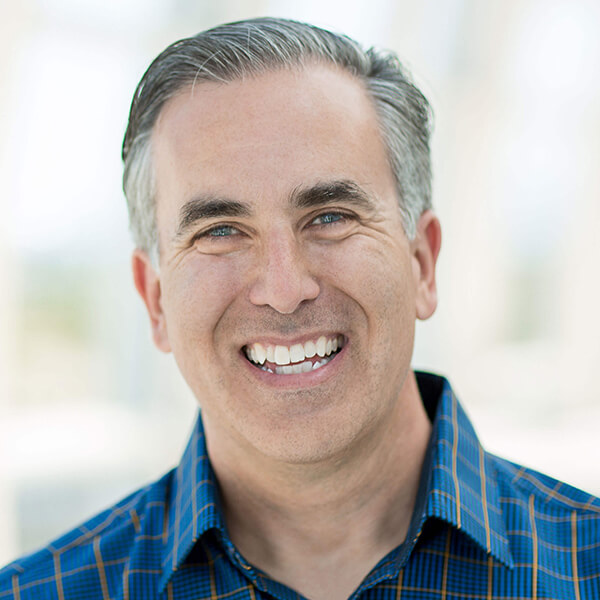 Curious about Web3, but don't know where to start or who to trust?

Introducing Web3 for Beginners, a course taught by Michael Stelzner, the founder of Social Media Examiner.

Learn the basics of Web3 and apply it to your business with this FREE comprehensive course.
CLICK HERE TO GET FREE ACCESS