Do you want to persuade more people to do business with you? Looking for persuasion techniques that work for any business?
In this article, you'll discover three modern principles of persuasion science and what they mean for marketers.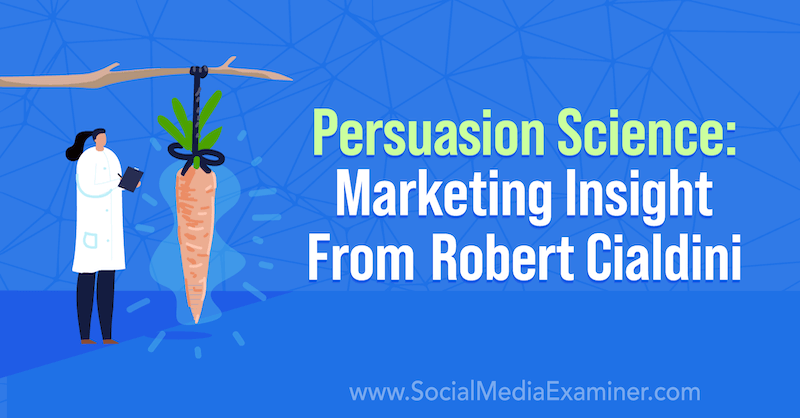 #1: Boost Credibility With Social Proof
The notion of social proof refers to the tendency human beings have to follow those around them. Human beings are, at their core, social animals that travel in packs much like birds that flock together, insects that swarm together, and cattle that herd together. In fact, this instinct is so strong that when we come across a new offer, one of the things we look for is whether anyone else is taking advantage of this offer.
So seeing a queue where other people are doing something, participating in something, or buying something is enough to convince another person to follow that queue.
Social proof can come in the form of reviews and testimonials left by clients or customers, short notifications of purchases and signups, or even in the data you share as part of your contact strategy.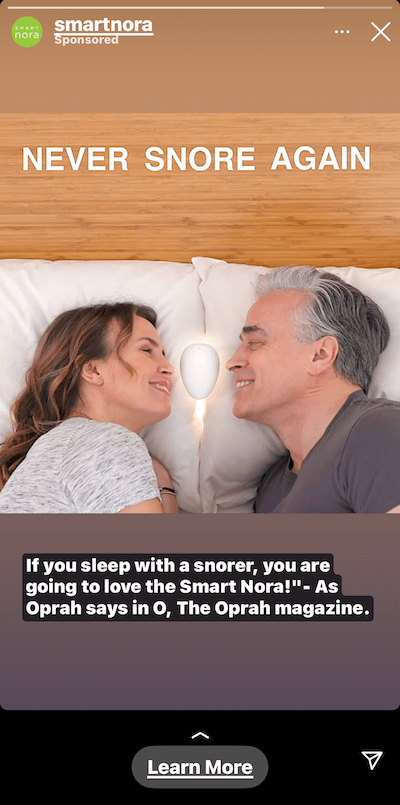 One of the most sustainable and ethical ways you can use social proof in your marketing is to simply point to the things you offer that have already stood the test of time such as a certain package you sell, a particular feature of your product, or a popular payment plan for your services. Simply pointing to one such model and highlighting which variant is popular with your existing audience can draw people to that model.
Take, for example, the popular fast-food chain, McDonald's. Most of us are used to being asked, "Would you like something else with that?", as the employees are all trained to try to upsell the order. However, after adding the sentence, "The McFlurry is our visitors' favorite here," one McDonald's saw the sales of their McFlurries rise by 55% because of the perceived social proof and tendency that people will go with what's popular.
By simply pointing your finger at something you already offer and letting your customers know that it's a popular choice, you can increase the popularity of that choice even more. When you tell someone that a product or service is a customer favorite, you give that person a new reason to purchase that product or service.
As already mentioned, testimonials and reviews are forms of social proof. What the testimonials provide is a collection of proof that a lot of people not only purchased your product or service but also are testifying that it's good. This helps you build up not only your social proof but your authority as well.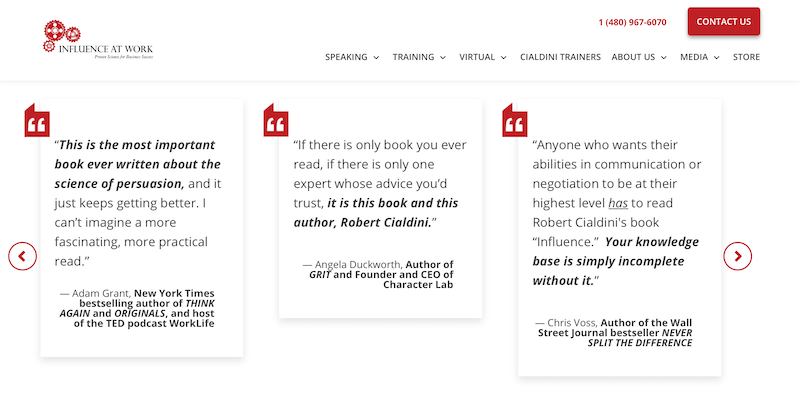 Pro Tip: The best average star rating is between 4.2 and 4.7. Customers tend to view anything with a perfect 5-star review with some skepticism.
What if You Have No Social Proof?
Of course, not every business will have a collection of social proof readily available for prospects and customers to review. New businesses in particular may find using social proof to be difficult before making substantial sales. However, social proof can also be determined by using non–sales-related data to illustrate a trend in a direction.
For example, if you have the statistics for water conservation as 30% of people are taking steps to conserve more water, the social proof in this scenario is that 70% of the people aren't taking those steps. Therefore, people will follow the majority and are more likely to choose not to conserve water.
But if you take the same statistic and follow it up with two previous data points that show the trend is growing in popularity—2 years ago, 20% of people were conserving water; last year, 25% of people were conserving water; and this year, 30% of people are taking steps to conserve water—rather than following the current popular choice of 70% of people not conserving water, people will follow the growing trend under the assumption it will soon be the more popular choice.
Pro Tip: Something to consider if you want to use growing trends to establish social proof is to use a minimum of three data points. Using one data point establishes that you're battling social proof, two data points illustrate only a difference without context, but three data points illustrate a true trend.
#2: Emphasize What People Will Be Missing Out on by Not Purchasing
Just as people tend to follow the more popular choice, people also tend to seize the opportunities that are presented to them as rare, scarce, or dwindling in availability. This is because people have an innate fear of missing out on any opportunity.
In fact, according to Daniel Kahneman—awarded the 2002 Nobel Memorial Prize in Economic Sciences—the notion of losing out on something or missing out on an opportunity is twice as powerful on the human psyche as the prospect of gaining that same thing. In other words, communicating what a customer will gain after purchasing your product or service is only about half as effective as telling them what they'll miss out on by not purchasing your product or service.
Using scarcity within your marketing isn't that hard to do. You simply need to list the ways that the client or customer will miss out on something they want by not purchasing. This can be done by adding a real restriction to the product or service or by paying attention to your word choice within an ad.
For example, when Bose began advertising a new Wave music system, they started by listing its features: elegance, simplicity, and effectiveness, all under the umbrella of "new." After the ad underperformed, they reworked the ad to switch from the word "new" and replace it with "hear what you've been missing." This one simple phrase triggered the customers' fear of missing out on those features in a way that simply telling them about the features hadn't done.
Loss, or the fear of loss, compels a human being to double down on their motivation.
There are two forms that scarcity can take within your ads: limited time or limited quantity.
Limited-Time Scarcity
Limited-time scarcity refers to just that: a limited-time offer. This is the notion that a deal, offer, price, or another incentive will only be around for a set amount of time, and once that time has passed, the customer will no longer be eligible for that same deal. This form of scarcity tugs at a customer's psyche that once the deal is over, they may not ever see it again—which, in turn, incentivizes them to act fast before they miss out on the deal altogether.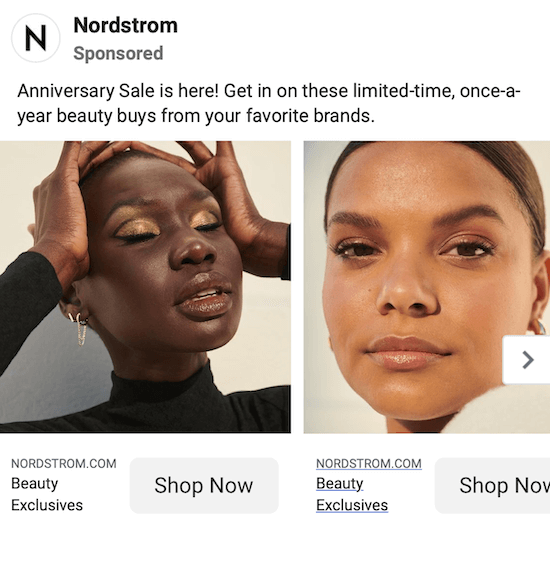 Limited-Quantity Scarcity
Limited-quantity scarcity refers to a limited number of times an offer will be available. Once so many customers or clients have signed up for that deal, it'll be capped out and unavailable for anyone else. You often see this for founding events, launches, and things of that nature where a company will announce that the first X number of people will receive this deal.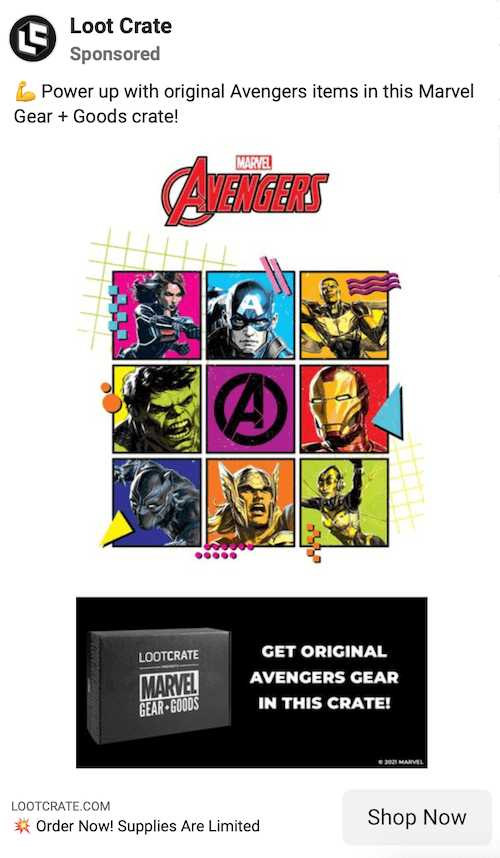 Of course, you want to be particular and intentional in your wording so you don't accidentally create backlash when it comes to your limited-quantity offer—something like, "I would hate for you to miss the advantages of these new features." And you want to make sure that any scarcity you're alluding to is real, not fake. If there are a limited number of bonuses, then it's much better overall for you to honor that number.
And it's the same with limited-time scarcity. If you want to advertise that something is only available for a limited time, you need to make sure that the offer comes down on time. Not only will this protect your integrity as a marketer but it'll also help train your community to act fast when you post a limited-time offer.
Between the two varieties of scarcity, limited quantity is more powerful than limited time. People are more likely to purchase a product or service if they believe that only a select few will be able to purchase it.
However, combining social proof with limited quantity can boost your offer's effectiveness even more. If people are already more likely to purchase once they realize that there's a limit to the number of people who can purchase, then showing them the social proof of people already purchasing increases their desire even more.
#3: Establish a Shared Identity to Build Unity
Another tendency of the human psyche is to say yes to people we share a social identity with—in other words, when your customer believes you're the same as they are, or like the same things, or come from the same place. We instantly like a person or brand better when we feel like they're one of us, and we hope they receive more success in the future simply because we have something in common and relatable.
There are several examples we could use to help a business establish unity with their community but some of the more obvious choices might be liking the same NFL teams, being from the same neighborhood or community, supporting the same political party or religious affiliation, and things of that nature.
This sort of unity can also be had by creating a sense of partnership within your community. Of course, when it comes to creating unity with your audience, you need to take care to use market segmentation strategically to ensure that you're talking to the right people about the right topics and at the right time.
And while we're on the subject of market segmentation, that segmentation can be extended to reviews and testimonials. By segmenting out your reviews and testimonials, customers can see feedback from others in their shoes, making an even more compelling case as to why they need to follow in those footprints.
How Marketers Can Use Unity
Co-creation is one of the most powerful ways to build unity with your community. Anything that invites your community to work with you co-creates or helps you build your products or services for the future. In fact, not only will your community jump at the chance to help you create an offer but they'll also be more invested in seeing the offer succeed and in purchasing that offer in the future.
If you don't have a new product or service that can work for this strategy, you can always try to use an existing product or service. Simply switch your language away from, "Help us forge this new product or service" to "What additions or new features or improvements could you make to this existing product or service?" Either way, your community will jump at the chance to partner with you on your next endeavor.
Pro Tip: When it comes to asking for feedback from your community, try asking for "advice" instead of asking for an "opinion." Asking for an opinion invites a critical viewpoint, whereas asking for advice often invites a constructive viewpoint you'll be able to glean more help from.
Other Notes From This Episode