Want to develop an NFT project that has long-term potential? Wondering how to include a themed narrative that allows your project to grow?
In this article, you'll explore the importance of story and insights from the VeeFriends project.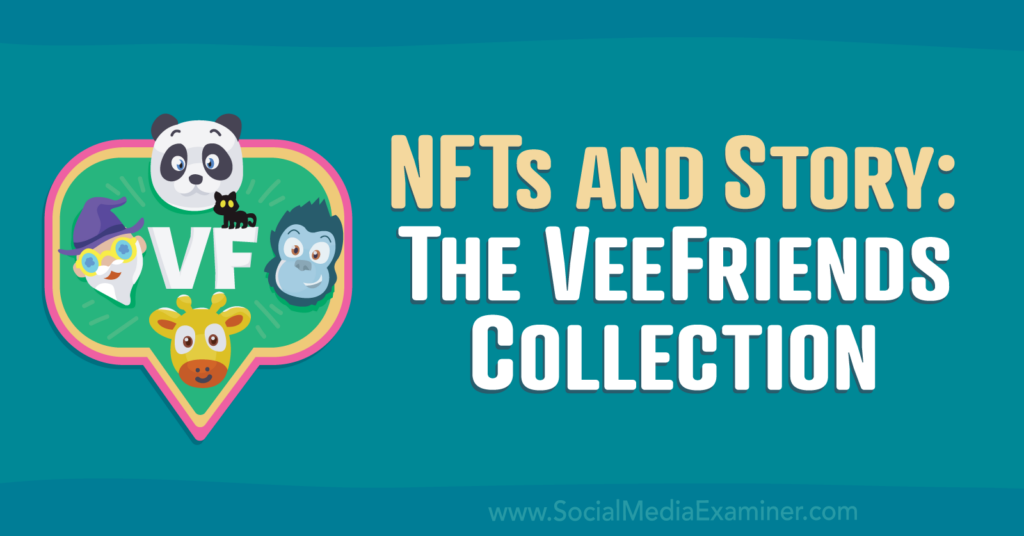 The Business of Ownership is Shifting
There's a shift happening.
The idea of digital ownership is taking hold, and over the next few years, it's going to become commonplace. People will be owning, buying, and trading digital goods in the course of navigating everyday life.
User-friendly apps will emerge to simplify those actions which will, in turn, open opportunities for companies such as Disney to enter Web3 with their own digital goods.
The amount of innovation and change that's going to happen over the next 3 years as it relates to digital ownership will be profound. Dipping your toes in now will serve your business well later.
As you consider entering the space, don't base your initiatives on trends other people are riding. Take a step back and think about what you're most interested in and what your business objectives are. Then consider how those objectives may or may not apply to the ethos of NFTs and Web3.
#1: The VeeFriends Series 1 NFTs
As Gary Vaynerchuk (Gary Vee) learned about NFTs, royalties on NFTs, digital ownership of a token, and that different utilities could be integrated with a digital token—which could be bought, sold, or traded—he recognized an opportunity to create his own intellectual property.
He'd spent the last 15 or 20 years of his life speaking about patience, kindness, and empathy, and realized that Web3 would let him scale that message. The scaling started with NFTs but there was an obstacle to overcome.
While Gary has amassed a big audience, most of them had no clue what Web3 or NFTs were in 2021.
The team didn't want people to start buying and selling NFTs before they really understood what they were doing. They embarked on a mission to use simple, plain language on their communication channels to educate people about everything from Web3 safety and security to NFTs and why someone might want to own one.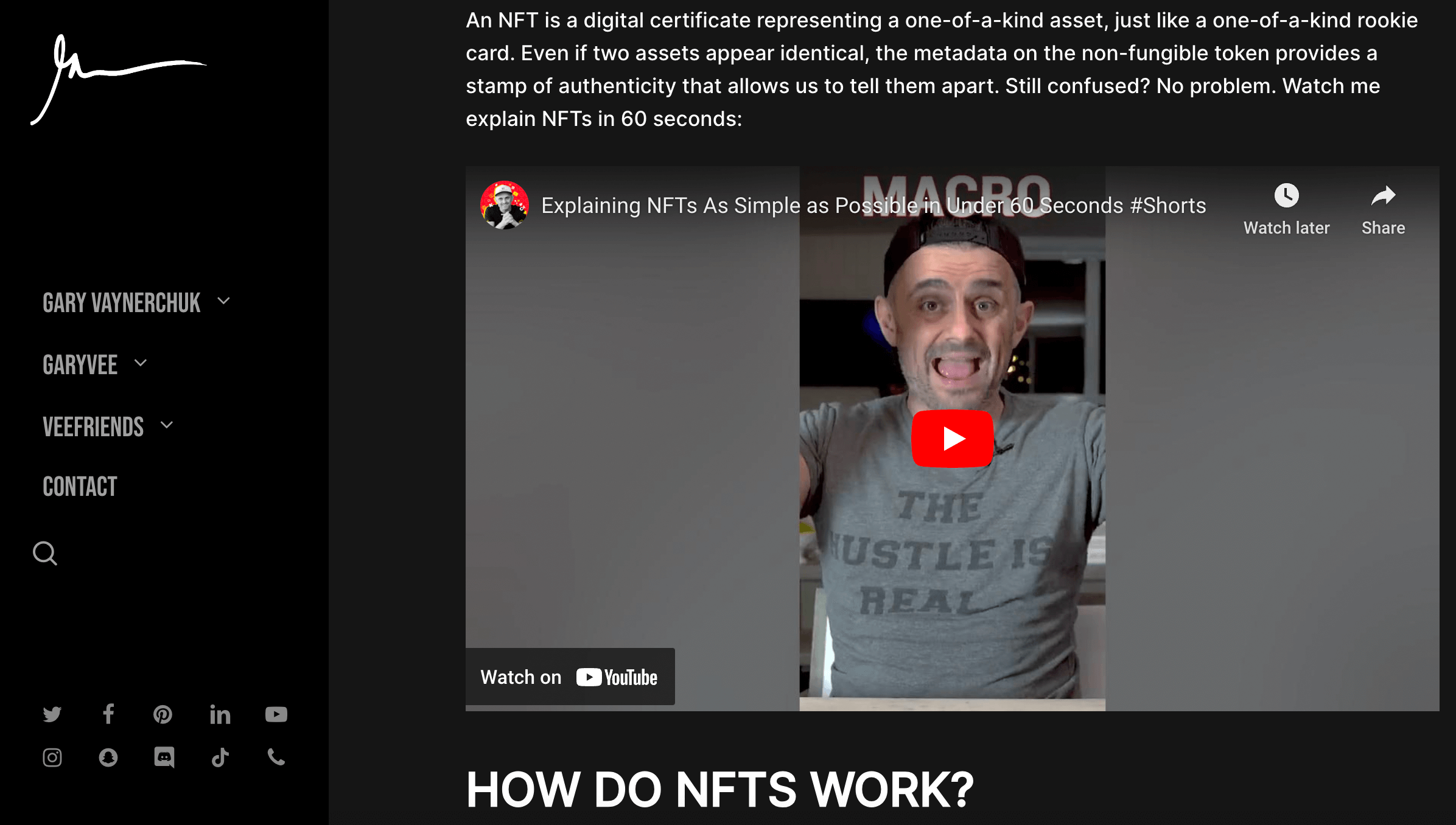 When the VeeFriends website went live on May 5, 2021, the 10,255-piece collection was made up of 283 different characters all of which were visible. This allowed people to pick the NFT they wanted—a feat that hasn't been repeated by any other project.
After months of education outreach, development of art for 238 VeeFriends, and project teasing, the VeeFriends Series 1 NFT collection officially launched for mint on May 11, 2021.
The mint was run as a reverse Dutch auction and mint price ranged from 0.5 to 1 Ethereum (ETH). Series 1 sold out in 4 weeks.
VeeFriends NFT Utility
The main utility of a VeeFriends NFT is full access to VeeCon for 3 years. If you consider 0.5 ETH was worth $1,982 on May 11, 2021, that's quite a bargain.
33 VeeFriends NFTs have additional access utility that makes them more valuable. Some holders can have Gary Vee on their podcast, others can go bowling with him, and others can play ping pong with him.
#2: The VeeFriends Community
"Acquaintances become friends, become family." This quote shared on VeeFriends' Twitter encapsulates the ethos of the VeeFriends community.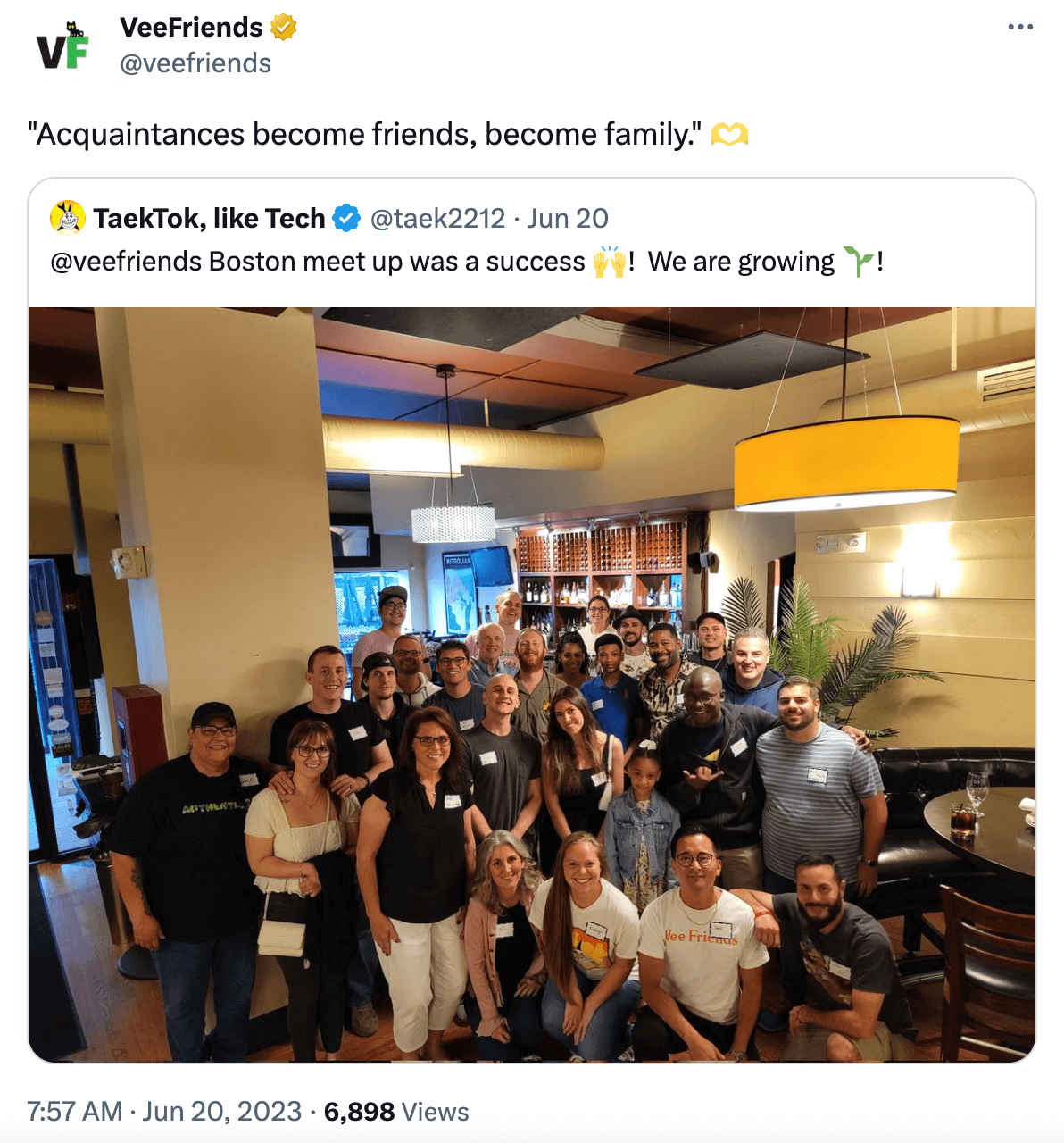 VeeFriends holders have developed strong bonds and ties, and they often spend nights chatting with each other in the Discord server.
Helping create those types of meaningful connections is one of the longest-lasting impacts a company can make on its consumers or customers. That type of impact falls directly in line with VeeFriends' overarching mission and vision.
#3: The VeeFriends Storyline & Brand
The mission and vision for VeeFriends are to build an intellectual property company around its characters to promote positivity and kindness in the world.
Story is a key part of that endeavor. Every part of that story is authentic to Gary Vee and his passion for championing patience, kindness, and empathy.
Gary hand-drew and named every one of the 238 VeeFriends characters, imbuing them with both shared and unique attributes. Characters include Humble Hedgehog and Humble Hummingbird, as well as Aspiring Alpaca, Common Sense Cow, Truculent Tyrannosaur, Gratitude Gorilla, and more. There's an Ambitious Angel and a Zealous Zombie so there's really something for everyone.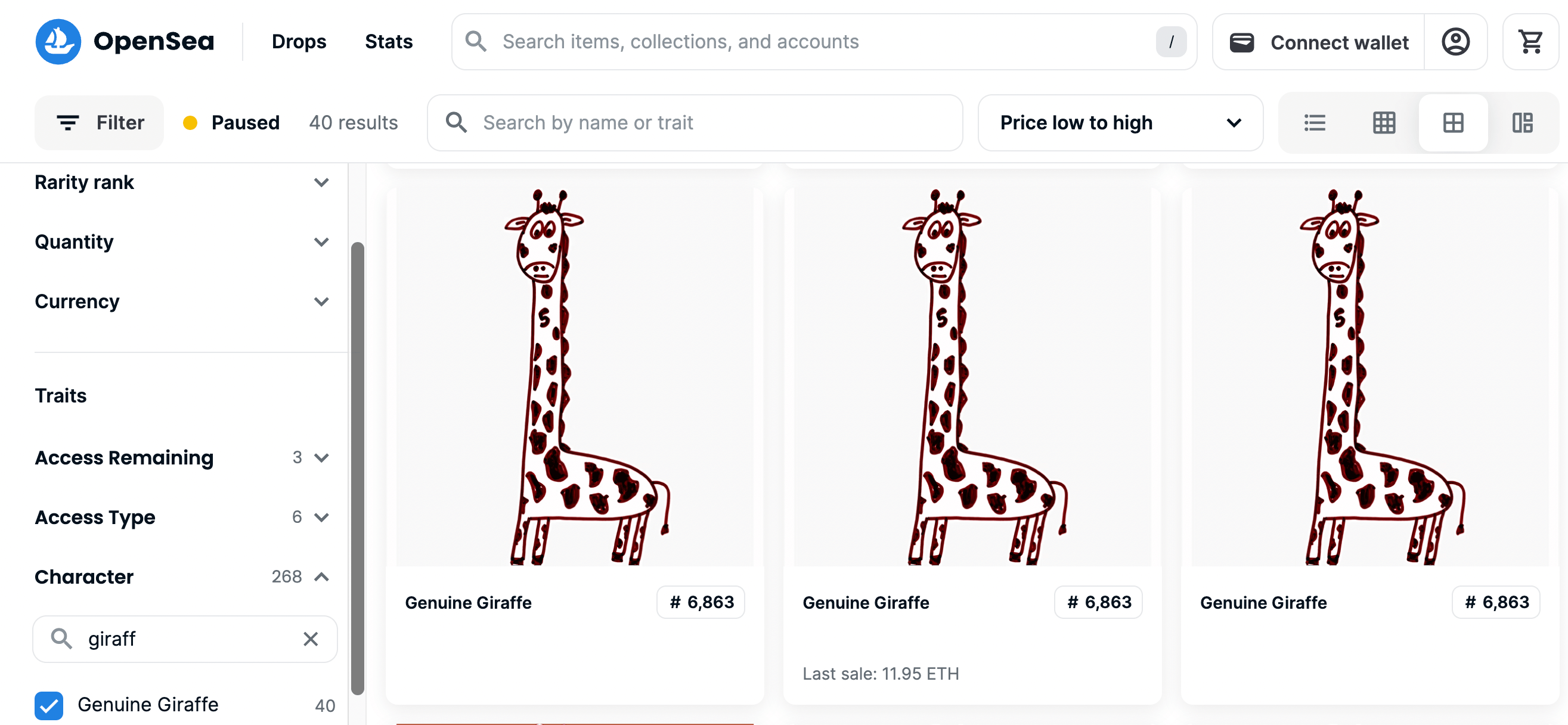 Calling back to Gary's passion, VeeFriends exist to promote happiness, kindness, and accountability while creating a movement of positivity within the world. Optimistic Otter and Ambitious Angel can be our friends, and their stories can help us as we navigate our daily lives.
The diversity of characters and attributes allows the team to drive a rich narrative that leans into VeeFriends' reason for existence while moving the project toward monetizing via intellectual property, which is the overall mission of the VeeFriends initiative.
To fully realize the opportunities in intellectual property, the hand-drawn character art of Series 1 VeeFriends needs to evolve to a form that lends itself to different media for storytelling.
Enter Series 2 of VeeFriends.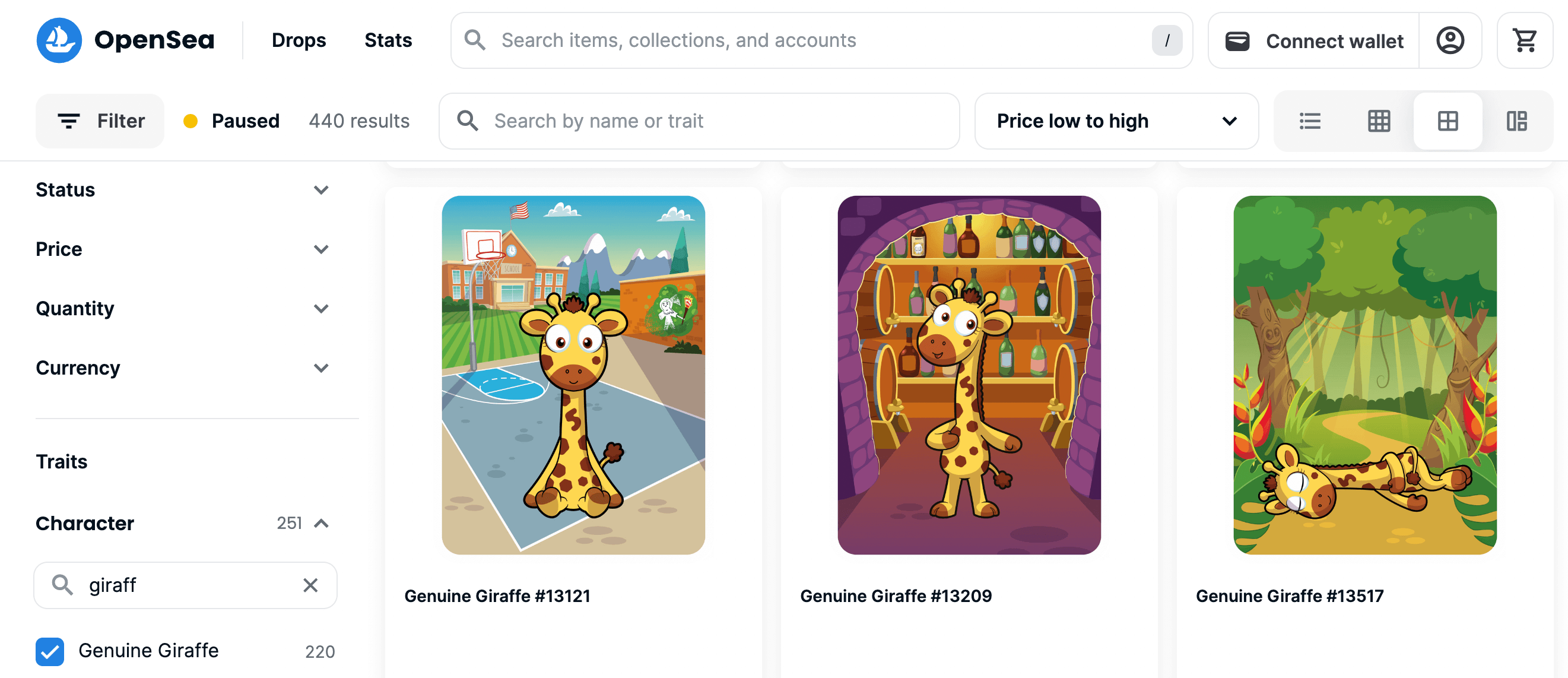 The character art for this series was professionally designed to allow each character to be animated or used in other forms of media.
Now, the team posts early-stage storytelling content such as short animations and video on social channels to learn how to best bring the VeeFriends characters to life.
They're noting which characters and voices are resonating and figuring out how to grow beyond their current audience.
This summer, the team is launching a YouTube channel for kids that will gauge how a young audience reacts to Empathy Elephant, Kind Kudu, and Gratitude Gorilla.
Monetizing VeeFriends Intellectual Property and Collaborations
Gary has been on a mission to show the world and VeeFriends' audience that what he created aren't just images; that the characters will take different forms. To that end, the team is trying to build and expand the intellectual property across different verticals and industries.

The brand has partnered with Macy's/Toys R Us to sell plushies of six VeeFriends, each of which has a QR code that leads to 3D animated storytelling content. Mattel is creating VeeFriends Uno cards and Anwar Carrots is designing a hoodie featuring a VeeFriends character.
Where will this eventually lead? Characters and stories that people have deep emotional resonance with often develop into immersive experiences via events and theme parks. Is that where VeeFriends is headed? We'll find out over the course of the next 50 years.
Gary has said VeeFriends is something he'll be working on and creating for the rest of his life.
Other Notes From This Episode
Where to subscribe: Apple Podcast | Google Podcasts | Spotify | Amazon Music | RSS
✋🏽 If you enjoyed this episode of the Web3 Business Podcast, please head over to Apple Podcasts, leave a rating, write a review, and subscribe.
Disclaimer: The information provided on this website is provided solely for educational purposes and does not constitute any advice, including but not limited to, investment advice, trading advice or financial advice, and you should not treat any of the website's content as such. Social Media Examiner recommends that you independently research any information contained on this Website and that you speak with an investment professional before making any decision to purchase, trade, hold or sell cryptocurrency. Nothing herein should be treated as a recommendation to buy, sell or hold cryptocurrency. Social Media Examiner cannot guarantee the accuracy of any information listed on the website and is not responsible for any missing or wrong information. All information is provided as is and should be used at your own risk. Social Media Examiner disclaims all responsibility and liability for your use of any information found on the website.