Thinking of launching an NFT project to build a business? Wondering how to launch a Web3 business that has long-term potential?
In this article, you'll find out how the DeGods and y00ts projects launched and discover business lessons for project founders.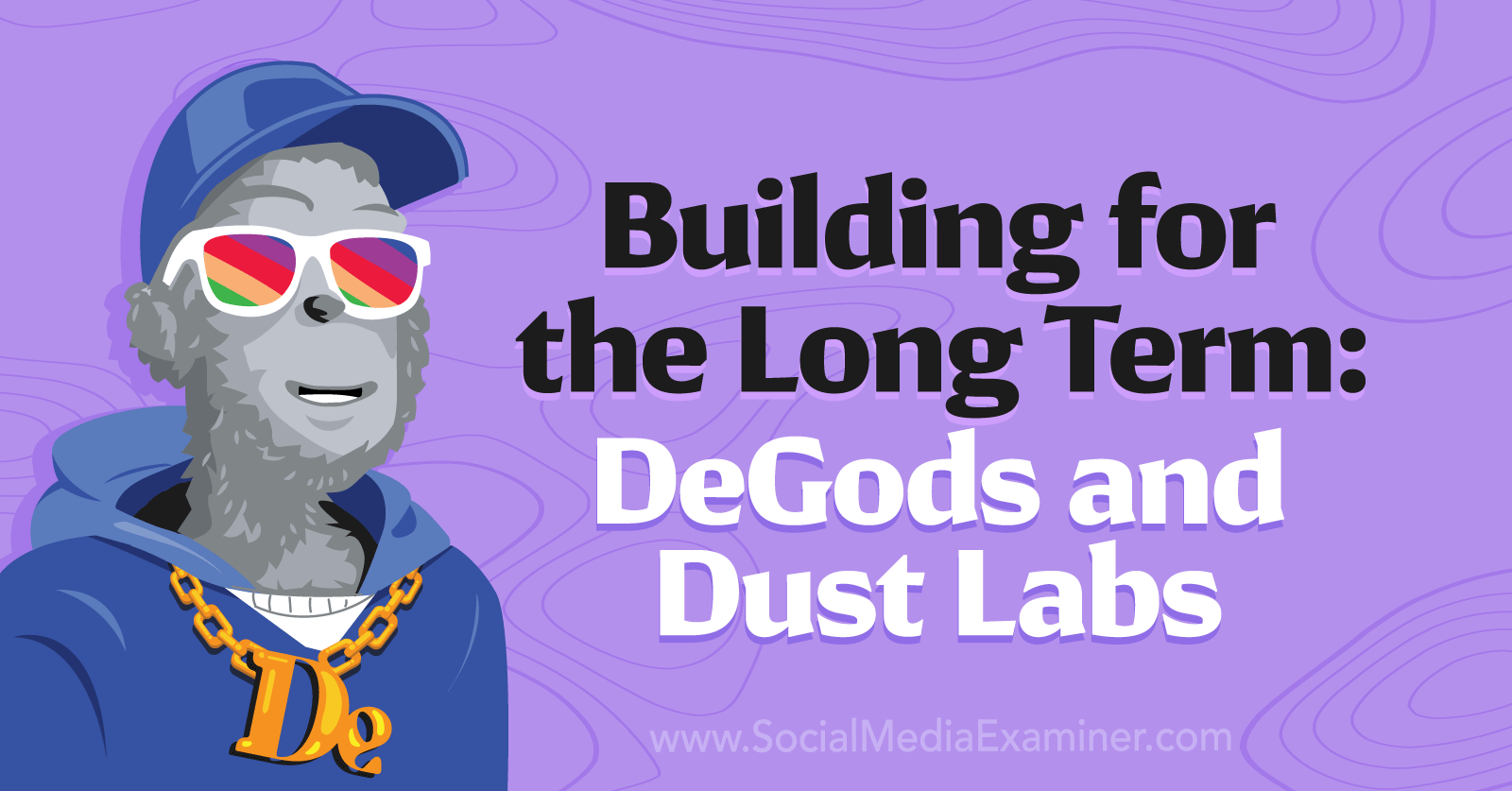 Web3 Tech Is a Conduit for Deep Connection, Cost Savings, and More
If you're building or selling anything, you need to build an audience for it.
In Web2, that's happening at scale in two ways. By running ads across Google and social media or by partnering with an influencer to reach a following they've built on social media.
Both processes work but they're inefficient because neither you nor your customer really owns the relationship between you. The connection is essentially rented from the platform you're using to make contact.
Web3 offers elegant solutions that do allow both of you to own that connection.
A benefit of this owned connection is genuine loyalty, as opposed to falsely professed loyalty. For example, some people have purchased every version of your product, and then some people claim to have purchased every version.
Web3 gives you an easy way to verify which customers' claims are genuine so you can reward those who really are most loyal.
Now imagine that you can align customer reward incentives across your entire customer base and also reach someone who has bought one product from you or shopped at your store once. How that would galvanize a customer's loyalty to your brand?
That's a solid use case but the real value of Web3 tech runs deeper and is twofold.
There's the initial value of innovation that occurs when new tech comes out and early adopters expand on what's possible by applying it to small businesses.
The second, and arguably more exciting, value is realized when Web3 technologies are applied to existing businesses that are already at scale to achieve efficiencies that result in savings of operating costs.
Hearing that a new business lowered operating costs by 5% or 10% isn't all that interesting.
Hearing that General Motors lowered operating costs by 5% or 10% would be a big deal and could benefit customers and stakeholders alike.
Dust Labs was founded so the tech the DeGods team was working on could be scaled and delivered not to just other NFT projects but to all brands and businesses who are keen to embrace NFTs, blockchain, and all things Web3.
#1: Building the DeGods NFT Project: Lessons Learned
DeGods began with and remains tied to experimentation, and that has led strategy. The team tries something to see what happens, then listens to feedback from outside the team.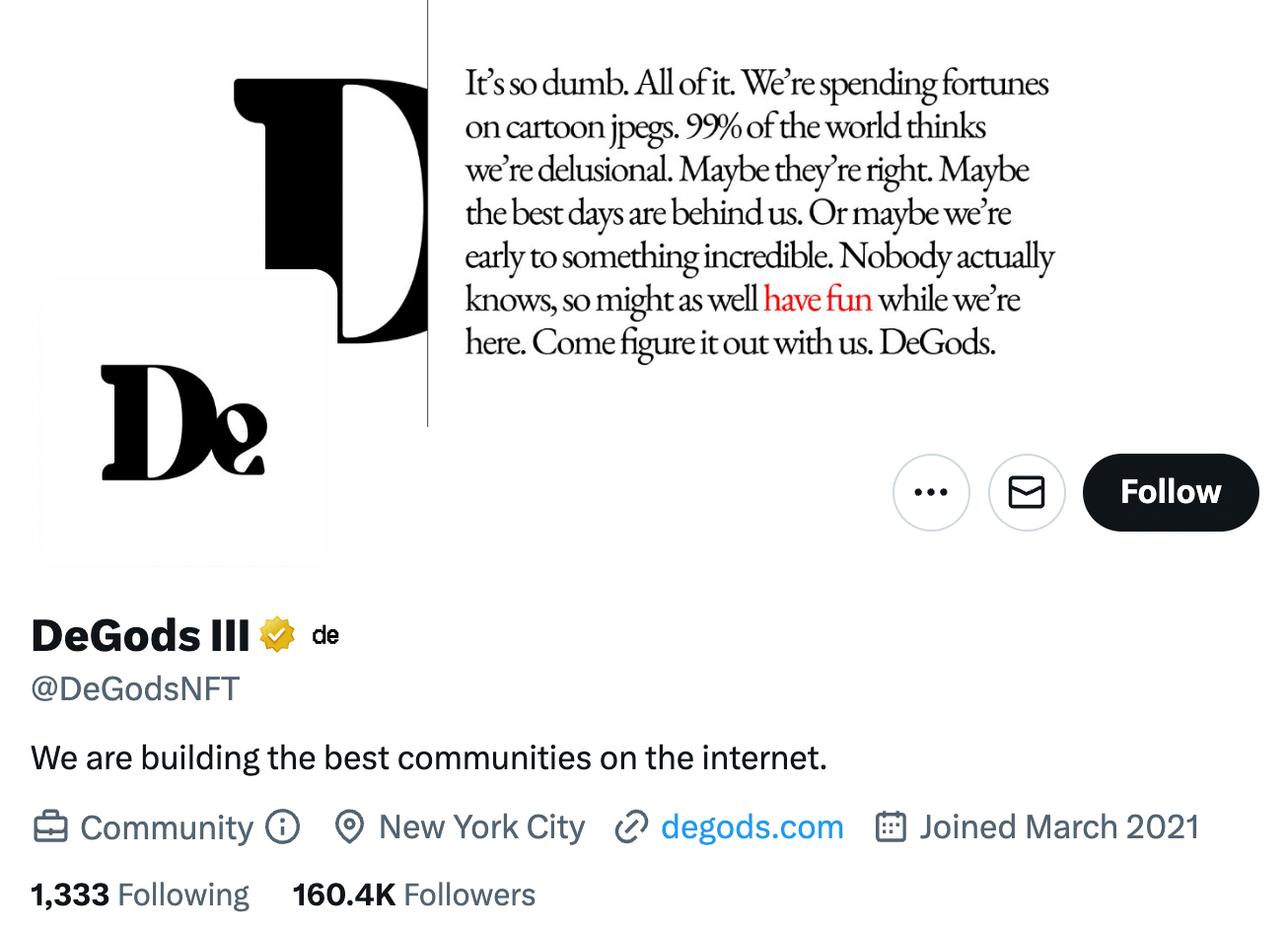 If community members are less than enthusiastic or downright upset about something, the team knows it's not because anyone wants to be mean. It's because they care deeply. They have an ownership stake in the project and want to see it succeed.
A customer who isn't invested in their relationship with your business or brand isn't very likely to report an issue or point out an area that could use some polish. They'll be unhappy with their experience and never think of you again. If you have a customer who is passionate enough, who cares enough to let you know, you have a golden opportunity to improve something you didn't know was broken.
Web3 enables that feedback process and the DeGods strategy continues to be informed by it. The DeGods team also watches and analyzes other NFT projects to discern what they did right and wrong, what people appreciate, what could be done better, and so on.
Here are some valuable lessons they've learned.
Building in Public
In Web2, the phrase building in public meant working on open-source code while using forums to engage with fellow builders. It was all done in public.
If you made a mistake or released something that upset customers, people reacted but the fallout was relatively private because it was contained in a long forum thread that someone had to log into to read.
The building process is similar in Web3 but the speed of communication and the ease with which feedback can quickly go viral increases the pressure considerably.
The Dust Labs and DeGods properties get tens of millions of views every month across Twitter accounts, and that level of attention cuts both ways.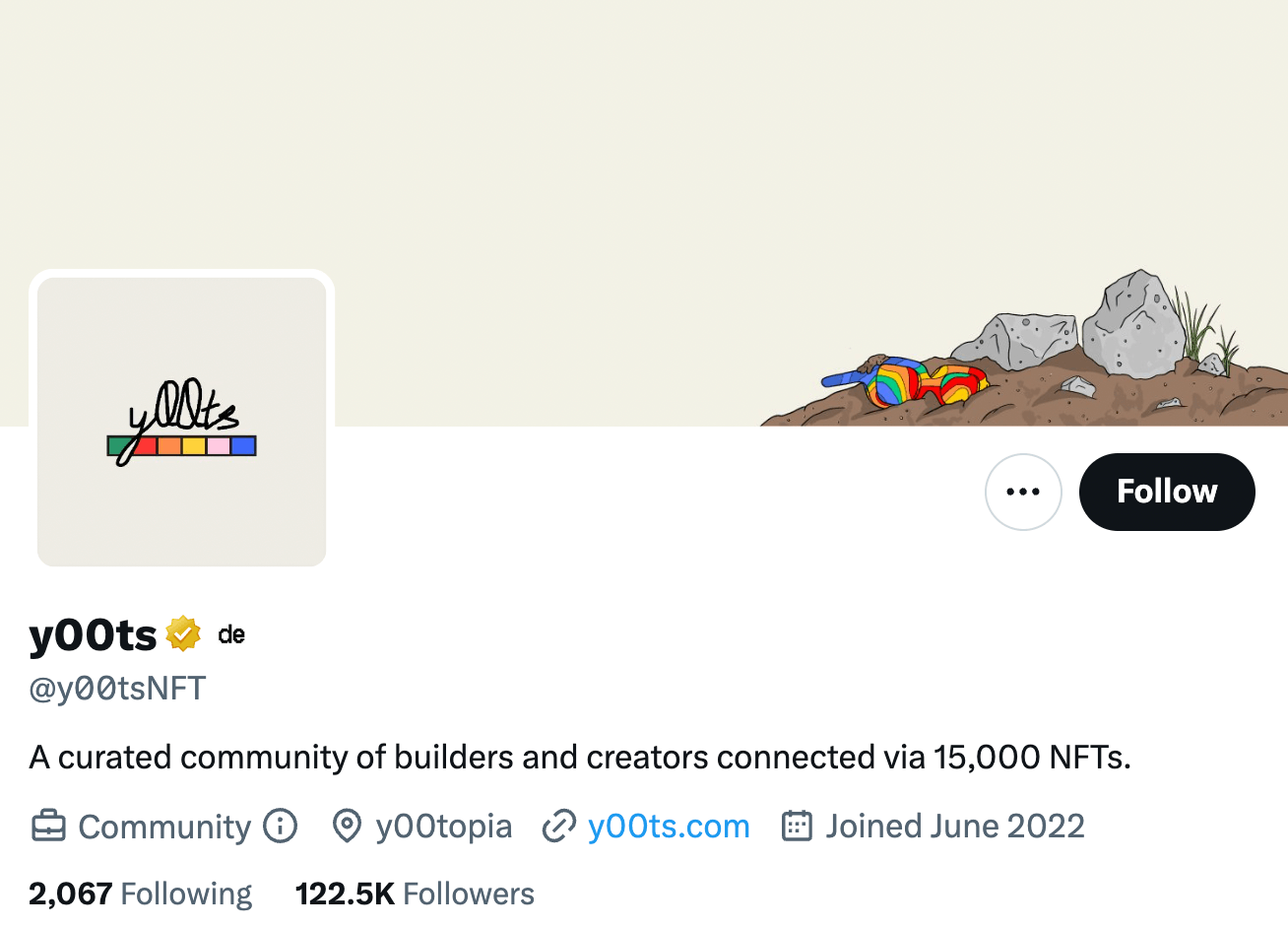 If the team does something good, people celebrate it with thousands of views, likes, and shares. Conversely, when someone on the team makes an honest mistake or a sound bite is misinterpreted, the resulting negative reaction is also magnified with thousands of views, likes, and shares.
The Lesson
When you hear or see something negative about your project, don't take it personally. Put yourself in that person's shoes and look past the words so you can understand what their emotion is conveying.
Viewed through that type of lens, the intent of most feedback is positive. People just want to help the project be better, do better, be more successful.
Try to understand what they're telling you and extract the goodness out of that feedback. Let them know you're in the Twitter thread or the Discord, you're listening, and you've received what they're saying.
"We're listening. I appreciate you. That's good feedback and we're taking it to heart. We could have done better."
That type of genuine response will defuse a lot of negative conversations.
Holder Expectations
FrankDeGods understands that when a holder logs into a platform like Twitter or Instagram, the first thing they want to see is something about the project. They want to see the global community they belong to, and themselves by proxy, going viral, getting the most press, and owning the top of the Twitter feed.
When this expectation isn't met, holders sometimes try to prompt the team to take action.
"It's been 72 hours since I've seen really exciting viral threads. You guys should launch something!"
The Lesson
It's unrealistic to imagine that your project will always enjoy a state of positive virality.
You can't always be in launch mode nor can you always be on Twitter. Some days, you'll have other things to do at work: attend meetings, develop business plans, write documents… and that's okay. It's necessary.
Sometimes however, a little levity can go a long way. Kevin will sometimes tweet "Feed the pigs."

It's a reference that points to his childhood but also relates to the team so that tweet will get hundreds or thousands of likes.
If you sense that your NFT community could use a pick-me-up, tweet something funny that makes them feel like they're on the inside with you.
Art and Brands
Many DeGods NFTs feature sticks, knives, or cigarettes, and the collection has been described as having a masculine or frat club feel.

When talking with prospective partners, the team also heard, "My brand is cleaner and talks to children" and "My brand is more female-focused."
The art didn't have a broad appeal for brand partnerships, but true to their strategy, the team listened and learned.
The Lesson
If you're interested in brand partnerships, design artwork that makes it easy to connect with brands.
Y00ts was the second digital art collection from the Dust Labs team and was designed to stand apart from DeGods aesthetically. It was also designed to be inclusive and composable.
The art is simple and clean, and the characters have a friendly Sesame Street vibe. Home for y00ts is a happy place called y00topia where everyone is included.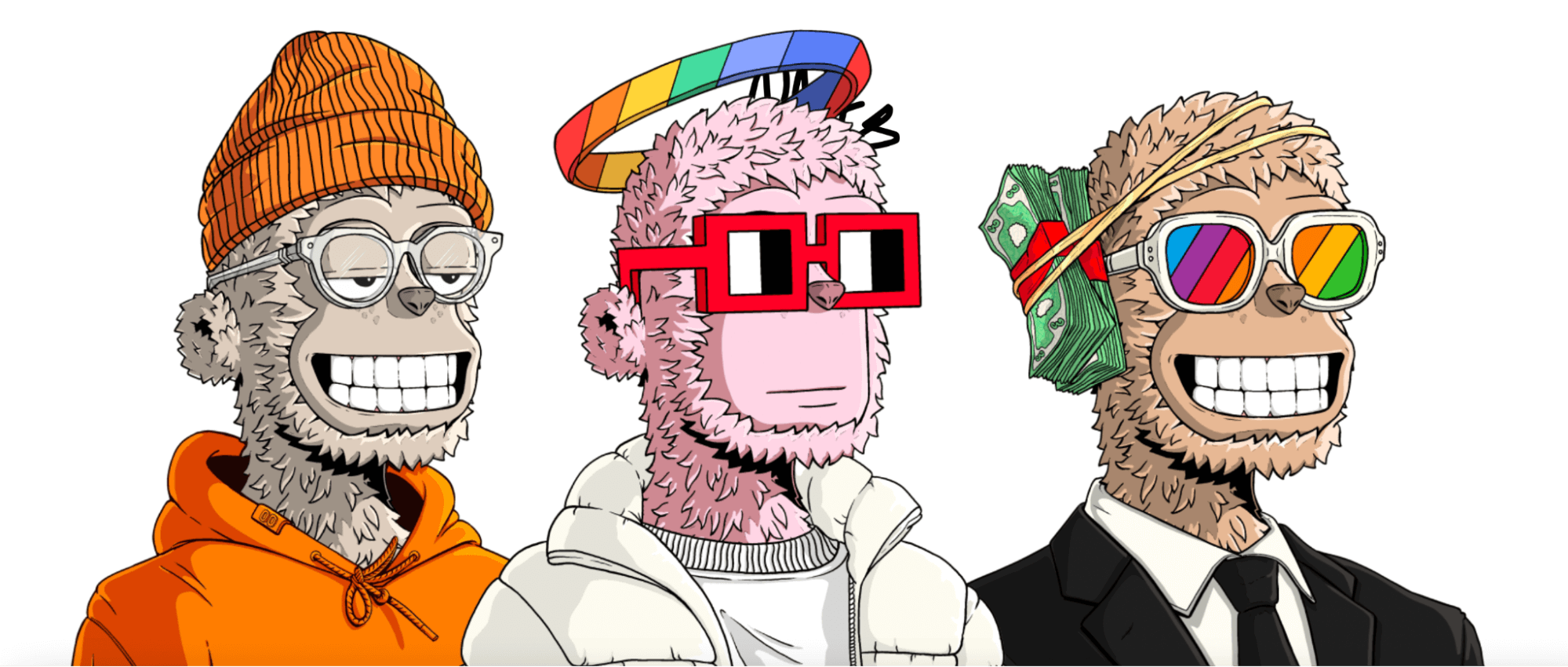 The y00ts art and the lore fit really well with a lot of brand conversations when the NFT collection launched.
#2: Building for the Long Term
The launch of y00ts was intentionally designed to attract and include a diverse group of people who wouldn't typically join an NFT project.
Y00ts is a 15K-piece NFT collection. Ten thousand y00ts mint slots were distributed to the 10K DeGods NFT holders; 2K were distributed to recipients in peer communities, and 3K were given to recipients who applied as part of a scholarship process that was based on merit.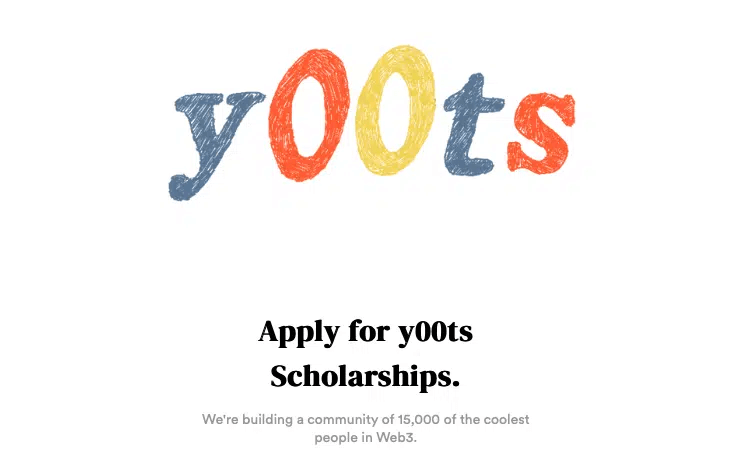 In all, 70,000 people applied for those 3,000 spots, from which the team carefully selected celebrities, artists, creatives, entrepreneurs, collectors, and business builders—many who had fewer than 100 followers on Twitter.
The diverse makeup of the y00ts NFT community is high and reflected in the way the holders are collaborating.
For example, most NFT project communities will spawn subcommunities. In the DeGods/y00ts ecosystem, subcommunities are called clubs. The DeGods NFT community minted in October 2021 and has 15 clubs. Y00ts, which minted in September 2022, has 35 clubs, many of which are building businesses based on merch or partnerships.
It's exactly what the team hoped would happen. It's helped place the company where it's at today, which is now connecting with much, much bigger brands that are coming into Web3, including several gaming companies interested in putting a y00t into their game.
#3: Dust Labs, DeLabs, and the Future
DeLabs is where the creative brains and artists behind the DeGods and y00ts projects work.
Dust Labs builds the technology for DeGods and y00ts, and leverages what they learn to package and sell that technology as white-labeled SaaS solutions to help other NFT projects and brands.
Today, those solutions include Explorer, Scholarships, Staking/Rewards, Clubs, and more.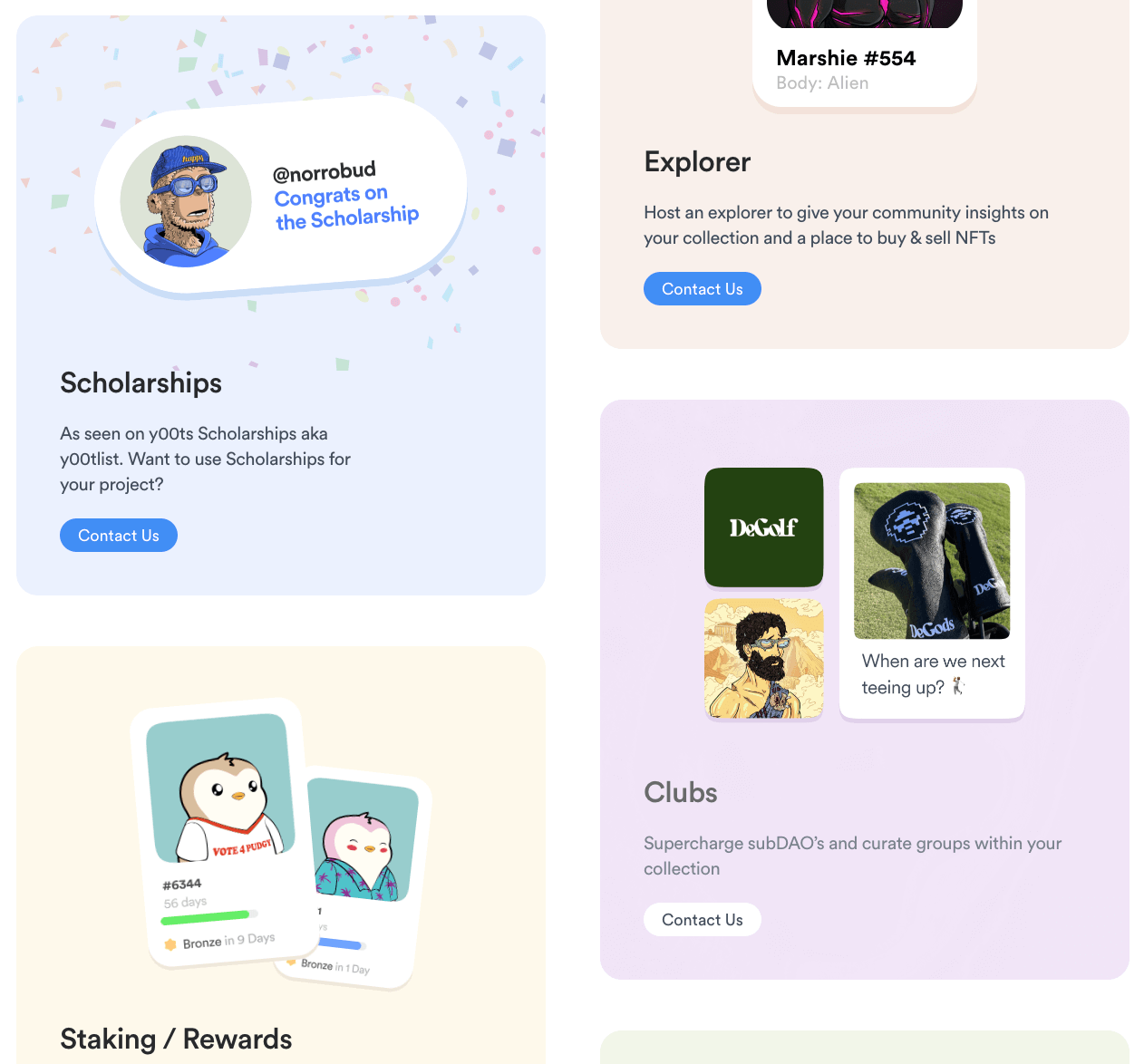 The goal of these solutions is to develop a global end-to-end CRM that acts as an application layer above various blockchains and wallets to power brands as they adopt Web3.
The experience will be similar to using Salesforce or HubSpot to manage leads and customers and Dust Labs is already working with a handful of brands.
Eventually, the entire solution will be a self-serve monthly service.
Explorer
Typically, when you view a collection on an NFT marketplace, you only see a list of NFTs that are listed for sale on that marketplace.
Explorer lets people explore the entire digital art collection and shows them things like which NFT has the highest rank and which traits are trading for the most value.
Staking/Rewards
Staking is a simple way to lock your NFT into your global community so you can earn rewards.
For example, Moonbirds calls their staking mechanism "nesting" and holders earn access to Grails, which are additional art. DeGods NFT and y00ts holders earn points that are redeemable in a Reward center for merch or discounts.
The Reward center is also a way for brands that are working on an NFT project to test utility for their own project with members of other communities before they mint.
Utility can be:
A free burrito to anyone who buys two burritos
Access to a social club
Entry to an event
It's an easy way to validate proposed utility before you commit your project to the blockchain.
Other Notes From This Episode
Where to subscribe: Apple Podcast | Google Podcasts | Spotify | Amazon Music | RSS
✋🏽 If you enjoyed this episode of the Web3 Business Podcast, please head over to Apple Podcasts, leave a rating, write a review, and subscribe.
Disclaimer: The information provided on this website is provided solely for educational purposes and does not constitute any advice, including but not limited to, investment advice, trading advice or financial advice, and you should not treat any of the website's content as such. Social Media Examiner recommends that you independently research any information contained on this Website and that you speak with an investment professional before making any decision to purchase, trade, hold or sell cryptocurrency. Nothing herein should be treated as a recommendation to buy, sell or hold cryptocurrency. Social Media Examiner cannot guarantee the accuracy of any information listed on the website and is not responsible for any missing or wrong information. All information is provided as is and should be used at your own risk. Social Media Examiner disclaims all responsibility and liability for your use of any information found on the website.