Looking for a Web3 community management strategy? Wondering how the team behind the Moonbirds NFT developed a thriving community in Web3?
In this article, you'll discover how to develop Web3 community and culture.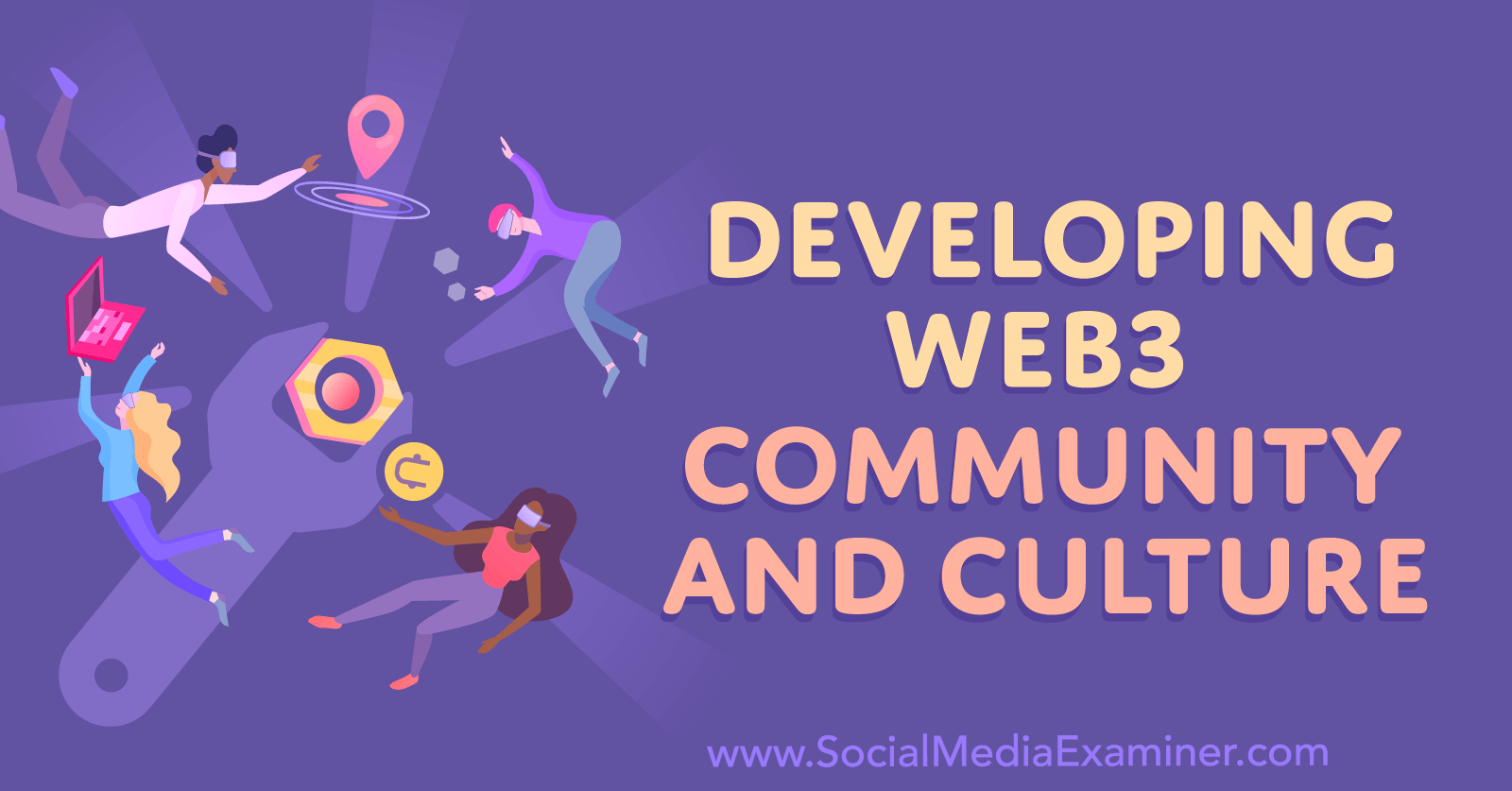 Why Community Development Matters More in Web3 Than in Web2
In Web3, community is made of the people who invest time and/or money in your project.
One of the biggest missteps Web2 natives make when they begin a Web3-based project is treating their community—the people who invest in or buy into the project—as customers who've paid for a product.
While there's a customer element involved when someone invests in your project, the culture of Web3 transforms the position of holder into something more than a customer. Holders are vested in what you're building.
If you don't take your community's emotional and psychological attachment to your project seriously, if you don't communicate with them, if you don't listen to what they're telling you… you risk alienating the very people who believe most in you and can help you achieve what you're trying to build.
#1: How Community Can Benefit Your Web3 Project
In the early days of social media, the role of managing a community on social was critical. A human was responsible for responding to customers' comments and inquiries across Facebook, Twitter, LinkedIn, and other social media platforms or forums.
As social media matured, the focus on person-to-person communication shifted to reaching mass numbers of people. The size of a brand's Web2 community now matters more than its individual customers.
Web3 is bringing that focus back to smaller, tight-knit communities of hundreds or thousands of people, rather than millions.
The Moonbirds Sub-Parliaments
Moonbirds is an NFT PFP (profile picture) project from the Proof Collective. The art features owls with different attributes or traits such as eye color, feather color, headwear, and so on.
Sub-parliaments developed when members of the Moonbirds discord wanted to gather in smaller groups based on the shared traits of their NFTs.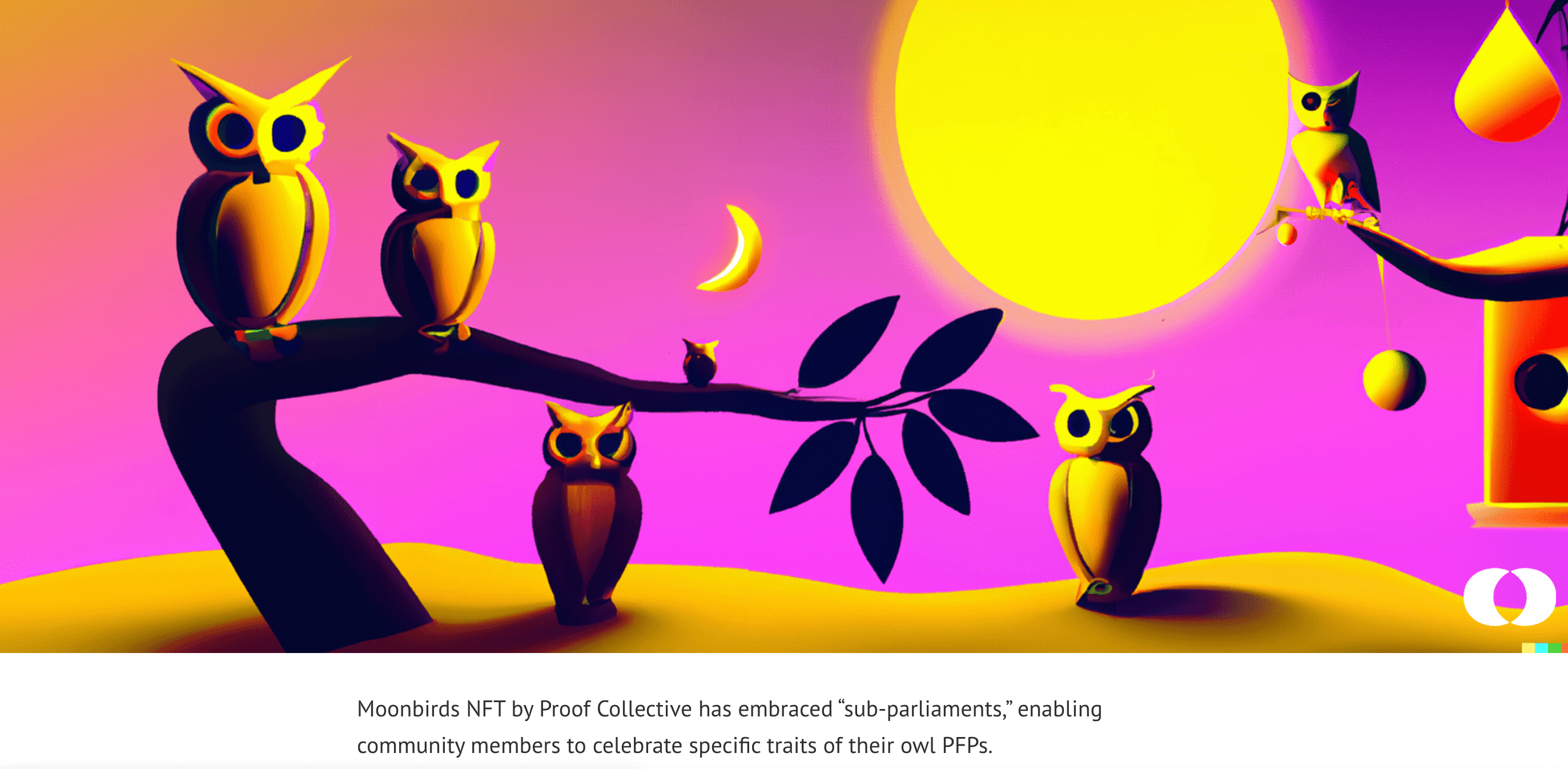 Other sub-parliaments grew from holders' desire to gather based on criteria unrelated to the attributes of their Moonbirds. For example, the Lady Birds sub-parliament's membership is made up of women who own Moonbirds and want others to know that there are intelligent women plugged into what's happening in Web3.
Today, there are 26 sub-parliaments, many of which have their own discords and events.
Sub-parliaments weren't part of the original plan for the Moonbirds NFT project but the project's co-founder Kevin Rose and his team listen and lean in with support to elevate ideas that are embraced by the Moonbirds community. So far, support of sub-parliaments includes a directory on the Proof Collective website and private gatherings at industry events like NFTNYC.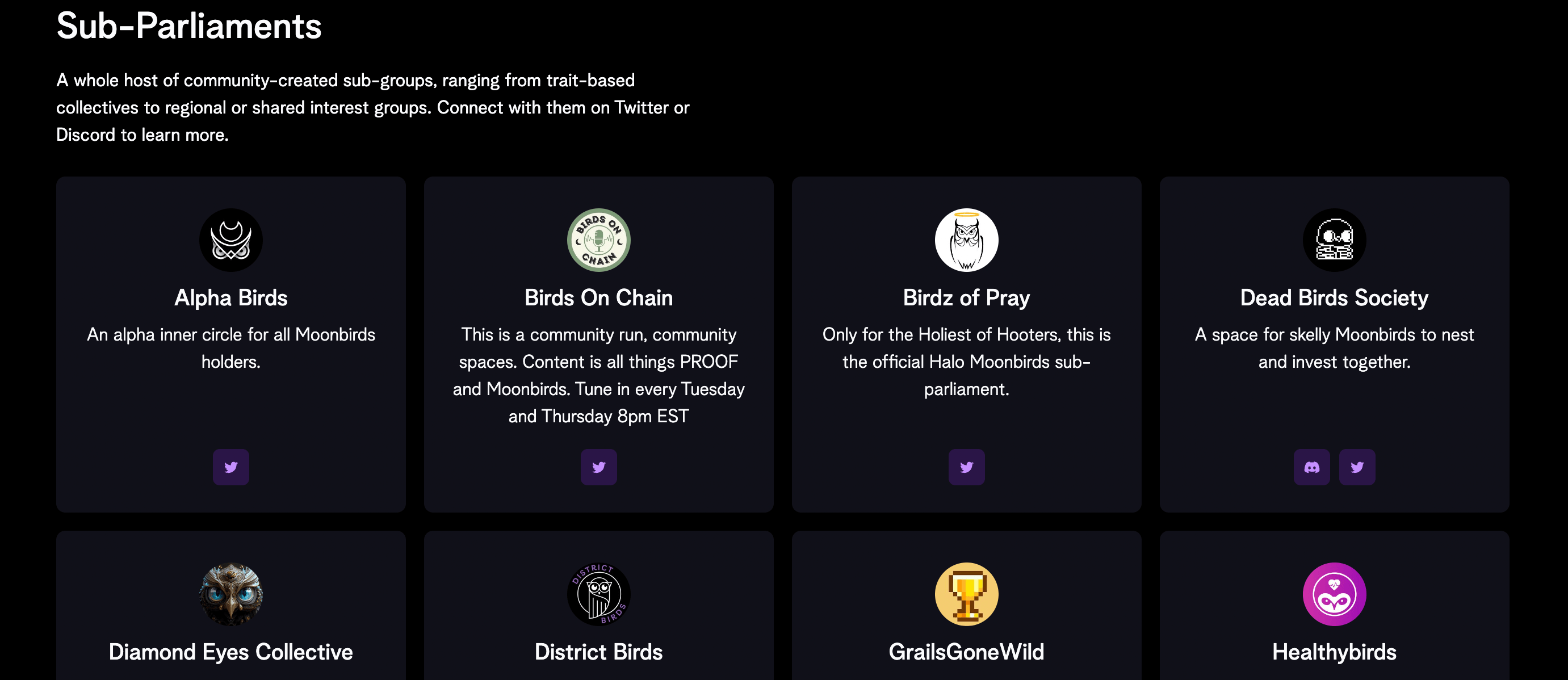 What has embracing and supporting community done for Moonbirds? Several things…
One benefit is retention. As holders develop deeper relationships with each other in smaller groups, Moonbirds NFT retention is strengthened, as is the overall value of the project.
Other benefits are increased reach, visibility, and community growth. Two artists in the Dead Birds Society sub-parliament developed and launched their own NFT project, Ghouls.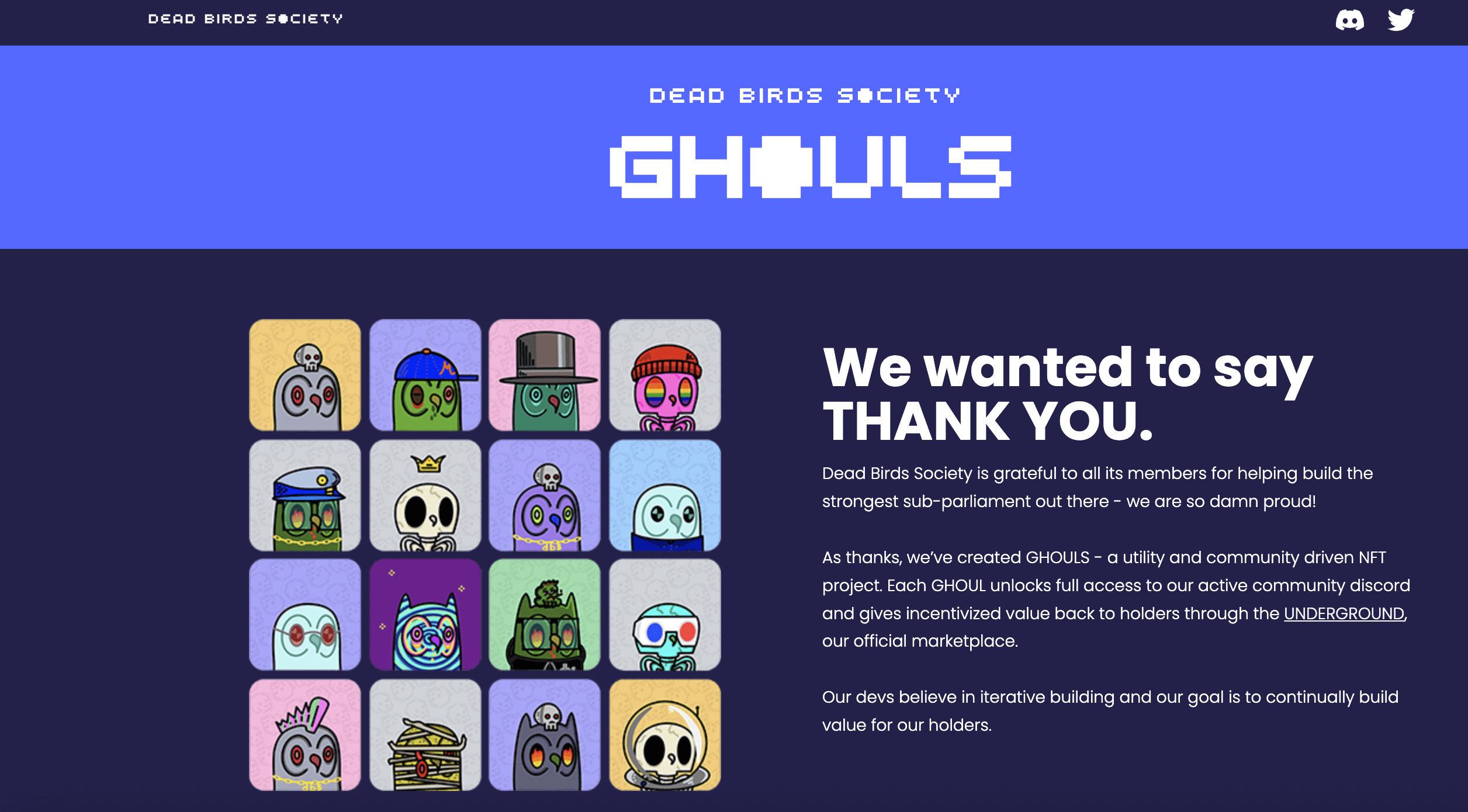 Part of the draw in holding a Ghoul is that it unlocks access to the Dead Birds Society discord.
Many people can't afford a Moonbird, but the Ghouls NFT project originally minted at .1 ETH. People who aspire to own a Moonbird one day can buy into the Ghouls project and get to know the community.
Another benefit is the furtherance of the Moonbirds brand. As the Moonbirds NFT project grew, it attracted many talented entrepreneurs who had their own valuable and impressive ideas for projects that would propagate the Moonbirds brand like Moonbirds Gin.
As your Web3 community gathers and invests in your project, really lean into allowing them to help you and be your cheerleaders.
Where the Moonbirds DAO Fits in the Community
Keeping up with the requests for meetings and reviewing contracts to release IP rights was very time-consuming so the team decided to move to a CC0 license for Moonbirds NFT art.
At the same time, the team still wanted to stay in touch with holders' projects to elevate the exceptional initiatives so they bootstrapped the DAO. The intention was twofold.
First, to build a space that would give entrepreneurs a platform and a very engaged audience that will help them build something. The entrepreneurs who succeed from this support aren't likely to forget what the Moonbirds community did for them and the effects of that goodwill will ripple through the years.
Second, a long-range play to aid product development for projects like Moonbirds Gin that will help proliferate the Moonbirds brand.
#2: How to Develop Community
How can you develop and nurture the kind of community that Proof and Moonbirds have?
Whether it's inside Discord, in Twitter Spaces, or another platform, you'll have to become comfortable with valuing things that aren't scalable.
Schedule Open Office Hours and One-on-One Meetings
As Head of Culture and Community at Proof, Amanda Gadbow has open office hours every Friday and takes up to five meetings with community members. Any community member can use Calendly to book a 30-minute meeting with her and use the time to simply get to know her, introduce themselves, or share things with her that aren't easily communicated over text.
By meeting with people, you'll be able to put a name to a face or an NFT. You'll recognize them as individual human beings. You'll learn firsthand how long they've been in the community, what ideas they have for your team to consider, and what they're working on or excited about.
Maybe they're launching their own project and want to give your community an allow list. You might have an application process for these types of collaborations in place but hearing someone speak about their project lets you experience their passion. And aren't you more excited to retweet or share something after that type of interaction?
Become a Voice for the Community
Spending time on Twitter isn't scalable but it's incredibly important to Web3 communities.
Carve out time to recognize and engage with community members on an individual level and make sure you're tweeting with your wider community as well. Retweet your members, share what they're working on, and make sure to welcome and highlight new community members.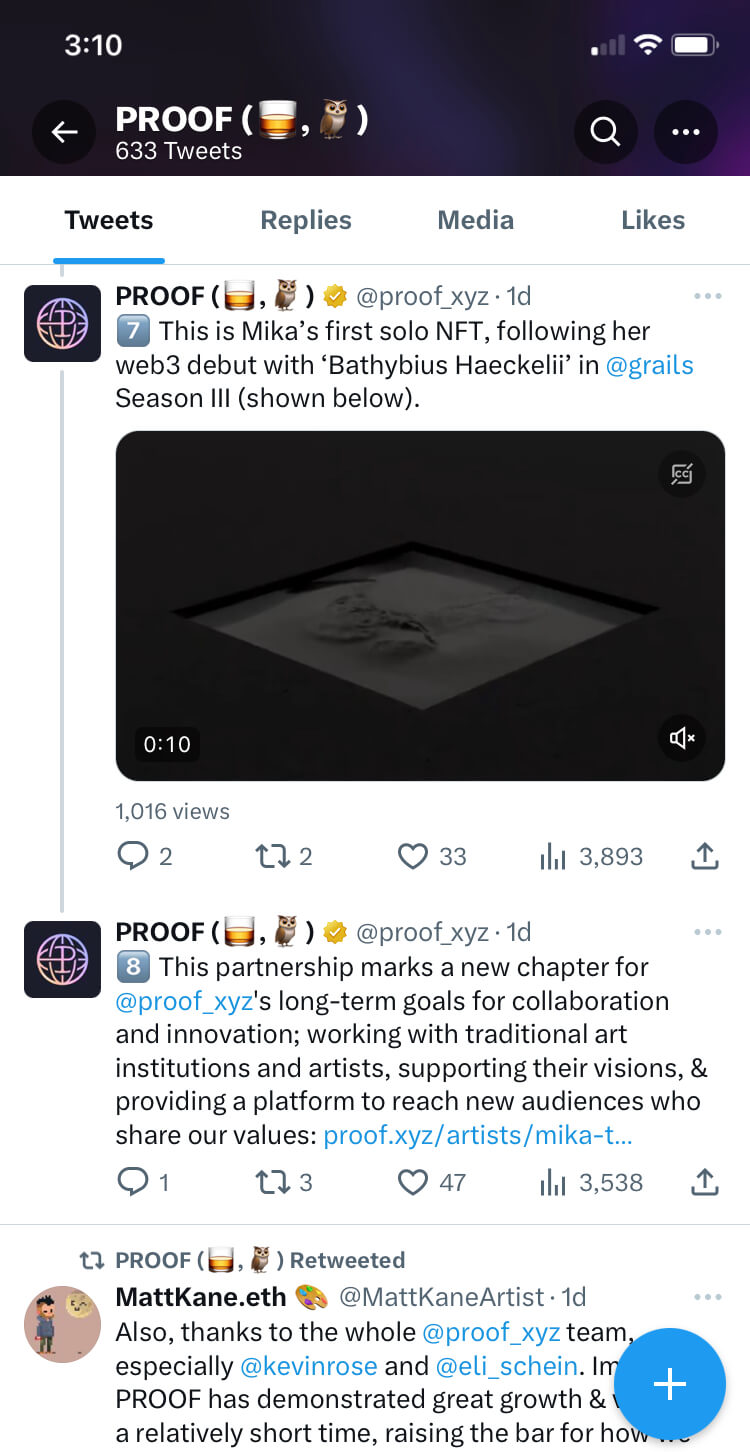 Support Collaborations With Community Members
Most Web3 projects have an official application process for vetting and officially partnering with other Web3 projects but that should be balanced with support for your community.
As your project grows, the number of people inside your community who want to collaborate with you will increase. Especially when you consider that some people will buy one of your NFTs solely to reach your community about their own project.
Because Proof Collective is a blue-chip project, the bar for projects they officially partner with is fairly high. This meant that the team was often denying collaborations with projects from community members because they didn't meet the requirements for official collaborations.
The answer? Community collaborations.
This class of collaboration still has base requirements to ensure viability and quality but allows you to highlight smaller projects within the community with the caveat for each member to "do your own research."
Keep Communications Positive
Just about every Web3 community is diverse. The larger you grow, the more likely it is that less than 100% of your community is happy with the decisions that are made.
It's a fact.
When you note a negative sentiment growing in your community, avoid becoming defensive and remember that people sometimes have a psychological need to vent when they're upset, especially on the internet.
Community managers should stay confident and remind people of the vision for the project because that's what guides all decision-making.
Finally, highlight your successes and celebrate when you're meeting goals.
#3: Why and How You Should Proactively Create Community Culture
If you don't intentionally establish the culture you want to see in your community, someone will fill that gap and you might not like what happens.
At the same time, your community culture should grow naturally and reflect your team's culture.
Kevin Rose is a long-term investor, he's entrepreneurially minded, and he's passionate about art. The Proof Collective reflects those three tenets and the team has embraced them to establish a culture that reflects them as well. For example, Amanda strives to be an example of the ideal Moonbird holder. Her Twitter feed isn't just full of Moonbirds-related tweets. She also tweets about art and shares long-term strategies.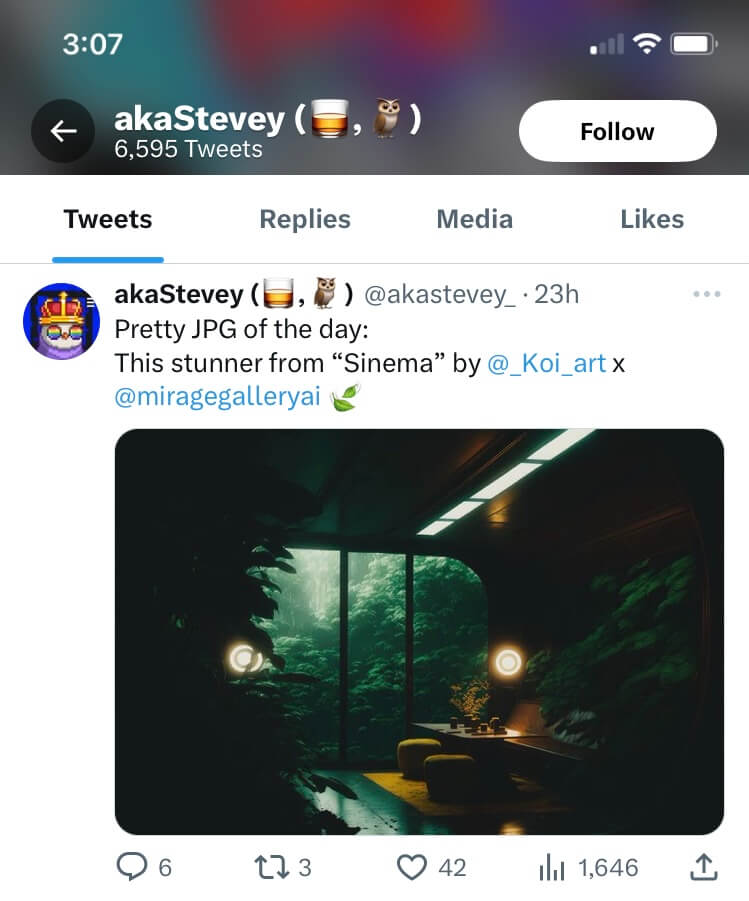 If the conversations you have on Twitter accurately and genuinely reflect the culture of your project, you'll naturally curate a community of people who share in that culture.
Other Notes From This Episode
Where to subscribe: Apple Podcast | Google Podcasts | Spotify | Amazon Music | RSS
✋🏽 If you enjoyed this episode of the Web3 Business Podcast, please head over to Apple Podcasts, leave a rating, write a review, and subscribe.
Disclaimer: The information provided on this website is provided solely for educational purposes and does not constitute any advice, including but not limited to, investment advice, trading advice or financial advice, and you should not treat any of the website's content as such. Social Media Examiner recommends that you independently research any information contained on this Website and that you speak with an investment professional before making any decision to purchase, trade, hold or sell cryptocurrency. Nothing herein should be treated as a recommendation to buy, sell or hold cryptocurrency. Social Media Examiner cannot guarantee the accuracy of any information listed on the website and is not responsible for any missing or wrong information. All information is provided as is and should be used at your own risk. Social Media Examiner disclaims all responsibility and liability for your use of any information found on the website.