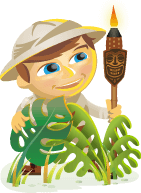 Are you using Facebook for your business?
Are you wondering how Facebook's newest features can help your business?
To learn about what these new Facebook features mean for marketers, I interview Mari Smith for this episode of the Social Media Marketing podcast.
More About This Show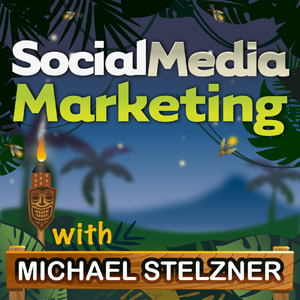 The Social Media Marketing podcast is a show from Social Media Examiner.
It's designed to help busy marketers and business owners discover what works with social media marketing.
The show format is on-demand talk radio (also known as podcasting).
In this episode, I interview Mari Smith, who is known as the Queen of Facebook. She's the world's leading authority on Facebook marketing and author of The New Relationship Marketing and co-author of Facebook Marketing: An Hour a Day.
Mari shares how the new Facebook features can work for your business and what you should pay attention to. You'll learn how to use the new hashtags and how to make the most of your cover image.
Share your feedback, read the show notes and get the links mentioned in this episode below!
Listen Now
Where to subscribe: Apple Podcasts | Google Podcasts | Spotify | YouTube Music | YouTube | Amazon Music | RSS
Here are some of the things you'll discover in this show:
Facebook Features for Marketers
Has Facebook rolled out a lot of changes recently in response to Twitter and Google?
Mari states that there are many reasons for these new changes, although not necessarily in response to Twitter and Google+. However, Mark Zuckerberg and his entire team do keep a very close eye on the competition.
When it comes to features that have been around for a while, Facebook tends to be late with their release simply because they are a much bigger machine. They have a lot more complexity to deal with.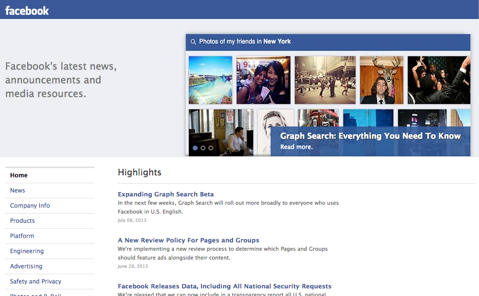 With Facebook being a public company, they have to make money for their shareholders. They've made a lot of changes to their ad product and it seems like they move things around to try and get the marketers attention.
Listen to the show to find out why most of the features are there to predominantly improve the monetization aspect.
What Facebook hashtags are and why marketers should care
Mari explains that the simple definition of a hashtag is that it's a way to group conversations together, around the same topic. This makes it easy to discover and follow conversations. Just like you see on Twitter, Instagram, Pinterest, Google+ and LinkedIn.
If you think about TV ads 2-3 years ago, the call to action would be an invite to join the brand, where they would give out their Facebook Fanpage. Now the call to action is a hashtag.
You'll hear Mari talk about the reason behind why some TV shows have niche hashtags appear throughout their broadcast, instead of one main hashtag.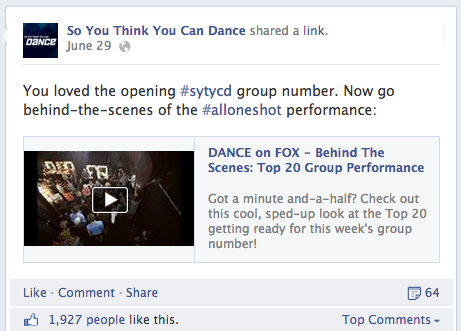 As a business owner you need to start to experiment with hashtags. Find one or two hashtags that can help you ride a wave. There's a term called newsjacking. It doesn't sound very nice but it's a very popular way to get your business in front of people who are talking about something anyway.
The great thing about Facebook's hashtags, is that they are clickable. So if you click on any, whether it's on a Post or a Comment, it opens up into what is called the Hashtag Feed. This feed displays other posts with the same hashtag.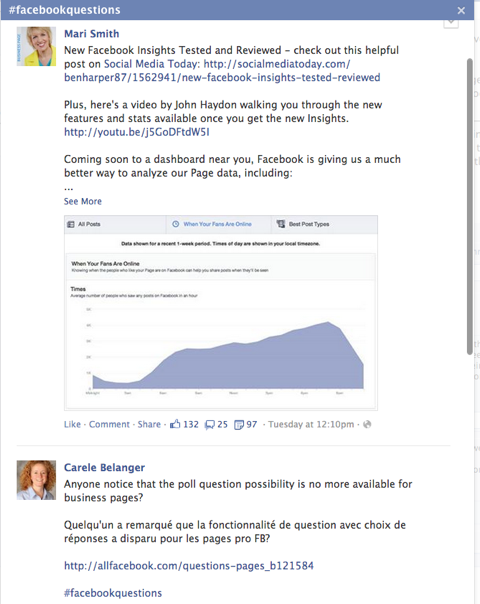 However, recently they have introduced related searches into this feature. So not only will you see the exact verbatim hashtag but also similar ones.
As a strategic marketer, Mari highly recommends every business owner make good use of hashtags. Even if you don't have them personally, they are active for other people.
Listen to the show to find out how clickable hashtags can get you in front of new people.
Tips and creative uses for Facebook hashtags
Mari uses two generic Facebook hashtags which are #facebookmarketing and #facebooktips. You'll hear what hashtag Mari uses to separate herself away from her peers.
It's where you'll find all of her posts. This is one thing to consider when you create hashtags.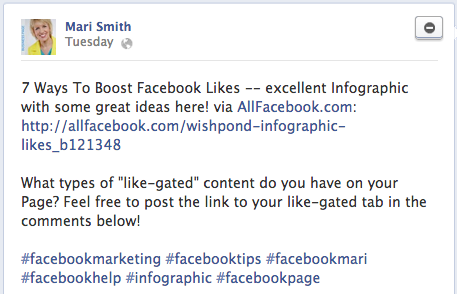 You really want to do your homework before you create a hashtag. Basically use the same best practices as you would on Twitter.
You can search by going to www.facebook.com/hashtag/whatever your keyword is. Every hashtag has it's own unique URL, which you can use to drive traffic.
The hashtags are still very young on Facebook and most users don't know how to use them. It's something that you should experiment with and see if it makes a difference.
Listen to the show to hear why Mari believes Facebook hashtags are the tip of the iceberg and what else there is to look forward to in the future.
The changes on Facebook's commenting system
Mari talks about the main change which is the Reply feature. It has been around for some time as a Facebook commenting plugin but was finally brought to the main Facebook site.
With the Replies feature it gives you the ability to have threaded conversations. On Fan Pages, you can turn it on or off. It's a feature you can enable in your admin panel.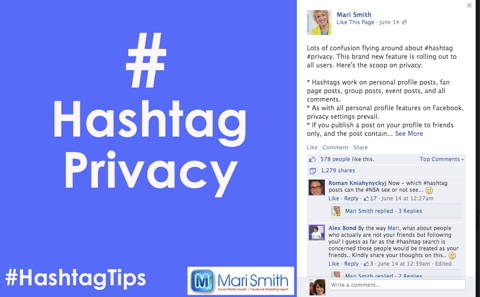 You'll hear about a brand new feature that was rolled out recently, which is the ability to sort.
As a Page owner, Mari advises to make sure you use the @tag for the person or page you are replying to in the Reply feature. As a Fan Page you can hit the @sign and then start to type their name and that way their name will be a hot clickable link and they will also get a notification.
With regards to images, right now you can only use them in Personal Profiles with the Reply feature. When you hit Reply, you can add an image. It's coming to Fan Pages and mobile too.
You'll discover the advantages to using the threaded comment capability and what it means for your fans.
Listen to the show to find out what feature you can use to help drive traffic back to your conversation.
How marketers can take advantage of the new changes to the Facebook page cover image
The Facebook cover image is the huge header at the top of your Facebook page and is there for visual branding.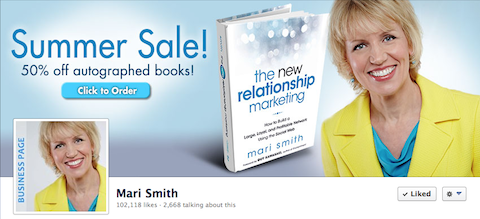 When Facebook first introduced the Timeline design about 18 months ago, the rules were very strict about what you could have in the image. For instance, you weren't allowed your website name, contact information, calls to action or arrows pointing to features.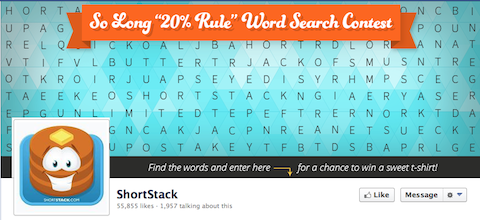 Earlier this year the rules changed and the only one that remained in place was the 20% text rule. More recently this rule has quietly disappeared out of the Page Guidelines. The only caveat is that the 20% text rule still applies to any paid products.
This new change got a lot of social media experts and Facebook experts excited.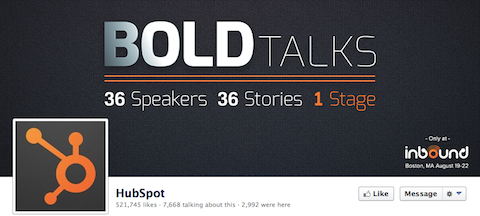 You'll discover why you need to keep your cover image visually appealing and how frequent you should change it.
Listen to the show to find out what Mari recommends you put in the description of your cover image.
What's the deal with Graph Search? 
If you make the swtich to Graph Search, you'll notice that the search box at the top will look completely different. Your name and your page now sits in the white search box.
When you type in any word or name you'll get a drop down box with a bunch of different icons in there. For example, there is an icon for the hashtag and for photos.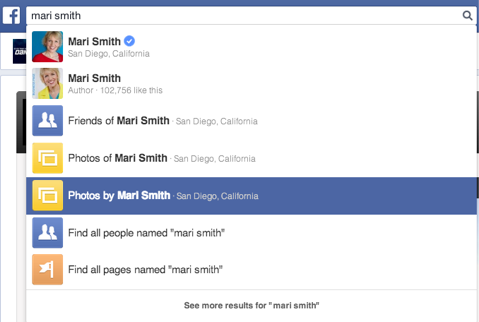 If you haven't already got Graph Search, you'll find out what you need to type in the search bar on Facebook.
You are able to search for four things which are photos, people, places/pages and interests. However, it will not surface an individual post and is only available on desktop right now.
You'll hear Mari give an example of how you can use Graph Search to find people within a very narrow niche and how you can use it to search for specific photos.
Listen to the show to find out how you could use it in terms of a business application.
Discovery of the Week
If you want to find out what your website or blog looks like on a laptop, tablet, smartphone or desktop, then you should check out this free tool by QuirkTools called Screenfly.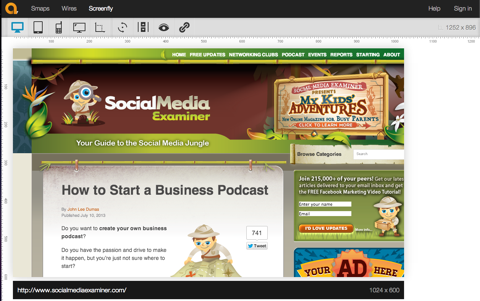 You can enter any URL from your website and you'll have options to see how it looks on any size desktop or any hand held device. You'll also find many other options that are available with this tool.
It's not perfect but it's good enough to run a quick test if you hear from some of your readers that your site doesn't look right on their device or desktop.
Listen to the show to learn more and let us know how this works for you.
Other Show Mentions
Over the last couple of weeks I've done a series on 'How to Launch,' using the new site we are launching as an example.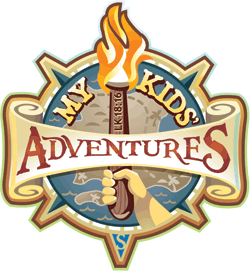 I'm very excited to let you know that My Kids' Adventures has officially launched this week.
It's an online magazine for busy working parents, who want to have fun adventures with their kids anywhere. It's your go to resource to get articles on how to do really cool stuff.
These are some of the articles that came out this week:
Getting Dirty: Five Fun Composting Projects for Kids
How to Make an Adventure Movie With Your Kids
How to Create a Backyard Treasure Hunt, Minecraft Style
How to Create Glow-In-The-Dark Bowling In Your Home
Go check them out.
Call in and leave your social media–related questions for us and we may include them in a future show.
Listen to the show to learn more and let us know how this works for you.
Key takeaways mentioned in this episode:
Ways to subscribe to the Social Media Marketing podcast:

What do you think? What are your thoughts on Facebook's new features? Please leave your comments below.