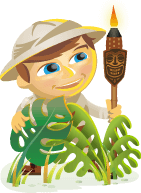 Looking to connect with an audience that has buying power? Wondering how to reach LinkedIn users with video?
To explore how LinkedIn video marketing works, I interview Goldie Chan.
More About This Show
The Social Media Marketing podcast is designed to help busy marketers, business owners, and creators discover what works with social media marketing.
In this episode, I interview Goldie Chan, a LinkedIn video expert. She produces a daily video show about marketing on LinkedIn. Her courses on lynda.com include LinkedIn Video Marketing for Personal and Brand Pages.
Goldie explains how LinkedIn's video audience and metrics compare to those on YouTube and Facebook.
You'll also discover tips for creating and optimizing LinkedIn videos.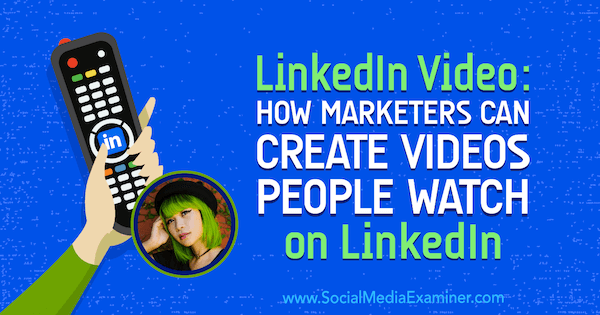 Share your feedback, read the show notes, and get the links mentioned in this episode below.
Listen Now
Where to subscribe: Apple Podcast | Google Podcasts | Spotify | RSS
Here are some of the things you'll discover in this show:
LinkedIn Video
Goldie's Story
Goldie has been working in digital marketing for more than 10 years, focusing on social media strategy and content creation. In that time, she's worked with lots of platforms creating all kinds of content including Facebook live video, Twitch video, Instagram content, Pinterest, and now LinkedIn video.
Goldie has also worked in a range of industries. She moved from a tech startup to fashion. Then she worked for Legendary Entertainment as director of social and community. The company handles blockbuster movies that tend to work well in China and in the U.S., such as the King Kong franchise and The Great Wall. Goldie worked on both paid and organic social, and on building their community.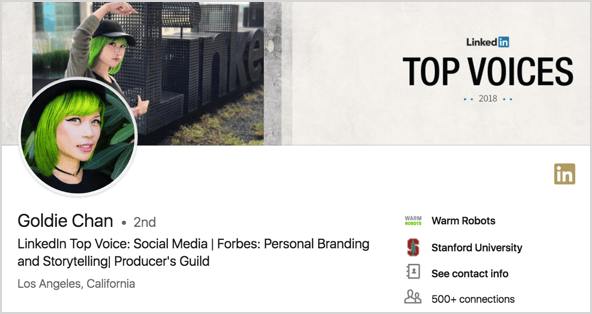 In August 2017, Goldie was taking a break in her career and got into the LinkedIn video beta. It was the perfect time to create content she enjoys, and she loves pop culture. Her first 50 videos explored branding, metrics, and historical facts about pop culture phenomena. This project evolved into her daily channel (#dailygoldie), which has subscribers from all over the world.
Today, her channel continues to look at the marketing and business impact of pop culture phenomena. For example, she might explore where the majority of the marketing budget for Harry Potter went. Looking at how the books, movies, and franchise in general are marketed works with LinkedIn's business focus. And for Goldie, this approach is more interesting than expressing her fandom.
Although her daily show is primarily about marketing, Goldie also talks about branding as it relates to her experiences because she frequently travels around the world. When she's speaking, she shares tips that will help her audience. As a proponent of building community, she created #LinkedInCreators, the hashtag most people who create content use on LinkedIn.
Because Goldie has been posting daily videos, she can track how LinkedIn video has been developing over the past year. Whenever a bug or any issues have occurred, she witnessed it firsthand. She has found the journey to be amazing, and for the 1-year anniversary of LinkedIn video, she hosted the official LinkedIn party in New York with their video team.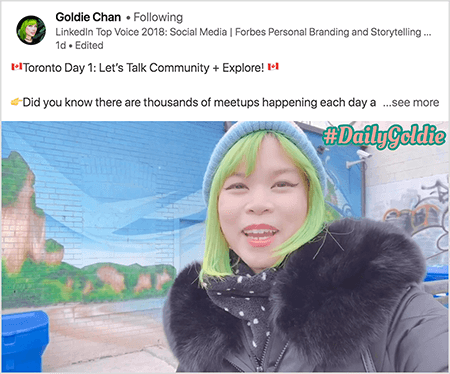 In addition to running Daily Goldie on LinkedIn, Goldie owns Warm Robots, a social media strategy agency.

For clients like The Art Institutes, she helps figure out how to tell their stories in ways that encourage people to join and feel involved with the brand. She also helps C-level executives create their personal brands on LinkedIn and elsewhere.
Listen to the show to hear Goldie share a story about helping an executive determine whether content was appropriate for Instagram.
How LinkedIn Video Compares to YouTube and Facebook Video
Goldie believes marketers who are already invested in YouTube or Facebook video should consider LinkedIn because its unique audience offers great opportunities. LinkedIn has more people who work in the top levels of their profession and attracts people who are gainfully employed or seeking a job. You'll find only slightly more men than women, and the demographic is older.
With this audience, LinkedIn is great for content creators who want to reach people who have buying power. Goldie says about 45% of all B2B buyers make purchasing decisions based on LinkedIn content. So if you're on LinkedIn and you're a B2B marketer, you have a good chance of reaching people who could help you move sales.
Within LinkedIn, you'll find groups of people who use the platform differently. Goldie thinks about a third of LinkedIn users log in to check messages every 3-4 weeks and then leave. With a profile photo, you're 36 times more likely to receive a message on LinkedIn, and building out your profile also makes people more likely to engage with you.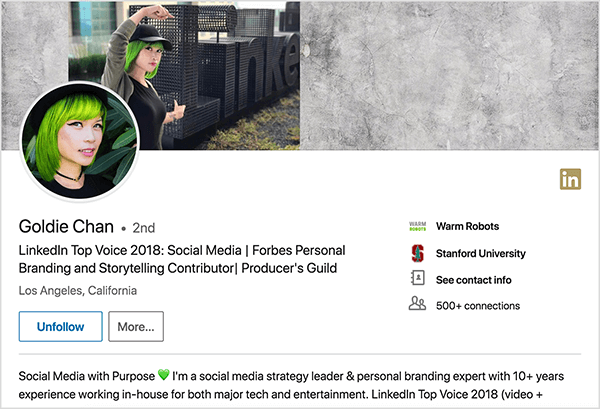 Another group of LinkedIn users actively create and consume content on the platform. Popular content includes independent content from creators (such as Goldie) and trending news stories that LinkedIn editors have picked up. A trending news story might be a large corporate merger.
You'll also find a subset of users who are migrating from Facebook to LinkedIn. These people include creators and marketers, although the marketers still use Facebook's ad platform, which is superior almost regardless of whom you're targeting.
LinkedIn also stands out as a place where your content can still have organic reach. On Facebook, people won't see your content if you're not paying for ads. But on LinkedIn, people who have the ability to spend money might still see your written and video content, even if it has zero spin.
Listen to the show to hear how I use LinkedIn.
How to Get Started With LinkedIn Video
Although many people post videos created for YouTube on LinkedIn, Goldie says you shouldn't do that because the two platforms are in different stages of development. LinkedIn video is only a year old, so it's like young YouTube, which featured shaky vlogs of people trying video for the first time. Similarly, LinkedIn video features that type of content even a year later.
Videos that do well on YouTube today tend to be incredibly polished, and one video might cover multiple subjects. In the ecosystem of LinkedIn video, this polished YouTube video won't do as well because that's not what viewers are used to. To make your YouTube content translate to LinkedIn, you have to simplify it. Your audience needs to understand the takeaway quickly.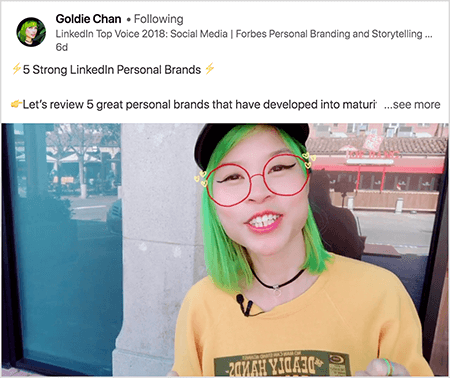 If you're getting started and growing an audience with LinkedIn video, limit each video to 1 minute and focus on one simple subject that provides value. With this approach, your videos will be easy for viewers to understand. The time limit forces you to be eloquent and brief. Before you start, write out bullet points about what you'll say to help you create a clean, crisp video.
Although your videos can be up to 10 minutes, LinkedIn viewers don't want to watch a 10-minute rambling vlog that lacks a clear point. To illustrate, Goldie doesn't like watching a 7-minute vlog on LinkedIn, but she might watch it on YouTube or Facebook where she's used to watching more casual content. Also, YouTube's algorithm favors those longer videos.
You need to add captions to your video because people likely have the sound turned off. People will see your video in the LinkedIn feed and the video plays automatically. Most people don't want the sound to come on as they're scrolling. So adding captions makes your video content as easy as possible to consume.
To add captions to her video, Goldie usually uses two tools. The first is an iOS app called Clipomatic, which can add captions as you record for up to 1 minute. The app also lets you edit the captions for accuracy. Goldie prefers Clipomatic to Clips by Apple because Clipomatic is more accurate. However, some content creators prefer Clips because it has more fun features.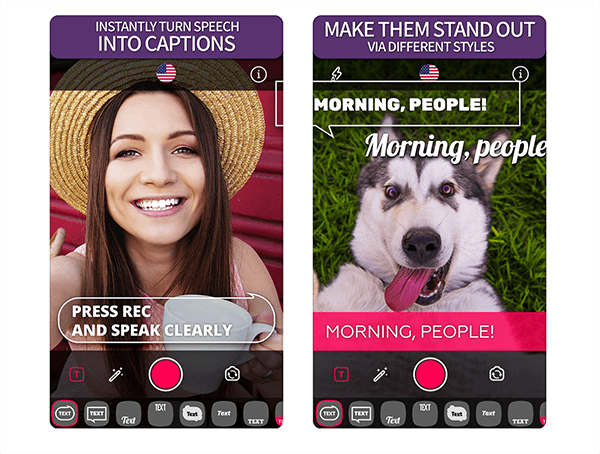 Goldie also likes to create captions with Rev, which is a browser-based tool. With Rev, you upload the video you want to caption and ask the service to return an SRT file, which is a type of captioning file. Then, in the desktop version of LinkedIn, you can upload that SRT file so the captions appear as your video plays. SRT files help you produce high-quality videos or work with a video team.
Clipomatic works well for people who vlog on LinkedIn and make videos with captions on the go. With Clipomatic, you have to use the app's built-in camera and record the video in one shot. The captions are baked into the video. When Goldie records a casual vlog, she often records in Clipomatic, adds special effects, and uploads the video to LinkedIn (and sometimes Instagram, too).
You can also save the Clipomatic video to your phone and then open the video for editing in another app if you like. Goldie uses other apps to size her Clipomatic videos correctly. She prefers square video, but sometimes uses horizontal video, too. The LinkedIn feed can clip a vertical video in an awkward way; the viewer might see your chest instead of your face.
Listen to the show to hear my thoughts on the versatility of square, 1-minute videos.
LinkedIn Video Metrics
As a LinkedIn video creator, you can see many of the typical engagement metrics including views, likes, and comments. Tracking shares can be tricky because if someone quotes your video in their own post, you don't see that share. To work around this issue, add hashtags to your video post so you can manually track the share yourself.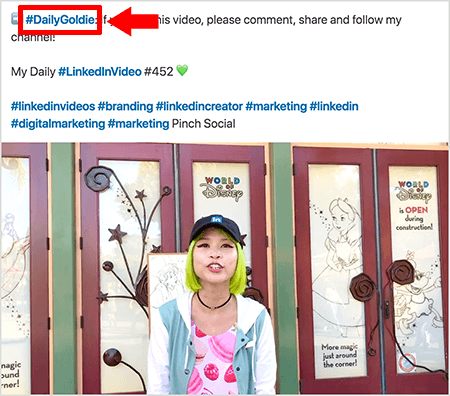 LinkedIn also offers valuable metrics that YouTube, Facebook, Instagram, and Twitter don't. Namely, you can see the job function, company, and location of people who have been primarily looking at your video. For instance, you might see that a lot of salespeople from Nike are looking at a video that first trended in London and then in Toronto.
Listen to the show to hear my thoughts on additional metrics LinkedIn should share with video creators.
How to Optimize LinkedIn Video
To connect with your audience on LinkedIn video, you'll find it helpful to optimize the video for the way the platform works. Goldie shares tips for video thumbnail images, video length, the algorithm, and the text that appears above your video in the feed.
Thumbnail images: Currently, LinkedIn doesn't allow you to select a thumbnail image. Goldie recommends editing the first second of your video to show the image you'd like to appear as a thumbnail.
If you're a marketer working with a brand, you want people to know what the video is about. A nice starter screen is particularly useful for a higher-quality video. For an informal vlog post with Clipomatic, make sure you're not making a weird face in the first second of your video.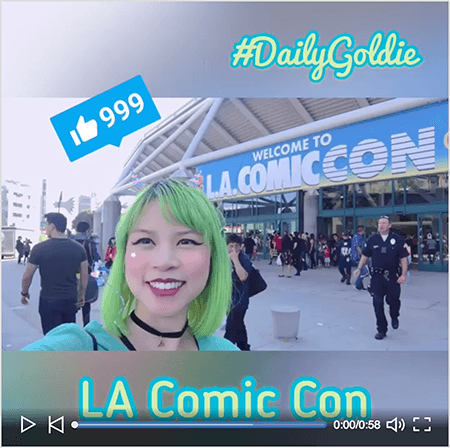 A common mistake is starting a LinkedIn video with a black screen. The video won't look good in the feed, and people are less likely to click a video that shows a black screen for the first 1-3 seconds. Brands that are getting started with LinkedIn video often start with a black screen, thinking they can select a thumbnail later (as you can on YouTube). LinkedIn video doesn't work that way.
Length: Generally speaking, it's best to share videos that people will finish watching. Goldie recommends starting with 1-minute videos and extending the length as you build your audience. After you consistently post videos for 2-3 months, your audience is more likely to watch 2- or 3-minute videos. Currently, Goldie's audience is used to her sharing 3- to 5-minute videos.
Algorithm: Right now, LinkedIn users are more likely to see content from connections than from pages. Goldie says the algorithm cares more about the source (connections) than the format (status update, article, or video). In a few months, the algorithm may change to prioritize pages and group video in the feed. I note that LinkedIn's algorithm changes seem to follow Facebook's.
Text: The text that accompanies your video can appear in different ways and may continue to change. Currently, in the feed, you usually see two lines of text above the video and then three dots you can click to see more. Occasionally, the text above the feed is fully expanded. So write the first 2-3 lines of copy as if that's the only thing people will see, but make the rest of the text high quality, too.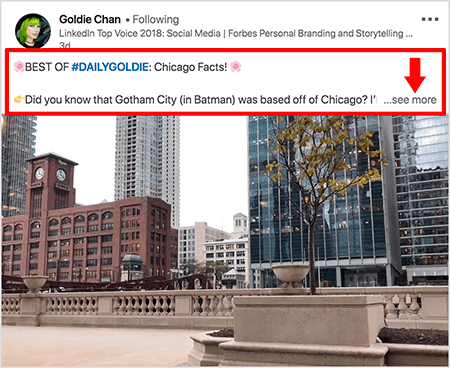 You can tag people in the text, but Goldie recommends tagging only people who appear in the video. If the CEO and head of sales appear in the video, tagging them is a good practice. However, use no more than five tags and avoid tagging lots of people with the hope the tags will help your videos be seen. This tactic makes your posts look like spam and people will unfollow you.
LinkedIn posts can be up to 1,300 characters long, which is about 3-5 short paragraphs. Although you can add links in the text that appears above the video, Goldie says putting links there can limit a post's exposure in the feed. Instead, when you link to anything outside of LinkedIn, post the link as the first comment below the video.
Listen to the show to hear Goldie share more about the ways LinkedIn video is still being developed.
LinkedIn Video Examples
Goldie is glad people are creating content and she finds some unusual uses of LinkedIn video especially fascinating. To visualize this, construction workers are documenting tasks like paving a freeway and laying pipes across the state. The content is visual without being an interview or tutorial. The construction workers are simply showing their work and how well they do it.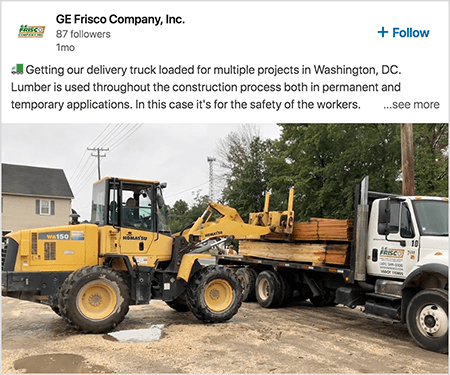 Another group of content creators is documenting their transition from one career to another. Someone from the military might be applying for civilian jobs. This group tends to post updates about their process once per week.
These video updates allow people to share stories quickly and in real time. When people share articles about changing careers, the stories take 2-3 months to complete because the articles document the process from start to finish. However, with regular video updates, you see people's careers and goals unfold in each video post.
Slice-of-life videos are another fun application of LinkedIn video. You see this type of video on Instagram and other platforms, too. To adapt this format for LinkedIn, people are sharing what it's like to speak at a conference, travel, or collaborate with other business partners. You tell these stories in a way that communicates what your brand is and what your goals are.
To find examples of the ways people use LinkedIn video, search for hashtags like #LinkedInCreators and #LinkedInVideo.
Listen to the show to hear my thoughts on documenting things you do that are show-worthy.
Discovery of the Week
Nception app for iOS adds cool mirror and kaleidoscopic effects to your photos and videos. (The app's name refers to the special effects in the movie Inception.)
To use the app, you can take photos or videos in the app with a filter or reflective mode applied and then switch among the effects as you're shooting. Or apply the effects to an existing image or video by importing it from your phone into the app.
The app can bend and arrange photos and videos in ways that open up all sorts of imaginative possibilities. With architectural photos, you can create unique geometric designs. The mirror effects can also create intriguing movement in your videos.
The Nception app costs $1.99 and is available in the iOS App Store.
Listen to the show and let us know how the Nception app works for you.
Key takeaways mentioned in this episode:
What do you think? What are your thoughts on LinkedIn video? Please share your comments below.