Want to convert more followers on Instagram? Wondering how Stories can help you close more business?
In this article, you'll discover how to convert with Instagram Stories.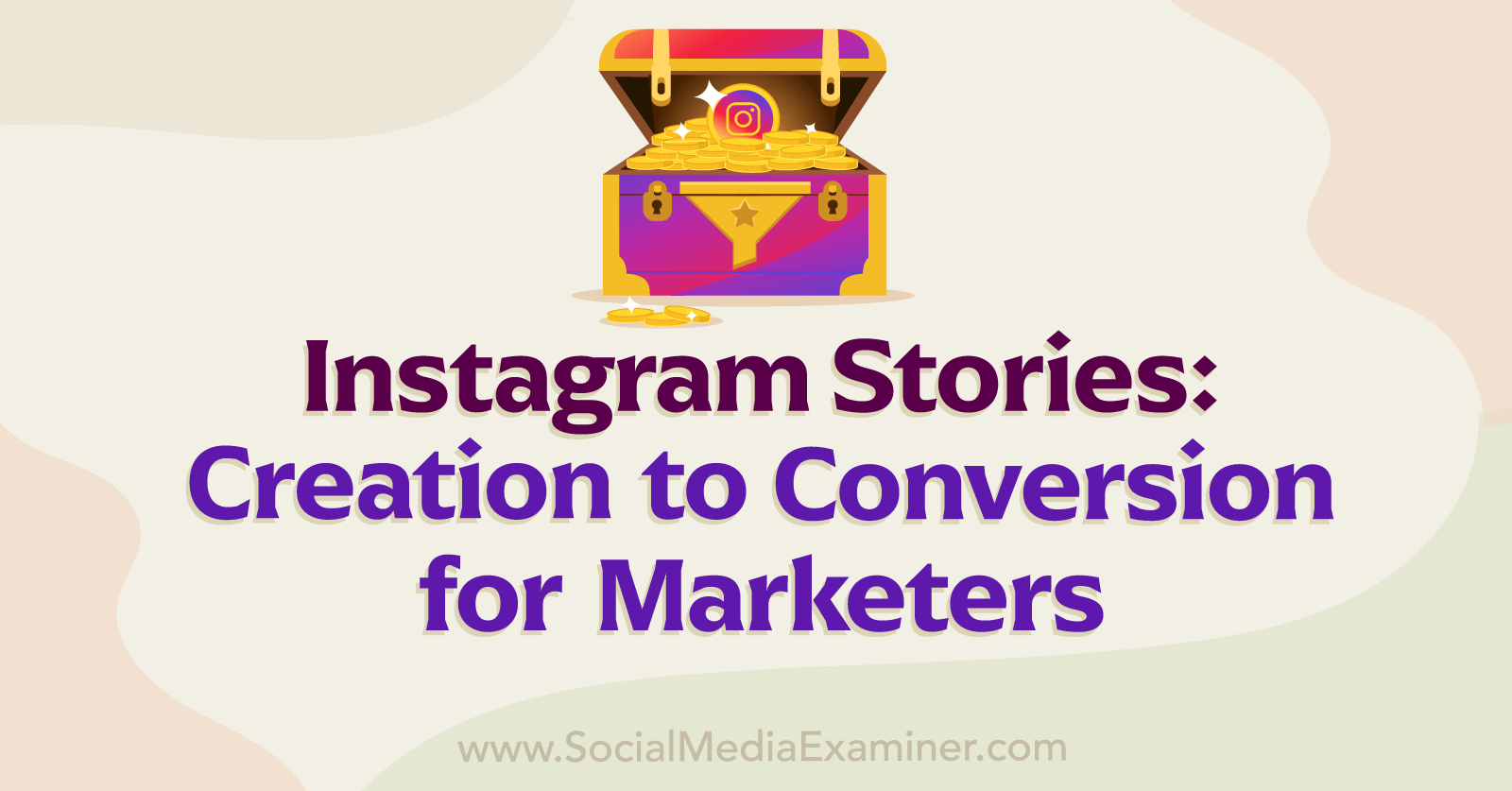 What Makes Instagram Stories So Effective?
Instagram has a long list of features and formats that are great for social media marketers. But Stories has some unique aspects that make it a powerful way to get more conversions.
Real-time sharing experiences. Stories are designed for instant posting. Every time you share a Instagram story, viewers feel like they're getting a real-time peek into your life. You can create content that makes viewers feel like they have a genuine connection with you.
Camera-first communication. Every social network offers some type of story now but Instagram was one of the first platforms to adopt the camera-first format, pioneered by Snapchat. Speaking directly into the camera helps viewers feel even closer to you.
Ephemeral content. Stories only stay on your page for 24 hours (unless you save them as highlights). That motivates viewers to keep checking back on your page so they don't miss any updates.
Followers before viewers. Your stories appear in two places on Instagram: in the roll of stories at the top of the news feed and in the profile picture space on your page. These placements mean that stories are more likely to be seen by followers than viewers. Stories are designed for a lasting community, not just quick views.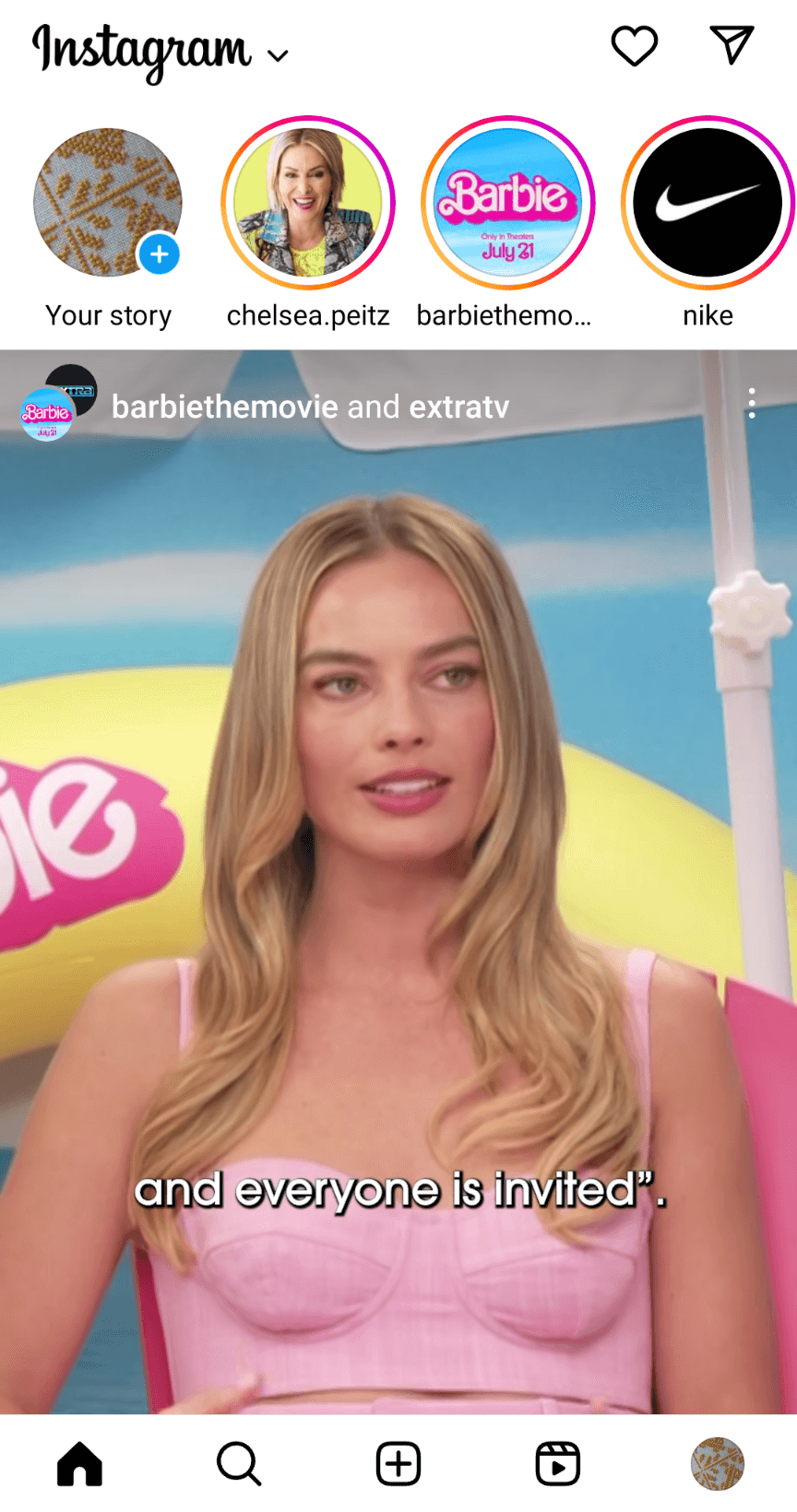 Some marketers think that stories are a waste of time because they're aimed at followers rather than viewers.
But the latest updates to the Instagram algorithm have changed everything. In 2023, the Instagram news feed is approximately 40% recommended content. Users are seeing posts, stories, and reels from accounts they don't follow yet.
That gives you an opportunity to reach new viewers with your stories and turn them into committed followers.
What's more, the algorithm uses engagement with your stories as important information to help rank your content. Every time someone watches a Instagram story all the way through, reacts to it, or sends you a DM, you get a boost with the algorithm.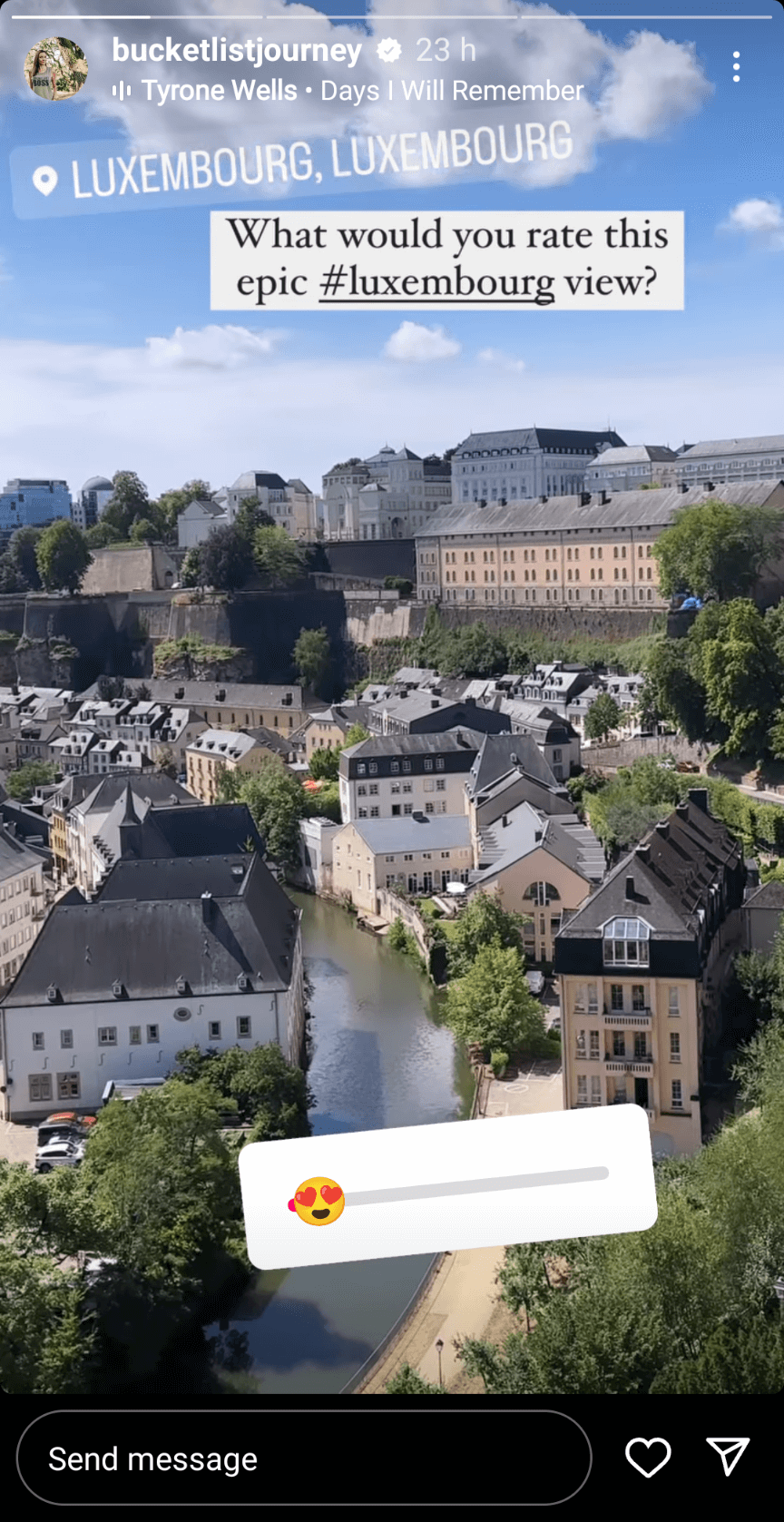 That's why you need to create content for Instagram Stories, optimize it for engagement, and get those conversions. Here's how.
How to Create Content for Instagram Stories
If you want to get results from Instagram Stories, then you'll need to post regularly: ideally, around 5-7 posts every day. Regularly updating your stories means that they stay at the top of the feed where as many people as possible will see them.
But that's a lot of content to create, right?
Don't panic. These three simple categories will help you create Instagram stories:
Content that enables viewers to learn about you. This helps build connections that will lead to conversions.
Content that enables viewers to learn from you. This is where you develop your authority and show your expertise.
Content that enables viewers to learn with you. As viewers follow along, they'll feel as if they're already developing a working relationship with you.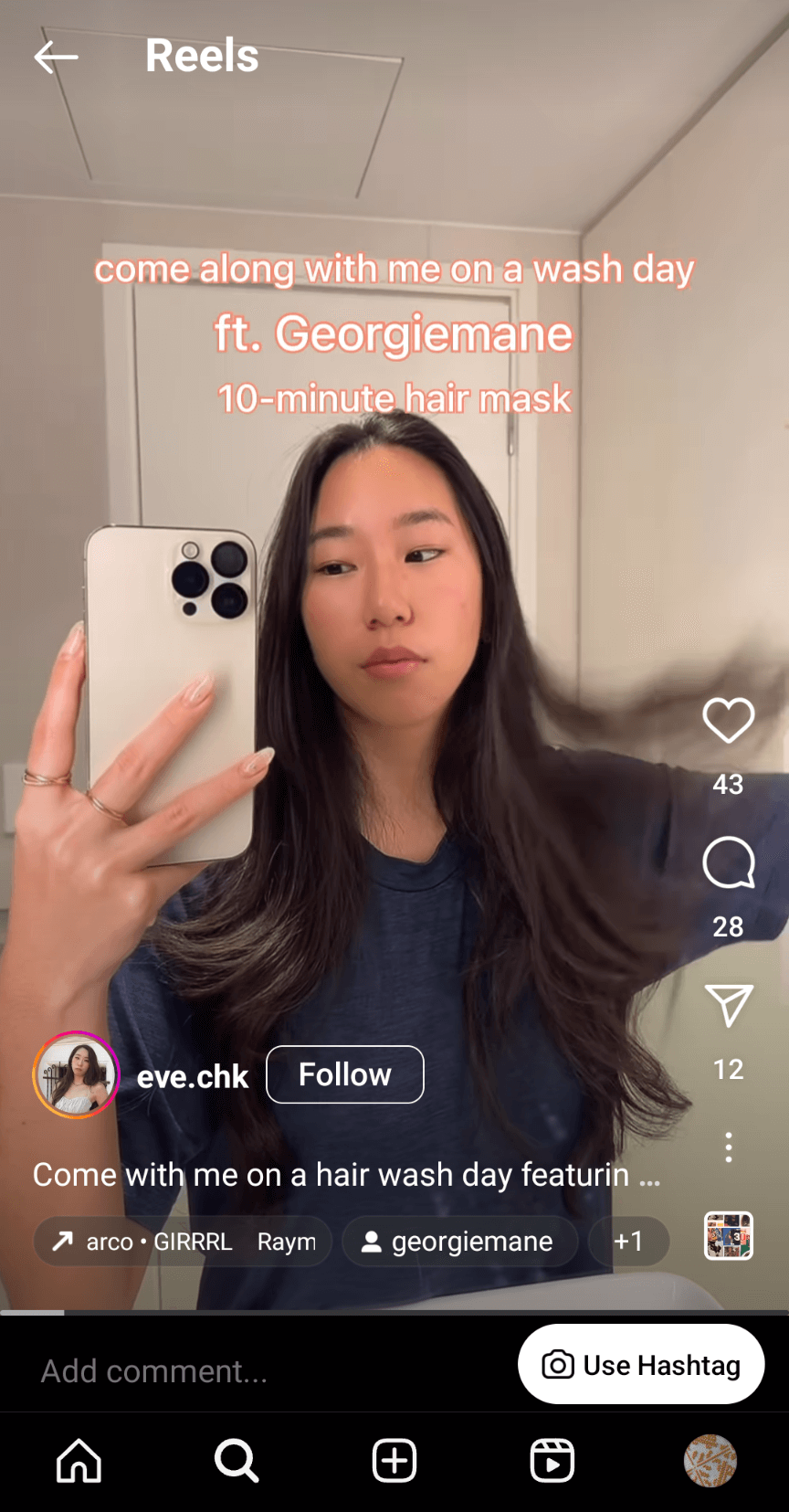 For example, in one day, you could post:
A Instagram story about your morning routine
Two stories behind the scenes at your business
A Instagram story about one of your products or services and how to use it
A Instagram story that answers a common customer query
Two stories about building a new course or designing a new product
That's it—you're already up to seven posts! In every Instagram story, the focus is on learning. Just remember that your stories should help viewers learn about, from, and with you.
The reason the focus is on learning content is that it triggers engagement. People will respond to your educational stories by chatting to you, asking follow-up questions, and supporting your brand. That engagement means more visibility from the algorithm, and ultimately, more conversions.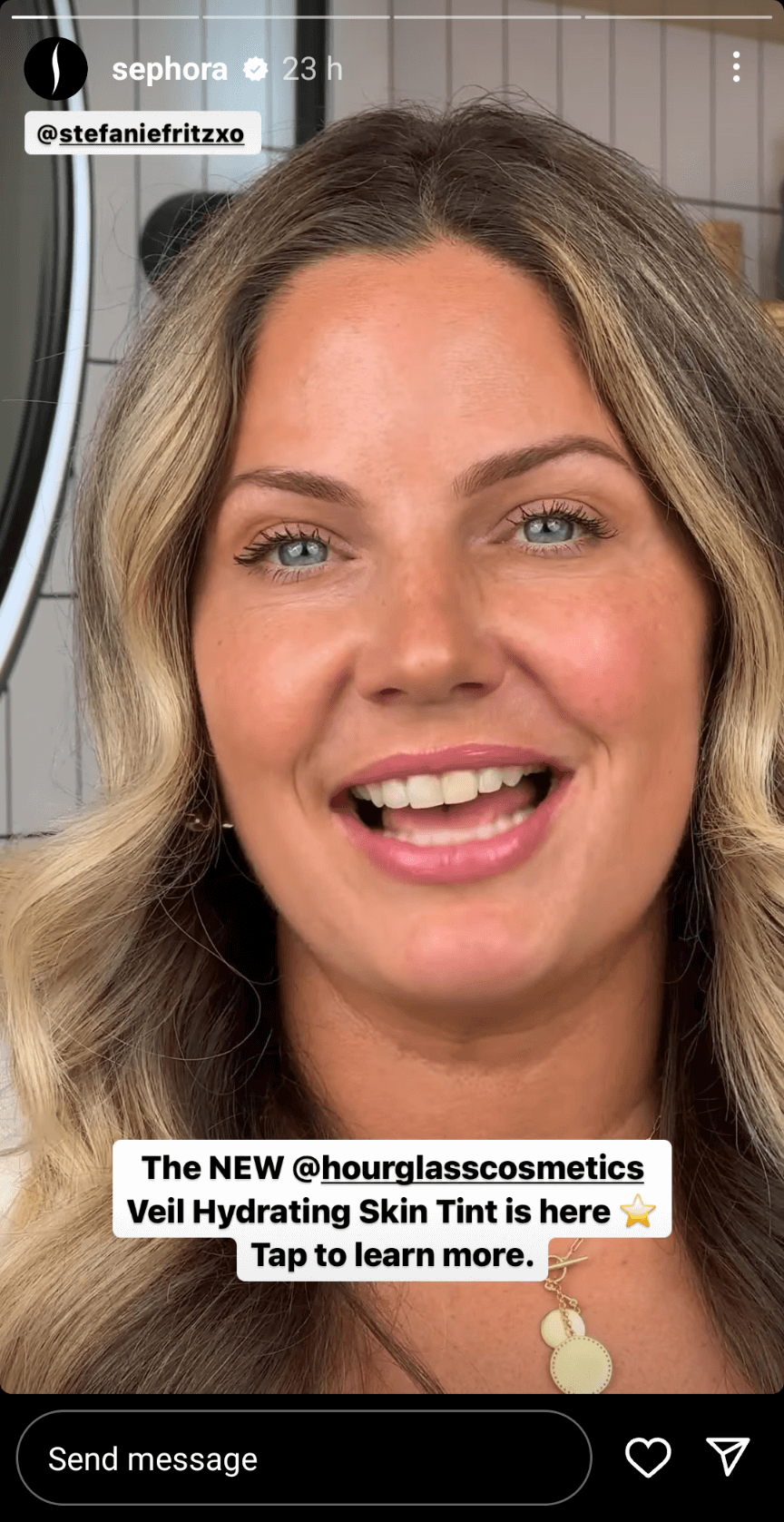 The other important point about this content is that it focuses on your real life, expertise, and working processes. That's because everyone loves to see a slice of life. Instead of speaking in the abstract, you're showing followers something real, immediate, and down to earth.
Content Ideas for Instagram Stories That Convert
We've covered the basics of creating Instagram story content: make it real, educational, and engaging.
Now we're going to dig deeper with some specific content ideas that you can add to your content calendar today.
#1: Get Your Followers Involved
What's the best way to get more engagement? Ask for it!
Everyone loves to share their opinion—and you can use that to your advantage. Use your videos, captions, or stickers to ask people:
Can they guess what you're doing? Start a behind-the-scenes clip and see if they can figure out what you're working on.
What do they think you should do next? Do they want to see a particular stage of your process, a different color product, a new tutorial?
Do they like what you're doing now? Would they buy the product or service on screen? Is there anything they think is missing?
As well as generating engagement, the responses you get will also be valuable feedback and customer insight.
#2: Don't Be Afraid to Be Boring
There's magic in the mundane. Even if you think your everyday life is boring, it's fascinating to other people. Your routine, your work, and your life are new to them—even if it's old news to you!
And the life you share doesn't have to be perfect, either. Imperfections are attractive; they catch our attention. It's more exciting to hear a story about someone who built their business in the face of adversity than someone who sailed through with zero challenges.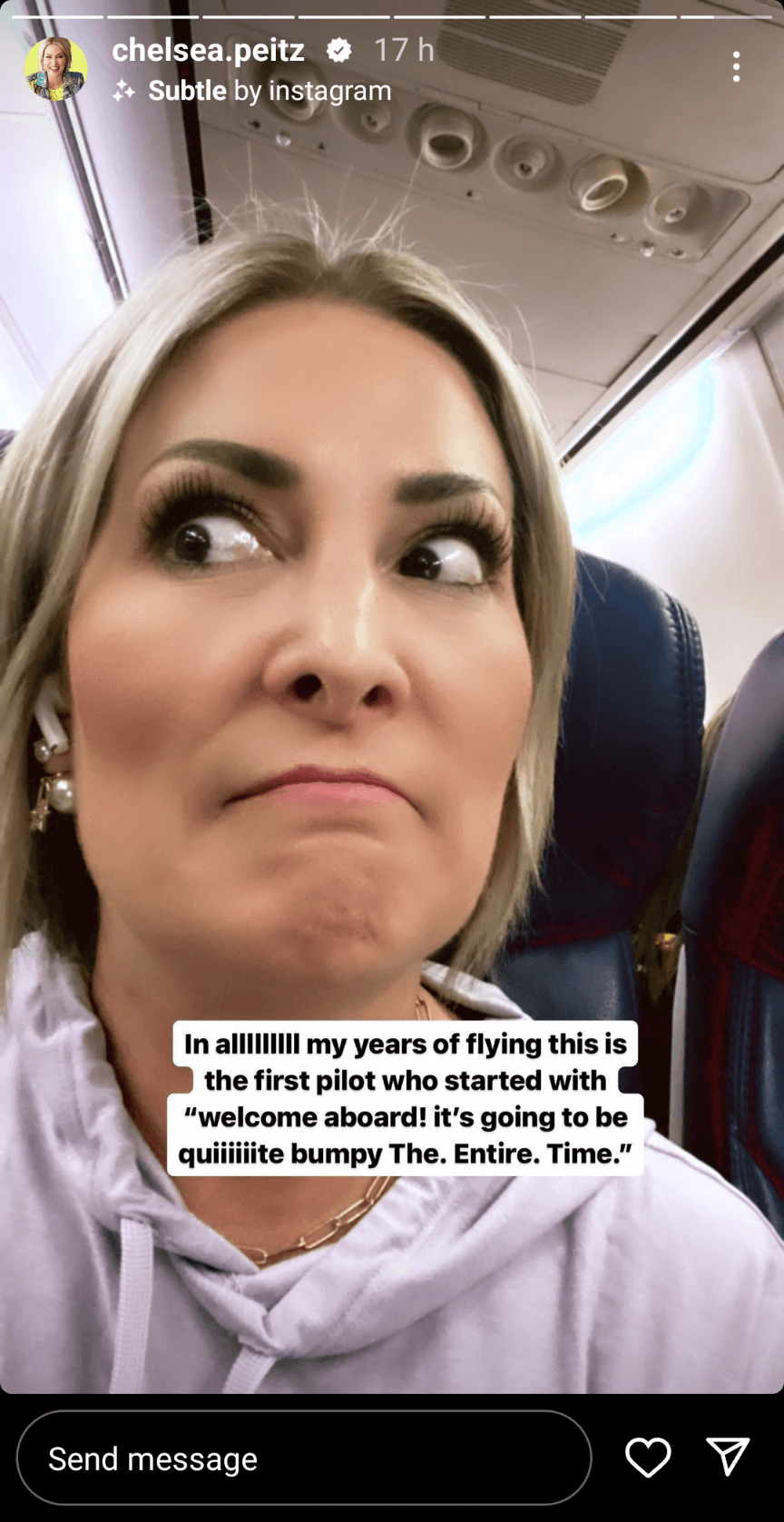 Don't be afraid to show the humdrum details of your daily work. Whenever possible, show your face to the camera so people can relate to you even more.
#3: Get Quick Opinions and Ideas
If you want a quick and easy dose of engagement, try adding poll stickers to your stories. You can make them up in moments but they get a lot of attention. They also send positive signals to the Instagram algorithm that people love tapping on your stories.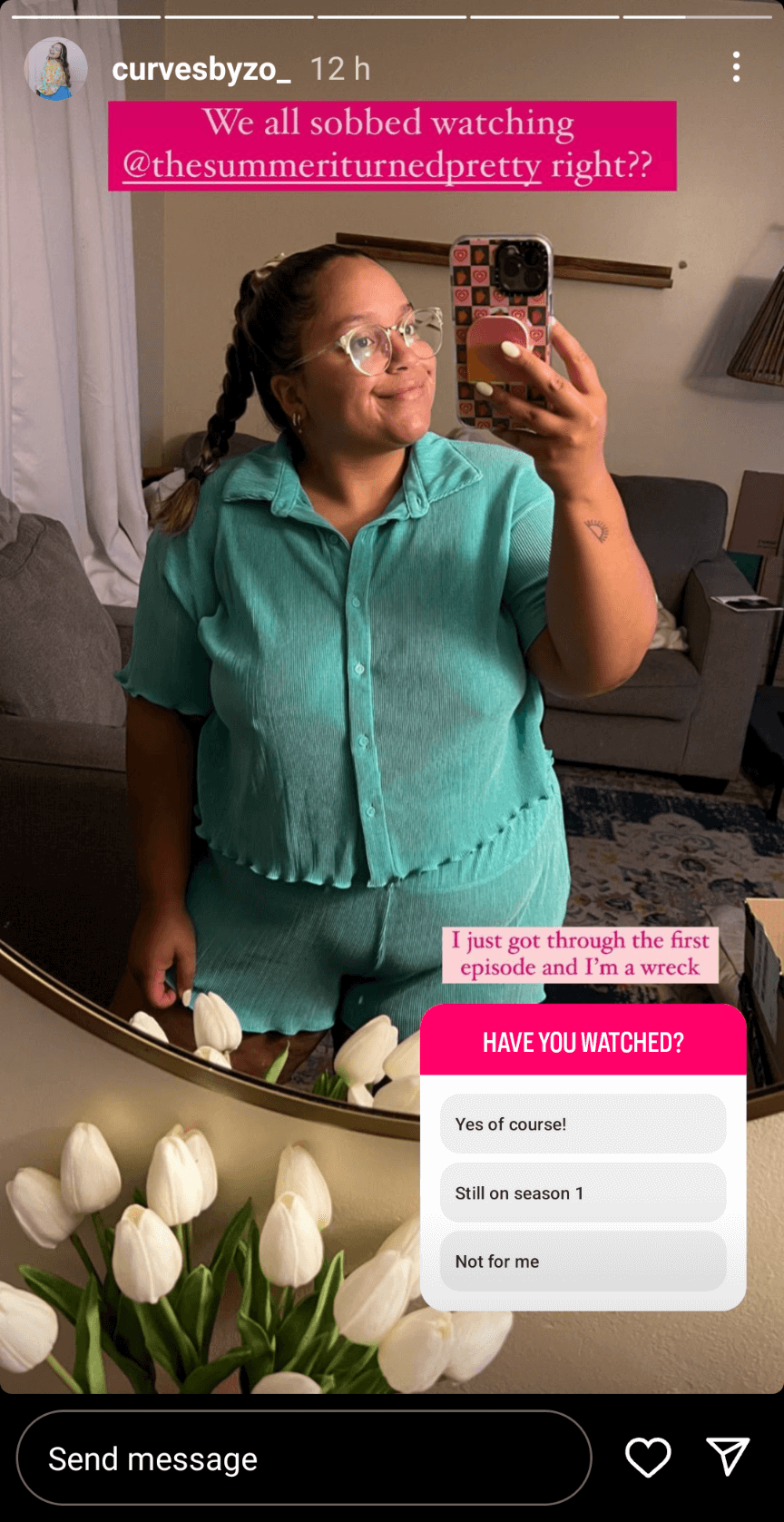 Try asking…
What content people want to see next
Which one of two products they prefer
Whether they relate to a problem
Whether they agree or disagree with an opinion
Any yes/no question and any choice between two options make a great Instagram story poll.
#4: Create Instant Q&As
As well as instant polls, you can share question stickers on your stories. Use these to set up a Q&A session!
You can run general sessions such as an "Ask Me Anything" hour, or offer expert advice on a specific topic. Niche Q&As will often get more engagement. However, it's still worth running general sessions from time to time, especially if you have an influx of new followers who need to get to know you.
Some creators or marketers with smaller accounts worry: What if nobody asks a question? Well, it doesn't have to be a problem!
Once you've created a question sticker, you can go ahead and submit questions yourself. Then you can use those questions to create new videos and no one will ever know the difference.
The Head of Instagram Adam Mosseri still runs a weekly Q&A more than 13 years after the platform was launched. You might think that his audience knows him and the social media platform inside out. But there's always more to share: updates, opinions, ideas, new features, and general chat.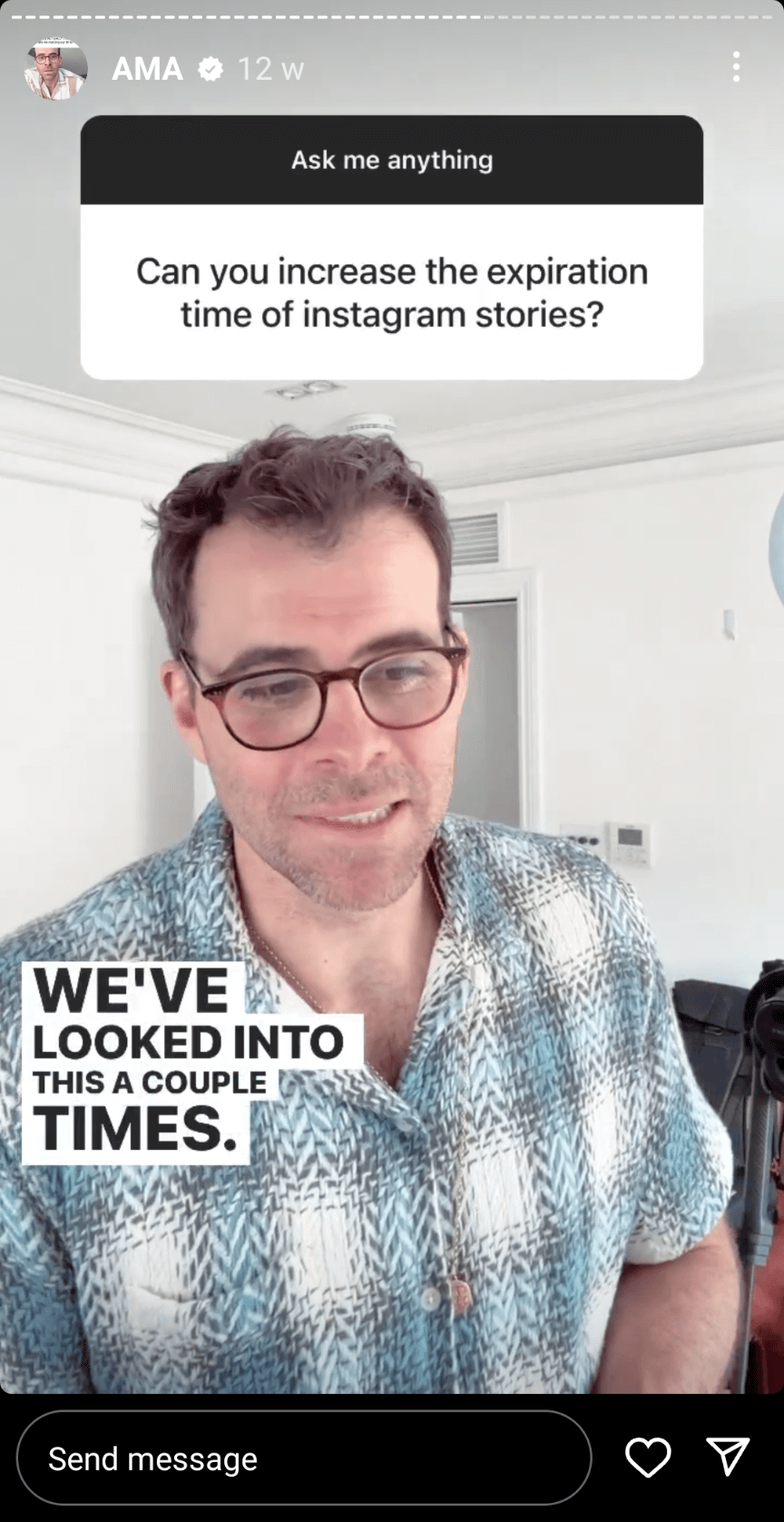 #5: Make Conversions Friction-Free
The questions sticker can be used very flexibly. It's not just for Q&A sessions. You can use it to collect leads and conversions, too.
For example, you could set up a questions sticker for viewers to share their email address if they want to receive a lead magnet. (If you use this tactic, just make sure that your email includes an unsubscribe link so users are still in control of their data.) You could also use questions stickers or ask people to message you a keyword to get links and offers in their DMs.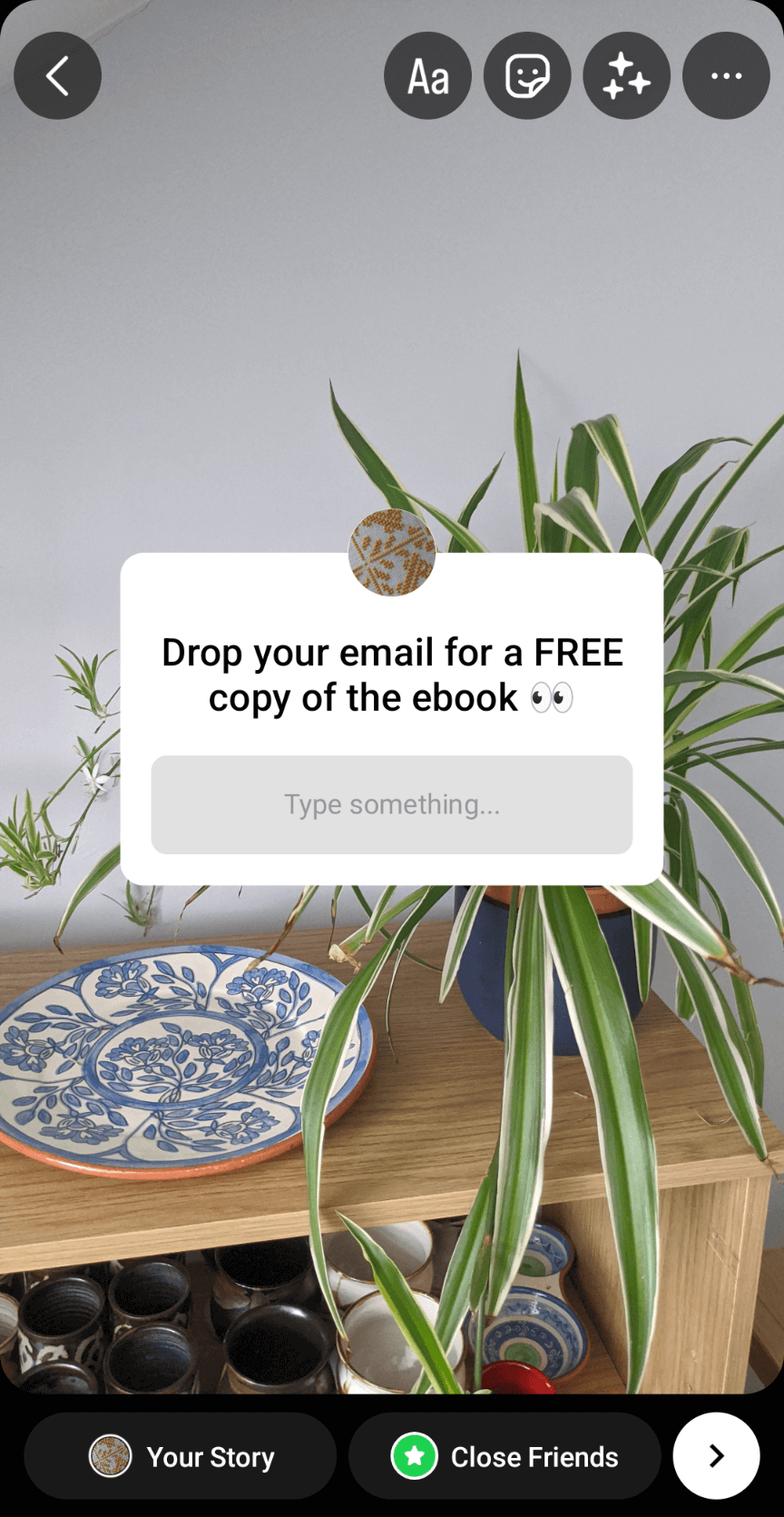 Remember, the ultimate goal of posting Instagram stories is to get more conversions. It's in your interest to make those conversions as frictionless as possible by using every tool at your disposal.
#6: Create Content for Everyone
We can't talk about making conversions frictionless without talking about accessibility. Well over 25% of your followers will have accessibility needs or use accessibility features to interact with your content.
Here's how you can help them:
Always share information in multiple modes. For example, if you talk about key information in a video, make sure there are subtitles to match. If you share an infographic feed post, make sure you add alt text.
If you use text overlays on your stories, don't create endless paragraphs! Keep it short, simple, and easy to read.
Use strong color contrasts and plain fonts for video subtitles and text overlays. Instagram's default suggestions are often the easiest to read.
Making your stories accessible only takes a few minutes of thought but it can bring your content to a much bigger audience. Your followers will appreciate the care and effort that you put in.
How to Get More Conversions With Instagram Stories
You've created flawless Instagram stories, posted them regularly, and gotten all of the engagement you could wish for.
But how do you lock in those conversions? How do you guarantee that views, follows, and interactions will lead to more leads and sales?
Here are seven golden rules to get more conversions with Instagram stories.
Optimize your profile and bio. Always include your keywords, location, specific offer, and clickable link in your profile and bio. If you leave out any of these details, then new followers will arrive on your page and miss their chance to convert.
Add links to your stories. Instagram recently updated its rules so anyone can add a swipe up link to their stories. These are a great way to convert viewers! Links are especially effective on content where you share social proof (such as reviews and DMs) or "learn with me" content.
Say who you're speaking to. Don't be afraid to exclude some of your audience. You only want the viewers who'll convert. Help your target audience identify themselves by using phrases like "This is for you if…" and "This isn't for you if…"
Keep posting… and posting… and posting… Keep your post frequency high. It's OK to cover the same topics repeatedly, too. Stories disappear, new followers arrive, and it's easy for people to miss content. So keep it going!
Save your best performers. If a Instagram story gets great results, add it to the highlights on your profile so it'll stay up permanently. Stories' 24-hour lifespan makes stories special. However, some stories will be useful on your profile as a way to welcome new followers, introduce yourself, and reiterate your sales offer.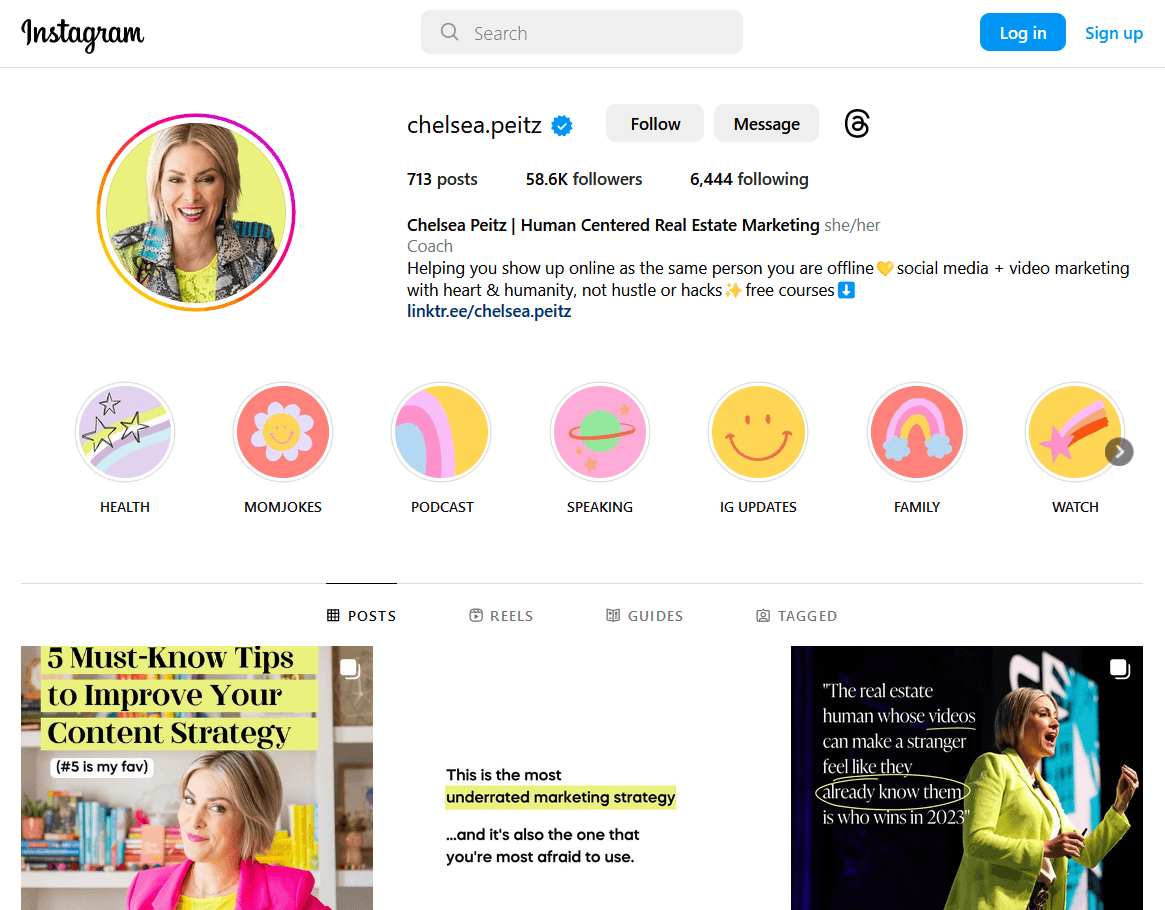 Don't forget to sell. The biggest mistake that marketers and entrepreneurs make in Instagram stories is forgetting to sell. Tell a story and make a clear offer to your viewers. And please, make it more exciting than just another discount code. Remember: you want to appear genuine, not faceless and corporate.
Always engage. If you want more engagement, the most effective strategy is to engage right back. Always reply to comments and DMs. Never leave anyone hanging. When you see a potential hot sales lead, make the effort to start a real conversation with them.
If you follow these rules, then your stories will get the conversions they deserve. Your audience will grow, your followers will become even more loyal, and you'll see an increase in leads and conversions, too.
Other Notes From This Episode
Where to subscribe: Apple Podcasts | Google Podcasts | Spotify | YouTube Music | YouTube | Amazon Music | RSS
✋🏽 If you enjoyed this episode of the Social Media Marketing podcast, please head over to Apple Podcasts, leave a rating, write a review, and subscribe.
---
Stay Up-to-Date: Get New Marketing Articles Delivered to You!
Don't miss out on upcoming social media marketing insights and strategies! Sign up to receive notifications when we publish new articles on Social Media Examiner. Our expertly crafted content will help you stay ahead of the curve and drive results for your business. Click the link below to sign up now and receive our annual report!