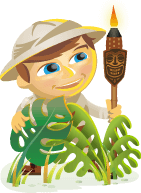 Are you active on Instagram?
Have you considered experimenting with ads?
To find out how Instagram ads work, I interview Jenn Herman.
More About This Show
The Social Media Marketing podcast is an on-demand talk radio show from Social Media Examiner. It's designed to help busy marketers and business owners discover what works with social media marketing.
In this episode, I interview Jenn Herman, a social media consultant and Instagram expert. Her blog, JennsTrends.com, has placed in our top social media blogs three years in a row. She also wrote an ebook called, How to Run a Successful Instagram Ad.
Jenn explores the differences and similarities between Facebook and Instagram ads.
You'll discover how you can succeed with Instagram ads.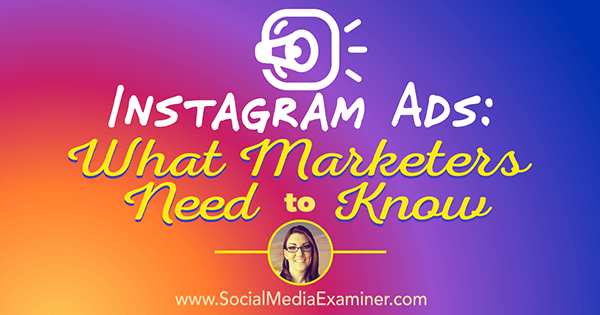 Share your feedback, read the show notes, and get the links mentioned in this episode below.
Listen Now
Listen Now
Where to subscribe: Apple Podcasts | Google Podcasts | Spotify | YouTube Music | YouTube | Amazon Music | RSS
Here are some of the things you'll discover in this show:
Instagram Ads
How Jenn Got Into Instagram
Jenn admits she was a late adopter of Instagram and started on the platform just a few years ago. She held off because, like many people, she felt she didn't have time for another social media platform.
Eventually, Jenn decided she needed to understand Instagram marketing for her blog, so she set up an account, tried it out, and fell in love with the community engagement on Instagram. People are active on it and you can instantly create relationships.
That's when she decided to make Instagram a focus.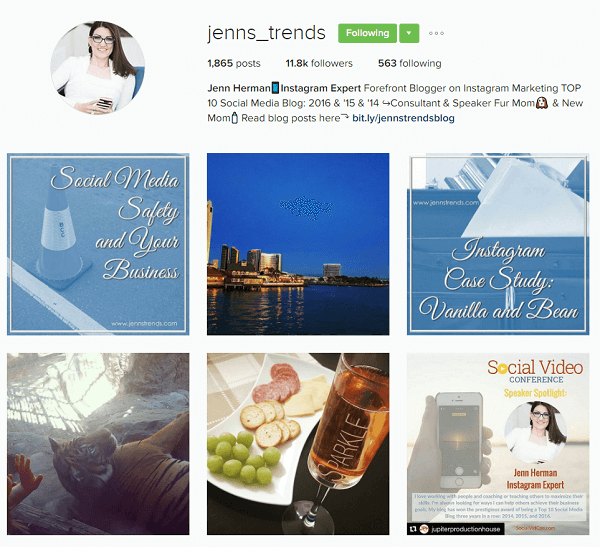 Jenn uses Instagram primarily to build the brand around her blog. Every time she has a new blog post, she shares it on Instagram. People who follow her see a new blog post, and then click through to read it. You can find her on Instagram under @Jenns_Trends.
Listen to the show to discover the other reason why Jenn loves Instagram.
Facebook Ads Versus Instagram Ads
Facebook ads and Instagram ads are very similar, Jenn explains. In fact, Instagram ads are run through Facebook's Business Manager. Therefore, you can't run an ad on Instagram unless you're connected to your Facebook Ads account.
It's easy to get started with Instagram ads if you've done Facebook ads because both ad types use the same dashboard. There are some differences, however. For example, Instagram doesn't feature the total number of targeting options that Facebook offers.
There are also differences in terms of ad image design. For instance, while graphic-type images with bright colors, contrast, and certain text features perform well on Facebook, people on Instagram prefer natural, organic-looking photos. For that reason, Jenn cautions against running identical ads on Facebook and Instagram.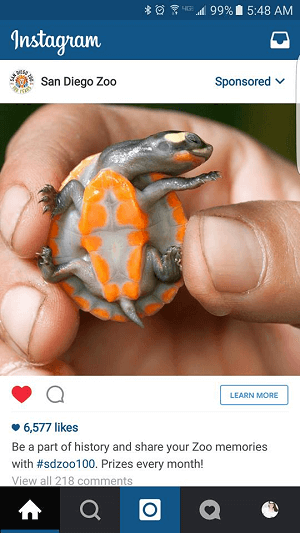 She says that a properly designed and targeted Instagram ad blends in with organic posts, and shouldn't stand out as an ad.
Because the average Instagram user likes photos that place him or her into an environment, Jenn cautions against creating an ad that features your product on a shelf, in a box, or on a flat white background. Instead, place your product in the hands of a model or in a scenario that's relevant to the brand or your target audience.
Do you offer a service? Don't say, "Here, get this today." Instead, create something relatable to the person who would purchase it.
Although there's no limit to text on Instagram (like the 20% rule on Facebook, which is going away), it doesn't mean you want to include a lot of big, bright text. You want your ad to be very photo-centric. You want to promote a high-quality, well-lit, properly focused and formatted image that stands out and represents your brand.
Listen to the show to hear what will happen if you run the same ad on both Facebook and Instagram.
Instagram Ad Features
Instagram ads are distinguished from organic posts with text that says "Sponsored" in the top-right corner. In the top-left corner of the ad, you can click on the profile photo of the person running the ad to explore their profile. You may also see a call to action button at the bottom that says Learn More, Shop Now, or Book Now.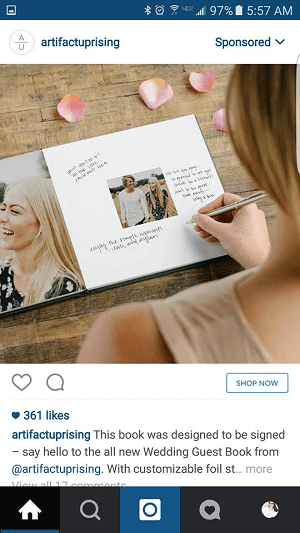 To get that call to action button in your own ad, choose the option to send people to your website when you set up the ad. You can then choose one of the call to action options and customize it with your link.
If you're promoting happy hour at your restaurant, for example, it's better to have a call to action button with a link to your happy hour menu than stand-alone text in the description that says, "It's a Happy Hour promotion. Stop by the restaurant to take advantage of it."
The takeaway here is that it's important to give readers something to click through to and get more information.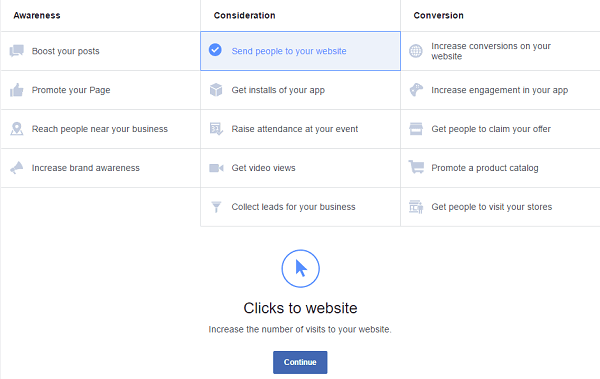 Jenn notes that you can run ads if you haven't upgraded to an Instagram business profile, but if you have, you can see insights for your ads within Instagram. If you're using a personal profile, you can find all your ads' analytics in Facebook Business Manager.
Listen to the show to find out the default call to action.
Pricing and Budgets
Similar to Facebook ads, you choose the budget and duration for your Instagram ad. While there are exceptions, like a flash sale with a short time window, Jenn recommends running your ads longer if possible. Ideally, a minimum five-day run is good because more ads are being placed every day, and it can take a while for your ad to get into the rotation. Plus, you'll want to factor in time for the approval process.
Costs are dependent on your brand and marketing budget. Jenn says she never runs an ad for more than $20. She watches its performance and then may tweak her targeting, change the duration, or add more money to the budget.
For those starting out with ads, Jenn suggests low budgets: $20, $50, or $100 tops. Try it out, let it run, and see what results you get. After three or four days, make some adjustments and go from there.
Most of the ads Jenn runs are for her own content, whether it's for promoting a blog post or the launch of an ebook. She has had her $20 ad investment reach anywhere from 1,500 to 8,000 people.
Listen to the show to discover how long it takes to approve an ad.
Targeting
When Jenn targets on Instagram, she targets new people versus her existing customers or audience because they already see her, know her, and love her.
Jenn conducts targeting research to find the ideal demographic for her key audience. She searches geographically and then narrows down for age restrictions. You can also narrow further by gender and household income. It's even possible to target people who like a certain Facebook page.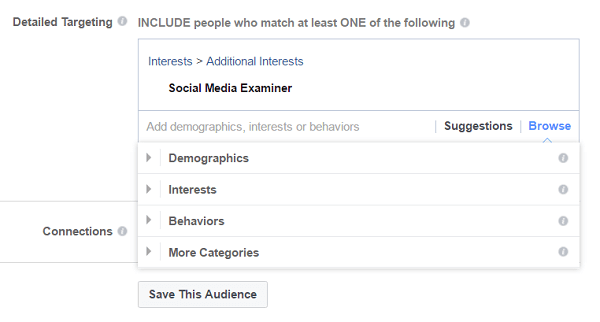 As you modify your targeting, you'll see how many people you're about to reach. The number can go up or down, depending on the parameters you set. Jenn is happy when she's going to reach 4,000 to 6,000 people because a smaller number of highly targeted people is better than 20,000 random people.
Listen to the show to learn about the Instagram algorithm and where it's heading.
Media for Instagram Ads
While video ads are valuable (they perform really well and allow you to take your message further), most traditional Instagrammers are more inclined toward photos. If you feel videos work for your audience, use them, but test them first.
You can do GIF-type posts on Instagram if you already have them or create them with an app like Legend, but in the end, Jenn says, GIF-type posts run and act as video. Instagram video autoplays when you tap the screen, but it doesn't play with audio. So you want to create something that works as a silent movie.
Video ads run like any other ad in terms of views, Jenn explains, and you don't get charged when someone plays your video. She cautions that you may not get as much reach for a video ad because not as many people will watch it. Therefore, your conversion cost may come out a little higher.
Another media option is carousel ads, which started on Instagram and then moved over to Facebook. This ad type stands out because your ad can have multiple images (up to five images in a series): one long banner image, broken up into a bunch of little squares, or several separate images.
Each image in your ad can go to a different link location and you can control the order of your images. The first photo will always have the most impact since people will see it (and react to it) first. Engagement and views go down on subsequent images. If you feel like the front image isn't working, you can reorganize to see if you get better results.
Listen to the show to discover why Jenn doesn't do videos on Instagram.
Tips for Instagram Ads
When you try to cold-sell to a complete stranger on Instagram, it can be really off-putting and have bad results.
Because most people on Instagram are finding you for the first time via the ad, Jenn recommends using it to give something away for free: a webinar, ebook, quiz, or download. The idea is to get them to your website to opt in, so even linking to a blog post will work.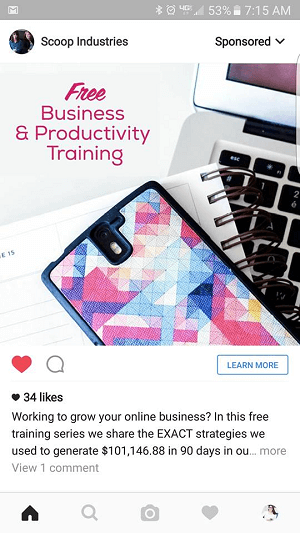 Make sure the ad and the landing page are optimized for mobile, and use the best image you can possibly put out there for whatever you want them to opt into.
Finally, Jenn says to be creative. Think outside of the box to promote your business or brand, and use ads to increase your advantage. For example, she's seen people post job listings through an Instagram ad, saying that they're hiring.
Listen to the show to hear about Jenn's experience at Social Media Marketing World.
Discovery of the Week
Night mode is often an easier-on-the-eyes version of the user interface. The white portions of a browser or an app turn to a dark gray or pitch black and the text becomes white. Now, a Chrome browser plugin called Darkness brings night-mode to your evening web surfing and Facebooking.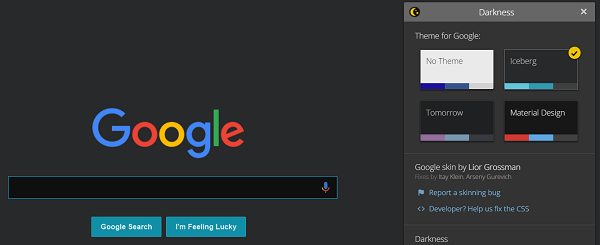 If it gets to be 7:00 or 8:00 PM and you're still on your computer, switch on Darkness. This is great if you have a hard time sleeping after staring at the bright screen on your computer, and it helps reduce eye strain.
Darkness, free for Chrome and Facebook, offers a paid upgrade for YouTube and Gmail. Go to the Chrome Web Store and search for Darkness: Beautiful Dark Themes.
Listen to the show to learn more and let us know how Darkness works for you.
Listen to the show!

Key takeaways mentioned in this episode:
Learn more about Social Media Marketing World 2017.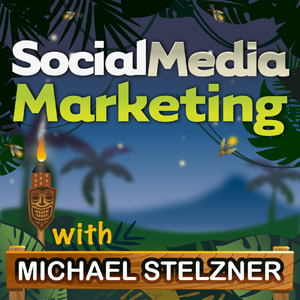 Ways to subscribe to the Social Media Marketing podcast:
What do you think? What are your thoughts on Instagram ads? Please leave your comments below.