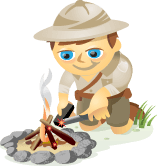 Do you use LinkedIn to find prospects for your business?
Have you tried Sales Navigator?
LinkedIn's Sales Navigator helps you find and keep in touch with the right prospects at the right time.
In this article you'll discover how to get started with LinkedIn Sales Navigator.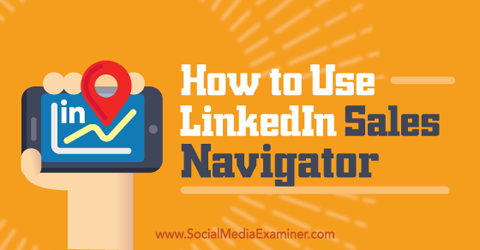 Listen to this article:
Where to subscribe: Apple Podcast | Google Podcasts | Spotify | RSS
What Is LinkedIn Sales Navigator?
When it comes to LinkedIn premium services, people often think of LinkedIn Pro with InMail messages. But LinkedIn offers many more tools targeted specifically to sales and marketing people. LinkedIn Sales Navigator is the one that most people start with.
This social selling tool makes it easy to find relevant prospects for your business. It does this by providing in-depth user details and advanced search and filtering options.
LinkedIn offers a free 30-day trial of Sales Navigator so you can test it out to see if it works for your business. When the trial ends, you can choose a professional account ($80 per month with 15 InMail messages) or a team account ($130 per month with 30 InMail messages). Note that TeamLink and full out-of-network access are available only with the team account.
Here's how to get started using Sales Navigator for your business.
#1: Start Your Free Trial
To set up an account, go to the Sales Navigator page and click the Start Your Free Trial button. You'll need to enter your credit card information to sign up for the 30-day free trial. (You won't be charged if you cancel before the trial period ends.)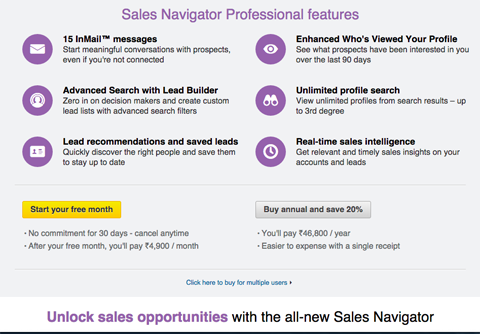 Next, you're directed to the Sales Navigator site (linkedin.com/sales/), which is a different platform altogether. All of your activity takes place on this site and won't affect your normal LinkedIn account.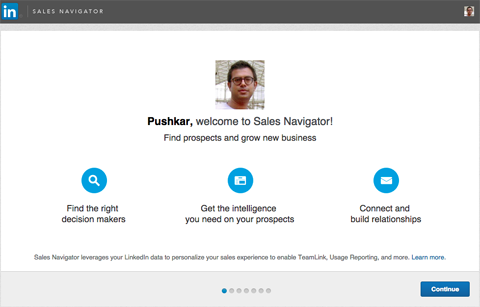 Before you can start using Sales Navigator, you need to configure it with your preferences. Click Continue to set preferences like what vertical, regions and job titles you want to target.
First, you have the option to save your existing LinkedIn connections as leads.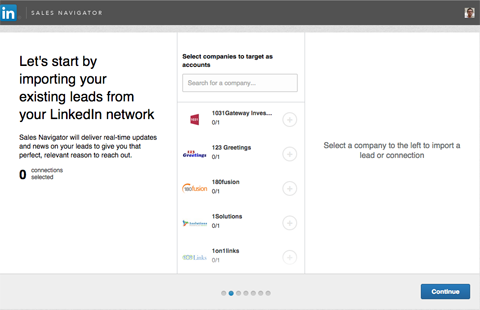 Next, you can sync Sales Navigator with Salesforce to import your accounts and contacts.
Get Expert Social Media Marketing Training from the Pros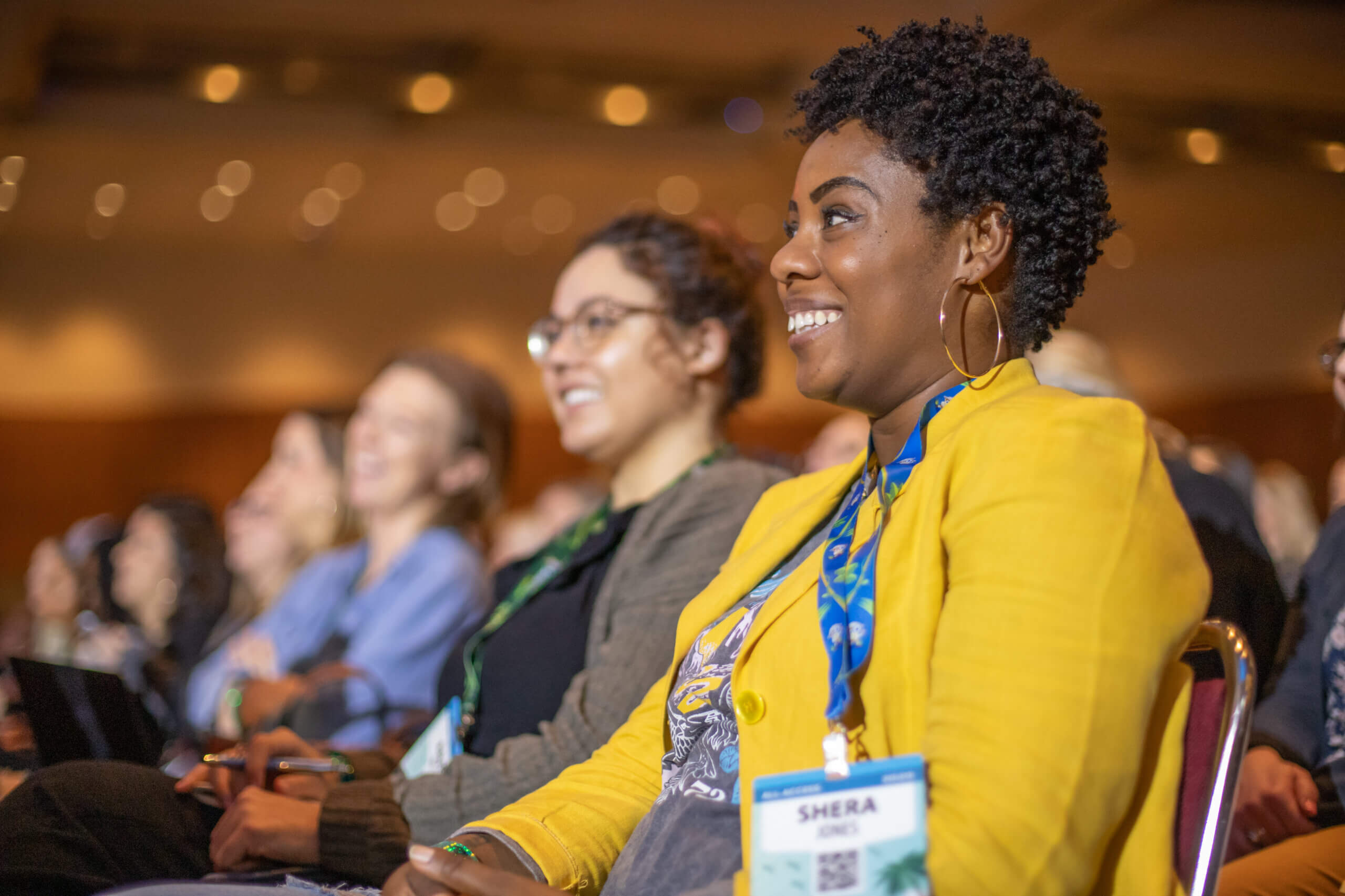 Want to get ahead of the competition or learn how to diversify your strategy?
Learn from dozens of the industry's most trusted experts, rub elbows with other smart marketers, and take your marketing to the next level during this 3-day event in sunny San Diego, CA.
CLICK TO LEARN MORE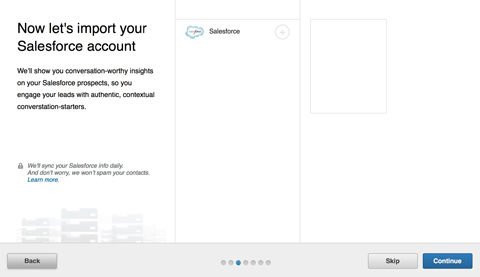 Now, you can view and save companies suggested by Sales Navigator (similar to following on Facebook or Twitter). Saving companies in your account allows you to track new leads, follow updates and receive company news so you're well-informed before your first conversation with a prospect. If you're not sure what companies to save, you can skip this page and add companies later.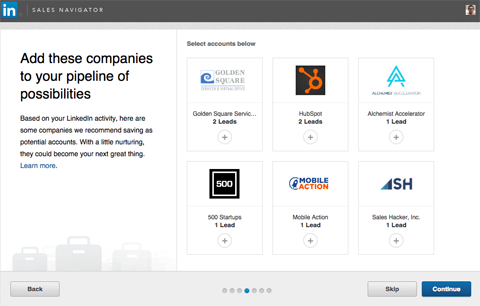 Finally, you need to fill in information about what types of leads you're looking for. You can enter information about your sales territory (countries, regions and cities), industries you sell to and job functions you want to target.
Experience Social Media Marketing World Without the Travel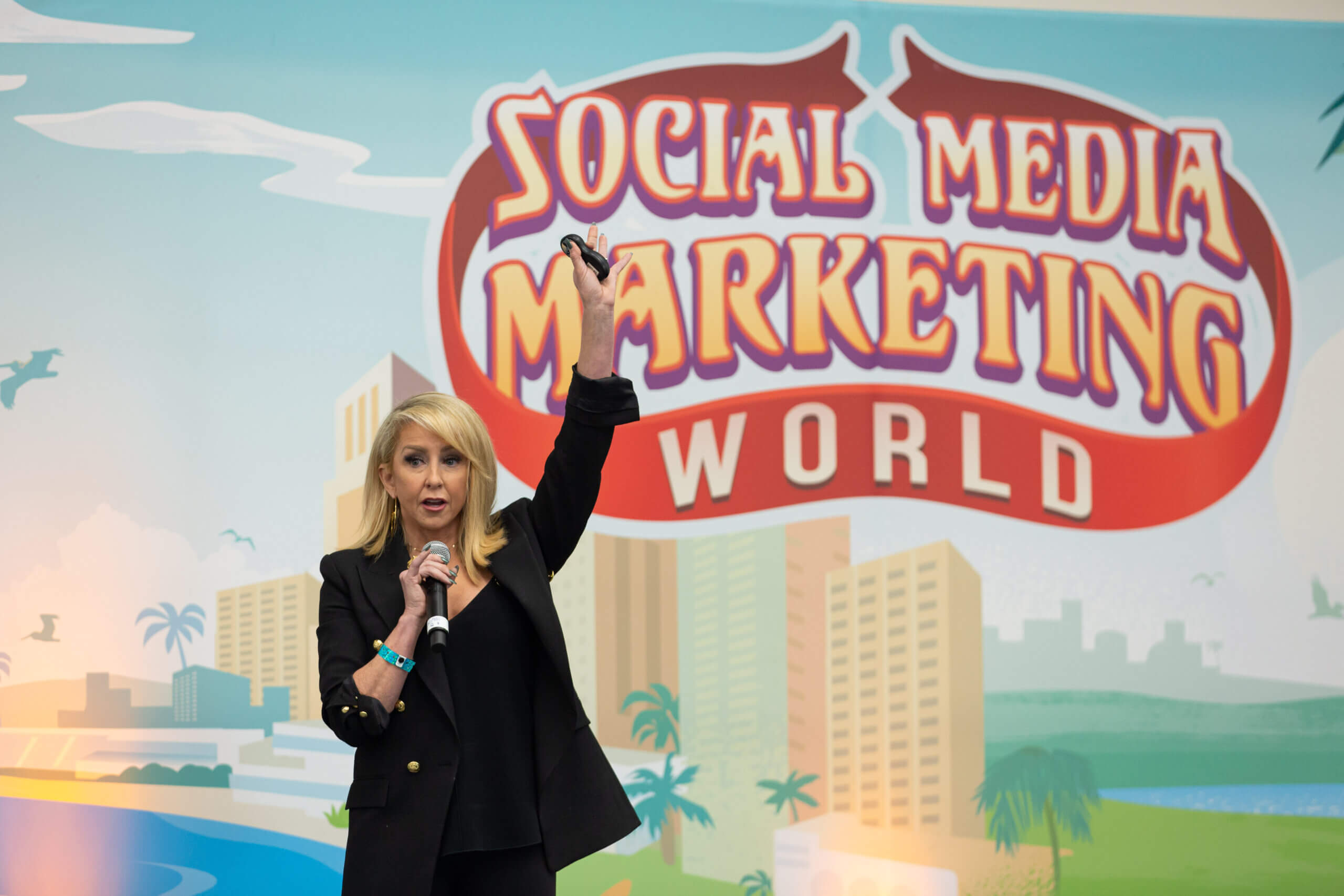 Imagine learning from the world's top social marketing pros without ever leaving your home or office.
Attend Social Media Marketing World virtually with an On-Demand Ticket. Watch all the sessions, keynotes, and workshops when and where you want! You'll walk away with real business-building ideas without having to deal with the stress or expense of travel.
CLICK TO LEARN MORE
#2: Find Prospects and Leads
When you're finished with your account preferences, you're ready to search for prospects and build lead lists. A great way to start is to use Lead Builder, which offers advanced search filters.
Click the Lead Builder button to the right of the search box.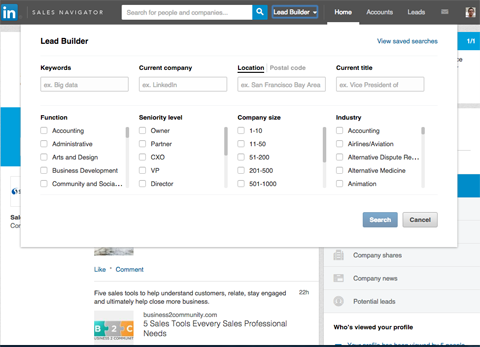 You can search for job titles ("sales manager") or companies ("Microsoft"). Use the various filters to refine your search criteria.
When you're finished setting your search parameters, click Search to see the results. Sales Navigator provides much more data in its search results than you'd find with LinkedIn.com.
Next to each result, you'll find a Save as Lead button, which you can use to save relevant prospects.

At this point, you have the option to save the lead to an account. Accounts are the companies that you want to follow to stay up to date on recent developments.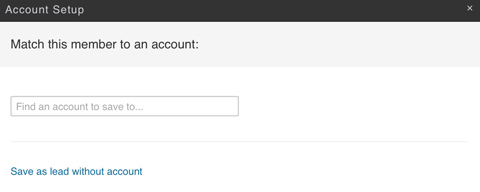 In addition to saving leads, you can save the search itself. Then in the future, when new profiles match your search criteria, you'll receive email alerts. To save a search, click Save in the upper-right corner of the search results. You have the option to receive email alerts daily, weekly or monthly.

On the left side of the search results, you'll find filtering options, including title, industry, postal code, first and last name, seniority level, company size and years of experience.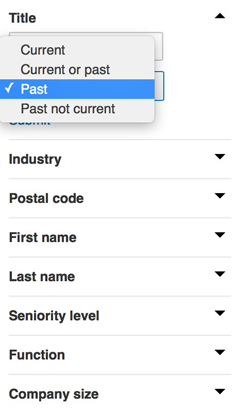 Sales Navigator also offers a feature called TeamLink. Use TeamLink to filter your results to see bridged or team connections. If TeamLink identifies a personal connection between your prospect and a team member, you can ask a mutual connection for an introduction.
After you add prospects as leads, you can view them on the Leads tab.
#3: Keep Tabs on Saved Leads
On the Sales Navigator home page, you can track the most recent updates and news related to your saved leads. The great thing about Sales Navigator is that, unlike LinkedIn, you can see updates from people who aren't connections. With these insights about your prospects, you can compose better InMail messages when engaging with them.
If you want to narrow the focus of your updates, use the filtering options on the right side of the page.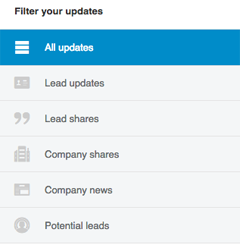 Click the Accounts tab see the companies you've saved. To find out more about a company, click the View Account button to the right. Here you can find and add more people (lead recommendations) and read recent news about the company.
Click the All Employees link to see everyone who works at the company. This is a great feature because it allows you to connect to anyone in the company.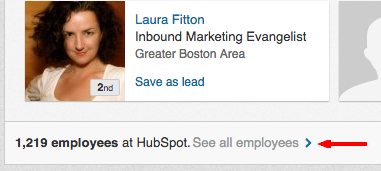 Conclusion
If you want to build a lead list for your business, LinkedIn's Sales Navigator is a great tool for identifying relevant prospects and gaining valuable insights about them.
What do you think? Have you tried LinkedIn's Sales Navigator to find leads for your business? Please share your thoughts in the comments below.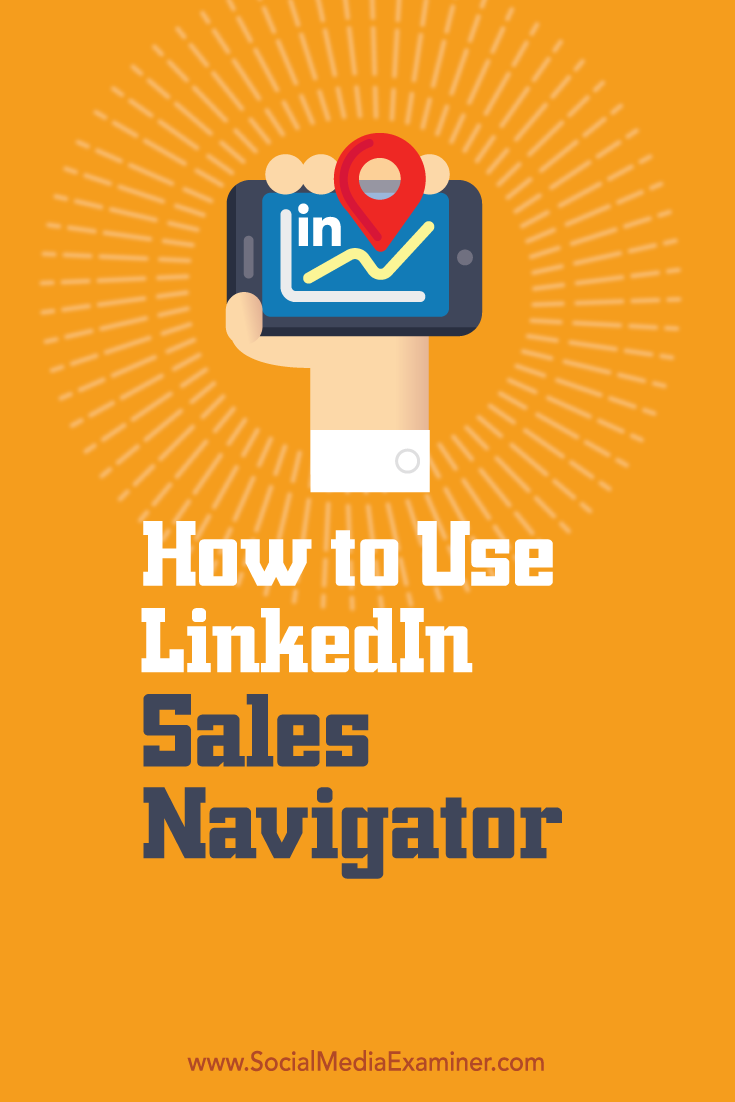 Experience The World's Largest Social Media Conference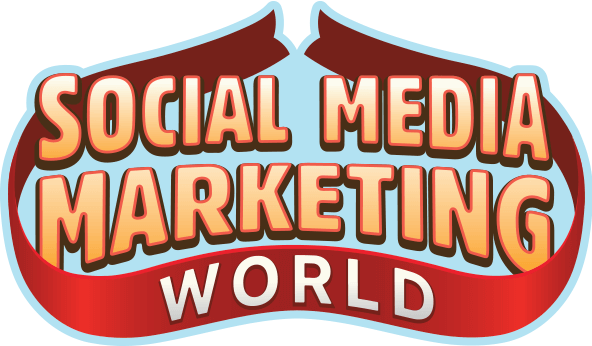 Quality marketing training, actionable takeaways, and beneficial connections—that's just a fraction of what you can expect at Social Media Marketing World! Join thousands of smart marketers in sunny San Diego this spring and level up your marketing.
🔥 Sale ends Wednesday! 🔥
GET TICKETS NOW