Do you use Facebook ads to generate leads? Want to convert more Facebook leads into customers?
In this article, you'll discover five effective tips to increase the chances your Facebook leads will become customers.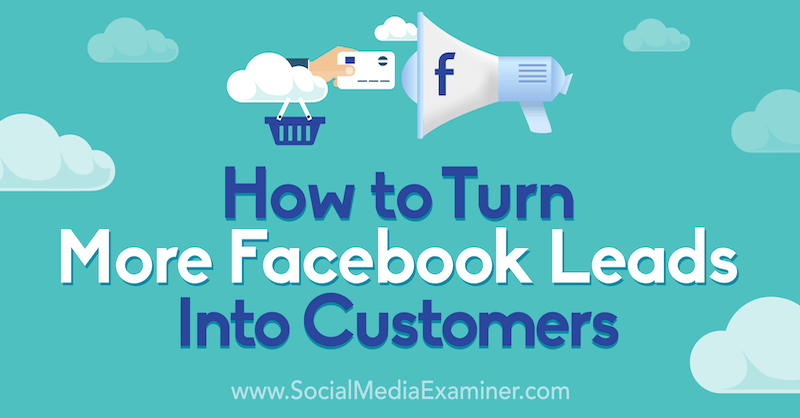 The Importance of Lead-to-Customer Conversion
All too often, I hear people who've tried Facebook ads claim that the leads they generated were rubbish because the leads didn't end up purchasing anything.
From my experience working with businesses, the problem usually isn't that the leads are poor. The real problem is that businesses aren't doing enough to turn those leads into customers.
Facebook is simply a tool you can use to deliver a message to a specific person. If businesses are getting poor leads, it's often because their follow-up communication and strategy are poor.
Claiming Facebook doesn't work simply means businesses aren't looking at the bigger picture. They're judging the success of their campaign based on their first interaction with people, not the full journey.
You need to focus on the whole funnel. Every touchpoint must be optimized for success so every lead you generate is more likely to become a great customer.
Now let's look at five ways to turn more leads into customers by optimizing the experience after they've become a lead.
#1: Re-Engage Passive Leads With Facebook Retargeting Ads
One of the smartest and most powerful ways to convert your leads into customers is with Facebook retargeting ads. Once someone has taken that initial action (such as downloading a free guide), you can retarget them with an ad that could read something like:
"Thanks for downloading my free guide! Be sure to take the next step here…"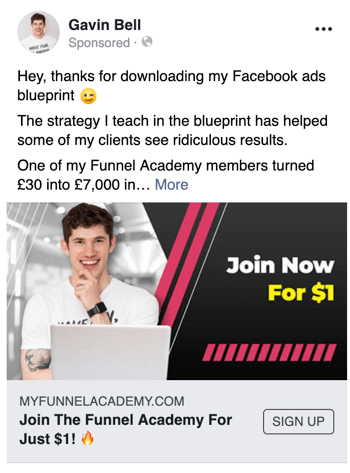 Often, when leads don't take that next action, it's not that they don't want to or they're not interested. It may be because they were distracted or it wasn't convenient at the time.
How many times have you gone to purchase something, realized you didn't have your wallet, and then just ended the buying process?
We all do it. Sometimes a little reminder is all it takes to get someone to come back and buy from you. Retargeting ads are perfect for this.
The Conference You've Been Waiting For
As a small business marketer, you can probably only pick one or two events to attend each year. Get back into the game with an unbeatable conference experience and expert training at Social Media Marketing World in sunny San Diego, California—from your friends at Social Media Examiner.
🔥🔥 As a valued reader, you can save $300 if you act now! Sale Ends Tuesday!
CLICK HERE TO LEARN MORE
In my experience, retargeting ads to leads with an invitation to purchase have been some of the best ROAS ads I've ever run. You know the audience. You know what their problem is (based on the topic of your lead magnet), so you can be super-specific and personable in your ad copy.
To create a Facebook retargeting campaign, you need to create a custom audience of people who have become leads. You'll do this based on people who have visited the thank-you page.
To create this custom audience, go to Audiences inside Facebook Ads Manager.

Once there, click on Create Audience and select Custom Audience from the drop-down menu. Then select Website Traffic as the source for this audience.
In the window that opens, click the third drop-down menu (below your selected pixel) and choose People Who Visited Specific Web Pages. In the box, type the URL of your thank-you page someone visits when they become a lead.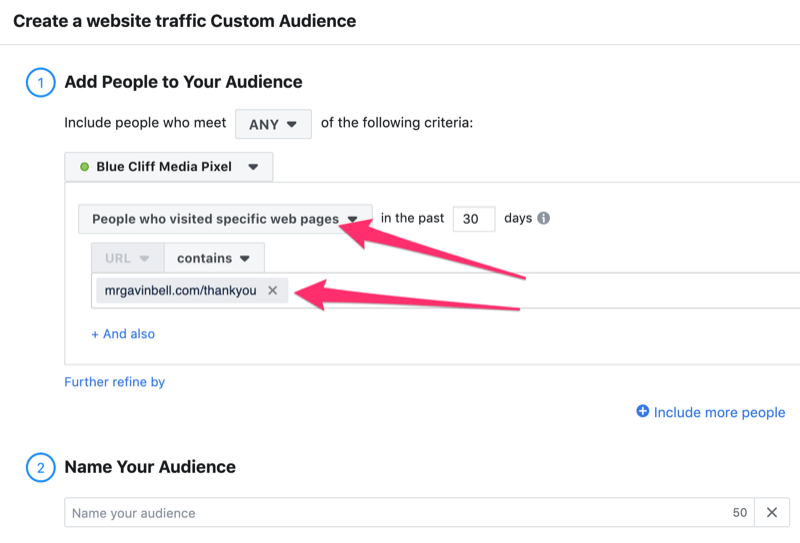 Once you've done that, name your audience and click Create Audience.
Now repeat the process to create a second custom audience, but this time, instead of using the URL for when people become a lead (the initial thank-you page), use the URL someone lands on after becoming a customer. This will allow you to exclude them from your advertising.
Once you've done that, create your campaign. When you're setting up the targeting, select your lead audience under Custom Audiences. Then click on Exclude and select the audience you created based on people who have purchased. The setup should look like this: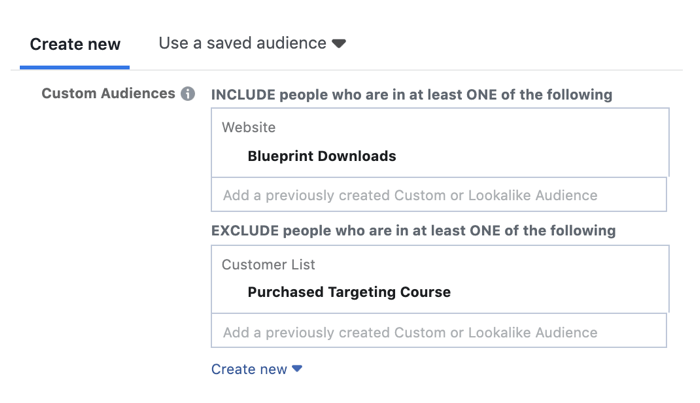 Excluding customers who've purchased ensures you're only targeting people who have become a lead but haven't purchased from you yet. I can almost guarantee this will help you generate more customers!
#2: Present Warm Opt-In Leads With a Follow Up Purchase Offer Across All Marketing Channels
To get people to take you up on your next offer (in other words, become a customer), you need to make your offer clear. Sounds obvious, right? But it's not always done well.
When I talk about a lead, I typically mean someone who has opted into an offer from you such as a free guide, webinar, or consultation.
Once they've opted into an offer, they're sent to a thank-you page. The thank-you page is one of your biggest opportunities to make the next offer. People are most likely to take the next action with you right after they've taken the first. They've already shown a level of commitment.
To take advantage of that, place your next offer on the thank-you page. Start to see your thank-you page as a sales page for the next offer.
But the process doesn't stop there. Start thinking about all of the places your lead may now hang out and make your follow-up offer in every one of those places. These places could be:
Lead magnets: If people have downloaded a free guide, make your follow-up offer in the guide itself.
Follow-up emails: In all of your emails, tempt your lead a second time with your offer. This is especially important in the first email because open rates are higher.
Online courses: If someone has signed up for a free course or for access to any sort of online platform, make the offer there.
Sometimes leads need to see the offer you're making a few times before they're convinced to purchase your product. Don't give up on them just because they didn't take advantage of the offer the first time.
Keep making the offer. Keep showing up.
#3: Build Trust With Hot Leads via Video on Your Facebook Ad Conversion Thank-You Page
If you're looking to improve the quality of your leads (so more of them buy), video is an effective way to do it.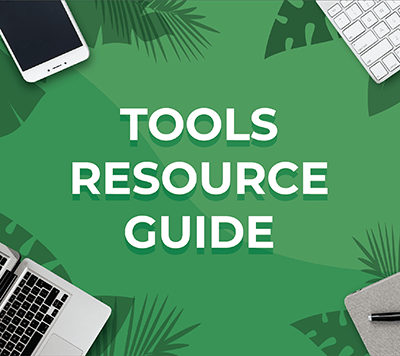 Looking for something to make your life easier?
Discover the tools we recommend to drive engagement, save you time, and boost sales across your entire marketing funnel or business.
Whether you need help planning content, organizing social posts, or developing your strategy, you'll find something for every situation.
FIND YOUR NEXT FAVORITE TOOL
Think about it from a consumer's perspective. You're scrolling through Facebook and you see an ad for a seminar that's running in your area. It sounds interesting to you so you sign up for it.
You're then taken to a thank-you page that has some information about the seminar on it, but not a huge amount. You then never hear from the company again. It's hardly inspiring you to take time out of your day to drive to and attend the seminar.
Now imagine the thank-you page has a great video on it from the seminar host thanking you for signing up, sharing a few things about what you're going to learn, and showcasing the seminar room.
Which one sounds more appealing?
Video helps you build an enormous amount of trust with your audience. If your leads can see you, hear you, and learn from you through video, they'll trust you a whole lot more.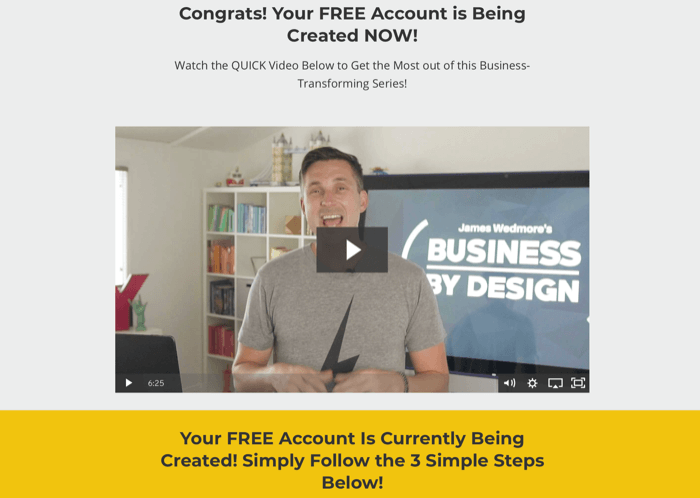 And if they trust you, they're much more likely to buy from you.
Place a video on your thank-you page and reap the rewards of your leads starting to know, like, and trust you.
#4: Analyze Facebook Lead Behavior on Your Facebook Ad Conversion Thank You Page
Many tools can help you turn more leads into customers. The ones I'm going to focus on allow you to track the behavior of your leads as they go through your funnel.
Once someone has opted into your lead magnet, they'll be redirected to your thank-you page. If your thank-you page acts as a sales page for the next offer, it's important to track how people interact with that page.
For example, it's helpful to know how long people are spending on the page. If they're not spending any time on the page, are they leaving because it's not loading fast enough? Or perhaps your headline/text isn't compelling enough?
Tools can help you determine any problem areas or leaks in your funnel. Once you know the problems, you can fix them and ultimately get more conversions.
Two tools I like to use to do this analysis are Google Analytics and Hotjar.
Google Analytics
Google Analytics is a free tool to use to determine whether your thank-you page is resonating well with visitors. It can also tell you whether you're compelling them enough to take the next action.
In particular, look at the bounce rate and time on page.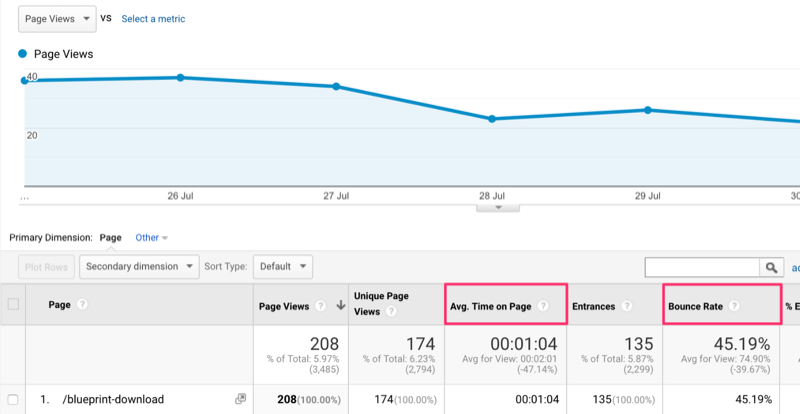 The bounce rate tells you if people are taking action on your page or just leaving immediately. If you find they're 'bouncing' off, it might suggest your headline isn't compelling enough or your page is loading too slowly.
Time on page is a helpful metric for determining whether people are actually spending time consuming the content on your page. If they're not, again you're not grabbing their attention enough to make them read. Or your content isn't good enough.
Hotjar
Hotjar (free and paid plans starting at $29/month) takes around 5 minutes to set up on your site. Similar to Google Analytics, it just needs a bit of code installed in the header to work. What Hotjar does really well is it allows you to visually examine how visitors are using your website.
You can have it record people's visits to your site so you can monitor them filling out forms, scrolling down pages, and taking other actions.
This information is valuable because you get to see how strangers interact with your site. You can see whether people are reading your site, clicking on specific links, or ignoring everything.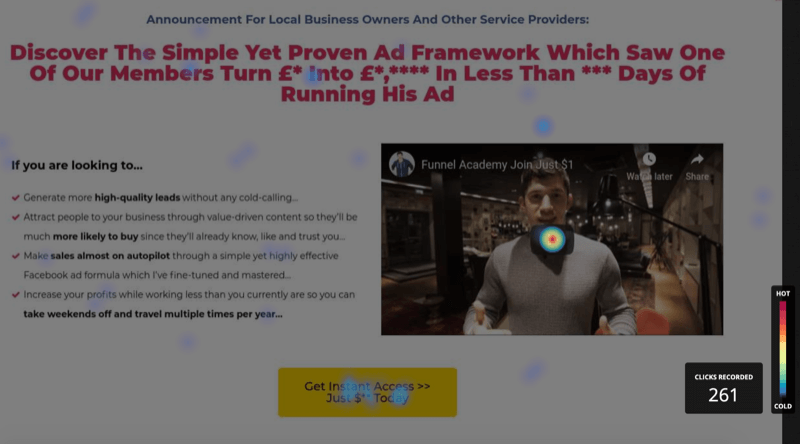 These insights have led to some pretty big breakthroughs for my own business.
To illustrate, I found that my conversion rate dropped on my Funnel Academy checkout page when I moved it to WordPress. I couldn't figure out why. But when I installed Hotjar, I was able to see that a menu was showing on mobile devices and the majority of people were clicking on that rather than checking out!
Guess what I did… yep, I removed the menu and conversions increased!
#5: Use Audience Feedback to Identify and Overcome Purchase Objections
My final method for converting more leads into customers is one that too many of us shy away from in the digital space. And that's simply asking our leads for feedback.
This might not be possible once you're generating tens or hundreds of leads per day, but if you're not generating a huge number of leads, one of the most valuable things you can do is personally reach out to your leads via Messenger or email and ask them what made them download the guide? What stopped them from purchasing your product?
It may sound basic but not many people do it! Yet how valuable is their response going to be for you? You might find that people didn't know what they were buying, meaning you haven't explained the offer well enough.
Or maybe you find that they didn't trust you enough or thought your product was too expensive.
All of these insights are incredibly valuable. If someone is feeling hesitant such as thinking it's too expensive, you can bet others feel the same way. This doesn't mean you need to lower your price; it simply means you may need to reposition your offer slightly, do more to push the benefits, or simply talk about why your product is so expensive.
If you make these changes, you'll clear the objections people are having, and you can expect more conversions to customers.
Conclusion
And there you have it: five simple yet super-effective ways to generate more customers from your leads. When you're running Facebook ads or any paid media, don't just pay attention to that initial touchpoint—pay attention to every touchpoint.
If you're generating leads but none of the leads are purchasing, chances are it's an issue with your funnel, not your ads. Use the methods above to test and optimize.
What do you think? Have you tried any of these tactics? If so, how did they affect the success of your campaigns? Share your thoughts in the comments below.
More articles on Facebook advertising:
Get Your FREE Course: Web3 for Beginners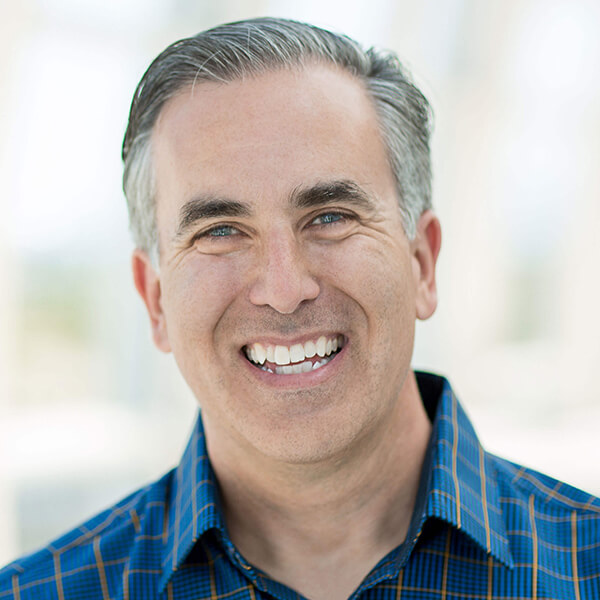 Curious about Web3, but don't know where to start or who to trust?

Introducing Web3 for Beginners, a course taught by Michael Stelzner, the founder of Social Media Examiner.

Learn the basics of Web3 and apply it to your business with this FREE comprehensive course.
CLICK HERE TO GET FREE ACCESS