Do you want to run successful Facebook retargeting ads? Wondering what tactics can improve your Facebook campaign performance?
To explore advanced Facebook retargeting, I interview Susan Wenograd. Susan is a Facebook ads expert, a regular columnist at Search Engine Journal, and an account director for AimClear, an integrated digital agency.
You'll discover the biggest mistakes marketers make with Facebook retargeting. Susan also shares her method for setting up a successful Facebook ad retargeting campaign that leads to conversion.
Read a summary of the interview below. To listen to the interview, scroll to the end of this article.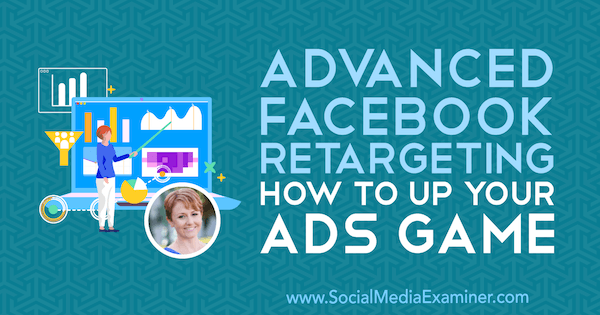 Why Facebook Retargeting Is Valuable
Customers seldom go to a website and purchase after their first visit. It's even more rare for a customer to convert after clicking on just one ad, especially if they're unfamiliar with your brand or your price point is relatively high. In most cases, there's a long journey to get customers to convert and Facebook is uniquely positioned to handle the buyer's journey along each step in a way that other channels can't.
While Facebook's retargeting campaigns tend to be more expensive than targeting a cold audience, these campaigns help you actually reach a more responsive audience. Not only does Facebook offer a variety of retargeting options and immersive ad units that aren't available on other platforms, but it also boasts both a higher audience inventory and lower conversion costs. Ultimately, retargeting on Facebook is valuable to your business.
Common Facebook Retargeting Mistakes
When it comes to Facebook retargeting campaigns, there are two mistakes Susan commonly witnesses among marketers: relying on the default option of setting website custom audiences to the last 30 days of visitors and failing to consider the particular buying and lead acquisition patterns for the individual brand.

There's far greater complexity to people's buying habits and actions beyond the fact they've visited a website within the last month. Susan recommends studying the buying and lead acquisition patterns for your brand. If you find that most of your customers tend to convert within a few days of visiting your website, then you would be paying for 30 days worth of Facebook impressions that are no longer relevant.
On the other hand, if your product requires an education period or has a high price tag, your customers will take longer to convert, and have evolving considerations and concerns along each step of the process.
When it comes to creating a Facebook remarketing strategy, it's important to break your audience into smaller groups so you can serve different ads that meet their individual needs.
For instance, you would approach those who visited your site within the last 3 days differently than you would someone who visited 27 days ago. They become less of a warm prospect the further they get from having visited your site. So you'd have to entice them more or tailor your message to meet their needs at this step of the buying process.

Although lumping all past website visitors into a single Facebook custom audience creates a bigger audience, showing all of them the same retargeting ad misses the mark and may even negatively impact your Facebook ad relevance score.
Listen to the show to hear how remarketing to a general audience negatively impacts your campaigns.
A Successful Facebook Remarketing Method to Follow
Susan suggests looking for patterns in how most conversions happen on your site and segmenting your custom audiences into separate, smaller ad sets based on these parameters. Make the audiences as granular as possible and experiment with each one.
Set out by creating as many custom audience buckets in Facebook as you can brainstorm and allow them to start populating. Not all of them will perform and some may take a long time to fill. You'll have to make adjustments as you go along. Susan notes that the minimum number of people you can run a Facebook ad set to is 1000, so she often combines ad sets that are smaller than 1000 until she populates one that reaches the minimum. (Editor's Note: The audio of this interview mis-quotes the minimum audience size as 200. This article reflects the correct minimum audience size.)

Assess Your Google Analytics Time Lag Report to Time Your Retargeting
The first step in Susan's method for setting up Facebook remarketing ads is to get a sense of a website's traffic from Google Analytics. Then use this information to determine when to serve the right offer to the right audience.
Susan specifically points to the Time Lag report found beneath the Conversion Tab in Google Analytics to track "events," which shows how many days pass between a user's visit to your site and their subsequent conversion.

It also examines how many times they access your website before they make a purchase. You can then use this data to measure the response rate to your online ads and establish timing for your remarketing campaigns.
Time Retargeting by Seasonal Interest
Timing can also be seasonal. Retailers that do most of their business during the Q4 gifting season can create a custom audience targeting those who don't buy from them year-round. Susan uses the example of women visiting a men's retailer site based on clicks from a holiday gift guide. Knowing that traffic from this particular piece of content is likely driven by people who aren't shopping for themselves, you can retarget this audience during other gift-giving times of the year such as Father's Day.
Facebook limits the maximum amount of time that people will stay in a custom audience, based on website traffic, to 180 days. After this time period, those in the website custom audience will be removed unless they revisit the website. You can stay top-of-mind by simply creating a custom audience of people who visited your URL within the past few months and run remarketing ads before they're removed by Facebook.
Retarget Leads With Specialized Content at Key Points in the Sales Funnel
The next step in the process is to consider the flow and the content people are first drawn to on your website and build an audience along the points of conversation, not just based on time. This is especially helpful for content-heavy sites, or for products that are heavily researched and have longer sales cycles. In a longer sales cycle, you can expect more emotion and authority-building to be involved along the way.
An example of this is B2B products. You might draw prospects to your site with a white paper they can download, and then offer a demo. Following a demo, you can schedule a free trial and so forth. As you break down and look at the sales funnel, you get a sense of what the audiences need at each individual point of conversion along this multi-step process. Each audience will have different needs at each point and you want to be able to speak to them differently.
If a prospect has downloaded the white paper but hasn't requested a demo, then you would want to advertise the demo. If they've seen the demo and haven't signed up for a free trial, then that's the message to send them next. Similar to establishing audiences based on the Time Lag report, create separate custom audiences and align the messaging with the way people have already interacted with your site and your brand.
Listen to the show to hear Susan offer a step-by-step example of a retargeting campaign that she did for her own client.
Use Website URLs to Guide Retargeting Based on Topics
If you have a blog covering a variety of different topics or a website selling different products, create custom audiences based on the URLs visited and serve ads that are relevant to each topic or item.

Be consistent in naming URLs and use referral URLs to easily differentiate among content grouping. You can then build a separate custom audience inside of Facebook for each group and let them grow over time. When you're ready to market to a given subset, you can amplify information or products to people based on the content that they've consumed from your site. Because they've already indicated some interest in your brand, they'll be more receptive to your ads.
Using Google UTM Parameters
When you set up custom audiences in Facebook, it reads Google UTM tags on your URLs and will start populating an audience based on the sources. By using those UTM parameters, you'll know which lead magnet to credit and possibly who users are, what they do, and more.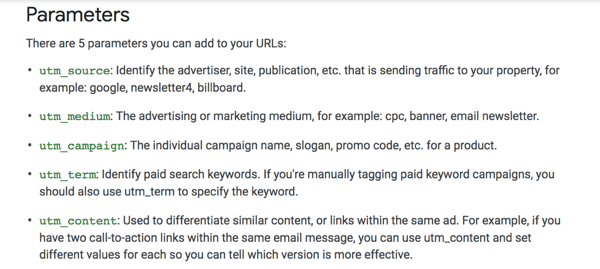 As long as you're specific with your UTMs and code them properly, you'll be able to use this information to develop highly customized ad copy that's specific to what prospects do every day and accurately addresses their pain points.
Listen to the show to hear how Social Media Examiner uses Google UTM tags to remarket after Social Media Marketing World and learn how to properly code UTMs for your brand.
Refine Your Retargeting by Combining Ad Sets
It's possible to further refine your custom audiences by combining any of the ad sets created—based on the time lag data, content grouping, and location in the sales funnel—and use this information to set exclusions within Facebook around any pairings. Most of the time, this allows you to discover a variety of different segments. However, it can also help define smaller audiences and the best piece of content to show them next.
Next Steps in Starting Your Remarketing Campaigns
Once you've established some good custom audiences, the next step in creating remarketing campaigns is to determine the average number of times a user should see your ad within a certain time period.

Unfortunately, Facebook doesn't allow advertisers to do frequency capping unless they're running a Reach campaign. This means that setting your budget too high compared to the size of your audience will mean hammering those people with ads.
As a workaround, Susan recommends initially adjusting the campaign dates in the Facebook Ads Manager and setting the budget such that the frequency adjusts to two or three at most. As your remarketing audiences grow over time, you can gradually expand the budget to maintain the same frequency over an expanded audience.
The other thing you want to observe is the placement performance. There's going to be massive differences in your CPM based on whether the ad appears in the news feed versus in Marketplace or even Instagram Stories. There are drastic price and performance differences among Facebook's family of apps and ad placements.
You should also test all of the different types of creative and messaging. In Susan's experience, carousel ads and video ads tend to do well for conversions.
Discovery of the Week
Instaspacer is a free app that allows you to add line breaks and white spaces to your Instagram photo captions without having to resort to dots, dashes, or other characters. Currently, there's no way to do this natively within the Instagram app and Instaspacer is the missing text editor that Instagram needs.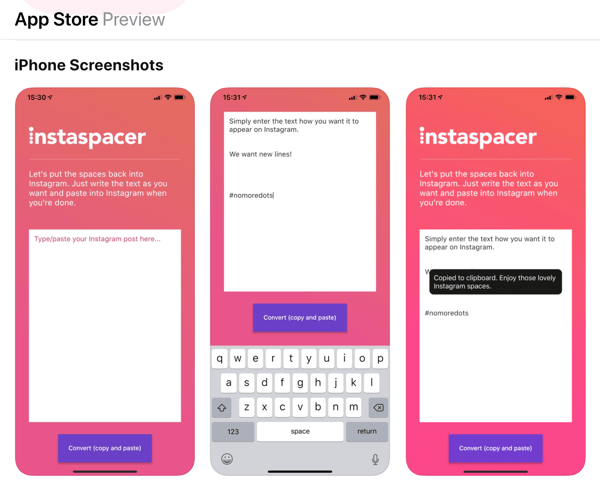 Instaspacer allows you to compose your caption exactly as you would like it to appear on Instagram. Then you hit the Convert button to copy and paste the text directly into Instagram.
You can find Instaspacer in the iOS App Store or in Google Play Store for Android.
Listen to the show to hear more about Instaspacer.
Key Takeaways in This Episode
Listen to the Interview Now
The Social Media Marketing podcast is designed to help busy marketers, business owners, and creators discover what works with social media marketing.
Where to subscribe: Apple Podcasts | Google Podcasts | Spotify | YouTube Music | YouTube | Amazon Music | RSS
What do you think? What are your thoughts on using Google UTM parameters for Facebook retargeting? Please share your comments below.