Looking for new ways to use photos in your Instagram marketing? Want more options to collaborate with influencers and brand partners on Instagram?
In this article, you'll learn how to use Instagram's Photo Remix feature for easy collaborations and discover how to control whether others can remix your photos on Instagram.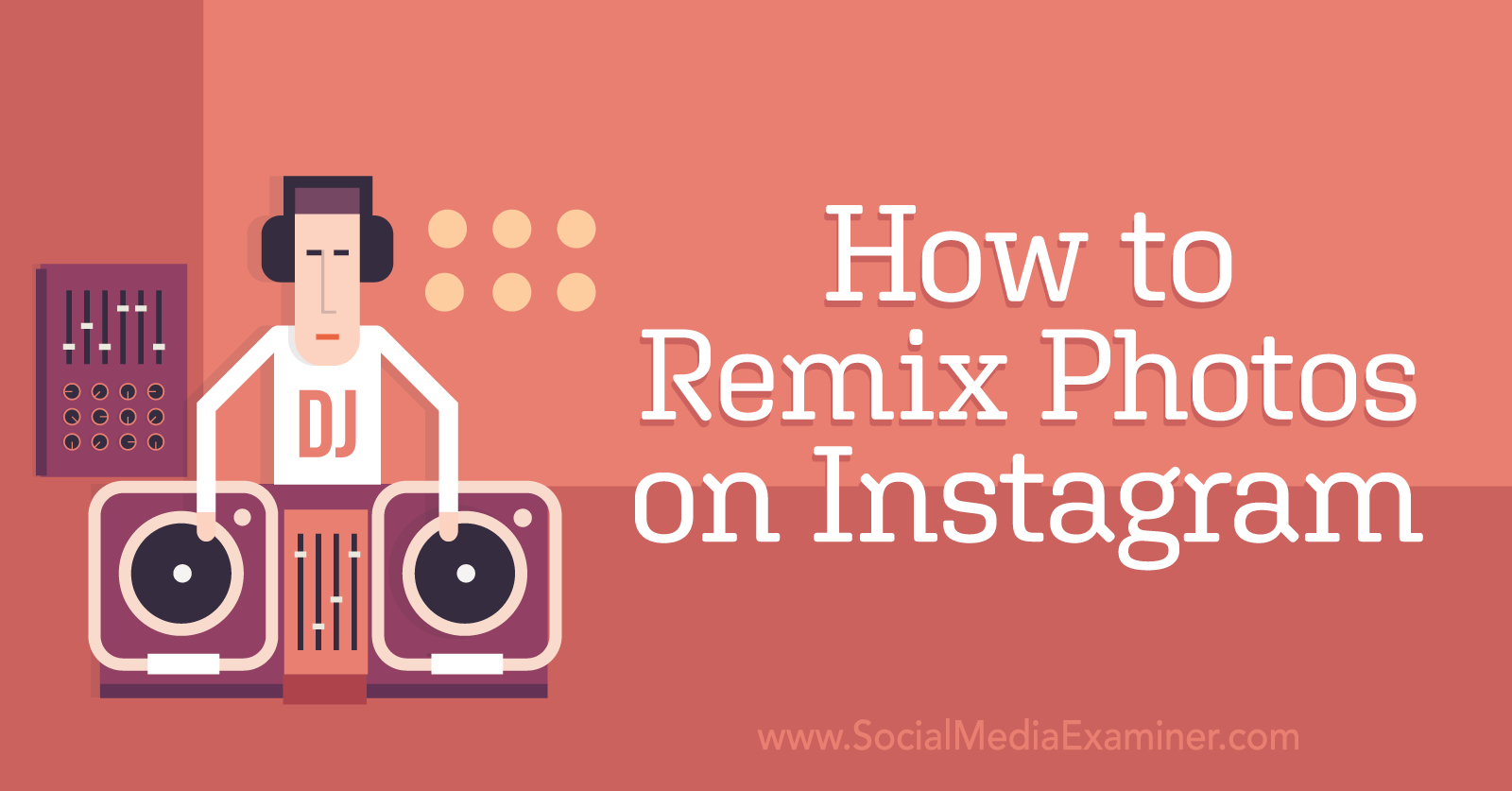 What Is Instagram Remix?
Instagram launched its Reels Remix feature in spring 2021, allowing you to use reels from other Instagram users as a starting point or inspiration for your business' short-form videos. Similar to TikTok duets, Reels Remix displays the original video alongside the new video, creating a single piece of collaborative content.
Since announcing a shift toward video in December 2021, Instagram has continued to roll out tools to help businesses and creators develop even more short-form video content. In January 2022, the platform launched its Video Remix feature, which essentially allows users to remix any Instagram video to create a new reel.
In July 2022, Instagram began rolling out its Photo Remix feature, which lets you use Instagram photo posts as a starting point for your collaborative Instagram reels or to add your own video commentary. If you've been seeking a way to get more mileage out of Instagram photos or more efficient options to create reels, this new tool is well worth trying.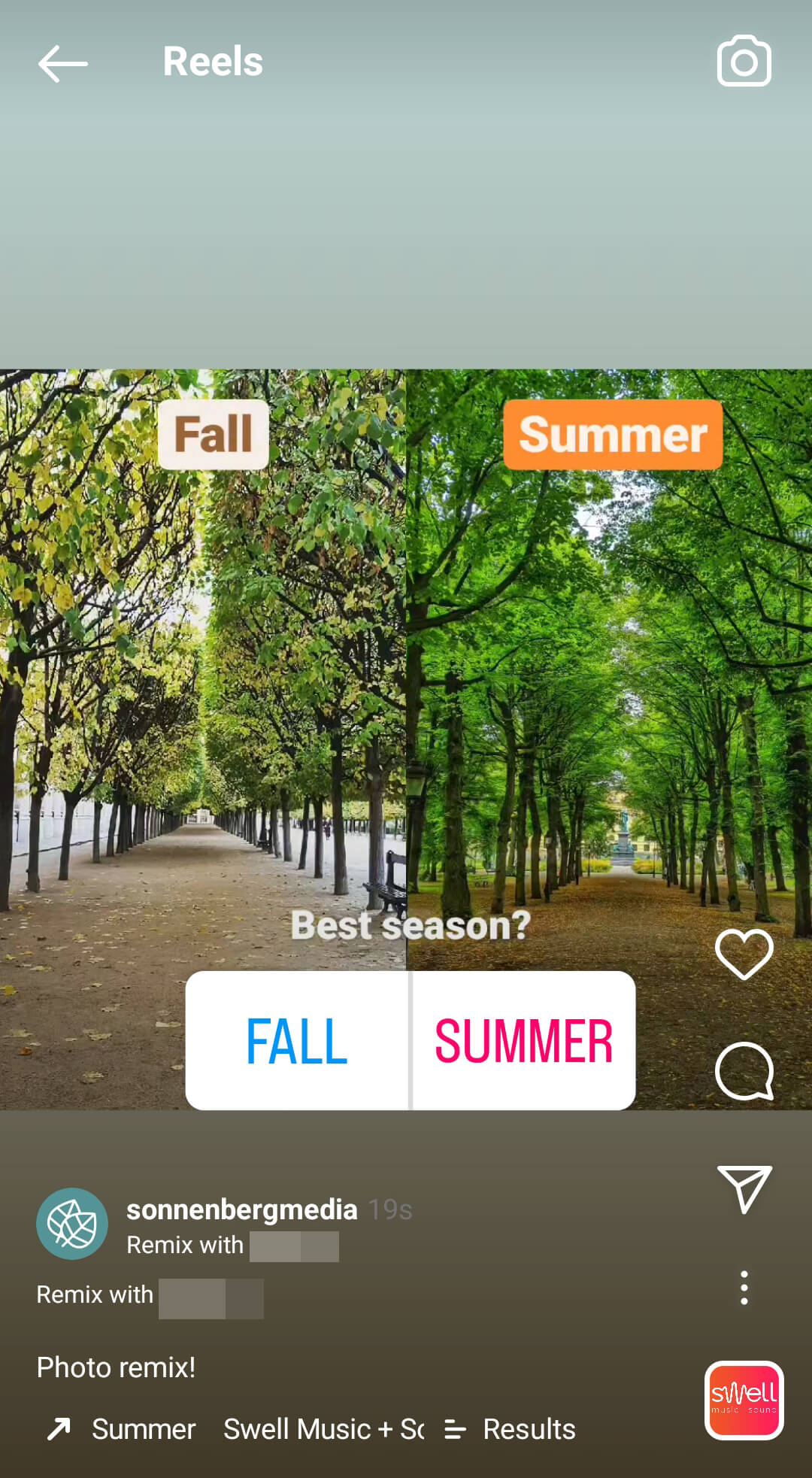 #1: How to Use the Instagram Photo Remix Feature
If you're already experienced with creating Instagram reels, you'll find the Instagram photo remix process incredibly easy. Follow the steps below to start remixing.
Choose a Photo to Remix
First, identify a photo post that you want to remix. You can select them from anywhere in the Instagram app—photos from your feed, an account's grid, another user's photos in the Explore tab, an in-app search, or a hashtag page. You can also use your account's own photo posts for remixes.
Once you've found a post you want to use, tap the three dots in the upper-right corner. If the post is available for remixing, you'll see an option to remix the photo in the post menu. Tap Remix this Photo to start creating.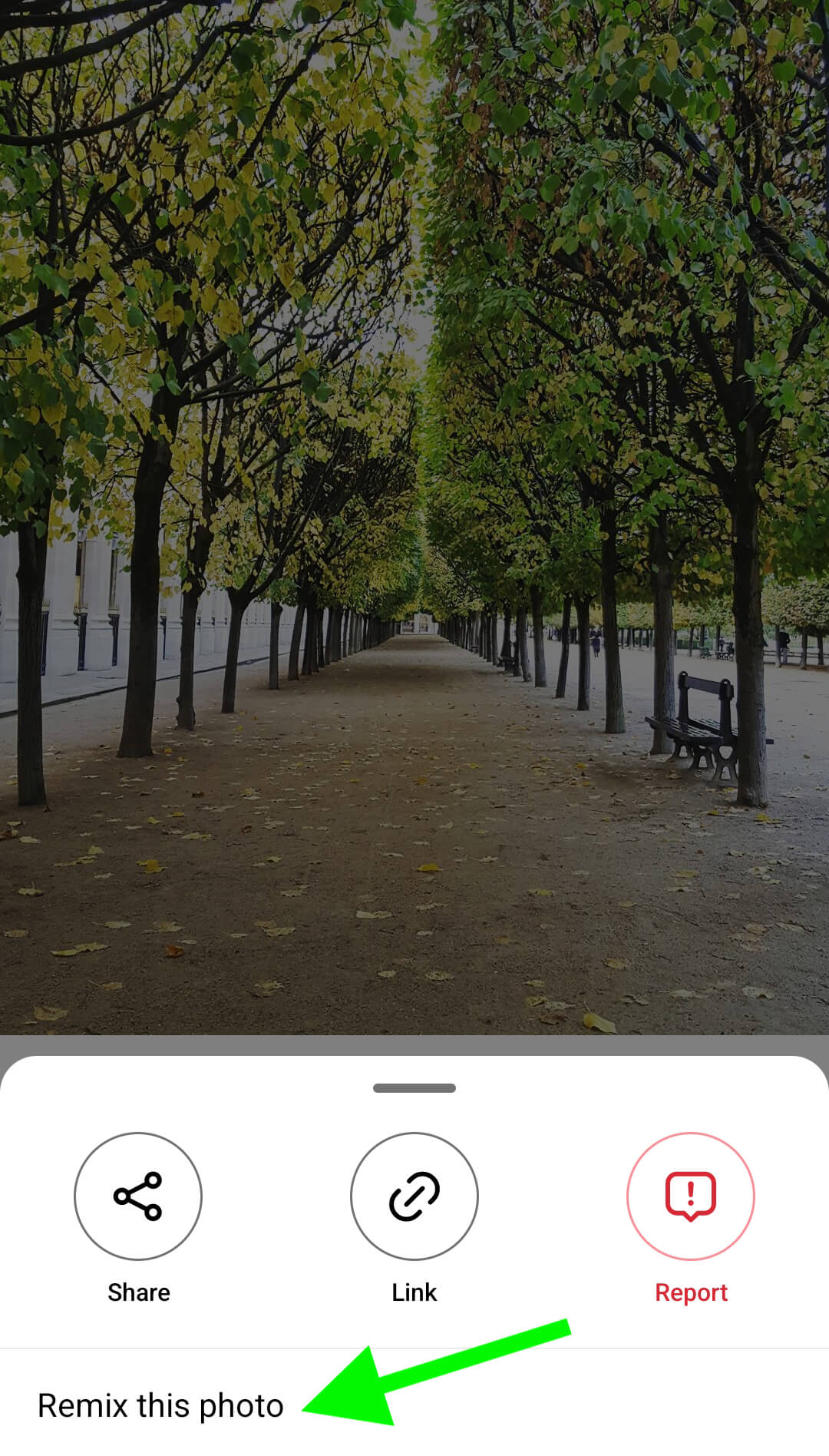 Record an Instagram Reel for the Remix
When you create a photo remix, Instagram automatically displays the original post on the left side of the screen. Since the remixed reel will publish just like that, with the two posts featured side by side, this display helps you line up your shots and time your clips.
In the Remix interface, you get access to the same suite of tools you get when creating new reels.
That means you can:
Use effects to enhance your reel or create eye-catching transitions.
Change the playback speed for your reel to anywhere from .3x to 3x.
Set a timer to start recording in anywhere from 3 to 60 seconds.
Turn on dual to record yourself commenting on or reacting to your reel.
Add music or audio and select the perfect clip for your reel.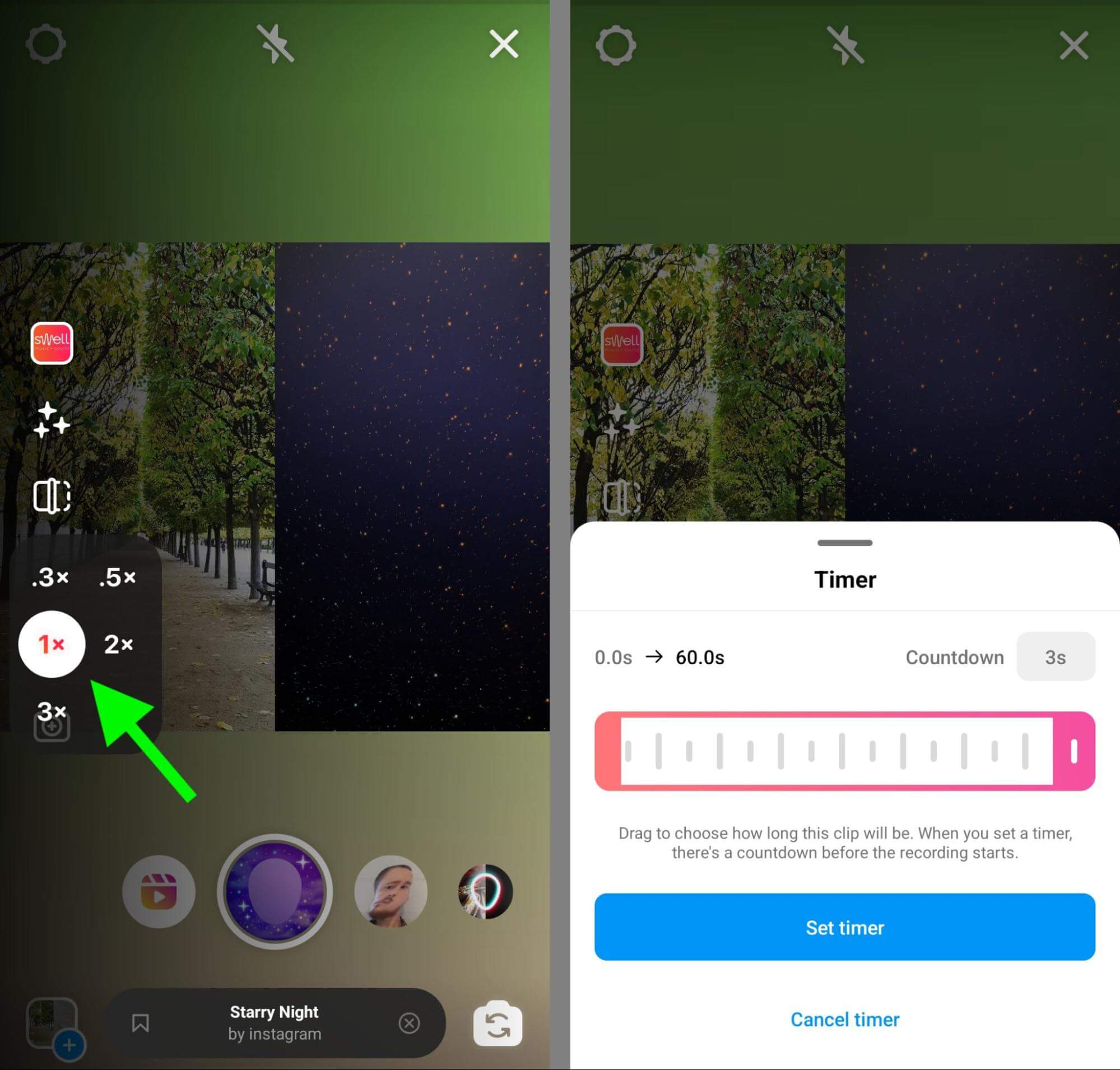 Add Clips or Photos to the Instagram Remix
Don't want to record a new clip? You also have the option to upload any of your existing videos. Tap the gallery in the lower-left corner to select from any premade video clips. Although this interface also allows you to choose from your reels drafts, in practice this option doesn't work. Selecting a draft reverts your upload to a new reel, not a photo remix.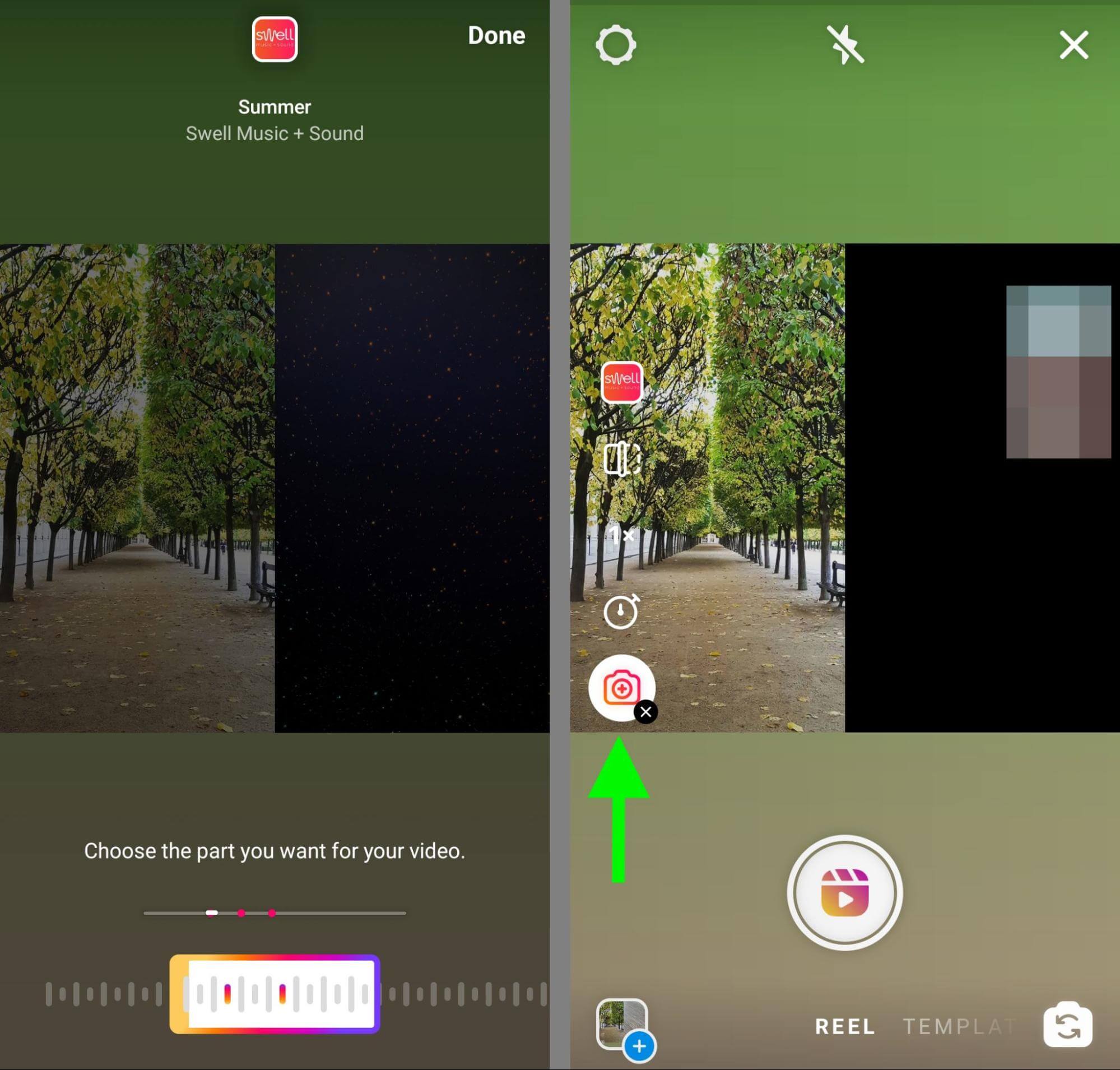 If you opt to upload an existing video clip to your remix, you have a couple of editing options. Trim the beginning or end of the clip and tap the Add button in the upper-right corner when you're ready to add it to your reel.
When creating most reels, you probably focus on video clips. But when you're remixing photos, incorporating your own images can be a great way to react to the original content. When you add photos to a reel, Instagram automatically displays them for 5 seconds. You can adjust the slider to display them for less time but you can't show them for longer.
The Conference You've Been Waiting For
As a small business marketer, you can probably only pick one or two events to attend each year. Get back into the game with an unbeatable conference experience and expert training at Social Media Marketing World in sunny San Diego, California—from your friends at Social Media Examiner.
🔥🔥 As a valued reader, you can save $300 if you act now! Sale Ends Wednesday!
CLICK HERE TO LEARN MORE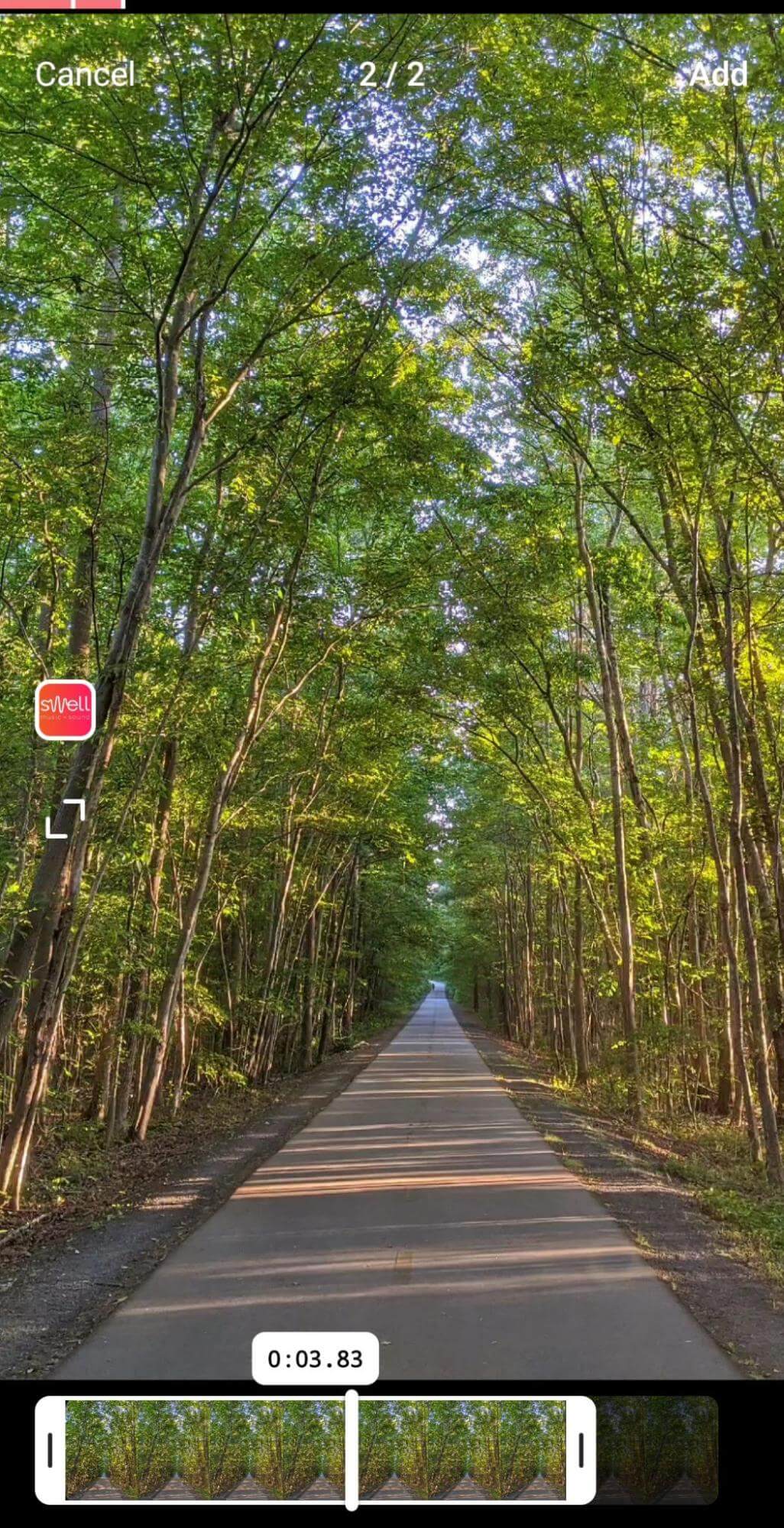 To make your remixed photos appear more dynamic, consider using one of the in-app templates. With templates, you can essentially steal other creators' reels layouts. You won't be able to reuse their content but you can copy the same pacing they've used for their clips.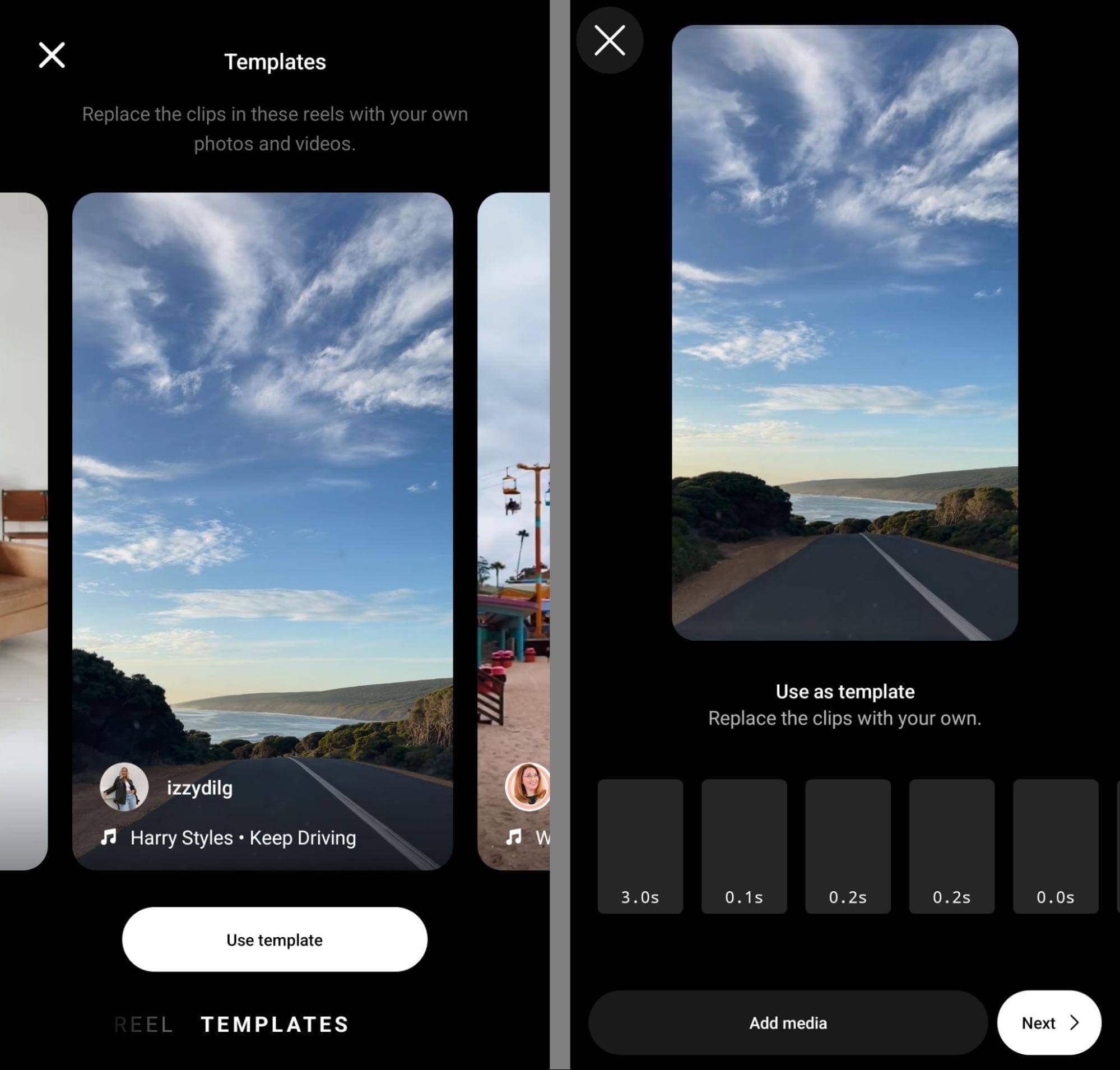 To choose a template, swipe left from the main Remix screen before you start uploading any content. Then scroll through the options to find a template that looks like it would fit your content. Pick the one you want to use, and tap the Add Media button to upload photos or videos to the template.
Edit the Instagram Photo Remix
No matter how you opted to remix the original photo, you'll have similar options for editing the content. From the main Reels creation screen, tap the left arrow to review your content. To remove a photo or video clip from the remix, tap the trashcan icon. To change the length, tap the scissors icon and trim the beginning or end of the clip. Tap Done to finish editing.
You also have similar options to edit the original photo post you used for your remix. Tap the icon that looks a bit like a book to edit the length of the original photo. Like all remix photos, it's automatically displayed for 5 seconds but you can trim it down to a fraction of a second.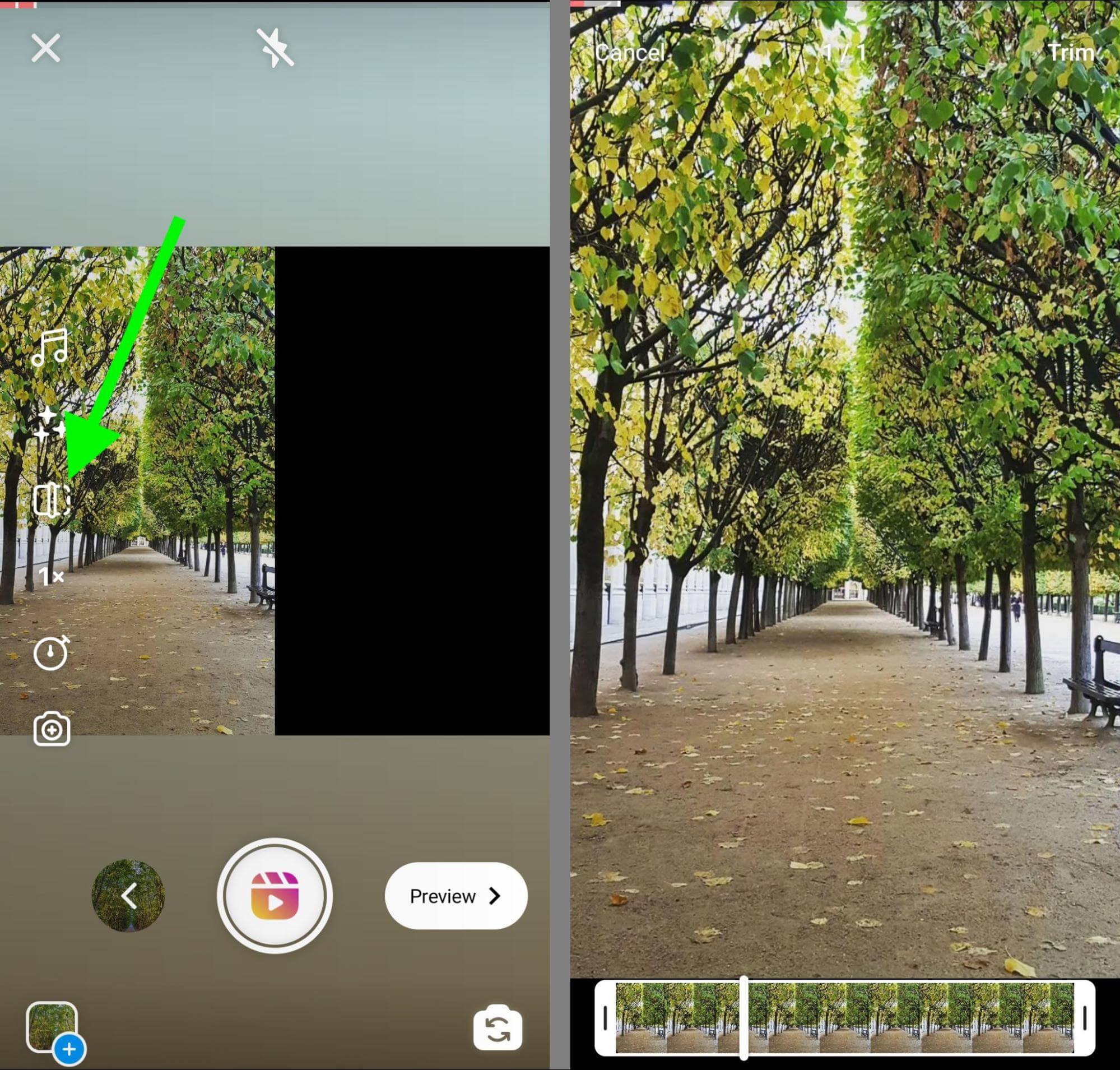 Add Stickers, Text, Markups, and Effects to the Instagram Photo Remix
After choosing the media for your remix, you have the option to add effects, just like you would with a completely original reel. Tap the Preview button to access these tools. Then you can:
Record a voiceover to add commentary to the remix.
Add music from the Instagram audio library.
Mix the voiceover, camera audio, and music to create the ideal track.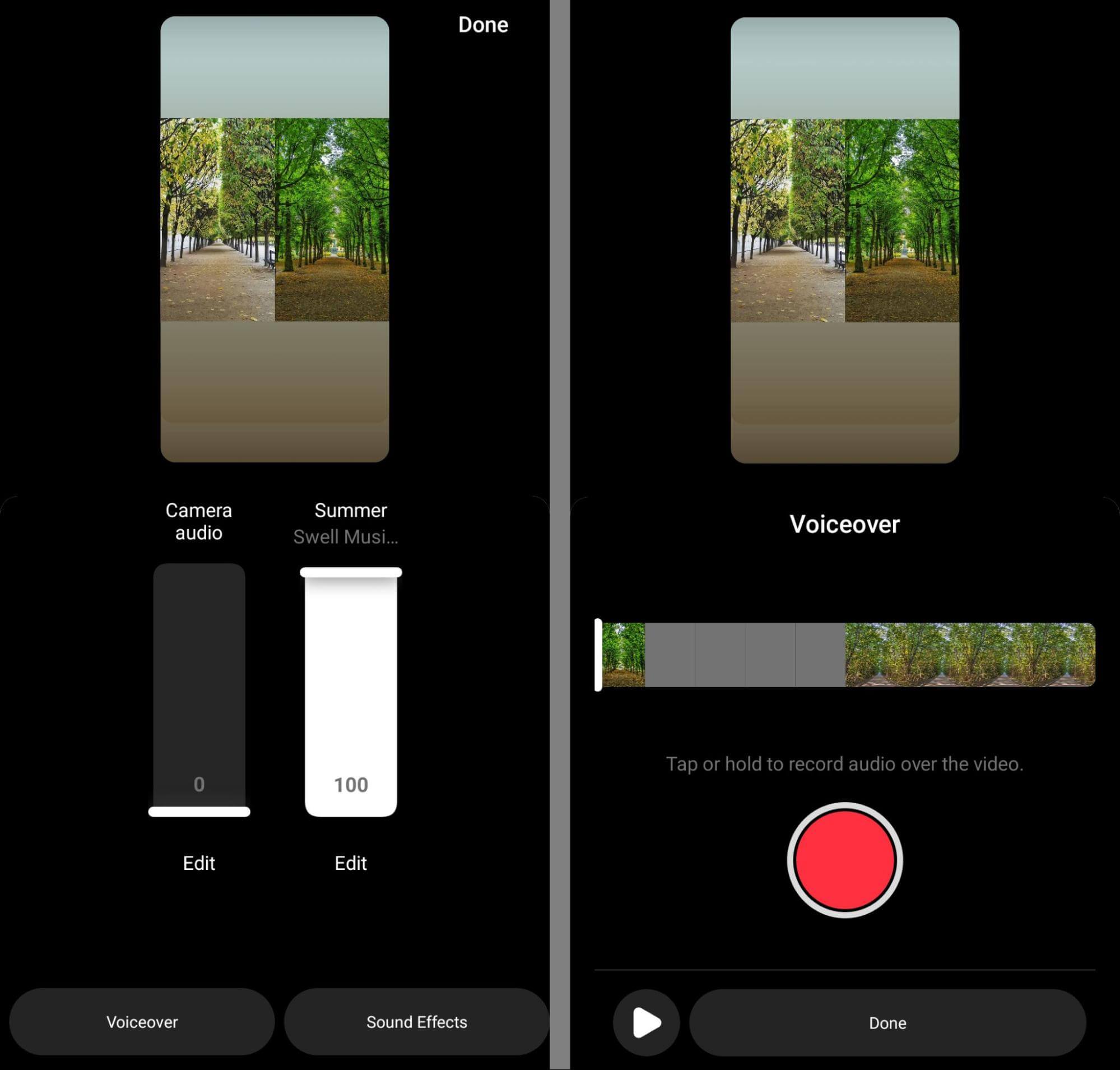 Although Reels sticker choices are still somewhat limited, you do have a few options for making your reels interactive. For example, you can add polls, quizzes, and sliders to engage your audience.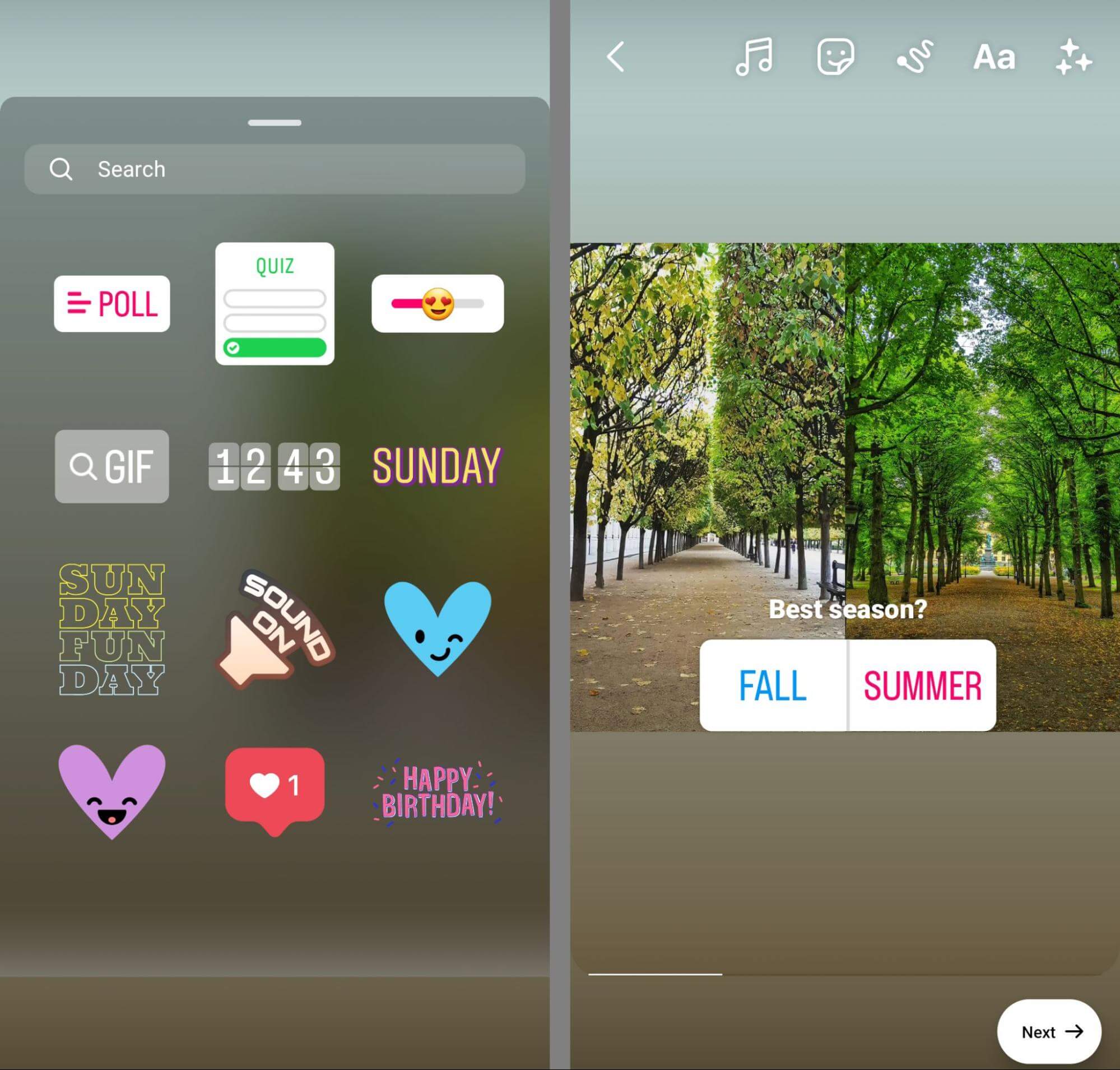 To give viewers a little context, use the built-in text and markup tools. You can add captions or commentary and set the timing for each element to appear on the screen.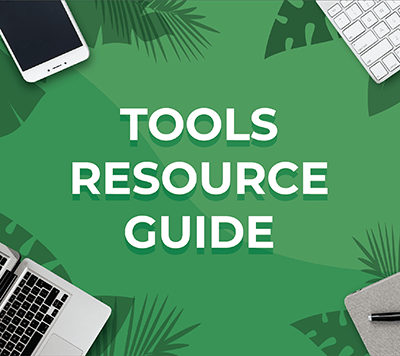 Looking for something to make your life easier?
Discover the tools we recommend to drive engagement, save you time, and boost sales across your entire marketing funnel or business.
Whether you need help planning content, organizing social posts, or developing your strategy, you'll find something for every situation.
FIND YOUR NEXT FAVORITE TOOL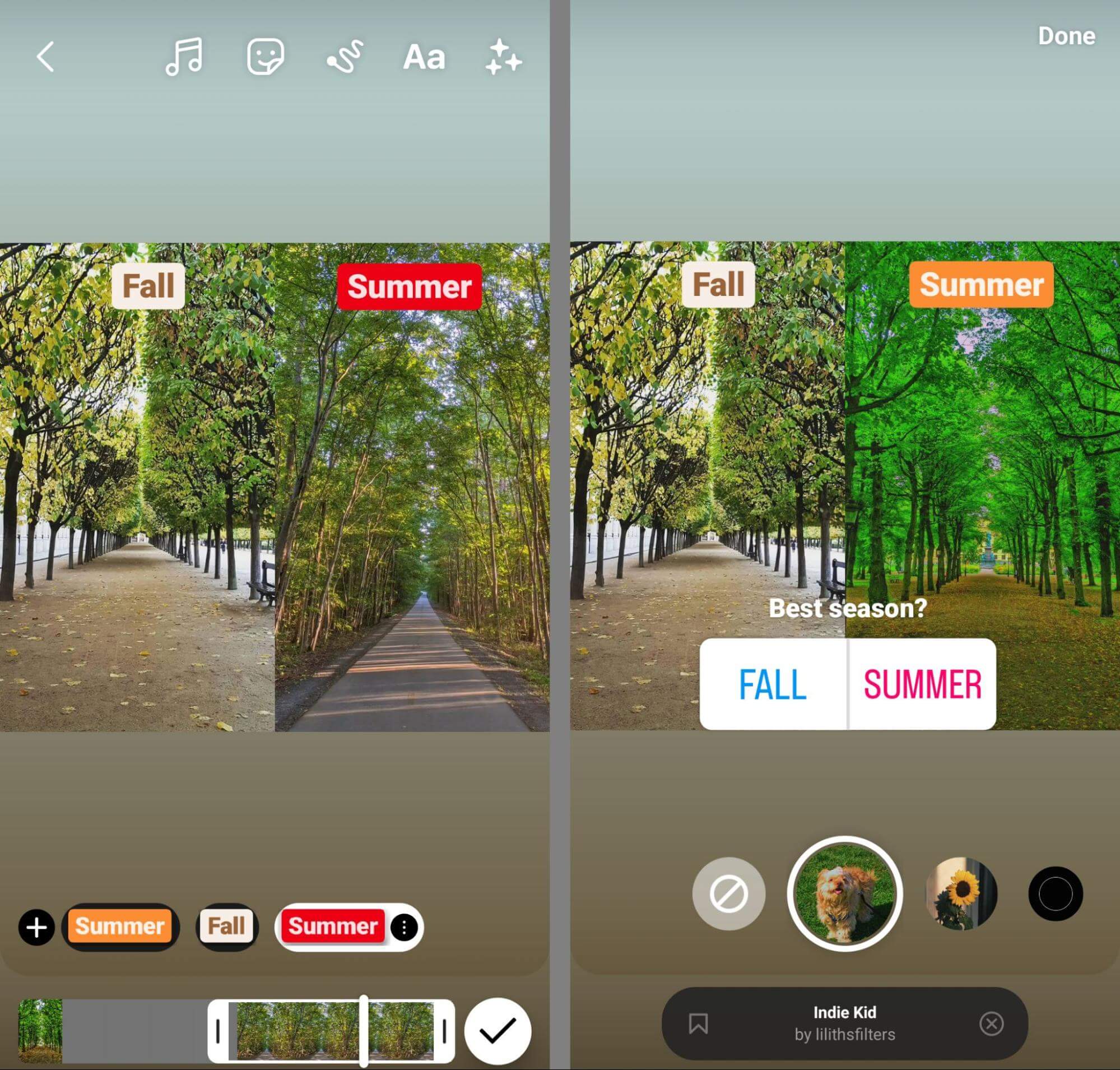 As a final touch, you can also add effects before publishing your remix. Note that any effects you add here apply to your content only. The original photo displayed on the left side of the remix remains unaltered.
Publish the Instagram Photo Remix
To publish your remix, tap the Next button. From the publishing interface, you can add a caption and choose whether to share the reel to your feed or keep it on the Reels tab only. You can also tag a location, add an event, and use all of the standard options your account typically has when publishing reels.
While you can certainly tag the original creator in your remix, you don't necessarily have to add the extra tag. Remixes automatically get a Remix With [Creator] tag underneath your username to give the original creator credit. Anyone who taps the creator's name goes directly to the original post.
However, there are a few big differences to the standard Reels publishing workflow. Because it's a remix, you can't choose to recommend the reel on Facebook, which may affect your overall reach and engagement.
In addition, you can't edit the reel cover, as the Edit Cover button doesn't work. Instead, remixed reels automatically display with a cover that shows the two pieces of content side by side.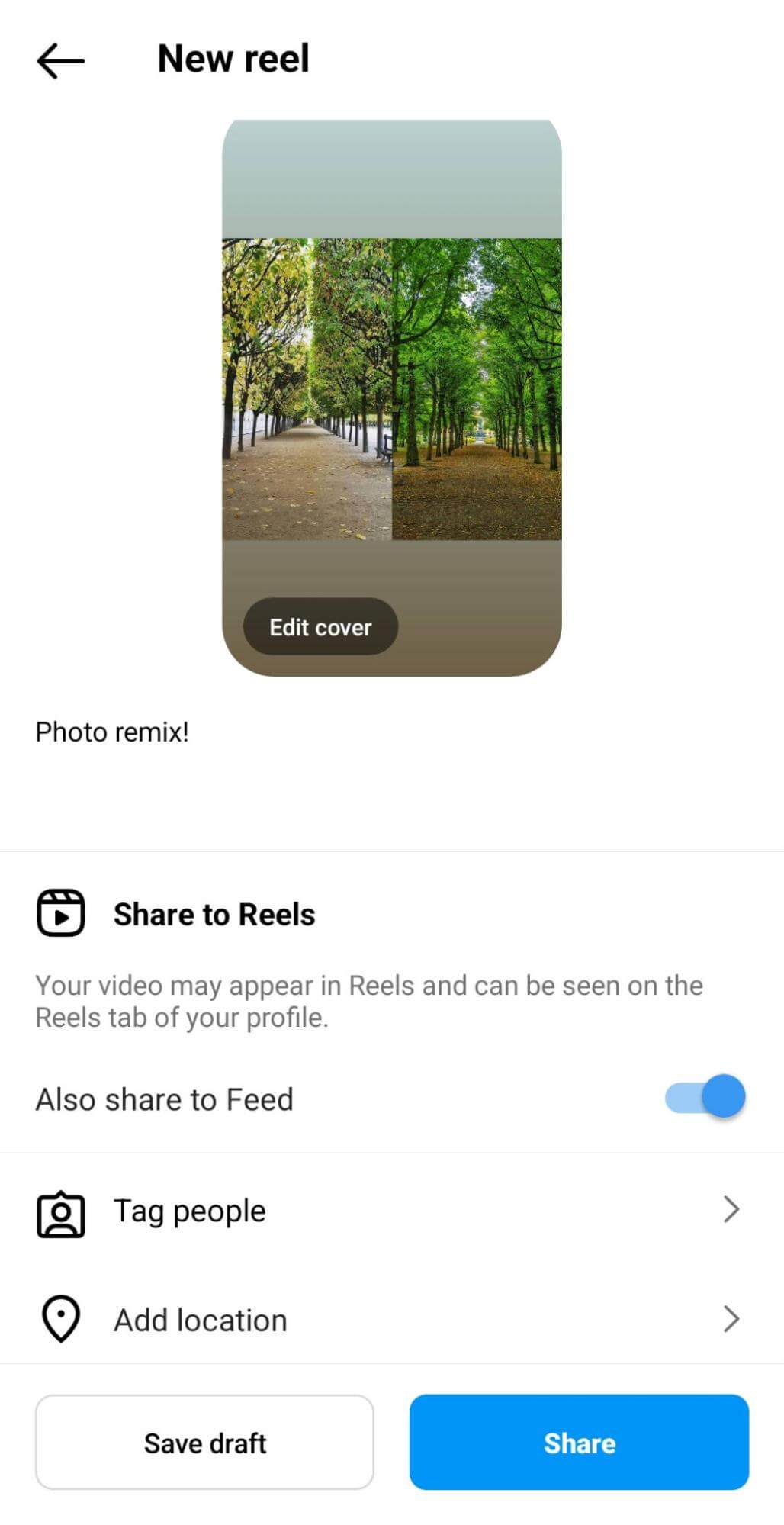 Finally, there's no option to add a branded content tag to a remix. If you're looking for a way to include collaborative content in your plan for brand partners, it's a good idea to skip remixes and use other content types that support the branded content tag.
Manage the Instagram Remix and Review the Analytics
Once you publish the remix, you can make a few important edits. Open the reel and tap the three dots in the lower-right corner. Tap Manage and select Edit. You can add location tags, tag other Instagram accounts, or enable captions.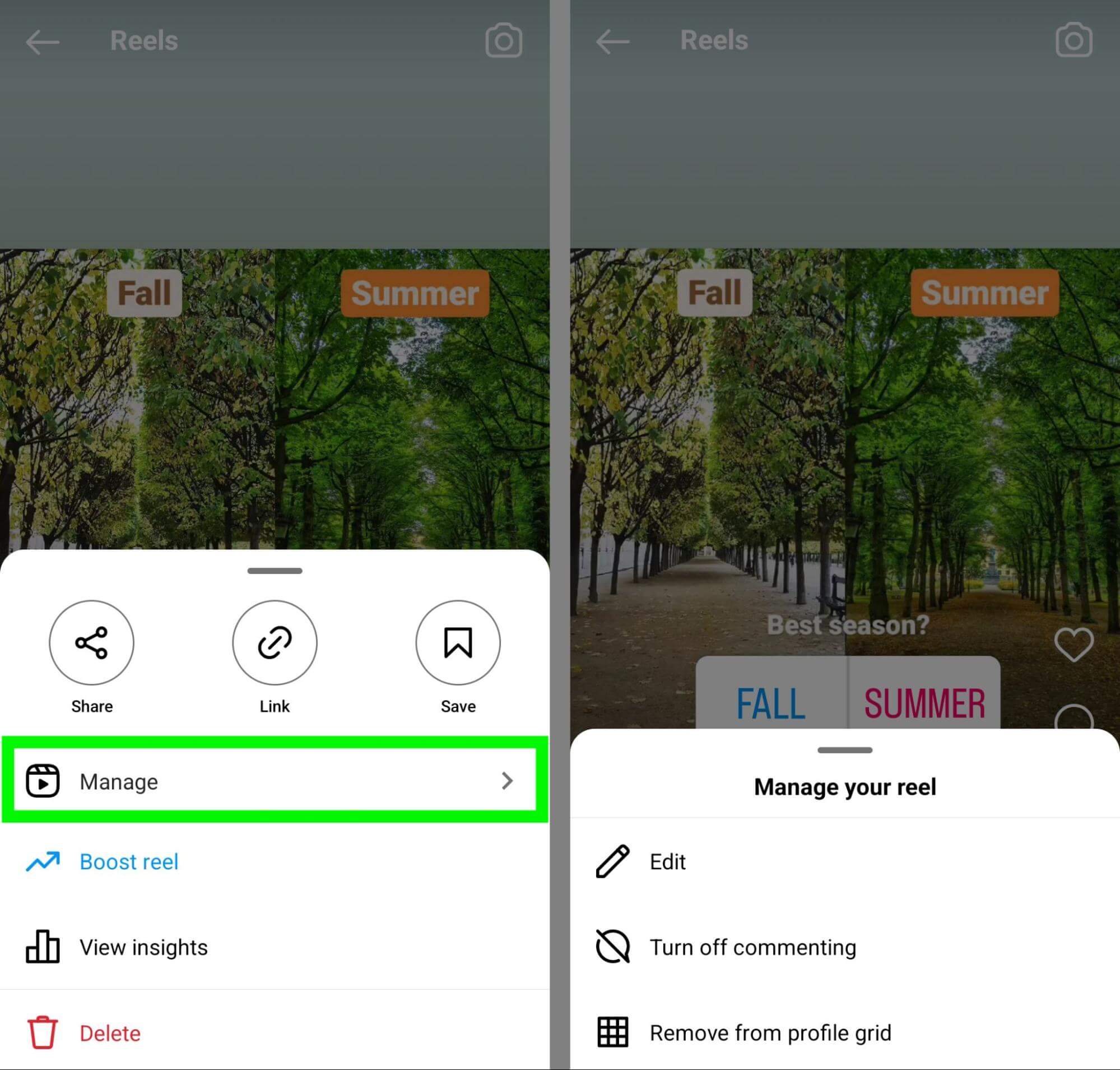 You can also edit the cover of your remix, an option that doesn't appear to be consistently available during the creation process. To add a cover to your remix, tap the Edit button on the thumbnail of your reel. Then choose one of the frames from your reel or select an image from your gallery.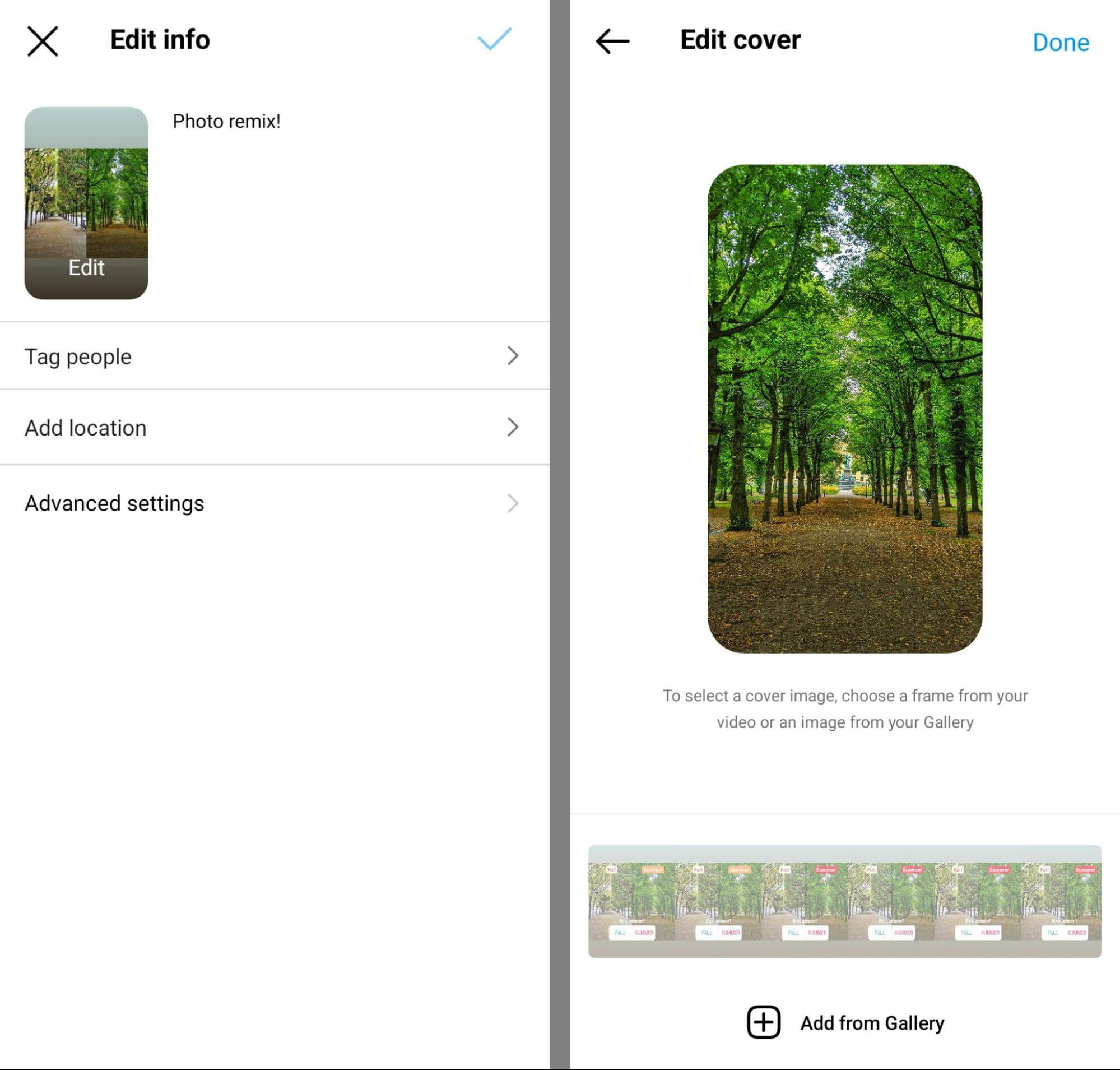 To review the analytics for your remix, tap the three dots in the lower-right corner and select View Insights. Here, you'll see all of the standard Reels insights, including reach, plays, and content interactions. If you added an interactive sticker to the remix, you can view the outcome by tapping the Results button at the bottom of the reel.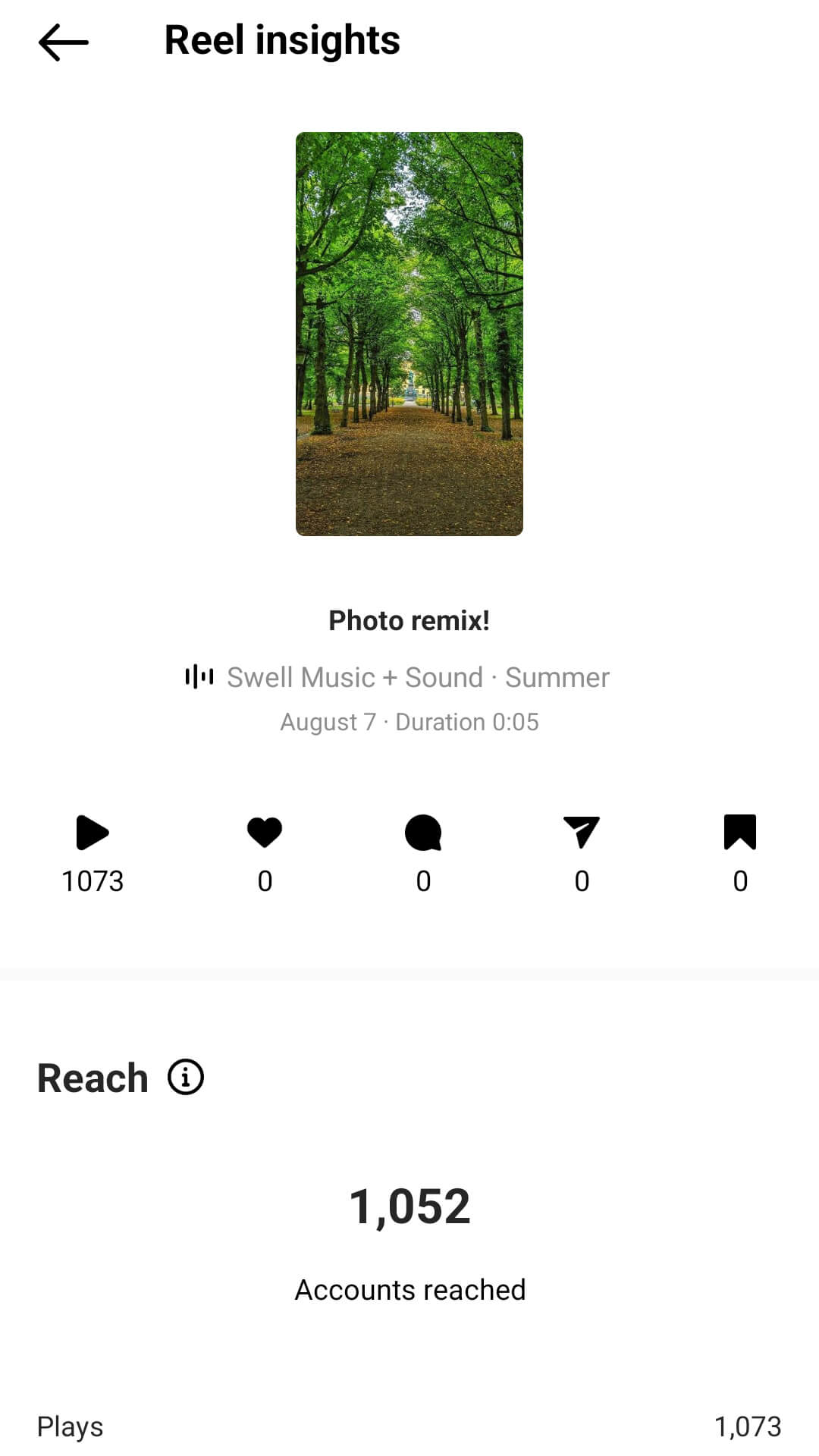 #2: 4 Things You Should Know About Instagram Photo Remix
Although remixes use all the normal Reels tools, this type of content does have some quirks. Before you get started, here are a few things you should know about Instagram photo remixes.
No All Photo Posts Support Remixing
It's easy to assume that all photo posts are available for remixing but that isn't the case. Accounts that don't have access to this new feature typically won't support photo remixing. Plus creators can always switch off remixing for individual posts. See the next section for details on remixing access and permissions.
Remixes Are Never Anonymous
Creators get a notification when you use their photo posts in a remix. If you want to spark conversations, share genuine reactions, or create positive collaborations, remixes can be great for reaching your goals. But because remixes have automated tags, you can never expect to create them without notifying the original creator.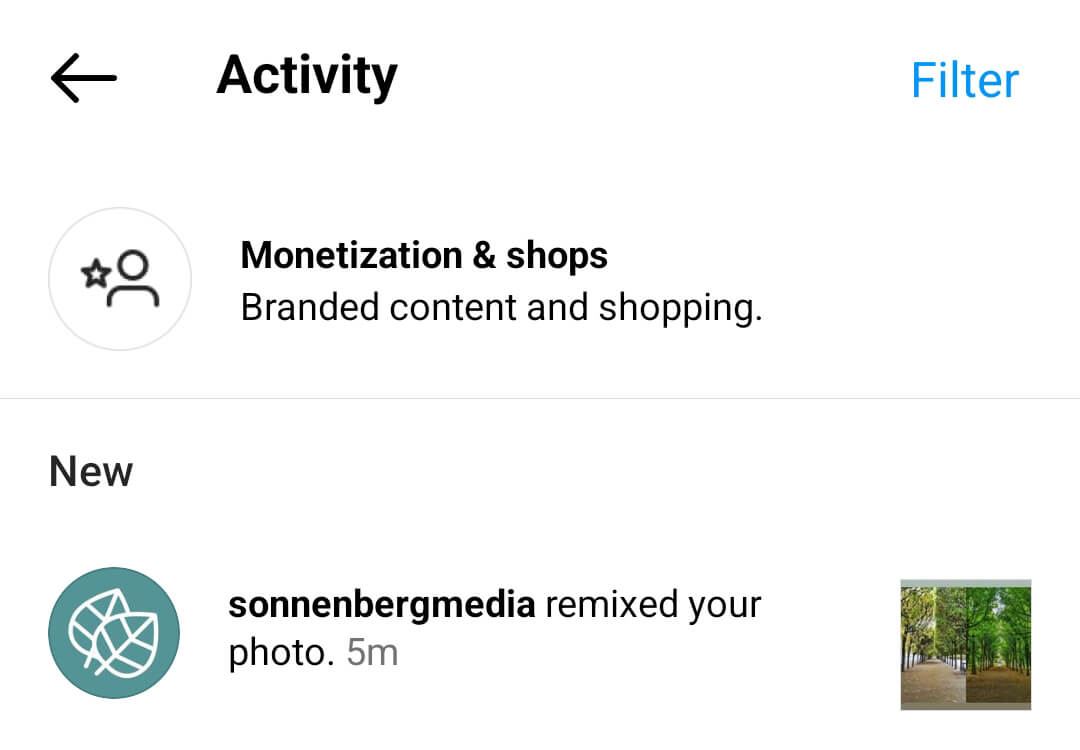 Photo Remixes Don't Allow Untagging
Remixes and tags aren't equal, as creators can't remove themselves from remixes. Once a photo post is used in a remix, there's no option to untag the original creator or remove the post, other than reporting it. If you're the original creator of the photo, you can turn off remixing (see the steps below) but that won't remove the remix.
Remixes Use a Square Format
While remixes automatically upload as reels, the content appears in a square format. Ideally, this aspect ratio won't negatively affect your reach or engagement. But it's a good idea to watch your analytics closely to make sure this type of content performs as expected.
#3: How to Turn Instagram Photo Remix On and Off
Once your account gets the Photo Remix feature, Instagram automatically turns on remixing for all of your photo posts. If you want to give creators and customers full access to remix your photos, then you can leave the feature settings as-is. But if you want more control over who can use your photos in their content, it's a good idea to adjust the settings.
How to Turn Off Photo Remix for Your Instagram Account
Do you want to switch off photo remixing completely? Open the Instagram app and go to the settings for your account. Tap Privacy and select Reels and Remix. Then tap the toggle to the right of Allow for Photos. Note that Instagram lets you control photo, video, and reels remixing separately so you have to flip all three switches to turn off remixing completely.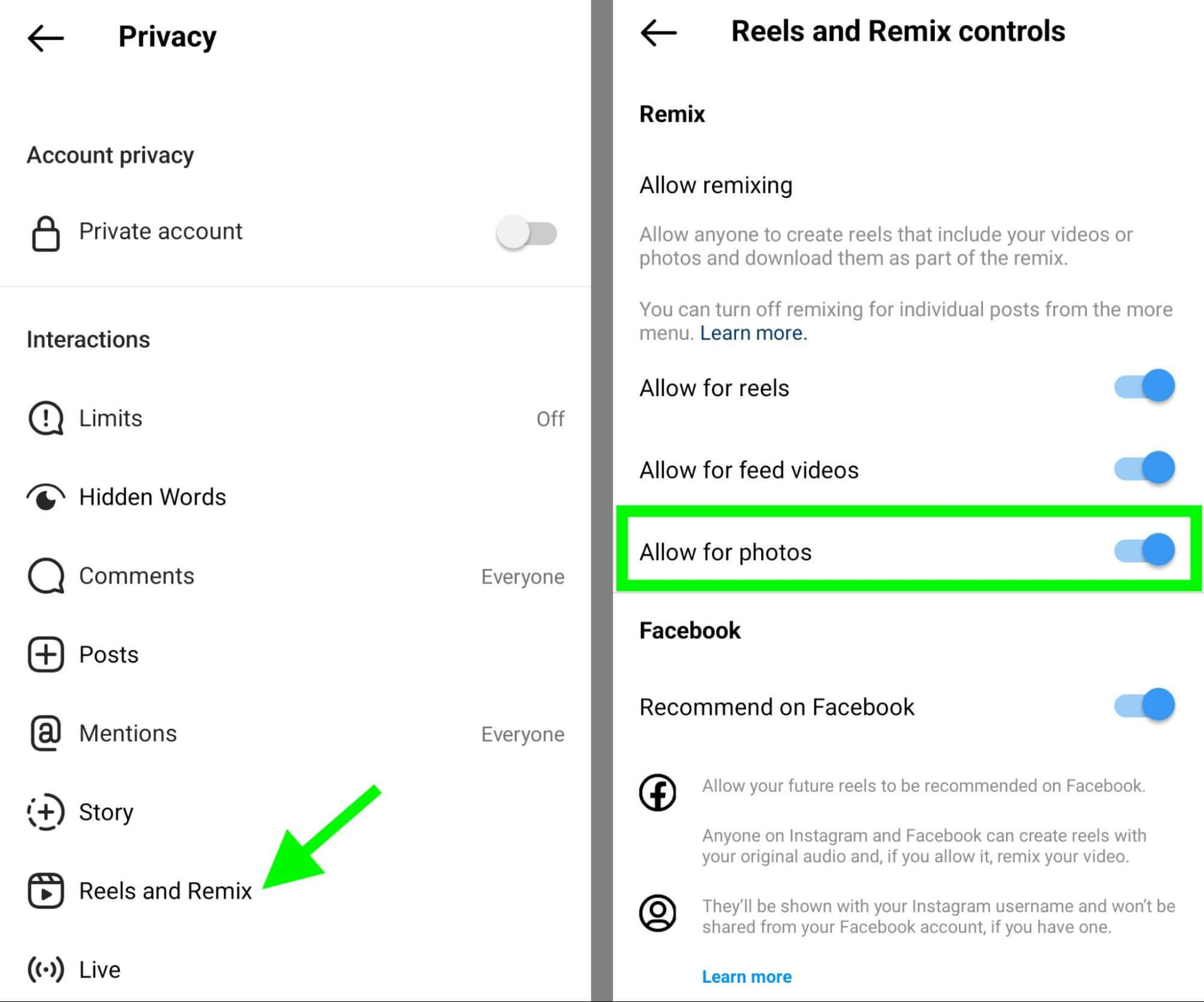 After switching off remixing for photos, other accounts won't be able to create reels from your photo posts. But that doesn't mean you can't use the Remix feature from your account. Even if you turn off the feature for your own photo posts, you can still create remixes with other accounts' photo posts.
How to Turn Off Photo Remix for an Instagram Post
Do you want to prevent other accounts from remixing a specific photo post? If you have photo remixing switched on for your account, you can always turn it off for select posts.
Find a photo post you want to protect and tap the three dots in the upper-right corner. From the post menu, tap Turn Off Remixing. Read the notification that pops up on your screen and tap Turn Off if you'd like to continue. You can always go back and tap Allow Remixing again.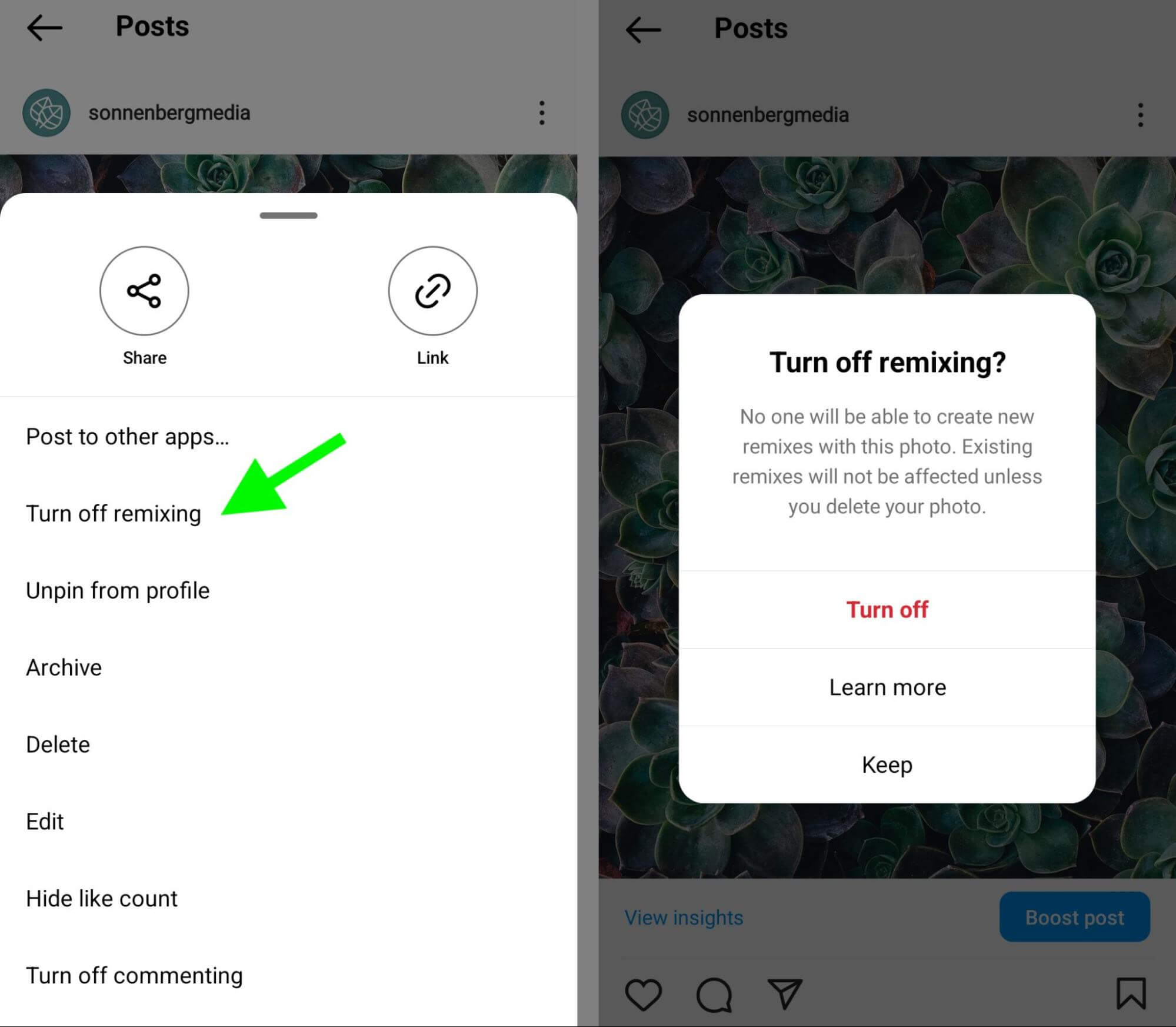 How to Trick Instagram Into Giving Your Account Photo Remix
As of August 2022, Instagram is gradually rolling out the Photo Remix tool to all accounts. But even if your account doesn't have photo remixing yet, you can still allow other accounts to create reels from your photo posts. To encourage collaborative posts, go ahead and switch on this feature manually.
In the Instagram app, find a photo post that you want creators, customers, and brand partners to remix. Tap the three dots in the upper-right corner of the post. Then select Allow Remixing from the post menu. Now other accounts can use your photo in their remixes.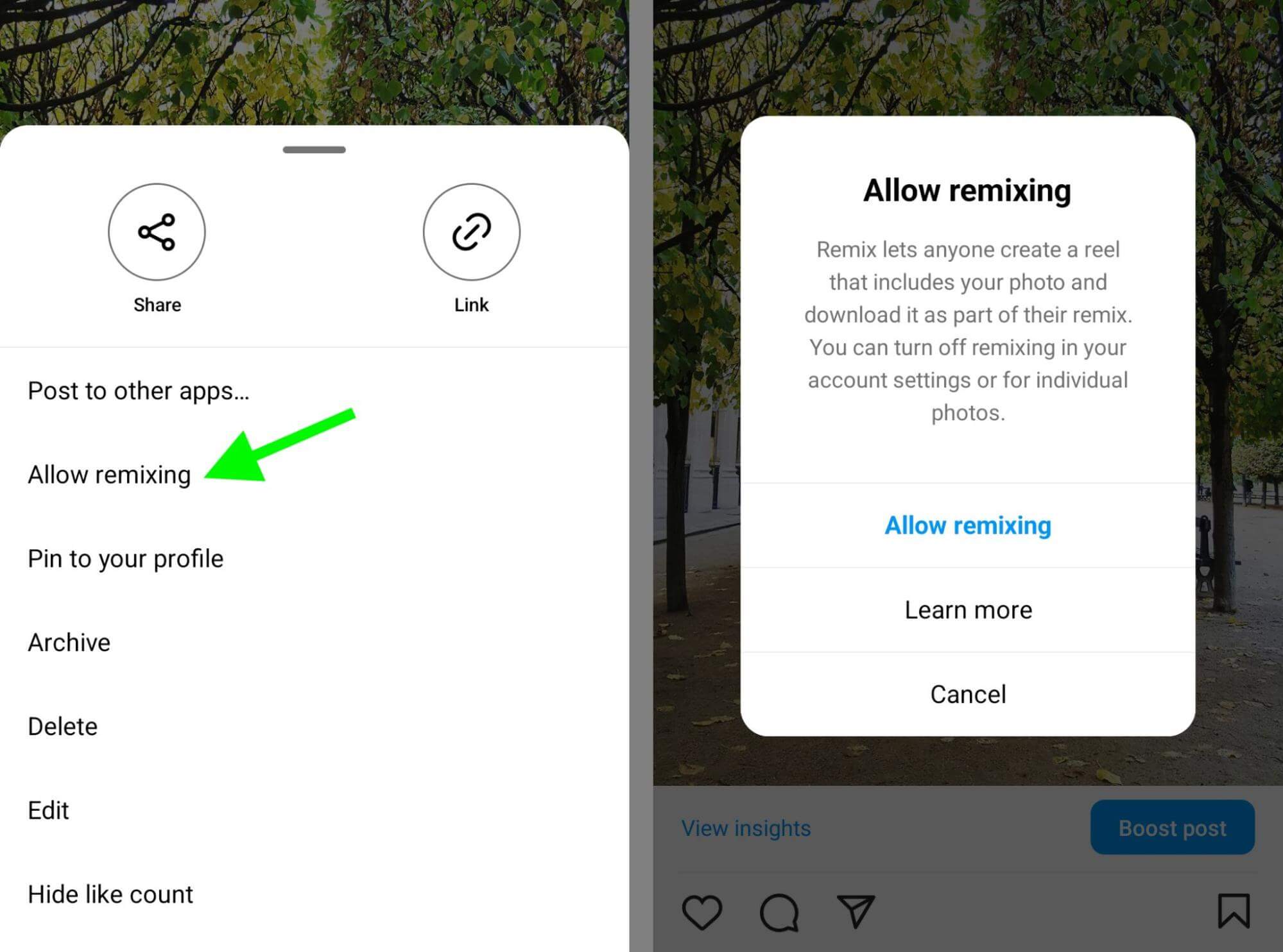 Switching on Photo Remix manually also gives your account the ability to use this feature. In the menu for the post you just enabled, you should now see the Remix This Photo option. Tap it to create and publish a new remix using the workflow above.
If you change your mind, you can turn off photo remix permissions at any time, even for a photo post you enabled manually. Open the post menu and select Turn Off Remixing to stop users from creating new reels content from your post. Note that any existing reels remixes that feature your photo won't be affected by this change.
Conclusion
Whether you want to collaborate with brands and influencers or stretch your content creation budget, the Instagram Photo Remix feature is a great option. With the workflows above, you can adjust the feature's settings to meet your needs and start experimenting with remixing Instagram photo posts.
---
Stay Up-to-Date: Get New Marketing Articles Delivered to You!
Don't miss out on upcoming social media marketing insights and strategies! Sign up to receive notifications when we publish new articles on Social Media Examiner. Our expertly crafted content will help you stay ahead of the curve and drive results for your business. Click the link below to sign up now and receive our annual report!
Get Your FREE Course: Web3 for Beginners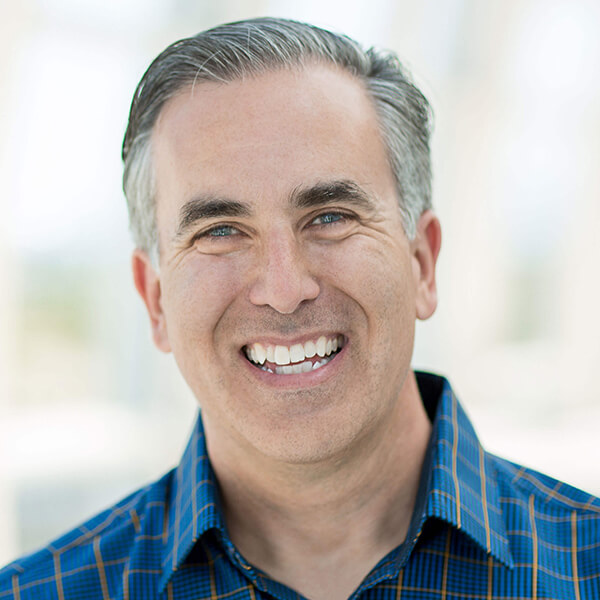 Curious about Web3, but don't know where to start or who to trust?

Introducing Web3 for Beginners, a course taught by Michael Stelzner, the founder of Social Media Examiner.

Learn the basics of Web3 and apply it to your business with this FREE comprehensive course.
CLICK HERE TO GET FREE ACCESS