Need to develop better habits? Wondering how uncertainty or change impacts your habits?
To explore how to reclaim lost habits and build new ones, I interview James Clear on the Social Media Marketing Podcast.
James is the author of Atomic Habits: An Easy and Proven Way to Build Good Habits and Break Bad Ones. He also publishes a popular newsletter at JamesClear.com.
You'll learn how environment influences habits and discover the four laws that govern how behaviors or habits are established. You'll also find tips to create and maintain good habits in your own life.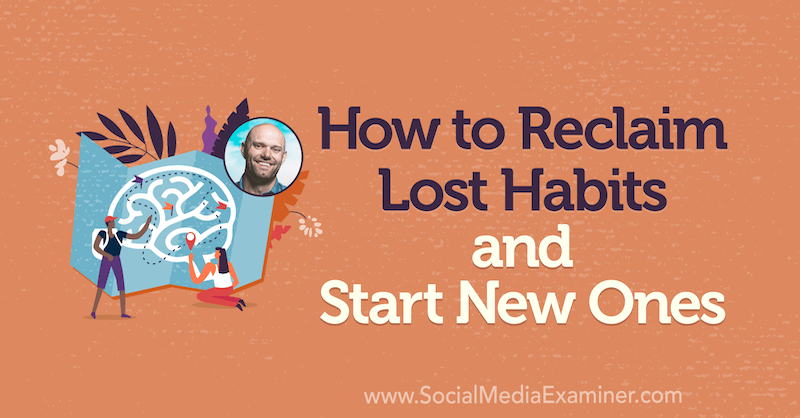 Habits: Starting Small
People are building habits all the time so James obviously had many habits before he ever started consciously thinking or writing about them. But his first conscious exposure to habits came from a traumatic event when he was in high school. His recovery brought out a lot of the ideas that he ultimately ended up writing about.
James played a variety of sports growing up, especially baseball. In his sophomore year of high school, James was hit between the eyes with a baseball bat—an accident that broke his nose, the bone behind his nose, and his sphenoid bone (which is fairly deep inside the skull), and shattered both his eye sockets.
Due to the severity of his injuries, he was airlifted to the hospital. There he was placed into a medically induced coma because he kept having seizures and couldn't undergo the needed surgery.
Recovery from that injury was the first time in James's life that he was forced to start small. In James's first physical therapy session, he practiced basic motor patterns like walking in a straight line. He began routines that seem almost insignificant like going to bed at the same hour each night.
Once he was done with physical therapy, James started training in the gym consistently for the first time in his life. At first, he went once or twice a week. He then increased to three or four times. More small habits, like studying and preparing for class for an hour each day, gave him a sense of regaining control over his life that he felt had been taken away with the injury.
Gradually, James was able to make it back onto the baseball field and played for his college team. He was a starter in his sophomore season and team captain in his junior season. In his senior season at college, he was chosen as an Academic All-American, a team comprised of about 30 scholar-athletes from around the country. With that, James felt like he had truly maximized his potential, given the challenges and circumstances he had faced.
That experience taught James about the power that habits have. We all have things that happen to us, unfortunate circumstances that we don't ask for. Luck and misfortune play a role in all of our outcomes in life but we don't have control over those situations. What we do have control over are our habits and the way we respond. This was James's first practical exposure to those ideas.
The Conference You've Been Waiting For
As a small business marketer, you can probably only pick one or two events to attend each year. Get an unbeatable conference experience and expert training at Social Media Marketing World in sunny San Diego, California—from your friends at Social Media Examiner.
🔥 As a valued reader, you can save $650 on an All-Access ticket if you act now! Sale Ends Tuesday! 🔥
CLICK HERE TO LEARN MORE
Eventually, James started writing about how habits form, how we can use them, the science behind them, and how we can apply all of this to daily life. He's been doing this now for a decade.
After earning a degree in biomechanics, James went to graduate school at Ohio State University, where his work at the Center for Entrepreneurship inspired him to start his own venture. Right around that same time, James started to read blogs. It was the time that blogs were starting to mature—around 2009/2010. There were a handful of people who were making six figures a year from their blogs, which gave James the idea to start writing his own.
James published his first article at JamesClear.com on November 12, 2012. His work has since been published or republished in many different places including major publications such as The New York Times, The Wall Street Journal, CNN, and Lifehacker. He wrote two articles a week for his blog from 2012–2015, which built up his audience. His email list had around 220,000 subscribers in mid-2015. That's when agents and publishers started to contact him.

Atomic Habits: The Book
James says that his book, Atomic Habits, almost wrote itself, in the sense that he had to practice the ideas to be able to write about them. He had to build good writing habits to write a blog and the book. He had to build good exercise habits to get into shape. He had to build good productivity and management habits to create a successful business. He actually had to try it all so he knew what it was like to fail in real life, as well as to succeed.
Early on, like many creators, he felt a touch of imposter syndrome—wondering, "Who am I to be the expert on habits?" A friend told him, "The way you become an expert is by writing about it every week," and James really internalized that idea.
Once he'd been blogging for 3 years, even he had to admit that there weren't many other people who had written 150 or 200 articles about habits. Also, he had indeed learned a lot along the way. He had a bit of a science background to back him up as well.
Agents and publishers were reaching out at that point. So he wrote a proposal, went to New York, and pitched his manuscript to publishers for a week and got a variety of bids. James ended up going with the team at Penguin Random House. He spent the next 3 years writing the book so the frequency of his blog posts decreased somewhat during that time.
From 2012–2015, James spent his time building his platform and audience. Many ideas from that period ended up making their way into the book but probably 90% of it was either new or so heavily reworked that it was essentially new. James devoted 2015–2018 to writing the book. It ultimately took 5 or 6 years of work to get the whole thing out. During that time, there were quite a few occasions when James felt like giving up. He wondered if all that effort would be worth it.
Looking back on it now, James is glad that he took the time to do it right the first time, rather than rushing it. There are probably a lot of general life lessons there. Most importantly, if you don't have time to do it right the first time, when are you going to have time to do it over?
Atomic Habits launched on October 16, 2018, and remains in the top 11 all-time bestsellers on Amazon. The book has sold over 1.7 million copies worldwide and James is fairly confident he'll hit 2 million before reaching the 2-year mark. What matters most to James, though, is hearing from people every day whom he was able to help to make changes in their lives.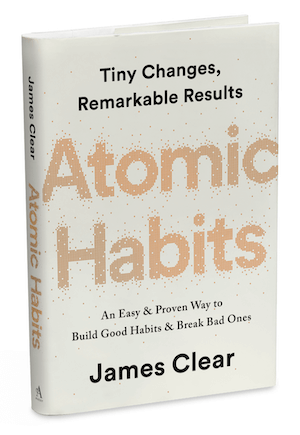 Why Habits Are Important in the Midst of Uncertainty
Anytime there's a big change in your environment, there's a big change in your habits. A lot of people's environments have changed in a big way right now. They're working from home instead of at the office. They're sheltering in place instead of going about their business or traveling. There are big reasons why the topic of habits is certainly relevant at this time.
Your habits can also ground you in times of uncertainty. When you're not quite sure where to look or what to do, your habits can serve as a solid foundation to return to. Show up and do those well, and you can at least say, "I don't know what else this day is going to hold or what the news cycle is going to say tomorrow—but I know that I can at least have a productive day."
The place to direct your attention may simply be to try to win the day, right now. Win the moment in front of you. Returning to your habits and using them to ground you are great ways to do that.
When you don't have all of those typical routines that you go through—with your commute, the way you get ready for the day, or the kinds of clothes you put on—it's easy to feel unmoored. You can also end up getting more easily distracted. You can find yourself thinking, "Whatever happens to pop up during the day is what I spend my time on."
Establishing a good morning routine, getting into the flow of your life the way you normally do, or having a little bit of structure in your day (like taking lunch at the same time) are good examples of ways to keep on track and provide a little bit of a barrier against all of the other things that could creep in.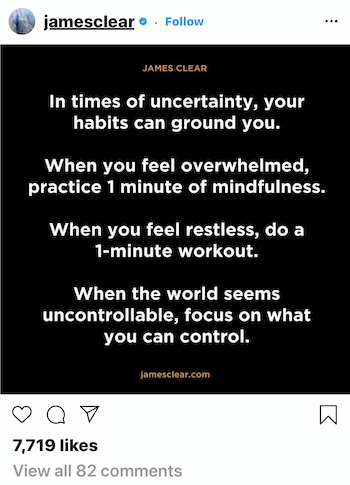 The Role of Environment Design in Creating Habits
A lot of people feel like they're victims of their habits. They begin to feel like their habits are happening to them; they don't feel like they have control or they act before they even realize it.
But it doesn't have to be that way. You don't have to be the victim of your habits—you can be the architect of them. Environment design is one way to design context or places that serve you and get you moving in the right direction.
Your habits occur within an environment. All behavior takes place within a certain context, within some space in the world. Often, your habits get tied to a particular context.
To illustrate, your couch might be where you have the habit of turning on Netflix at 7:00 PM when you get home from work. The coffee shop might be the context where you have the habit of checking your social media feeds at 10:00 AM when you go for a coffee break. These places get tied to behaviors and you have this behavioral bias when you're in that space, even if you're not conscious of it.
Now that everybody's working from home or sheltering in place, you may sit down at your couch and think, "This is where I want to do some emails or work on this project for a little while." But without even thinking about it, you may be pulled toward turning on the TV, checking Netflix, browsing social media, or whatever normally happens in that context.
One of the practical takeaways for environment design is that you want to create one space for one use as much as possible. There are a couple of different ways this can come into play.
There's one writer James knows who has three devices: his desktop computer, his iPad, and his phone. The desktop is where he does all of his writing; social media doesn't happen there. When he's at the desktop, he's writing. The iPad is what he uses to read anything online. His phone is what he uses for social media and texting; he doesn't even have the apps on the other devices.
By having more clearly delineated spaces, it becomes much easier to stick to the appropriate habit in that space. A lot of people who are working from home for the first time probably don't have those spaces clearly defined.
When James first started his business, he was working out of his apartment at the time. He had to figure out, "Well, is the kitchen table where I answer emails? Or is that where I eat dinner? Is the couch where I write the next chapter of this thing or is it where I watch TV with my wife? What's happening where?" Because it wasn't clearly defined, it became very hard for him to shut off.
People often go one of two ways with this. Either they tend to be very distracted and can't focus, or they become workaholics and never shut off because there's no clear delineation of when they should stop the workday. James found himself more in the latter camp; he was always working.
The point is the same, whether we're talking about digital spaces or physical spaces. You can design your environment with the chairs in your room: one chair can become the reading chair, and when you want to read a book you sit in that chair. The more that you can tie your habits and behaviors to a particular space or a particular device, the easier it becomes to focus on the intended thing and not get pulled off-track.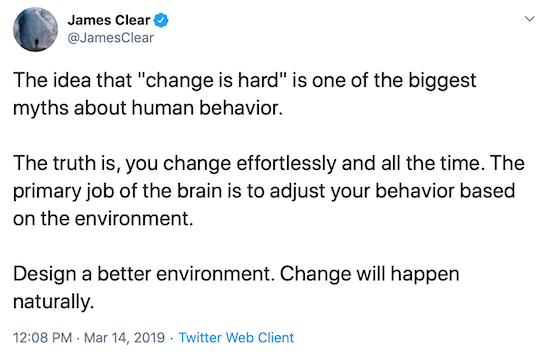 There's an even bigger principle of environment design: making sure that the good habits are the path of least resistance. Again, there has been a big change in the environment so you have a big change in behavior. People are working from home and there are a lot of things that are the path of least resistance right now that maybe weren't before.
First of all, you probably didn't have a couch and a TV as close to your office as they are now so maybe it's easier for you to just waste an hour watching TV. Or if you're working at your kitchen table, maybe the pantry is right around the corner so now it's very easy to snack all the time.
I mention to James that I'm recording this podcast in my home office, which is maybe a 10′ x 10′ room. I brought my office workstation home and I set it up exactly the same at home as it was at work. I even brought home my office chair because I like it and I can sit in it all day long.
I've tried to recreate, as much as possible, the environment that I had in the office. I even have a little light above my desk, although it's artificial, to simulate what it's like at work—I have big windows with a lot of natural light. I've found that I am actually super-productive. There's a reclining chair in the corner of my home office but I don't allow myself to sit back in that little comfy chair until my day is done.
James says you want to restructure the environment so that the behaviors you want to do are obvious. They should be available, visible, easy to see. What's the first thing you see when you open up your phone screen? When James wanted to build a reading habit, he put Audible on the home screen so that it would be the first thing he'd see and it would remind him to read every time he picked up his phone.
What's the first thing you see when you look at your kitchen counter? It should be healthier foods—or if you want to put everything away, then nothing. If you have chips and other snacks out, it's much more likely that you'll eat those things, versus if you tucked it all away in the top corner of the pantry or down in the bottom of the freezer.
What's the first thing you see when you walk into your office space, wherever that happens to be? It should be the productive thing or whatever the thing is that you want to work on. Make it obvious, available, visible, easy to see.
Next, make it as easy as possible: frictionless, simple, convenient. Remove steps between yourself and the good behaviors, and increase steps between yourself and the bad ones. It's what people have always recommended for eating healthy.
If you have ice cream in the fridge, you can just pull it right out. If the closest ice cream is out of the house and down the street two miles away at the grocery store, there's a lot more friction, so it's less likely you're going to do it. You want to take that methodology—make it obvious and make it easy—and apply it to all the spaces you can so it's more likely that the good behaviors are the path of least resistance.
Re-establishing Lost Habits
A lot of people have great habits that may have been lost or completely disrupted. Going to the gym is one example. What do we do, what's the process of reclaiming a habit that we've lost?
Attention Agency Owners, Brand Marketers, and Consultants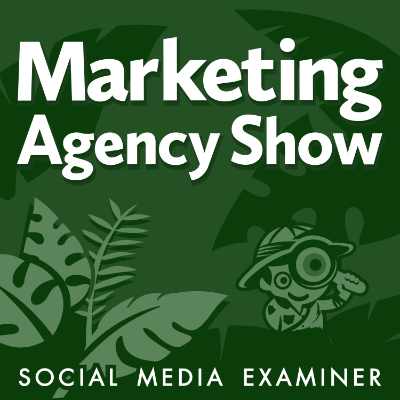 Introducing the Marketing Agency Show–our newest podcast designed to explore the struggles of agency marketers.

Join show host and agency owner, Brooke Sellas, as she interviews agency marketers and digs deep into their biggest challenges. Explore topics like navigating rough economic times, leveraging AI, service diversification, client acquisition, and much more.

Just pull up your favorite podcast app, search for Marketing Agency Show and start listening. Or click the button below for more information.
CLICK HERE FOR THE DETAILS
Obviously, it's happening a lot now because of our present situation. It also happens in regular daily life. People will do things for a little while, then something changes, and they stop doing them. There are two ways to view the situation to reclaim these positive habits that we may have lost.
The first one is the 'big picture' way. Many people who are ambitious or who want to achieve things have many priorities or goals that they want to accomplish. It can be hard for them to say "no" to things because they've got a lot of things they want to do. They end up biting off more than they can chew and losing their focus. One 'big picture' thing that can help is thinking about life as a series of seasons. Ask yourself, "What season am I in right now?"
Your habits should match your current season. For instance, James doesn't have kids yet and he's fairly young. He's in a period where he's mostly focused on his career and personal health. He has the 'family' and 'friends' dials on the burner turned down a little and that's the season that he's in.
At some point, he'll have kids and that will signal a change in seasons. Maybe the career burner will need to get turned down and the family burner will need to get turned up. When that happens, his habits are going to need to shift to match that season.
The first question when you've lost a habit that you want to reclaim is, "will reclaiming it truly be the best thing for my current season?" Are you just nostalgic for that old habit because you miss that old season? Maybe it's really what you need to do but it's also possible that it shifted because you've shifted seasons.
The second consideration is a little more granular. Let's assume that you actually want to reclaim the habit and it's the right thing for the season you're in. Sometimes you just have a shift in your behavior that leads to this.
To visualize this, maybe you were working out consistently. Then you took a new job, or your company moved offices, and your commute changed. At the old office, you passed the gym on your way to work and now you've got to go out of your way to get there. Just that is enough to curtail the behavior.
Take the habit that you're trying to build or that you wish you could reclaim. Now go through this list of, "Where does it happen? Who am I around? What time do I do it? When, in my week or my day does it usually fit in?" Try to get to the root cause of the problem and understand where the points of friction are.
James's mother had built a habit of exercising at the YMCA near her home. She packed her bag in the morning and went to work. As she was leaving work in the evening, she'd stop by the YMCA before she went home. But there were two parts of the process, when she dug into it deeper, that she realized she didn't like.
One, she didn't like having to remember to pack her bag before work. She just wanted to get up, do her normal routine, and go to work. She didn't want to have to worry about the gym bag. And, two, she didn't like working out in front of other people at the YMCA.
So she bought an at-home yoga and workout program, which enabled her to exercise without having to do either of those things she didn't like. She went to work and came home but then she was able to work out right away. That solved those two problems: having to pack her bag and working out publicly.
Whatever it is for you, ask yourself what the points of friction are that prevent you from reclaiming that habit. Then try to solve those specific problems rather than the big picture problem of wishing you had more willpower. Then get more specific. Why aren't you working out? What exactly is the bottleneck? Identifying that can help you troubleshoot a little more, pinpoint where to focus your attention, and get that habit back.
Setting New Habits in Motion
Anytime there's a big change in the environment, there's a big change in behavior. That creates opportunity.
James finds that quite a few people he hears from who travel a lot have a hard time building habits. It makes a lot of sense, based on the premise that habits are tied to a context. If the context is always changing—you're always going to a new city, always going to a new hotel—it's really hard to build a stable habit because you're in unstable environments and you're always shifting.
James suggests that rather than focusing on the shifting context, focus on a stable part of the process to anchor the habit to. You could decide that after you check in at the hotel, you always say one thing you're grateful for.
You don't know which hotel it's going to be, you don't know what city you're going to be in, but you know that you're going to be checking in. Or after you set the luggage on the bed or the luggage rack in your room, you'll do 10 burpees. (It's like a pushup, a jumping jack, and crawling onto the ground and back up.)
You don't know which room it is, you don't know what it'll look like, but you know that you're going to be setting your luggage down at some point. So you're trying to find these stable parts of the process to build on.
We're all working from home now. In a lot of ways, this experience feels like it was forced upon us. "I didn't ask for this, I didn't want to be working from home. It's upsetting all of my behaviors and my routines." But we can turn it into an opportunity by asking, "What's the new stable thing now?"
Since you don't have the commute, maybe you're able to sleep in a little bit longer so you can build better sleep habits. Now that you don't have to leave the house, you're doing less context-switching. Maybe now you can build cleaning and tidying habits that you didn't normally have. Find the pieces, the places, or the parts of the stay-at-home process that are stable, and tie the new behaviors to them.
Stanford professor BJ Fogg has a method he calls Tiny Habits. His formula is to say, "After I do X, then I will do Y." X is your current habit, Y is your new habit. You can do this throughout your day as you're looking around your new experience, as you're working from home.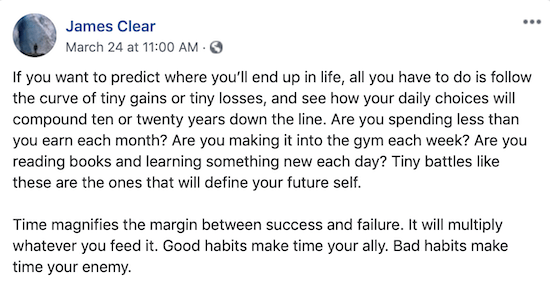 Let's say that you already have a habit of making a cup of coffee when you wake up in the morning. That's already stable; you know that's going to happen. You can use that as the springboard to build a new habit. Let's say you want to build a habit of meditating. You could say, "After I make my morning cup of coffee, I will meditate for 60 seconds." The current habit, the stable thing, becomes the anchor for the new habit that you're trying to build.
In that way, working from home is a huge opportunity because all you've got to do is look around. What are all the stable things that you can count on doing? Each one of those could potentially be a connection to a new habit that you can insert into your new routine.
The Four Laws of Behavior Change
Four different things are necessary if you want a good habit to stick. You don't always need all of them but the more you have working in your favor, the more likely the habit will stick.
Make It Obvious
The more obvious, available, visible, and easy to see a habit is, the more likely it is to catch your attention and to get started. Some of the environment design concepts we talked about are like that.
Make It Attractive
The more attractive, appealing, or motivating a habit is, the more likely you are to feel the desire to do it.
People think, "It's the same habit. If I didn't like doing it the first time, why would it suddenly now be attractive?" As an example, let's say you go to bed tonight and you think, "All right, I listened to this guy talk about habits. Tomorrow's going to be the day I'm going to go for a run." You set your alarm for 6:00 AM.
Then 6:00 AM rolls around, your bed is warm, and it's cold outside. You think, "Well, I'll just press snooze instead." But, what if you turn the clock back a day, and you text a friend and say, "Hey, can we meet at the park at 6:15 and go for a run?" Well, now 6:00 AM rolls around—and your bed is still warm and it's still cold outside—but if you don't get up and go for a run, you're a jerk because you'd be leaving your friend at the park all alone.
Suddenly what you've done is you've simultaneously made it more attractive to get up and go for a run, and less attractive to press snooze and sleep in.
There's a variety of strategies like that in the book. This particular one is called a commitment device. It's a choice that you make in the present moment—"I'm going to text my friend to have an accountability partner tomorrow"—that locks in your behavior in the future. It changes the calculus that's going on in your mind and makes it more appealing than it otherwise would be. It doesn't make it easier in that case but it does make it a little more attractive.
Make It Easy
The more convenient, frictionless, easy, and simple a habit is, the more likely we are to stick to it.
We touched on a couple of ways to do this like removing friction, reducing steps, and making it as simple as possible. Another effective technique is to scale it down. James has a concept in the book called, "The Two Minute Rule." The basic idea is to take whatever habit you're trying to build and scale it down to something that takes 2 minutes or less to do.
"Read 40 books a year" becomes "read one page." Or "do yoga 4 days a week" becomes "take out my yoga mat." Sometimes people resist that. They understand the concept but they also know the real goal is to do the whole workout so they don't want to take their yoga mat out.
Here's an example from the book. A man named Mitch ended up losing more than 100 pounds. When he first started going to the gym, he had a rule for himself. For the first 6 weeks, he wasn't allowed to stay for longer than 5 minutes. He'd get in the car, drive to the gym, get out, do half an exercise, get back in the car, and drive home. It sounds ridiculous. Obviously, this isn't going to get the guy the results he wants.
But when you step back, it becomes clear that he was mastering the art of showing up. He was becoming the type of person that went to the gym 4 days a week, even if it was only for 5 minutes. That's something the Two Minute Rule helps us get over: that urge to do things perfectly, and if we can't do it perfectly, then why bother?
There's a much deeper truth about habits that people often overlook. The habit must be established before it can be improved. It has to become the standard in your life before you can worry about scaling it up or optimizing it.
There's something about getting started, like putting the yoga mat out or showing up for a couple of minutes at the gym. There's something that happens inside our minds. Once we get started, the flywheel starts to spin and it gets easier. Most of the time, it feels like most of the friction is at the beginning. If you can just show up and get into the gym, then it's much easier to finish. Or if you just start writing the book chapter or write one sentence, then it's much easier to keep going.
Ed Latimore has this great quote that says, "The heaviest weight at the gym is the front door." That's exactly the idea. If you can just manage to open the front door, then a lot cascades from there. The Two Minute Rule helps you get to that. That's what "make it easy" means. Not only to do easy things but also to make it as easy as possible to do the things that pay off in the long run.
Make It Satisfying
Behaviors need to be enjoyable. They need to be pleasurable or have some kind of positive emotion associated with them for you to want to repeat them. If you do something and it has a consequence that isn't that enjoyable or is just neutral, your brain essentially wonders, "Why would I repeat that? I didn't really get anything out of it."
This is one of the challenges of building good habits. It also is very illuminating why, in part, it's so easy to build a lot of bad habits and so hard to build good ones. You can think about pretty much any behavior as producing multiple outcomes across time—an immediate outcome and an ultimate outcome.
For a lot of bad habits, the immediate outcome is actually favorable. The immediate outcome of eating a donut is great. It's sweet, it's sugary, it's tasty, and it's enjoyable. Or even something like smoking a cigarette. Maybe you get to socialize with a friend outside of work, it curbs your nicotine craving, or it reduces stress. It's only the ultimate outcome—6 months, 2 years, or 5 years from now, if you keep doing it—that's unfavorable.
Meanwhile, good habits are often the reverse. The immediate outcome of going to the gym is almost unfavorable. You go to the gym for a week and your body's sore, you look the same in the mirror, and the scale hasn't really changed. It's only if you keep doing it for 6 months, a year, or 2 years, that you get that favorable outcome you want.
A big part of the challenge of getting good habits to stick and breaking the bad ones is finding a way to pull the long-term rewards of your good habits into the present moment. If it feels enjoyable or pleasurable right now, you get a little bit of feedback that it's good.
Conversely, you need to find a way to take those long-term consequences, or the costs of your bad habit, and pull it into the present moment. That way you feel a little bit of the pain right now, and think, "Oh, I should avoid that."
That's one way to summarize or distinguish between good habits and bad habits. The cost of your good habits is in the present, the cost of your bad habits is in the future. That misalignment between the two leads to a lot of unproductive or unhealthy behaviors because we tend to prioritize the present moment, the immediate short-term rewards.
This principle is so strong that in Atomic Habits, James refers to it as "The Cardinal Rule of Behavior Change," which states that behaviors that get immediately rewarded get repeated, and behaviors that get immediately punished get avoided. It's really about how quickly you feel successful or unsuccessful that drives you toward or away from certain behaviors. Satisfaction and reward are also important components of getting those good or bad habits to stick.
Key Takeaways From This Episode:
What do you think? How do you develop or keep good habits in your own life? Share your thoughts in the comments below.
3 Days of World-Class Training—Zero Travel!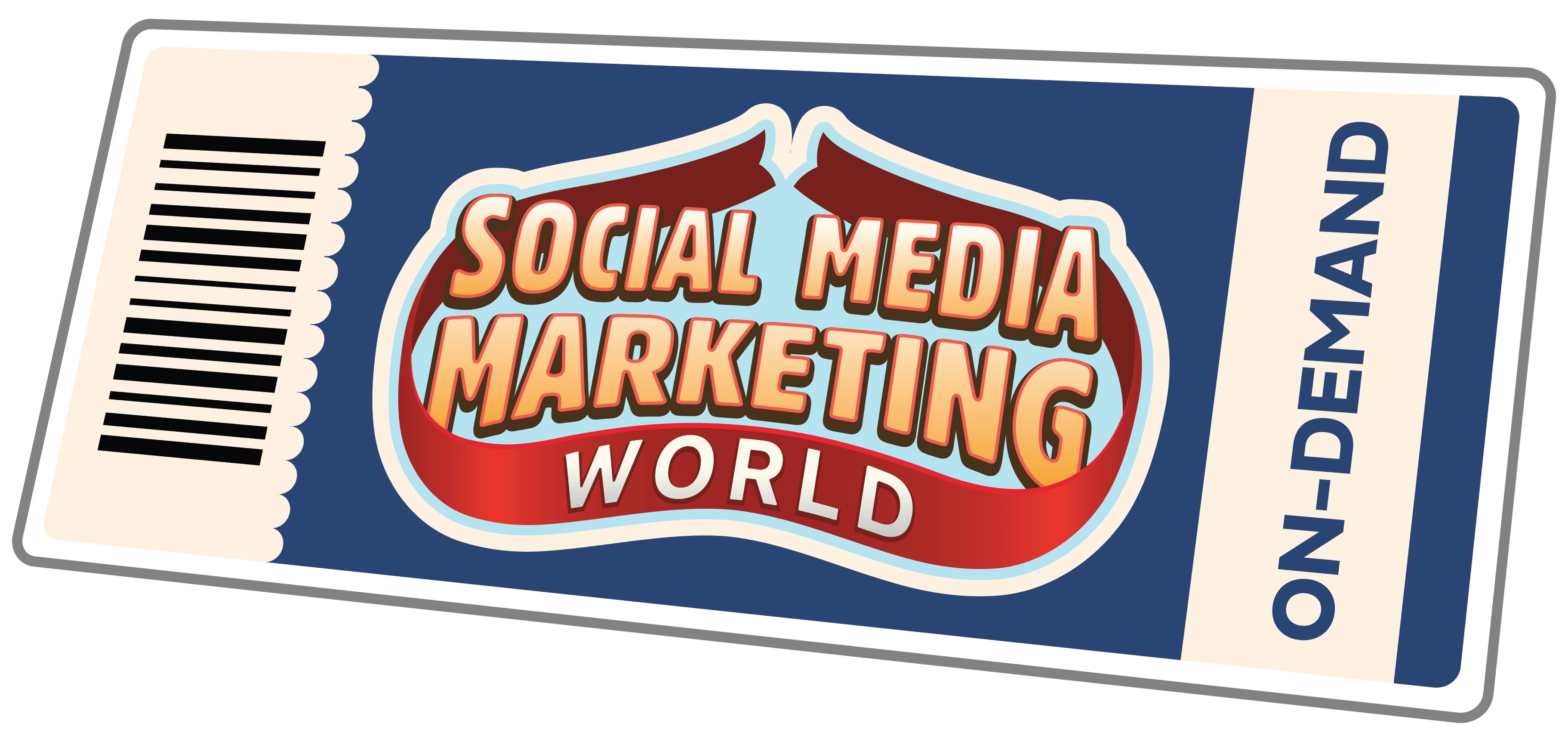 Travel to Social Media Marketing World off the table? Get all of the great content at a fraction of the price with an On-Demand ticket.

That's full access to recordings of every keynote, workshop, and session—the ones people travel thousands of miles to see. Don't wait. Get your On-Demand ticket and enjoy actionable content that you can watch anytime, anywhere.
GET YOUR ON-DEMAND TICKET NOW