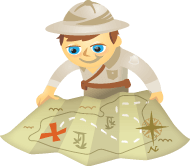 Do you want to broadcast live video from Blab with your mobile phone?
Looking for tips to improve your mobile Blab broadcasts?
Business owners and marketers can use Blab to interact with customers and prospects in real time, from anywhere.
In this article you'll discover how to successfully broadcast on Blab from your smartphone.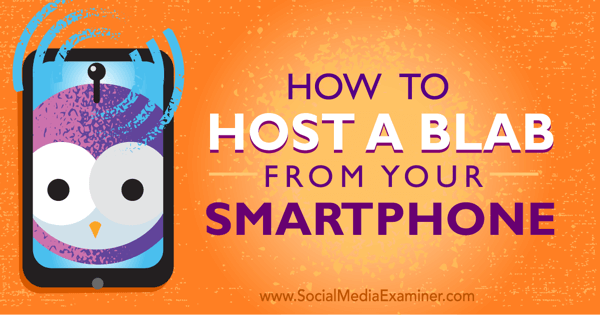 Listen to this article:
Where to subscribe: Apple Podcast | Google Podcasts | Spotify | RSS
What Is Blab?
Blab allows anyone (businesses included) to have their own "show," where two to four people will be "on air." The show is a live broadcast that viewers can tune in to, participate in the conversation, and potentially join the discussion via video if there's an open seat.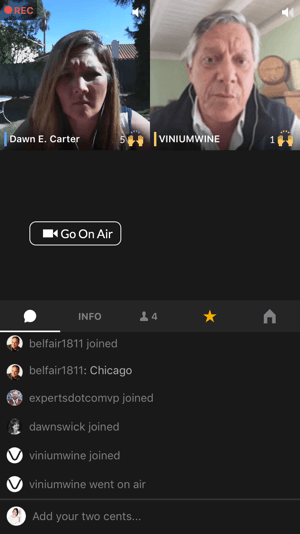 Using Blab feels similar to Google Hangouts and Facebook Live Video, with a little bit of Reddit thrown in. Blab emphasizes user engagement and is a platform that lets anyone chime in. As a live video discussion happens among multiple users, people can comment on the content right as it's happening. The average active user spends 65 minutes a day watching different blabs.
Businesses and marketers currently use Blab to host after-shows, hold interviews, facilitate discussions, offer coaching and teaching (think webinar), and record podcasts. You can record blabs so users can view them whenever they want, giving marketers the ability to create permanent, valuable content.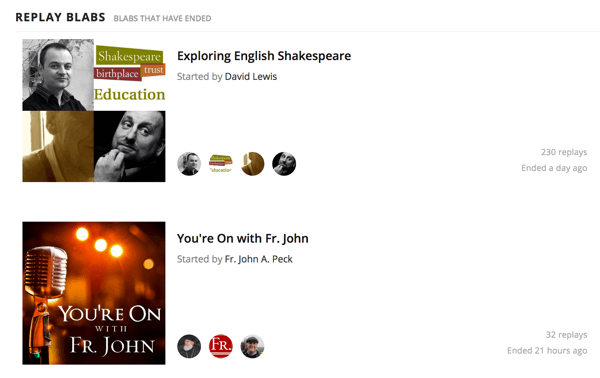 Blab From Your Smartphone
To use Blab, you'll need an account. It's recommended that you log in with your Twitter account so it's easy to share your blab to your Twitter followers.
Once you log in, you'll see some live blabs, a tab to see whom you're following, and the option to create your own blab. To start your own blab, click the grey and black "+" button in the center of the top navigation bar.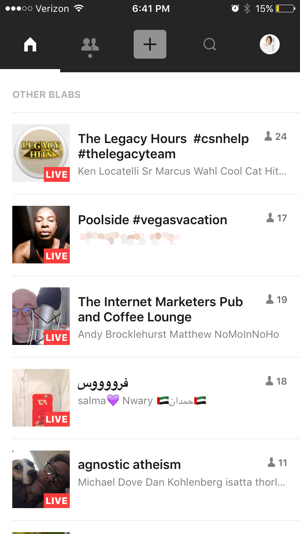 When you create your own blab, you'll be asked to name your blab. You can also add tags.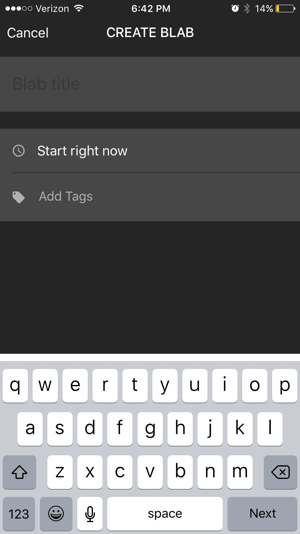 Tagging is one of the best things you can do for your blab, because it attracts a relevant audience not already connected to you. This helps a new audience find your blab as well as your business.
Lead the Social Charge Instead of Playing Catch Up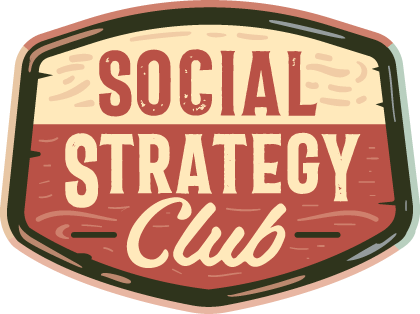 Sick of wondering "What now?" everytime a social platform changes or the market shifts?
Get a look at where the social media marketing industry is headed—before it happens—with insightful trends analysis delivered weekly.
Let the Social Strategy Club be your secret competitive advantage.
CLICK TO LEARN MORE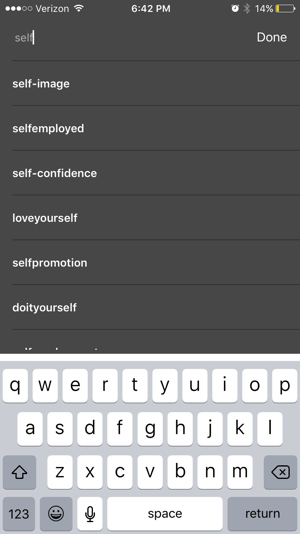 Once you're hosting a blab, you can call in. You can also choose to lock the other seats to prevent anyone else from calling in or you can keep them open.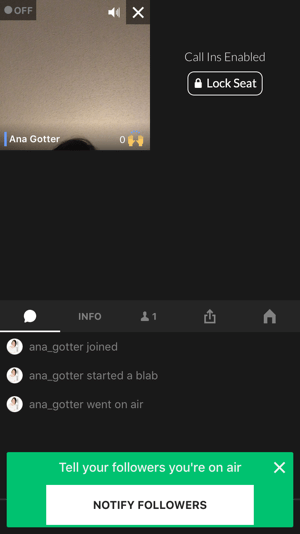 To spread the word about your blab, click on the arrow in the options between the video and text. From here, choose any or all of the options to share your blab link on social media, in a message, or in an email.
Get Expert Social Media Marketing Training from the Pros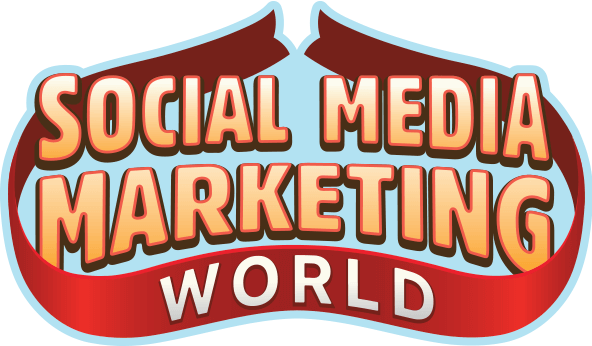 Want to get ahead of the competition or learn how to diversify your strategy?
Learn from dozens of the industry's most trusted experts, rub elbows with other smart marketers, and take your marketing to the next level during this 3-day event in sunny San Diego, CA.
CLICK TO LEARN MORE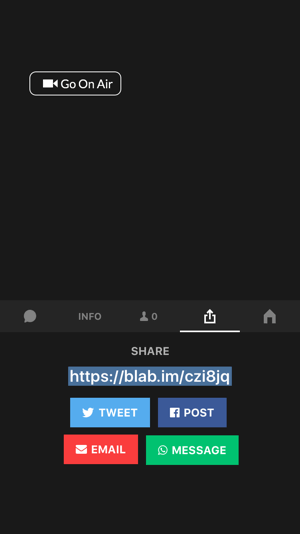 You'll be able to see who's joined the blab, as well as any conversations happening. To show their approval, viewers can give "high fives" to speakers by clicking on the hand symbols in the corner of the speaker's video.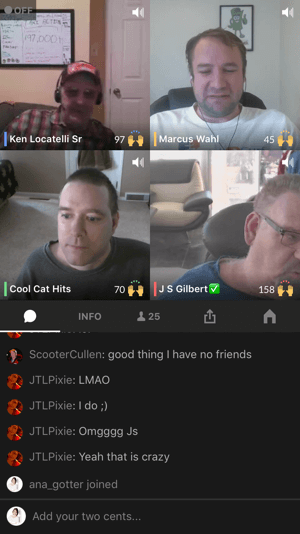 Get More Out of Blab
Here are some tips to help your on-the-go broadcast go smoothly, get the most audience interaction, and increase viewership.
Be Prepared
Remember that Blab is live, which means there's no stopping, restarting, or editing things out. If discussions veer away, that's fine in many cases. If things fall stagnant, though, it's good to have a list of topics to get the conversation back on track. Keep an agenda in front of you with topics you want to cover during your blab.
Add Value
Being entertaining is always good when you want users to tune in, but providing high-value content will keep users both engaged and waiting for (or subscribing to) your next blab. One way to do this is to invite industry leaders to chime in on relevant topics. Another way to add value is to share a list of applicable resources in the comments during each blab.
Be Ready to Respond to Users
Anything that's live and allows for viewer participation has the risk of something going wrong. An angry customer may chime in, or chaos could break out in the comments among users. Keep an eye on the discussion as much as possible and watch out for discord from guests who video call-in with you.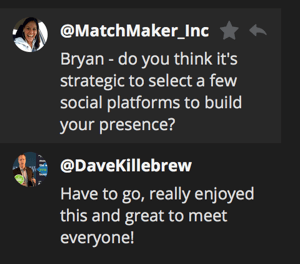 Finally, answer questions from people, and comment on the discussion.
Promote Your Blab
Always promote upcoming blabs. Just as you would before any event or webinar, let people know you'll be hosting a blab ahead of time. Promote your blab on all your social media profiles prior to launch, and post a status update with a link to your Blab channel when you're either live or about to go live. Encourage users to watch and participate.
In Conclusion
Blab is relatively new to the social media scene. The platform offers a unique fusion of features that pulls from several different tools and combines them all into a stand-alone app.
Blab is clearly already useful and has the potential to increase in value as more users download and start using the app. Armed with some of the tips listed above, you can jump ahead and reap the benefits of Blab for your business.
What do you think? Have you used Blab, either as a host or a listener? How will Blab fit into your marketing strategy? Share your thoughts, knowledge, and experience in the comments below!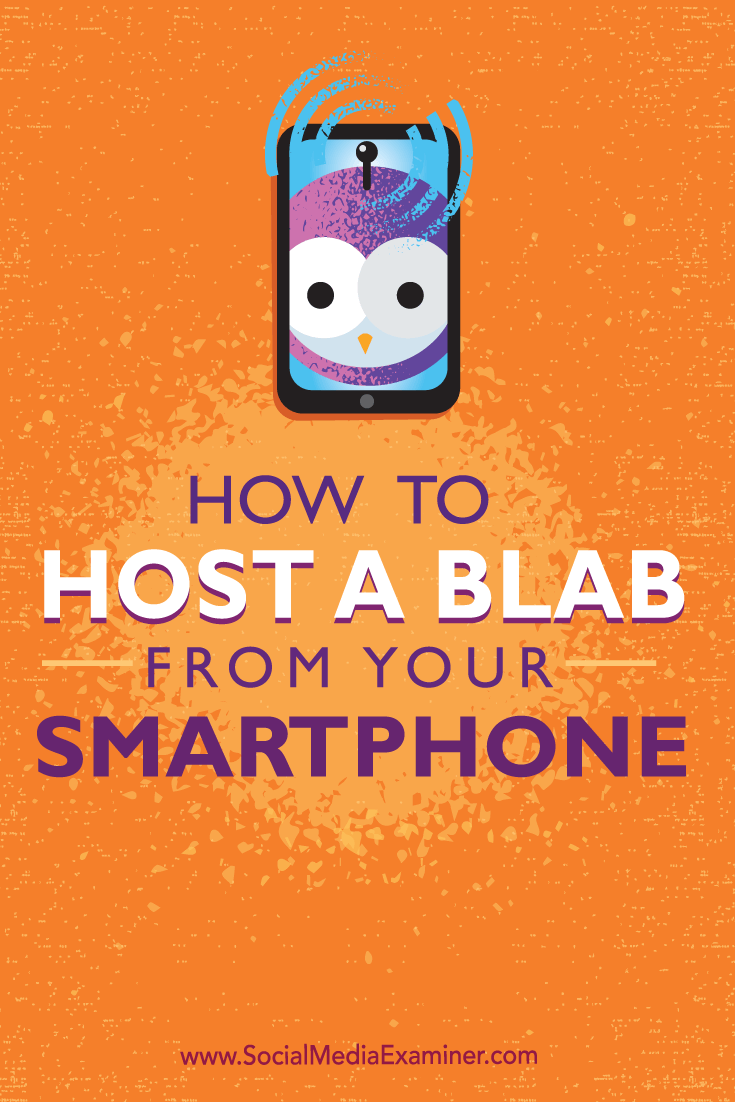 Experience The World's Largest Social Media Conference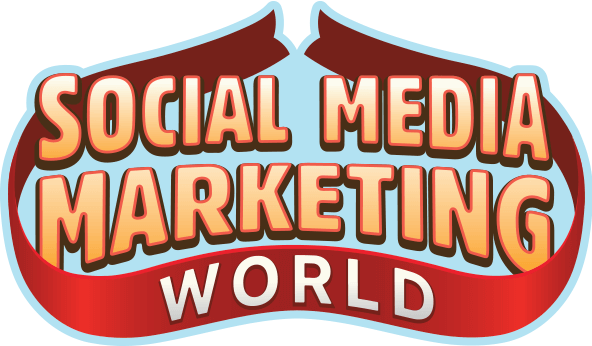 Quality marketing training, actionable takeaways, and beneficial connections—that's just a fraction of what you can expect at Social Media Marketing World! Join thousands of smart marketers in sunny San Diego this spring and level up your marketing.
🔥 Sale ends Tuesday! 🔥
GET TICKETS NOW