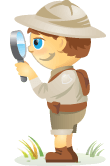 Have you wondered, "How often should I post articles on my blog?" or "How does my social media reach impact lead generation and traffic?"
Two brand-new studies by HubSpot and Edison Research provide fresh insights on these important questions. Consider these five findings as you enhance your social media and blogging strategies.
#1: More frequent blog posts bring greater traffic and leads
C.C. Chapman and Ann Handley like to say that starting a blog is like having a baby. You can't put it back and you have to keep feeding it. The question is how often do you need to feed your blog to get real results?
HubSpot found in their 2011 State of Inbound Marketing report that a vast majority of bloggers post once per week, with a significant 29% only posting monthly or less.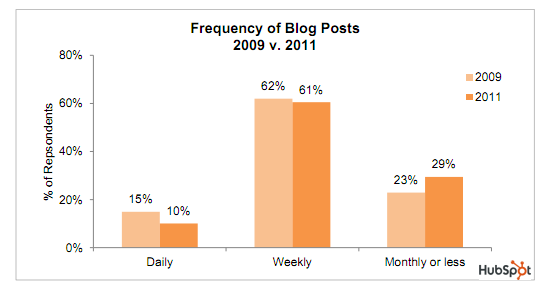 No matter how nutritious the food is, no doctor would recommend feeding a baby weekly or less. Mike Stelzner acknowledges that most content only has a shelf life of around 72 hours. Read about this in his new book Launch.
As it turns out, businesses seeing significant growth have also discovered they need to feed their blogs more frequently.
There's a strong correlation between how frequently a blog posts and the amount of traffic generated. In fact, businesses that post daily will generate 5 times more traffic than those that post weekly or less.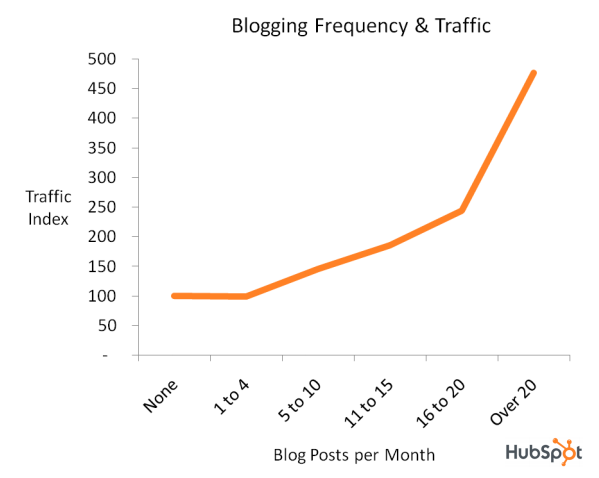 The likelihood of acquiring a customer through your blog increases significantly the more frequently you post. Note that posting multiple times per day gets 15% greater results than just posting daily. Of course, you need to understand your audience's appetite for content before you start posting multiple times per day.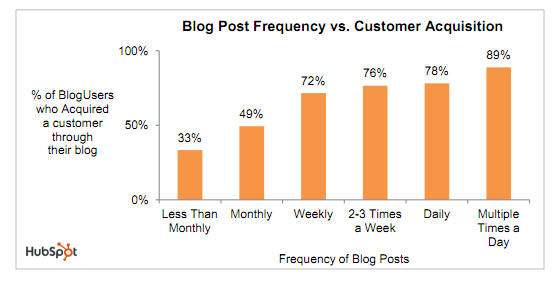 While getting one customer through your blog is great, it will be far better when you start seeing consistent leads. HubSpot found blogs that post daily generate 4 times more leads than those that post weekly or less.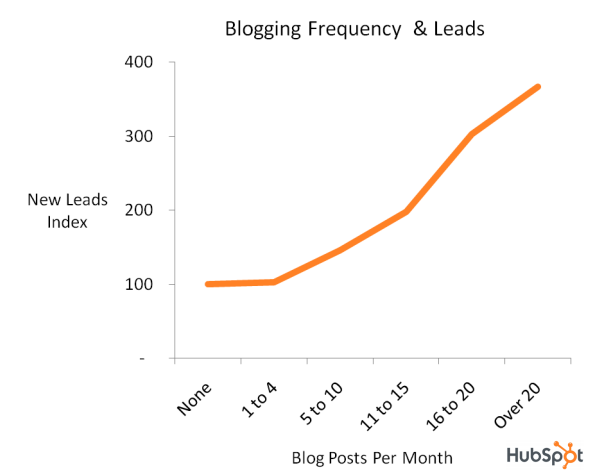 #2: A steady library of blog posts grew leads and traffic better
Over time, a well-fed blog will outperform other blogs. This is evidenced by the impact of blog size on traffic and lead generation. (Note: By blog size, I don't mean the size of the company, but the number of blog posts accumulated over time.)
HubSpot found that blogs that have accumulated at least 51 posts see 53% more traffic than blogs with 20 to 50 posts. Additionally, blogs with more than 100 posts see 3 times the traffic, while those with over 200 posts see nearly 4.5 times the results. (Special thanks to Melissa Miller of HubSpot for this exclusive graphic.)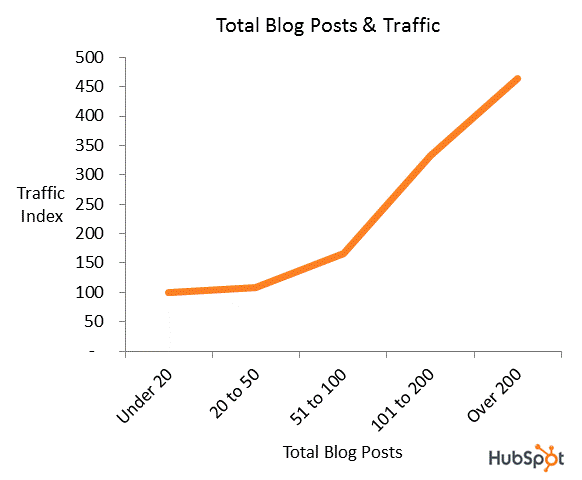 The size of your blog will also affect your monthly leads. Your business will profoundly benefit if you accumulate at least 52 blog posts.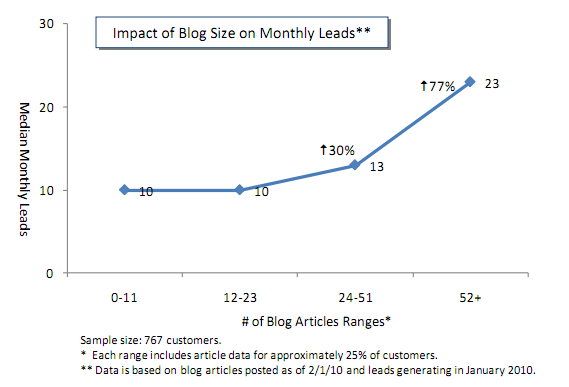 #3: More Twitter followers = more leads
As Elijah Young reminded us last month, all Twitter followers aren't created equal. So, if you have 1,000 spam accounts following you, there won't be much measurable benefit to your business. But don't let that excuse you from trying to grow your following. You may be missing out on some real results!
HubSpot found that businesses with over 1,000 followers saw 6 times more traffic than businesses with 25 or fewer followers.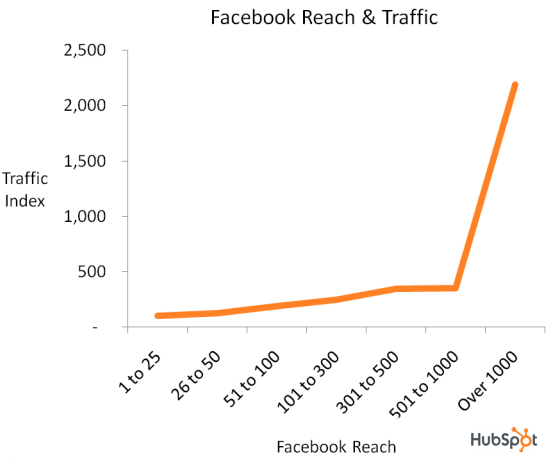 Additionally, those businesses with over 1,000 followers saw 5 times more leads than those with 1 to 25 followers.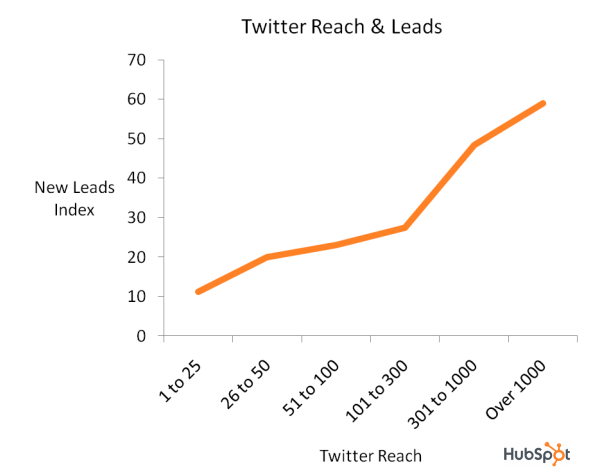 You may have questions about the value of a Twitter strategy, but know that 20 million Americans are on Twitter (half between the ages of 18 and 34, according to Edison Research) and these are the people more likely to influence public opinion about your brand than the other 90% of the population.
#4: Bigger Facebook fanbases mean better results
Edison Research recently found that Facebook is the one social media site that people allow to influence their buying decisions, with 24% listing it as their first choice. Of course, it's not Facebook itself but the people on Facebook who influence those decisions. That's why it's so important to grow a strong and active fanbase.
HubSpot found that the size of your Facebook reach has significant impact on your traffic and leads. For instance, businesses able to grow a fanbase of 501 to 1,000 fans have 3.5 times more traffic than those with 1 to 25 fans. Moreover, businesses with over 1,000 fans had 22 times more traffic.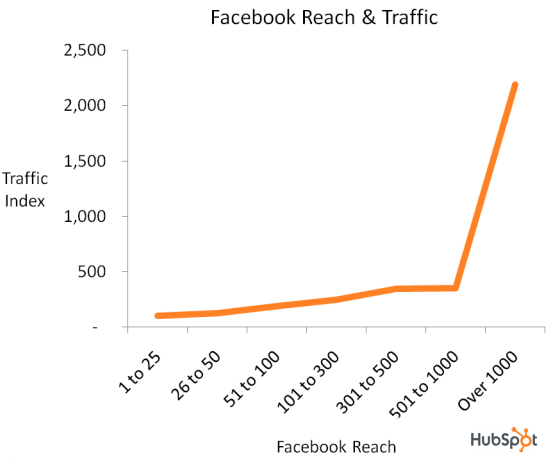 Additionally, the size of your Facebook fanbase will dramatically impact how many leads you receive. Businesses with 501 to 1,000 fans saw 4 times as many leads as those with 1 to 25 fans and businesses with over 1,000 fans saw 12 times more leads.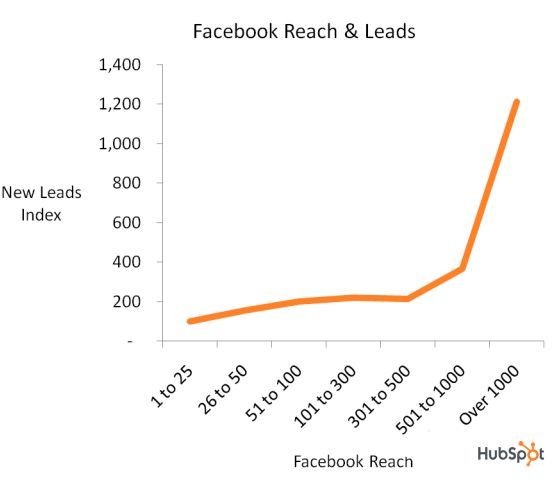 #5: Social demographics are growing
Tom Webster of Edison Research recently published a study that gives some fresh insight into how Americans are using social media.
In the Social Media Marketing Industry Report, we made the claim that social media has gone mainstream. Edison's report proves it. They discovered that 52% of Americans over the age of 12 have at least one social media account and 51% of all Americans are on Facebook.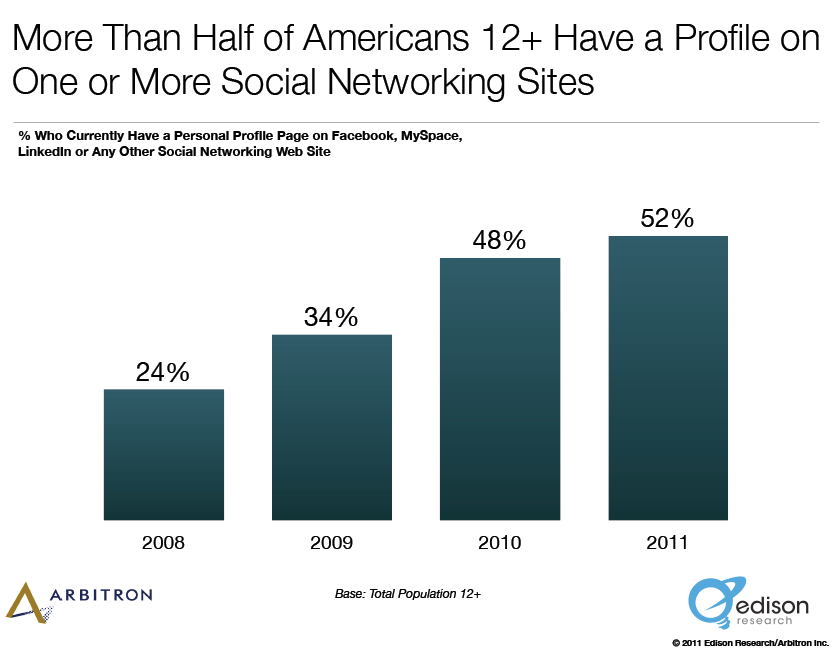 What's more significant is that 46 million Americans are on social media sites multiple times per day. These are the influencers and potential clients we all want to reach.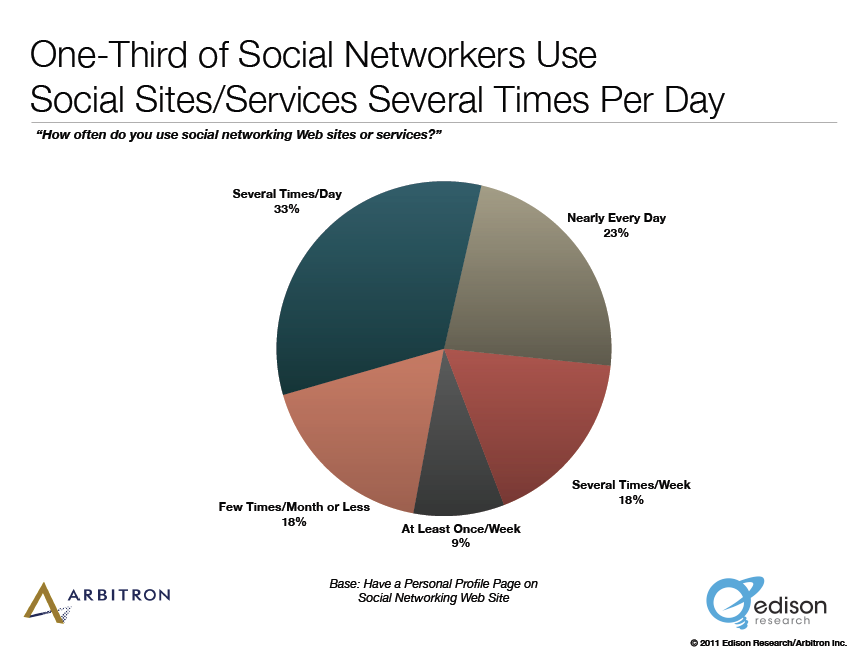 These habitual social networkers tend to be young and female. In fact, 68% of these active networkers are between the ages of 12 and 34. Depending on your product or service, this information could help you better target your customers online.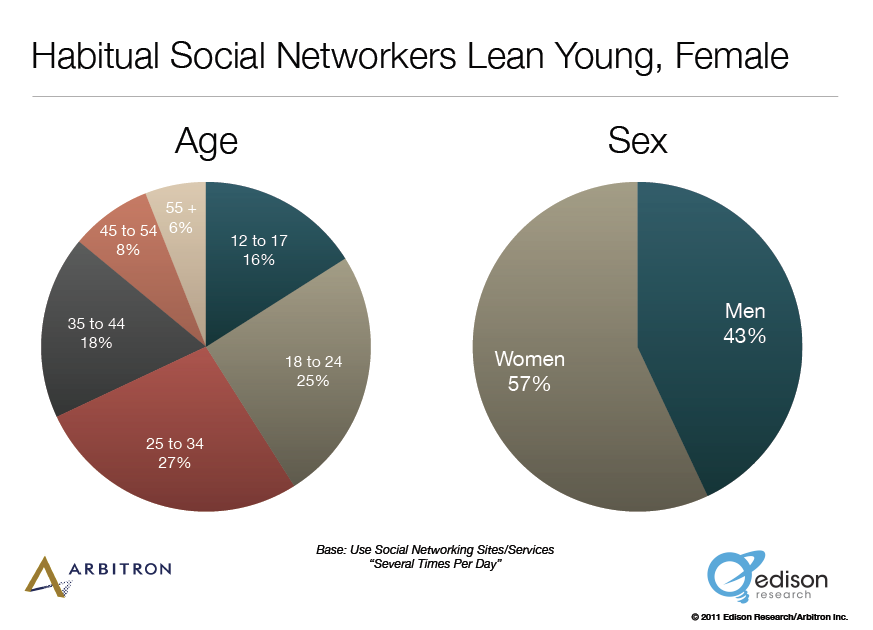 The last thing to note about frequent social networkers is that they're nearly twice as likely to be using mobile devices. Make sure to see what it's like for your customers to engage you on their mobile devices.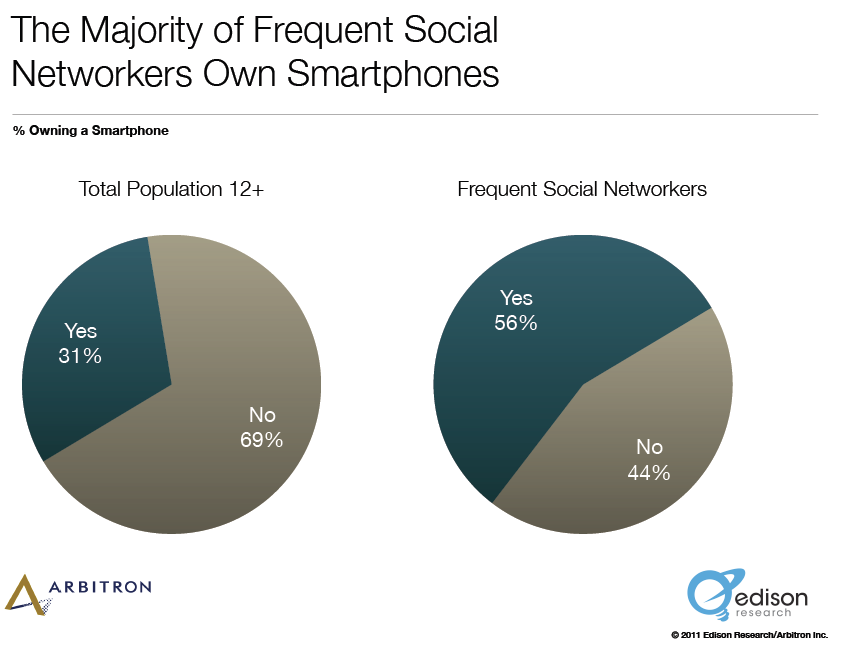 Habitual social networkers are also 50% more likely to access social networks via their mobile phones.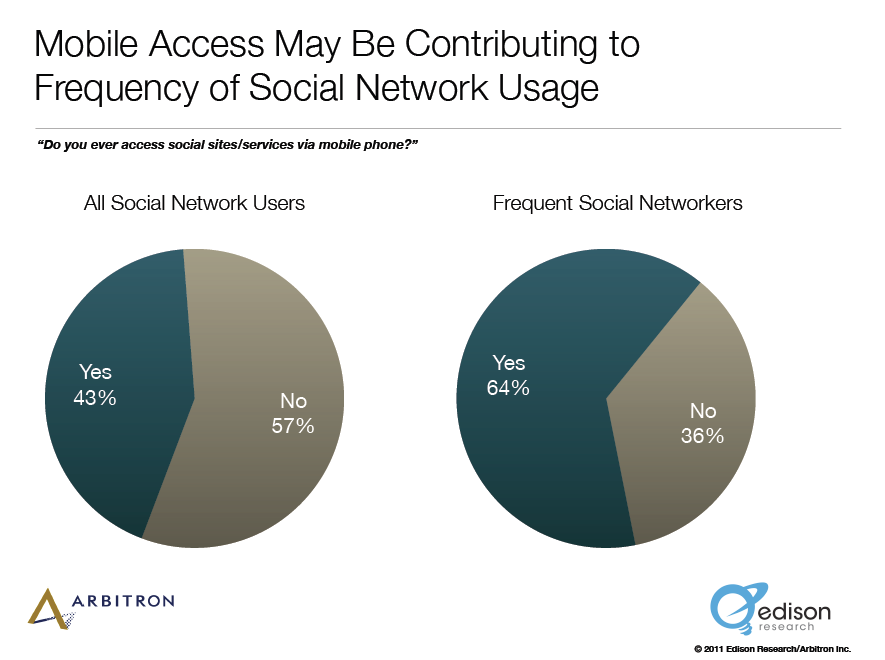 Go generate some leads!
In many ways, this research confirms what many experts have been saying, but now you can see the reasons in black and white. If you want to generate leads through social media, try blogging more frequently and growing your reach—all with an understanding of your target audience.
For some great ideas on how to generate leads through social media, refer to Debbie Hemley's article, 26 Ways to Use Social Media to Generate Leads.
What do you think? I'd love to hear what you think about this research. Leave your comments in the box below.