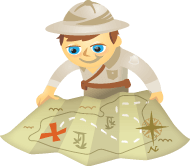 Looking for a new way to expand the reach of your Facebook page?
Wondering how collaborating with other pages can help?
Partnering with other businesses on a Facebook giveaway can help you build your fan base, while engaging your primary audience.
In this article, you'll discover how to host a Facebook loop giveaway in four easy steps.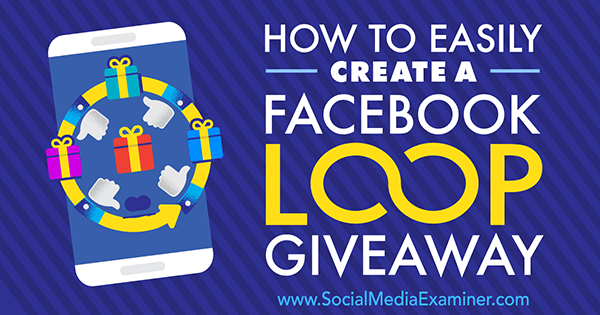 What Is a Loop Giveaway?
A loop giveaway is an interactive way to gain followers/likes and increase brand awareness on Facebook.
To create the loop, several businesses agree to host the giveaway on their Facebook pages. Each business directs their audience to a different participating page, and eventually the audience will loop back to the initial page they started on. To generate interest and excitement, each page selects a winner for a prize.
#1: Create a Plan for Your Loop Giveaway
If you want to create your own loop giveaway, consider the following factors:
Select which businesses you want to participate. Think about businesses that align with you locally or according to industry, mission, or audience size.
Choose what type of prize each page must commit to giving away. Prizes of substantial value and universal appeal do well. For example, people typically get excited over the possibility of winning a $50 Amazon gift card.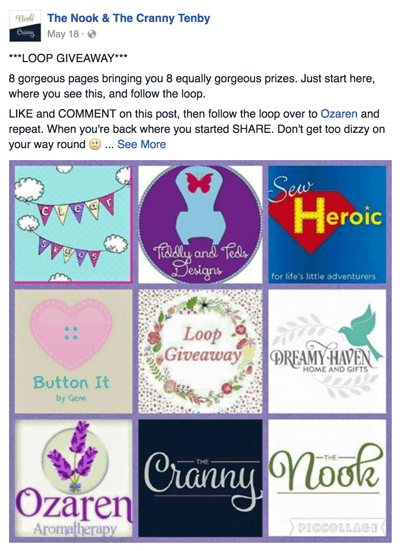 Decide when you'll run your loop giveaway. Establish a date, length of time, and clear start and end time. Three days is a good time frame, because it allows momentum to build after the first day, but ends before people lose interest in the promotion.
Keep in mind that businesses will be more likely to participate in loop giveaways with leaders who are organized and have well thought-out plans. So take some time to plan important details.
If you don't take the time to create a clear plan before approaching other businesses, you open yourself up to feedback from the other participants. (A little feedback is okay, but feedback from nine other businesses may not be.) This could ultimately delay the timing of your Facebook loop giveaway and derail the plan you created.
#2: Reach Out to Other Pages to Participate
Create an info sheet to give businesses when you reach out to them. Make sure the businesses you ask to participate align with your brand.
Ultimately, you want to ask between 7 and 10 pages to participate. That's a good number because it encourages your audience to work for the prizes, but won't take up a huge amount of their time.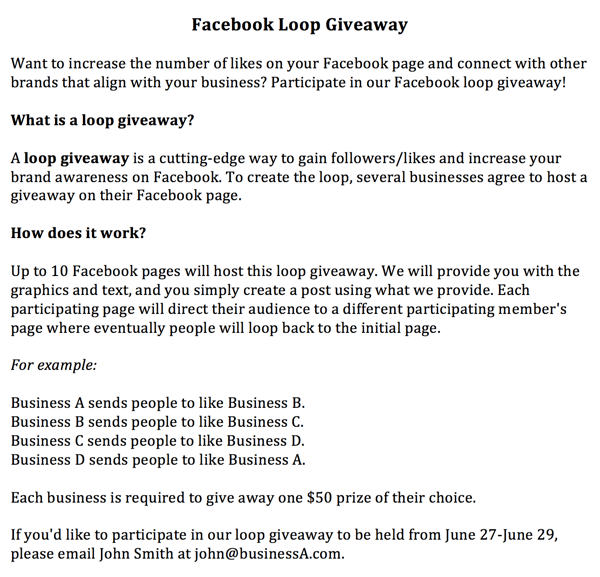 Remember that the more pages involved, the more time-consuming it will be for you as the leader of the loop. You may want to start with seven pages for your first loop and work your way up to 10 or more once you know what to expect.
By coming up with a list of pages you want to align with, you're setting the stage for the quality of your loop and beginning to build a relationship with those businesses.
#3: Provide Instructions for Participating Pages
Give every page that participates in the loop clear directions about the loop giveaway to help ensure it goes off without a hitch. Include the following information as part of your instructions:
A list of all participating pages
The order of the loop (to whom each page should link)
Information on selecting a prize with a clear minimum in value ($50 or more works well)
The text for the post and a graphic to upload with it.
How to schedule the loop giveaway post. Remember that every participant's post must go live at the same time.
Ideas for promoting the loop.
How to pick and announce a winner.
Here's an example of what you might want to include in your loop giveaway post: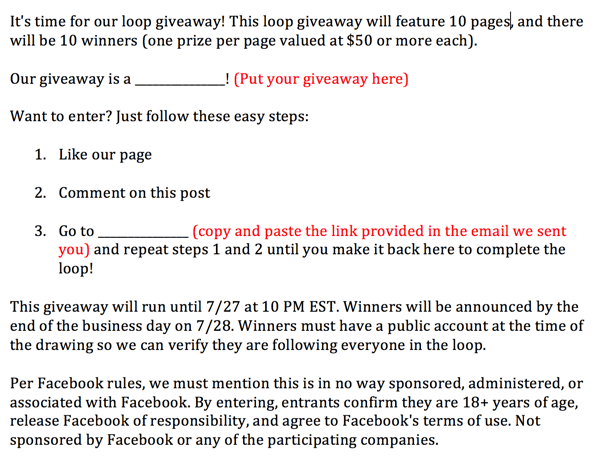 You may decide to schedule your post and send participating pages a screenshot so they know exactly how it should look.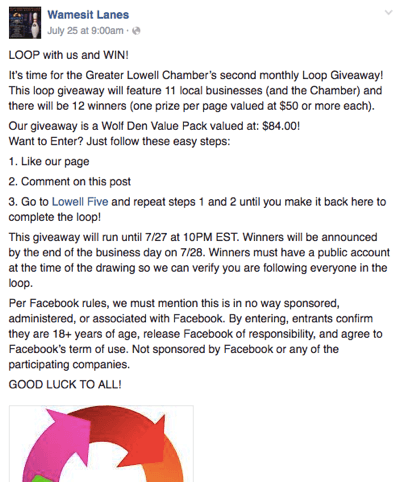 Remember that you will ask participating pages to schedule the loop post in advance and pin it once it's live. Not everyone will know how to do this, so provide easy instructions to ensure that everything is posted and pinned correctly. Here's an example of instructions for pinning a post.
Make sure you get confirmation from every participant that they've scheduled their loop post for the time you stated in the instructions. It's vital that every post goes live at the same time so the loop is continuous and unbroken.
#4: Promote the Loop Giveaway When It Goes Live
Once your loop giveaway is live, you'll want to promote it as much as possible to ensure that it's a success for everyone involved.
Cross-promote the loop on your other social media profiles, your website, and your email list:
On Twitter, tweet about the loop and mention the other participants. In this example, El Potro invites their Twitter followers to "get loopy."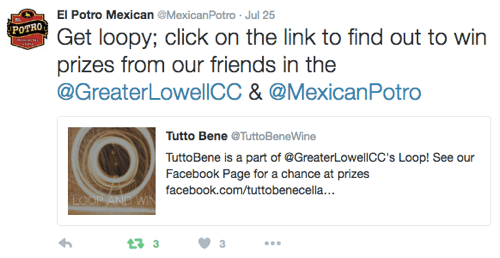 Use your LinkedIn company page and/or group as an opportunity to drive people to your Facebook page.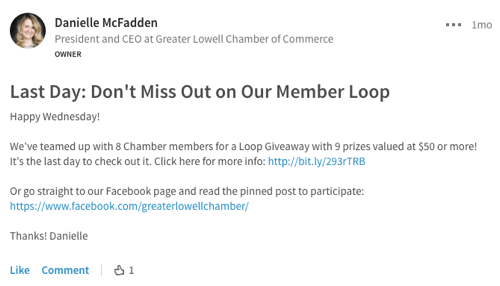 Use the graphic from your Facebook post on Instagram. Make sure you include the link to your Facebook page in your bio.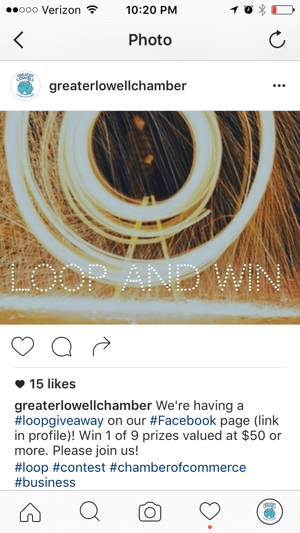 Post about it on your Facebook wall and other personal profiles. Share information about the loop and encourage your employees to do the same.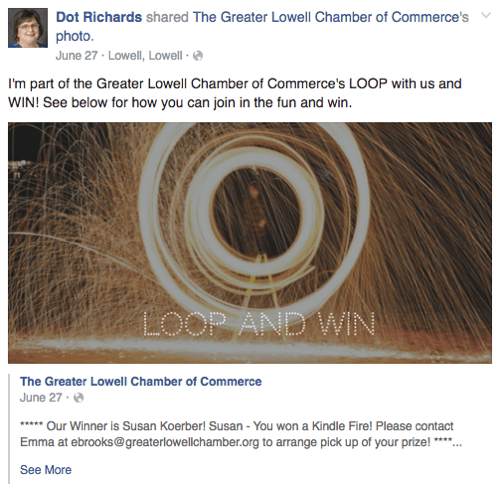 Use Facebook Live to maximize exposure. Video is extremely powerful on Facebook. Facebook rewards people using the platform by being generous with the organic reach your video will receive.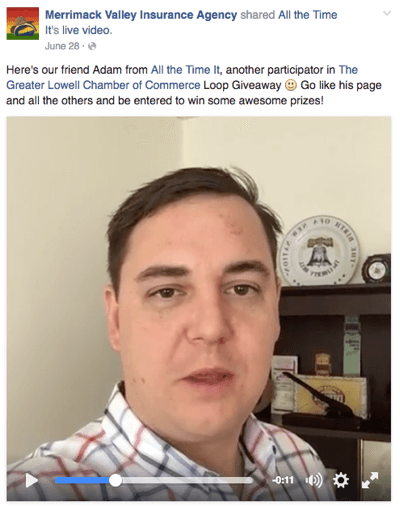 Post about the loop on the homepage of your website. If people visit your website, they're likely interested in learning more about your products and services. Capture these prospective customers by asking them to like your Facebook page.
Send out an email to your list. Use the list you've built to direct traffic to your Facebook page. Choose a subject line that creates a sense of urgency.

Remember that it's not enough to simply set and forget your loop post. Use all of the marketing tactics and opportunities available to ensure that your loop is as successful as possible!
Conclusion
Running a Facebook loop giveaway is a great way to set your business apart, create buzz, engage a new audience, and build relationships with other businesses on Facebook. A loop is something that you can easily replicate on a consistent basis, allowing you to add a regular promotion to your social media marketing.
What do you think? Have you run a loop giveaway for your Facebook page? What were the results? What tips can you offer? Please share your thoughts in the comments below.