Wondering how the mechanics of free mints work? Are you looking to add gamification to your NFT project?
In this article, you'll discover business lessons from the Killabears NFT project.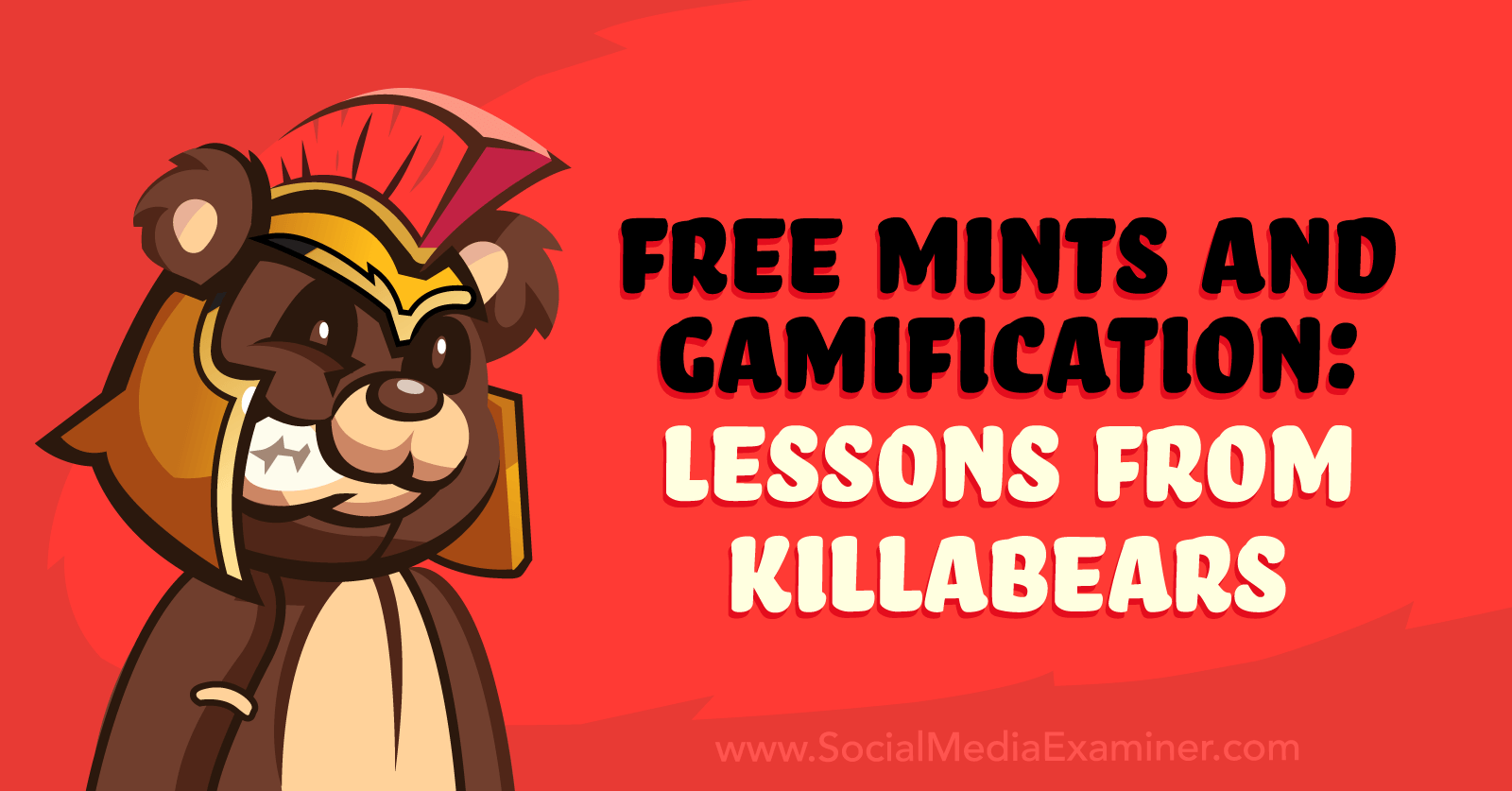 NFTs for Business: The Opportunities Beyond PFPs
It's not a stretch to say that some of the most recognized NFT projects are profile picture (PFP)-based—NFTs that are designed to be used as a holder's profile picture on social media.
While these types of projects were successful, conditions have changed. The space is saturated with PFP projects and gaining enough traction to sustain a business is increasingly difficult.
But for entrepreneurs who have deep experience with business and building digital products, there's a wide margin of opportunity to leverage the blockchain for business and profit.
The Umbrella Games team recognized this opening and decided to fill it with an entertainment company that followed in the footsteps of Angry Birds but in Web3.
#1: The Killabears Timeline
In November 2021, Ben Cohen, Bean Magnus, and Mikael Tyrsen decided to create the global Web3 entertainment brand now known as Killabears. The team partnered with illustrator Memo Angeles and on April 13, 2022, the animated 3,333-piece genesis Killabears collection launched.

In July, the team airdropped a Killabits NFT to each Killabear holder—a full-body, pixelated version of their Killabear.

From there, the team introduced short-term staking and rewarded participants with weapons that could be equipped to their Killabit.
Most recently, the 8,888-piece Killacubs collection launched and minted out. Those NFTs are currently in an eight-phase incubation period and will emerge soon.

The project has well-developed characters, a storyline with rich lore, and now sells merch as well as other products. What's next for Killabears? There's discussion about a film, a toy line, and more.
Killabears is well on its way to realizing the vision of its founders.
#2: The Killabears Free Mint
The Killabears mint wasn't supposed to be free. The original plan was to mint to the whitelist at .05 ETH and then to the public at .08 ETH
But on launch day, a couple of things happened.
First, the launch was set to execute at what's now recognized as the point during which people's interest in NFTs began to wane due to a glut of rug pulls and bad actors in the space.
Second, gas fees were particularly high on April 13, 2022, and ETH was more than $3K. When the launch opened, approximately 75 NFTs were sold and everything went silent.
The team took stock of their situation. They didn't need a full treasury of ETH to operate because they already had a functioning business in Umbrella Games and they'd already built out most of the project's roadmap. What they did need was community.
So they announced the world's first-ever free mint and unintentionally created an incredible amount of demand.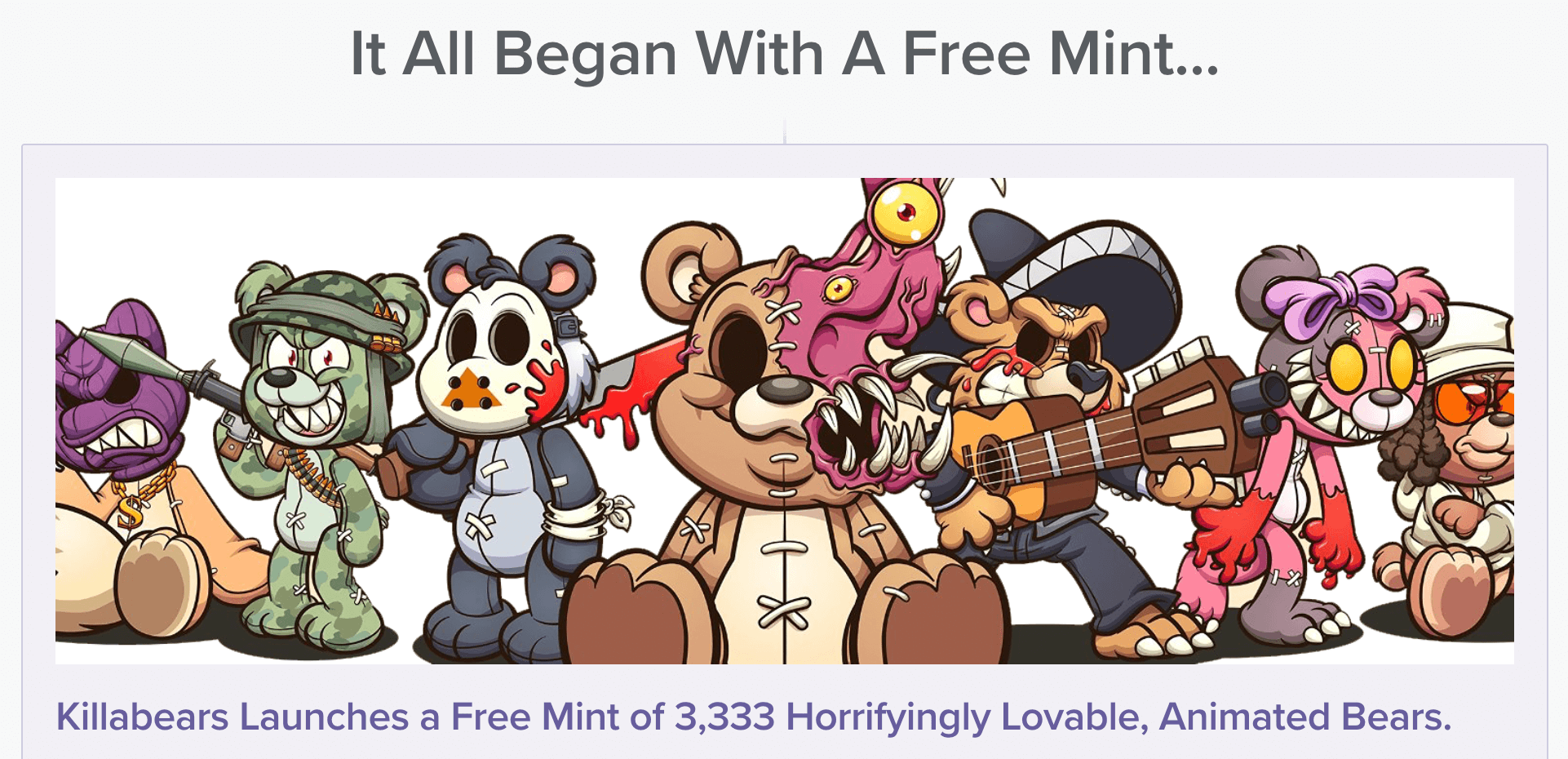 Word spread like wildfire. In about an hour, tens of thousands of people joined the Killabears Discord server to get on the whitelist. After hours of manually pasting wallet addresses to the whitelist, the team made the call to take the mint public.
Killabears minted out and that opened up a very active secondary market in which people who were really interested in the Killaverse could buy a Killabear and join the community.
The floor price reached .2 ETH in those first few days and continues to be one of the few PFP projects to sustain value. At the time of this writing, the floor price is 1.35 ETH.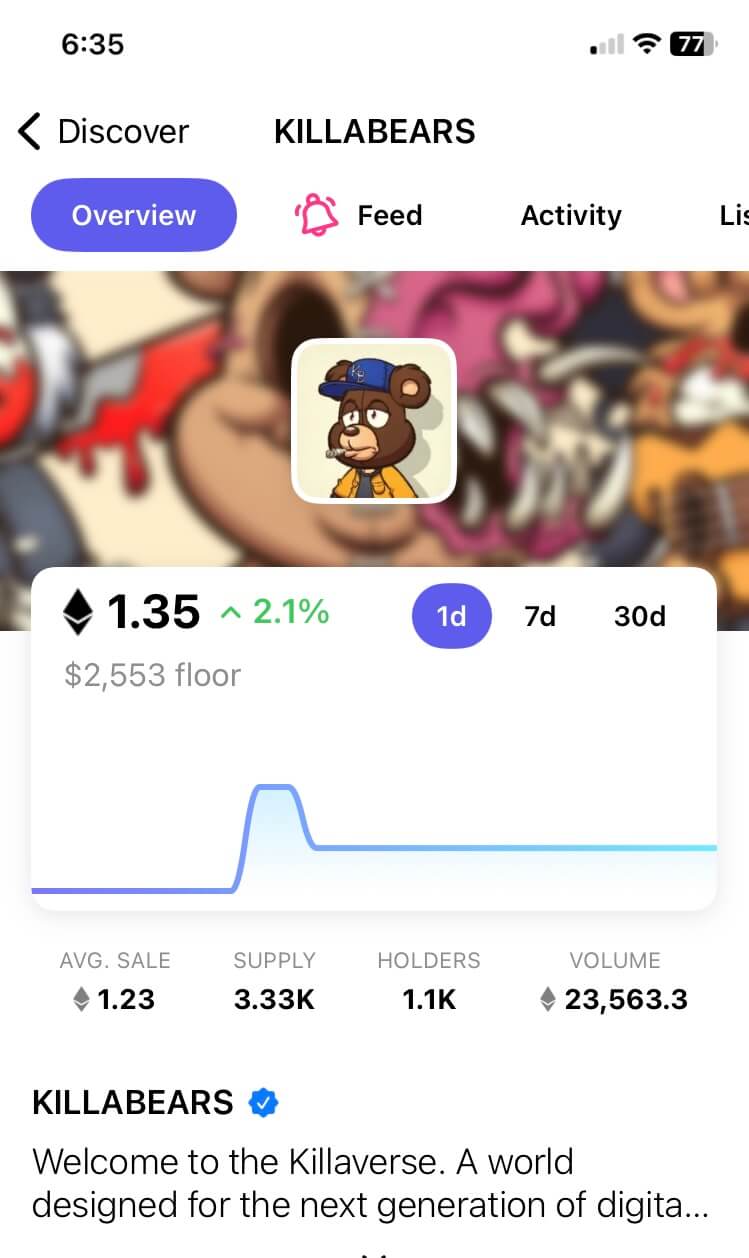 Could the Killabears playbook work for you? Co-founder Ben Cohen believes it can if you have the right people and the right messaging in place, and the right product to deliver once you have your community built.
Killabears had a well–thought-out roadmap and they were transparent about who they were and what they wanted to accomplish. Although the plan deviated from its original form, the decisions the team made along the way were thoughtful and communicated openly to the public.
#3: How to Retain Your NFT Community Members After a Free Mint
Once you have your community, it's your job to retain people and keep them engaged.
Talk With and Listen to Your Community
Community. The term has become a buzzword. A lot of people talk about community and being community-first projects but they don't actually practice it.
Killabears actually is community-first.
The team has an ongoing conversation with the community at large, groups of holders, and individual holders.
They actively participate in the community, asking for and listening to feedback to learn how to improve things for their holders.
Reward Your Holders
Value to holders isn't solely about floor price.
Yes, people in your community are investing their time and ETH in your collection and you must try your best to preserve that investment. But other rewards related to your project are just as important.
For example, Killabears is an entertainment company. The team delivers one or two videos each week with a storyline that deepens the lore of the Killaverse.
Holders also have a dashboard that lets them access their NFTs to make and export banners, digital art, and video.
Each of these is a piece of value given back to the community so it can experience innovation in Web3 alongside the guys who run Killabears.
Balance Your Tokenomics
First, what the heck is tokenomics? At a high level, tokenomics refers to a collection's supply and the utility derived by its holders.
The Killabears team doesn't take the math behind its NFT collections lightly. In addition to their internal efforts, they've partnered with people outside the company to help them ensure anything they release or launch doesn't negatively impact the collection's value.
Whether the team releases a new companion collection or utility (such as rewards for staking), the initiative must fit smoothly within the existing ecosystem.
#4: The Killaverse and Gamification
People buy into an NFT project for various reasons.
Some people join for the community and don't care about the floor price of the project's NFT, while some are flippers or traders who want to make money.
Some people are passive holders who joined the community because they believe in what the project is doing, and others are aggressive holders who feverishly wait for notifications on every new announcement.
Killabears recognized that each of these holder types had different motivations for being in their community and that experiences weren't going to be enjoyed in the same way across the board.
So they gamified engagement and the release of new NFT collections in an ecosystem called the Killaverse. Holders earn rewards when they complete actions while moving through a storyline.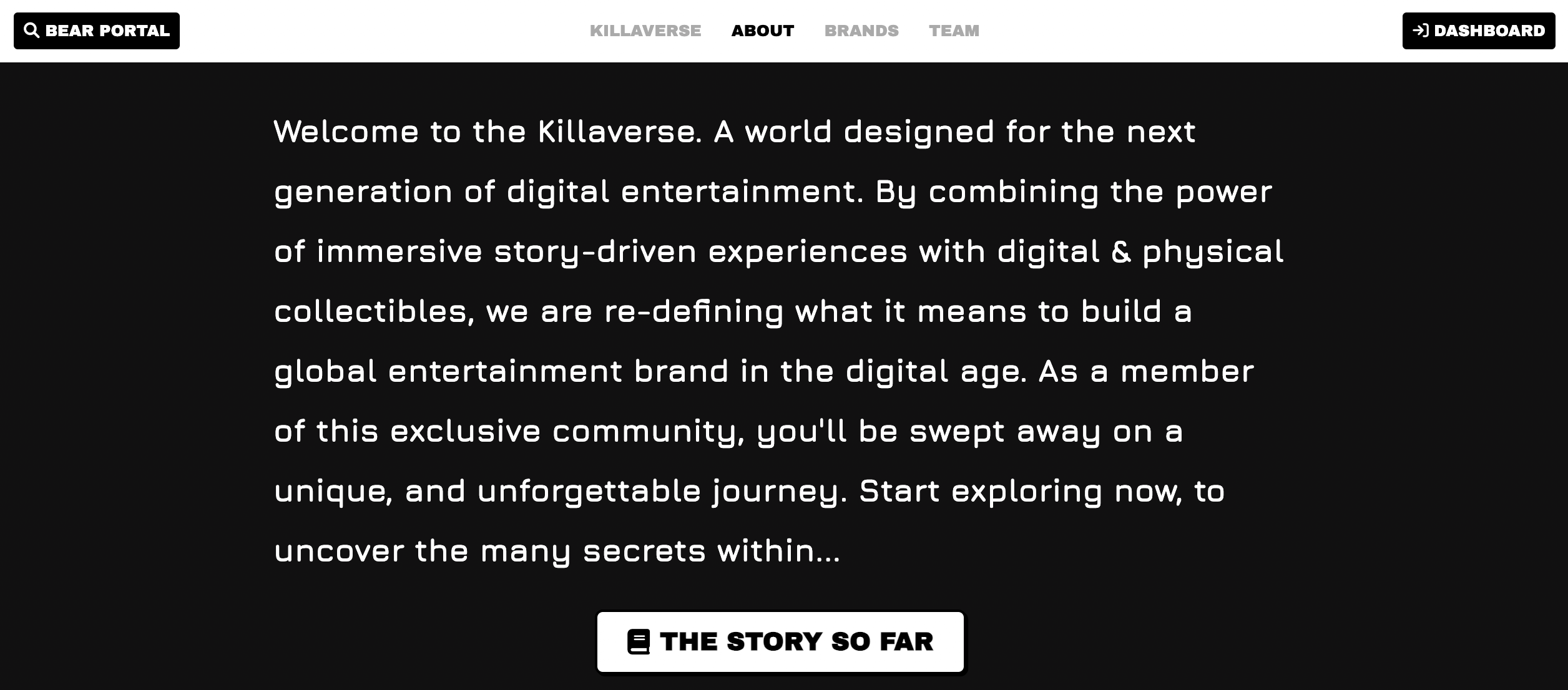 Each holder has access to all of the pieces but how they play is up to them. Some holders just enjoy the fun and others dig in and try to complete every challenge.
For example, in September 2022, all holders were invited to participate in a story-driven stake in the Killaverse's Kilton Hotel. The only requirement was that you had to hold and stake both a Killabear and a Killabit.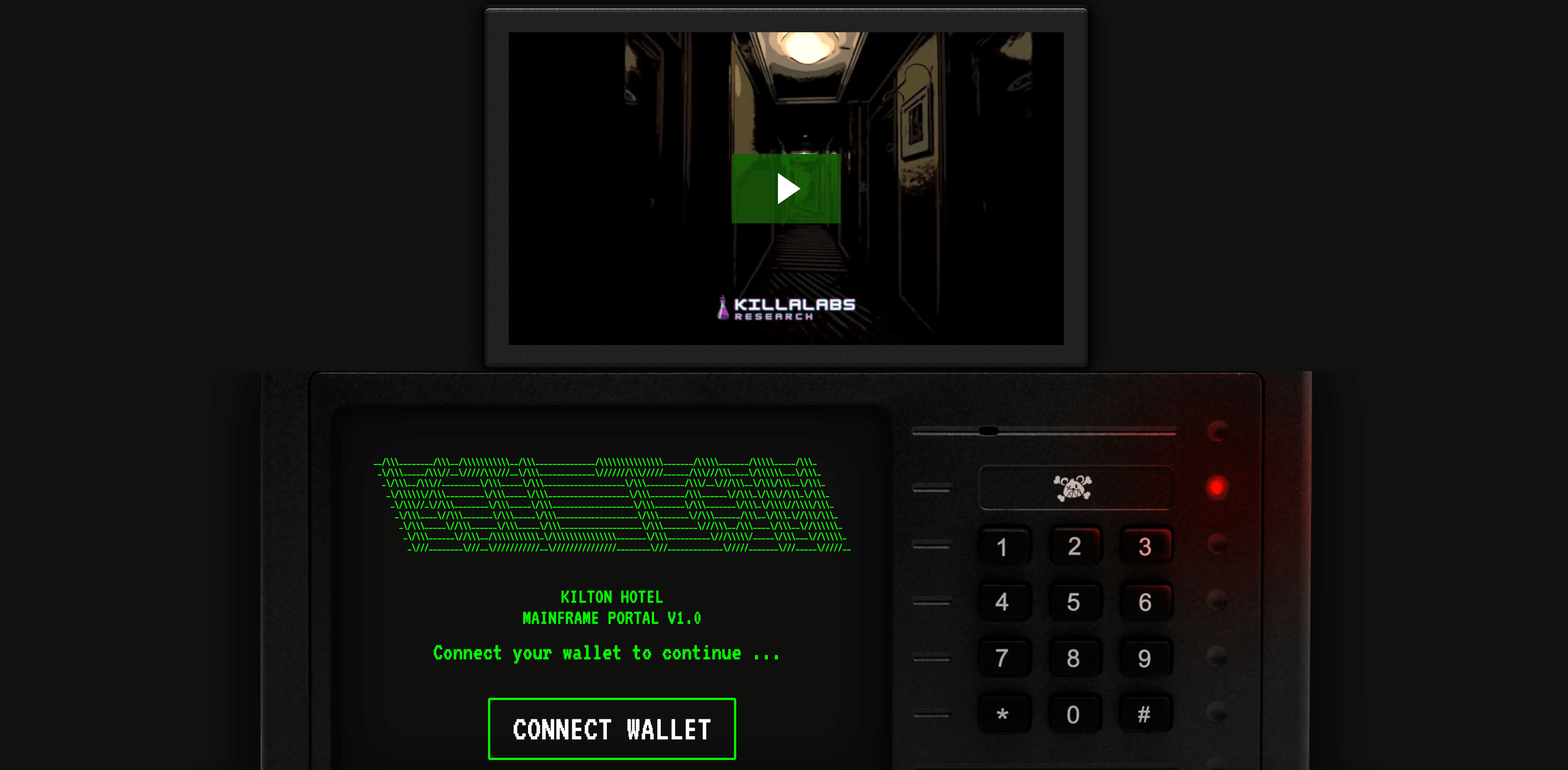 After staking, you spend 1 day in quarantine, and the next day, you're at a bar having a drink. In the drink is a psychedelic substance and you suddenly find yourself in a forest… The story arc continues to build for 30 days.
At the end of 30 days, staking holders were rewarded with 1 of 12 types of Killagear NFT; some were common and some were rare.
Holders could participate in the next staking experience, a 45-day storyline, by staking a Killabear and Killabit, or by staking a Killabear and a Killabit equipped with the Killagear. Participants could also burn certain combinations of weapons to receive a super weapon.
Depending on what holders chose to stake and burn, they received different rewards. The upshot for Killabears is that they were able to introduce new tokens to their community in a way that preserved the value of the collections.
Other Notes From This Episode
Where to subscribe: Apple Podcast | Google Podcasts | Spotify | Amazon Music | RSS
✋🏽 If you enjoyed this episode of the Web3 Business Podcast, please head over to Apple Podcasts, leave a rating, write a review, and subscribe.
Disclaimer: The information provided on this website is provided solely for educational purposes and does not constitute any advice, including but not limited to, investment advice, trading advice or financial advice, and you should not treat any of the website's content as such. Social Media Examiner recommends that you independently research any information contained on this Website and that you speak with an investment professional before making any decision to purchase, trade, hold or sell cryptocurrency. Nothing herein should be treated as a recommendation to buy, sell or hold cryptocurrency. Social Media Examiner cannot guarantee the accuracy of any information listed on the website and is not responsible for any missing or wrong information. All information is provided as is and should be used at your own risk. Social Media Examiner disclaims all responsibility and liability for your use of any information found on the website.