Want to nurture a trusted community among your NFT holders? Wondering how to set up an ecosystem that creates loyalty and empowers members to engage with each other?
In this article, you'll discover a community development framework for Web3 projects.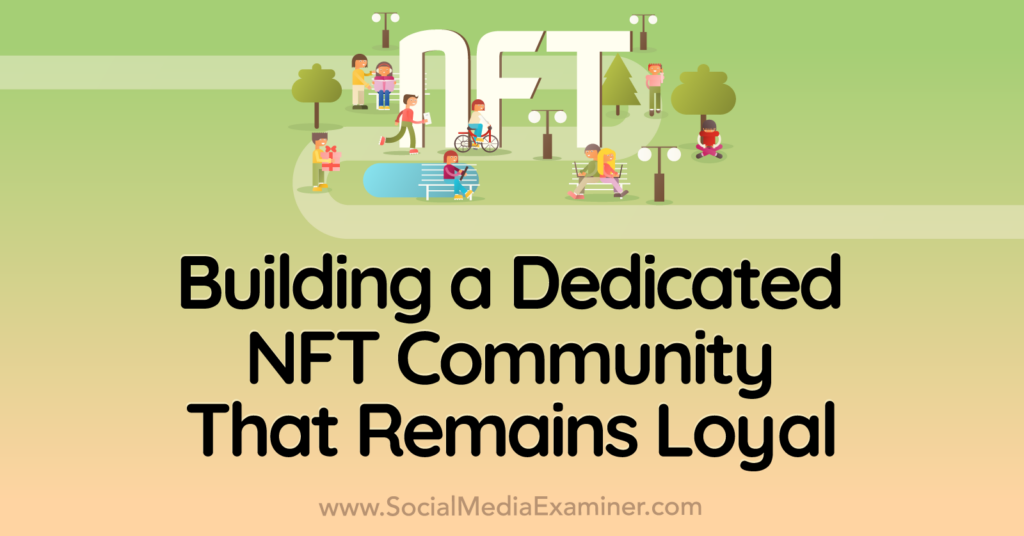 Building a Dedicated NFT Community That Remains Loyal
Want to nurture a trusted community of your NFT holders? Wondering how to set up an ecosystem that creates loyalty and empowers members to engage with each other?
In this article, you'll discover a community development framework for Web3 projects.
Why Is the Role of Community Development Critical in Web3?
In general, if you ask someone why they're in Web3, you'll learn that they're typically fans of one of two things: either the pseudonymous, decentralized nature of the blockchain or the ability to build community.
Community… if you've been paying attention to Web3 for any length of time, you've heard the idea touted over and over. It's become a bit of a buzzword but that doesn't make the role of community any less vital to a Web3 project's success.
Here's a simplified explanation of what community is in Web3.
Web3 technology, which makes use of NFTs and the blockchain, lets you establish strong and significant connections with your most loyal fans, your best customers, or people who share your interests, without being constrained to Web2's walled gardens.
In turn, those people can be rewarded for their loyalty and contributions through benefits and an enhanced level of access to the NFT project, the creator or founder, and/or the brand.
Together, the project and its fans create a community that becomes a flywheel from which both sides benefit from NFTs as a technology and a product.
If you're a fan of Nike and you buy a lot of merchandise from their website, they'll have data that indicates you're a top customer. But if you buy your merch from a third-party retailer, Nike won't necessarily know about those purchases.
Now, if the sneakers you buy are digitally linked to an NFT, Nike can reward you for your loyalty in ways that haven't been possible in the past, regardless of where you shop. For example, Nike could reward every person who buys a pair of shoes from an NFT-linked LeBron sneaker line by giving holders of that NFT early access to tickets for a Lakers game.
Does that make you want to spend more money? Maybe. Does that make you want to remain a loyal customer? Of course it does. Because Nike is rewarding you for being a member of its community.
That's why community development—the ability to build relationships and visibility with your loyal followers—is at the heart of the promise of Web3 technology for both consumers/fans and brands/creators.
Community moderation is the key to taking advantage of the potential of that promise because it gives you a mechanism to identify and build relationships with the exact people you're interested in.
How to Build and Moderate a Lasting Web3 Community
To succeed, community has to be built deliberately. Here's how one of the most successful Web3 communities, Zen Academy, has led the way…
#1: Articulate Why You Exist
Before you talk about what you're building and invite people to join you, you have to understand why you're in Web3 so you can act accordingly.
Some projects exist to make money and others to provide entertainment.
Zen Academy exists to educate and onboard people into Web3.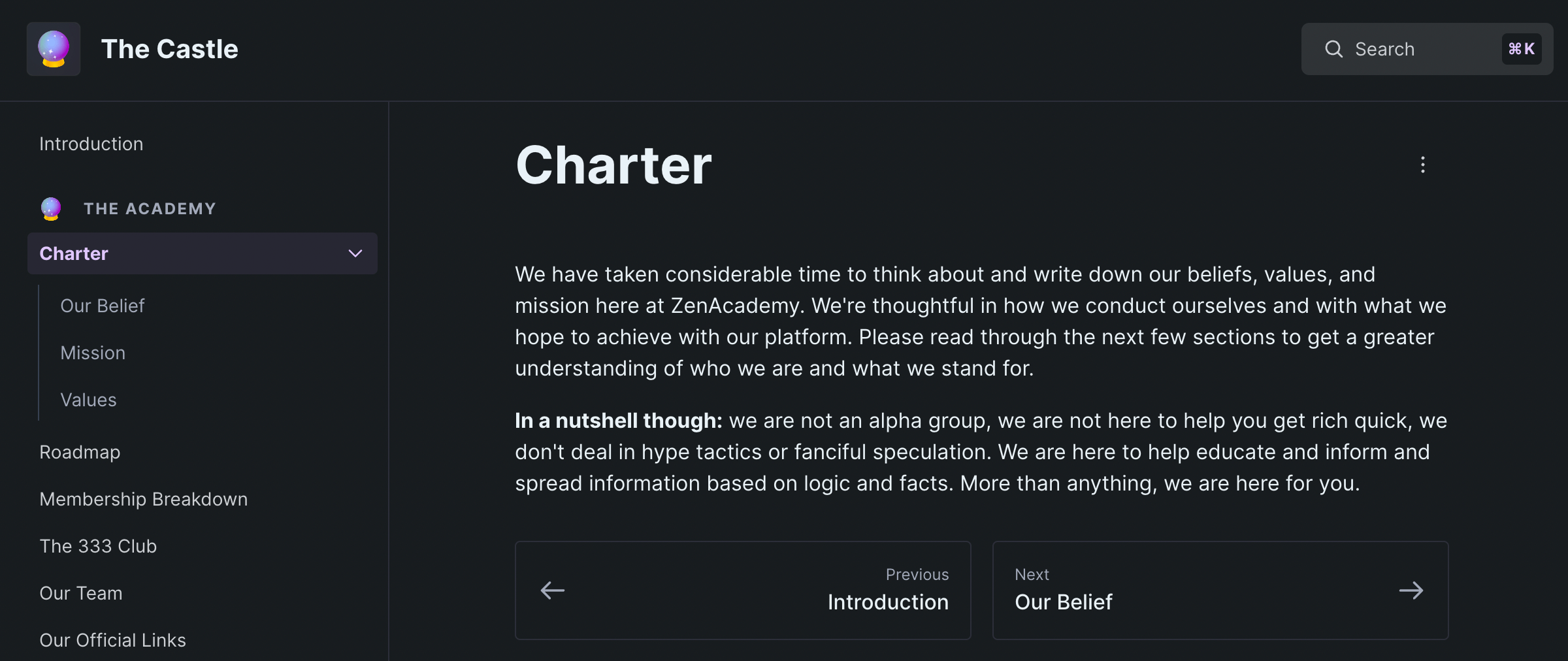 #2: Select Community Members Carefully
Once your why is clear, don't throw the doors open and accept everyone who expresses interest. This is where cultivation comes into the picture.
Who do you want your first community members to be? Be selective and find a way to choose people who embody the persona and values of the organization you're trying to create.
From that solid foundation, you can build out to your next 100 or 1,000 members, and so on.
Ensure that your core community is aligned with your values and those members will tend to attract people who are like-minded.
Zeneca famously vetted more than 1,500 applicants to handpick 333 members of Zen Academy's core community, The 333 Club.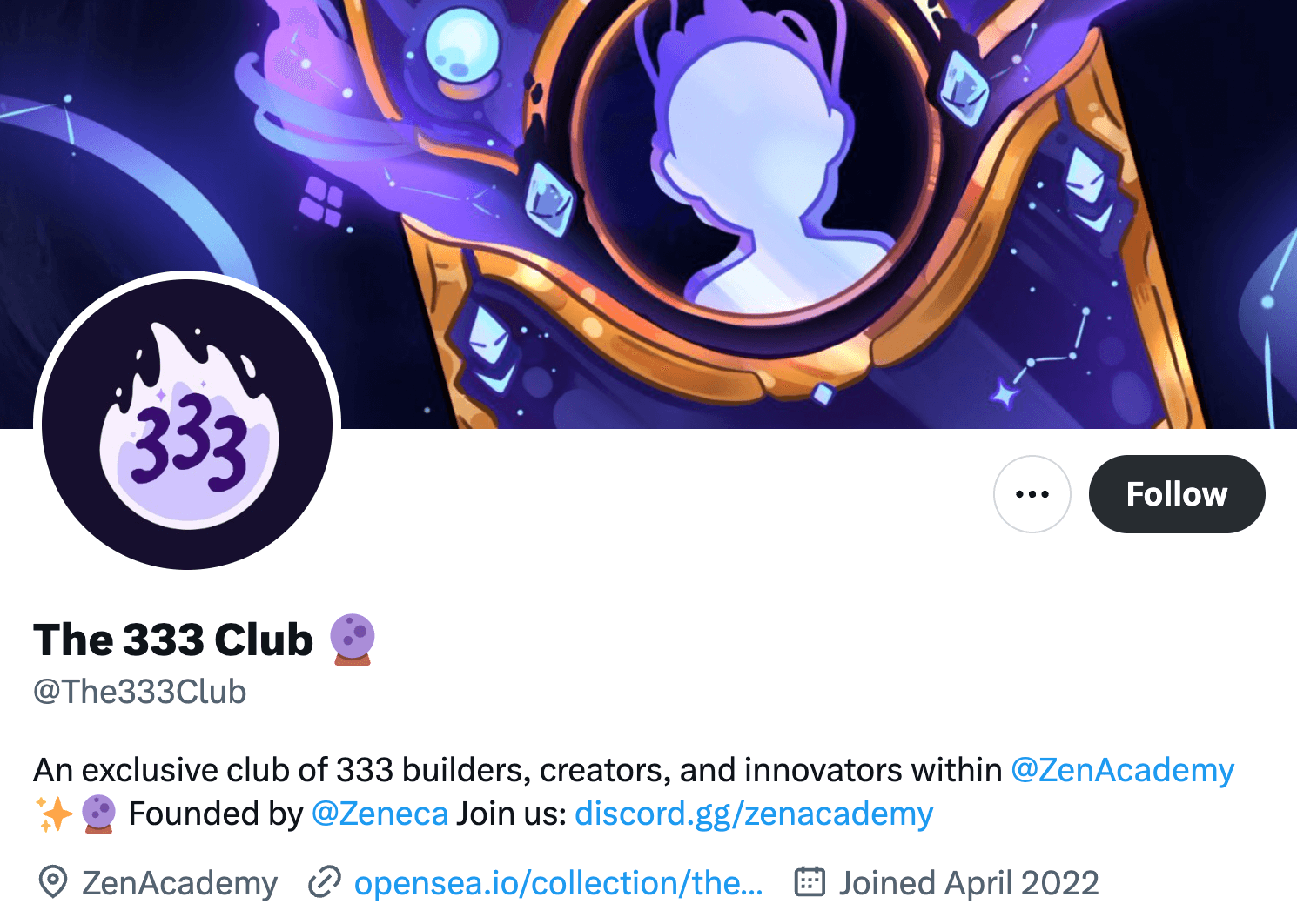 The community now has over 22,000 members and has grown into a self-correcting, self-nurturing ecosystem in which deep member-to-member relationships have developed.
#3: Prioritize Community Engagement
As you onboard more people, those people will follow you on Twitter and join your Discord. That's all well and good but you have to continue to give them a reason to return. You have to deliver value.
That value can take the form of financial rewards, gated content, exclusive experiences, and more.
For Zen Academy, that value is delivered every time Zeneca engages in Discord or the community comes together for a movie night or trivia event. The deeper value, however, is given by helping members find their like-minded counterparts—the people who'll become future friends, investors, and co-founders.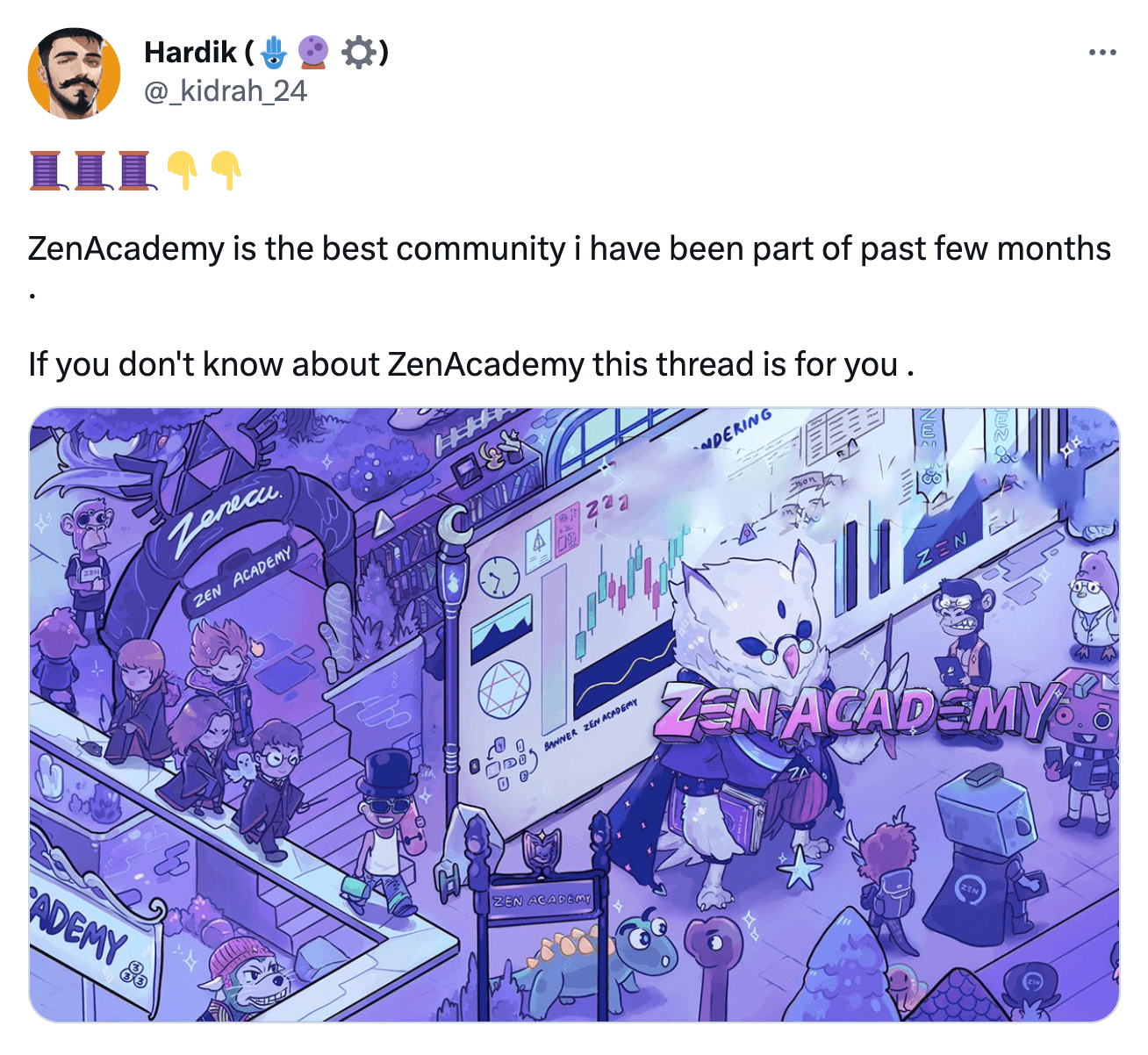 If a community member is looking for a professional services provider such as an attorney, a tool that will let them create education courses, or even a co-founder, the team will connect them with trusted sources.
To know who to connect with who, Zen Academy's moderation team spends many hours conversing with members, and per Praetor's advice, asking one more question than they're naturally inclined to ask.
This approach, multiplied by the 10-person mod team, multiplied by the hours they spend in Discord, multiplied by the number of people in the community every day helps the team scale the results so the benefits are amplified to all members.
#4: Elevate Exceptional Community Members
Strong, successful NFT communities lift their members up and helps them achieve more than they ever could on their own.
When a person comes into Zen Academy, the team helps that person to develop. Then that person is empowered to spread that growth and continue to do good things.
For example, valuable and trusted members of the community who have proven themselves in a particular area of expertise are given a dedicated Discord channel from which they can teach others to be proficient in that same area.
Some members who exhibit a strong history of being particularly helpful and demonstrating Zen Academy values have been invited to the ambassador program—a group that works closely with the moderators to brainstorm ideas, identify solutions to challenges, and gauge responses to controversial issues.
To reward ambassadors for their loyalty and recognize the impact they've had on Zen Academy, they're given a vanity role within the Discord server that elevates their presence.
#5: Model Transparency in Your Communications and Decision-Making
Whether your community is small or large, it's important to communicate your values consistently and transparently and behave according to those values.
Transparency is sometimes hard to come by in the NFT space. It's not easy to know who has investments or interests in which projects. Zen Academy spends a lot of time talking about other projects and people so the team tackles this issue head-on.
Zen Academy was one of the first projects, if not the first, to publicly launch an ethical trading policy to govern how its team members can trade their own NFTs.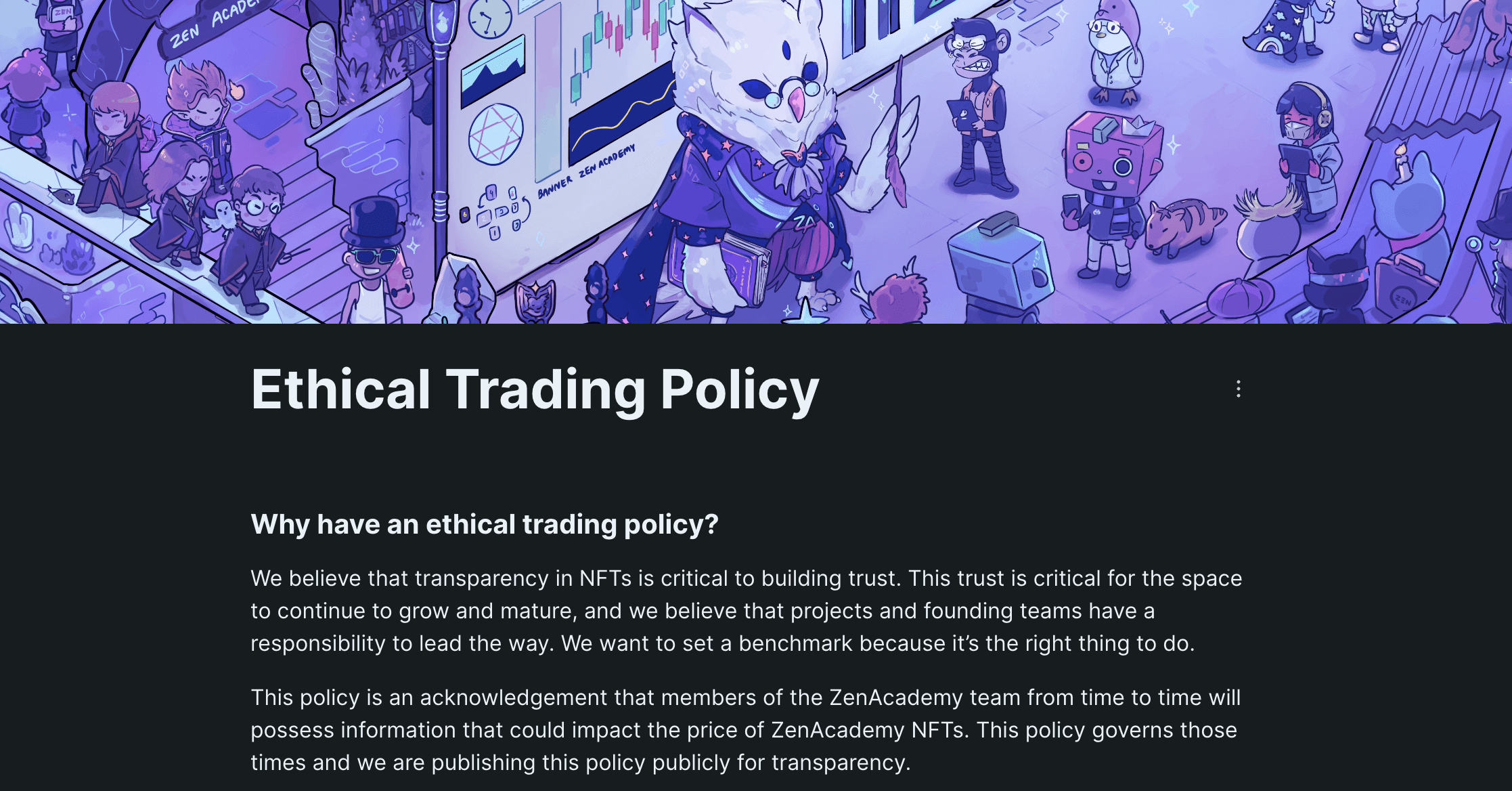 Additionally, Zeneca's wallets are public and the team provides open communication about every project that Zeneca has a stake in regardless of whether that's as an advisor or an investor.
This is easy when things are going well. When things aren't going well, it's difficult but more important. The key is to demonstrate that you've acted with good intentions and according to your established values, and then address disagreements openly in civil debate.
When Zen Academy members don't agree with investments that were made or there's a delayed delivery on something that was promised to the community, the team and Zeneca make themselves available to explain why certain decisions were made and answer questions.
The benefit of this open and candid communication is that when the team does have bad news, they've experienced nothing but an outpouring of support and gratitude for that transparency.
How to Model Zen Academy's Content Scaling Strategy
Content from Zeneca is where Zen Academy began and content remains at the heart of everything.
But Zeneca only has so many hours in a day; he's the unscalable component.
To scale the unscalable and multiply the number of places in which Zen Academy is visible, the team combines traditional content strategies with giving people from within the community a platform to contribute in whatever way they're best suited. Speaking during Zen Academy's Twitter spaces or going to live events that intersect with their domain expertise, for example.
It's a win for all concerned, for the Zen Academy community, team, company, and project, and those individual members who are putting that content out there.
Other Notes From This Episode
Where to subscribe: Apple Podcast | Google Podcasts | Spotify | Amazon Music | RSS
✋🏽 If you enjoyed this episode of the Web3 Business Podcast, please head over to Apple Podcasts, leave a rating, write a review, and subscribe.
Disclaimer: The information provided on this website is provided solely for educational purposes and does not constitute any advice, including but not limited to, investment advice, trading advice or financial advice, and you should not treat any of the website's content as such. Social Media Examiner recommends that you independently research any information contained on this Website and that you speak with an investment professional before making any decision to purchase, trade, hold or sell cryptocurrency. Nothing herein should be treated as a recommendation to buy, sell or hold cryptocurrency. Social Media Examiner cannot guarantee the accuracy of any information listed on the website and is not responsible for any missing or wrong information. All information is provided as is and should be used at your own risk. Social Media Examiner disclaims all responsibility and liability for your use of any information found on the website.