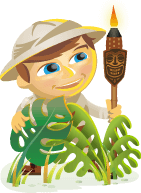 Do you want to grow a massive Facebook following?
Are you wondering how an organic Facebook strategy can be successful?
To learn how to grow a huge organic following on Facebook using techniques you have likely never heard of, I interview Holly Homer for this episode of the Social Media Marketing podcast.
More About This Show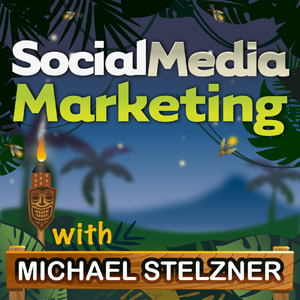 The Social Media Marketing podcast is a show from Social Media Examiner.
It's designed to help busy marketers and business owners discover what works with social media marketing.
The show format is on-demand talk radio (also known as podcasting).
In this episode, I interview Holly Homer of KidsActivitiesBlog.com to find out how her Facebook page fan base grew from 7,000 fans to more than 530,000 fans in only 8 months without using Facebook advertising or crazy gimmicks.
Holly shares how beginners can develop their own Facebook strategy.
You'll discover the unfortunate circumstance that jumpstarted Holly's success.
Share your feedback, read the show notes and get the links mentioned in this episode below!
Listen Now
Where to subscribe: Apple Podcasts | Google Podcasts | Spotify | YouTube Music | YouTube | Amazon Music | RSS
Here are some of the things you'll discover in this show:
Customer Service
Where the Quirky Momma Facebook page started
Holly shares that she and her blogging partner Rachel had started the Quirky Momma Facebook page several years ago. While the page was mildly successful, it wasn't driving any traffic.
Even though the page had shown prior growth, it had been sitting at 10K-13K fans for 18 months. In early October 2013, Rachel set a goal of getting to 50K fans by Christmas to support the spring launch of their book, 101 Kids Activities That Are the Bestest, Funnest Ever!, and started to post to the page more frequently.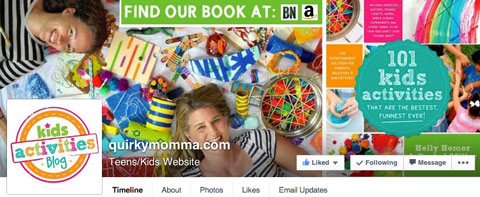 She says they noticed that a competing Facebook page with a huge audience was posting content from the Kids Activities Blog without providing a link back or attribution—the page was even cropping the watermarks from Holly's images and posting them with the updates.
When she looked closer, Holly found that the updates from this page posting her stolen content were getting up to 9,000 shares each.
Listen to the show to hear why this was a turning point for their Facebook content strategy.
How they changed the approach to managing the Quirky Momma Facebook page
Holly says seeing the viral impact of their stolen images made them go back and find the top 50 posts on their blog. They concentrated on only sharing posts that were already doing well on other social media sites like Pinterest—posts that had viral potential.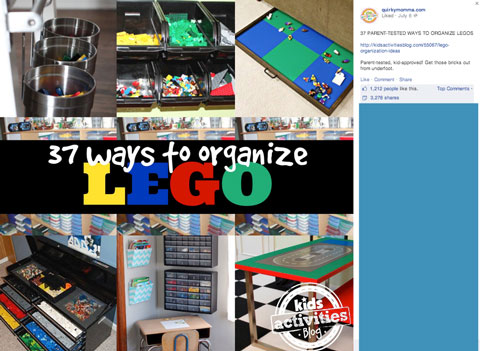 She says that they were only sharing a few times a day and sharing mostly their own stuff because that's what they knew best. As the page grew, they realized they could help other people and started to find other really cool content to fit in with their own Facebook posts.
Listen to the show to find out how Holly and Rachel used Facebook Insights to develop a successful content formatting strategy.
What directs Quirky Momma's high-level strategy
Holly explains that there are two things in Facebook Insights that are really important to a Facebook strategy: the People Talking About This number and reach.
She laughingly says that to get a good People Talking About This number, you need people to talk about you. She explains that this means you need engagement like people commenting on, liking and sharing your updates.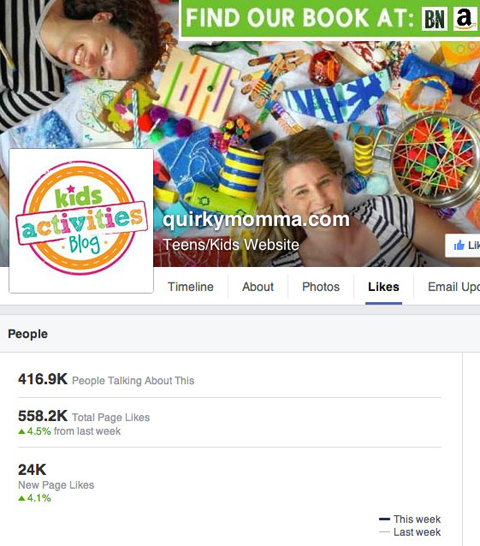 Listen to the show to find out why Holly believes understanding reach is at the root of success on Facebook.
What makes up Quirky Momma's content mix
With their main goal being to drive traffic to the Kids Activities Blog, Holly and Rachel focus on sharing amazing things to do with your kids.
Holly explains that she and Rachel post to the page 26 times a day as part of a 24-hour posting strategy. Each day, they work from a posting framework and try to keep the posting ratio at 1/3 owned content to 2/3 content from other sources.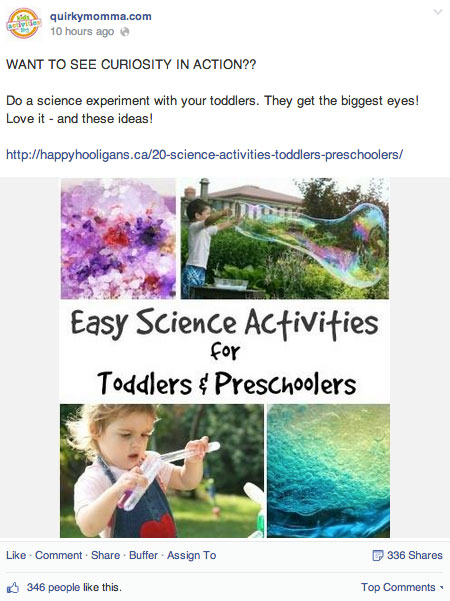 She says that in addition to the article links, the page posts three questions a day sourced from messages people send to the page. Holly says they let their fans answer the questions to drive engagement.
Listen to the show to discover how Holly decides which content to post each day.
How Quirky Momma's posting frequency evolved
Holly says that in the beginning they posted twice a day. Then, based on their own metrics, they began to add more posts each day.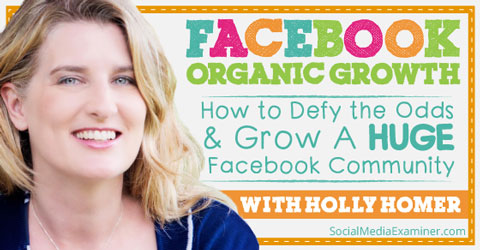 She explains that while 26 times a day seems like a lot of posts, the thing to remember is that Facebook isn't showing 100% of her posts to 100% of her fans. She says her average Facebook fan probably sees 3 to 4 of her posts a day.
Holly shares that they patterned their frequency after Pinterest, where a lot of their fans also spend time and didn't seem to mind a barrage of beautiful photos coming at them. She says that's the key. When you share high-quality stuff from your niche, your fans will want more of that.
She talks about how she decides to create images for third-party articles shared on the Facebook page.
Listen to the show to find out how Quirky Momma responds to fans who message them to say the page posts too much.
Discovery of the Week
I've recently discovered a really cool two-part tip for taking selfies with your iPhone. Even if you don't take selfies, you likely take a lot of pictures with your smartphone.
First, did you know you can use either the + or – volume control on the side of your iPhone just like you would the button on top of your camera? Press either button and you'll take a picture with your phone.
H/T to Mari Smith who shared the second part of this tip with me at a recent conference. You can also use volume control on the headset that comes with your iPhone to take pictures!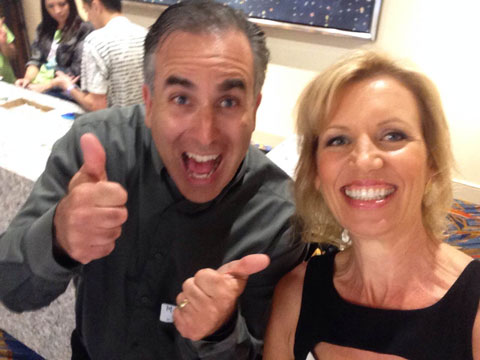 The headset hangs off of your phone similar to an old-fashioned camera, so you can have your hand below the camera. Just click the volume control on the cord to take killer pictures without having your arm stretched out in the photo at an awkward angle.
Check it out and let me know how it works for you.
Listen to the show to learn more and let us know how this works for you.
Other Show Mentions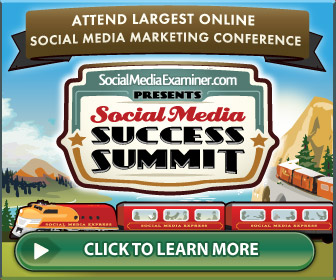 Today's show is sponsored by Social Media Success Summit 2014.
This is our largest online event. It's completely online, so no travel involved. There will be three sessions each day spread over an entire month. Each day has a theme.
These are some of the sessions we have lined up: Social Media Strategy, Google+ Marketing, LinkedIn Marketing, Twitter Marketing, Blogging, Pinterest Marketing, Podcasting, Video Marketing, Content Marketing, Instagram Marketing, Social Analytics, plus lots more.
We have handpicked the best experts in the world to teach you all about how to market on all of these various channels.
If you want to learn more, visit here where you can check out all of the speakers and the agenda. Make sure you grab your ticket before the price goes up. We've got a lot of earlybird sales going on right now.
Key takeaways mentioned in this episode:
Ways to subscribe to the Social Media Marketing podcast:

What do you think? Have you built a strong Facebook community? What are your thoughts on delivering great customer service? Please leave your comments below.