Curious about the benefits of decentralized social media? Wondering what tools and protocols to keep an eye on?
In this article, you'll explore decentralized social media and learn how the Farcaster protocol and Warpcast app work.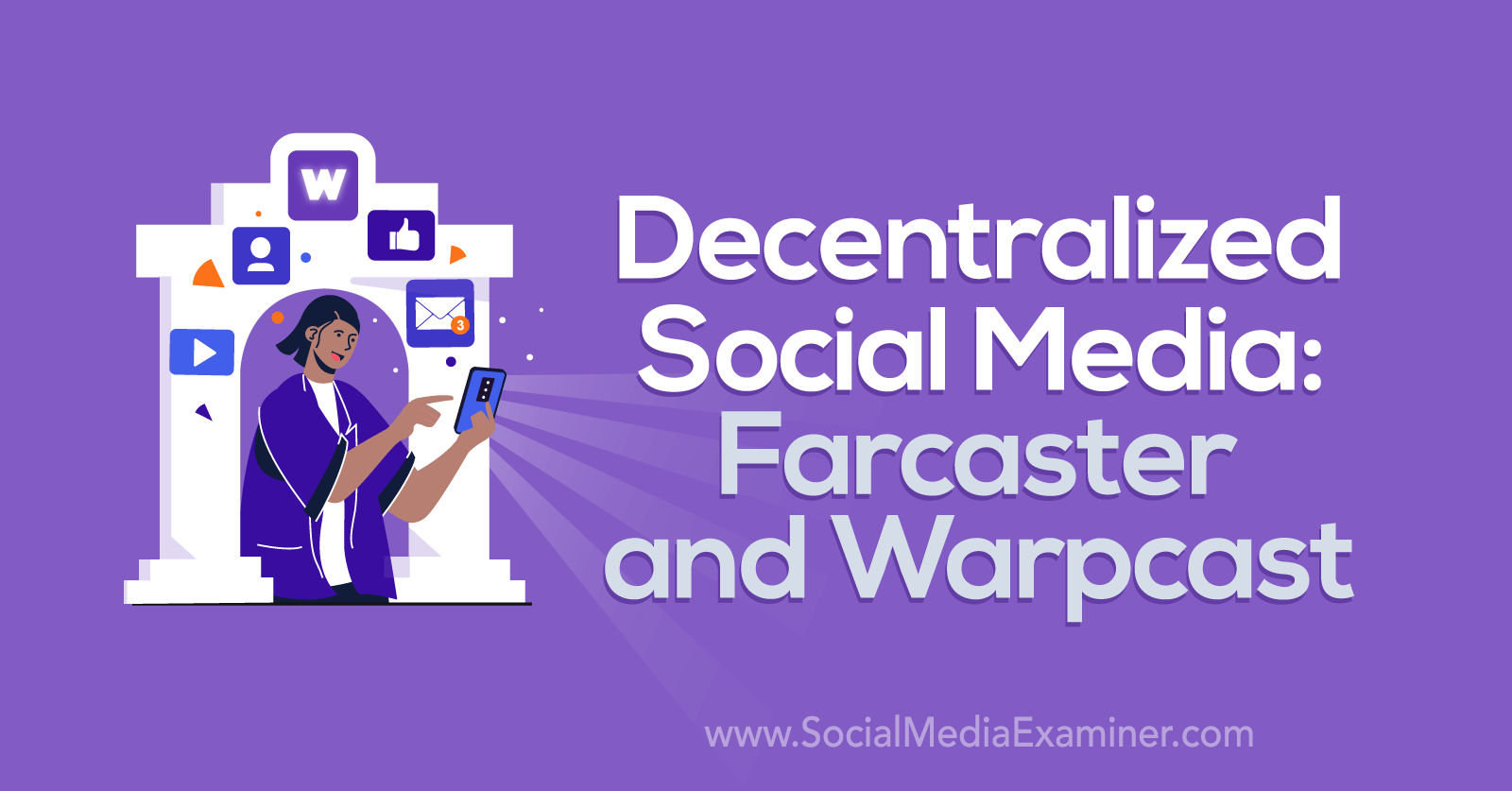 What Are Protocols and Why Do They Matter to Web3?
Almost everyone uses the internet every day, but not many people spend a lot of time thinking about the underlying structures that make the internet, nor do we need to. The internet simply works when we need it to.
We don't need to understand how the Transmission Control Protocol/Internet Protocol (TCI/IP) or Hypertext Transfer Protocol (HTTP) function.
What we do need to understand is that these protocols are something anyone can innovate and build on to reach an immediate market of consumers via a web browser.
In Web1, that innovation was evident in the creation of operating systems and proliferation of websites on an open internet and the .com boom. Anyone could publish a blog and it could be read anywhere around the world.
In Web2, social media platforms like Twitter and Facebook emerged and onboarded millions of people to the internet. At the same time, many people disparaged the use of social media. Who cares what you're having for lunch, Chad?
But these platforms and apps grew to scale. As they did, they became the mechanism for driving traffic to blogs and websites. Creators who wanted to reach people stopped thinking about reinventing the underlying structure of the internet. For years now, we've used the existing centralized platforms and apps from Instagram, YouTube, Twitter, etc. instead.
Today, many people speak of Web3 with the same derision and distrust they used when speaking of social media 10 years ago. But Web3 is simply blending the best of Web2 with protocols in order to bring back the open, decentralized nature of the internet and the freedom of choice that was available to consumers in Web1.
What Protocols and Decentralized Social Make Possible in Web3
Let's think about social media today. There are the general users and there are creators who publish content to attract and connect with an audience.
In the existing paradigm, a creator can spend 10 years building a following on Twitter or YouTube only to lose access to that hard-earned audience for any one of a variety of reasons. That loss of contact doesn't much phase most consumers but it presents a crisis for content creators, especially if creating content is their full-time business.
In contrast, email platforms don't withhold your subscriber list if you no longer use their service. You own that subscriber list and you're free to export it at any time. Not because there's a law requiring it. It's a norm that exists because email is built on a protocol.
Farcaster is an open protocol for a decentralized social network that gives ownership of the relationship between consumer and creator directly into the hands of the consumer.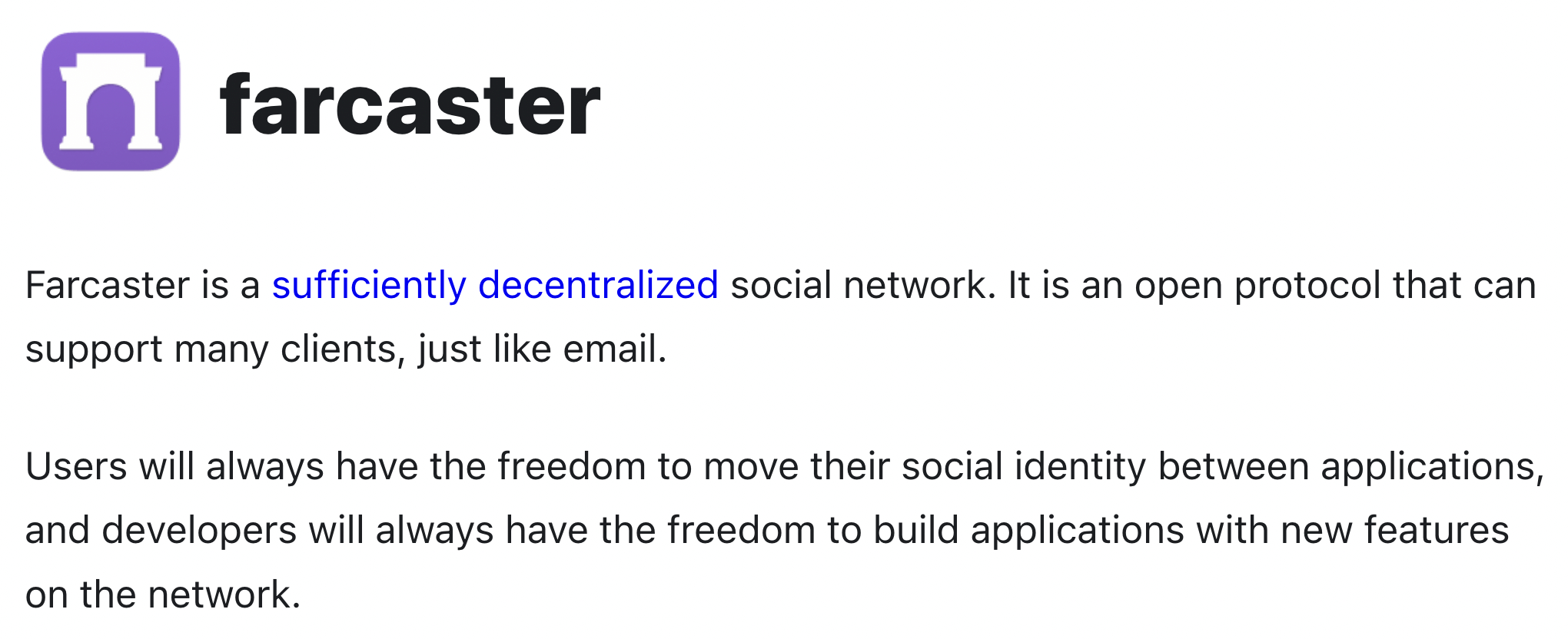 Thanks to the protocol, once you establish the relationship with your audience and the communication pipes are built, it doesn't matter whether you're using the Warpcast app… as long it's built on the Farcaster protocol, you'll be able to reach your audience on any app.
The Warpcast app is built on the Farcaster protocol so anything a creator posts is distributed to their audience, unless and until the consumer decides to unfollow them. No third-party intermediary can snip that connection.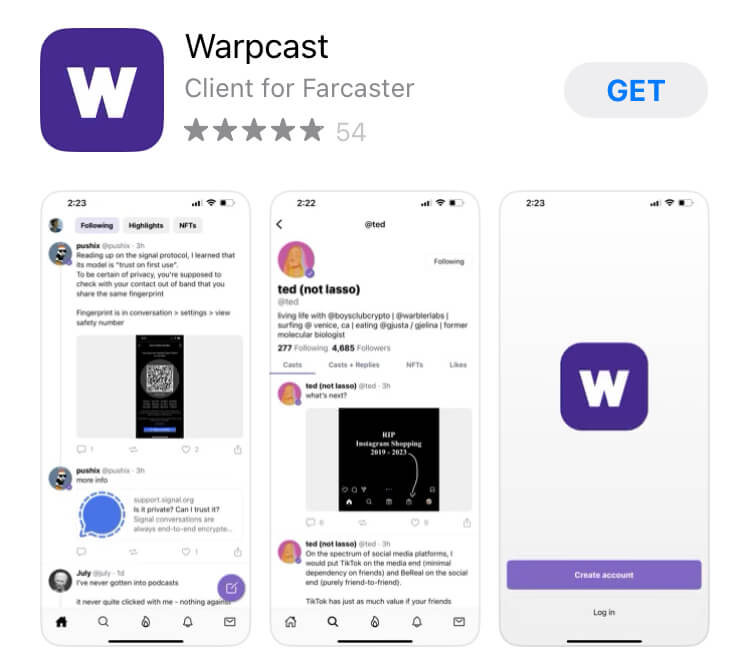 The promise of decentralization is rich for creators, business owners, and marketers but they'll also have to deal with the consequences of unpopular decisions in a much more direct manner than they have in the past. They'll need to be mindful of innovation, how many ads are served, the algorithm, etc. because it will be very easy for consumers to make a switch.
If consumers are unhappy, they'll be able to move, with their history in-tact, to a new app that is built on the same protocol.
What else will protocol-based decentralized social make possible? Here are a few to consider:
Developers can build a money-making app without fear that their access will be terminated overnight, because they have permissionless access at the protocol level. Remember when FarmVille lost developer access to Facebook? That won't happen with open protocols.
Users will be able to secure a unique username at the protocol level rather than the app level, so their username remains the same regardless of the app they're using.
Dedicated social feeds of people who share specific traits can be easily aggregated without the use of hashtags, opt-ins, etc. For example, when people sign up for WarpCast, they're issued an on-chain credential– an NFT. During ETH Denver, the event issued an NFT to all ticket holders. An app developer not associated with Farcaster mapped the gifted ETH Denver NFTs to Farcaster users and created a dedicated social feed of Farcaster users who were at ETH Denver.
What the Warpcast App Does
Curious about what you can do with Warpcast today? Warpcast.com is live right now and you can see an algorithmic feed of the best of stuff on the app.
The app is similar to Twitter in terms of look. In terms of function, users can post a 320-character cast, post media, reply, recast, direct cast, and use encrypted messaging.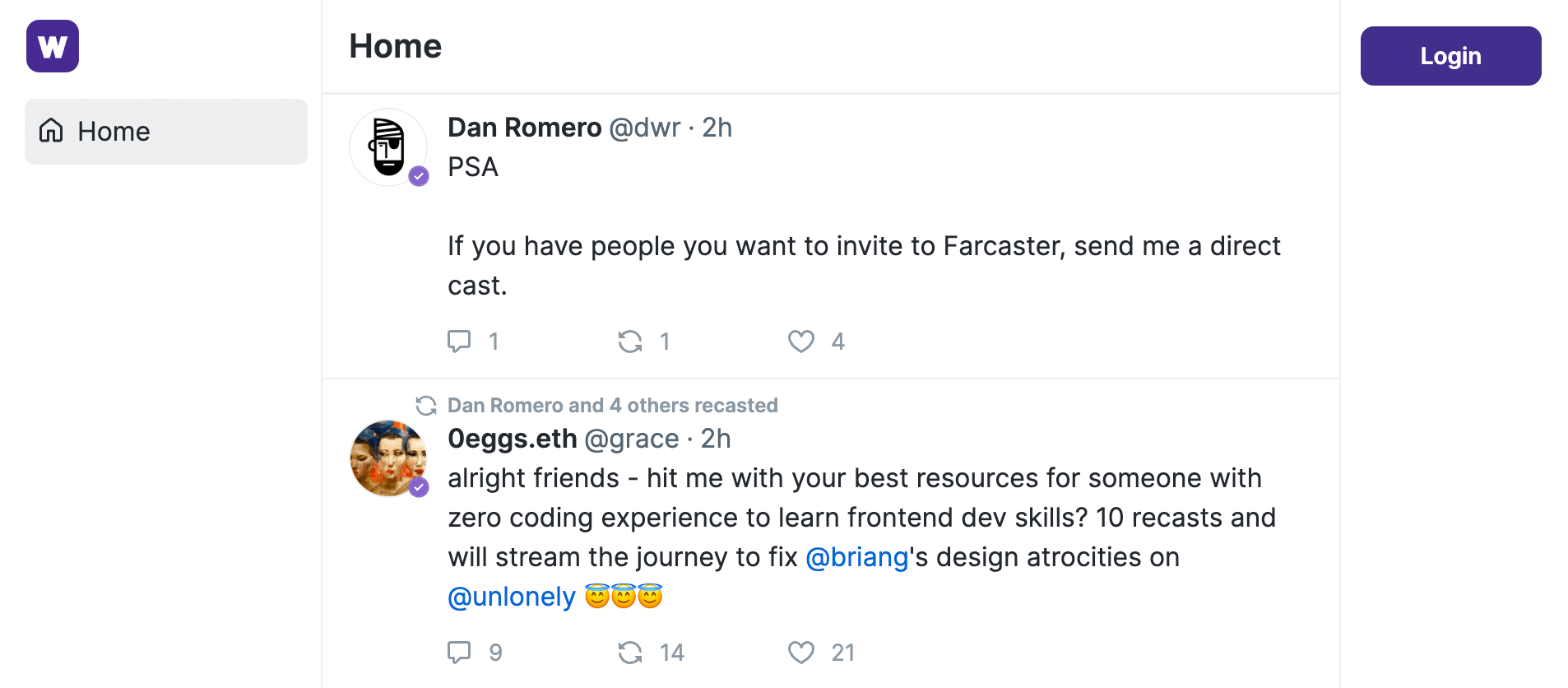 There's also a connected wallet feature that shows users' on-chain activity in the feed as it happens and lets users show off their NFTs in a tab.
The app currently has around 10,000 individual users most of whom are people interested in ETH and people who are building new things like SaaS companies, etc.
People have asked about brand accounts but the team has opted for no brand accounts for now. If and when the team feels there's a way to bring brand accounts to the app in a way that also works for individual users, they may reconsider.
Obviously, once the network is completely permissionless, people will be able to create Farcaster clients that deliver the ideal experience they're after.
Bringing Farcaster to Market
To bring the protocol to a sufficiently permissionless state, the team is working to reach three milestones.
To make sure all the data and underlying APIs really are permissionless, the team will launch the Farcaster Hub for developers to access, in May.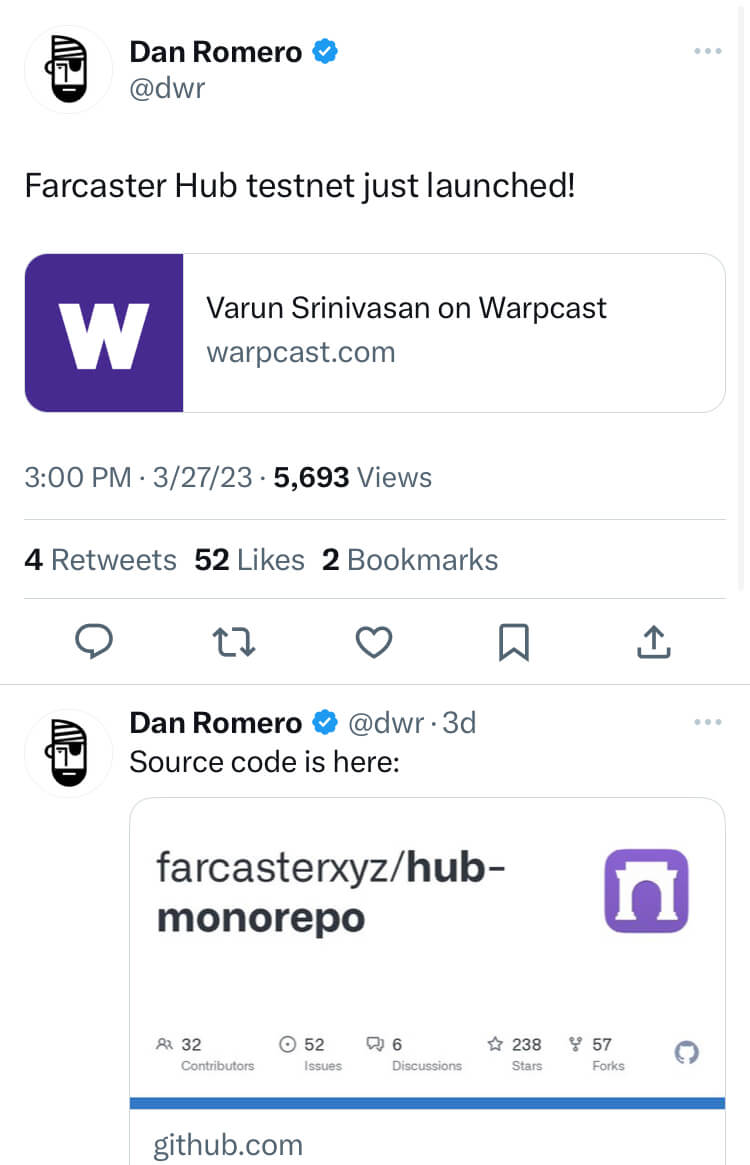 The next step is to migrate existing Farcaster users to the Ethereum main net. Because that involves a financial transaction, the team will pay the associated fees on behalf of every person in the beta.
Finally, to roll out the network to a wider and wider group of people, current users will be given invites to share with others they think will stick around and add value to the network.
Other Notes From This Episode
Where to subscribe: Apple Podcast | Google Podcasts | Spotify | Amazon Music | RSS
✋🏽 If you enjoyed this episode of the Web3 Business Podcast, please head over to Apple Podcasts, leave a rating, write a review, and subscribe.
Disclaimer: The information provided on this website is provided solely for educational purposes and does not constitute any advice, including but not limited to, investment advice, trading advice or financial advice, and you should not treat any of the website's content as such. Social Media Examiner recommends that you independently research any information contained on this Website and that you speak with an investment professional before making any decision to purchase, trade, hold or sell cryptocurrency. Nothing herein should be treated as a recommendation to buy, sell or hold cryptocurrency. Social Media Examiner cannot guarantee the accuracy of any information listed on the website and is not responsible for any missing or wrong information. All information is provided as is and should be used at your own risk. Social Media Examiner disclaims all responsibility and liability for your use of any information found on the website.