Do you want to build a trusted media company? Want to learn from someone who's leading the way in Web3 by including audiences in decisions that impact the media he produces?
In this article, we'll explore decentralized media and what it means for creators.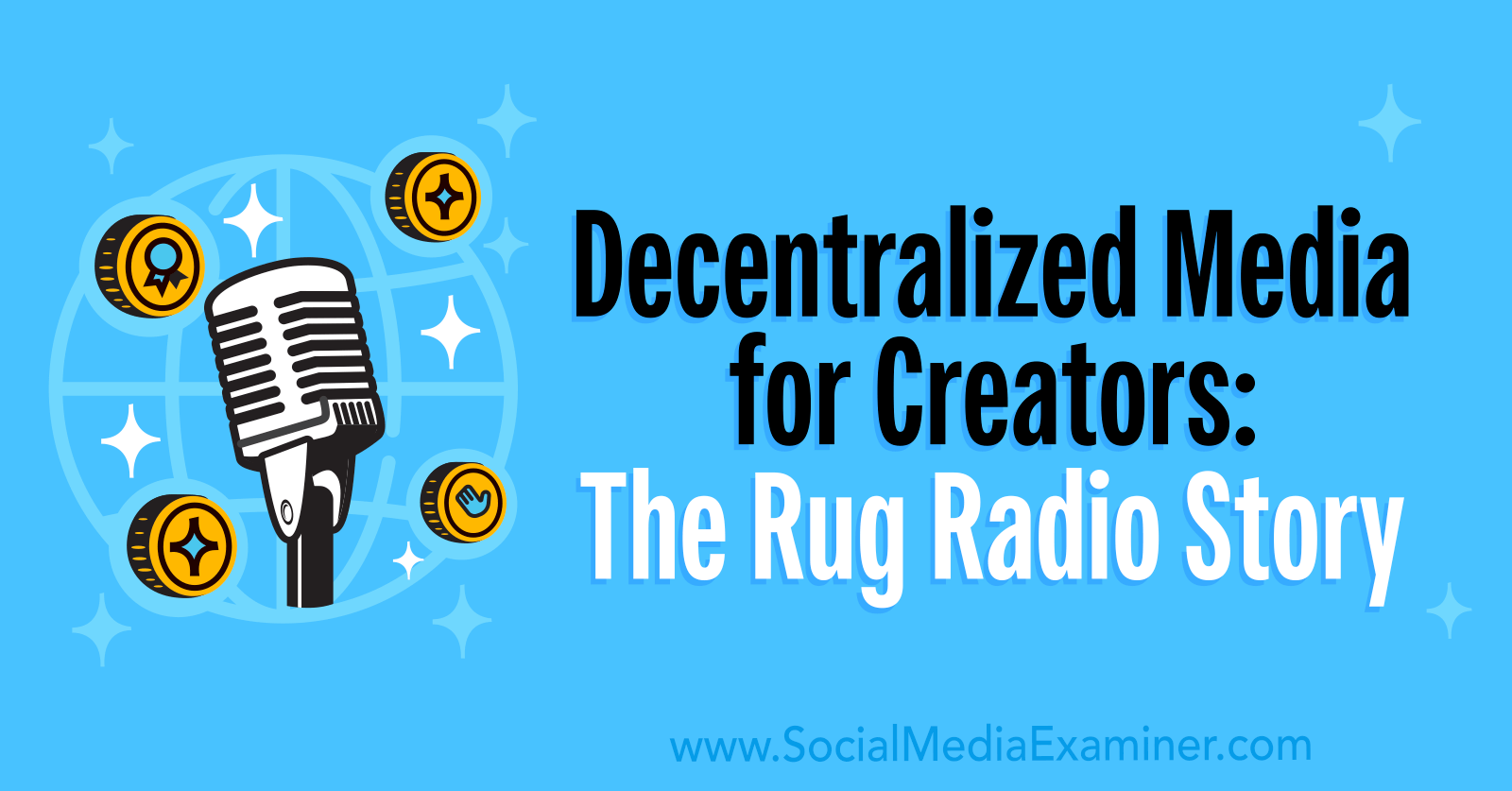 How Web3 Empowers Creators
Web3, built on blockchain technology and decentralized networks, is transforming how creators monetize, distribute, and engage with their fan communities.
While still early stage, Web3 presents several new opportunities that contrast with the dominant models of current mainstream platforms.
Direct Monetization and Ownership: Legacy Web2 platforms like YouTube, Instagram, and TikTok provide limited and opaque monetization models for most creators. Revenue share from in-stream ads is the norm. And platforms retain tight control over their cut of ad revenues, leaving creators unsure if they are being fairly compensated.
Web3 puts power back in the hands of creators. Direct support from fans via NFT sales or tokens allows creators to monetize independently. And blockchain technology enables provable ownership of creative IP and content. For creators who prefer sustainability over dependency, Web3 may provide attractive alternatives to build a career.
Community Governance: Centralized platforms control all policies and updates, often without creator input. In Web3, decentralized autonomous organizations (DAOs) enable creators and core community members to have a voice in governance decisions. For instance, Rug Radio uses a DAO structure where NFT holders vote on budgets and plans. This mechanism aligns incentives between creators and supporters.
Censorship Resistance: Web2 platforms frequently suspend accounts or remove content deemed unacceptable, costing creators their livelihoods. Content on a decentralized blockchain is permanent and outside platform control. While content moderation remains vital, Web3 potentially reduces the centralized censorship and harassment creators currently face.
Portable Audiences: Siloed Web2 platforms restrict creators from fully owning and transporting their audiences. In Web3, content tied to NFTs and tokens is interoperable across applications rather than trapped within walled gardens. Creators may gain more autonomy in how they distribute and monetize.
Access to Capital: Web3 has unlocked new models for creators to raise funds directly from their supporters whether through NFT drops, token sales, or decentralized loans. This shifts dynamics away from a reliance on brand sponsorships and platform monetization.
For pioneers willing to embrace decentralized disruption, Web3 promises a more creator-centric internet.
What Is Decentralized Media
According to Rug Radio founder Farokh, decentralized media aims to shift power and ownership to creators and communities, rather than centralized platforms. It leverages blockchain technology to enable broader participation in media creation, distribution, and governance.
Farokh contrasts decentralized media with mainstream outlets where stories are tightly controlled by corporate interests rather than journalists on the ground. He sees an opportunity to fund and amplify diverse voices through new decentralized models.
Overall, decentralized media utilizes transparency, community ownership, and creator independence to provides a vehicle for more participatory journalism and art where many voices can be heard, not just a select few.
The Launch of Rug Radio
Rug Radio emerged from an idea Farokh had during a long Twitter Space conversation in September 2021. Frustrated by recurring technical issues, he jokingly named the Space "Rug Radio" after a crypto slang term. The name stuck, sparking the concept of a new media company.
Farokh envisioned a platform owned and operated by creators and fans rather than centralized intermediaries. He felt existing social media giants like Facebook didn't adequately reward creators for the value they provided.
Farokh recruited a small team to flesh out plans for Rug Radio, including adopting a DAO structure. Over two months they built a roadmap, governance model, and minted NFT art for an upcoming "Genesis" collection.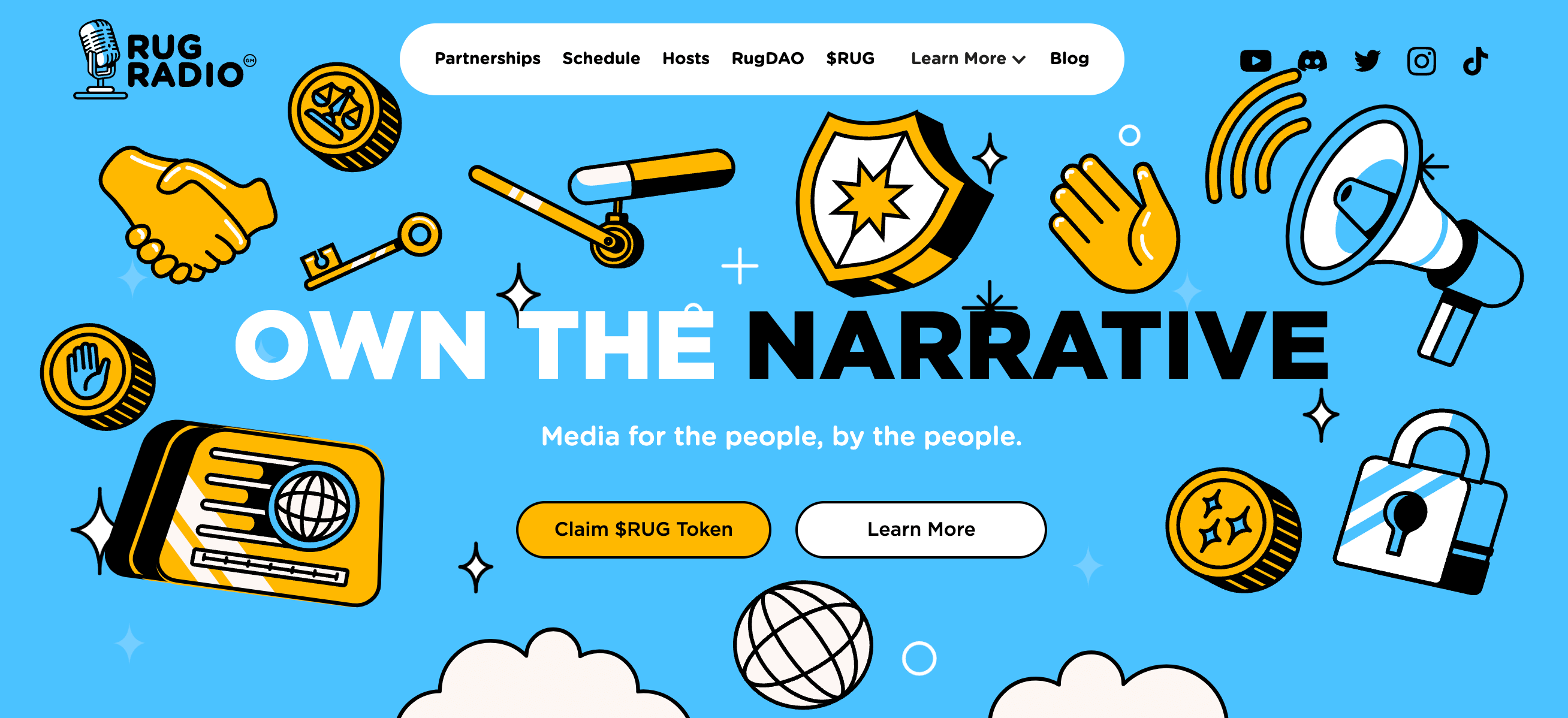 In January 2022, Rug Radio held a successful NFT sale, raising funds to hire staff and cover initial operating costs. Half the proceeds were locked into a DAO treasury to fund future growth.
Over the next six months, they transitioned into a community-governed DAO, and an initial council helped establish governance frameworks related to partnerships, creators, and tokenomics.
The groundwork was laid for a new community-owned media model.
The Rug Radio DAO
Rug Radio operates as a decentralized autonomous organization (DAO) that is community-governed by token holders.
When major decisions like budget approvals come up, Farokh and the core team put together proposals that get published to the DAO for review. Token holders in the DAO then vote on whether to approve each proposal.
If a proposal doesn't pass, the team goes back and revises the proposal based on feedback until it gains sufficient votes. This collective process gives the community a voice.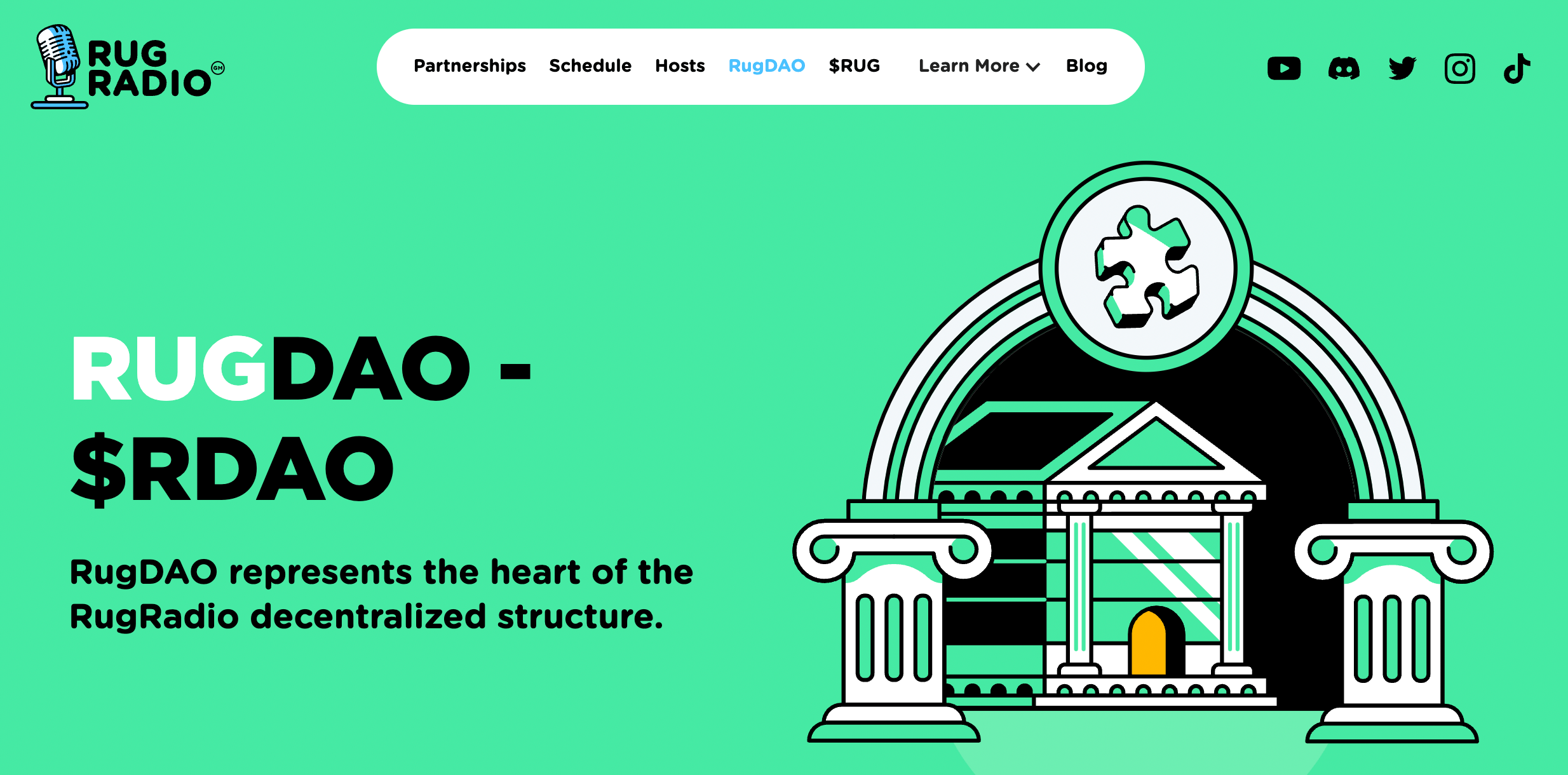 Additionally, when Rug Radio creators partner with external brands, a portion of the revenue goes back into the DAO treasury as determined by governance frameworks.
These funds aim to sustain the ecosystem by providing resources for creators, operations, and growth initiatives. It's a circular flow between creators, fans, and the underlying platform.
This DAO structure and dual token model align incentives between all network participants. Fans gain voting rights, creators get funded, and the platform treasury stays capitalized.
According to Farokh, the greatest benefit of the DAO is tapping into the collective knowledge of the community to guide decisions. It's challenging but enables broader participation than traditional corporate structures.
How the Rug Radio Creator Network Operates
The Rug Radio Network consists of over 70 creators operating various shows across platforms like YouTube, Spotify, and Instagram. While currently focused on web3 topics, Rug Radio aims to expand into other verticals.
The network provides tiered support to creators based on performance metrics like viewership and consistency. Lower tiers may get basic support like production assistance. Top creators can receive funding, partnerships, and even salaries paid in crypto.
However, Rug Radio takes zero ownership stake in creator content or IP. This contrasts with web2 media companies that capture equity. Rug Radio wants creators to fully own what they make.
Partnership revenue earned by creators flows back into the DAO treasury. These funds sustain the ecosystem by providing resources to creators at all tiers. It's a circular flow between creators, fans, and the DAO.
Farokh sees this as a key difference from web2 platforms. Rug Radio is "creator-first" – it aims to empower creators by funding them directly based on the value they provide to the network.
The Rug Radio Council helps govern policies around partnerships, tiers, and creator incentives. Creators can join by applying through the creator portal and meeting consistency requirements.
Rug Radio is still early stage and carefully curating its creator network. But the goal is to progressively decentralize so the ecosystem can scale far beyond dependency on any single individual, including Farokh.
Other Notes From This Episode
Where to subscribe: Apple Podcast | Google Podcasts | Spotify | Amazon Music | RSS
✋🏽 If you enjoyed this episode of the Web3 Business Podcast, please head over to Apple Podcasts, leave a rating, write a review, and subscribe.
Disclaimer: The information provided on this website is provided solely for educational purposes and does not constitute any advice, including but not limited to, investment advice, trading advice or financial advice, and you should not treat any of the website's content as such. Social Media Examiner recommends that you independently research any information contained on this Website and that you speak with an investment professional before making any decision to purchase, trade, hold or sell cryptocurrency. Nothing herein should be treated as a recommendation to buy, sell or hold cryptocurrency. Social Media Examiner cannot guarantee the accuracy of any information listed on the website and is not responsible for any missing or wrong information. All information is provided as is and should be used at your own risk. Social Media Examiner disclaims all responsibility and liability for your use of any information found on the website.