Want to create a social good initiative in Web3? Curious how to use a DAO within an NFT project?
In this article, you'll discover business lessons from the OnChainMonkey project.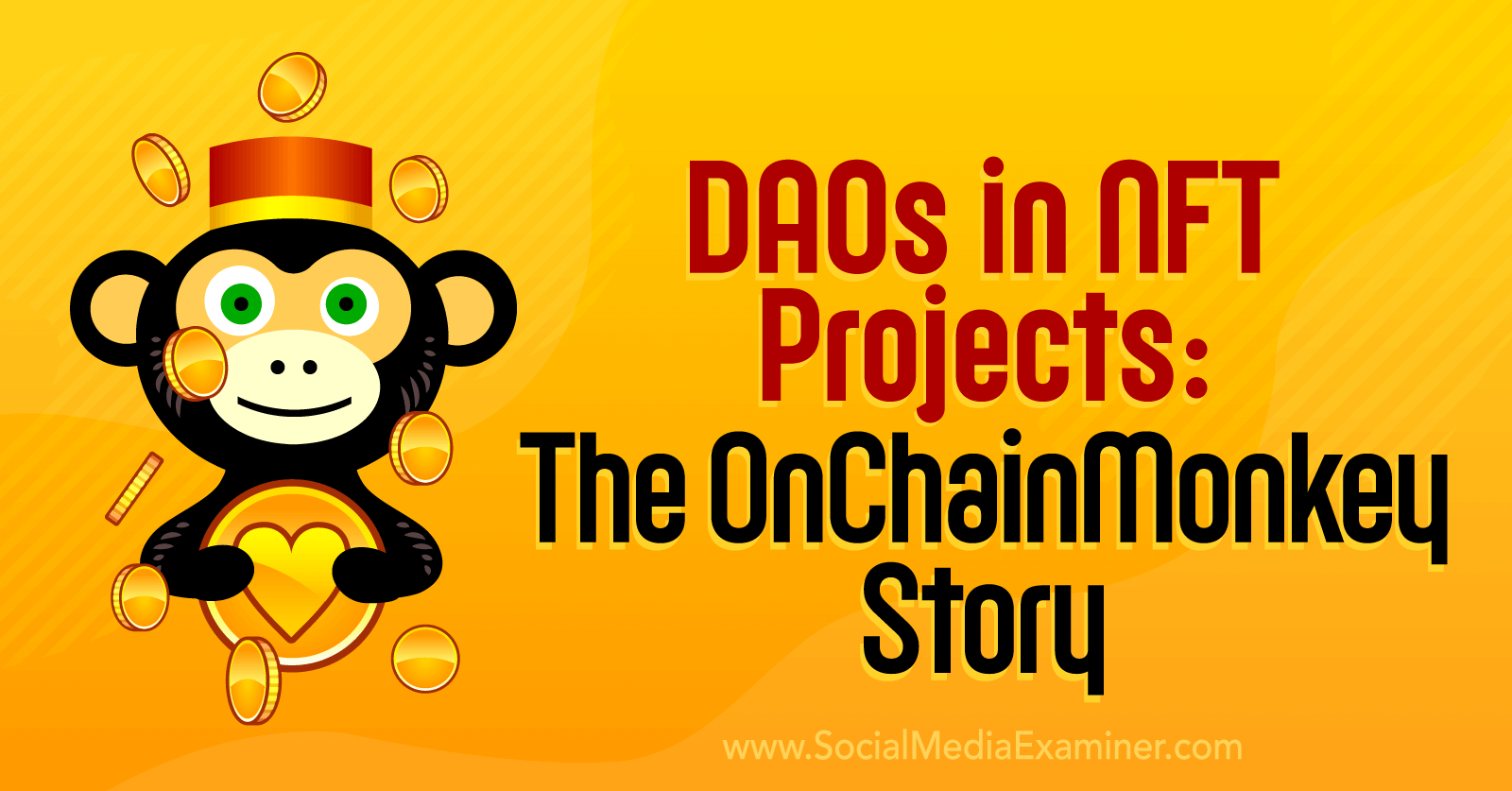 Why Use NFTs to Fund Ongoing Community Initiatives
Two features of NFTs make them especially suited to organizations that center on community.
First, NFTs live on a blockchain so it's easy to establish whether an asset is genuine and who has or owns an asset.
Second, because NFTs are programmable assets, the smart contract can be coded so anytime an NFT is sold, a percentage of that sale will go back to the original creator.
Combined, these features create a new model for bringing people together around a central vision or mission, and funding the projects that serve the shared vision or mission of those people.
For example, 50% of the revenue from OnChainMonkey's public mints goes into a treasury managed by the OnChainMonkey DAO.

Every person who owns an OnChainMonkey NFT is a stakeholder in the organization and can propose a project for funding. In addition, each holder has a vote when deciding how the DAO's funds are used.
#1: From Metagood to OnChainMonkey
The OnChainMonkey story begins with ACTAI Global. ACTAI brings together athletes, conservationists, technologists, artists, and innovators who "combine their energy, network and resources to help each other achieve professional success, pushing the limits of work and play while also fueling philanthropic activities around the world."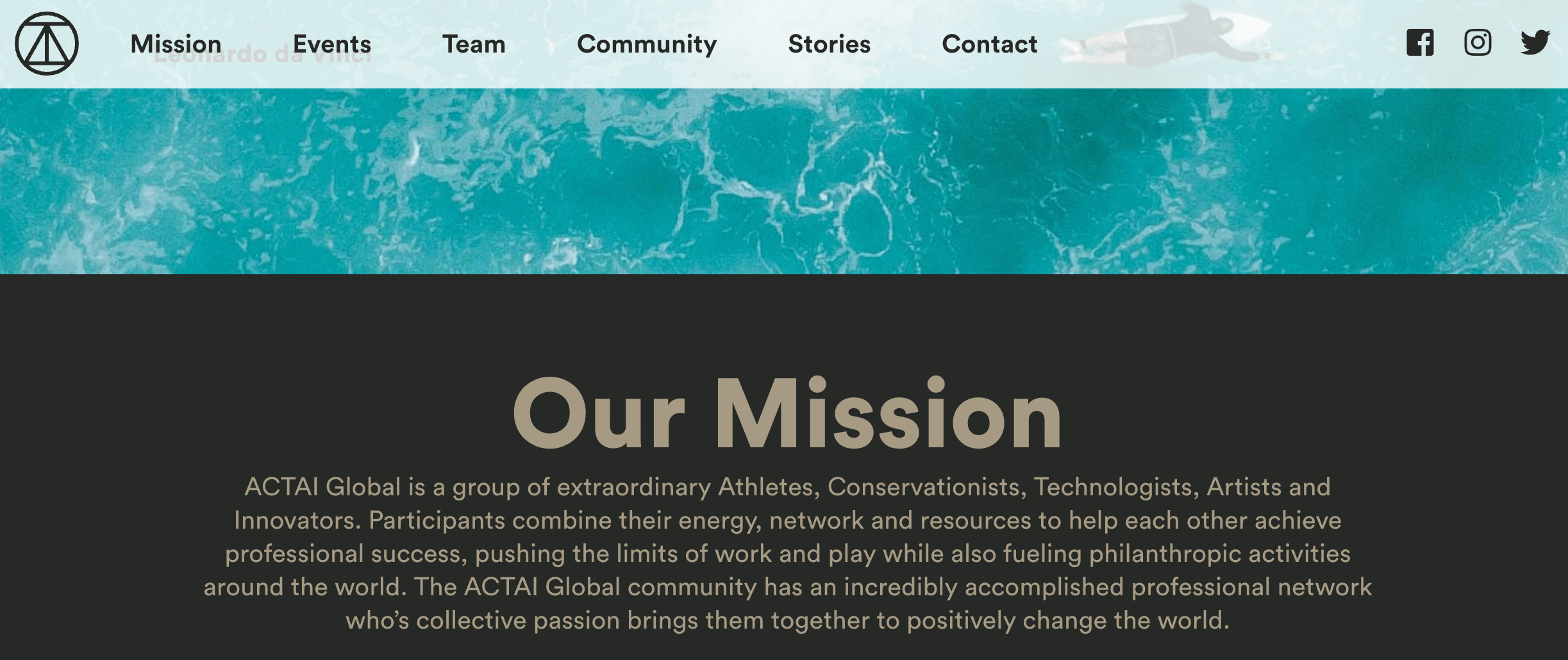 Amanda Terry first met Bill Tai (venture capitalist and ACTAI chairman) at an ACTAI kiteboarding event he hosted in 2013.
Five years later, Bill was investing in Dapper Labs, the creators of CryptoKitties. ACTAI Global created the first NFT to fund an ocean conservation project: a one-of-one NFT called Honu Kitty (Turtle Cat) that was auctioned off during the Necker Blockchain Summit. The auction raised more than $50K and all proceeds were donated to Captain Paul Watson so he could park a boat off the coast of Antigua to protect a turtle nesting area.
Early in 2021, Bill introduced Amanda to Danny Yang (founder of Stanford Bitcoin Meetup, MaiCoin, and BlockSeer). The three wanted to replicate the type of good that was done with Honu Kitty but at scale with many NFTs. In May 2021, Metagood was co-founded as a for-profit corporation with Danny as CEO, Amanda as COO, and Bill as chairman.
In September 2021, the Metagood team launched its flagship NFT project, OnChainMonkey.
Today, the OnChainMonkey community is made up of investors, innovators, artists, and athletes who believe that Web3 can create wealth for communities and also do real-world good.
#2: The OnChainMonkey NFT Collections: Genesis, Desserts, and Karma
The OnChainMonkey Genesis NFTs (a.k.a. OCM Genesis) launched in September 2021 as a 10K-piece profile picture (PFP) collection with a free mint. After a single tweet from Dapper Labs' CEO Roham Gharegozlou, the collection minted out in approximately 4 hours.
The art is simplistic because all 10K tokens were created in a single transaction on the Ethereum blockchain; a historic first. Over time, the price of Genesis monkeys has been steadily rising and creating value for the community.
In February 2022, the team launched the 10K-piece OnChainMonkey Desserts collection and air-dropped desserts to all Genesis monkey holders.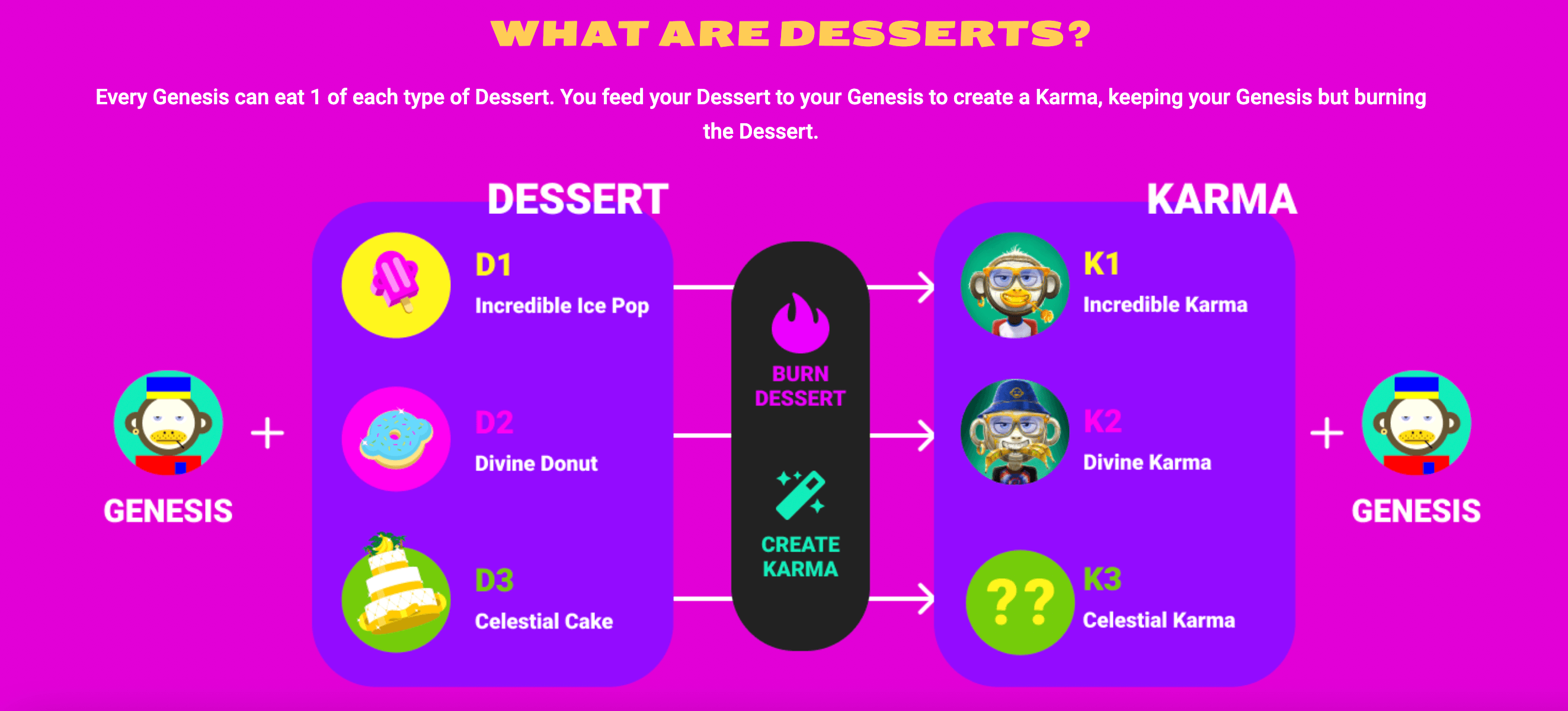 There are three types of desserts: Incredible Ice Pops, Divine Donuts, and Celestial Cakes. The rarest of Desserts, the Celestial Cakes, have sold for over $200,000.
When your Genesis monkey "eats" a dessert, it spawns a second Karma monkey.
A portion of OnChainMonkey's Karma NFT collection (drawn by the Hollywood animation team behind the movies Rio, Ice Age, and Ferdinand) was also made available for public mint in June 2022.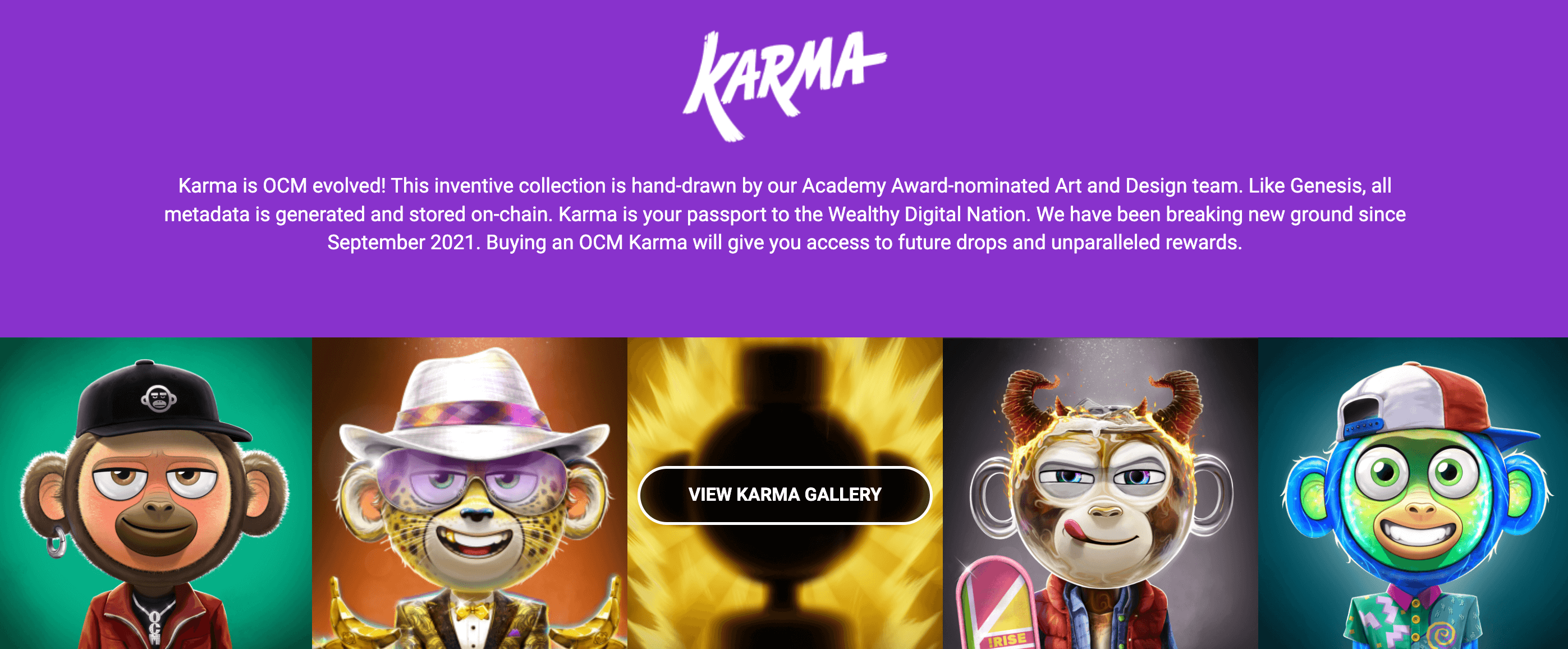 Holding either a Genesis or Karma monkey give you the passport into Wealthy Digital Nation.
The first three OnChainMonkey collections were launched on the Ethereum blockchain but the team recently leveraged the new Ordinals protocol to inscribe records for existing Genesis and Karma monkeys on the Bitcoin blockchain so holders now have an Ordinal version of their monkey as well.
An upcoming collection of animated, interactive 3D NFTs called Dimensions will also mint on the Bitcoin blockchain using the Ordinals protocol.
Why OnChainMonkey Embraced Bitcoin and the Ordinal Protocol
Let's start at the top. Bitcoin (BTC) is a cryptocurrency. At the time of this writing, 1 BTC is equal to $25,440.60.
A satoshi is the smallest denomination of 1 BTC. One satoshi equals 0.00000001 BTC.
The Ordinals protocol, developed in February 2023, is a system for numbering satoshi so they can be tracked across transactions. This protocol is how digital assets are inscribed and minted on the Bitcoin blockchain.
Ethereum, Polygon, and Solana all saw a significant rise in value when the ability to mint NFTs was introduced to their ecosystems.
Bitcoin hasn't yet seen that bump but the OnChainMonkey team believes it's just a matter of time. Not only is the BTC blockchain twice the market cap size of ETH, but it's also the most decentralized and secure layer 1 blockchain. This makes it the perfect vehicle for high-value digital assets.
Even though it's early days, marketplaces such as Magic Eden and Gamma have already launched for Ordinals.
#3: Creating Wealth and Value for the OnChainMonkey NFT Holders
The vision for OnChainMonkey was to launch something truly innovative. Minting a 10K-piece collection in a single blockchain transaction certainly qualifies as a win for that column.
From there, the team created the RISE! value system.
Respect: Treat everyone with respect.
Integrity: Strive for the highest ethical standards.
Sustainability: Build for the future.
Enrichment: Create wealth for our holders that enables them to do real-world good.
That value structure created a culture that attracted people who believe NFTs can be profitable and also do good.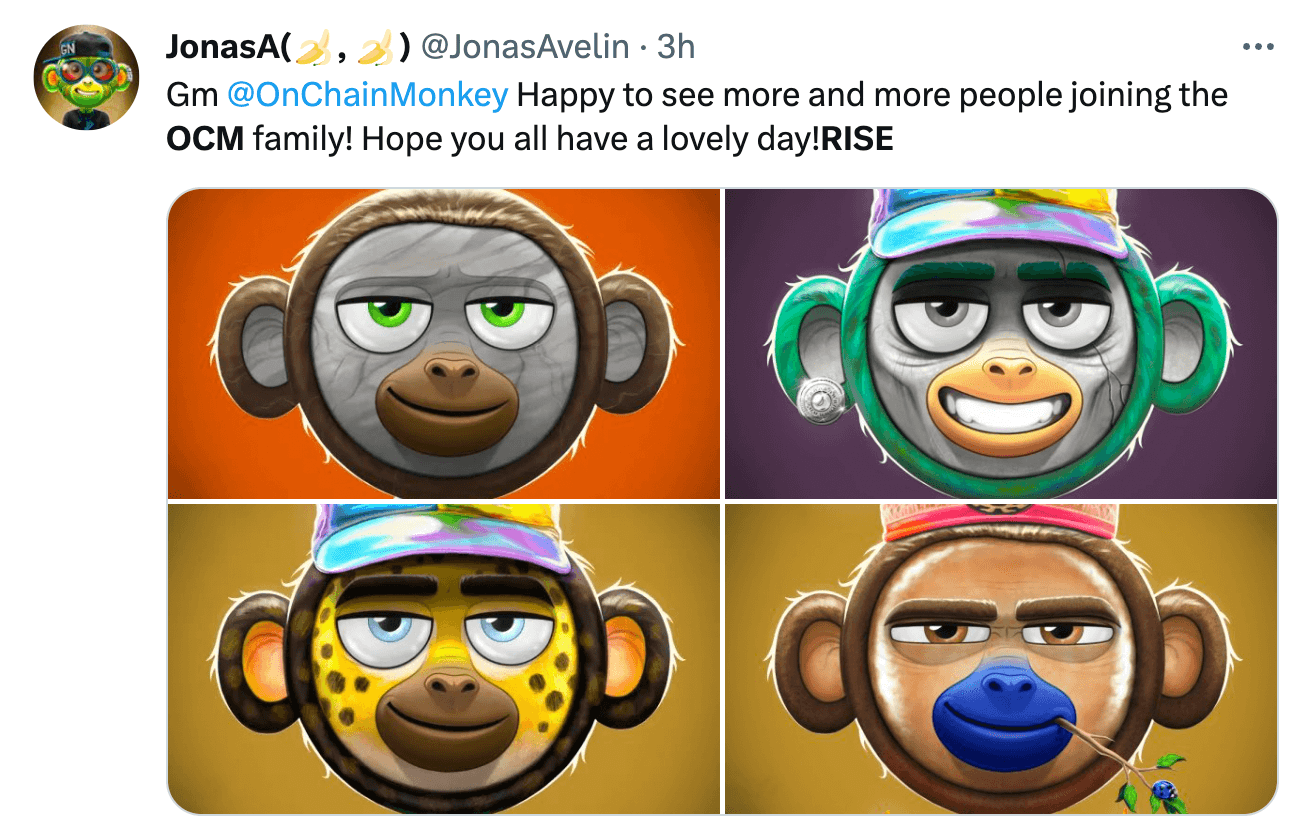 One of the reasons people buy an OnChainMonkey NFT is for wealth investment purposes; they want the value of the collection's NFTs to go up.
When the team announced their plans to use the Ordinals protocol to inscribe a duplicate of each Genesis or Karma monkey on the Bitcoin blockchain, they also announced that current holders would receive the Ordinal version for free. The floor price of the original ETH versions tripled overnight because so many people wanted to be a part of the first collection ever inscribed fully on Bitcoin.
The profitability margin is magnified if you received your monkey as part of the free mint, but on the whole, OnChainMonkey is off the charts in terms of profitable trades for all their holders.
But wealth doesn't only equate to money. Wealth can also be realized in social connectivity, health, and social impact. With this in mind, the OnChainMonkey team continues to provide and support exceptional opportunities for its community. Here are a few examples.
In May 2022, they hosted a celebrity poker tournament for charity. Any monkey holder could buy into the game and play with Charlie Lee, Woody Harrelson, and Owen Wilson.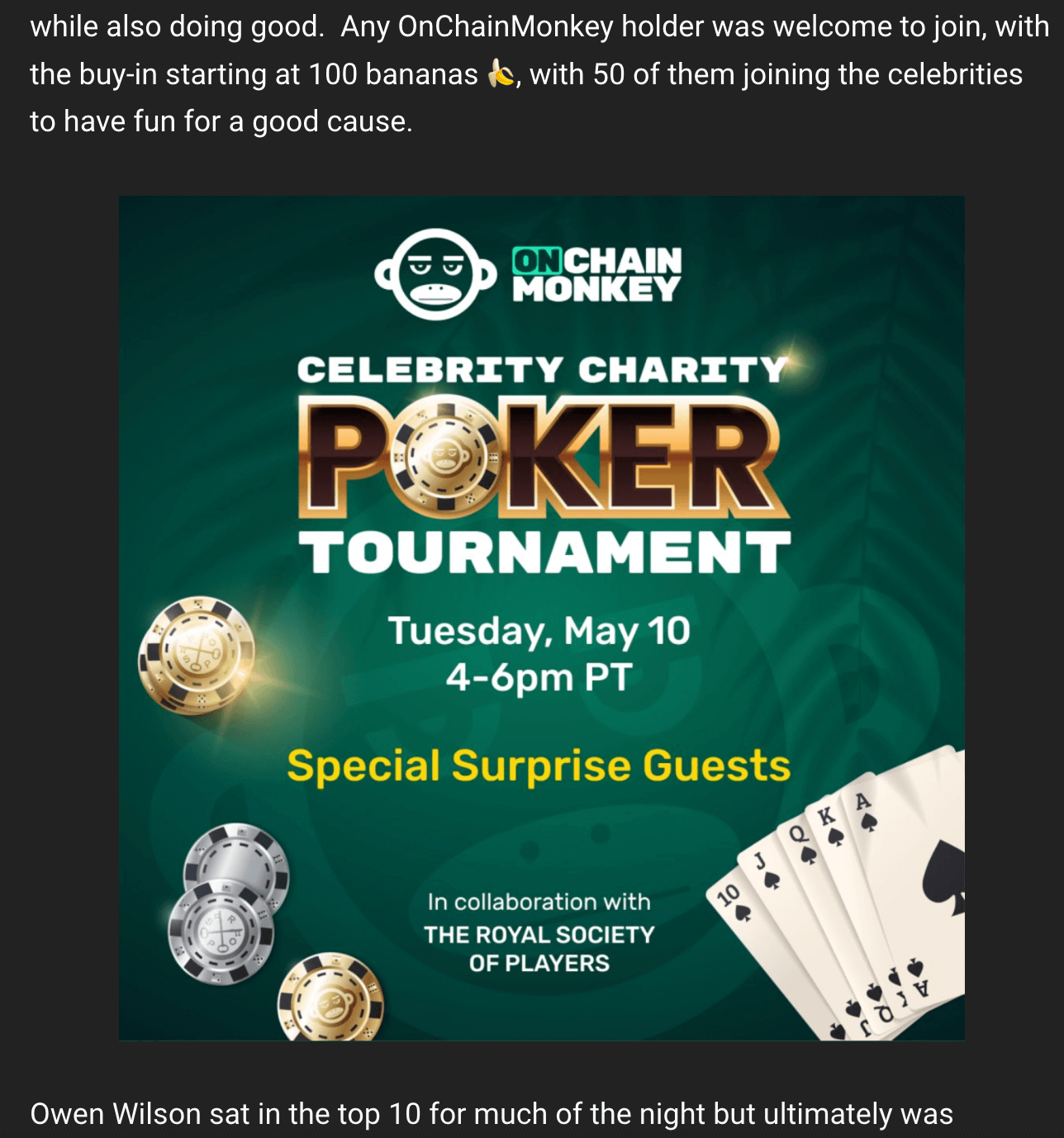 During NFT NYC in April 2023, the team hosted a private party at the New York Stock Exchange and projected holders' monkeys on the NYSE jumbotrons.
The community itself also takes an active role in creating wealth and value. A group of holders called the Monkey Misfits has leveraged the community's Bananas token (an currency used in the OnChainMonkey ecosystem) to motivate and reward each other for working out.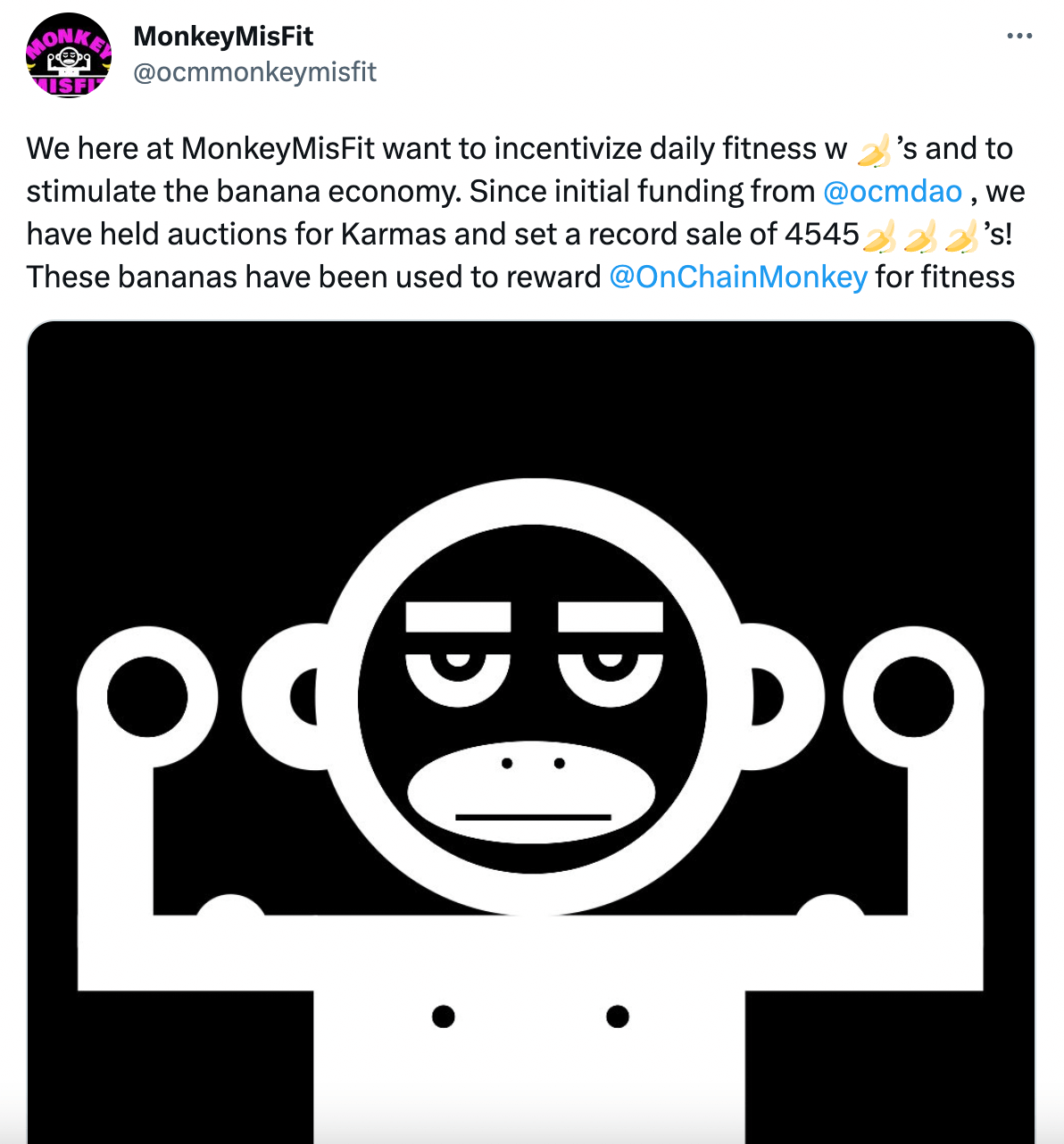 Finally is the social impact aspect of wealth.
The community has used its treasury to accomplish things such as funding the evacuation of Sharbat Gula and her family from Afghanistan to Italy.
The team also uses auctions to fund its social good initiatives.
The OCM EARTH NFT, a mosaic Earth with a heart over Ukraine, was created with 25K Genesis monkeys. The auction raised $185K for Save the Children in Ukraine.
They also auctioned a Genesis monkey to raise approximately $20K for Giga Connect, a UNICEF group that's bringing internet connectivity to schools.
OnChainMonkey's social good projects are sometimes driven by the team or holders deciding they want to do something and sometimes it's a mix of the two.
For example, the team chose to auction off a Karma monkey and donate the proceeds toward a United Nations Sustainable Development Goal (UN SDG). They gave the community three goals to choose from and the community chose Life Below Water. The team then partnered with an investor who also founded Ocean Elders to work with Coral Vita, a Bahamas-based group that's regrowing and creating biobanks for coral reefs.

When you look at the scope of all the community has achieved, you could easily believe there are tens of thousands of members. However, the community isn't as large as you might imagine. While roughly 20K Genesis and Karma NFTs exist, those NFTs are held in only 2,993 and 2,781 unique wallets, respectively.
#4: The OnChainMonkey DAO: Project Proposals, Voting, and Funding
The OnChainMonkey DAO is where Genesis and Karma holders propose projects, vote on proposals, and award funding. Every NFT grants one vote so if a holder has a combined total of 25 Genesis and/or Karma monkeys, they get 25 votes.

The DAO is a separate entity from Metagood and the treasury is funded primarily through the initial and secondary sales of OnChainMonkey NFTs.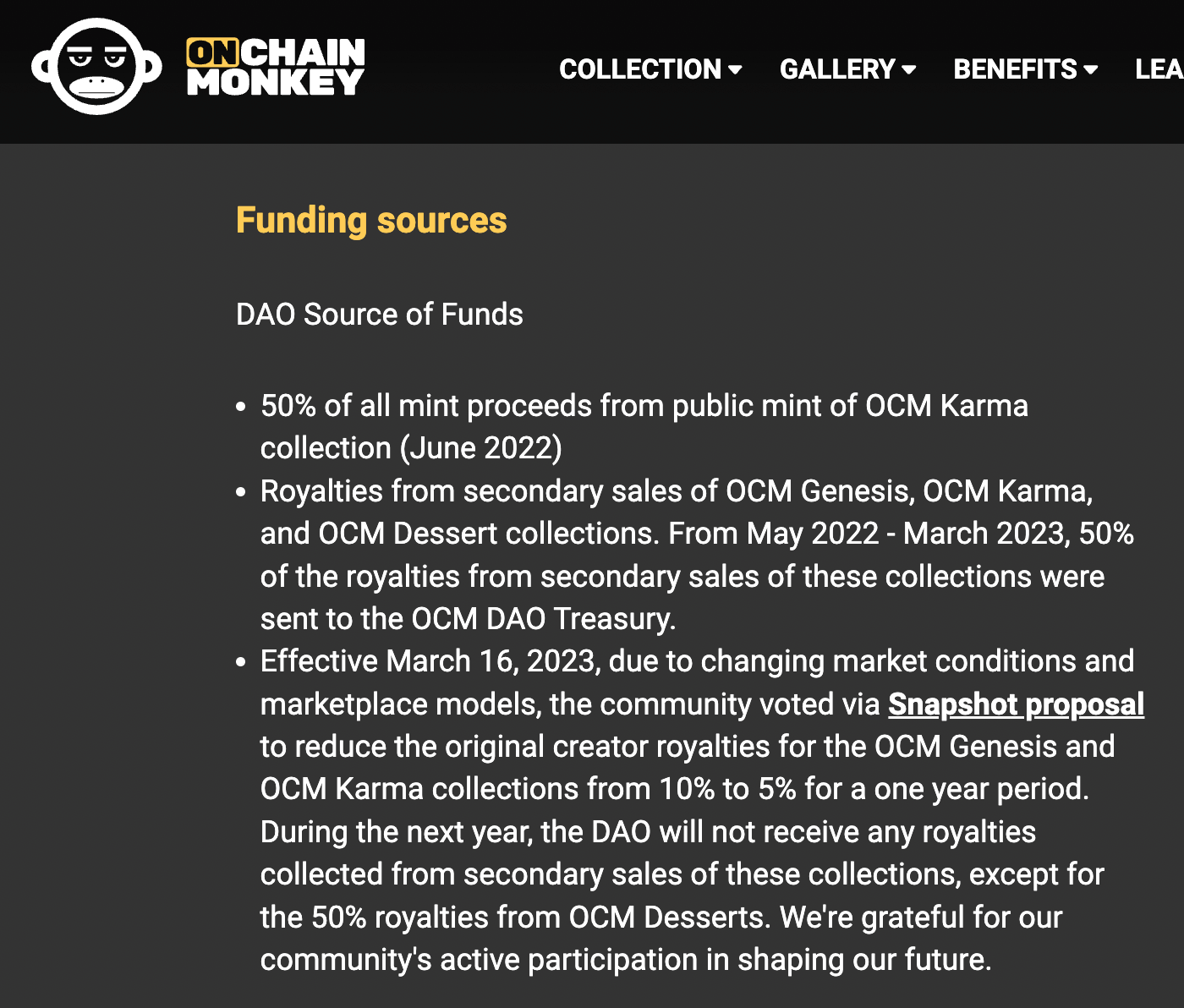 Additionally, many of the projects funded by the DAO return a portion of revenue to the DAO so it's slowly becoming self-sustaining.
A small grants committee made up of elected holders dole out funding for projects that have asked for less than 2 ETH. To administer larger amounts of funding, the DAO recently hired a contractor who works for the DAO.
Season One Projects: Building the OnChainMonkey Brand and Community Support
In season one, the DAO held five rounds of voting to award a total of 30 ETH to various projects that were designed to build the OnChainMonkey brand.
Some holders received funding to start businesses together while others produced OnChainMonkey-focused creative endeavors such as theme songs or AR/VR filters.
Still others rehabilitated an unusable skate park for a community in Brazil and designed it so if you're looking at the park from above, it looks like an OnChainMonkey.
The community also approved 25 ETH to fund a schedule of IRL events over 3 months: the private New York Stock Exchange party and Monkey Misfit workouts in Central Park during NFT NYC, art gallery tours, dinners, happy hours, and more.
Season Two Projects: Creating Goods and Services for the Bananas Token
In this current season, three rounds of voting will award 5 ETH to two projects in each round. Ultimately, 30 ETH will be awarded to projects that present creative use cases for redeeming Bananas.
Bananas are used for everything in the OnChainMonkey ecosystem from the ante in a poker game to the purchase of exclusive OnChainMonkey merch in the brand's store.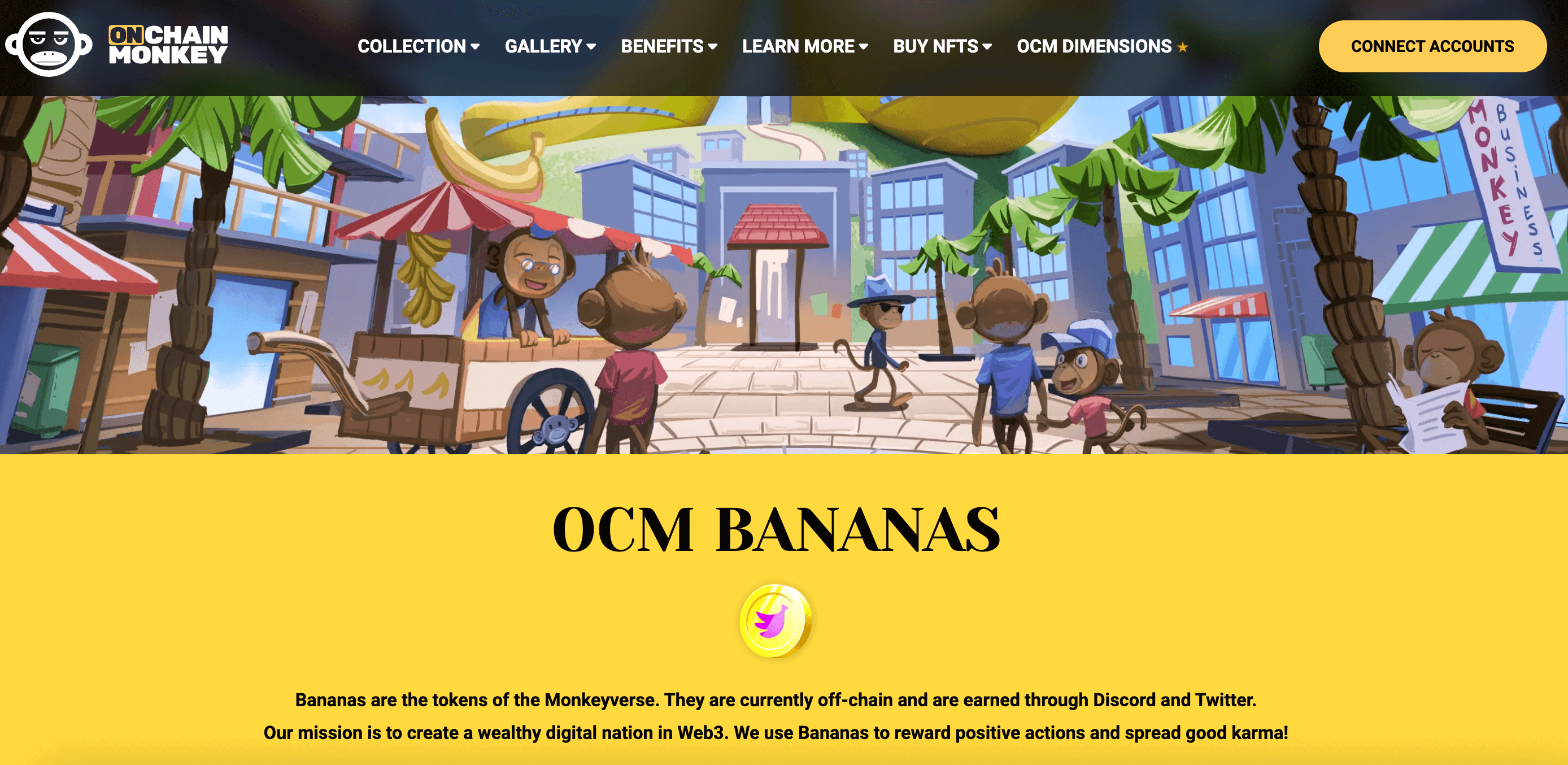 Currently, Bananas are earned when a holder connects their wallet to OnChainMonkey and then tweets about it or is active on the Discord server.
Other Notes From This Episode
Where to subscribe: Apple Podcast | Google Podcasts | Spotify | Amazon Music | RSS
✋🏽 If you enjoyed this episode of the Web3 Business Podcast, please head over to Apple Podcasts, leave a rating, write a review, and subscribe.
Disclaimer: The information provided on this website is provided solely for educational purposes and does not constitute any advice, including but not limited to, investment advice, trading advice or financial advice, and you should not treat any of the website's content as such. Social Media Examiner recommends that you independently research any information contained on this Website and that you speak with an investment professional before making any decision to purchase, trade, hold or sell cryptocurrency. Nothing herein should be treated as a recommendation to buy, sell or hold cryptocurrency. Social Media Examiner cannot guarantee the accuracy of any information listed on the website and is not responsible for any missing or wrong information. All information is provided as is and should be used at your own risk. Social Media Examiner disclaims all responsibility and liability for your use of any information found on the website.