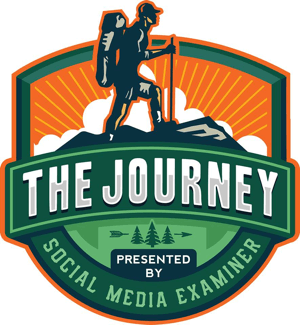 Do your customers love your product? Then watch the Journey, Social Media Examiner's episodic video documentary that shows you what really happens inside a growing business.
Watch The Journey
This episode of the Journey explores how Social Media Examiner begins to enable their customers to connect with each other. Watch to see where they find inspiration and what they decide to do.


The show opens with Mike (founder and CEO of Social Media Examiner) and Marketing Manager Jennifer (Jen) Ballard discussing holiday marketing campaigns. The marketing team has started to use some of the messaging developed as part of the customer research they've been doing with Talia Wolf.
Unfortunately, marketing manager Kimberly Reynolds has found some of those messages aren't converting on Facebook. Jen expresses some frustration because purchaser behavior isn't matching up with what survey participants say resonates with them.
Mike and Jen agree that all of the Facebook ads have been targeting prospects who have visited the sales page. Because that messaging mirrors what's on the sales page, Mike believes it's going to take something else to get them off the fence.
When Jen says Kim's testing shows that the sales-based messaging works in Facebook ads, Mike suggests combining some objection-based messaging with sales-based messaging. Jen thinks that's an approach that could work.
Later in the week, Mike and Jen are meeting with Talia Wolf to go over some of the split test results and to talk about messaging approaches. After re-emphasizing the messaging categories the team needs to focus on, Talia says the team needs to get more aggressive with their marketing communications.
Mike says the team is going to send a single email out in the next week, and then hit things hard right after Christmas.
Later, Jen shares more about the email.
The email was sent to segments of past conference attendees, past virtual ticket holders, and Social Media Marketing Society Members. Based on Talia's advice, a single email message was written for the body of each email, but a unique intro was customized for each segment's mindset.
Jen is encouraged to see some sales coming through from the campaign.
Finally, Mike and Jen hop on a call with Director of Events Phil Mershon, and Nicole Sloane and Deb Mitchell from the events team.
Mike plays an episode from Amy Porterfield's Online Marketing Made Easy Podcast, featuring Seth Godin. The conversation revolves around encouraging event or webinar customers to find other customers to connect with.
Mike tells the events team about the marketing team's work with Talia, and shares that survey respondent's share two common themes: loneliness and the desire to find others who understand them.
Deb confirms this plays true to her experience with conference attendees' in her role as Networking Coordinator.
Mike then hypothesizes that there is a direct correlation between the pre-event networking activities for the conference and the number of tickets that sell. He would like to see people begin connecting with their tribe the moment they purchase a ticket.
He suggests the events team hold a weekly webinar to help people who have become customers in the last week take advantage of all the resources available to them. The webinar would show them where to find their tribe, and help them get value from their purchase before the event even starts.
Everyone is excited about the possible impact on attendees and sales alike.
The show closes with Mike talking about some deep analysis he's been doing to see if things the company has always done are things that should continue to be done. Something is under the microscope – what is it?
How do you cultivate community with your customers? Let us know in the comments below.
Key Mentions:
Don't miss an episode! Subscribe to The Journey on YouTube.