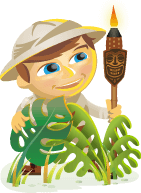 Want to get more leads and subscribers?
Have you considered optimizing your opt-in forms?
To explore conversion rate optimization for your online forms, I interview Chris Dayley.
More About This Show
The Social Media Marketing podcast is an on-demand talk radio show from Social Media Examiner. It's designed to help busy marketers and business owners discover what works with social media marketing.
In this episode, I interview Chris Dayley, who is the VP of site testing and optimization at Disruptive Advertising, an agency that specializes in site testing and analytics. Chris's clients include Fandango, Lids.com, and Citrix.
Chris explores conversion rate optimization and split testing.
You'll discover which elements to test for your opt-in forms.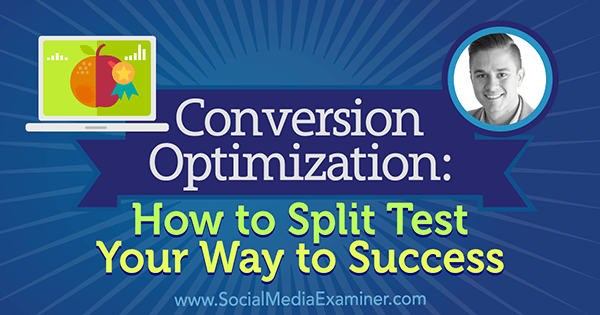 Share your feedback, read the show notes, and get the links mentioned in this episode below.
Listen Now
Where to subscribe: Apple Podcasts | Google Podcasts | Spotify | YouTube Music | YouTube | Amazon Music | RSS
Here are some of the things you'll discover in this show:
Conversion Optimization
How Chris Got Into This Space
Chris got his start driving traffic to websites using search engine optimization (SEO), pay per click (PPC), and social media. The company he worked for was trying to figure out how to monetize their traffic because they were having a hard time getting visitors to convert.
Because no one at the company knew about conversion rate optimization, Chris picked it up as a pet project.
When he first proposed to test some changes to the site design, there was a lot of pushback from the site designers. After he ran his first round of tests, some of the pages began to see 10% to 15% lifts in conversion.
He fell in love with finding out how seemingly small changes could have a big impact on user behavior.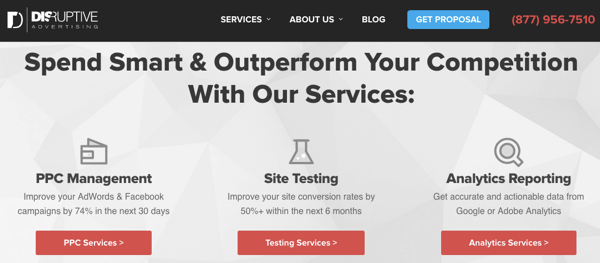 Listen to the show to hear the company's initial reaction to testing and the results they got from it.
Conversion Rate Optimization and Why It Matters
Chris explains that conversion rate optimization is a scientific way to figure out what your audience wants to see on your website in order to convert, and he notes that it should be half of any digital marketer's focus.
Driving traffic is only half the battle. While he used to assume that if he drove good traffic to a site, it was going to convert, years of testing have shown that a large portion of your audience won't convert unless you give them the experience they're seeking.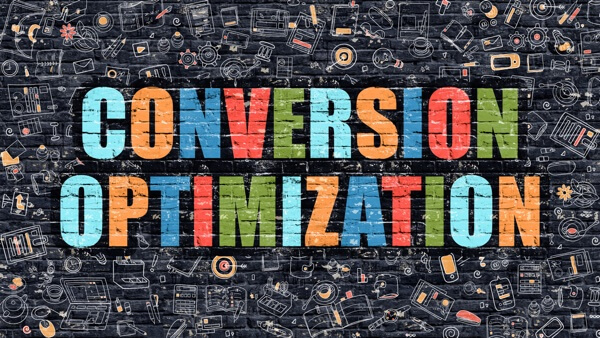 Conversion rate optimization is a way of testing different concepts and ideas on your site to find out what your audience actually wants to see.
Listen to the show to discover why we use conversion rate optimization at Social Media Examiner and the effect it's had on our marketing.
Where to Start Testing Opt-in Forms
When doing form optimization, whether it's opt-in, lead generation, or checkout forms, the first things to look at are imagery, color, and font sizes. Make sure your form stands out in contrast to the page and that the image or lack of image is helping your users, Chris says.
Chris recommends trying different variations of images, and to make sure the concepts are different, aren't distracting, and add some context to the offer.
For example, in Social Media Examiner's previous pop-up, there was no image, even though our provider OptinMonster and other web-based form providers such as LeadPages allow you to include an image. Chris recommended testing an image of the cover of the actual product on offer, a graphic representation of the title, and an icon representation (shown in the image below.)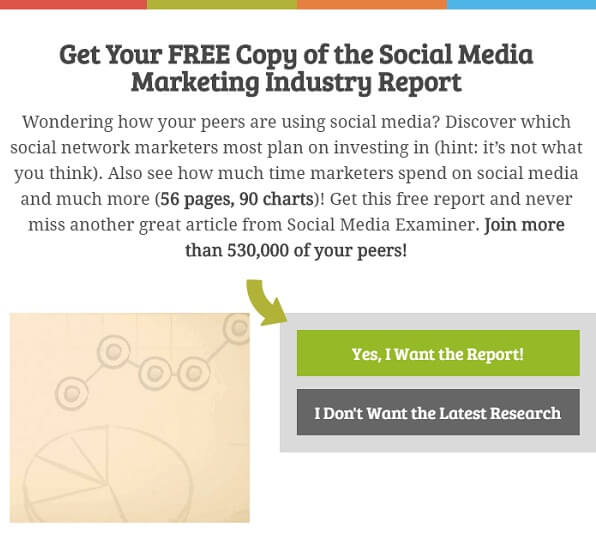 The icon came out as the winner by a long shot!
When asked about how many elements to test at a time, Chris advises different approaches for different projects. There are basically four elements in an opt-in form: the headline, content, a potential image, and a button to opt in. With so few elements, each one will have a huge role in the conversion rate, and it's easy to separate them out and test them one at a time.
When you look at testing an entire website design, there are potentially dozens of elements on a page. In those cases, it's sometimes beneficial to change multiple elements at a time. Each element can play such a small role that you almost won't see any impact unless you change more than one element at a time.
Listen to the show to hear more about the processes Social Media Examiner went through in choosing a new image for our forms.
How to Do a Basic Split Test
Chris explains that in a split test, you take an existing page or form, duplicate it, and change something on the alternate version; for example, add an image. You then run the original and the changed variation at the same time and split the traffic between them. Chris says you need to run a test for at least a week.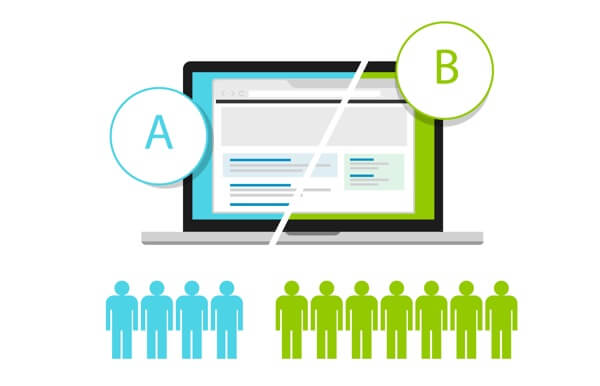 At the end of the test period, you get a scientific result that shows how each version performed with the same amount of traffic during the same time period.
Listen to the show to discover why you need to run a split test for a minimum of a week.
How to Determine the Winner
After running your split test, Chris says the first benchmark to consider is performance; identify the variation that has consistently performed better.
You can also plug your test data into a calculator such as Optimizely to see how statistically significant your result is. You want a statistical significance of at least 90%.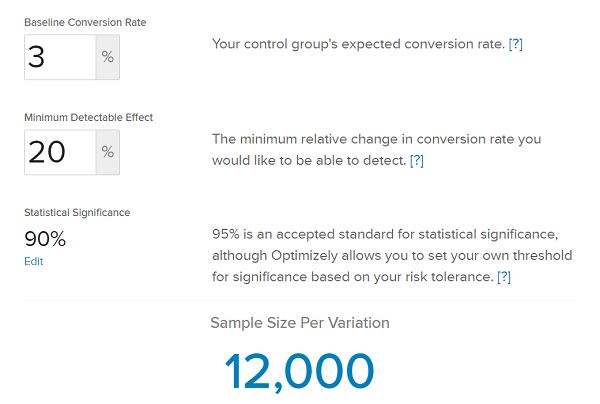 If you have high amounts of traffic and conversions, you may see 90% in a single day, which is why Chris stresses the importance of testing for at least a week. Alternatively, Chris notes that if you get low amounts of traffic and conversions, it may take longer than a week to reach 90%. In this case, you might need to run your test for a month.
Listen to the show to hear why you shouldn't base all of your optimization on the results for a single form.
What to Test Next
First, Chris reminds listeners to test the mobile versions of their forms separately from the desktop versions. Then, he says, once you've gotten through the basics (images, color, and font size), you can look at optimizing the messaging by testing headlines, calls to action, the amount of copy, and what the copy says.
Chris explains that optimizing the amount of text can be a bit challenging. Because business owners, in particular, tend to want to say everything about their offer, they often have too much copy. In other situations, there isn't enough copy.
To find the balance, you can run split tests to see whether you should have one paragraph, three paragraphs, or one sentence. Then, if you settle on a single paragraph, determine if it should have four sentences, four bullet points, and so on. You can then test versions of your copy by using the same verbiage but broken up differently or rearranged in each variation.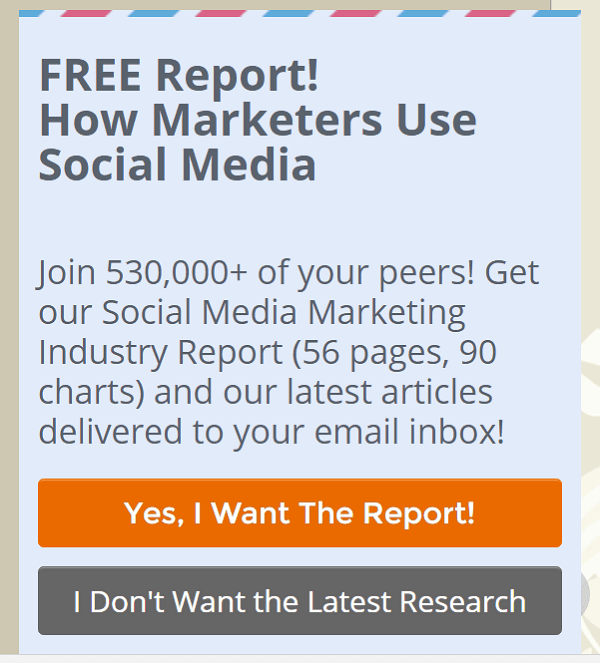 Also test the opt-in button text to see if using Yes or No instead of the default text can impact user behavior.
Using the words "yes" or "no" on your button text accomplishes a couple of different goals. First, when users get to decide whether to see the form, they feel like they're taking control of the experience. If they click yes, they've already mentally bought into the idea of the offer and are more willing to fill the form out.
Second, there's a percentage of the population that immediately wants to reject anything that feels like an offer. If they see a button that says no, they may give some thought before declining, rather than close the offer immediately.
Listen to the show to learn why you should test design concepts for your forms.
Discovery of the Week
Crowdfire, a web app for iOS and Android, lets you publish to Twitter and Instagram, engage with your followers, clean up your followers, find new followers based on keywords, and schedule based on the best times to publish.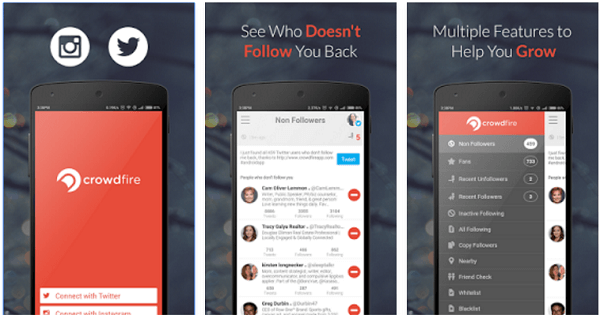 Because Instagram's API doesn't allow scheduling, Crowdfire walks you through the process of creating content on your smartphone and then allows you to save it in a hopper. The app then pings you at the scheduled time so you can manually publish your post.
Crowdfire is free for one account with limited features but offers several paid account options to fit a variety of business needs.
Listen to the show to learn more and let us know how Crowdfire works for you.
Listen to the show!

Key takeaways mentioned in this episode:
Learn more about Social Media Marketing World 2017.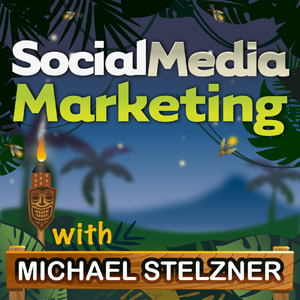 Ways to subscribe to the Social Media Marketing podcast:
What do you think? What are your thoughts on conversion optimization? Please leave your comments below.