Need to build a content marketing strategy? Wondering how to develop content that grows your business?
In this article, you'll learn what content marketing is and how to create a content marketing strategy that works.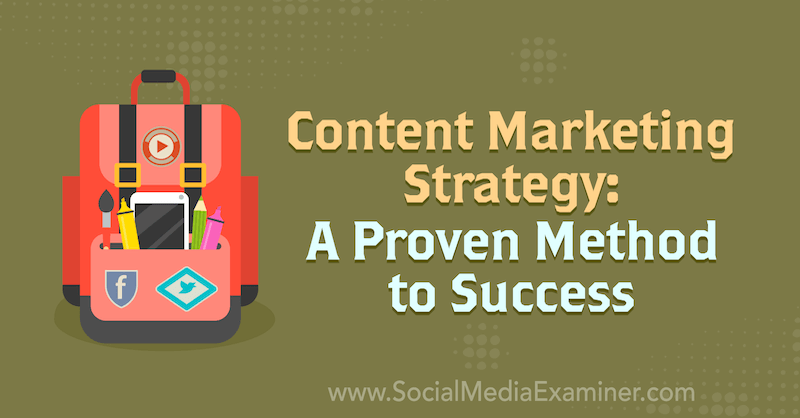 What Is Content Marketing and Why Is It Important Today?
With content marketing, you're focusing on a very specific target audience and delivering valuable, relevant, and compelling information to that audience over a long period of time to generate some kind of behavior change. This is very different from advertising, where you're using somebody else's audience to get your message across and paying for that opportunity.
Instead of talking about the widgets you sell or how great you are, the content you deliver with this marketing strategy helps the audience you're targeting live a better life or get a better job. The belief is that if you build a loyal audience over time by doing that, they'll reward you with more product or service sales and stick around longer as customers.
When Joe launched Content Marketing Institute, they did a large research study and found out that the people who subscribed to their blog, attended their webinars, and listened to the This Old Marketing podcast spent 20% more money than anyone else they targeted. These were their best customers. He learned that if they delivered those things consistently over time and built that audience, they created the best customers they could imagine.
Content marketing is in fact hundreds of years old and came out of the loyalty space. Most of the initial content marketing efforts were custom magazines, similar to what you might get from Costco or Sam's Club. John Deere's The Furrow magazine, which was created in 1897, is still around today because it sells John Deere equipment.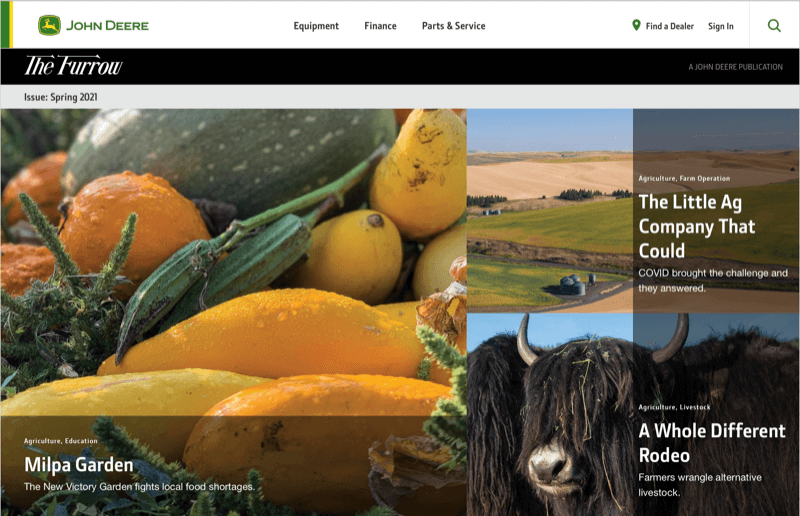 Why should your business consider content marketing? What we're seeing right now, especially online, is a land grab for audiences. Advertising is inefficient and mostly ineffective in a lot of cases. If you're going to vie for attention and build an audience, think of that audience as your future customer list. Once you build that audience, you've created an asset and the people in that audience will buy more and stay longer.
Content marketing is the most economical form of marketing. You could spend a ton of money with Google and Facebook to get a tiny bit of reach to an audience that may spend seconds with you, or you could invest that money in building content that could potentially work for you forever. While the shelf life of a lot of activities you do for paid or organic social is extremely short, a blog post you write today could still be drawing an audience to you years from now. The long-term potential is massive.
To get results with content marketing, you must consistently create indispensable content. Adopt the mindset that you can be the leading expert in something and will be creating content that's different from what everyone else is doing.
This seven-step content marketing strategy will help you figure out why you're doing content marketing, what kind of content makes sense for you, and who your audience is.
#1: Identify Your Sweet Spot
The first step is to find your sweet spot. This involves identifying what expertise you can offer, pinpointing what your audience is struggling with, and making connections between the two.
On one side of the page, list your skills and expertise. What do you know more about than anyone else? Next to that, write down the pain points of your audience. What keeps them up at night? The intersection of these two lists will give you a good starting spot for stories you can tell that will mesh with your audience's needs.
Creating a mission statement for your content is critical. Start by identifying who your target audience is—the more niche, the better. If you believe your audience is composed of plant managers, that's probably not niche enough. It should be plant managers in the Pacific Northwest in companies of 10,000 or more that outsource to China or India. That's how specific you want to be.
Next, decide what you're going to deliver to this audience. Simple tips in writing? A bullet point list? Podcast stories? YouTube videos? You need to know what stories you'll tell and how you're going to tell them.
The last step is the most important. What's the outcome for the audience? What's in it for them?
Darren Rowse's Digital Photography School has a content mission statement to offer simple tips to help digital camera owners get the most out of their cameras. He believes if he delivers on that, he can be the leading information expert in the world to that audience. And guess what? He is.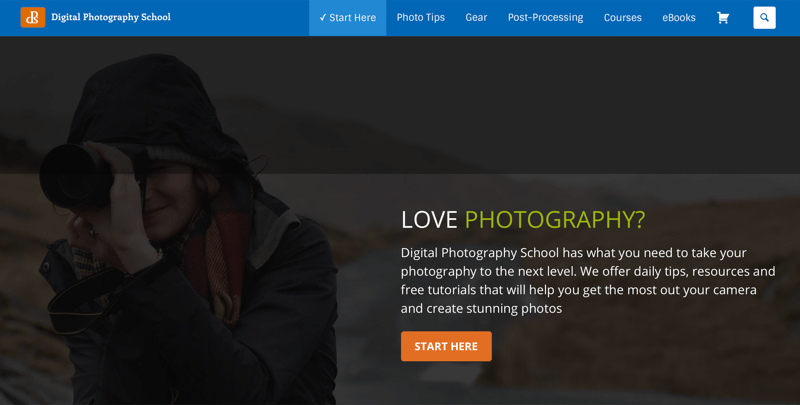 #2: Find Your Content Tilt
Your sweet spot is just the starting point. Now you need to take it a step further and find your differentiation area, or "content tilt." You can't just create the same content that everybody else is offering and expect to stand out. You need to find an area with little to no competition where you can break through all of the noise and build an audience.
To visualize what a content tilt is, Joe cites Mark Schaefer's phrase "finding the seam" from his book Cumulative Advantage. Once you find your content area, you have to find that seam, or opening, in the line (like in football) and push through it as quickly as possible with as much energy as you can. Creating your content mission statement first will help you unearth what your tilt is.
There are lots of potential ways to differentiate such as catering to an audience that no one else is focusing on, picking a platform that's a greenfield opportunity, or through story positioning.
Years ago, Jenny Doan, CEO of Missouri Star Quilt Company, decided there had to be a better way to make a quilt. She coined the term "quick quilting" and started creating quick quilting tutorials on YouTube. She did that over and over again and began building an audience. Today, she has 750,000+ subscribers and employs more people in Hamilton, Missouri than any other employer. People come from all over the world to see her because she positioned the story differently.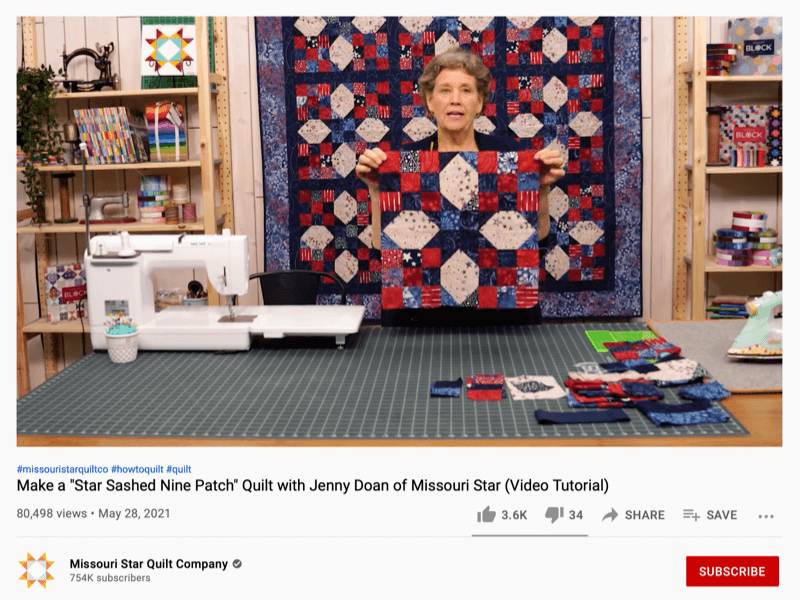 When Indium, a company that manufactures industrial soldering equipment, was trying to find a new way into the market, they took stock of what they had expertise-wise—engineers who knew more about industrial soldering equipment than anyone else. Their core audience was mechanical engineers who needed how-to education on soldering because they have to spec them and they don't know how to do it. That was Indium's sweet spot.
From here, Indium decided they wanted to create a blog but recognized they didn't have good writers on staff, so they hired an editor to interview their engineers. The engineers then produced the content, creating From One Engineer To Another, one of the best blogs in the industry.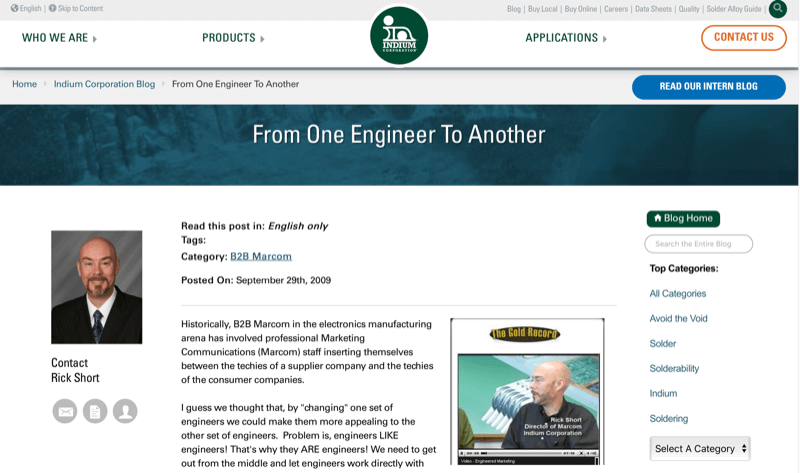 #3: Choose a Platform to Focus on
Now you need to pick your core platform to build your audience. Based on who you're targeting and your content tilt, choose your content type—audio, video, or text plus image? Then select your home base. YouTube for video? Apple Music or Spotify for your podcast? A WordPress blog for your text plus image? Instagram for your pictures? Clubhouse for interactive audio?
Successful content entrepreneurs don't choose two or three—they choose one. Become a blogger, a YouTuber, a Twitch streamer, or whatever is the best fit for you and focus on being the best at that for 9-12 months. Then once you create a minimum viable audience, you can move on and diversify, which we'll talk about a little later.
#4: Build an Audience
The 9-12 months you spend focusing on the base leads to audience-building. This is where social media comes in. If you decide you're going to be on Twitter, Facebook, or YouTube, remember that you don't control any of those connections. Those followers or subscribers are Twitter's, Facebook's, or YouTube's, not yours. The platforms are letting you use their audience right now.
You need to have a plan to ascend the subscriber hierarchy and move into email. You're moving from rented to owned. If you've built your platform on YouTube and have amassed 10,000 subscribers, start building a plan for some kind of email offering down the road.
#5: Generate Revenue
For the first 9-12 months, you don't want to have any revenue expectations. It doesn't mean you won't get revenue. Just keep your expectations low because it takes time to build a loyal audience.
After about 12-18 months, you'll be in the revenue sweet spot. With the loyal audience you've developed, you can generate revenue in lots of different ways. You could sell advertising sponsorships, do conferences and events, sell premium content like books, ask for donations, use affiliate marketing, or sell subscriptions like on Substack.
You could also do regular content marketing KPIs such as selling products or services, making customers more loyal (like what John Deere does with their loyalty magazine), or creating better customers like TD Ameritrade does with a magazine called thinkMoney. TD Ameritrade found that clients who get the magazine trade five times more. They've created a better customer because of their content.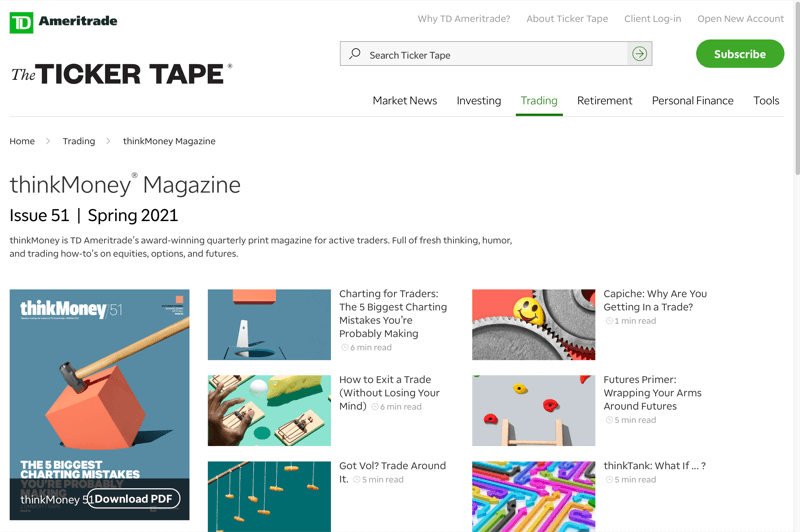 #6: Diversify
This is the point where you can think about diversifying. All great media properties start with one base, one platform, and when they create a minimum viable audience to drive revenue, they start diversifying. If you've created a blog, for example, now you might be ready to launch a podcast.
Generally, you want to have 6-12 months between launches because it takes time to diversify and build another audience.
#7: Decide Whether to Sell or Go Big
Here's where you get to the big part: Sell or go big? Joe ended up selling Content Marketing Institute, which was his goal. He sold it for a little less than $30 million on $10 million in revenue and it took about 7 years to get there.
Red Bull Media House is an example of a company that decided to go big. They went from Red Bulletin Magazine to create Content Pool and all their entertainment and videos. Now you don't know which is more valuable—Red Bull Media House or Red Bull itself?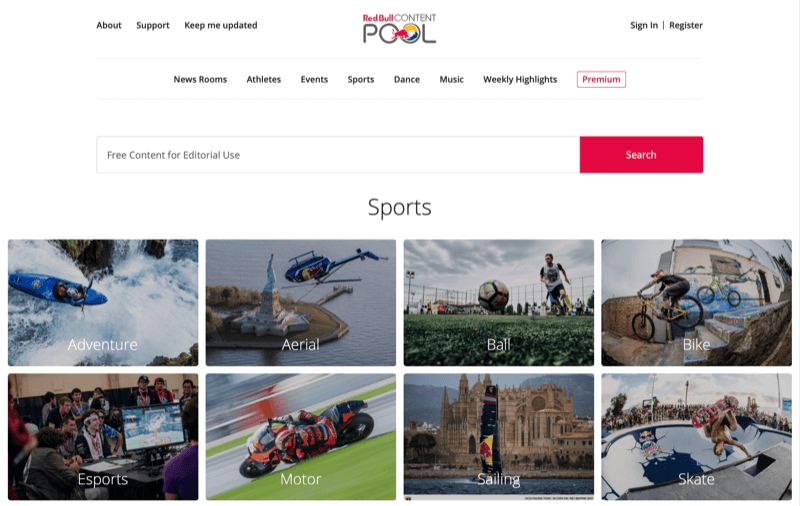 This stage is where you can really start to add on and grow. If you follow this model, generally you're looking at about $5 million in asset value after 5 years, based on the case studies Joe looked at in his book.
Other Notes From This Episode