Do you have an email list? Wondering how to leverage email in your marketing?
In this article, you'll learn how to develop an email marketing strategy to sell your products and services.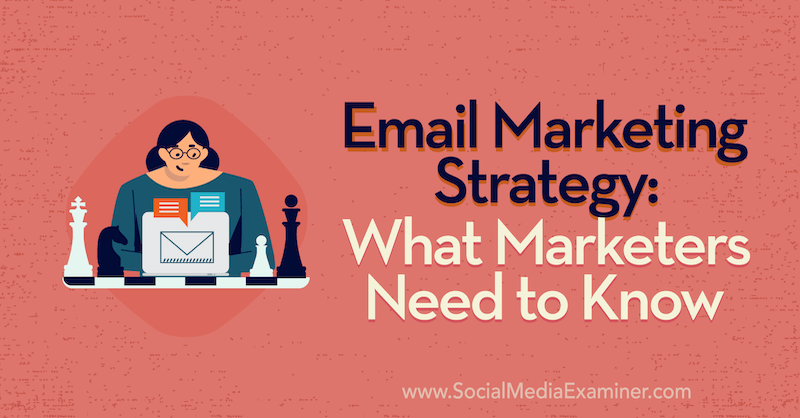 Why Social Marketers Should Consider Email
Unlike your following on social media, your email list is an asset that you control. On social media, you don't have distribution to your followers unless you pay a lot of money and can't download their information or transport them from one platform to another. But with email, you can send people a message whenever you want and also track the actions they take.
The return on investment (ROI) for email marketing is also one of the biggest of all of the digital channels. According to Litmus' State of Email Survey, for every dollar you invest in email marketing, you get $42 back. Other digital channels can't provide such a huge ROI at the scale you can get from email.
The other unique point of email is that it connects you to a single person throughout their entire journey so you can develop a relationship through that channel, which makes it very unique.
The majority of social media platforms require an email address to log in, which in the email space is called the digital passport. It's like the digital ID of that individual. When you have someone's unique identifier (their email address), it keeps bringing value to your business.
Having someone's email address allows you to learn from and understand them and then use that information to personalize their experience and enhance their customer journey. You can track what content they're reading, links they're clicking on, and actions they're taking. Your email list is like having a central database of every prospect and customer.
Here's how to put together an email marketing strategy for your business.
#1: Outline Your Email Strategy
Before you invest in an email platform, it's important to define your email strategy. There's some amazing technology out there for email, but if you don't know what your goal is or the types of campaigns you'd like to send, you won't know what technology is a good fit for your needs. You can avoid an expensive mistake by defining the strategy first and then investing in the technology.
Start by defining your objectives for email. It's important to align your email marketing and overall marketing activities (including social) with the goals of your business. That will allow you to attribute what you've delivered in terms of a performance metric that aligns with the overall business objectives, which will make your conversations about budget and resources much easier.
When setting your objectives, try to avoid generalities. If you're not specific enough, it will just create confusion. So rather than have the objective of getting more sales (which of course, most profitable businesses want to do), think more granularly. Sales of which product? From which audiences? In what time frame? Considering all of those underlying details will help you become more strategic with your objectives.
Once you've thought about the strategic parts, move on to setting realistic targets. While it's great to have ambition, sometimes you just need to make sure your goal is achievable.
Let's say you want to set a target for growing your email list. What number would be considered realistic? If you're looking to grow your list by 1,000 people in a month and you currently have 1 subscriber, is it achievable? How are you going to do that? What's going to change to develop that growth? Really thinking about all of the different angles that come into play will help you assess whether it's a realistic target.
Next, decide what audience you hope to engage. Who are they? Be as specific as possible.
Also think about your overall numerical performance targets. What key performance indicator (KPI) will you use to measure success? Consider different milestones as well.
Finally, set an end date for achieving the objective. Be as specific as possible because this informs the schedule for your reporting. It will also help you determine the timetable for reaching each milestone you'll have to put in place to achieve your objective.
#2: Create Content That Drives Engagement
Once you've defined your email strategy, the next step is focusing on the content. Both the subject line and body of your email play crucial roles in engaging your audience. Both elements have different calls to action (CTAs) and ways of convincing people to either open the email, or once they've opened it, drive the action you're looking to drive.
In email marketing, opening an email or clicking on any of the content that's within the email—whether it's an image, CTA button, or link—is seen as engagement. You can track every time someone opens or reads an email, determine how long someone spent reading it, find out whether they scrolled through it, and see all sorts of behavioral metrics such as where the most hover points are.
Think about your content from an engagement perspective because this is what Gmail, Yahoo!, and Outlook will measure and monitor to determine where your email sits—whether it goes into the main inbox folder or spam. Every time somebody opens or clicks your email, it's clocked and measured by Gmail and Outlook and you get something akin to a ranking that affects your positioning in the inbox.

It's a complex algorithm that makes judgments on every email received in the inbox (and Gmail doesn't give the full picture as to exactly what they're tracking). Your subscribers' engagement level will dictate the placement of your email and your content plays a huge role in that.
When you create content, think about what your audience wants to receive from you. This is where behavioral data is important. This data doesn't necessarily have to come from email, though; it can be mapped from other digital channels.
For instance, if a particular post or piece of content is getting a lot of shares, likes, or retweets on social media, that could feed into your email marketing content strategy by informing the content or subject line in your email. On the flip side, a piece of content that's driving lots of engagement and clicks via email could feed into your social content plan.
#3: Design an Email Welcome Journey for New Subscribers
The welcome journey is crucial for email and it's a quick win to keep your audience engaged. This journey happens when a new subscriber signs up for your list. It could be a series of emails—typically 3-4—that welcome the new subscriber and thank them for signing up.
You've already confirmed their email address so use these emails to welcome them like you would if they were walking into a store or calling you on the phone. Set some expectations for what they can expect to receive from you and talk about your business and unique selling proposition.
Start Building a Relationship With New Subscribers
Your new subscriber has taken the time to enter their email address to sign up for your newsletter or email program so thank them for that and start building that relationship with them.
Typically, a welcome journey is one of the top-performing email journeys that you'll ever send because those subscribers are so engaged in your brand at that moment. They're almost like a captive audience so start building on that relationship with them immediately.
Say hello, tell them a little bit about your business and what they can expect to receive from you and how often. If you aren't sure yet what the frequency will be, you might tell them you'll email them a couple of times a month, tell them the latest news, and/or share new products that have just launched. What you say will depend on what your journeys and email programs are but these don't have to be detailed expectations.
Gather Audience Preferences
The welcome journey is also a good opportunity—particularly in the second or third email—to gather some preferences from new subscribers (if you're able to store them). Ask them what they're interested in and the type of your products they might want to hear about. This information allows you to start personalizing the experience with them from the very beginning.
There are several ways to gather preferences in the welcome journey and it can be interactive.
For instance, if you're a women's clothing brand offering a wide range of products, you might gather your customers' preferences through images. You could ask what types of items they're interested in, such as shoes, dresses, or business wear. Or maybe they don't have a preference and want to see everything.
This is where you can start to learn what an individual subscriber's really interested in and looking for. While their preferences obviously may change over time, you can use the information you've gathered about your new subscriber in the first email campaign you send to them. These insights allow you to personalize the content within the email from the beginning rather than sending the same email to everybody.
The other way to gather insights from your subscribers is to include a form in your email where you ask a couple of questions (nothing too lengthy). That information would then be stored in your email platform.
You can achieve this with a simple series of links or buttons where you ask, "Which of these do you identify with most?" or "Which of these topics are you most interested in?" On the back end, whatever that person clicks will get identified to them.
As a marketer, this allows you to start to segment your audience and build a profile of sorts on your email subscriber.
Test Various Elements of Your Welcome Journey
Testing is really important in email. Once you've had enough people sign up and experience your welcome journey, review your results and then test different subject lines, frequency, and questions you ask (for gathering preferences).
How long your welcome journey should be depends on your business and the audience you're sending it to. The first email should be sent as soon as that subscriber has entered the database and been verified (if you do double opt-in, which we'll talk about in a minute).
For B2B organizations, typically it's best to send the second email 5-7 days later but you'll want to test this to see what works best for your audience. In a B2C scenario, you could send it a little sooner, but again, it needs to be tested.
#4: Keep Your Email List Clean
Once you've grown your email list and have an email marketing database, it's important to keep it clean by purging inactive or invalid emails. This process is known as "list hygiene" and should be conducted on a regular basis. The best interval for your business will depend on how fast your list is growing.
If you don't conduct any form of list hygiene, you might have email addresses on your list that are no longer valid and could be spam traps, which means you're sending to email addresses that are spam accounts. When this happens, it can start to damage your reputation in the inbox and cause deliverability issues, where your emails don't enter the inbox or get blocked altogether by Gmail, Yahoo!, and Outlook.
Jenna recently worked with a company that had done no hygiene on their list for 3 years. Their results had gradually decreased over time because their reputation was getting increasingly damaged from sending emails to invalid addresses. They ended up having five spam email addresses on their marketing list and more than 50% were high-risk email addresses.
There are free online tools available you can use to do a quick check of your list. For example, Free List Check Tool from Fresh Address (shown below) will immediately flag potential risk factors, invalid email addresses, and spam traps.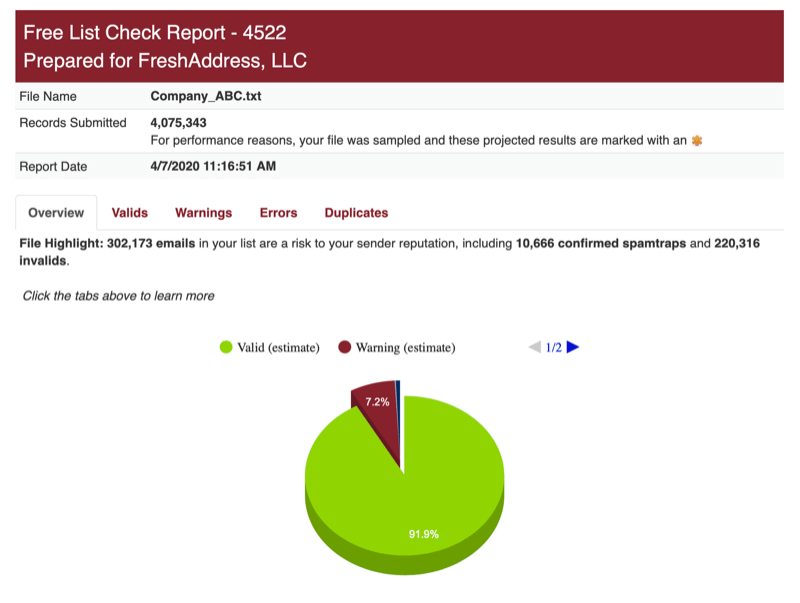 Another way to do list hygiene is to look at how long your subscribers have been in your database and when their last engagement was. You could start by looking at when they last opened an email they received from you. If you have a high proportion of email subscribers who have been on your list for 2 years and haven't opened an email from you in the last year, you'll want to investigate those further.
Having a big email list of inactive people won't help your business. Whether they're spam traps or not, you want to clean that list. Plus, with most of the email service providers, you pay based on the size of the list or the number of sends you do. So keeping your list clean can also save you money.
Double Opt-In
Double opt-in can help with your list hygiene practices by validating that a particular email address exists. The way it works is that an email will be sent to your new subscriber reconfirming they want to get added to your list. They have to click that email before they get added to the system and receive the offer they signed up for. This practice can prevent fake email addresses from entering your database.
Double opt-in also helps you build trust with your new subscriber from a privacy perspective. When you double-check that the subscriber really does want to sign up, you're demonstrating you take privacy seriously.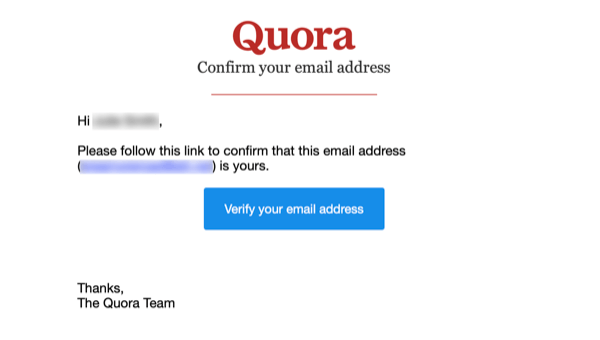 If you're on the fence about double opt-in and aren't sure the audience you're targeting will go to the effort of actually opting in twice, consider using Google reCAPTCHA as an alternative. It's a sophisticated technology, but in a nutshell, it confirms that someone is a human before they fill out the form.
It's a way of getting around double opt-in, and a lot of the more sophisticated email service providers will allow you to use it. However, it doesn't prevent illegitimate email or someone from entering another person's email into the system.

#5: Email Marketing Trends to Watch for
While the world of email hasn't evolved nearly as fast as the world of social marketing, one development to watch is AMP (Accelerated Mobile Pages) in email. Similar to how AMP works on websites, it's effectively bringing a more interactive element to email in the inbox.
For example, if you open an email in your inbox, it could potentially contain a form you can complete from within the email itself. So you could conceivably select a product, add it to your basket, fill in your order details, and click submit all from within the email. It eliminates the extra step of going to the website to find something, fill in your personal information, and complete the transaction. Instead, you're doing it all from within the inbox.
Email seems to be going in a similar direction to social platforms and shopping where they're trying to keep consumers on-platform and have them complete the entire transaction within their app. While AMP for email is an intriguing development for consumers, it means people won't be coming to your website so it's going to be harder for you to track.
AMP for email started with Google but now Yahoo! is supporting it as well. It gives consumers a lot of convenience, and convenience is typically the winner in these scenarios. But adoption has been very slow because this technology does pose some security risks. Jenna thinks it will probably go down the same road that AMP for websites did, where it gets more widely adopted, and we'll likely start to see a lot more campaigns adopt this practice starting this year.
Other Notes From This Episode