Want to build a loyal Web3 following? Wondering how to deepen relationships for an NFT project?
In this article, you'll discover how to build a thriving community in Web3 with insights from Zeneca, the founder of ZenAcademy.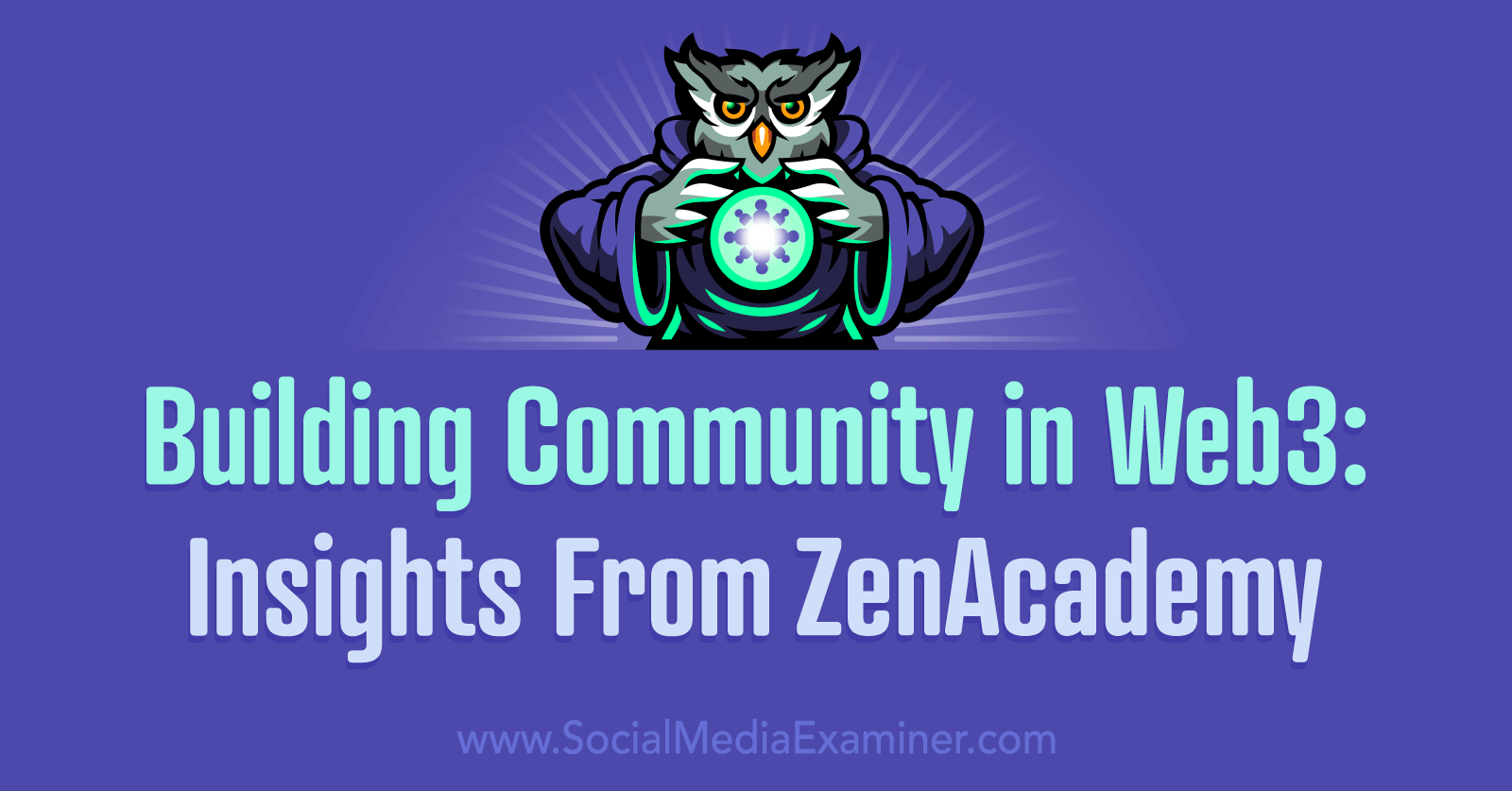 Why Community Is the Heart of Web3
People gathering in communities isn't a new concept to humankind. Nor is the concept of people gathering via the internet. Online communities have existed for decades in the form of online forums, Facebook groups, gaming guilds, and others. Now, community has extended to Web3.
While use of the term community in relation to Web3 projects has become has been overused and misapplied over the last year, the overarching concept remains central to the success of any Web3 initiative.
So what does community mean in this context and how is it different than in Web2?
People who join a Web3 community aren't simply gathered around an idea. Blockchain technology and NFTs now allow people to buy into your project in a very real sense. Now, each member of that community has an emotional and financial stake in the success of the project; thus, they're incentivized to support and grow it.
This translates to a symbiotic relationship and flywheel in which the people who create the community are incentivized to do good things so others want to join. This leads to further incentives to grow and strengthen the community, leading to others wanting to join… and so on.
This type of enterprise isn't free of potential pitfalls and bad actors, though. One type is bad actors who create projects that are essentially Ponzi schemes. Another is people who buy into one of the Ponzi projects, and then upon realizing there's no substance, hype the project until they can sell their token and leave the community.
How to Start and Sustain a Thriving Web3 Community
If you're thinking Web3 communities are only for people interested in NFTs, blockchain, and tech, think again. Thriving Web3 communities have been formed by content creators, entrepreneurs, artists, marketers, and others.
Maybe your thing is gardening and you want to help people around the world understand how to grow and farm plants in their geographic regions. You can create your own community for that and you can use ZenAcademy's community as a blueprint.
#1: Clarify the Why
Before you begin building a community, you and your founding members must be crystal-clear on a few points. If your initial founding leadership isn't clear on why you're entering this space, what you want to achieve, and the values that will drive the culture of your project, you'll confuse people and your community will disintegrate.
Once those points are clear, you'll attract others who identify with what you're trying to achieve and how you're going about it.
As the community grows, stay true to your mission. For example, if you start a gardening community, don't suddenly switch to discussing video games.
That's not to say your community interests won't or shouldn't evolve.
ZenAcademy was originally launched as a safe and friendly environment to meet like-minded people in the space to discuss NFTs. It grew into a way to educate people who knew nothing about NFTs.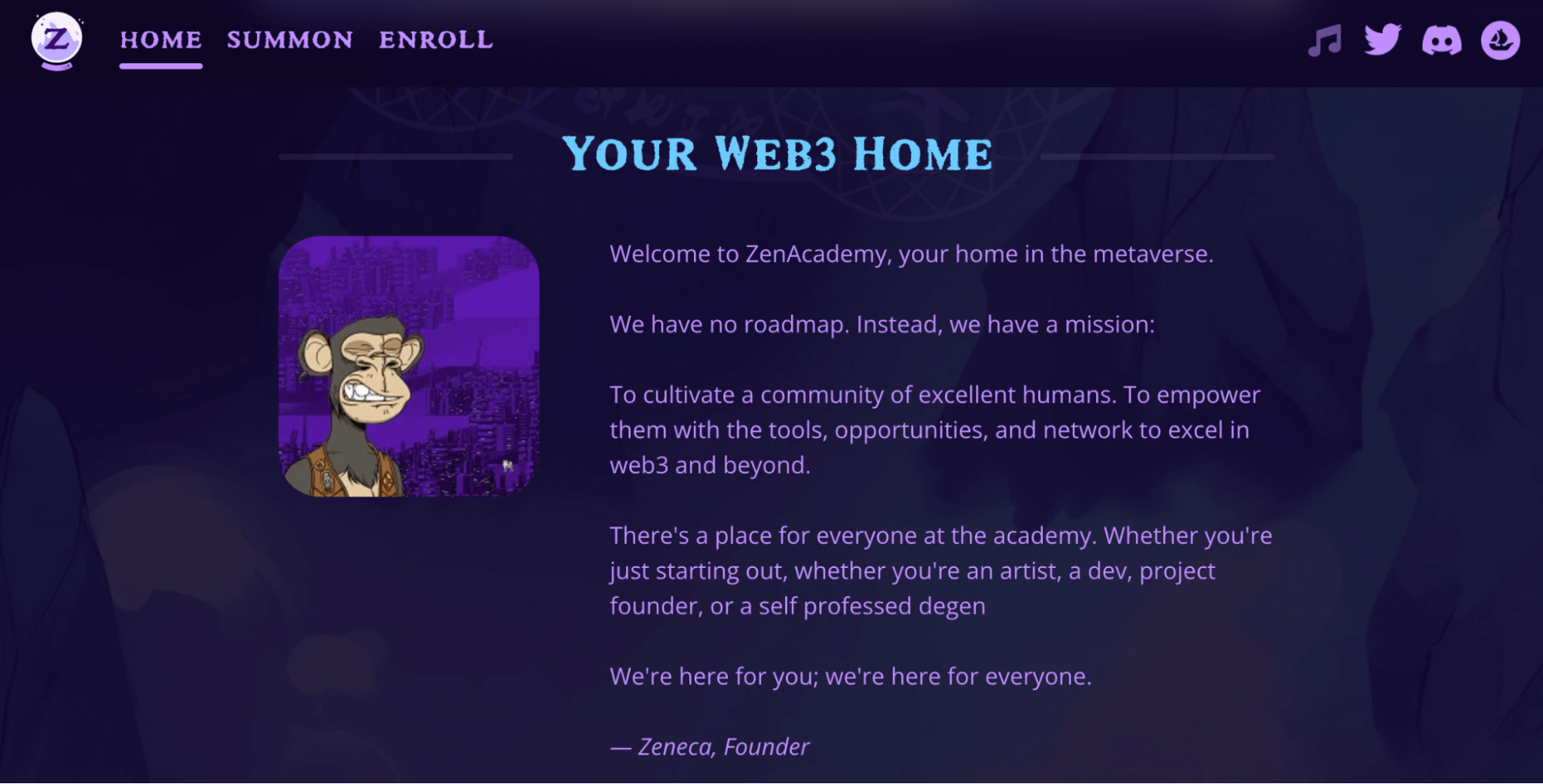 Now the community includes three tiers of members:
People who are brand-new to the space and need to learn terminology, how to set up a MetaMask wallet, what a gas fee is, and so on.
People who've been in the space for a while; some may identify as degens. This group understands Web3 terminology and lingo and the risks of investing so their conversations are more casual.
People who are founding and launching their own projects.
As more people in the community have learned more and grown together, their conversations have evolved to also include artificial intelligence (AI) because it's a natural part of the evolving NFT space.
#2: Establish External Communications
Authenticity is always important but especially so in the Web3 sphere because bad actors exist everywhere. There are people in Web3 whose goal is to part you with your hard-earned money and leave you with nothing to show for it.
Many experienced Web3 users can spot those grifters a mile away.
If your goal is to create a close-knit community based on values and ethics, you need to lay the groundwork. Focus on creating content that reflects the interests of the people you want to connect with.
Then honestly and transparently tell the world what you're thinking and what your intentions are.
Who are you? What are you trying to do? How will success be measured and realized? What can people who support you and join your community expect now and in the future?
The strongest communities are built one person at a time so rather than aiming to grow huge numbers quickly, pace your growth to develop real relationships with the core members of your community. This will ensure your core community ties begin strong and become stronger over time.
Before ZenAcademy was even an idea, Zeneca spent months publishing free and detailed content via Twitter threads, Twitter Spaces and in his Letters From Zeneca newsletter: floor price stats, deep dives on projects, thoughts on the Web3 space, and so on.
When he decided to launch ZenAcademy, he announced his intentions in a detailed letter on Substack.
What made his 'roadmap' different was the fact that there was no roadmap. He was transparent with people regarding what he was and wasn't promising now and in the future.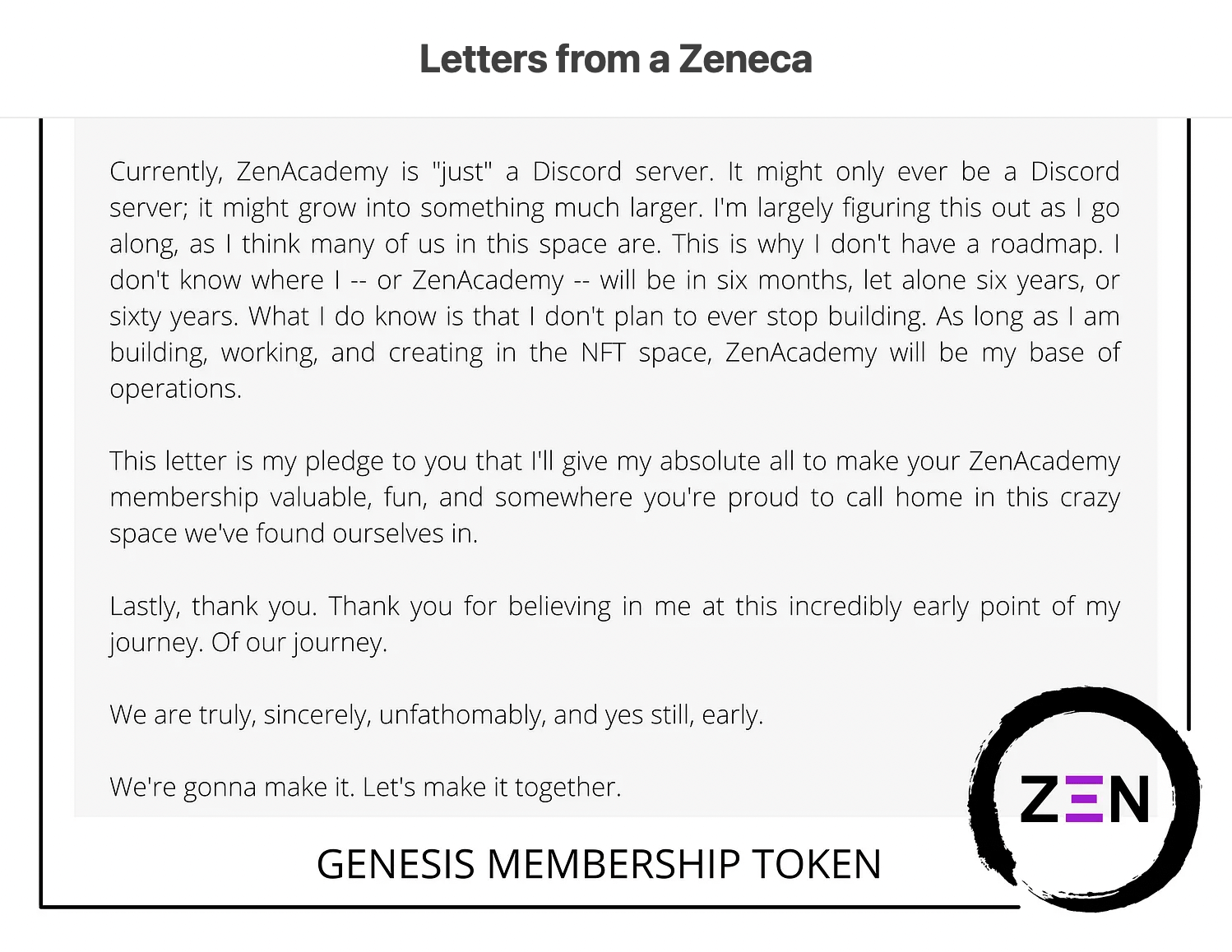 Looking back, he's certain 90% of people that viewed the web page took one look at it and left. But his transparency earned him trust. It almost acted as a filter so the 10% of people who decided to mint an NFT to join the community were there for the right reasons.
They valued the content he'd been providing on Twitter and in his letters, and reasoned the content he would provide in the future would be worth the cost of minting a Genesis Membership NFT at 0.033 ETH. The limited 333 Club Membership NFT was available only to a white list of people selected via an application process, and minted at 3.33 ETH.
While more than 1,500 people applied for a 333 Club white list placement, various factors including changes in the marketplace impacted the mint, leaving several 333 Club NFTs left unminted. Over the course of 4 months, Zeneca carefully and intentionally selected recipients, one by one, until he had a strong core community built.
#3: Maintain Internal Community Communications
Before the NFT project launch, the ZenAcademy Discord was free and open, and 1 month before the November launch, the Discord server was closed to new members. Existing members were given an OG role that gave them lifetime access to the server.

After mint, things had to change to deliver value to new members who held Genesis and 333 Club NFTs.
In the early days, Zeneca held three types of regular audio calls in Discord for the 333 Club sub-community. One was a casual chat and the second was for a 333 member to present their own project to the rest of the community for feedback. The third was a town hall where the status of the project was discussed.
Zeneca's communications with the broader ZenAcademy community most often take place in chat channels when he makes an announcement and replies to people. The balance of ZenAcademy communications is managed by a team of compensated moderators who were chosen by Zeneca from the original volunteer moderators.
Today, large parts of the Discord are token-gated but a free member area is open to all.
#4: Strengthen Community and Member Ties
While there's great power and value in the network effect of a large community, there's also a lot to be said for the value of micro-communities that emerge within larger communities.
Finding a way to support the micro-communities of like-minded individuals that grow organically from within your primary community will not only give your members even more value but will also help them feel even more connected to fellow members and your project.
The result is that they become even more vocal evangelists for you.
When Zeneca noted a lot of people in Discord were asking about growth strategies for a Twitter account or newsletter subscriber list, he created a channel in the ZenAcademy Discord server focused on social growth. Members use the channel to ask questions, get answers and advice, discuss tactics, and more.
To further support this micro-community, he started a 28-day challenge, during which he posts a call to action that prompts people to share something based on a specific facet of social growth strategy in the chat with the other members.
The prompts and reading what other members are up to keep people coming back to the Discord every single day and further strengthen the community bonds.
#5: Empower Community Members to Evangelize
One of the ways community members spread awareness for their favorite projects is to use their NFT as a profile picture across their social media profiles.
The Members of ZenAcademy are no different. They expressed their wishes for a PFP project that would allow them to represent ZenAcademy across Web2. Zeneca listened and devised a way to move members from the original token to the PFP token.
About 5 months ago, ZenAcademy Genesis token holders gained the ability to burn their token to receive a Zen Chest. Each Zen Chest gives its holder access to everything that the original Genesis letter afforded them, as well as the ability to summon one of the future ZenAcademy PFP NFTs when they launch in a few months.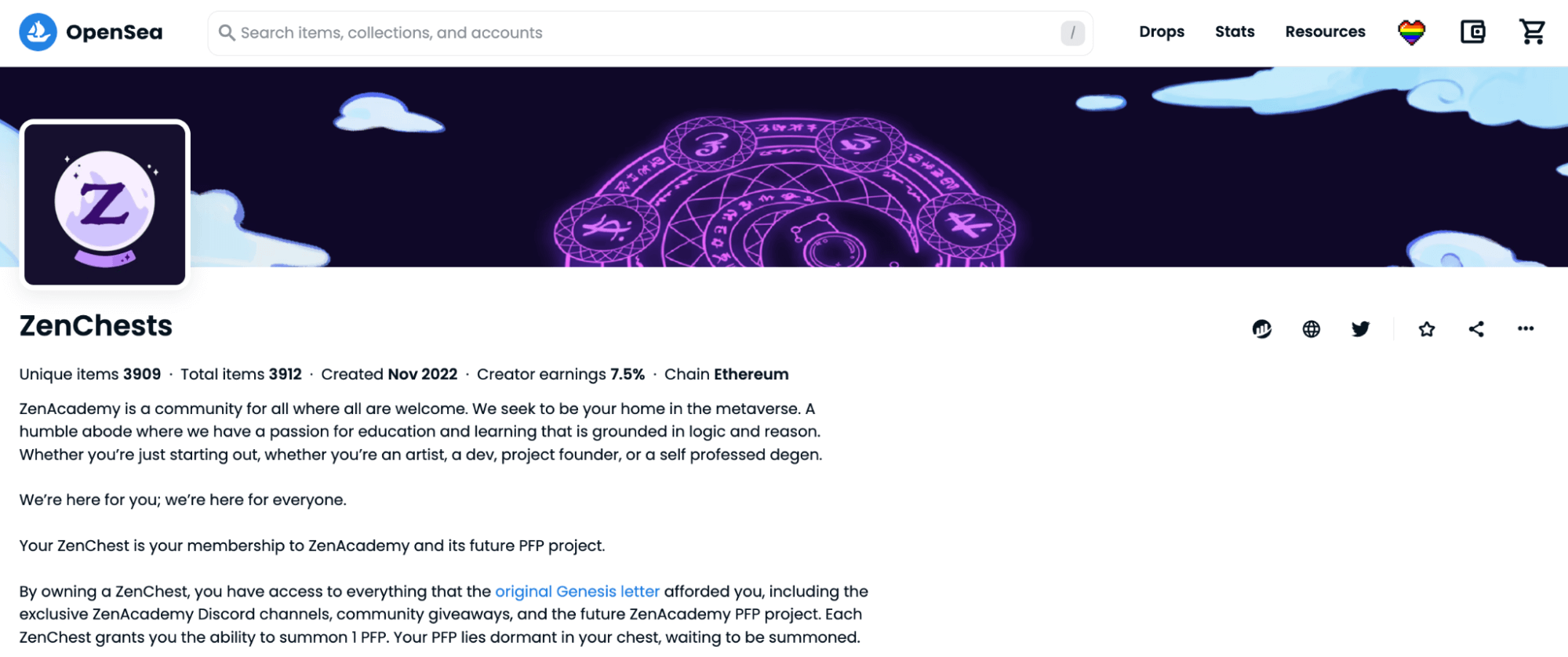 These new ZenAcademy PFP NFTs, capped at 10K pieces, will effectively become the ZenAcademy membership token.
#6: Grow Beyond the Original Community
It makes sense that some successful communities will look for a way to grow beyond their original collection. But how you decide to grow could dictate whether your original member holders continue to feel valued.
Zeneca understands this and has devised a way for new people to join ZenAcademy while honoring the community's original member holders—the ZenAcademy Student ID NFT project, which went live on February 8, 2023.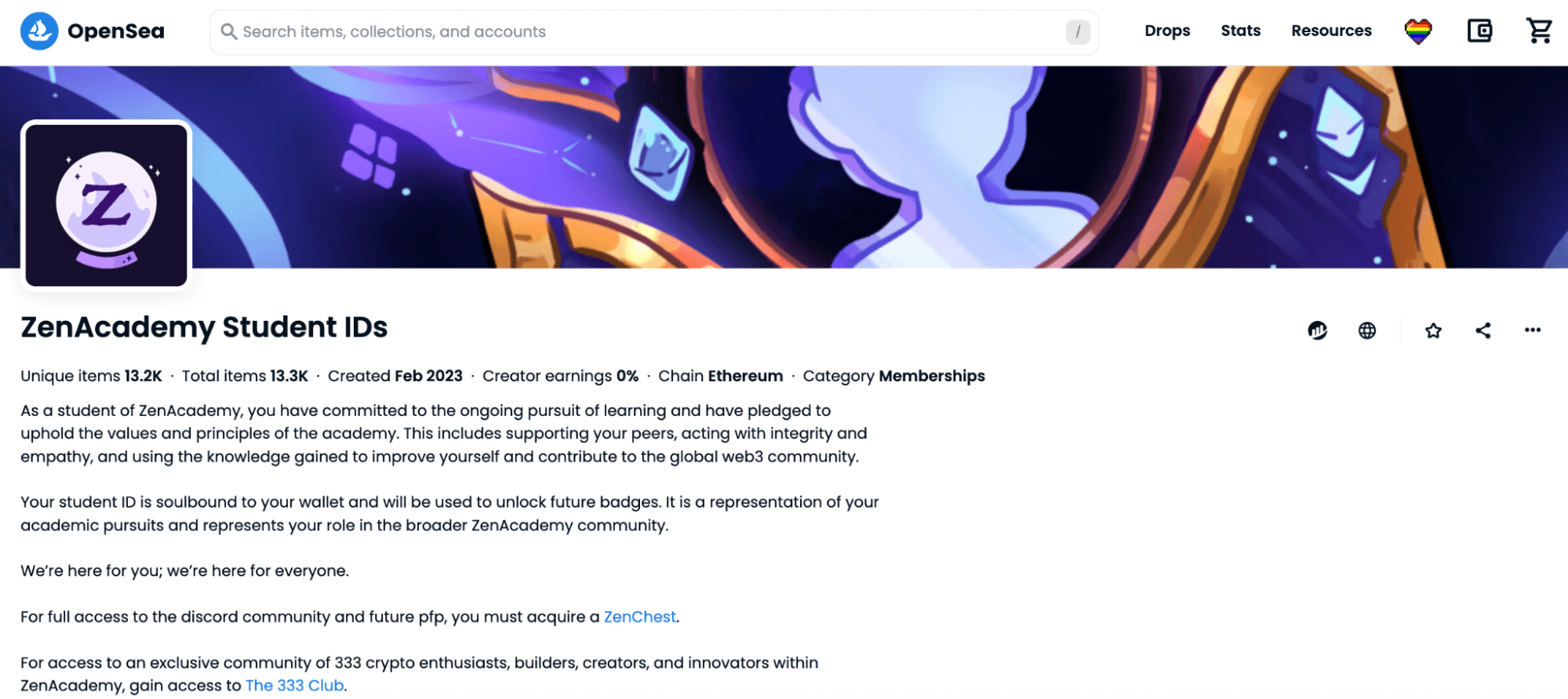 Each token from the unlimited collection mints for free and is soul-bound, which means it can't be sold or transferred so there's no speculative financial nature involved. Now anyone can become a part of the ZenAcademy community for free.
Other Notes From This Episode
Where to subscribe: Apple Podcast | Google Podcasts | Spotify | Amazon Music | RSS
✋🏽 If you enjoyed this episode of the Web3 Business Podcast, please head over to Apple Podcasts, leave a rating, write a review, and subscribe.
Disclaimer: The information provided on this website is provided solely for educational purposes and does not constitute any advice, including but not limited to, investment advice, trading advice or financial advice, and you should not treat any of the website's content as such. Social Media Examiner recommends that you independently research any information contained on this Website and that you speak with an investment professional before making any decision to purchase, trade, hold or sell cryptocurrency. Nothing herein should be treated as a recommendation to buy, sell or hold cryptocurrency. Social Media Examiner cannot guarantee the accuracy of any information listed on the website and is not responsible for any missing or wrong information. All information is provided as is and should be used at your own risk. Social Media Examiner disclaims all responsibility and liability for your use of any information found on the website.