Want to grow your NFT community? Wondering how to help more people embrace Web3 projects?
In this article, you'll discover the most common objections people new to Web3 have regarding NFTs and learn how to remove those barriers with education and community.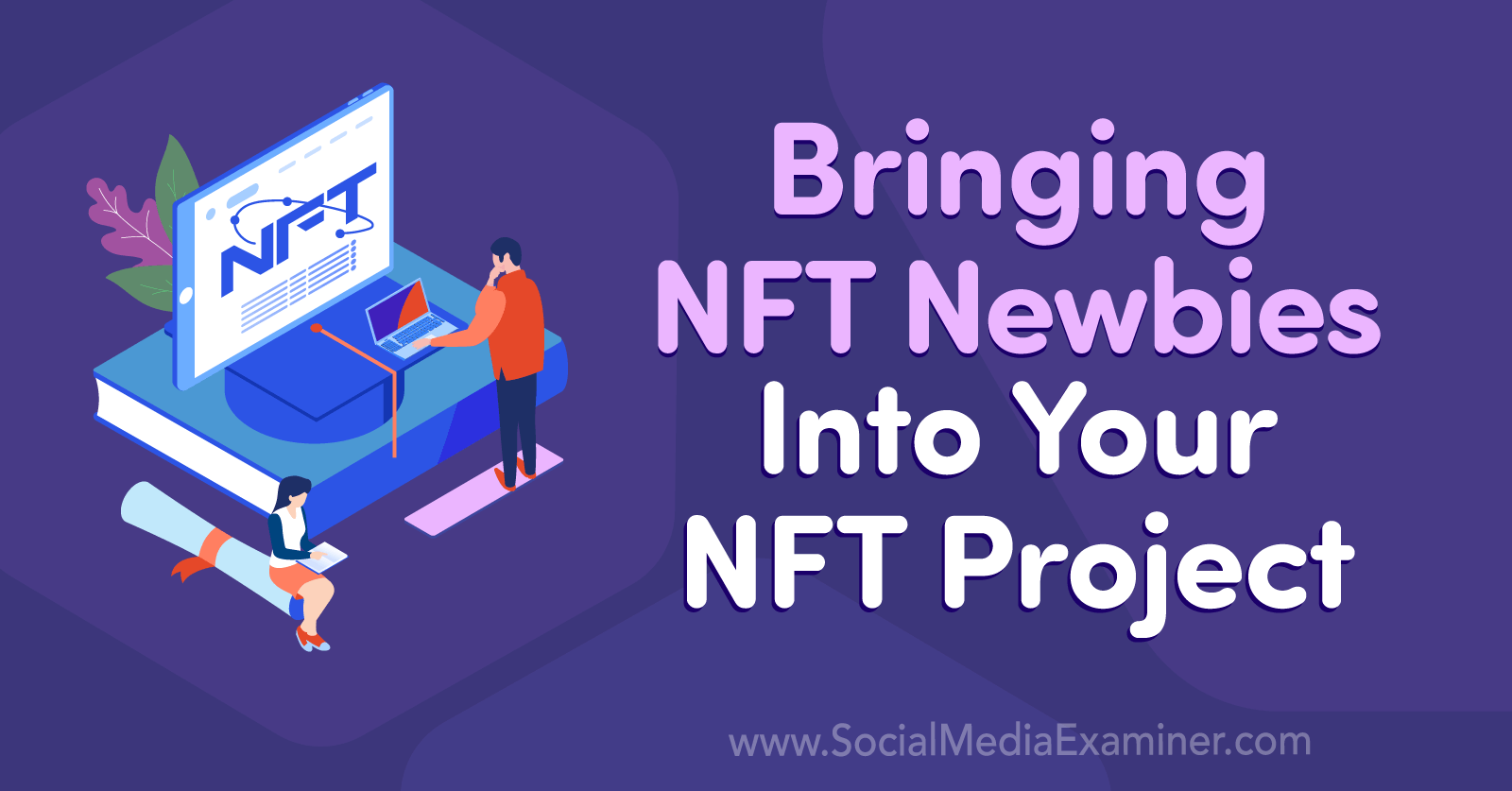 This article was co-created by Heather Paraday and Michael Stelzner. For more about Heather, scroll to Other Notes From This Episode at the end of this article.
Why Is Community Development Critical to NFT Project Success?
In the context of Web3 NFT (non-fungible token) projects, the term community refers to the group of people who gather around; invest in; and help build, promote, and safeguard your NFT project.
When someone buys into your new NFT project, there's a very real value exchange at play. They invest in your project through the purchase of an NFT, which gives them access to your community. The expectation is that your NFT project will continue to provide utility and community.
The value of your NFT project is driven in part by the utility behind your NFTs, but the greater part of that value is driven by the community experience. As long as your NFT holders continue to align with your project's mission, feel a sense of belonging, and feel that they have a voice in the project, there's value in your community.
The longer your community members hold onto their NFTs, the deeper the long-term value of your NFT collection and NFT project.
Common Misconceptions and Legitimate Concerns About NFT Projects
To help people become confident and comfortable with Web3 and your NFT project, you have to remind yourself what it felt like when you first entered the NFT space. Don't simply jump to trying to sell your project because the person you're talking to doesn't understand the terms you're using or the product you want them to buy.
Put yourself back in the shoes of a newbie and remember the following top-of-mind issues you were concerned with.
NFTs Are a Scam or a Pyramid Scheme
The key to understanding that there's genuine value in owning an NFT is understanding smart contracts and blockchain technology.
When someone purchases an NFT, they haven't simply purchased a digital art of a penguin and a promise from the seller to provide certain utility. They've purchased a digital art of a penguin that has a binding contract coded into its digital fabric. That smart contract cannot be altered and uses Web3 technology to deliver the promised utility.
For example, the smart contract coded into every Bulls & Apes NFT contains a 6-month, Ethereum (ETH)-backed guarantee. A holder who wants a refund within the time window simply logs into the project's website, connects their wallet, and initiates the refund process.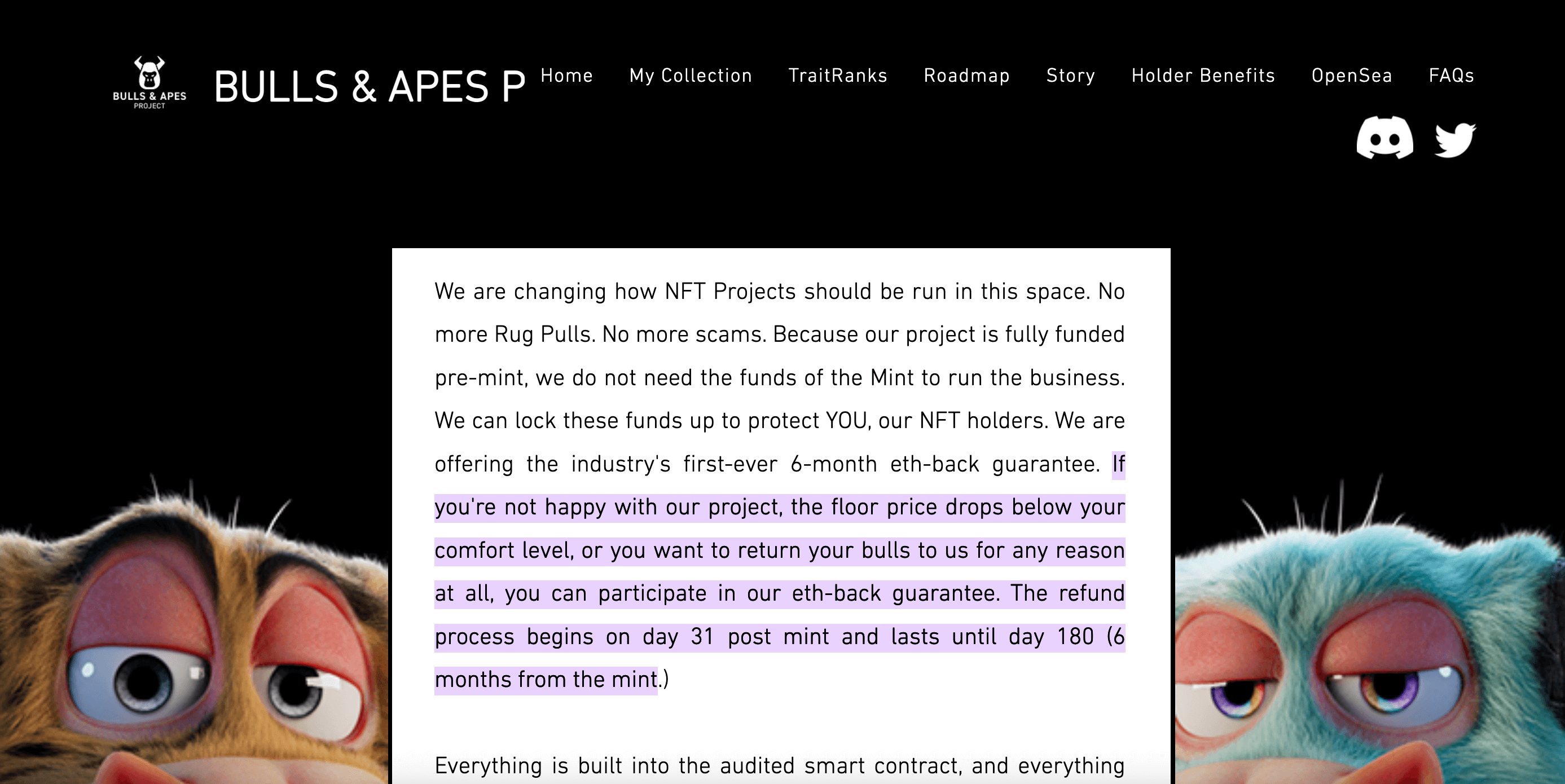 Now, when you're helping someone understand NFT projects, it's important to acknowledge that there have been NFT projects that qualify as scams, also referred to as rug pulls. Typically, this is when an unknown person or people promote a project, sell the NFTs, and then disappear forever.
Legitimate NFT projects will be backed by publicly identifiable person(s).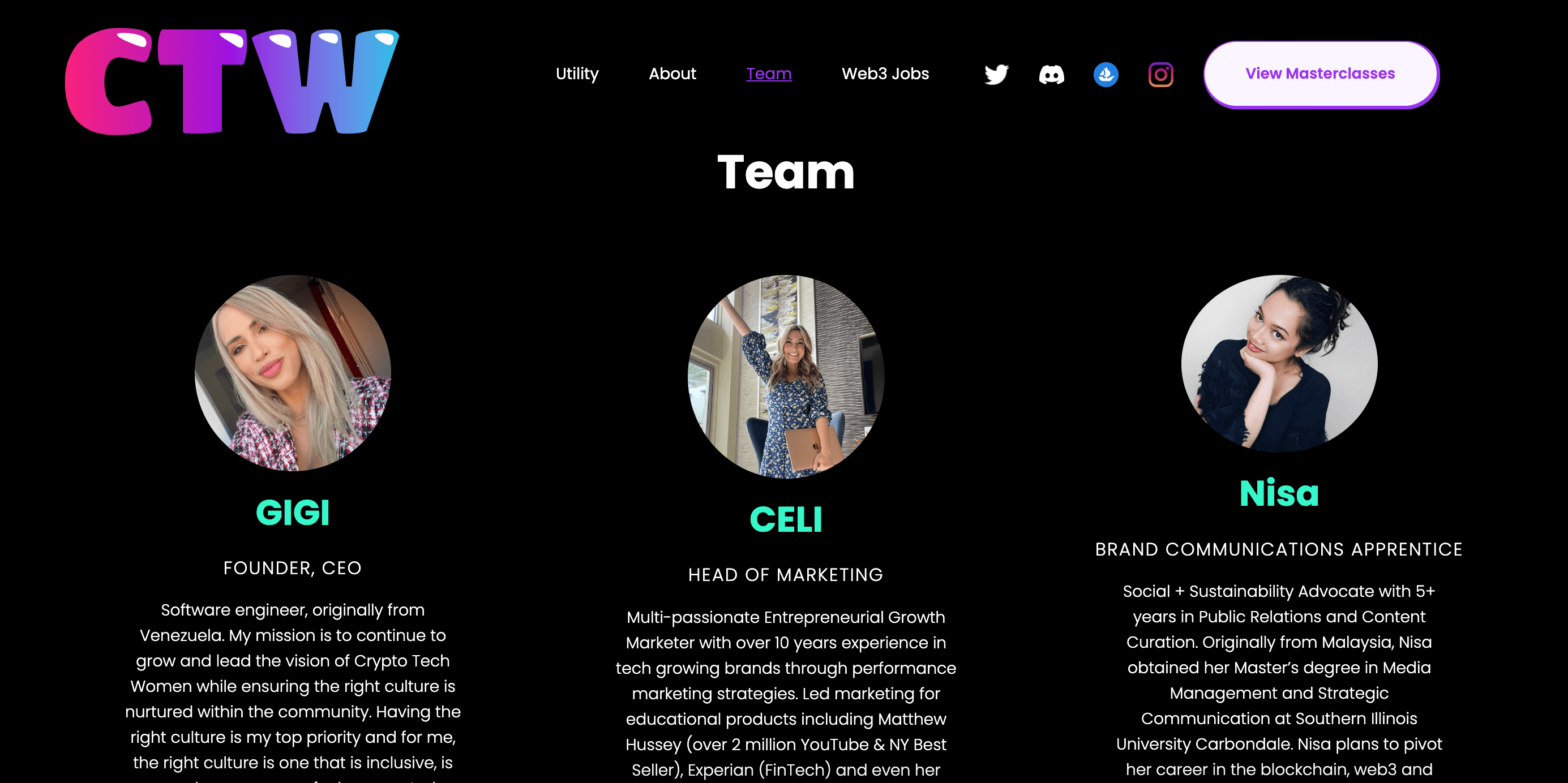 NFTs Harm the Environment
Transactions that involve cryptocurrency are treated with a high degree of security via a large number of servers around the world that verify and authenticate every crypto-based transaction.
Those servers require the use of electricity, and the production of that electricity does have a negative impact on the environment.
This is a valid concern.
Fortunately, networks such as Polygon have committed to going carbon-neutral, and then climate-positive, this year. In the same vein, NFT projects such as Moonbirds have integrated carbon offsetting into their projects.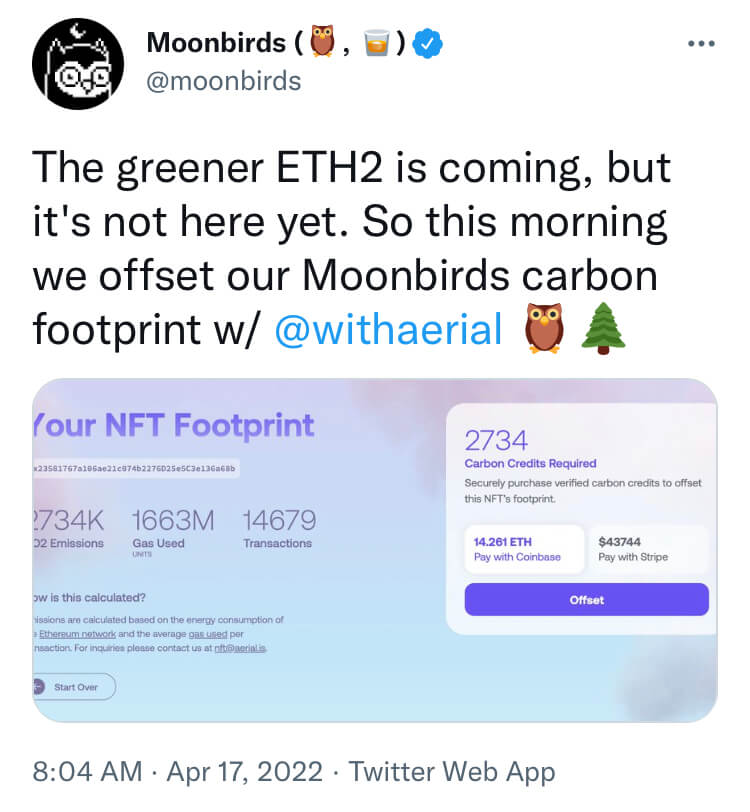 Additionally, Ethereum is working toward a more sustainable, environmentally friendly blockchain.
NFT Art Is Stolen or Used Without the Permission of the Artist
Every business space has its bad apples. People have minted NFTs using digital artwork they've either blatantly stolen or unknowingly used without the proper permissions. There are legal repercussions for these scenarios.
In reality, these projects make up a very small percentage of the wider NFT project space.
Your project can easily establish that it is operating above-board by providing proof of permissions or ownership, or by revealing the artist and publicly acknowledging that you've contracted with them to create your NFT art.
NFTs Aren't Unique, They're JPEGs
Your NFT is a digital asset. Can I see the digital image of an NFT on OpenSea? Yes. Can I screenshot that NFT? Yes.
What I don't have is access to the smart contract that makes your NFT unique, nor do I have access to the utility provided by your NFT.
Smart contracts use the blockchain to secure and protect an NFT and deliver its utility to you based on you holding the NFT in your digital wallet.
Using Education to Build Your NFT Project Community
To educate and welcome new people into Web3, you need to start by meeting them where they're comfortable right now: traditional Web2 platforms such as Facebook, Instagram, YouTube, Twitter, LinkedIn, and so on.
Then be generous and kind enough to give people an understanding of what each element of Web3 tech is and does, and how each one integrates with the others.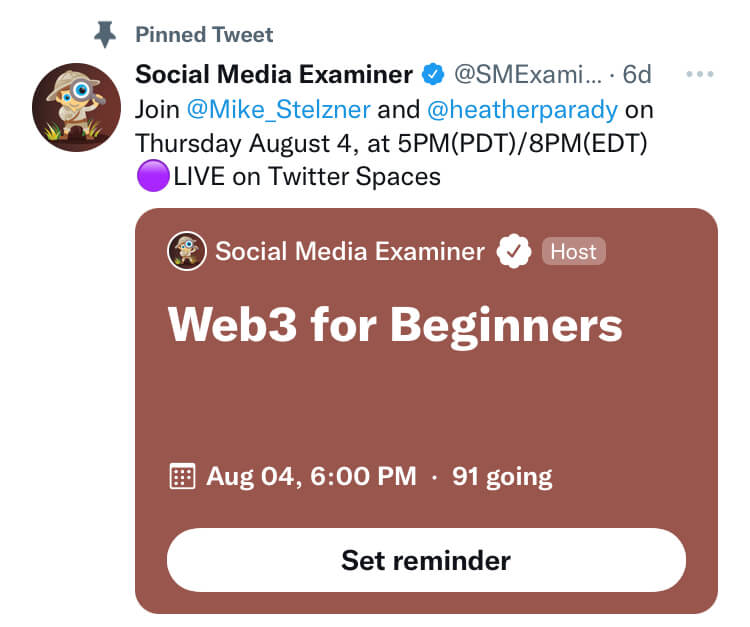 People are searching for answers about Web3 and the NFT space every day. You simply need to create content to preemptively answer the questions you know they're asking. Likely, these are the same questions you had when your Web3 journey started:
What is an NFT?
What is the blockchain?
What is decentralization?
Are NFTs bad for the environment?
How do I buy an NFT?
What is proof of stake?
What is a crypto wallet?
How do I set up a MetaMask wallet?
How do I buy my first NFT?
What is a proof of attendance protocol (POAP)
Whether you prefer articles, podcasts, or videos, address each question with a thoughtful, solid piece of content or tutorial. You'll soon have a repository of FAQ content you can use over and over again. When your content builds the bridge that helps a newbie confidently enter Web3, they'll want to learn about and join your community because you've developed real trust with them and given them the power of knowledge.
You want your community to be educated and well-informed, because during a bear market season, people can panic. But if you've equipped your community with the knowledge and answers that illuminate the bigger picture, they'll be able to advocate for you and your project.
PRO TIP: There's temptation to focus on your NFT project when you're creating educational content and tutorials, but if you step away from a project-focused agenda and create tutorials that anyone can use or relate to, you'll build trust with a wider group of people.
When to Begin Developing Your Community
If you wait until your development team and project are fully ready for launch to begin building community, you're doing yourself a disservice for two reasons.
First, you may have built an entire NFT project based on what you think your community will want. You haven't given them the chance to tell you who they really are, what they need, and what they want.
Second, building community takes time. Having a launch-ready NFT project does you no good if there's no one ready to buy an NFT.
Before you have your project fully conceptualized, you can gather people in digital rooms and throw around ideas to shape your project in the wild. Branding and artwork can wait, but start talking to people about the culture you want to build and what you're actually fighting for early on.
Yam from World of Women has done this incredibly well. In the World of Women, Yam talks about equality and raising up voices that often go unheard. That's the mission, what they're fighting for.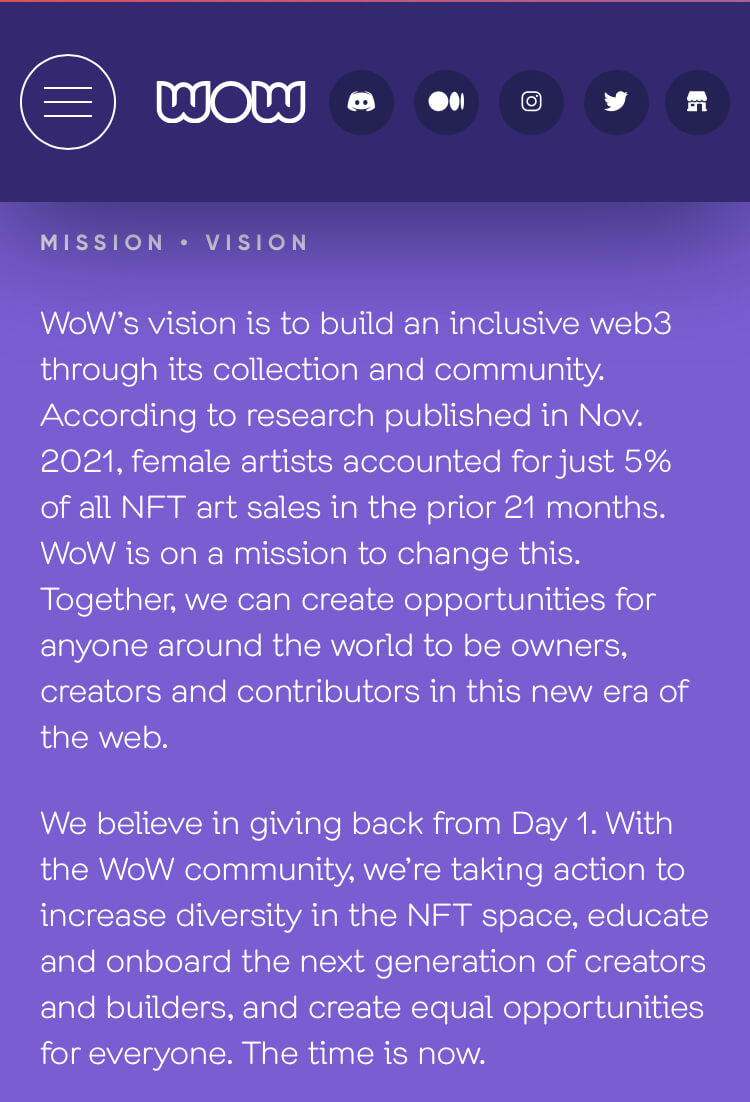 Then, as things solidify, you can continue to grow and build your pre-launch community around a mission instead of a project. That community will hold together and propel you through launch because it's united by the mission.
Gigi Skarlett of Crytpo Tech Women built a thriving pre-launch community around the mission of empowering and educating people in the Web3 space. The project sold out 24 hours after mint.
Active Communication: Keeping Your Newbie NFT Holders Involved
As you're gathering people to your project pre-launch and shortly after launch, things are exciting and there many updates to share with your community.
Further down the timeline, if the pace of the project slows down, you may feel like there's nothing to update your community about.
For a newbie, that leaves a lot of room for uncertainty, which can lead to them questioning whether they should hold onto their NFT if there's no active communication from the project leadership.
You need to let your community know what's happening with the project in relation to the mission and the promises you made, even if that means acknowledging that you're stuck or struggling to make it to the next waypoint in your roadmap.
Kevin Rose's Moonbirds NFT project has a dedicated Q&A in their Discord. In addition, founders go live every week in a Twitter space called a Friday Parliament. First, they cover updates on the development of their projects, experiences they've attended, and information along those lines. Then they answer questions from the audience.
This type of communication creates a sense of true transparency and encourages holders to retain their NFTs.
The topics you choose to update your community on will vary based on your specific mission and roadmap. It's vital to your community to know where the project was last week, where it is now, and how close it is to reaching the next milestone. Providing those incremental measurements keeps people engaged and believing in your project as you're building.
Other Notes From This Episode
Where to subscribe: Apple Podcast | Google Podcasts | Spotify | Amazon Music | RSS
✋🏽 If you enjoyed this episode of the Crypto Business podcast, please head over to Apple Podcasts, leave a rating, write a review, and subscribe.
Disclaimer: The information provided on this website is provided solely for educational purposes and does not constitute any advice, including but not limited to, investment advice, trading advice or financial advice, and you should not treat any of the website's content as such. Social Media Examiner recommends that you independently research any information contained on this Website and that you speak with an investment professional before making any decision to purchase, trade, hold or sell cryptocurrency. Nothing herein should be treated as a recommendation to buy, sell or hold cryptocurrency. Social Media Examiner cannot guarantee the accuracy of any information listed on the website and is not responsible for any missing or wrong information. All information is provided as is and should be used at your own risk. Social Media Examiner disclaims all responsibility and liability for your use of any information found on the website.