Do you want to create an NFT project? Wondering how a successful project sold out its collection?
In this article, you'll learn how to plan and execute a full NFT launch from brand alignment and establishing pre-mint community value to setting up a social media and website presence.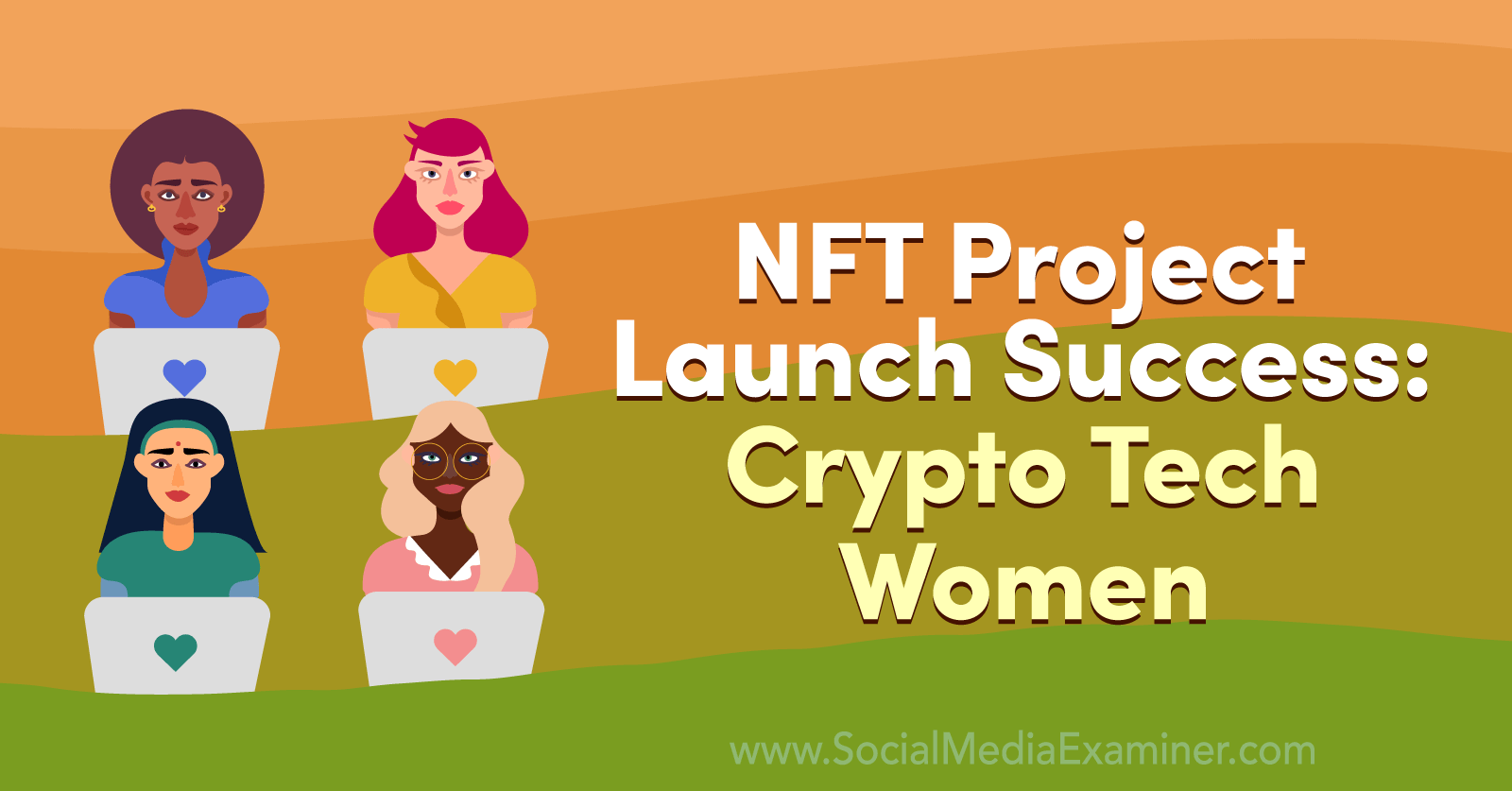 Why Business Owners and Entrepreneurs Should Create and Launch an NFT Project
There's a lot of opportunity in the Web3 space right now, and launching an NFT project can benefit just about anyone in any business if they're clear on the purpose of their project and it aligns with their brand.
An NFT project can be launched to market an existing company or product, provide access to a private community or premium content, and bring in additional revenue via non-cannibalistic product lines, among other reasons.
Regardless of the initial purpose and utility of the NFTs, one of the biggest advantages to the project owner is residual revenue from secondhand sales. Every NFT is coded with a smart contract in which you or your business—as the creator of the NFT—can specify that a percentage of any re-sales of the NFT automatically reverts to you.
For example, say your NFT project is built to provide a specific utility. When one of your holders outgrows the utility and decides to sell the NFT to someone new, you automatically receive a percentage of that sale via the blockchain. This stream of revenue happens in perpetuity, every single time that NFT changes hands.
One caveat, though. While the opportunities seem boundless, it's important to understand that this endeavor won't be as simple as announcing that you have a new side project. You're essentially launching an additional business. The project will require the same time, attention, and consideration as any other business venture.
#1: Tips for Building NFT Community Before the Project Launch
While we may see more Web3-based conversations happening on platforms like Instagram or TikTok in the future, right now the primary place for discussing NFTs, crypto, and the metaverse on Web2 is Twitter.
You, your project, or both need an active presence on Twitter.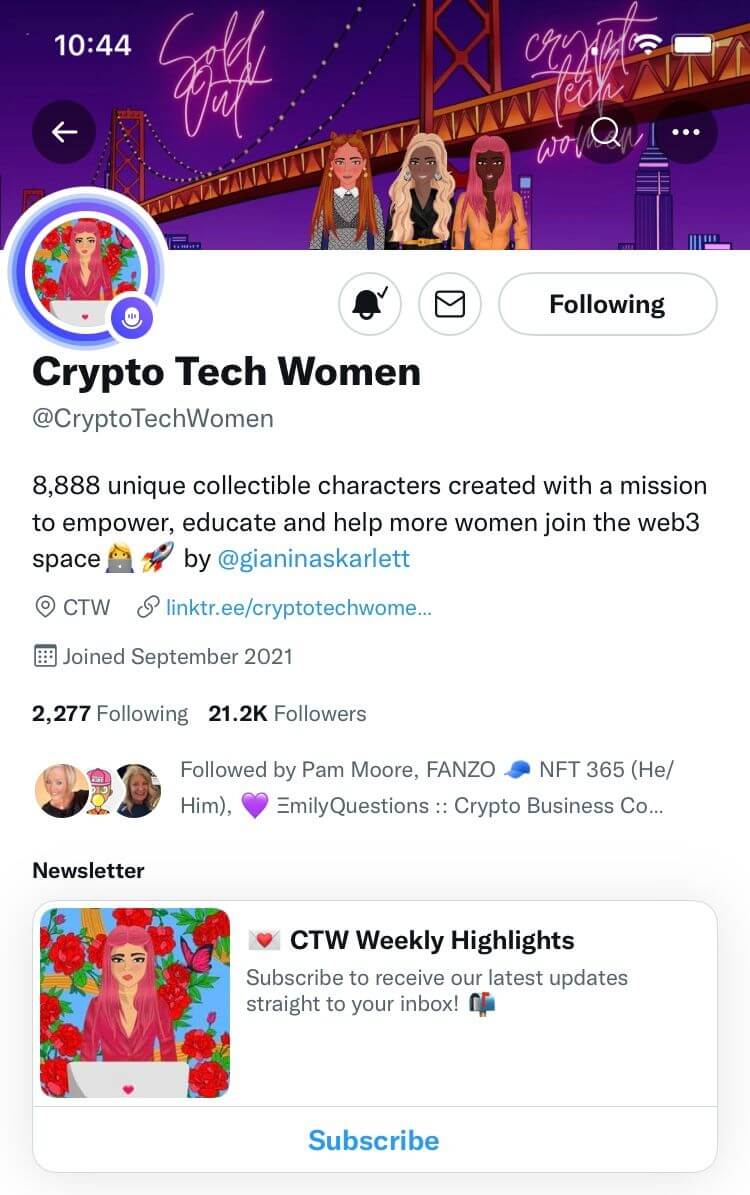 You'll also need a place to build your community, which means Discord.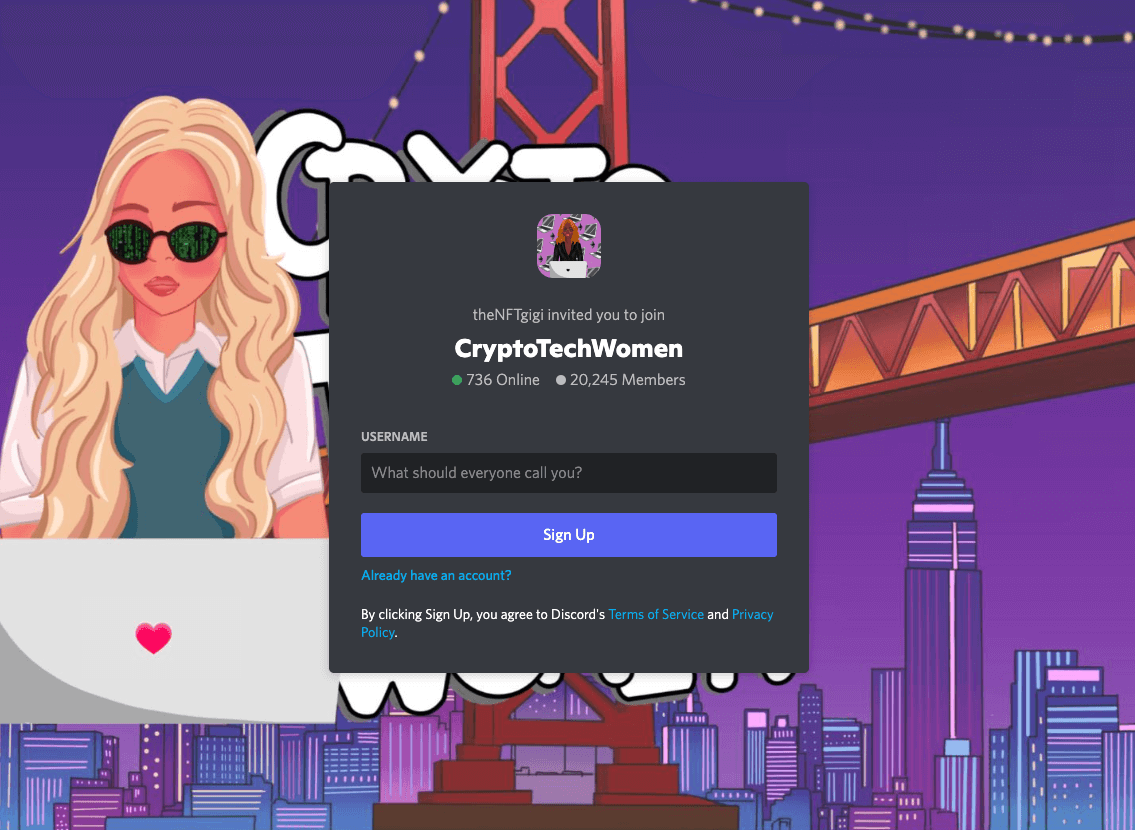 Discord makes it very easy to maintain contact with your community, update them on progress, and even get quick responses about things you're thinking about adding to the project as you're building it out.
You can also segment access to your community on Discord, meaning you can give the general public access to enough of the conversation to learn about the project and decide if they want to invest while gating other parts of your community for exclusive access to people who are holding your NFTs.
Once these two platforms are in place, you're set to start attracting your audience on Twitter and bringing them into your Discord server.
Pre-Launch Community Building: Using Twitter
Once you have your presence(s) established, you can put your strategy into action and get in front of the right audience—people who are most likely to be interested in your project.
Start by following the #NFT hashtag. Watching these tweets will help you find the right people to build relationships with; the people who are leaders in Web3 and have an alignment with your project. These are the people you'll learn from and possibly partner with. There's more on this in the next section about collaborating.
The nice thing about Web3 is that it's collaborative rather than transactional. As build your profile, determine your mission, and voice your "why," the people who align with your goal will support you.
As you create relationships with people and foster a sense of community on Twitter, don't make the mistake of immediately asking everyone to buy from you. Instead, actively talk about why they should partner with you or join your NFT project. Explain what your project will accomplish, how the community can be involved, and how you plan to reward your community for buying into your project.
For example, if you're launching a project that focuses on music, share that you're holding a raffle and will award concert tickets to several project community members.
This will incentivize the right audience to join you on Discord where you can strengthen that relationship.
Pre-Launch Community Building: Collaborating With Other Communities
When you find people involved with projects that align with yours, you can often partner with those people and projects to reach their community.
Twitter Spaces
Crypto Tech Women's mission is very similar to those of Crypto Chicks, Boss Beauties, Women and Weapons, Fame Lady Squad, and other projects, so collaborations in Twitter Spaces with those projects made perfect sense. Co-hosting or speaking in Spaces run by other projects is a good way to get in front of audiences that share interests that align with your project.
Pre-Sale Spots
Crypto Tech Women also gave a number of pre-sale spots to the other projects' community members. A pre-sale spot is a place on a reserved list (also called an allow list) that allows the holder to purchase a token before the public sale goes live.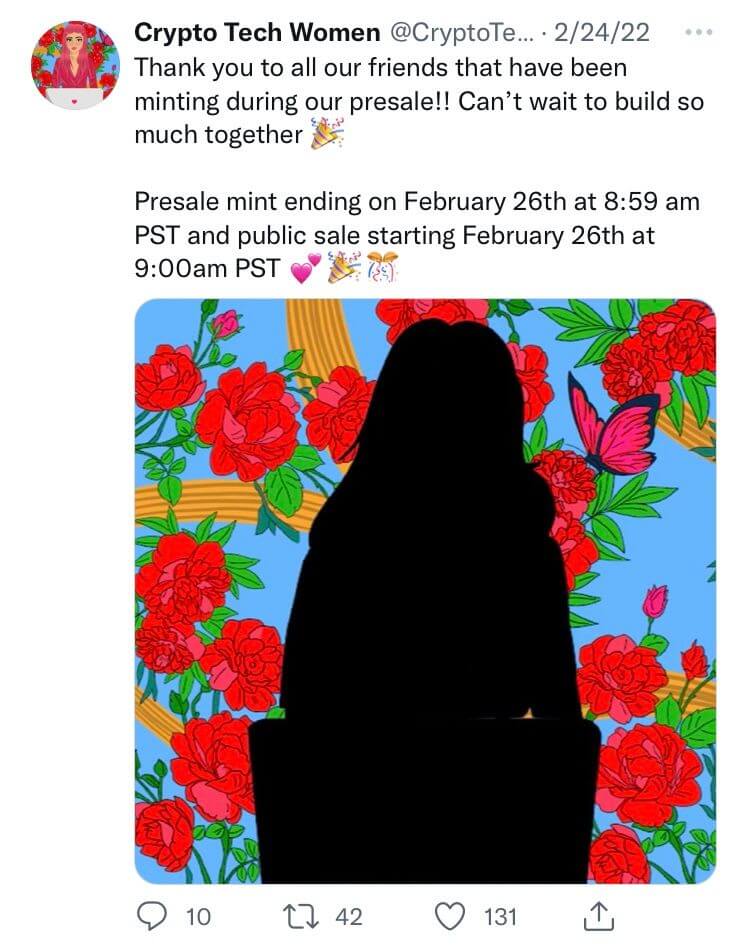 You can deliver a pre-sale spot to anyone if you have their wallet address. Gathering those addresses can be accomplished in multiple ways including Google Forms or PREMINT. Once you have the addresses, your engineer will take care of the rest.
Pre-Launch Community Building: Sustaining Engagement
As you begin to grow your community, it's important to keep members engaged and involved in your project both on Twitter and Discord.
You can run weekly trivia games with prizes, AMAs, and invite your community to listen to any Twitter Spaces or podcast interviews you're doing to promote the project.
Pre-Launch Community Building: Timeframe
You're typically looking at anywhere from 1 to 3 months of pre-launch community building, but the timeframe depends on the number of community members you need in place to create demand for your NFTs at launch.
If your project plans to drop 10K tokens at launch, 2K community members aren't likely to create the initial demand you need for the project to take off in the public sector.
Crypto Tech Women had approximately 15K followers on Twitter and 20K community members on Discord at the time of mint. Three weeks before mint, they announced their launch date and had a huge influx of new members. The project sold out on the day of mint.
Whether your goal is a five-minute sell-out or a slow mint, you're probably never going to feel 100% ready to launch.
Keep in mind that your fastest spurt of growth can happen right before you launch, in much the same way that a sudden burst of sales comes in at the last minute of a time-sensitive launch for a physical product.
Check on your goals regularly and stay connected with your community on Discord. They'll tell you when to launch by letting you know they're ready to buy!
#2: Lessons Learned From an NFT Project Launch
Gigi was handling almost every aspect of the Crypto Tech Women project on her own until 3 weeks before mint. She doesn't recommend this. You're one person and you can't and shouldn't do everything on your own. Use the following macro-timeline to build a team and set your project up for success.
Build Your Website and Doxx Your Team
Include your roadmap, sales milestones, and any other project details people will want to know. Gigi recommends Webflow, which offers DIY templates for $20.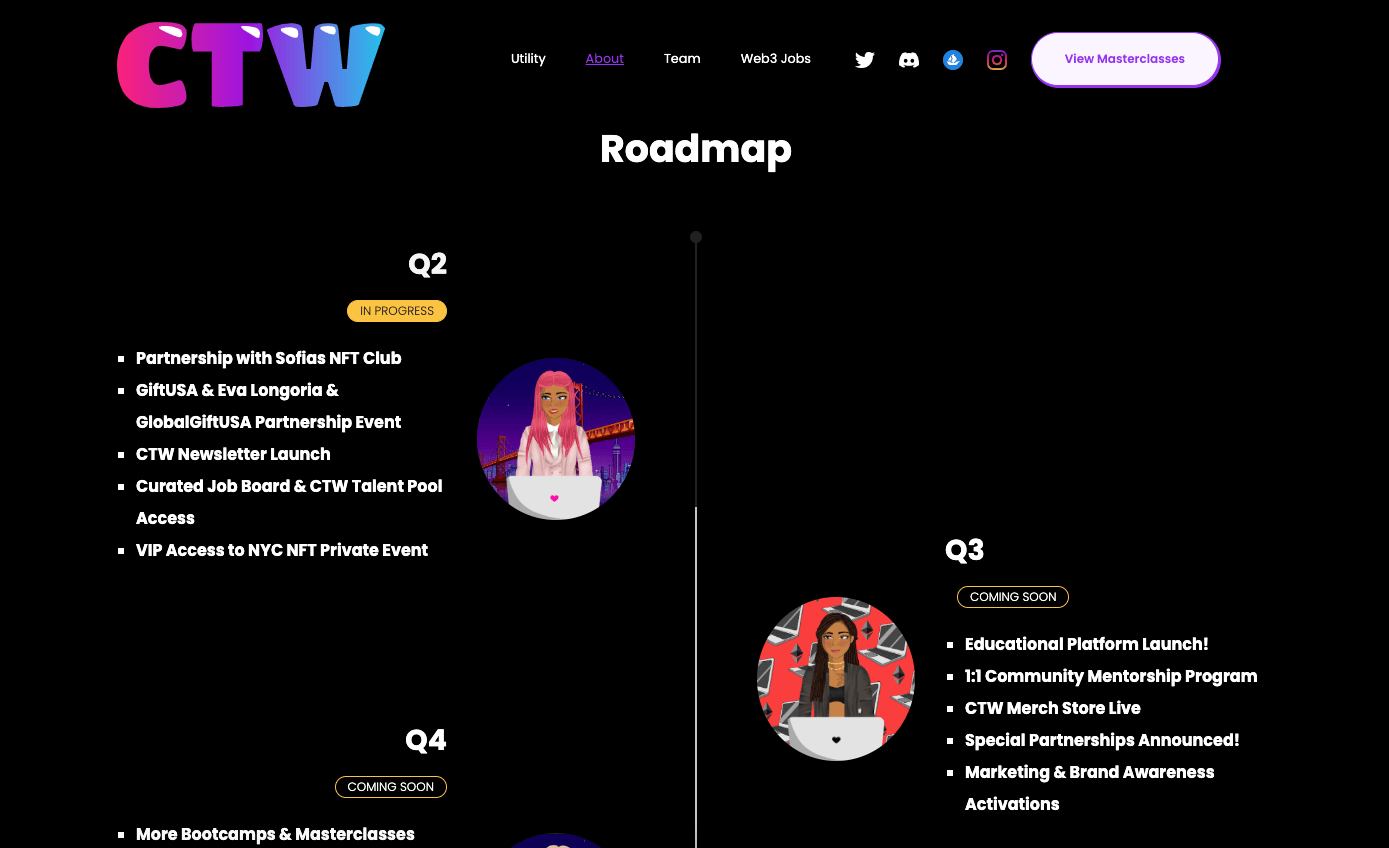 Remember that anyone considering your project is betting on you and your team. While many teams don't doxx their team members, it will help you build trust with prospective backers. You can do this by including links to Twitter, Instagram, LinkedIn, and so on.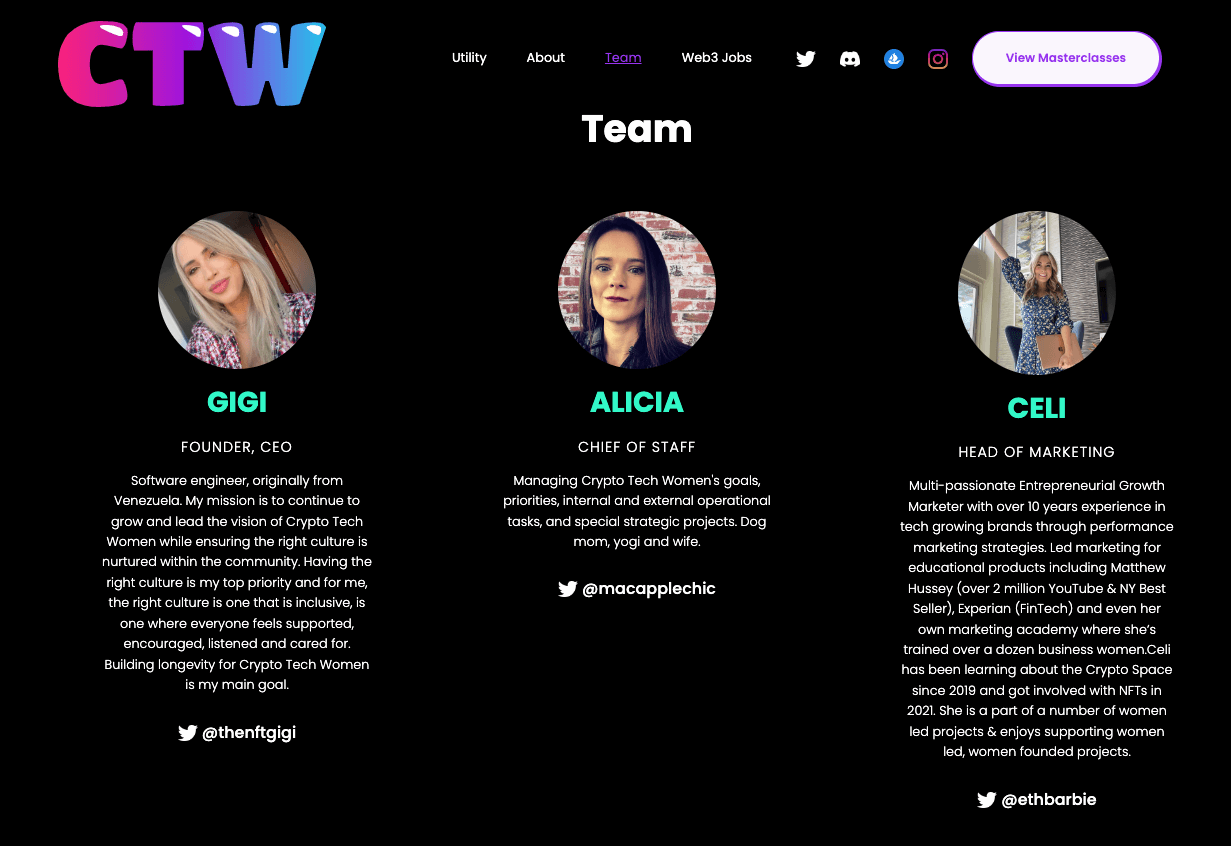 Begin Building Your Community on Twitter and Discord
As your community grows, it will become time-consuming and nearly impossible to track and attend to each interaction from every community member on Twitter and Discord. Delegate community moderation to a trusted team. That way, your community is cared for and you can drop in and be fully present when you have time.
Crypto Tech Women took 6 months to build community before the project minted in February. In hindsight, Gigi recommends a shorter timeframe of 3 months for most projects.
Develop Your Artwork
If you're not an artist, you'll need one. The good news is that there are agencies that can connect you with artists who specialize in generative art.

Remember that the timeframe for development of your NFTs is dependent on the number of unique traits contained within your collection. More unique traits mean more time in development. Crypto Tech Women tokens have 300-400 unique traits that generated 8,888 unique NFTs.
Aim to have every NFT ready at least 3 weeks before launch.
Build the Smart Contract for Your Launch
If you're not an engineer, you need to hire a solidity engineer to build out the back end and image generation for your project. Find someone who can complete the job in 1 month or less and make sure they test the contract on the test net before it's deployed on the main net.
Remember that your contract lives on the blockchain and anyone can use Etherscan to read your contract in its entirety. To keep your project safe, hold it for deployment until the day before your launch goes live.
Finalize for Your Launch
Aim to have everything done 3-4 weeks before your launch. This gives you ample time to cross-check everything and catch issues before they become problematic.
Other Notes From This Episode
Where to subscribe: Apple Podcast | Google Podcasts | Spotify | Amazon Music | RSS
✋🏽 If you enjoyed this episode of the Crypto Business podcast, please head over to Apple Podcasts, leave a rating, write a review, and subscribe.
Disclaimer: The information provided on this website is provided solely for educational purposes and does not constitute any advice, including but not limited to, investment advice, trading advice or financial advice, and you should not treat any of the website's content as such. Social Media Examiner recommends that you independently research any information contained on this Website and that you speak with an investment professional before making any decision to purchase, trade, hold or sell cryptocurrency. Nothing herein should be treated as a recommendation to buy, sell or hold cryptocurrency. Social Media Examiner cannot guarantee the accuracy of any information listed on the website and is not responsible for any missing or wrong information. All information is provided as is and should be used at your own risk. Social Media Examiner disclaims all responsibility and liability for your use of any information found on the website.