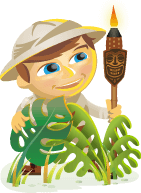 Do you dream of writing a book?
Are you wondering how publishing a book can help you grow your business?
To learn how you can combine your passion with your business, I interview Jeff Goins for this episode of the Social Media Marketing podcast.
More About This Show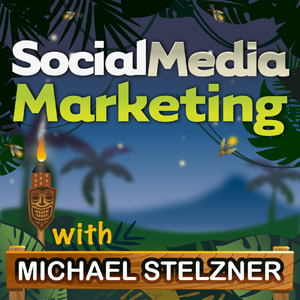 The Social Media Marketing podcast is a show from Social Media Examiner.
It's designed to help busy marketers and business owners discover what works with social media marketing.
The show format is on-demand talk radio (also known as podcasting).
In this episode, I interview Jeff Goins, a blogger who followed his passion and amassed 200,000 monthly followers and published three books—all very quickly. His books include You Are a Writer, Wrecked and The In-Between.
Jeff shares how he achieved his dream of becoming a writer, while building a successful business.
You'll learn what it takes to jump from blog to book and why you should start now.
Share your feedback, read the show notes and get the links mentioned in this episode below!
Listen Now
Where to subscribe: Apple Podcasts | Google Podcasts | Spotify | YouTube Music | YouTube | Amazon Music | RSS
Here are some of the things you'll discover in this show:
Blog to Book to Business
What do you tell people you do for a living?
Jeff typically tells people he's a writer, although he does a lot of other things. He finds it easier to tell people that, and it allows him to own his identity.
Jeff called himself a writer well before he was writing. It allowed him to step into the title and it reminds him of how far he has come.
Listen to the show to hear why many aspiring authors don't own their dreams.
The story of dreams and fears
Jeff explains that he went solo about 8-9 months ago, but it has taken him about 3 years to get to this stage.
He originally started with a blog, which turned into a side business. It wasn't until the end of last year that he realized he was making enough money that his wife didn't have to work anymore. He eventually quit his job at the beginning of this year to become a full-time writer, blogger and speaker.
Jeff's blog, Goins Writer, isn't his first blog. Up to this point, he had attempted eight other blogs, all of which failed.

It was these failures that prepared Jeff to persevere. He eventually set up his personal blog, where he talks about writing and his own struggles. This was an attempt to learn how to build a platform so he could get published and share his journey with others.
You'll hear why Jeff forced himself into writing a personal blog and why he made the decision to give it two years.
Listen to the show to find out what fuels Jeff's writing.
The importance of writing for more popular blogs
When he started a blog, Jeff did the relationship thing first. You'll discover what he did to reach out to the people he admired and why they were a huge influence when it came to the launch of the Goins Writer blog.
Once he had seen the power of this in action, he was able to partner with communicators who had audiences that he wanted to connect with.
Within the first year of his blog's launch, Jeff wrote over 100 articles on 100 websites. He believes it was the single best strategy for building his audience.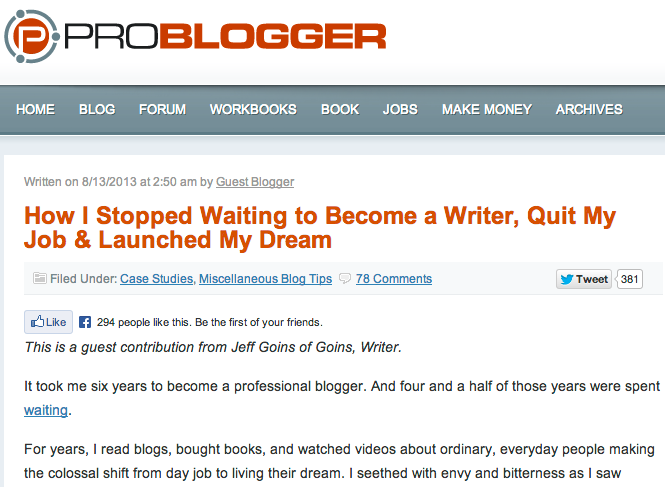 Every multi-author blog out there constantly looks for exceptional talent and it's a win-win for both parties. It was one of the keys to Jeff's success.
Jeff had listened to people like Jon Morrow, who had essentially done the same thing. Jon didn't have a blog for years. Instead he established himself first as a guest author for other blogs, including CopyBlogger and ProBlogger. So before he even wrote a single post on his own blog, he already had an email list of about 13,000 subscribers.
Listen to the show to hear what Jeff discovered when he gave away his best content.
Making money
When Jeff launched his blog, he had a day job working for a nonprofit organization. His blog at the time was not making any money.
He'd read articles by Darren Rowse of ProBlogger, talking about how hard it was to monetize a blog, so Jeff had low expectations.
About 6-8 months into the process, Jeff got the idea that it would be cool if he could figure out a way to make money from his blog. So he decided to build an email list. A year later, he sent out his first email to invite people to buy something from him. It was a very short eBook that he put together himself over the course of a couple of weeks.
You'll hear where Jeff invested his time, which enabled him to quit his day job.
Listen to the show to find out what happened to Jeff that made him realize he had something others were willing to pay for.
How to jump from blog to book
Jeff noticed that a lot of bloggers sold eBooks to monetize their platforms and he had already taken an article from his blog and turned it into an eBook.
Although Jeff knew that a great way to get email subscribers was to give an eBook away, he wanted to know if people would pay for it.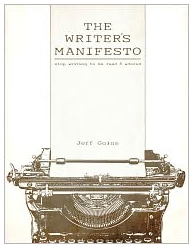 You'll hear the advice from Jeff's friend that gave him the confidence to charge people for his next eBook. He sold it for $1.99 and hundreds of people bought it. Jeff couldn't believe how much money he made from it.
After a couple of weeks, he took the offer down and decided to invest time in the project to make it a lot better and expand it into a legitimate book called You Are a Writer. A few months later, it was republished and turned into an Amazon bestseller.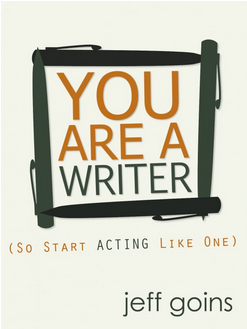 Listen to the show to discover what else Jeff created at the time of publication of You Are a Writer, which allowed him to triple his income.
How the first traditional book deal came about
About 8 months into building his platform, a publisher approached Jeff to see if he would consider publishing a book. This was the reason he had started his blog in the first place. At this stage, he hadn't even written an eBook.
Jeff couldn't believe that he was on the cusp of his dream so soon. The reason this deal came about was because years ago, Jeff had written a short manifesto for the website ChangeThis and the editor had found it buried in the archives.
His first physical book was called Wrecked: When a Broken World Slams into Your Comfortable Life. The basic idea is the "purpose of your life is not just about you; that we are most alive when we are serving others."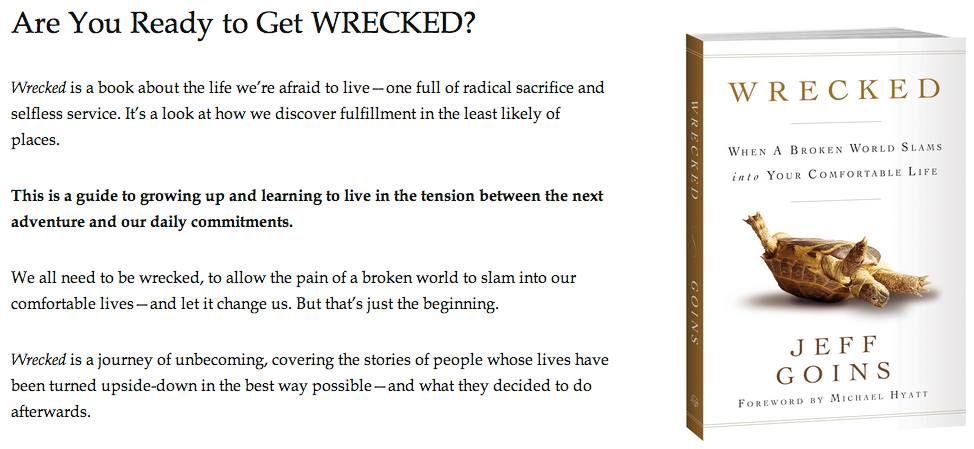 Listen to the show to hear the inspirational story behind the idea for You Are a Writer.
Tips for bloggers who want to write a book
Jeff says the first thing he learned was that it's a marathon. It's not just about the past two years of his life—it's actually a story of six or seven years of hard work, perseverance and figuring out a way for it to work.
There are moments when you are in the spotlight and you feel great, then there are many times when you aren't. What you see on the surface is just a small percentage of the stuff that is happening underneath.
The second thing that he has learned is to have an idea of what it would mean to arrive. Jeff has discovered that even though he has achieved and exceeded his dreams, he still wants a little bit more.
Listen to the show to hear why everything after this point is just gravy.
The right move
Jeff explains how he had a conversation with an older friend about his fears of leaving his job.
Although it was his dream to become a writer, he felt like he was about to abandon all of the people who had helped him get to where he was. It was Jeff's friend who made him realize that the opportunity he had was rare, and not taking it would be an act of disobedience.
This made him realize that there was a deeper story going on. It was an opportunity for him to do something big and he needed to take it.
Listen to the show to find out why Jeff thought it was about him, not something bigger than him.
Follow your passion
Although most people would say that you should just go for it and have faith in yourself, Jeff explains how he didn't want to hear those words. His answer is to start now.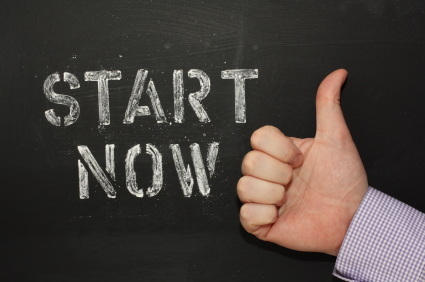 You should start to build something on the side. It took Jeff two years to build his business before it competed with his job.
Listen to the show to find out why you need to build a bridge, rather than take a leap.
Discovery of the Week
I've discovered a really cool tool called Canva. It's a web-based design platform that allows you to drag and drop pre-designed templates and customize them.
It supports a huge array of things. One in particular is you can create impressive Facebook cover photos for your pages.
You can also do graphics for your blog, photo collages, presentations, posters, invitations and business cards.
Canva has one of the best designer user interface experiences I've ever seen on any website. When you log in, you'll notice that when you move your mouse around, it reveals incredible artwork.
Once you have chosen one of their templates, you can then choose the text and alter it. Some are free and some you have to pay for. You can also upload your own images.
I think you will love this. Right now they are in beta, so you need to have a friend with a Canva account to give you access, or you can sign up to get on their waiting list.
Call in and leave your social media–related questions for us and we may include them in a future show.
Listen to the show to learn more and let us know how this works for you.
Other Show Mentions
Social Media Marketing World 2014 is our physical mega-conference, which is set to return to San Diego, California on March 26, 27 and 28.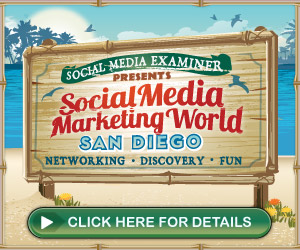 We have put together more than 60 sessions that include social media marketing, blogging, podcasting and video marketing.
We've invited the top experts in the world. Some of the bloggers attending include Michael Hyatt, Chris Brogan, Jay Baer, John Jantsch, Mark Schaefer, Marcus Sheridan, Gini Dietrich, Brian Clark, Denise Wakeman, Lee Odden, Stan Smith, Kim Garst, Pat Flynn, Ian Cleary and tons of others.
The line-up for this conference is like nothing we have ever done before.
If you want to improve your social media marketing, are wanting some professional development or you just need to know a lot more about social media and how it can impact your business, then check it out.
I would love to meet you in person.
Key takeaways mentioned in this episode:
Ways to subscribe to the Social Media Marketing podcast:

What do you think? What are your thoughts on going from blog to book? Please leave your comments below.