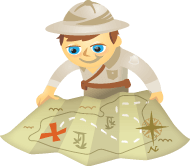 Looking for an easy way to create video content?
Do you blog?
In this article, you'll learn how to turn a blog post into two types of videos you can share on social media.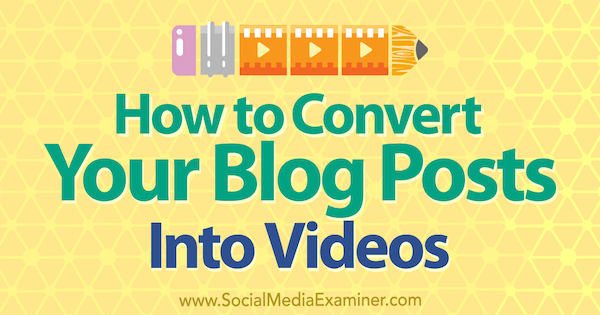 #1: Segment Your Blog Post for Scripting
Video is the perfect way to repurpose your content.
Start by looking at your blog post as a script. However, you don't want to record the whole blog post word for word because the resulting video would be rather boring. Instead, think about how your video can highlight important elements of your post.
Write your script in a way that allows you to divide the content into short segments, because recording a short segment well is easier than trying to record a longer narrative. For example, a chunk of text in your script might include a heading, key concept or quote, or one or two supporting details that will help your audience understand the content.
Once you have your segmented script, you can choose to either record yourself on-camera or to create a slideshow of still images and text.
#2: Create an On-Camera Video
So what do you show in your video? You can easily record yourself using your smartphone video camera and an affordable mic and lighting setup. If you don't have studio lighting, film near a window or outside.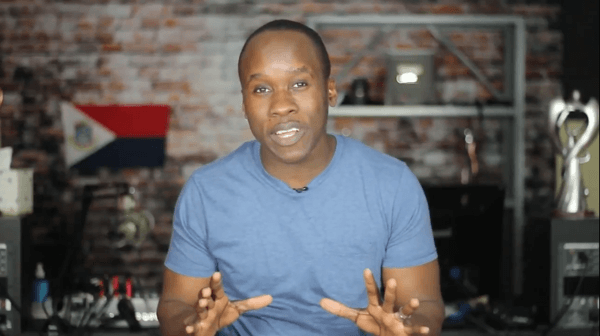 When you begin, you can record your script all in one take, but be sure to pause between the segments in your script. This way, after you import your video into a video editor, cutting your segments into clips is easy. For instance, you might look directly at the camera and record yourself sharing the following types of segments, with a 3- to 5-second pause between each segment:
The blog post title
Key points that align roughly with a blog post subheading
Concepts or takeaways that you think will be especially interesting to your audience
Quotes or details from the body copy
After recording is complete, you want to combine multiple segments into a single video. To do this, upload your files to your favorite video editing tool. iMovie is a great option if you have a Mac computer, iPhone, or iPad because the program is included and easy to use. If you're a Windows user, HitFilm Express is an excellent free video editor that's compatible with both Windows and Mac computers.
The key with both iMovie and HitFilm Express is to create the video segments first and then add them in the desired order to the video timeline. In this example, you can see the HitFilm Express timeline.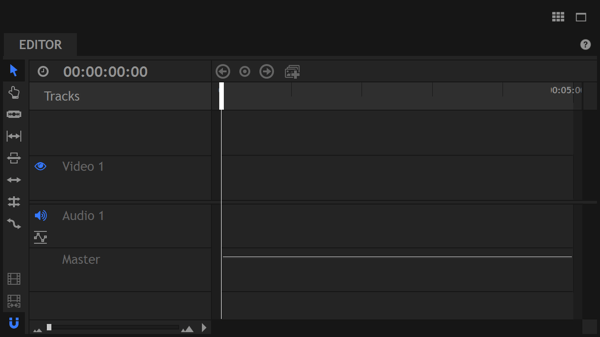 While this article focuses on the iMovie interface, the same general steps apply to other video editing apps. If you're using HitFilm Express, check out this tutorial.
Begin editing by breaking your video segments into clips. To do this, split the video before and after each segment.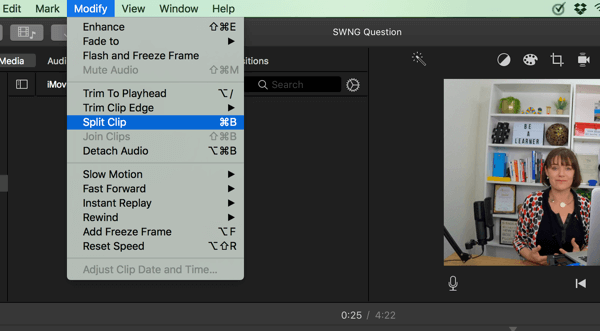 In this example, which shows the desktop version of iMovie, the clip is being split at the end where the audio turns into a flat line. This task is where your pauses between each segment save you time as you edit your video. With this visual cue, you can easily determine where to click and insert the split.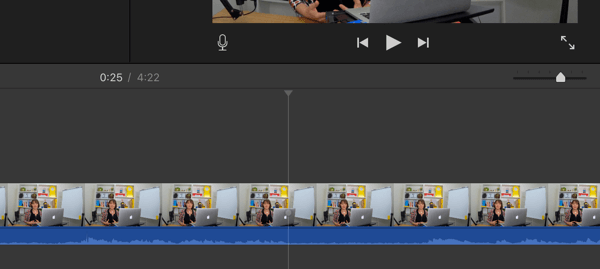 A line will appear to mark where you make your first split. Now create another split on the other side of the sound where the long pause is.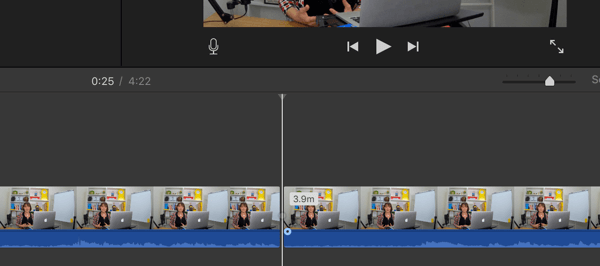 Next, delete the video before and after the clip you want to create.
In this example, you're left with a 4- to 5-second scene. Save your clip as a new file with a descriptive name such as "blog post name_intro." You need to repeat the process of creating a clip for each video segment. For instance, you might save additional segments as "blog post name_point 1," "blog post name_point 2," and so on.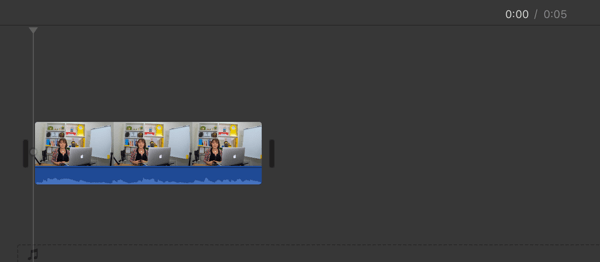 After all of the clips are ready, create a new movie project and import your clips into it. In this example, notice how each clip is named to reflect the segment it contains. (As an added benefit of breaking up your video content like this, using these clips in other content later is quick and easy.)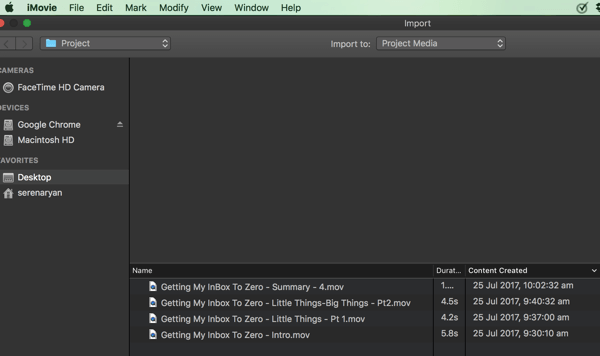 After your clips are imported into your video project, you can drag and drop the clips to the timeline, where you can put each clip in order and insert transitions, title slides, and so on between each clip.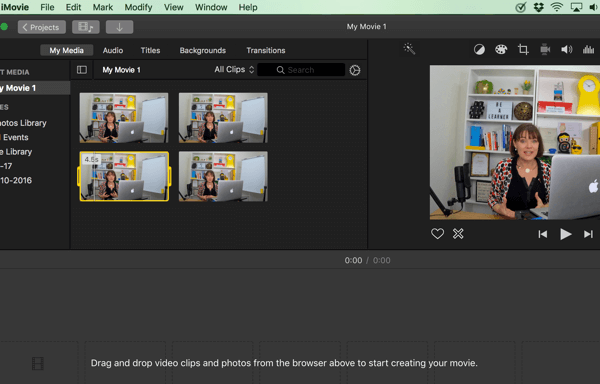 To preview your video, click the Play button.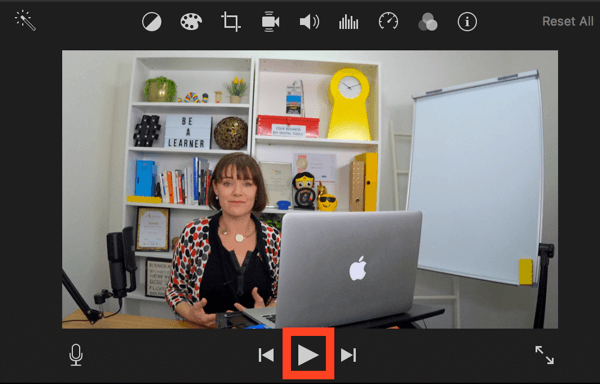 If, after previewing, you need to move a clip, simply click and drag it to the desired position.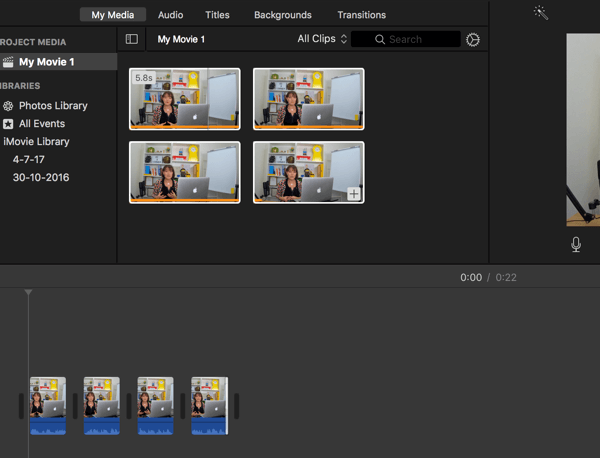 When you're happy with it, export your video into your desired video format and upload the exported video file to your favorite social media platforms.
Tip: Make sure you add captions to your video because lots of viewers will watch with the sound off, especially on Facebook. Many social media platforms have a tool that generates the captions for you, and then allows you to review and edit the generated text.
#3: Develop a Slideshow Video
Creating a slideshow with images and text from your blog post is a faster way to produce a video than recording yourself and editing video clips.
You can draw from large libraries of stock photos and videos, and programs like Adobe Spark allow you put together a slideshow of images and words. Adobe Spark is a free browser- or app-based program for creating videos in just minutes.
The key is to know what you want to say. Because you already created a script based on your blog post, repurposing your post as a video should be relatively quick and easy.
To get started, sign up for Adobe Spark (or a similar program) and create a new project. Then click the red circle labeled Video.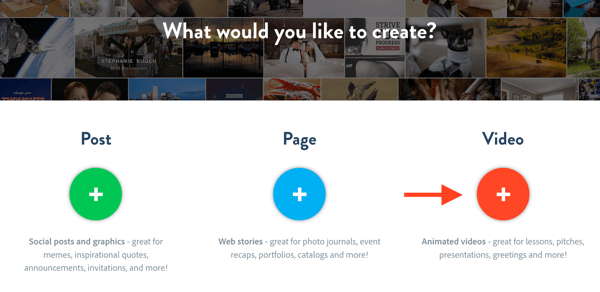 You can create your video based on a template or start from scratch. If you're looking to create a video quickly, the templates are helpful.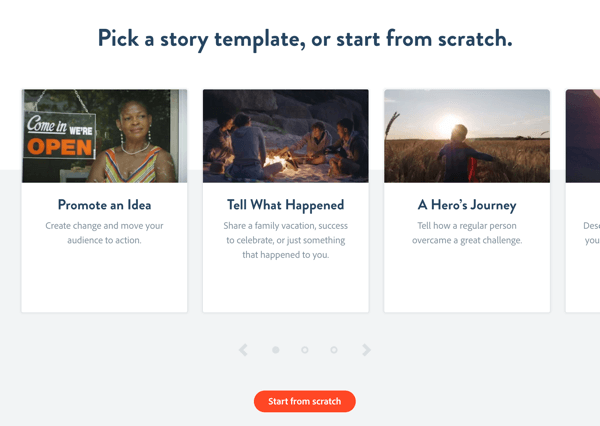 After you select a template, choose the slide style you want to create: Video, Text, Photo, or Icon.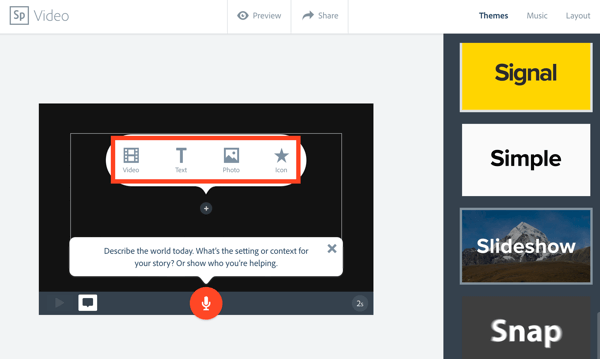 Now add your blog post highlights on the slides.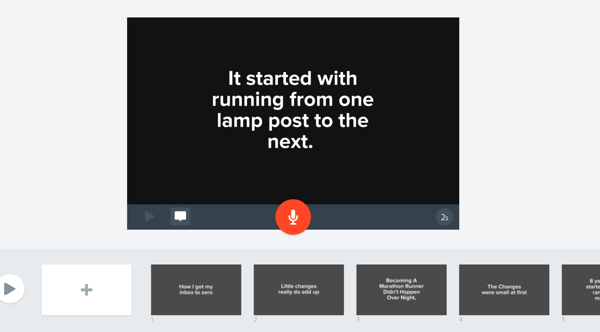 The example below is based on a simple template, and shows how the template has been customized with text and images from a blog post. You can move the slides around until the organization of the content brings your story to life.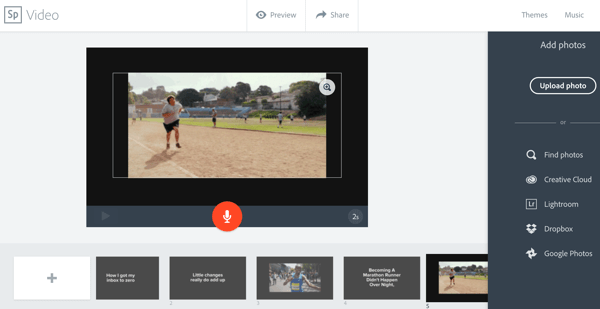 When you're happy with the content, you can change the theme colors and music. Select from the options available in the top right, but note that you're limited to the options Adobe Spark provides; you can't upload your own music or mix your own color theme.
When you're done, export or download the file. To do this in Adobe Spark, click Share at the top of the editing window.
In the window that pops up, make sure you toggle the Remove Adobe Spark Branding option to On so your video doesn't display the app's branding. Then on the left under your title slide, click Download.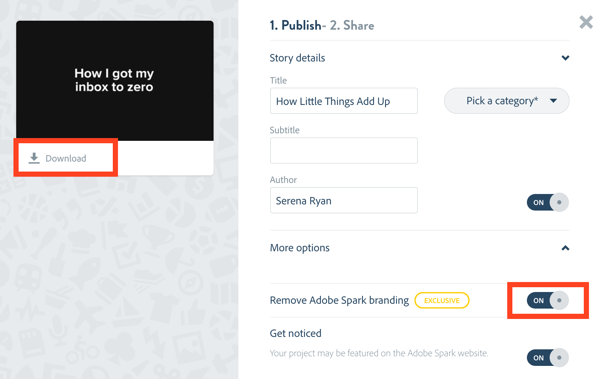 You now have your video created for free without a branding watermark on it.
Tip: If you like Adobe Spark, you can also record your video segments and turn them into clips. Then add those clips to Adobe Spark along with any text and images from your blog post.
Conclusion
Blog posts are a wealth of source material for social media marketers looking to broaden their reach with video. In fact, when you start looking at your blog as a script, you may see many applications. For example, you might create a longer how-to video for YouTube and use single clips from that video to create a shorter video for Facebook or Instagram.
What do you think? Want to try any techniques from this post? Have you used any of the tools mentioned in this post? Please share your thoughts in the comments.