Are you considering creating non-fungible tokens (NFTs)? Looking for creative business examples that go beyond digital art?
In this article, you'll discover a creative use case for using NFTs for access to events and special offers.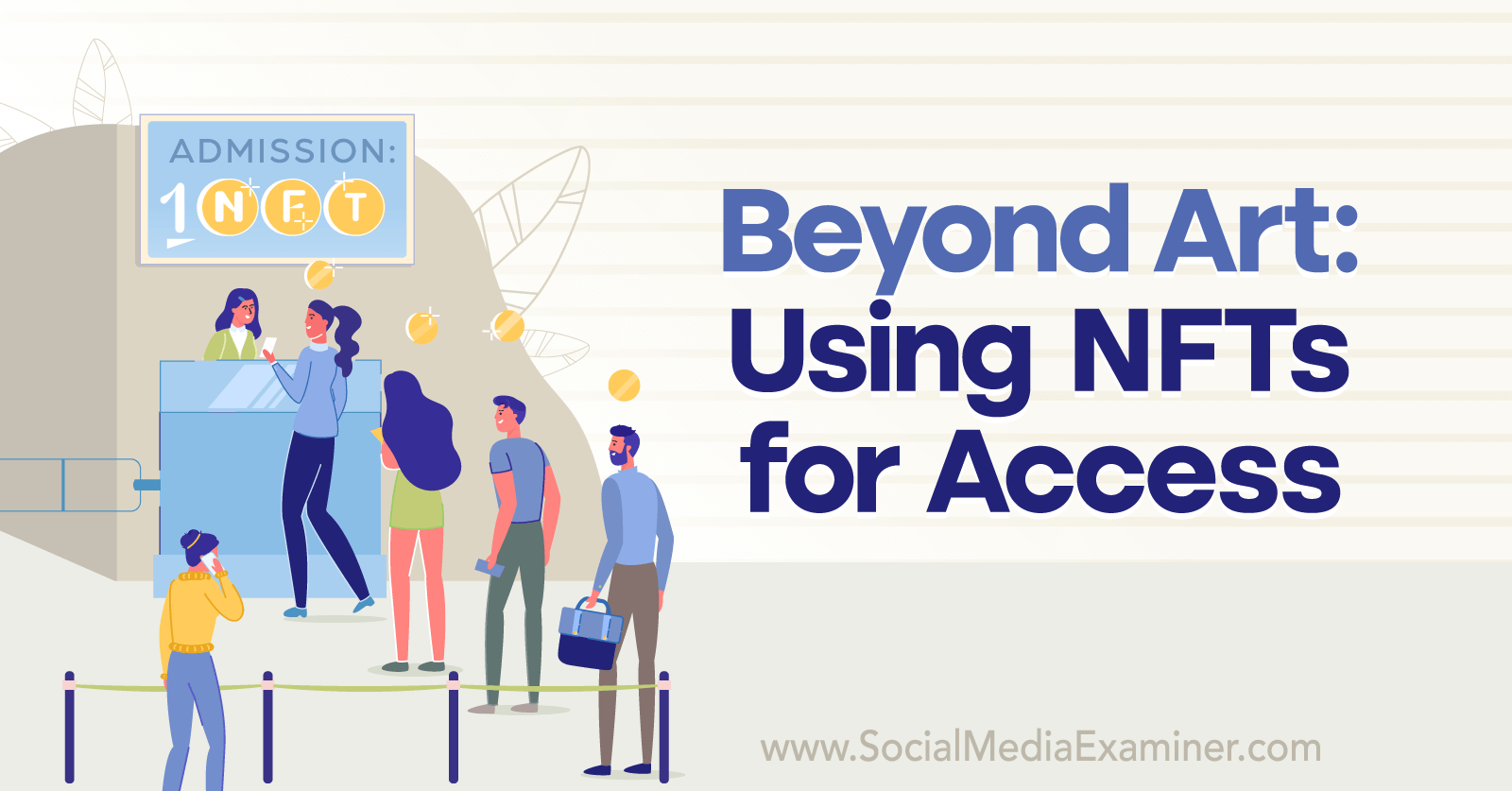 Why Your Business Should Consider Creating NFTs for Access
NFTs really started gaining attention as they were used for collectible art but that was just the start. The business applications for NFTs continue to inspire brands and business owners as their potential is revealed. Businesses can sell sponsorships and advertising as NFTs, affiliate partnerships, event access, loyalty programs, and more.
There are several ways you can incorporate NFTs into your existing business strategy. The key is to think about how you can bring more value to your audience and then build a strategy around that offering. For example, you might offer a limited number of never-ending tickets to your event. Anyone who owns the NFT will always get a complimentary ticket to the event and access to every VIP party.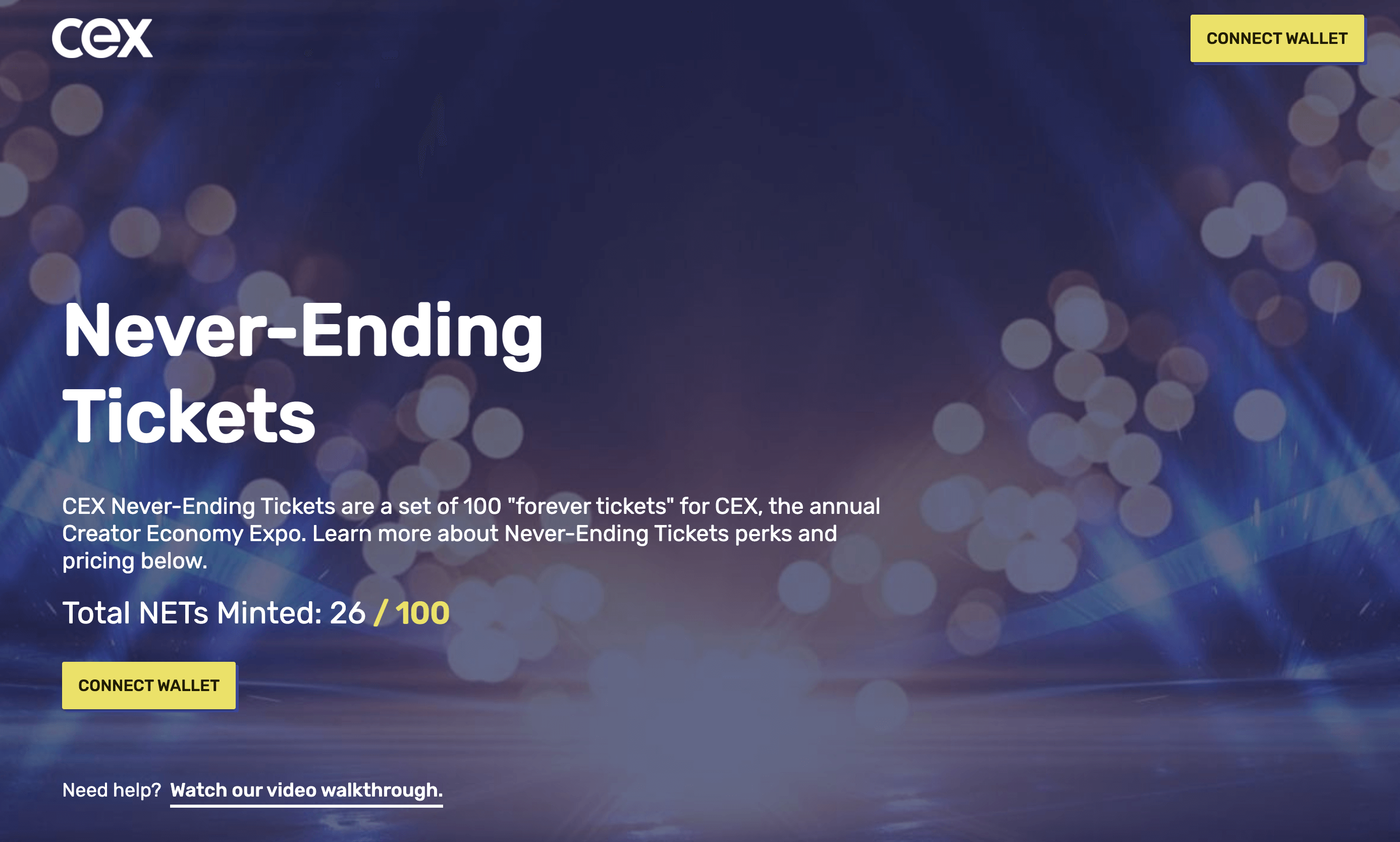 The key point is don't jump in blind to creating an NFT because you're intrigued by the tech without having a strategy for what it will bring to your audience and your business strategy overall.
NFTs empower your audience to buy into the community that you're trying to create around your business. They're a way to provide even more value to the community you're working so hard to build.
So, in a very real way, by expanding your community to run through NFTs, you're also empowering your community to create itself and build on its own value. Your audience members are no longer spectators of your content or ticket holders to your event. They become co-creators who help raise the value of your content and access to that content.
It's also still early days in the NFT space so we're sitting on the very beginning of what's possible. This means that there are use cases that haven't even been discovered or attempted yet.
And because NFTs give your audience ownership of their own community, they become more than mere advocates or affiliates. The more they spread the word about your content and your community, the more they get out of it as well. As the value of that community rises, it brings them up right along with it.
It's important to remember that an NFT is just the tech—it's not the experience itself. You still have to determine and create the value that will be served by the tech.
This means you'll first need to create your community, events, courses—anything you plan on using the NFTs to grant access to. We aren't talking about abandoning everything you have to jump into an NFT space but rather figuring out how you can incorporate an NFT to build and scale what you have.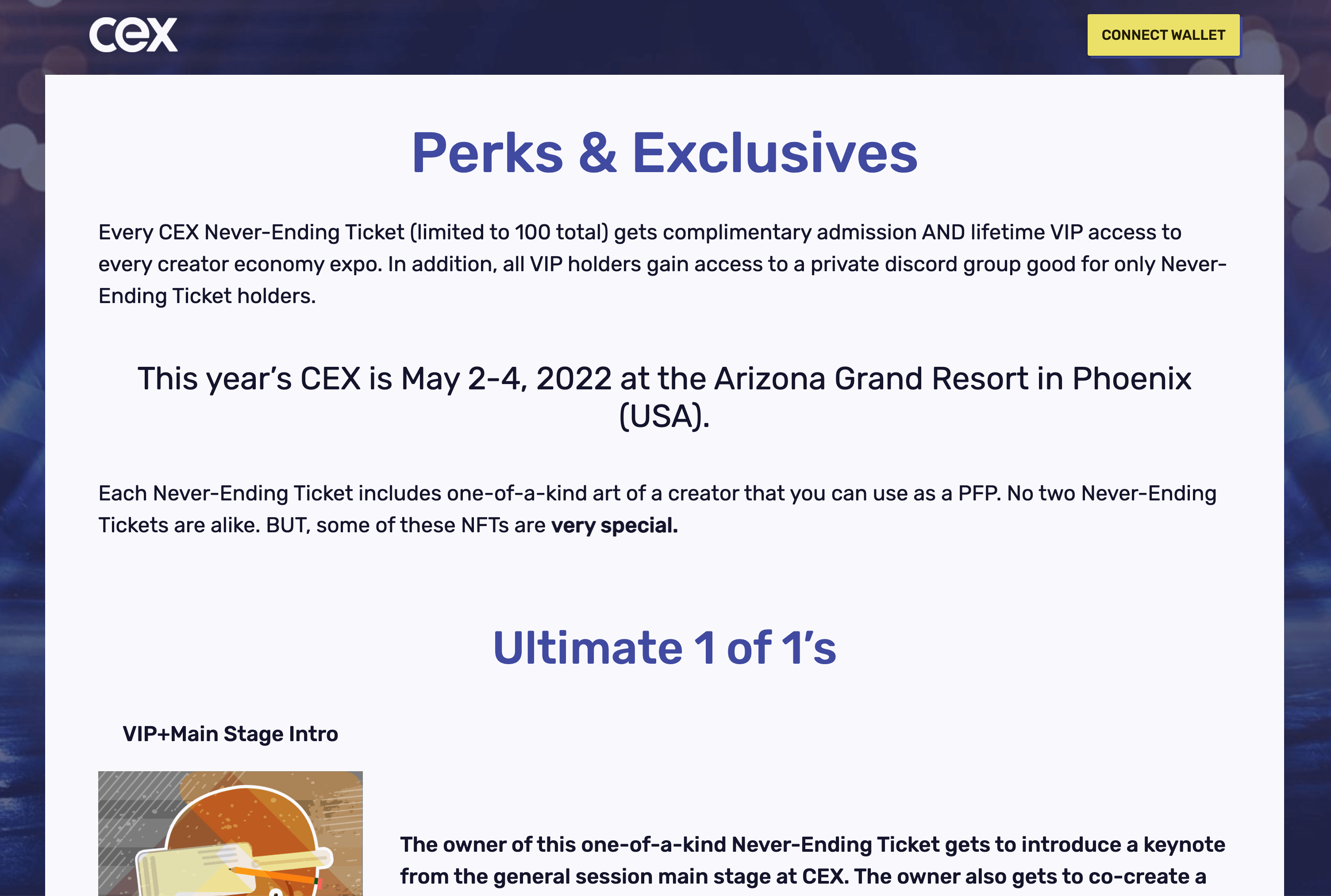 Additionally, while Web 2.0 has trained everyone to build and scale large audiences—mostly because those platforms performed best with larger audiences—NFTs give you the power to scale your access instead.
You can have as powerful an impact with a community of 1,000 to 1,500 token holders as you would with a community of tens of thousands of followers on social media. This allows you to concentrate your value in the hands of your best and most active members while also rewarding them for being members. This gives them incentives to stick with you.
Hurdles You May Face When Launching NFTs for Your Business
Even with all of the possibilities, there are still some hurdles businesses need to overcome when launching an NFT today. For one thing, launching an NFT before the product is built will present a unique problem. You're trying to build the product or launch an event, convey the value of that not-yet-existent product or event to your audience, while also launching the NFTs that grant your audience access to the event.
You'll want to start building the community before launching your NFTs. Just as if you were launching an event, book, or course, if you launch an NFT before you have an audience built for it, there's no one in line ready to buy the NFT once it's available.
But, at least for the foreseeable future, building your audience is going to require you to take on the added struggle of teaching that audience about NFTs. You'll need to educate your audience on what NFTs are, how they work, how to set up their MetaMask wallet or join Coinbase, how to get things linked up into their bank accounts, and what the primary differences are between purchasing an NFT with cryptocurrency versus purchasing a ticket with their credit card.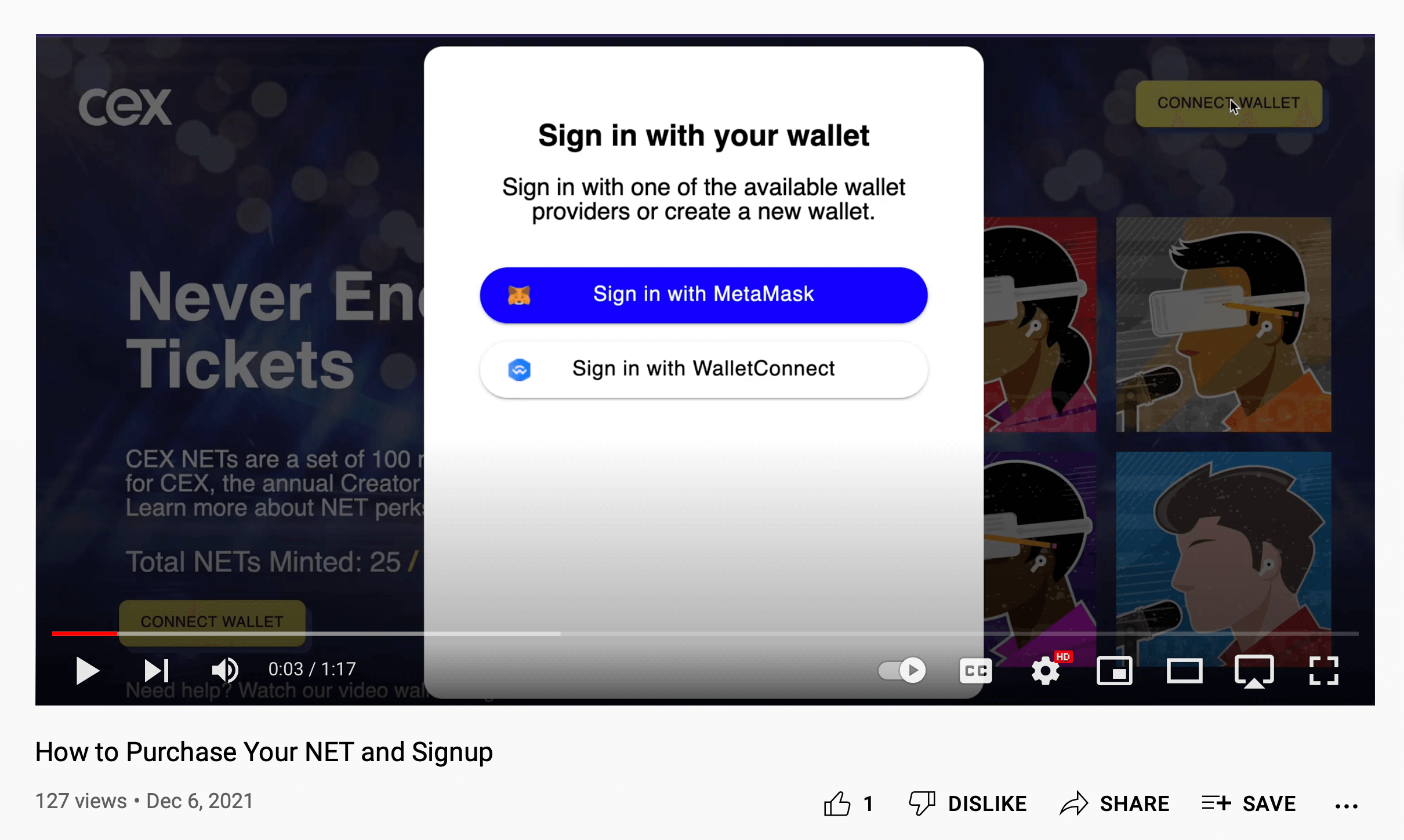 These are all things that are still so new to consumers that without the added education, once the NFT is launched, they won't know what to do with it or how to get on board.
Exactly how much time your company spends educating your audience on NFTs is up to you. Some of the more successful NFTs were training their audience for months before they launched.
How a Never-Ending Ticket Can Help You Build Community Access
The concept of a never-ending ticket is one of the more intriguing potential uses of an NFT. Essentially, once someone purchases your NFT, they can have access to whatever event or venue you have programmed into that smart contract for as long as they hold that token or you hold that event or venue.
Some businesses are using it to grant access to any of their more luxe clubs. The purchaser has their crypto wallet on their phone, they bring the phone with them to the club, are able to verify that they hold the NFT, and they're allowed into the club automatically. They can do this at any club owned by that business across the United States.
Other business owners and marketers are using NFTs for conferences and in-person events, allowing NFT holders VIP access to those events without ever having to purchase separate tickets. The overall value purchasers receive by having a never-ending ticket encourages them to evangelize that business and tell everyone else that they need to get in on the NFT, which in turn raises its value.

There may be some technical aspects for you to work through and build as you put together your never-ending ticket. For example, after someone purchases your NFT and is granted access to your event, should they later choose to sell the NFT to someone else, you would need a system to revoke access to your event from the original purchaser and then grant the access to whoever made the purchase.
Another interesting facet of this is that someone who purchases an NFT to gain access has also bought into owning a piece of that community. They can use the access they've purchased any way they want. So, for example, if someone bought a never-ending ticket to your annual event, but then couldn't attend one year, they could register anyone else they want to be able to use that ticket and go that year without having to sell or trade off their NFT or lose access to the following years.
Key Considerations When Creating NFTs for Access
As you begin creating and launching NFTs for your business, you're going to want to pay special attention to what your market is doing. For example, you may choose a strategy in which you lean on your existing community and create exclusive tokens to build out a community of superfans.
This strategy would allow you to enact a sort of bonus for your superfans, such as early access to certain things, and would allow the release of the NFT at a higher price that your superfans would be willing to pay for that access.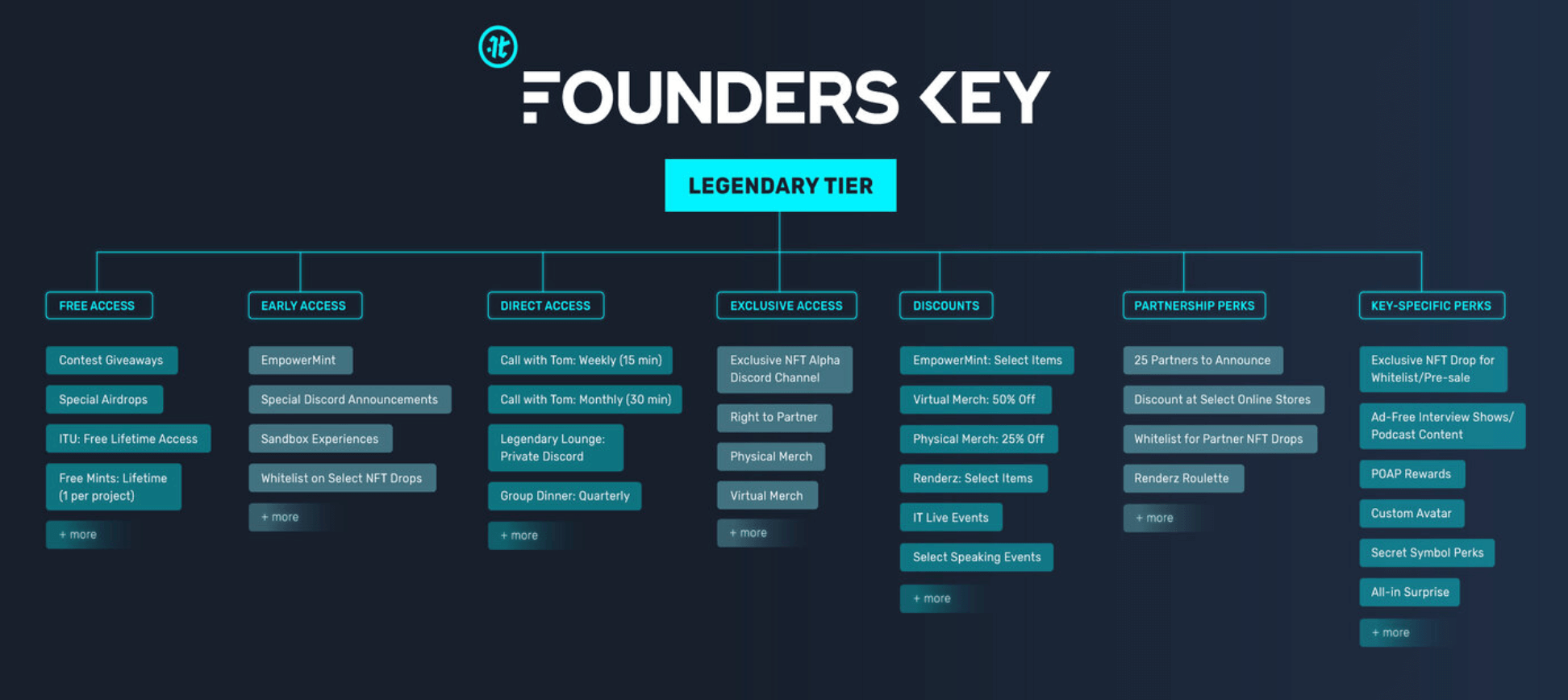 On the other hand, you may also want to set up for and leverage the secondary market. The secondary market is where trading and selling NFTs takes place after someone has purchased their token. By releasing more tokens at a lower price and allowing people to purchase more than one, you can really set your audience members up to be able to trade and sell their tokens without necessarily losing access to the value of holding onto those tokens.
By being able to tap into that secondary market, you can continue earning royalties off the sales of those tokens, which in many cases has been much higher than the initial funds raised by the NFTs' launch.
We already talked a bit about building your audience before launching your NFT and using the time before your launch to train your audience on what NFTs are and how they work. You might consider creating a community centered around your NFT project, the audience you're building, and the training you'll be providing to that end.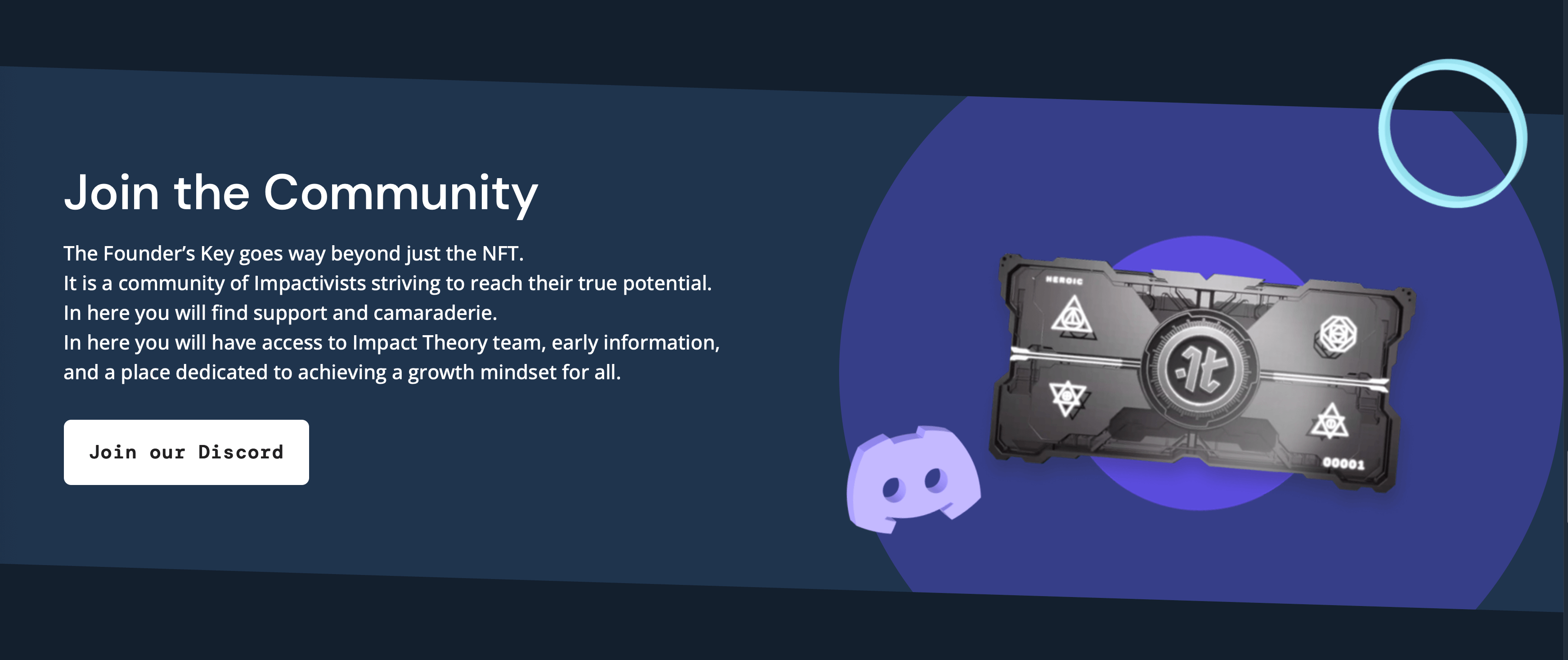 Of course, if you prefer, you can carve out a corner of your existing community and reserve that for the talking and training about the NFT. However, building out a separate community focused on NFTs will give you a place for all of those questions and the value you're providing your audience. It's a much easier call to action as you grow your audience to have them go directly to the community dedicated to your NFT project rather than another community that may not be quite as relevant to them.
Finally, the more successful NFTs have a long-term roadmap that they can share with their audience. This roadmap lays out everything they plan on releasing to their NFT holders. This might include the dates of events in the future, guest appearances, new courses being released, new content being released, workshops, even future coin drops or gifts. By having this roadmap laid out, the community can see at a glance what your vision is for them and what they're buying into.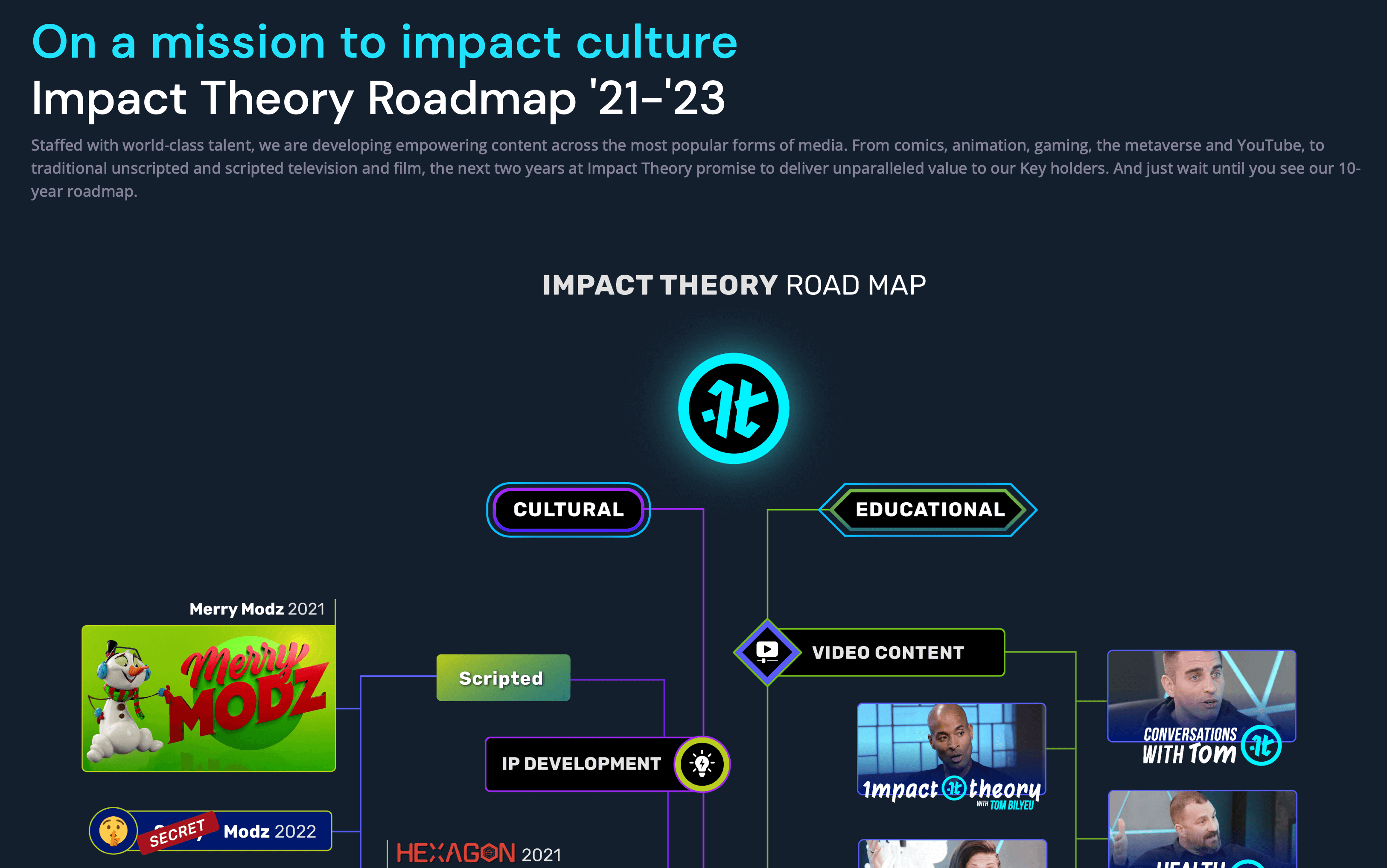 It also helps them understand the future value they're helping to build. Not only that but it also helps keep your existing audience and holders excited about all of the things to come. And of course, the more excited they are about things to come, the more they'll talk about your tokens and the value they receive, thus driving the value of their community and your NFT even higher.
What the Future Holds for Access-Based NFTs
The overall acceptance and adoption of NFTs into business use cases, specifically in the areas of membership and access, has taken off much faster than anyone had predicted. Larger corporations are already starting to get into NFTs, so in many ways, it's starting to feel like game on.
Within a couple of years, many sporting events will likely have an NFT component incorporated into their ticket sales. As NFTs for access become more prevalent, the need for audience education will decline, removing that barrier to business owners and making it even easier to launch an NFT.
In fact, in the not-too-distant future, there's a chance that NFTs may not even be called NFTs anymore. Society may adopt a different name for them as it accepts them becoming so ingrained and granting access to the different areas of our lives.
Other Notes From This Episode
Check out VeeFriends, Bored Ape Yacht Club, Crypto Punks, Crypto Dads, CrypToadz, OpenSea, Ethereum, Gift Goat, MetaMask, Etherscan, Rally, Fandem, Impact Theory (Tom Bilyeu) Founders Key, Meebits, and Coinbase.
Connect with Michael Stelzner at @Stelzner on Instagram.
Watch the interviews on the Crypto Business YouTube channel.
Where to subscribe: Apple Podcast | Google Podcasts | Spotify | Amazon Music | RSS
✋🏽 If you enjoyed this episode of the Crypto Business podcast, please head over to Apple Podcasts, leave a rating, write a review, and subscribe.
Disclaimer: The information provided on this website is provided solely for educational purposes and does not constitute any advice, including but not limited to, investment advice, trading advice or financial advice, and you should not treat any of the website's content as such. Social Media Examiner recommends that you independently research any information contained on this Website and that you speak with an investment professional before making any decision to purchase, trade, hold or sell cryptocurrency. Nothing herein should be treated as a recommendation to buy, sell or hold cryptocurrency. Social Media Examiner cannot guarantee the accuracy of any information listed on the website and is not responsible for any missing or wrong information. All information is provided as is and should be used at your own risk. Social Media Examiner disclaims all responsibility and liability for your use of any information found on the website.