Want to create and sell artwork as NFTs? Wondering how other artists have successfully sold their art in NFT collections?
In this article, you'll discover how Jen Stark creates and sells her art as NFTs.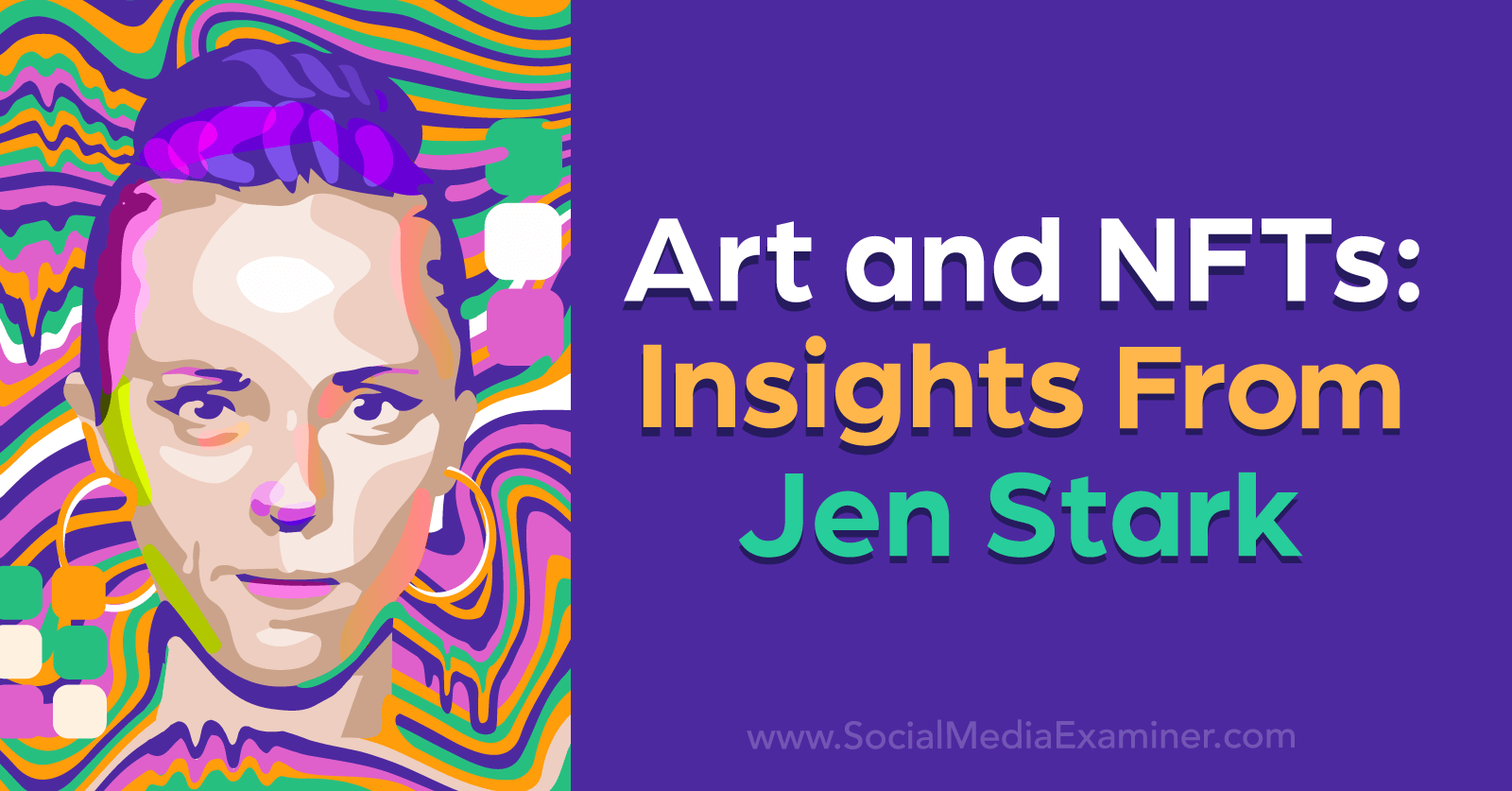 What NFTs Offer Artists and Creators
The blockchain and NFTs hold a lot of promise for artists and collectors, with provenance being a leading benefit.
Typically, when an artist sells a piece of physical work, they lose all connection with that artwork. They have no way of knowing if the painting is sold or gifted to a second party or if it's been destroyed.
Similar limitations affect collectors. Unless a piece of work is purchased directly from the artist or a trustworthy third party such as a gallery that provides certifications, there's no way to know for certain whether the work is genuinely the artist's.
When NFT artwork is minted, there's an immutable public record on the blockchain so it's easy for artists and collectors to trace the origin and ownership history of a piece from artist to collector to collector.
In addition, it's much easier for the artist to build genuine relationships with collectors because there's no third-party gallery rep involved in the initial sale.
Once their work is in a collector's wallet, the artist has a way to contact collectors directly. There's a path forward to support themselves without involving a third party.
Jen Stark's NFT Art Projects
Jen Stark is an artist with a background in painting, sculpture, and stop motion animation.
After learning about NFTs during the pandemic, she decided to mint her first piece of NFT artwork, a 45-second looping digital animation titled Multiverse, as a 1 of 1 NFT in late March 2021 using Foundation.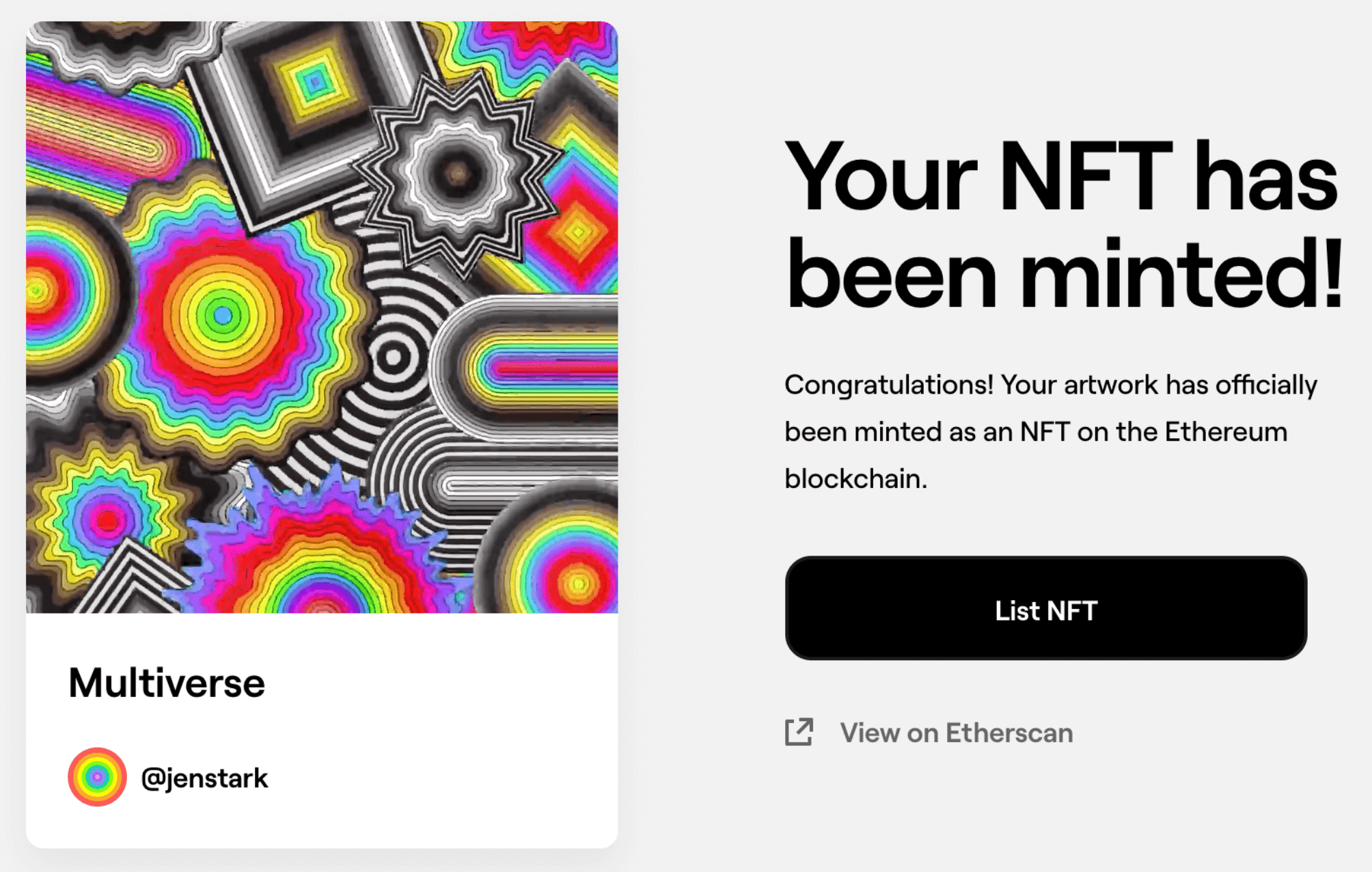 To say the sale exceeded her expectations is an understatement. At the end of the 24-hour auction, the NFT sold for 150 ETH (roughly $225K in March 2021). Since then, she's sold a few thousand NFTs across various collections.
Her approach to volume, pricing, and artwork for subsequent collections has varied based on trends, the market, and what she's previously tried.
She also takes a thoughtful approach to the frequency of her project drops. Because she prefers to leave some breathing room between collections and doesn't want to flood the market, she tends to drop three or four projects a year.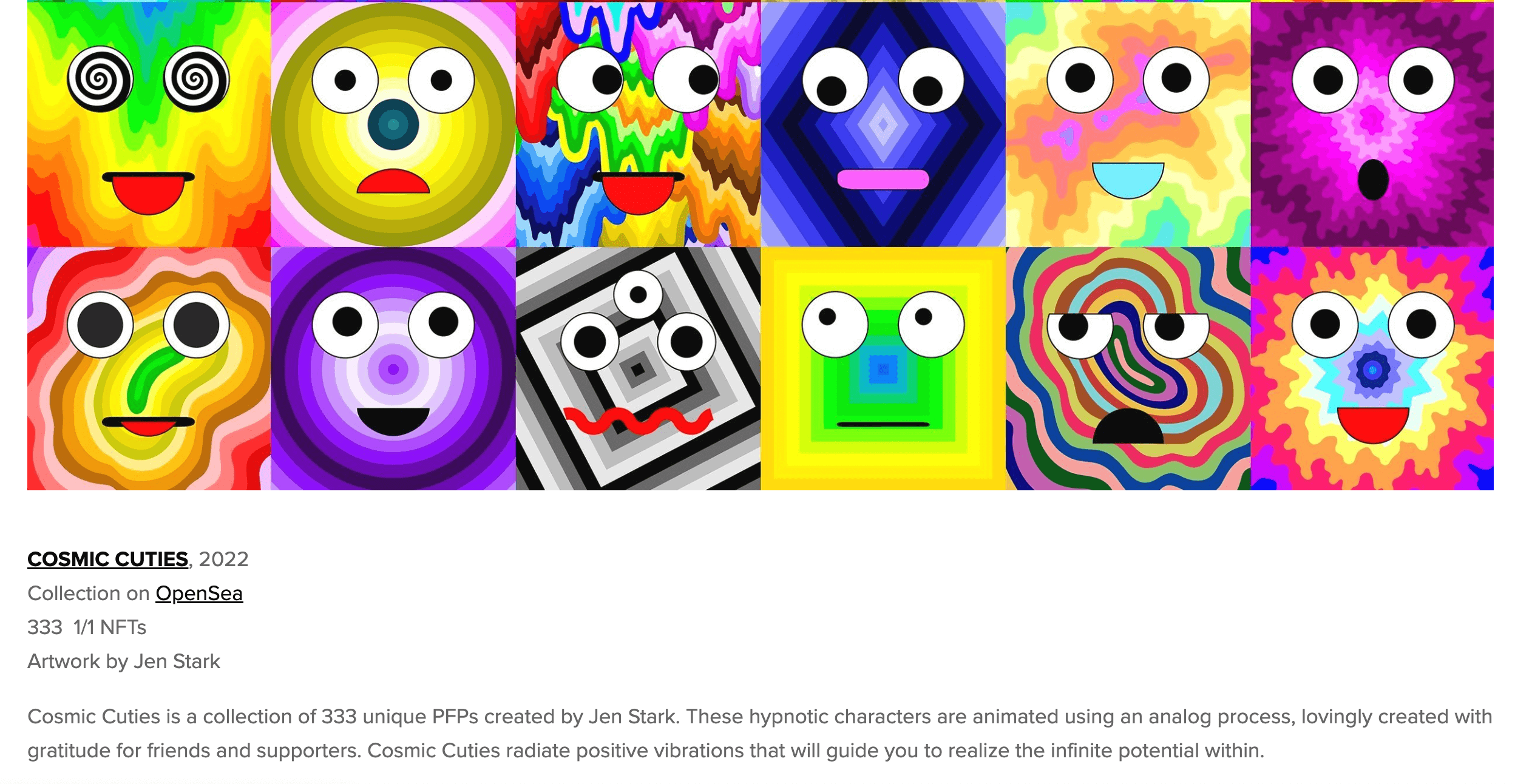 In all, she's released 10 projects, two of which are Vortex and Digital Paint.
Vortex
Vortex is a 1,000-piece collection of generative 1 of 1 NFTs released on Art Blocks in December 2021.
The Vortex artwork was based on the paper sculptures that Jen began her career with and included a three-dimensional aspect.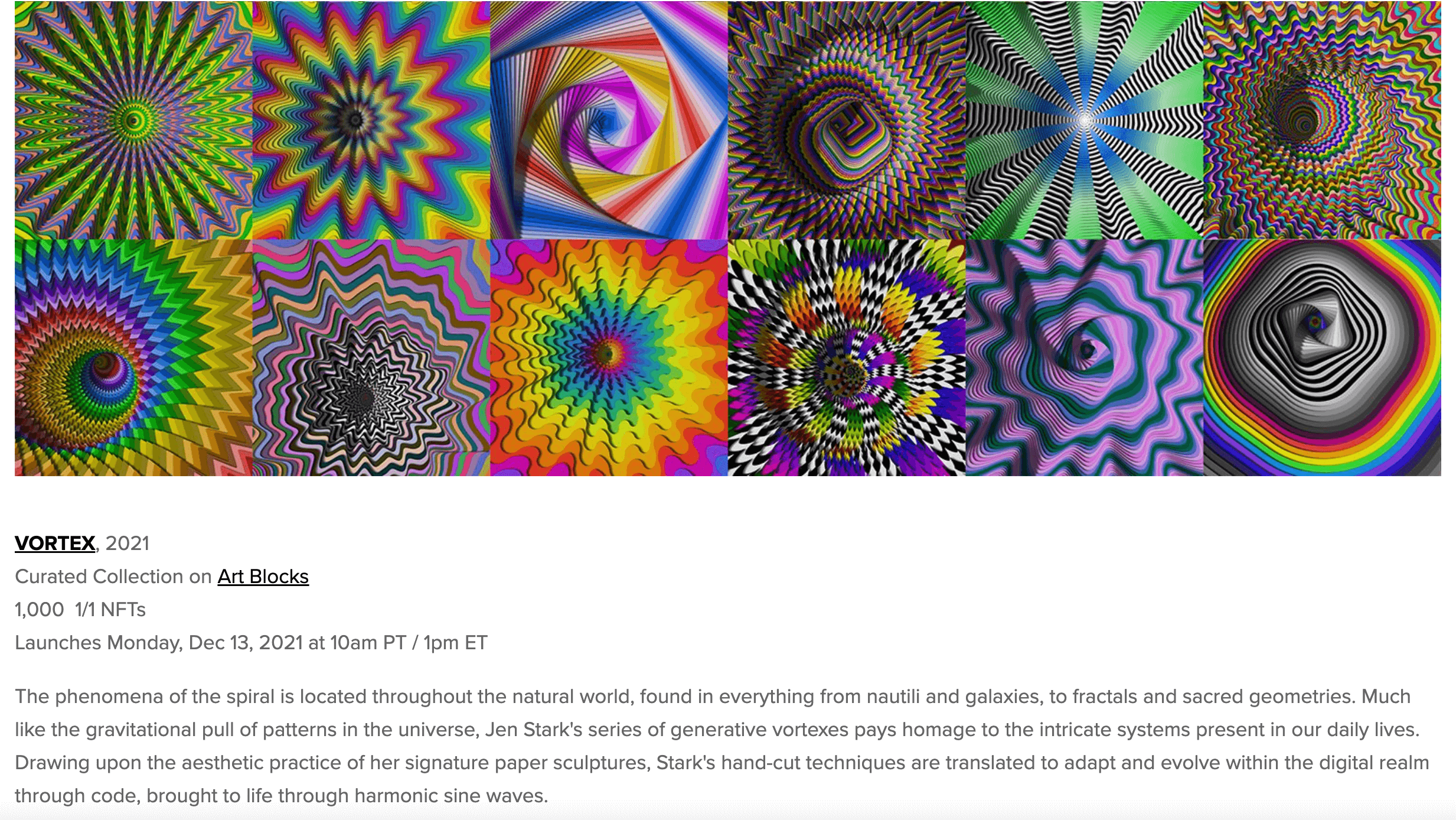 Vortex minted out at .75 ETH with an estimated 60% unique holders.
What Is Art Blocks?
Art Blocks is a platform that produces museum-quality generative artwork for code-based NFT projects.
When a project is accepted and launched on Art Blocks, the collection receives some supportive marketing from within the Art Blocks Discord server including a dedicated channel for the artist. In return, Art Blocks receives "10% of the total primary sales and 2.5% of secondary sales."
When compared to the typical 50% of sales by galleries, Art Blocks' percentage is extremely reasonable.
Digital Paint
Digital Paint is a 5,000-piece collection of 1 of 1 NFTs that launched in February 2023 and is currently minting at .2 ETH.
The project was launched in partnership with CutMod and Chain/Saw on a bespoke website that lets you choose colors and sound-coded brushes to create and mint an image in Jen's artwork style. To further sustain the dynamic and interactive nature of the artwork, an Easter egg coded into the brushes changes their sounds throughout the year.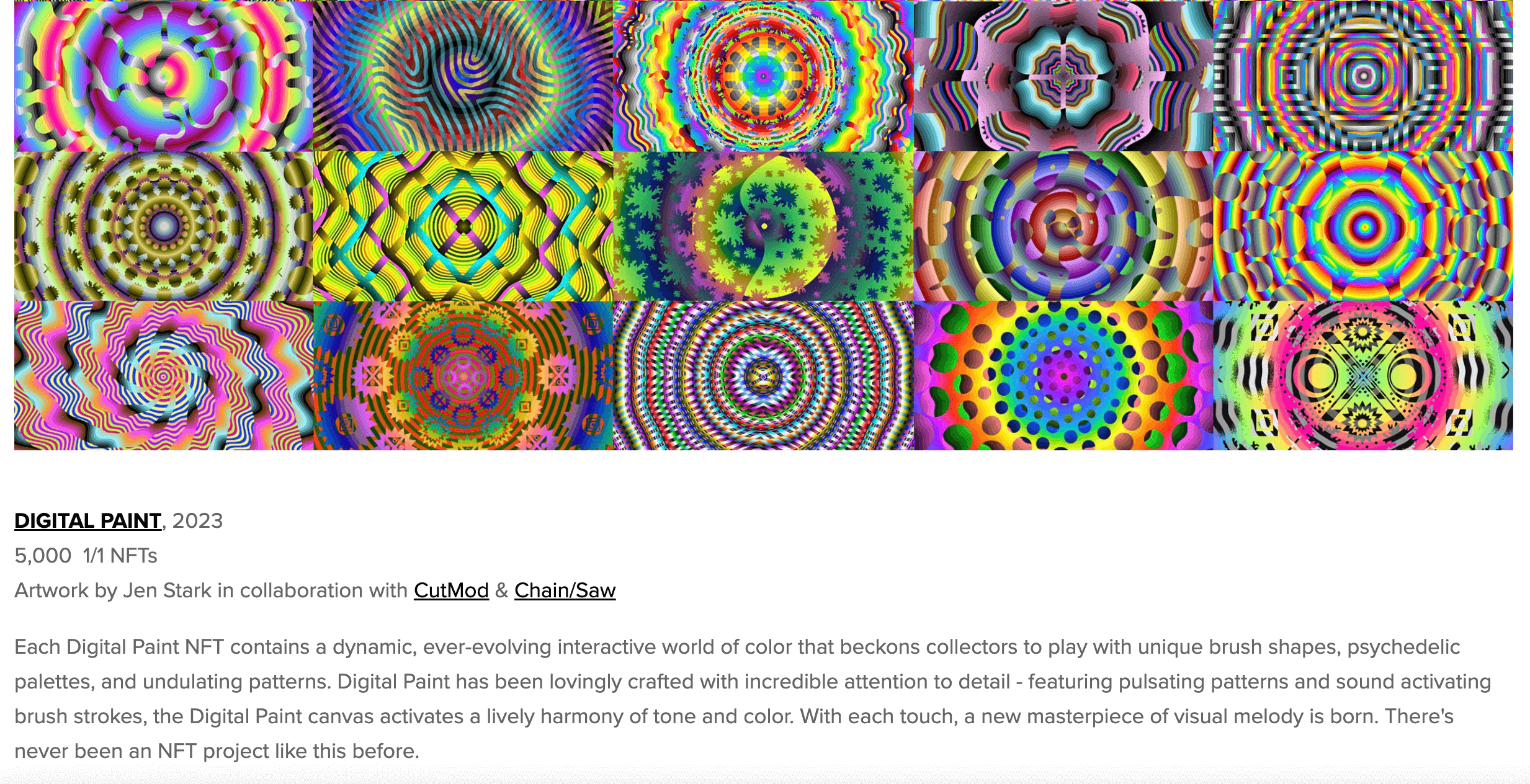 Jen says the project will close minting when it reaches an undisclosed amount, thereby protecting the value of the minted NFTs for holders who've already purchased because the supply will then be limited to what currently exists.
Regardless of whether the project mints out, Jen believes in and values it for what it is. She encourages other artists not to freak out if their project doesn't mint out on day 1. Not minting out doesn't mean your project isn't beautiful.
How to Cultivate and Nurture a Community of Collectors
Working outside of the traditional gallery model gives artists a direct relationship with their collectors and fans. It also means artists have to take an active role in maintaining that relationship so future collections have an interested audience of buyers.
Jen uses a number of platforms and tactics to actively engage her community and interest them in new collections.
For example, she started a Discord server with separate channels for each of her collections to carry on conversations with her collectors and drop announcements. She's also active on Twitter and Instagram.
This level of interaction is new for an artist that comes from a traditional art background and it has benefits and drawbacks.
On one hand, it has resulted in new friendships and connections that transcend the digital connection. Jen has seen collectors at events in the physical world and enjoys those relationships. On the other hand, those interactions take time, which means she has less time to create art.
She also incentivizes collectors to retain their NFTs by offering holders discounts on future mints, surprising them with giveaways of physical prints or merchandise, and air dropping art to her most active supporters.
Other Notes From This Episode
Where to subscribe: Apple Podcast | Google Podcasts | Spotify | Amazon Music | RSS
✋🏽 If you enjoyed this episode of the Web3 Business Podcast, please head over to Apple Podcasts, leave a rating, write a review, and subscribe.
Disclaimer: The information provided on this website is provided solely for educational purposes and does not constitute any advice, including but not limited to, investment advice, trading advice or financial advice, and you should not treat any of the website's content as such. Social Media Examiner recommends that you independently research any information contained on this Website and that you speak with an investment professional before making any decision to purchase, trade, hold or sell cryptocurrency. Nothing herein should be treated as a recommendation to buy, sell or hold cryptocurrency. Social Media Examiner cannot guarantee the accuracy of any information listed on the website and is not responsible for any missing or wrong information. All information is provided as is and should be used at your own risk. Social Media Examiner disclaims all responsibility and liability for your use of any information found on the website.