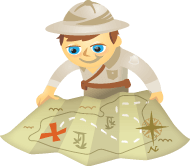 Do you want to freshen up your social media marketing?
Have you thought about looking at other accounts for inspiration?
Checking out what other companies are doing on social media can help you brainstorm your own content tactics.
In this article you'll discover how to analyze your competitors' social accounts to inspire new marketing ideas.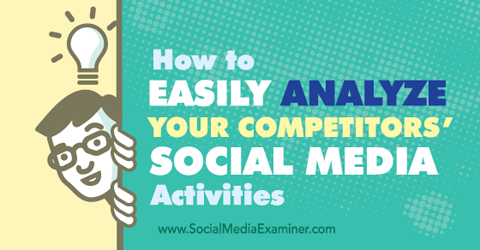 Listen to this article:
Where to subscribe: Apple Podcast | Google Podcasts | Spotify | RSS
Why Look at the Competition?
Researching your competitors on social media not only provides an overview of your industry, but it also gives you insight into the current habits of the audiences you're targeting. By answering a few key questions, you'll see what kinds of posts are effective for the people you want to reach.
#1: Analyze Facebook Pages
If you want to gain insight into a company's Facebook page, here are some questions to consider:
How many followers do they have?
What are they posting about?
Are their posts mostly internal (company-based) news, blog posts and articles; mostly external news, blog posts and articles; or a mix of both?
What's their brand voice?
How often do they post?
How many likes/comments/shares do they get per post?
Do they run any polls, contests or fun games with their brand?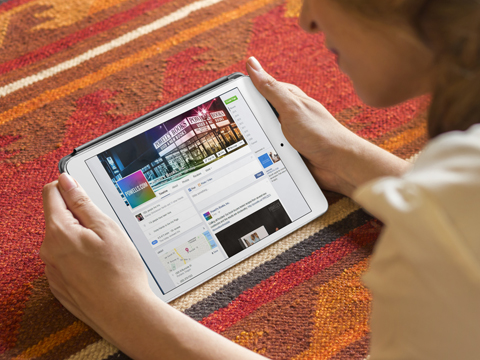 The Facebook page for Powell's Books, a famous independent bookstore, is worth checking out as inspiration if you're a local business hoping to make a national footprint.
One of the first things you'll notice is that Powell's takes the time to create their own graphics, which often include quotes from authors. It's a great twist on a sharable meme for a bookstore.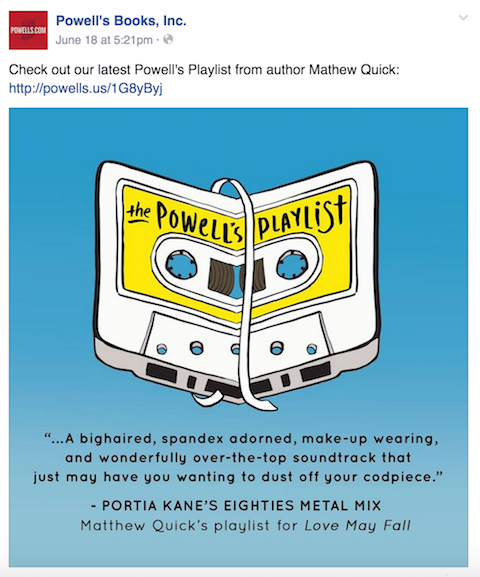 They post photos of customers at individual stores and events, so you can assume their staff participates in social sharing (a great idea for local businesses). They also share interactive posts and comment on national conversation topics to keep the feed relevant to non-local fans.
Interestingly, one of the biggest buzz-generators for Powell's Facebook page is when they share posts on books and publishing from other media, such as The New Yorker. Remember that sometimes social media successes can come from other sources.
Key takeaway: A brick-and-mortar brand can serve both local and national audiences with the right mix of photos and interactive content.
#2: Look at Twitter Accounts
If you're analyzing a company's Twitter account, here are some questions to answer to gain insight into their activities:
How many followers do they have?
How many accounts are they following? A good rule of thumb: An account with 50,000 followers that's following 500 users probably has more influence than an account with 50,000 followers that's following 49,000 users, unless they bought followers.
What do they tweet about? Are they mostly mirroring their Facebook content, or is their content unique to the channel?
Are their posts mostly internal, external or a mix of both?
How many favorites/replies/retweets do they average per post? Does one engagement stand out over the others?
Have they created lists?
What hashtags do they use?
Do they run any Twitter chats?
Do they use Twitter cards for lead generation, email signups, etc.?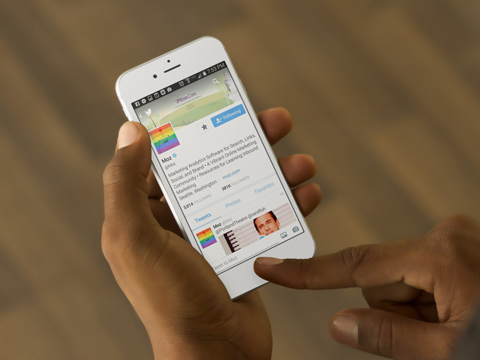 If you look at the Twitter account for Moz, you'll notice that they use a photo in almost every Twitter post. Their photos all follow the brand's style and color scheme, and they've created a template for their Twitter images to accompany guest posts.
🌟 Ready to Supercharge Your Social Marketing Strategy? 🌟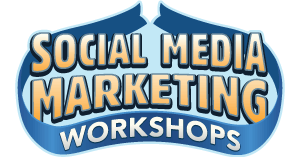 Struggling with your social marketing? You're not alone. The solution? The Social Media Marketing Workshops!

During these live 2 hour deep-dive workshops, you'll discover what's working now on Instagram, Facebook, TikTok, YouTube, and LinkedIn. Skyrocket your engagement, broaden your reach, and amplify your sales.

Become the marketing hero your company and clients need—without leaving your home!
🔥 Save $670 on an All-Access Ticket! Sale Ends Tuesday! 🔥
GET YOUR TICKETS NOW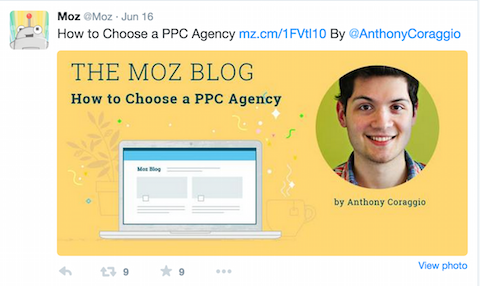 Brand-wise, it's interesting that the "owner" of the Moz account is a robot named Roger. Choosing an on-brand character to run social accounts is a way the Moz brand stands out as playful in the generally more serious SEO industry.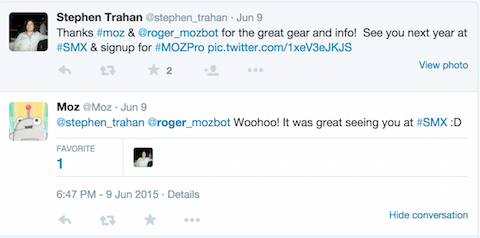 Key takeaway: Templates and a social media character can help a large brand stay consistent in social, even if multiple people are behind the account.
#3: Examine Instagram Accounts
Answer these questions to evaluate a company's Instagram account:
How many followers do they have?
How many accounts are they following?
Are their posts mostly internal, external or a mix of both?
How on-brand are their photos? Do they show the product or service in each shot, or do they follow a more lifestyle-oriented content strategy?
What hashtags do they use?
Do they tag other accounts (such as employees or partner companies) in many of their photos?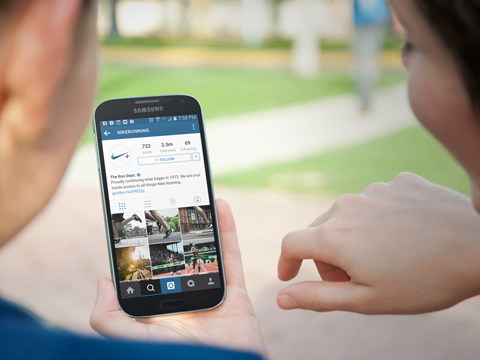 If you're selling a product that works as a tool, the Nike Running brand is a great example of turning a physical object into an emotional campaign, and their Instagram feed reflects this. How do you get people excited about a shoe? You make them feel something about what the shoe can do.
Nike Running's Instagram feed shows off both the product and its successful users. Recently they posted #thankspaula photos to coincide with the brand's online and offline campaign to celebrate the career of London Marathon winner Paula Radcliffe.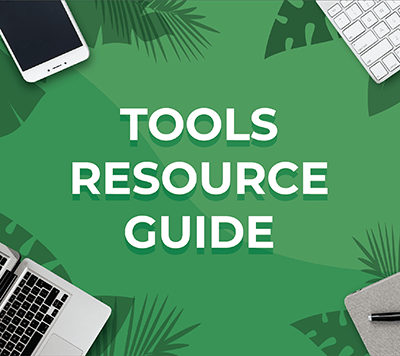 Looking for something to make your life easier?
Discover the tools we recommend to drive engagement, save you time, and boost sales across your entire marketing funnel or business.
Whether you need help planning content, organizing social posts, or developing your strategy, you'll find something for every situation.
FIND YOUR NEXT FAVORITE TOOL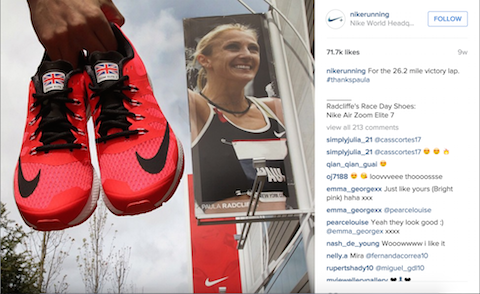 They also showcase stories of non-professional runners, accompanied by stunning photography.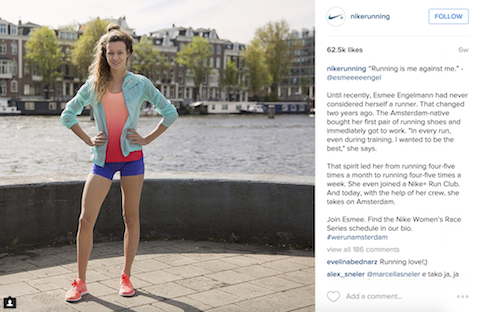 Even if you can't hire a world-class photographer, you can learn from the narrative style of Nike Running's Instagram account. With smartphones that snap high-quality photos, even smaller companies like a local shoe store or a small accessories brand can find ways to use photography to humanize their products.
Key takeaway: Instagram can be about more than showing off the product with fancy filters. It can tell stories worth a thousand words.
#4: Review YouTube Channels
If you're reviewing a company's YouTube channel, keep these questions in mind:
What's their video content like, and how on-brand is it? Do they stick to product tutorials, or do they branch out to product non-specific tutorials? Do they show off company parties and happy hours?
How many subscribers do they have?
How's their video engagement (for example, the number of comments, tone of comments, number of likes and dislikes per video)?
What are the related videos on their watch pages? This should give you a good idea of how the YouTube algorithm categorizes their video metadata.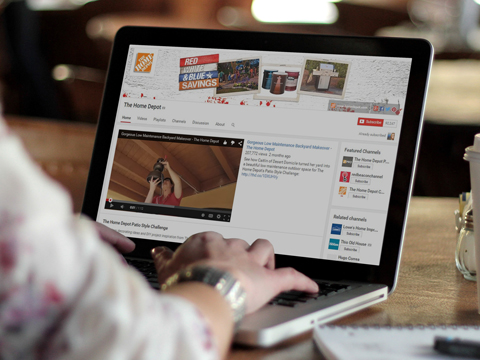 Unless you have an employee with a vlogger-like personality, YouTube can be hard to pull off without a nice video budget. But if you have the resources, or the means to bootstrap them, YouTube is a great social channel for any vertical that intersects with how-to tutorials.
It doesn't get more DIY than the home improvement space, and Home Depot's YouTube channel nails it when it comes to how-to video content. One of the first things you'll notice about the channel is the lack of overt product pushing. You can learn how to install a new toilet or design a patio without feeling like you're watching an advertisement.
Home Depot organizes their channels like a directory for various around-the-house projects, a useful tactic for any brand with advice to share.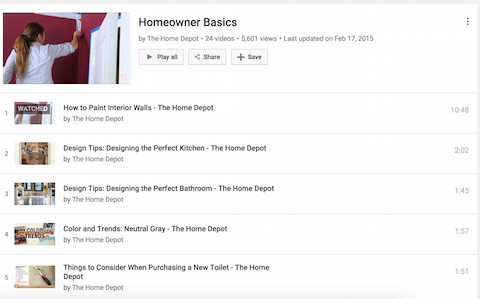 Home Depot also uses their channel to show off their brand's community-serving mission for improving homes for veterans. If you're already involved in community service, posting about non-profit projects on YouTube, even in a lower production-value setting, can spread the word about your mission.
Key takeaway: How-to's don't have to be on-brand to be effective for YouTube marketing.
#5: Evaluate Pinterest Accounts
If you're reviewing a company's Pinterest account, consider these questions:
How many followers do they have, and how many users do they follow?
How do they show off their product or service in pins?
How do they organize their pins? What are their board names?
Are their pins all brand-generated (product pins) or do they repin others?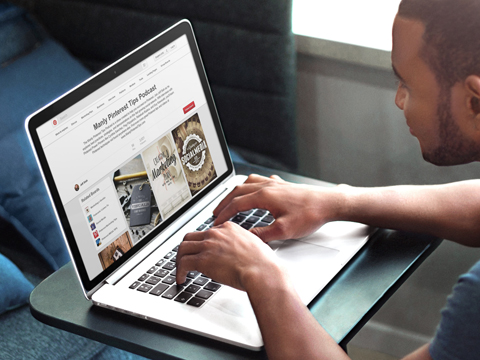 Want to know if your product has competitors on Pinterest? Just search for your products or services. For example, search for "sportswear," "seafood" or even "SEO." That's how you might find Jeff Sieh's page. He's the creative person behind a social media and SEO agency in Texas, and the personality behind a 25,000+ Pinterest following on social media and copywriting tips.
As a man, Jeff is in the minority of frequent Pinterest users, who skew female. But rather than try to blend in, he flaunts his difference, including hosting a podcast on Manly Pinterest Tips. And his team creates pin-worthy images for each episode, as shown here.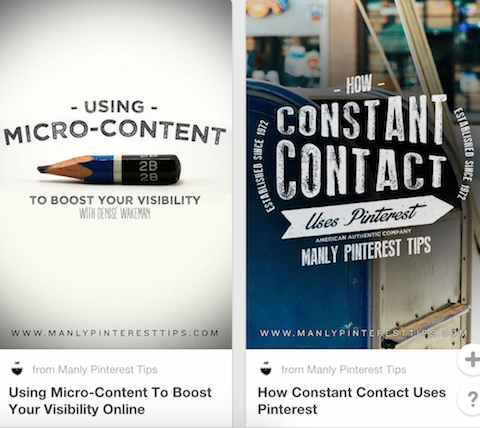 If you look through his account, you'll see that Jeff breaks up his boards by medium: Instagram Tips, LinkedIn Tips, etc. And he gives a nod to Pinterest success staples with Manly Food and Funny boards, too.
In a medium that focuses on visual collections, Jeff has found a way to flaunt his marketing personality on a few dozen boards.
Key takeaway: If you're a nontraditional member of an online community, you can use your uniqueness as a marketing advantage.
#6: Monitor Snapchat, Periscope and Meerkat Accounts
Due to the nature of their content, it's difficult to evaluate these channels in one go. But if your competitors use them, follow their accounts and check out their content when it goes live.
Eventually, the 24-hour time limit on this content may be lifted. For now, you have to stay updated with your competitors' feeds in real time. Here are some questions to consider:
What content are they posting?
How many interactions (on Periscope and Meerkat) do they garner from their fans?
Final Thoughts
A thorough competitive analysis takes time to compile, and it may feel like you're watching the other guy rather than focusing on your own game. But checking out what other companies are doing on social can give you inspiration for your own social content.
Going through a checklist of questions is only the beginning. Putting together a quantifiable measurement method is a great way to dig into other business's successes, but let yourself wander a bit, too. Explore posts and videos that you find interesting, because those often lead to the best new ideas.
As a bonus to this article, I've created a Google Doc template that you can copy and use for your own competitive analyses.
What do you think? How well do competitive analyses work for developing your marketing brand and campaigns? Do you have other items to add to the checklist? List them in the comments!
Powell's Books Facebook Page image, Moz Twitter account imag, Nike Running Instagram account image, an Manly Pinterest Tips image created with Placeit.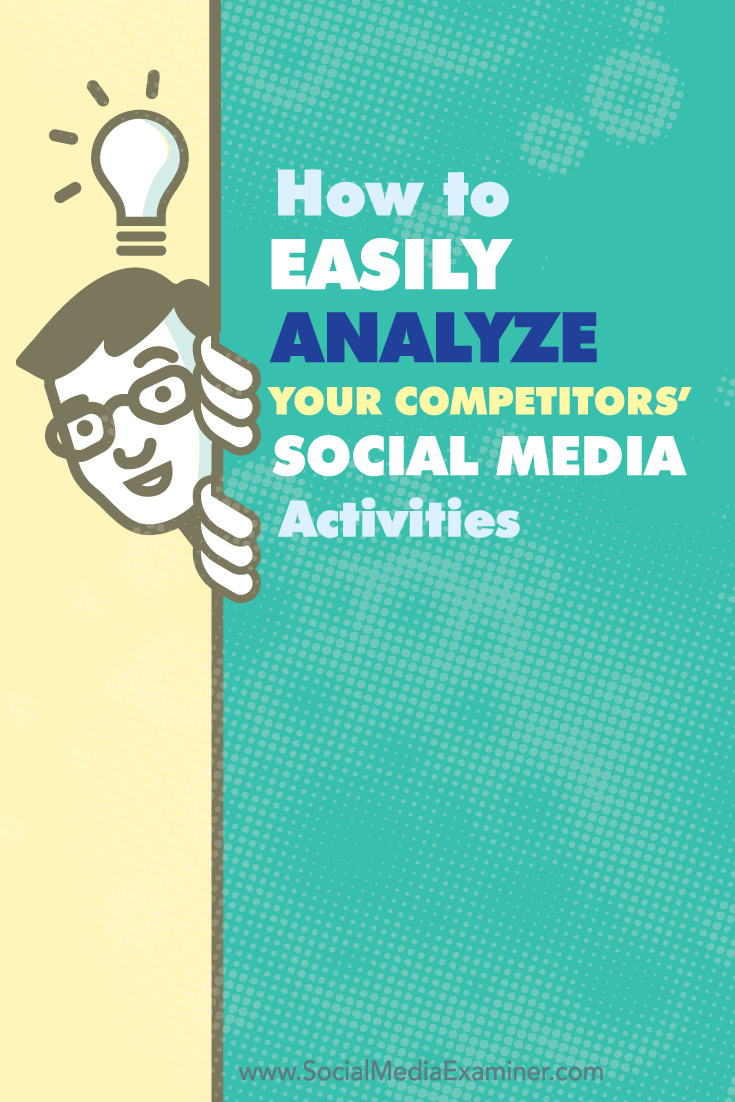 Get Your FREE Course: Web3 for Beginners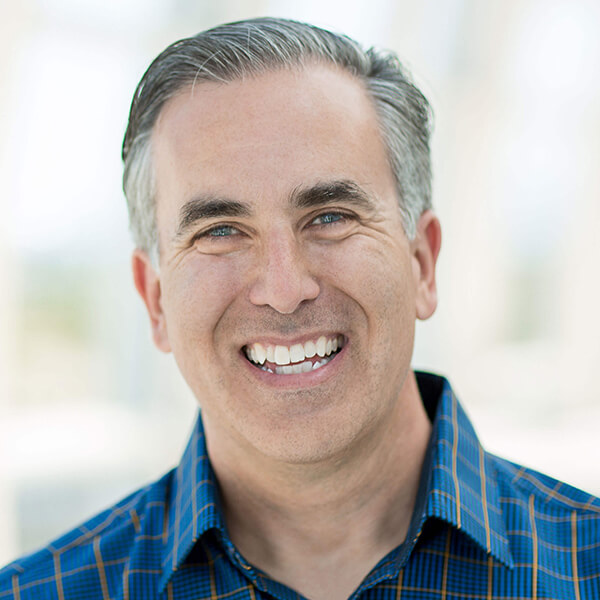 Curious about Web3, but don't know where to start or who to trust?

Introducing Web3 for Beginners, a course taught by Michael Stelzner, the founder of Social Media Examiner.

Learn the basics of Web3 and apply it to your business with this FREE comprehensive course.
CLICK HERE TO GET FREE ACCESS