Want to get more visibility for your products on Amazon? Wondering if live video could help?
In this article, you'll discover a complete guide to getting started with Amazon Live including why you should use it, what you can do with it, and tips for delivering an effective show.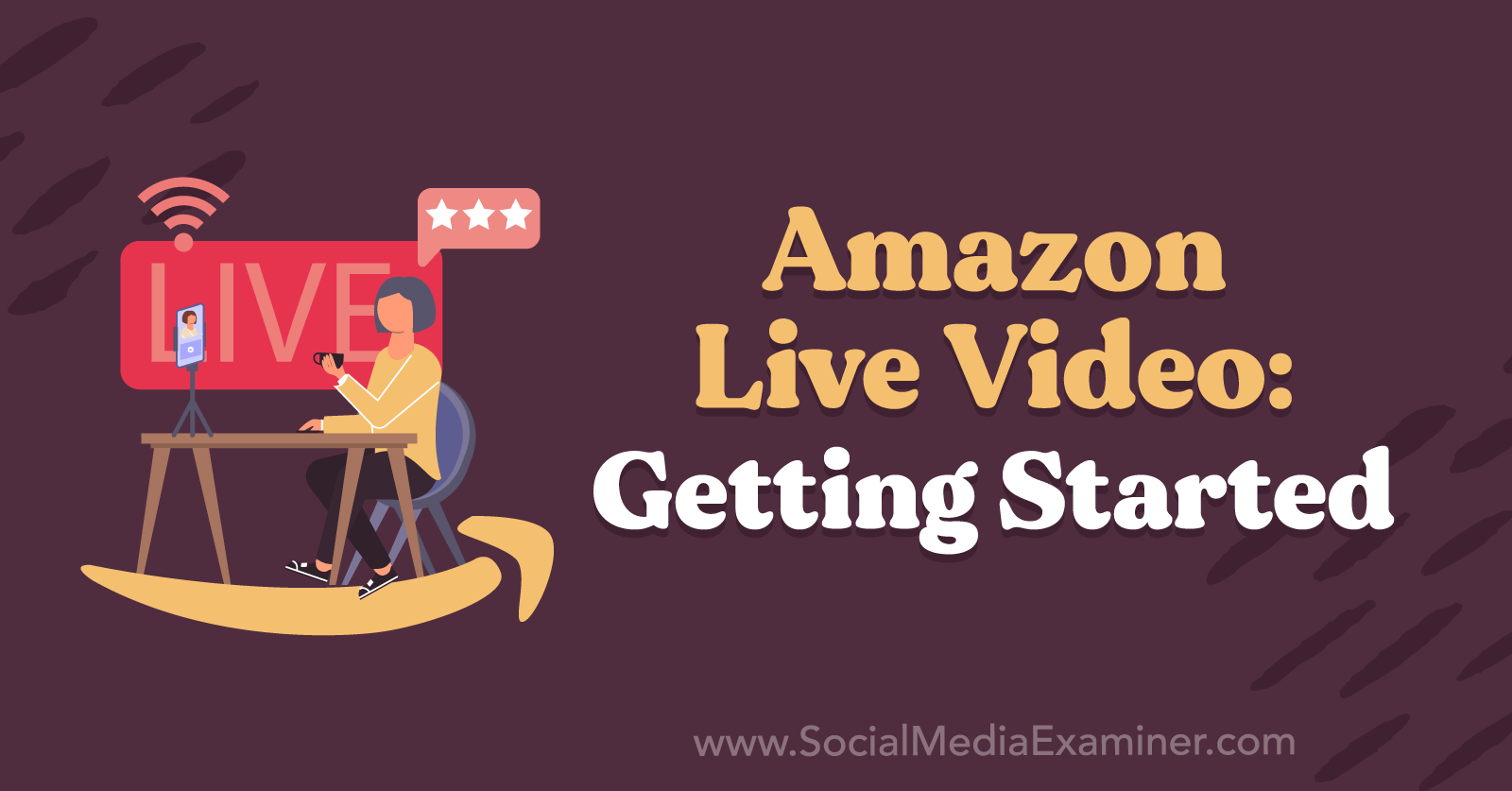 Why Marketers Should Consider Using Amazon Live
There are plenty of platforms where brands and marketers can go live to build an audience and sell their products or services. So why should marketers bother with Amazon Live? What sets it apart from other platforms that have livestreaming available?
One of the biggest differences is in the design of the platform itself. While other platforms are designed to be social first and cut down on the amount of selling you can do, the Amazon Live platform is designed to inspire, educate, and entertain customers in a format that allows real-time brand interaction. It wants you to sell. You can think of it as your own cyber–Home Shopping Network.
The platform's analytics really highlight the difference. Currently, there are 1.5 million sellers on Amazon that serve 150 million Prime members and more than 300 million active customers worldwide. While other platforms may boast hundreds of millions of users or even billions of users, the majority of those users don't go to those platforms intending to buy.
Every user who goes to Amazon intends to purchase so they're prequalified members of your audience who have already come through the storefront. They're just looking for that last bit of information that helps them make the decision on their purchase.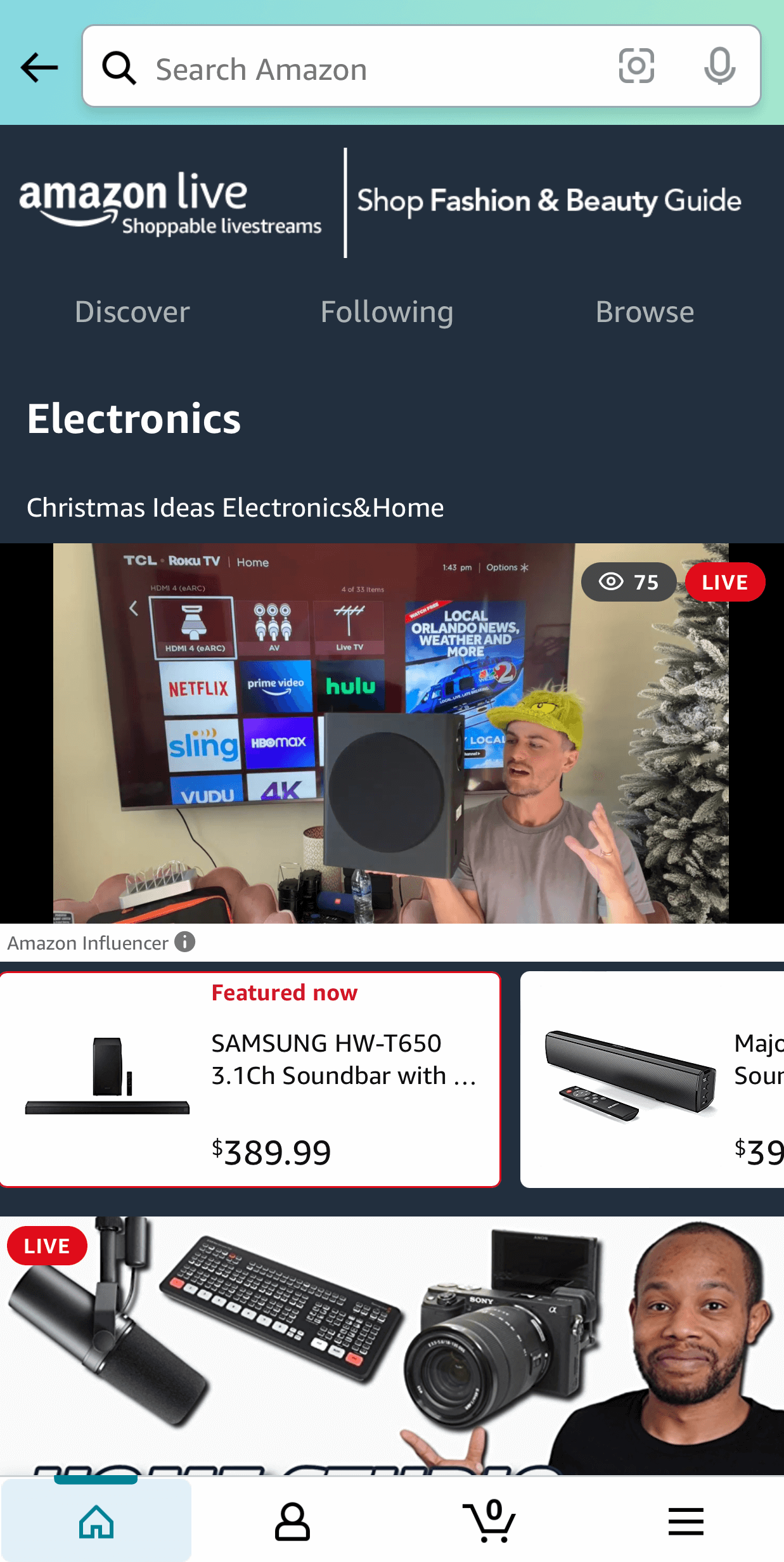 There are a couple of advantages in getting people to watch you on Amazon Live, including commission on any sales that come about after your live. Following your livestream, every viewer who purchases any product on Amazon will be attributed to you for 48 hours. This means that every purchase they make, whether or not it was a product you directly referenced, will net you earnings.
How Businesses Can Use Amazon Live
Amazon set up its Live platform to be used by business owners and marketers of all sorts in various niches. If your audience looks for things to buy on Amazon, you can find a niche to go live with.
If you're a seller, you can go live on Amazon to do product demonstrations or a Q&A session to help your audience get to know you a little better and see your product in action. This is a great way to answer any of those last-minute questions customers might have before finally taking the plunge and buying that product.
If you're someone who doesn't typically go live or prefers not to be on video, consider partnering with influencers who go live. Many influencers already have an audience either on Amazon Live or on another livestreaming platform and might be a good fit to demonstrate your product and make recommendations for you. This can be a great way for brands to get influencers and customers talking about their product.
If you're an influencer or content creator, you can find brands and products to review, demonstrate, or otherwise recommend in your Amazon livestream to your audience. This is a great way to form relationships with your audience as well as many of the brands you use. Because of the built-in shopping features and benefits of going live on Amazon, many brands that wouldn't otherwise work with influencers on other channels may be willing to on Amazon Live.
How to Access Amazon Live
From a desktop browser, you can access Amazon Live by going to www.amazon.com/live. There's an entire menu of livestreams filtered by popularity and interest groups. The current lives are prioritized near the top of the page, followed by upcoming scheduled lives and replay videos of previous lives.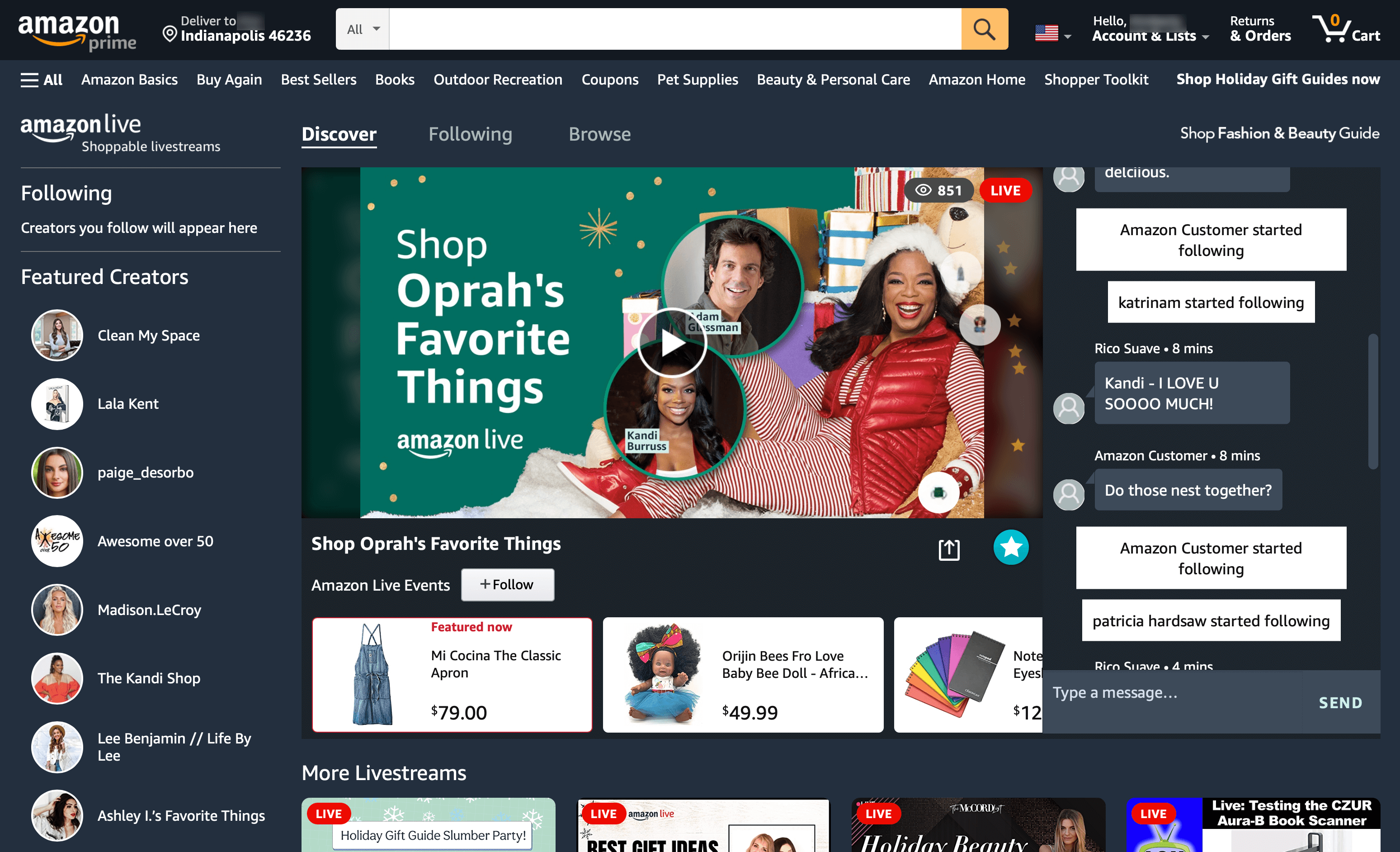 On the Amazon mobile app, you can reach the same platform by doing a quick search in the Amazon search bar for the word "live." The first result of the search will be the Amazon Live platform where you can go find a livestream to follow and watch.
Interestingly, when you go live, people can find your broadcast either from the Amazon Live home screen or directly on a product page if that product has been added as a feature to your live. In the Livestreams Related to This Product section on the product page, your livestream will show up for as long as you're live, and the replay will be available until a new livestream is started that features that same product. The latest livestream is always prioritized on the product page.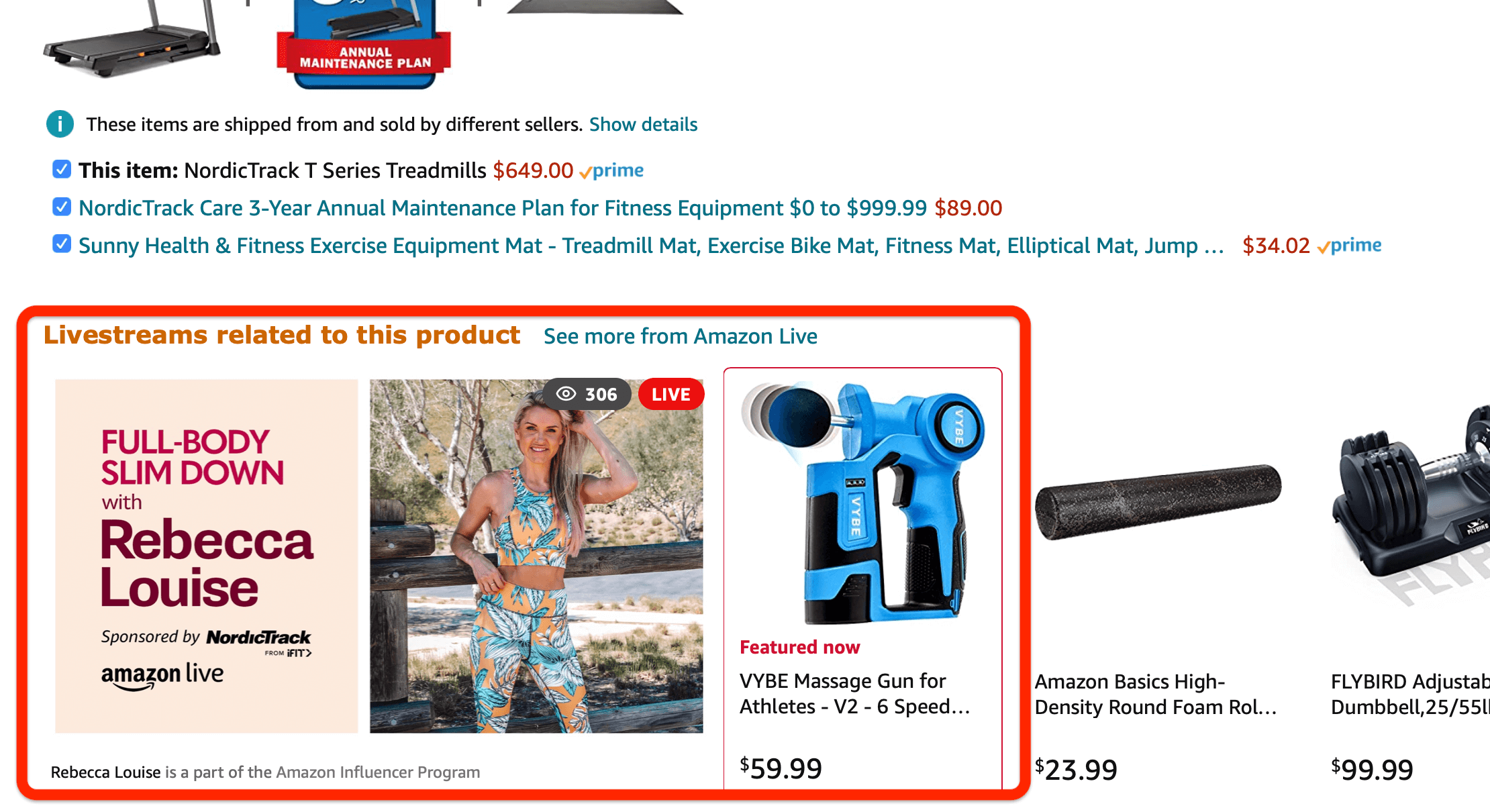 If you're ready to give Amazon Live a try, here's how to sign up and host your first broadcast.
#1: Sign Up for Amazon Live With the Amazon Live Creator App
The application for Amazon Live is fairly simple. If you're a brand wanting to get started with Amazon Live, download the Amazon Live Creator app in the Apple App Store for iPad and iPhone and follow the on-screen prompts to apply. The app is currently available only for iOS.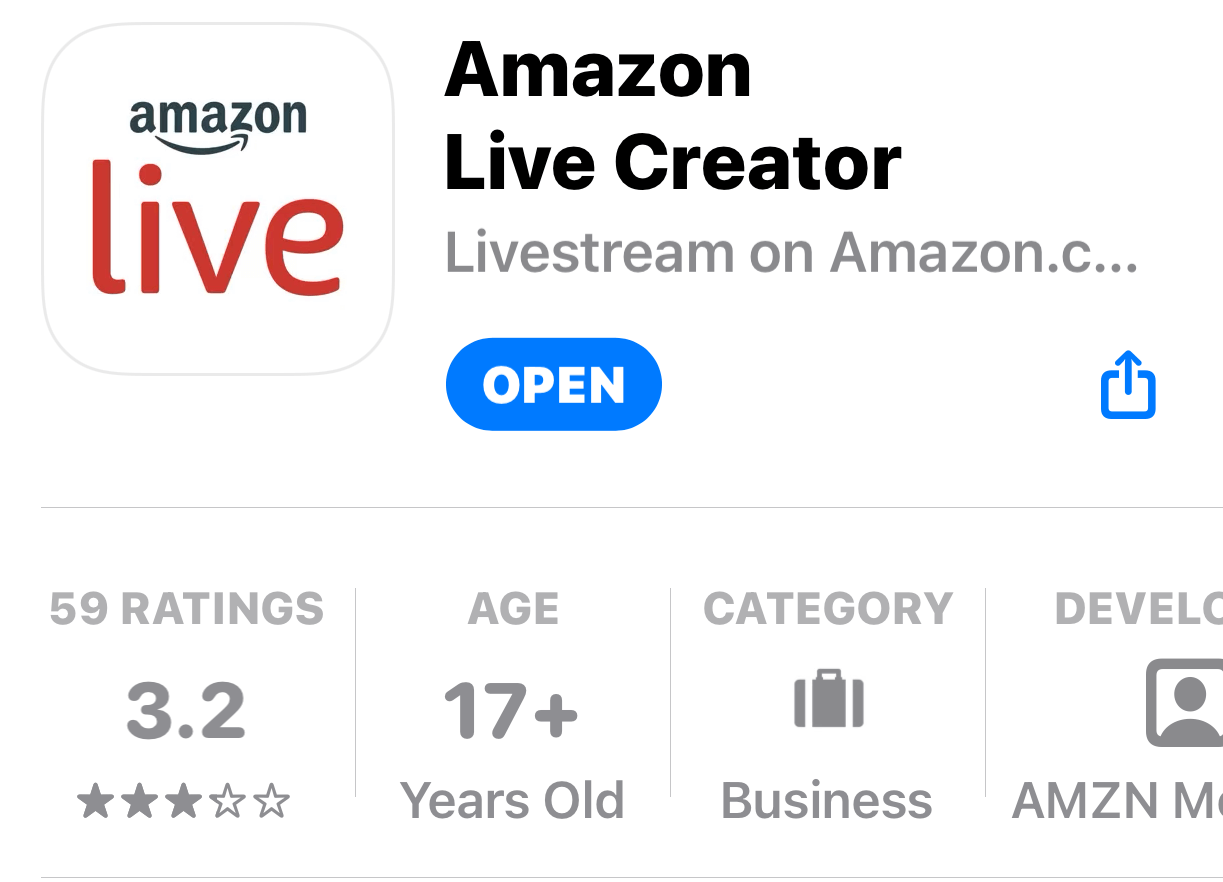 During the application process, you'll be asked about your intended use of the platform and what your audience looks like on other channels. Once you submit your application, you'll get a yes or no answer relatively quickly, usually within just a couple of days.
If you're approved, you'll receive instructions on how to move forward and create your first livestream. If you're not approved, you'll be given a reason and you can reapply once you've addressed that reason.
#2: Set Up an Amazon Live Broadcast
To set up a new livestream, you'll just need a thumbnail, a title that lets people know what you're covering in the livestream, and at least one product to add to your carousel. Here's are a few tips for getting set up.
Livestream With Broadcast Software
People sometimes fear going live on a new platform and either being inundated and surrounded by a huge audience they don't know how to entertain or going live to crickets. On Amazon Live, most new livestreamers will reliably gather the attention of at least a couple of viewers.
You can also bring in viewers from other platforms where you've already built a community.
You'll need to use the Amazon Live Creator app to go live on Amazon but you can use a service such as StreamYard or Restream to simulcast your livestream on another channel where you might already have an audience. This is especially powerful if you're just going onto Amazon Live for the first time and want to bring over your audience from another channel.
Add Products to Your Carousel
You'll be prompted to add at least one product available for sale on Amazon to your carousel. Add as many products to your carousel as you plan to cover.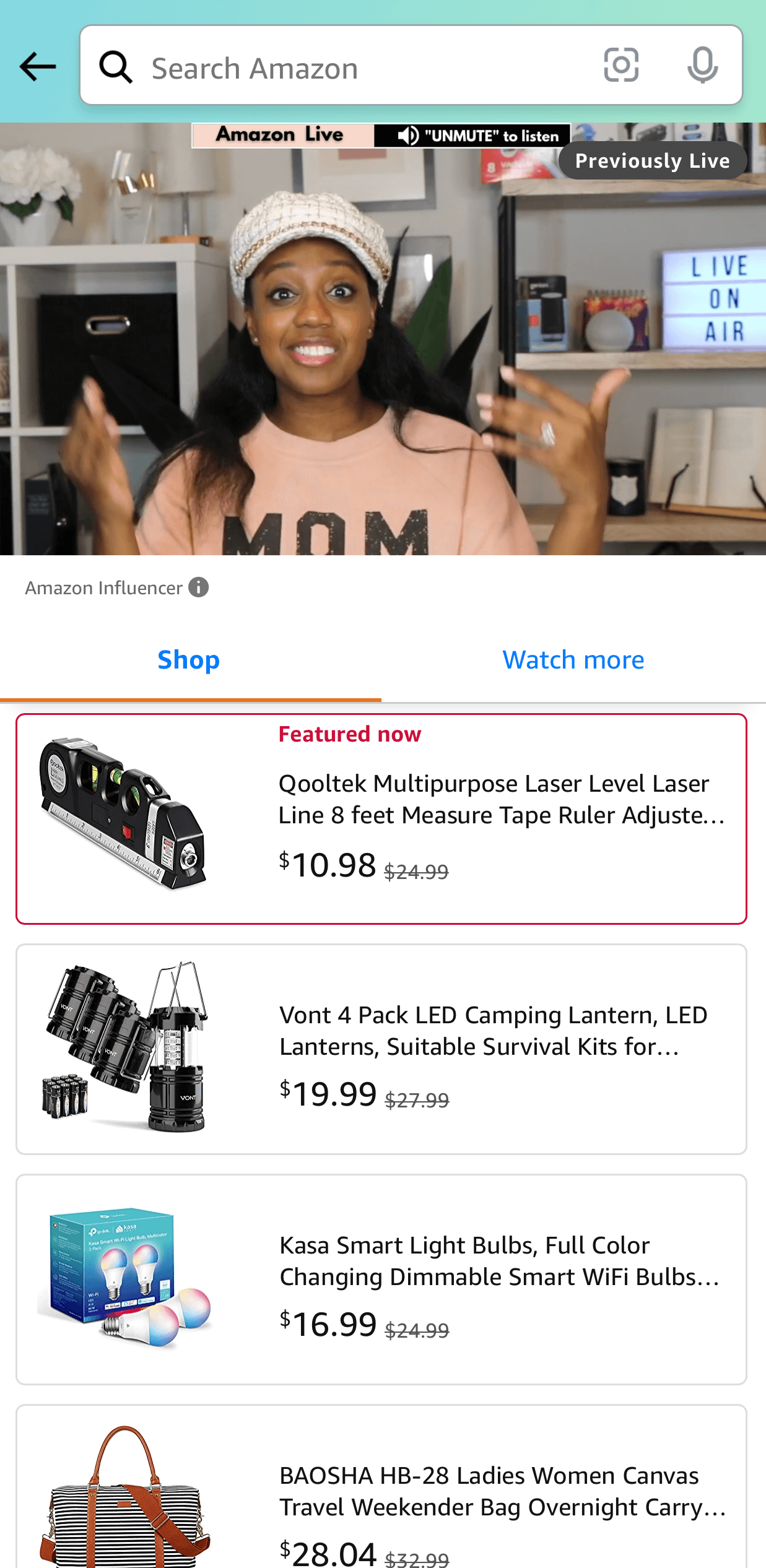 It's important to note that you don't need to have everything added before you start your livestream. If something comes up or if someone in the audience asks you a question, you can use the app to add a new product to your livestream's carousel even while you're live. This can be especially helpful if a question comes up that isn't directly related to your topic or something you weren't specifically planning to talk about but want to highlight.
One of the major benefits of going live on Amazon is how they compensate their livestreamers. Every person who goes to your livestream gets tagged for the next 48 hours following your livestream, and you receive a small commission for anything they purchase during that time. This includes any product, regardless of whether it was in your carousel; therefore, having the product in your carousel won't make a difference in your compensation for the sale of that product later.
The advantage of adding products to your carousel is in the placement of your livestream. As mentioned, your livestream will appear on the product page of every product featured in your livestream's carousel so the more products in your livestream, the more places someone can find you and follow you back to your live.
#3: Go Live on Amazon
As you prepare to go live on Amazon, make sure you have your outline or talking points ready. This will help ensure you cover everything but you'll still have the flexibility to follow the conversation that develops within the comments.
While you're on Amazon Live, you'll only be able to see the comments through the Amazon Live Creator app. So you make sure to keep an eye on the app to interact with your audience.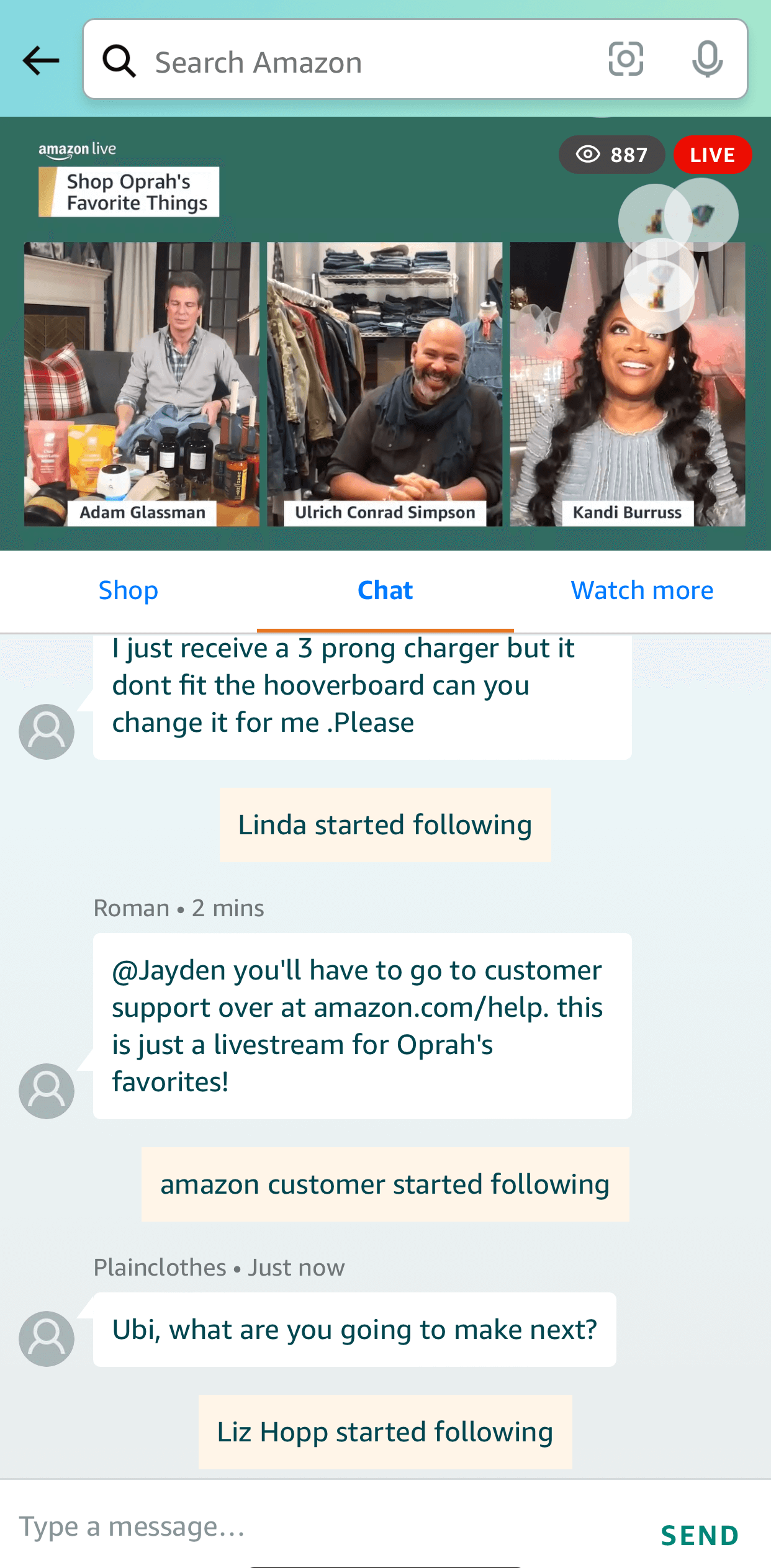 If you're using external software to simulcast your livestream to another platform, it would be beneficial to let your viewers on that other platform know that you're live on Amazon and that they should head over there for the best experience, and to follow you while they're there.
Like other social platforms and livestreams, Amazon Live likes engagement and the more engagement the better. In the lower corner of the livestream, you'll see stars floating up as viewers follow you and engage, and you'll even see tiny carts float up whenever they add something from your carousel to their cart.
You want to keep this engagement going by paying attention to the comments, responding to as many as you can, and educating your viewers on what they can do to interact with you such as following you or adding your recommended product to their cart.
#4: Measure the Performance of Your Amazon Live
Like any other livestreaming platform, Amazon Live offers creators access to data related to their livestream. After your live is complete, you'll be able to go into the Amazon Live Creator app and view the analytics of that livestream, including:
Product clicks
Video views
Follower growth
Sales
Earnings
Other Notes From This Episode