Wondering what marketing tasks AI can help you with? Looking for help developing AI prompts that deliver the results you need?
In this article, you'll discover how to use AI for marketers.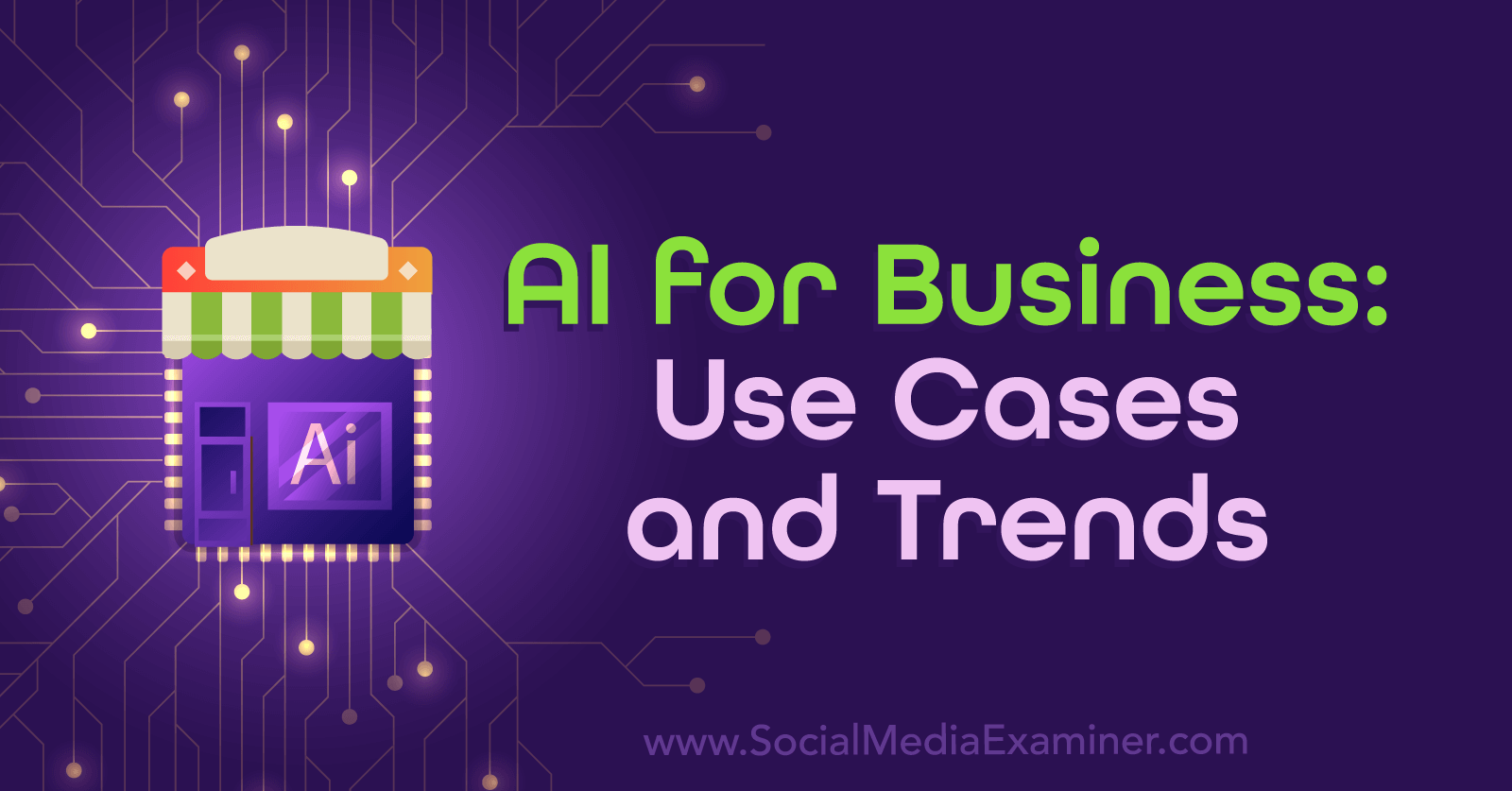 What's Going on With AI?
Everybody knows what "AI" stands for: artificial intelligence. But most people don't understand what that intelligence actually looks like.
The first thing to understand about AI technology is that it's not like a human brain. Our minds can do a thousand things at once: controlling our movements, summoning up memories, making small talk, and generating new ideas.
Artificial intelligence tends to do just one thing at once. That's why the field of AI has divided into three main branches. In each branch, developers have focused on a different skill: regression, classification, or generation.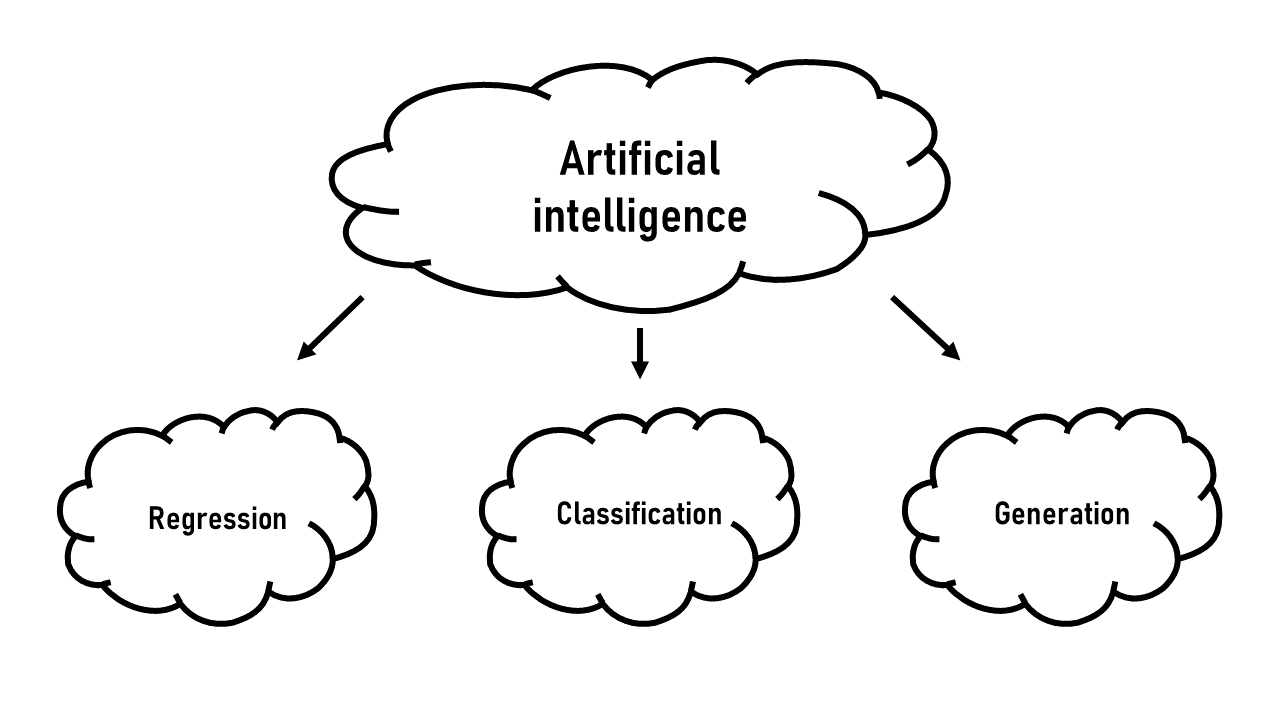 Some of these types of AI have been around for a long time. For example, if you've ever used Google Analytics to figure out attribution, then you've used AI for regression. If you've ever used marketing mix modeling, that's regression, too. Anything that uses data to calculate the source of an outcome is regression.
Classification has been around for a while, too. Artificial intelligence can be used in a thousand different ways to sort, label, and filter data.
But generation, or generative AI, is the new kid on the block. It can create images, sounds, text, and video. It was even used to create Coca-Cola's latest AI-generated commercial, with some human resources.
Each type of AI has benefits for marketers, helping us to work better, faster, and with a deeper understanding of the data. Using these mechanisms to instantly classify data, analyze performance, or generate content can save time and money.
The bottom line is that artificial intelligence can help you increase efficiency in your efforts. It's a boon for solo entrepreneurs, tiny marketing teams, and corporate behemoths alike.
Is AI Going to Replace Marketers?
There's a flip side to all of these benefits. If AI is so good at these tasks, some people wonder if we'll still need human marketers at all.
Well, don't panic just yet. Generative AI has actually been on the scene for longer than most people realize and it hasn't caused the end of the world yet. It's taken at least 5 years to refine these tools to a point where they can be accessed by non-specialists.
That's the real innovation: the latest AI services are incredibly easy to use. For example, Bing's integrated search AI can return text and images based on simple chat prompts.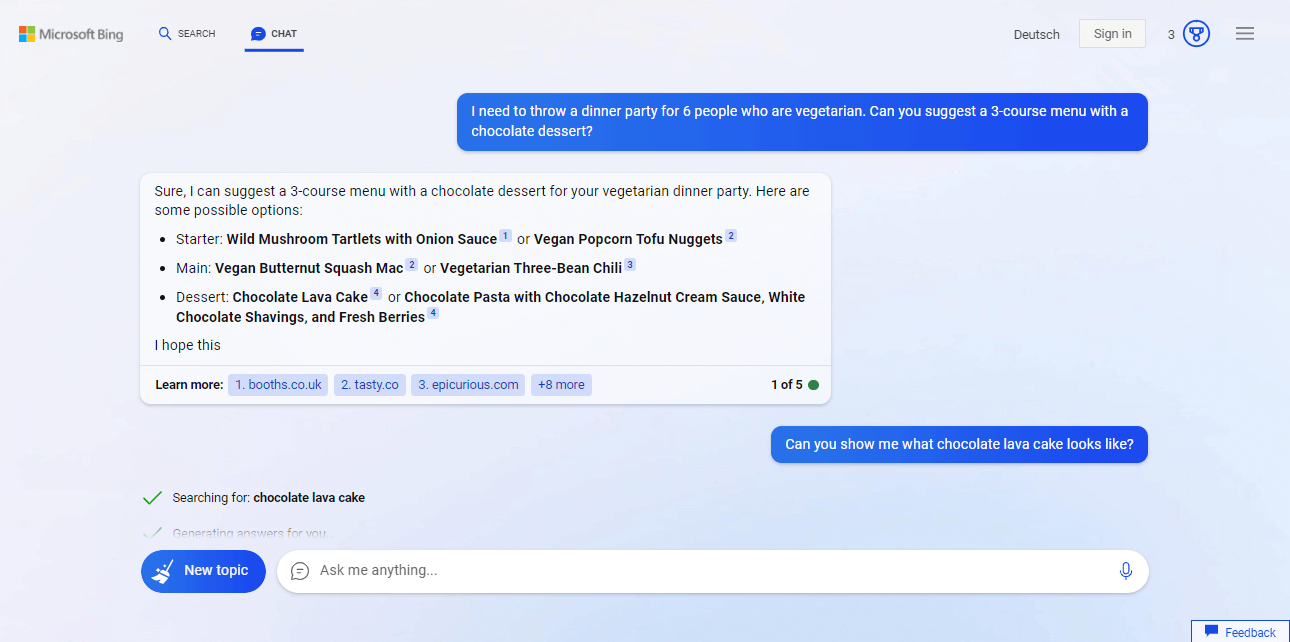 Now that AI technology are available to such a wide audience, they could unlock a creative renaissance as marketers, creators and technology oriented professionals take over from developers. But it all depends on how we learn to strategically implement AI. Generative AI mechanisms are fast, powerful, and impressive but they're still no substitute for human creativity.
AI won't replace jobs; instead, it will take over specific tasks. It's up to you whether you use that boost to increase efficiency of the same, boring old content or use AI to support you while you upskill, try new things, branch out, and become ever more creative.
Some of the concerns about job security are justified. Less-creative companies and employers will see a chance to reduce their headcount by handing routine tasks over to AI mechanisms. But progressive companies—those that really care about their customers and creators—will invest in their human staff and their unique capabilities.
If you're a marketer or creative worker, then your job is probably going to shift toward being an editor, curator, fixer, or aggregator. You'll be the conductor, not the first violin. Artificial intelligence will create rough ideas and first drafts and then you'll put your unique human spin on them.
So if you're nervous about your job security right now, you need to run toward AI. Lean in! Learn about the different mechanisms on the market and how to use them. Become a flexible, hybrid worker who can't be replaced.
In this article, we'll get you started on that journey with the six basic use cases of AI for marketing, a guide to prompt engineering, and some tips on what might happen with AI next.
6 Ways Social Media Marketers Should Be Using AI
There are six basic ways for marketers to use generative artificial intelligence. Each of these use cases can help you increase efficiency in your efforts and make more time for creativity.
We'll take a look at:
Generation
Extraction
Summarization
Rewriting
Question-answering
Classification
#1: Generation
Generation is the most obvious function of generative AI. It generates—or creates—content.
For example, you can use a text AI like ChatGPT to write a social media post or short blog post. Some artificial intelligence tools, such as the Picsart AI Writer, are specifically designed to work on social media content.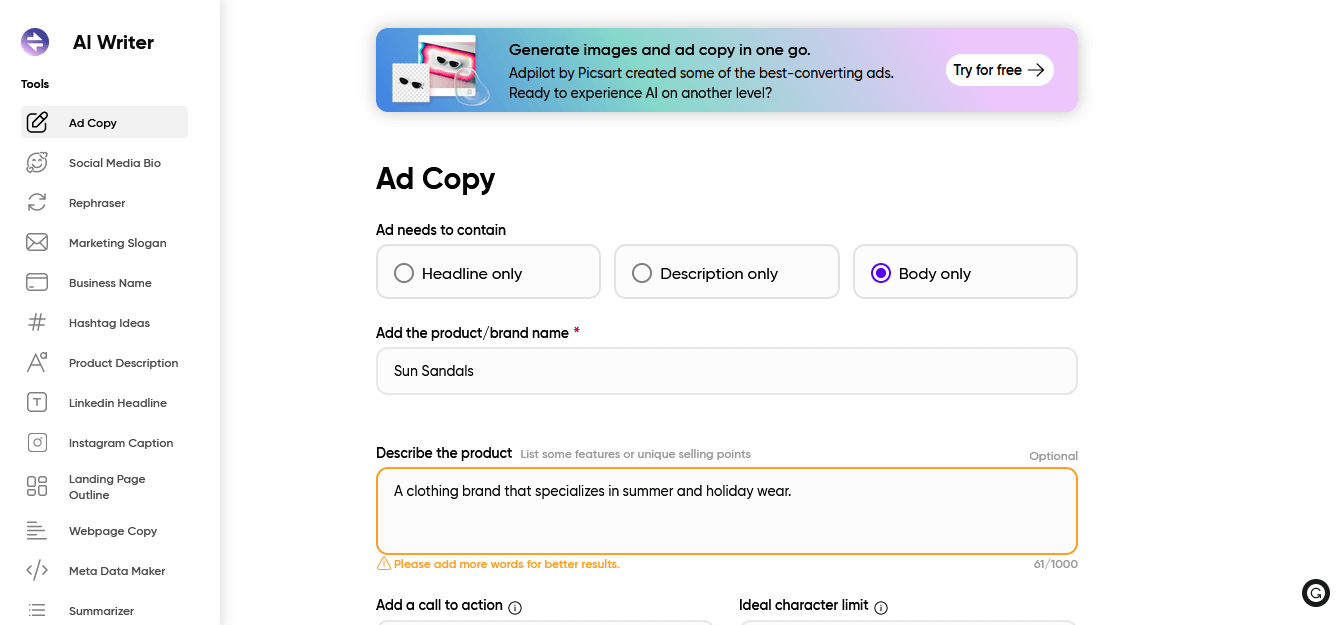 But using these tools isn't as simple as typing "please write a blog for my website." You'll get better results when you supply more detailed prompts. We'll talk about how to write those later!
#2: Extraction
As well as generating fresh content, AI language models can sift through existing content to find specific data.
For example, you could …
Read a million tweets and extract the Twitter handles to create a list of leads from the social network.
Analyze a thousand blog posts to figure out the most common keywords for a topic.
Listen to a hundred podcasts and pick out every mention of a specific brand or person.
#3: Summarization
Summarizing is one of the most useful things that generative AI can do. This is where its time-saving powers come into play.
Imagine if you could get the key points from a podcast or video in just a few seconds. Or if you could search back through an hours-long meeting and highlight the action items you need to work on.
Tools such as Otter for meetings are highly effective at summarizing conversations, removing filler words, and finding what's most important.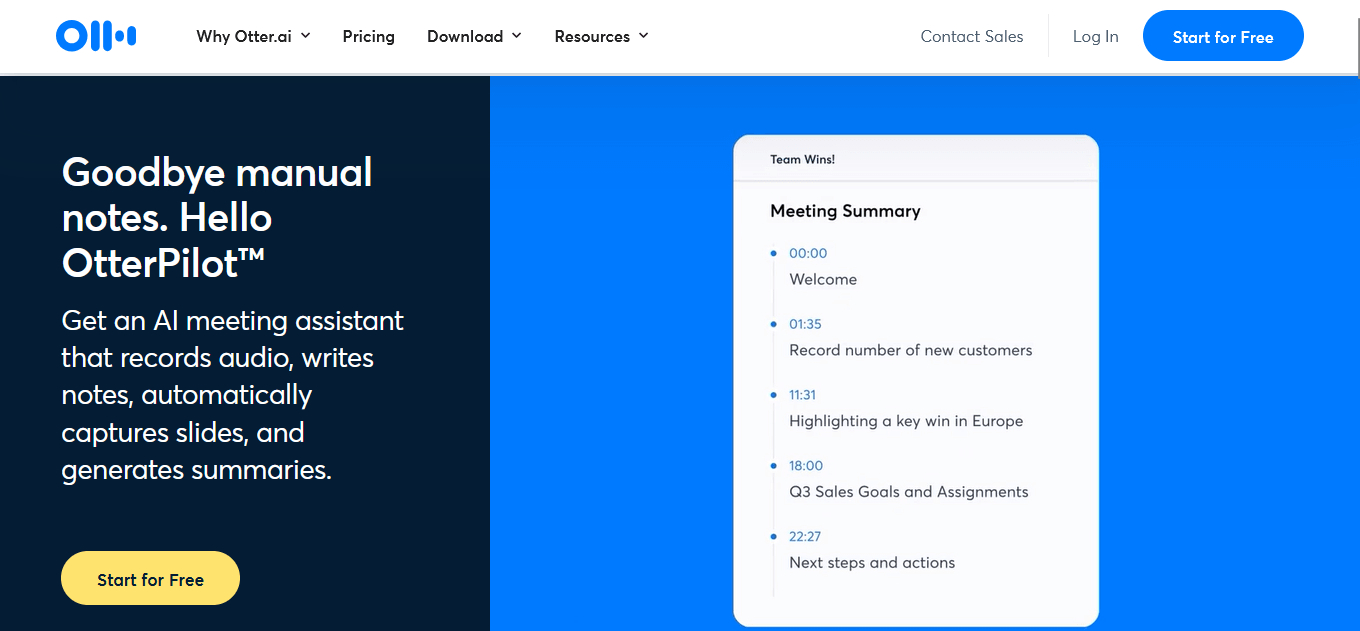 #4: Rewriting
Rewriting tools work similarly to summarization. But they don't remove any detail.
When you ask AI to summarize a piece of content, you'll get a few basic bullet points. Sometimes that's what you need!
But when you ask AI to rewrite a piece of content, you'll get the same level of depth and expertise, just in a different style.
For example, you could rewrite…
Emails with a more or less formal tone
Social media posts to appeal to different audiences
Complex texts to be more readable
#5: Classification
Another way that artificial intelligence can support social media marketers is through classification.
You can use AI mechanisms to identify key topics in a range of content or divide it into types. For example, you could categorize social media posts based on their sentiment (positive or negative) or purpose (queries, complaints, or reviews).
This helps you work through a vast amount of information in a very short time. You can choose what to prioritize and how to respond.
#6: Question-answering
The last—and perhaps most intriguing—use case for generative AI is question-answering.
This is the kind of AI you see when you type a question into Bing's new search assistant or ChatGPT. The generative AI looks through its training data for relevant information and suggests an answer.
There are still significant limits to question-answering AI. For example, ChatGPT was trained on a dataset from before September 2021 so any questions about more recent events will get an incorrect answer.
However, it still has a lot of potential. Question-answering AI can offer concise, readable answers in areas where traditional search engines struggle.
For example, you could ask the AI to…
Write a quick content strategy.
Explain a trend on social media.
Offer basic business advice.
Create a to-do list based on a goal or action plan.
Some companies are already using question-answering artificial intelligence to support their customer service teams, too. The AI can handle common queries and customer flows, with just a bit of fine-tuning to train the tool on specific product details, FAQs, and tone of voice.
Prompt Engineering for Marketers
The six use cases for generative AI cover almost every aspect of social media marketing, from content strategy to content creation. But artificial intelligence is only ever as good as its prompts.
According to Andrej Karpathy, a veteran of AI at companies including Tesla and OpenAI, the hottest programming language in 2023 is English. And guess what? That's what social media marketers are good at!
If you want to add artificial intelligence to your workflow, you'll need to become a prompt engineer. Prompt engineers understand how to write prompts that get the best possible output from machine intelligence tools.
To start your training, we'll focus on ChatGPT, which is currently one of the most sophisticated and widely used generative AI mechanisms. Other AIs will respond to prompts slightly differently because each has its own secret sauce.
There are four key elements to an effective prompt:
Role. Tell the AI who it should impersonate: an expert, a customer, an ordinary Jane or Joe.
Task. Tell the AI what content you want it to create. Give detailed requirements like format, style, word count, and any calls to action you want to include.
Background. Give the AI all of the data it needs to create the content, including information about your audience, positioning, and aims.
Execute. Ask the AI to start creating.
Even with all of these sections to include, you'll find that the length of each prompt depends on the task. Summarization, writing, and classification can all be achieved with short prompts—perhaps as little as a single sentence. But generation, extraction, and question-answering will require more background and specific instructions.
Whenever you hit on a prompt that works well, add it to your library of prompts. You can set this up with separate collections for specific artificial intelligence tools.
Effective prompts are highly valuable intellectual property and you can keep refining them to make your content even more effective.
What's Next for Marketing and AI?
Generative AI is continuing to develop at an astonishingly fast rate. One thing's for sure: it will continue to change how we work, live, and communicate.
Here are just a few trends to watch out for in the coming weeks and months.
Large Language Models Will Get More Powerful
At the moment, most generative AI mechanisms are in beta mode. You can only access them through a waitlist and your usage is limited.
That's already changing.
Recently, Meta made its generative AI—affectionately named LLaMA—fully free to access. There are no charges based on data volume or usage. You just need a computer.
And that's not the only competition. MosaicML has released the MPT-7B Storywriter. Most large natural language processing models max out at creating content of 3,000 words and can remember about 6,000 words of conversation at a time. But the new Storywriter can handle about 40,000 words at a time. That's as long as a business eBook!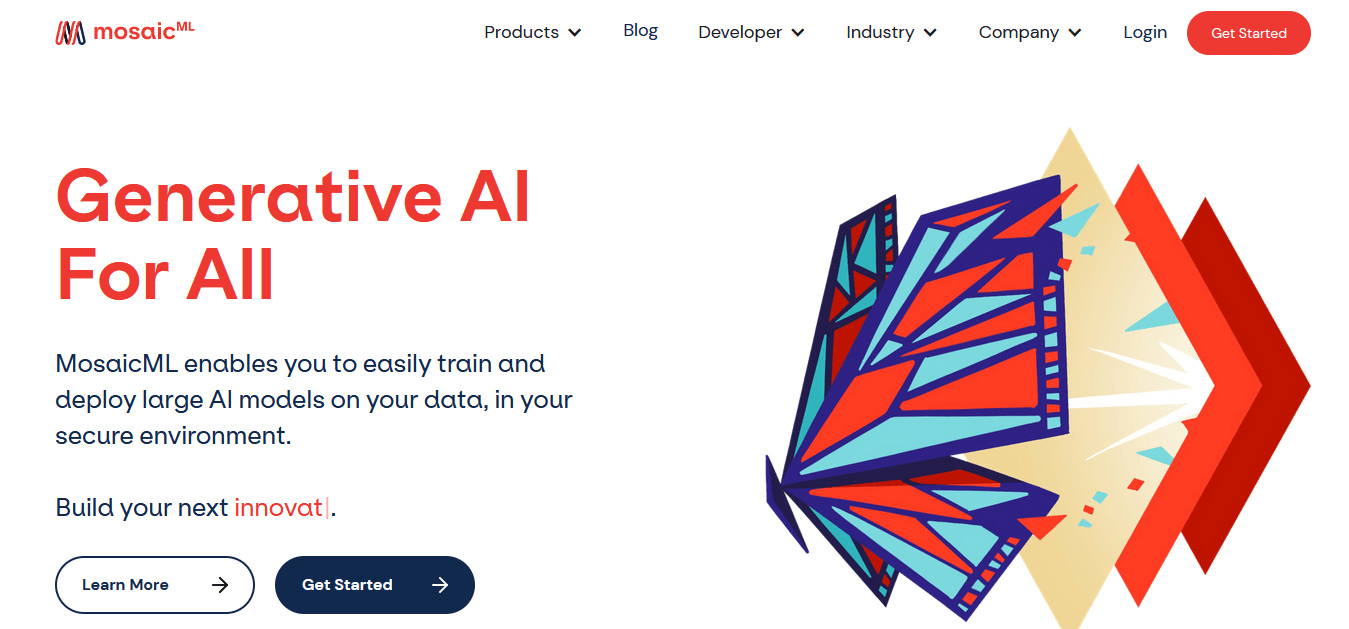 Large Language Models Will Get More Versatile
As we've seen, generative AI can do a lot more than just write copy and you can expect a lot more tech integrations with artificial intelligence as time goes on.
In the next few years, software manufacturers will start offering AI chatbot services. This won't just be for customer service but also for using the software itself. Imagine how easy it would be to use, say, Photoshop, simply by typing your commands into a chat interface.
AI extensions and plugins are also becoming popular. For example, if you have a paid subscription to ChatGPT+, you can use a web browsing extension to feed the AI current web data. That means it can do almost anything online, from checking travel websites to booking you a vacation.
Around 40 web extensions for ChatGPT are already available. Expect to see lots more coming down the pike. You could even look into creating an artificial intelligence extension for your own business functions.
AI Tools Will Learn to Work Independently
What's the next big thing in artificial intelligence? Autonomous models.
Autonomous models can work on abstract tasks without step-by-step instructions. For example, you could set an autonomous AI the task of "becoming popular on Twitter." The AI would then do its own research, write its own code, and generate its own solution to increase your Twitter following.
These tools are potentially very powerful. But a word of warning: AI mechanisms have no sense of morality. They're not that kind of brain. So when you ask an autonomous AI to achieve a goal, you have to be aware that it won't differentiate between positive or underhand tactics—or possibly even legal and illegal methods.
All of the developments that we've outlined here will depend on prompt engineering. Whether you're using artificial intelligence to create longer content, completing tasks online, or asking an autonomous AI for ideas, you'll need the right prompt to get the right answer.
That's why prompt engineering is the most important skill that social media marketers like you can learn right now. Welcome to the future!
Other Notes From This Episode
Where to subscribe: Apple Podcasts | Google Podcasts | Spotify | YouTube Music | YouTube | Amazon Music | RSS
✋🏽 If you enjoyed this episode of the Social Media Marketing podcast, please head over to Apple Podcasts, leave a rating, write a review, and subscribe.
---
Stay Up-to-Date: Get New Marketing Articles Delivered to You!
Don't miss out on upcoming social media marketing insights and strategies! Sign up to receive notifications when we publish new articles on Social Media Examiner. Our expertly crafted content will help you stay ahead of the curve and drive results for your business. Click the link below to sign up now and receive our annual report!