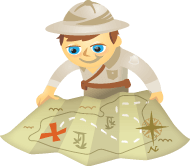 Want to reach better-qualified leads with your Twitter ads?
Looking for ways to improve your ad targeting?
Twitter provides all of the tools you need to put highly tailored ads in front of the people most likely to click on them.
In this article, you'll discover nine ways to target your audience more effectively with Twitter ads.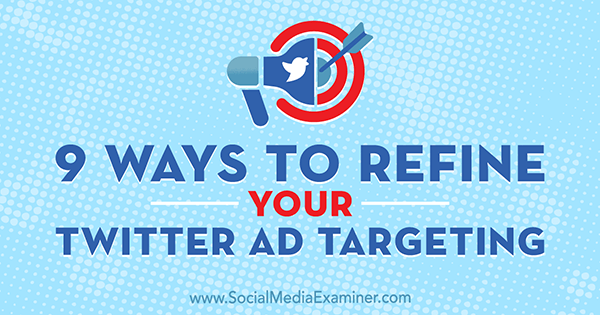 Start a Twitter Ad Campaign
Before you dig into the tips for targeted Twitter ads, you need to create a new ad campaign. While logged into your Twitter account, go to http://ads.twitter.com/. On the left, select a business goal for your new ad campaign and then click Create Campaign.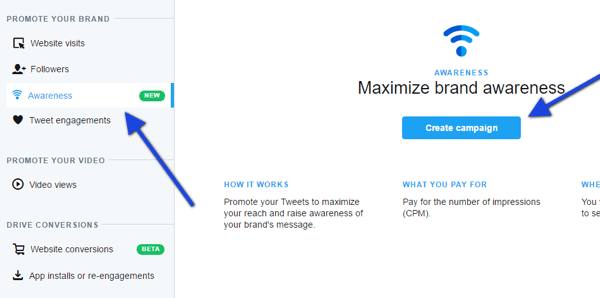 After you name your campaign, enter a start date, set a budget, and you're ready to begin! Well, almost…
Before you jump head-first into your new Twitter ad campaign, remember that successful outreach means doing your homework first. Use your favorite social media monitoring software to research your audience. Note who your audience members are, where they live, and what you can improve to reach them better.
After you have all of the info you need, you're ready to begin targeting your main audience.
#1: Target Your Audience by Country
Geotargeting is one of the fastest, simplest ways to find local customers or gain a foothold in a new market. A carefully crafted, geotargeted ad allows you to address the unique pain points of your target audience better.
To target your audience by location, you can either search for specific locations or import multiple locations.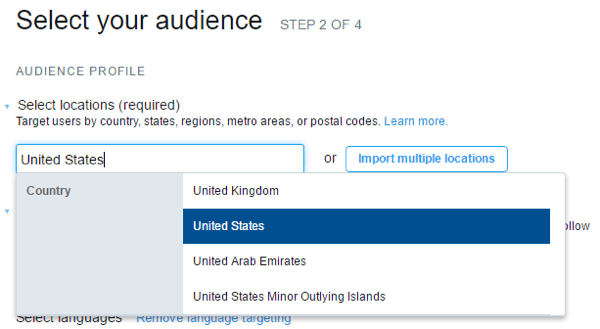 To use the search bar, enter a target location and press Enter to autofill the suggestion. To import locations, click Import Multiple Locations and enter specific states, regions, or countries on separate lines. Then click Verify Locations.
With a Twitter ad, you can target more than 200 markets at the country level (yellow) and target certain countries on a granular scale (orange).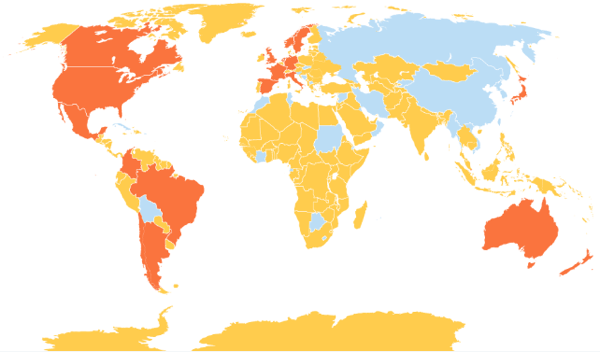 When creating a geotargeted campaign, carefully consider whether you'll be targeting specific countries or using more granular targeting. Granular targeting allows you to create highly specific ads for a region, city, zip code, and so forth. However, if you try to target a country as well as a state or province within that country, the scope of your campaign defaults to the larger region.
🌟 Ready to Supercharge Your Social Marketing Strategy? 🌟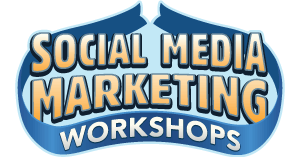 Struggling with your social marketing? You're not alone. The solution? The Social Media Marketing Workshops!

During these live 2 hour deep-dive workshops, you'll discover what's working now on Instagram, Facebook, TikTok, YouTube, and LinkedIn. Skyrocket your engagement, broaden your reach, and amplify your sales.

Become the marketing hero your company and clients need—without leaving your home!
🔥 Save $650 on an All-Access Ticket! Sale Ends Friday! 🔥
GET YOUR TICKETS NOW
#2: Advertise to Only One Gender
If your customer research shows that your audience is comprised of mostly women or men, then gender targeting is a great way to get your ads in front of interested prospects.
In a Twitter ad campaign, gender targeting is easy. Simply select a gender and you're done!

Twitter doesn't ask users for their gender. Instead, behind the scenes, Twitter uses other signals for gender-based ad targeting.
#3: Appeal to Audiences in Their Language
Reaching out to customers in their language is a vital step in building trust. With language targeting, your Twitter ad can reach a new demographic in their native tongue.
You can even combine language targeting and geotargeting to further refine the audience for your ad. For example, you could run an English-language campaign abroad and reach English-speaking users in Spain. Or you might target people who live in the United States and speak Spanish.
To set up this type of Twitter ad campaign, first select the countries you're targeting and then filter for specific languages.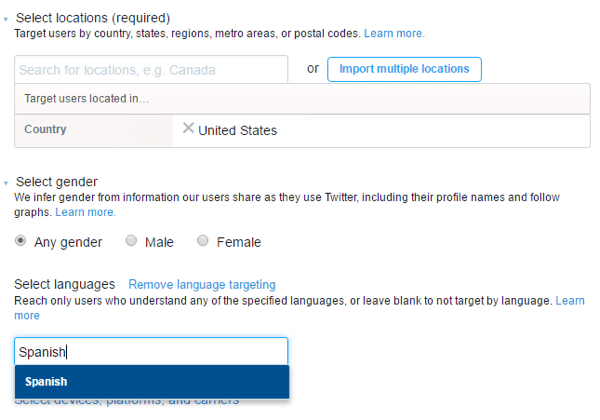 Twitter's self-service option allows you to advertise to many languages, including Afrikaans, Bahasa, Danish, Dutch, English, Finnish, French, German, Hebrew, Italian, Japanese, Norwegian, and Swedish.
#4: Reach Customers Who Use a Specific Device or Operating System
Device targeting is versatile and you can use it to target users with a specific device, operating system, or even Wi-Fi connectivity. For example, desktop users are less likely to be tempted by new apps, whereas mobile users might skip over ads for antivirus software. If you dig into the data, you can find behavioral differences between iOS and Android users.
You can even target new devices. For example, mobile users with a new device are more likely to find new apps interesting.
To target users by device, click Select Devices and Platforms and check all of the appropriate boxes.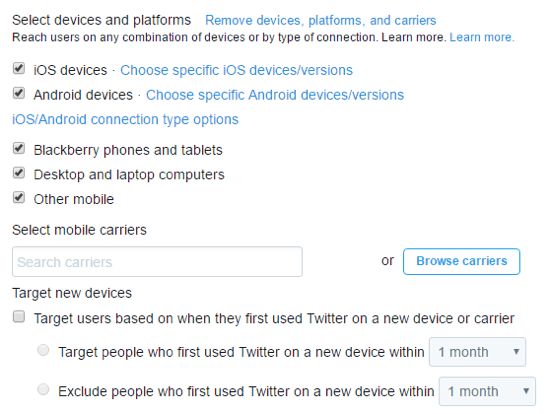 You can also combine geotargeting with device targeting to hone your outreach even further. Simply click Browse Carriers, find the country you're targeting, and select all applicable carriers.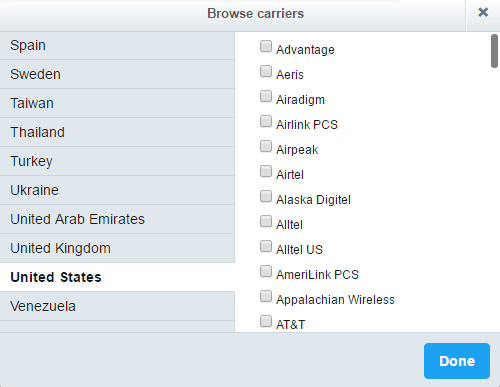 If you already have an ad campaign in full swing and you're unsure which devices to target, click Device in your Twitter ad campaign dashboard to view engagement metrics based on the devices people are using.
#5: Connect With Twitter Users Based on Their Interests
Twitter is all about community, and interest targeting lets you tap into those communities by targeting whatever your audience is most passionate about. If your brand is particularly active in one or more interest categories, you can use that in your advertising. For example, Red Bull has aligned its brand with extreme sports.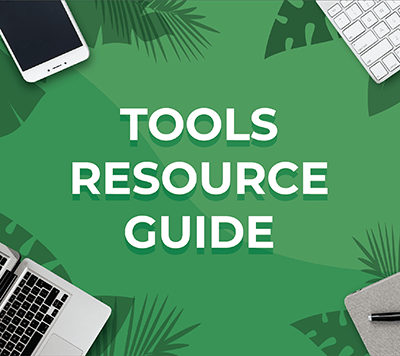 Looking for something to make your life easier?
Discover the tools we recommend to drive engagement, save you time, and boost sales across your entire marketing funnel or business.
Whether you need help planning content, organizing social posts, or developing your strategy, you'll find something for every situation.
FIND YOUR NEXT FAVORITE TOOL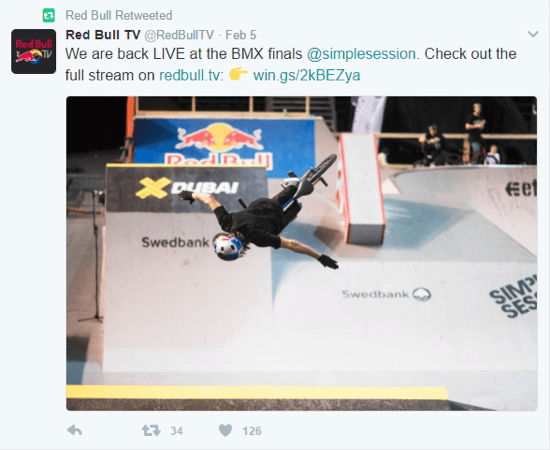 To target interest categories, click Add Interests. You can then search for interest categories or browse categories. Select the categories that apply to your business and appeal to your target audience.
Because Twitter has 25 categories and more than 350 subcategories of interests, you can easily to go overboard with interest targeting. To avoid that issue, limit each Twitter ad campaign to no more than two interest categories. This limit will help you reach the most customers and focus on the best-performing subinterests during your next ad campaign.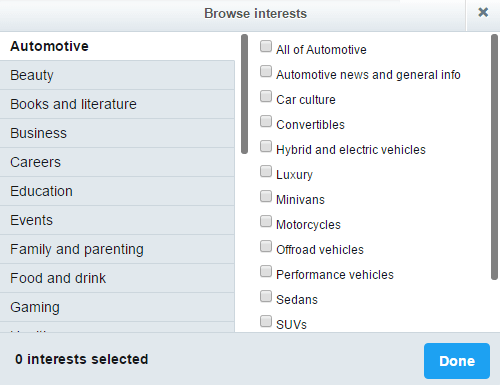 #6: Target the Audience of Your Competitors and Industry Influencers
Targeting users based on whom they follow is a handy trick, especially if you're trying to compete with another business that shares your demographic but has a much larger audience.
To use follower targeting, click Add Followers and then specify usernames that will help you grow your business. Aim for around 30 usernames. Twitter recommends entering the following types of usernames specific to your business or industry:
Competitors
Complementary brands
Industry media
Influencers
Similar audiences

Remember that closely aligned Twitter usernames trump usernames with a wide following. Search for audiences that care about your ad topics and use Twitter Search to find and target the most relevant influencers.
When follower targeting is the main focus of your ad campaign, the audience summary on the right helps you gauge your reach. Aim for a reach of at least 50,000 followers.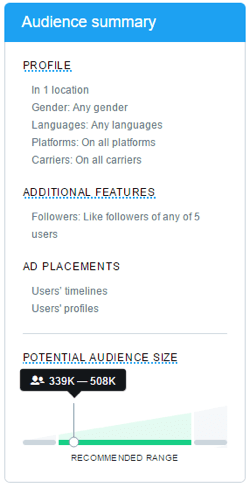 #7: Reach U.S. and UK Twitter Users Based on Their Buying Habits
If you know that your key demographic shares a particular lifestyle, shopping behavior, or another key attribute, then behavior targeting is perfect for your ad campaign.
Campaigns geotargeting U.S. and UK audiences can make use of behavior targeting, which is primarily based on off-Twitter actions. To help businesses target by behavior, Twitter takes the information provided by its partner audiences and then filters for users' buying patterns.
To target buying behaviors, click Add Behaviors and select the buying habits that fit your product.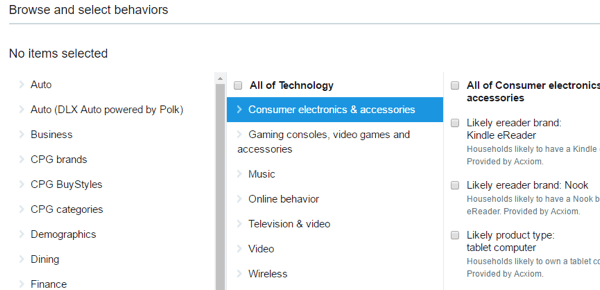 To refine your target audience, choose specific behaviors that you don't want to target. Select Limit Targeting by Excluding Market Behaviors at the bottom of the list of targeting options. Then scroll through the same list you saw earlier, but this time select the behaviors you don't want to include in your reach.

#8: Show Your Ad to a Tailored Audience
On Twitter, you create a tailored audience based on a list of website visitors. Lists allow you to upload CRM data you've gathered and create custom lists of Twitter users. Lists are especially valuable when targeting warm leads.
A tailored audience of website visitors is based on a tag embedded in your website pages and allows you to target recent visitors who left your website without making a purchase. If you can isolate and resolve their pain points, this tailored audience is invaluable.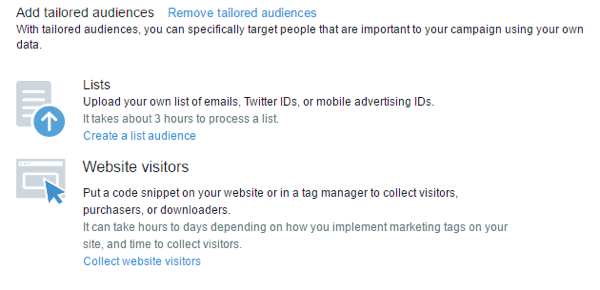 You can use a tailored audience in other creative ways. For example, app creators can target downloaders who haven't engaged with their app recently. Use conversion tracking to collect data like app activity.
Also, you can further hone your ad messaging by selecting tailored audiences that you wish to exclude from receiving your promoted tweets. For example, you might upload a list of your contacts and then exclude them from your ad campaign targeting.
#9: Advertise to People Interested in Your Keywords
Keyword targeting allows you to zero in on Twitter users based on their search queries and recent tweets, meaning you can find customers and solve their problems while their pain points are still fresh.
To target an ad based on keywords, simply click Add Keywords and enter any relevant phrases you'd like to target.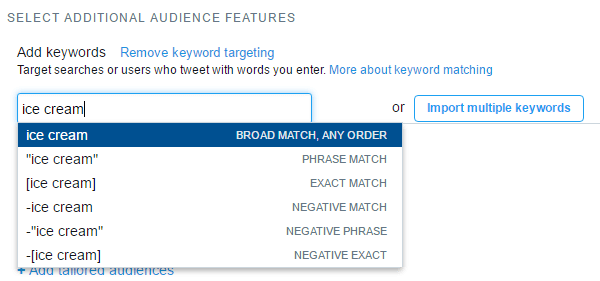 After you've entered a keyword, specify how you'd like to use keyword matching in your campaign:
Broad match: Matches tweets about or related to your keywords, including synonyms, misspellings, stem variations, and tweets that contain your keywords in any order.
Phrase match: Matches tweets containing your keywords in the order you typed them.
Negative match: Will not match tweets that contain your keywords, regardless of what order they're in or if words appear between your keywords.
Negative phrase match: Will not match tweets that contain the exact keywords you entered.
When you use keyword targeting, Twitter's best practice advice is to include target keywords in your tweet copy, consider keywords that are more than just a keyword (such as hashtags and @usernames), and reuse keywords that consistently perform well.
If you're not sure what keywords you should be targeting and you've already run Twitter ad campaigns in the past, you can visit your Twitter Analytics dashboard and click Campaigns. There you'll see which keywords earned the highest engagement from your customers.
Conclusion
To get the most out of your Twitter ad campaign targeting, be selective in which audiences you want to connect with. Start every new campaign with the basics: location, gender, language, and device targeting.
Then select one targeting category to focus on: interest, follower, behavior, or keyword. Don't make your aim too narrow or too broad; your goal is to reach as many people as possible within a specific demographic.
What do you think? How have Twitter ad campaigns expanded your audience or grown your brand? Do you plan to try any of these techniques in the future? Please share your thoughts in the comments.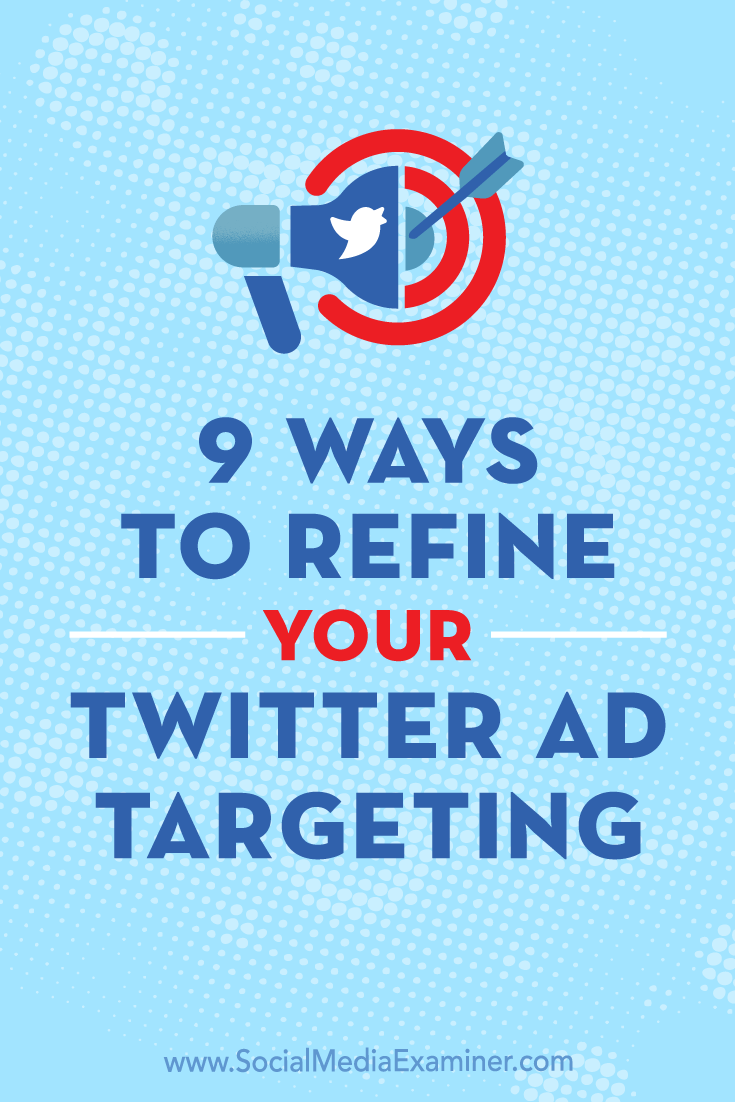 Get Your FREE Course: Web3 for Beginners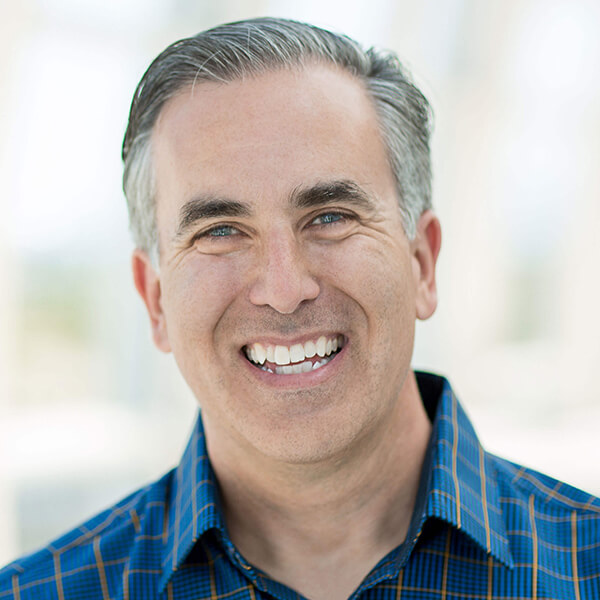 Curious about Web3, but don't know where to start or who to trust?

Introducing Web3 for Beginners, a course taught by Michael Stelzner, the founder of Social Media Examiner.

Learn the basics of Web3 and apply it to your business with this FREE comprehensive course.
CLICK HERE TO GET FREE ACCESS