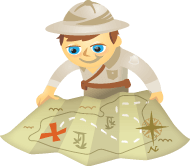 Do you want to be a recognized expert in your industry?
Looking for relevant conversations to weigh in on?
Using Twitter's Advanced Search to monitor keywords and conversations can help you connect with influencers and uncover opportunities for thought leadership.
In this article you'll discover six ways to use Twitter's Advanced Search to increase your influence in your industry.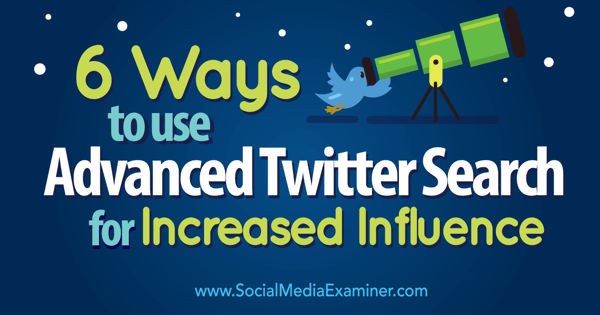 Listen to this article:
Where to subscribe: Apple Podcast | Google Podcasts | Spotify | RSS
#1: Find Conversations to Participate In
Doing a keyword search on Twitter is a quick and easy way to find out what people in your industry are talking about, identify accounts to follow, and discover new business opportunities.
With Twitter's Advanced Search, you can create complex searches with keywords that are relevant to your industry.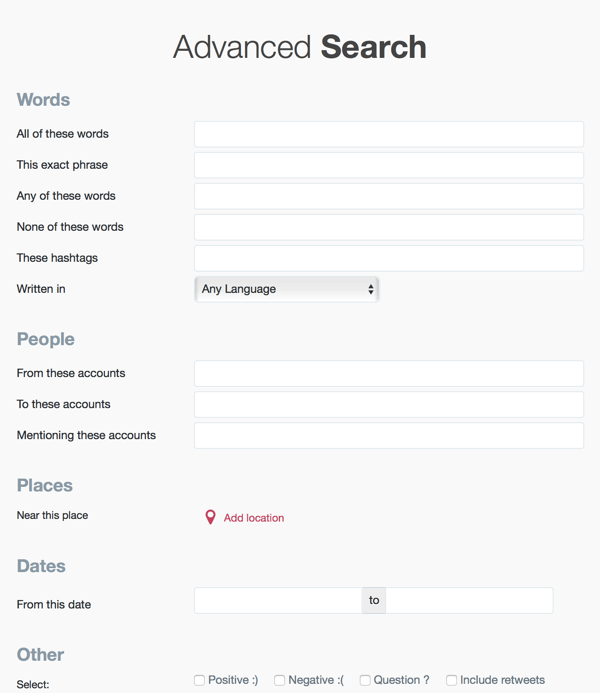 To start, choose three or four keywords that are relevant to your industry and use the Boolean search operator "OR" to create a single search for all of your terms. For example, search for "digital marketing" OR "digital marketing advice."
Look at the search results to find conversations in your niche. Then join relevant discussions to offer expert advice and build meaningful connections with people in your industry.
Use the OR operator to ensure that every key phrase or search term is relevant to your mission. Keep this list updated and weed out the keywords that aren't helping you find the best results. Soon you'll have a filtered list of conversations to review on a daily basis.
You can also add keywords like "recommend" to find prospects looking for services you offer.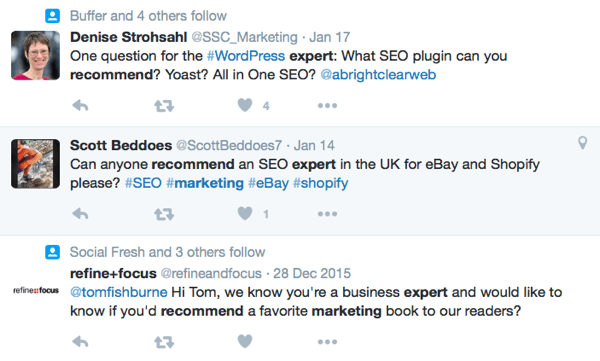 You can also use a keyword search to optimize your own Twitter profile. Add keywords to your bio to help other users find you. Including key phrases (such as "public speaker" and "charity worker") may help you uncover new opportunities.
#2: Monitor Hashtags for Media Opportunities
You can follow specific hashtags and keywords to discover people who are looking for thoughtful comments or quotes.
For example, the hashtag #journorequest is popular among journalists and industry writers. You can create an advanced search that pairs both #journorequest and your key industry terms ("skincare expert" or "facial expert," for example) to find opportunities for free coverage in print and online.
🌟 Ready to Supercharge Your Social Marketing Strategy? 🌟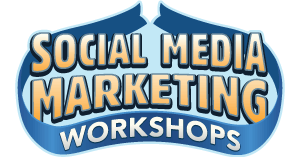 Struggling with your social marketing? You're not alone. The solution? The Social Media Marketing Workshops!

During these live 2 hour deep-dive workshops, you'll discover what's working now on Instagram, Facebook, TikTok, YouTube, and LinkedIn. Skyrocket your engagement, broaden your reach, and amplify your sales.

Become the marketing hero your company and clients need—without leaving your home!
🔥 Save $670 on an All-Access Ticket! Sale Ends Tuesday! 🔥
GET YOUR TICKETS NOW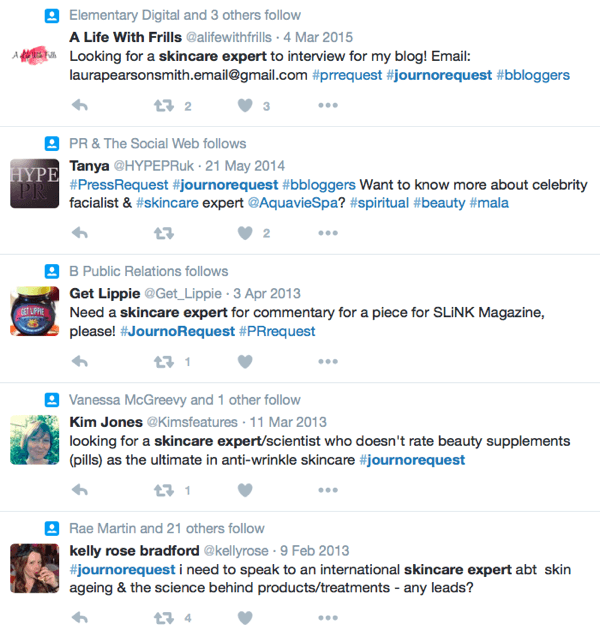 Once you've uncovered opportunities through hashtag monitoring, reach out to users to share your expert insights. This helps you get media coverage for your business and create meaningful connections.
#3: Connect and Converse With Industry Peers
Your influence is often measured by the network you keep. Use Twitter's Advanced Search filters to find key contacts and people to follow in your industry.
Filter Results by Account
In Twitter's search box, search for a keyword (or group of keywords). Then to filter your results, click More Options and select Accounts to see only those accounts that contain your keywords.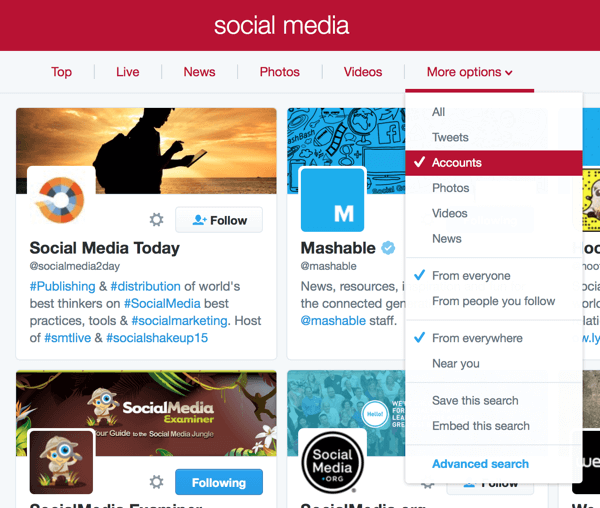 Once you create a tailored list of key industry contacts, follow those users, add them to a list, or use a monitoring tool like TweetDeck to track what they're saying.
Filter Results by People You Follow
You can also limit your search to only the users you follow. To do this, enter your search term (for example, "social media data"). Then filter your results by clicking More Options and selecting From People I Follow.
Your search results will only include tweets that match your search query and are from the accounts you follow.
Filter Results by Date
You can add a date range to find conversations relevant to your topics of interest and occurring within the last few weeks from users you follow.

This gives you the opportunity to add comments, share your insights, and show thought leadership within your online peer group.
Filter Results by People
You can also use Twitter search to find previous conversations you've had with your contacts. This is a great way to revive relationships and build camaraderie.
To recap previous conversations, use the From These Accounts and To These Accounts filters within Twitter's Advanced Search panel.

#4: Comment on News in Real Time
Use Twitter's keyword search function to stay on top of real-time trends and news. For example, create a keyword search for "Facebook" and "breaking" and "news," so you'll know immediately about updates to Facebook.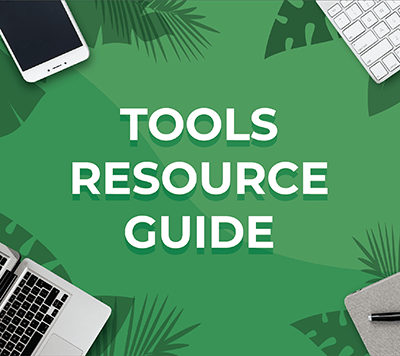 Looking for something to make your life easier?
Discover the tools we recommend to drive engagement, save you time, and boost sales across your entire marketing funnel or business.
Whether you need help planning content, organizing social posts, or developing your strategy, you'll find something for every situation.
FIND YOUR NEXT FAVORITE TOOL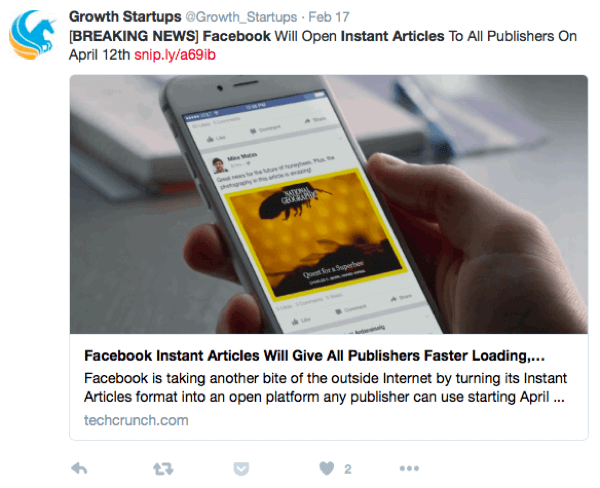 Also think about how users write about news and then do a search for those phrases. For example, for breaking news, people may use phrases like "just happened," "can't believe it," "just witnessed," etc., rather than more obvious search terms like "news" or "latest story."
Once you uncover relevant news, contribute personal insights and quotes and share articles to position yourself as someone worth listening to. If you have the resources (and time), create blog posts, memes, or images about the topic to leverage more coverage and social shares from the update.
#5: Research Customer Interests and Needs
Understanding your customers' interests and needs is important for building an engaged audience. This is where the user search operators come in handy. There are three main operators to know about.
Search for Tweets From a Specific User
Sometimes you'll want to follow tweets from a specific user. Perhaps you want to learn more about a customer or have found an excellent blog that consistently tweets useful content.
To track down their tweets, search for "from:[user]." For example, search for "from:apttherapy" to see only tweets from Apartment Therapy.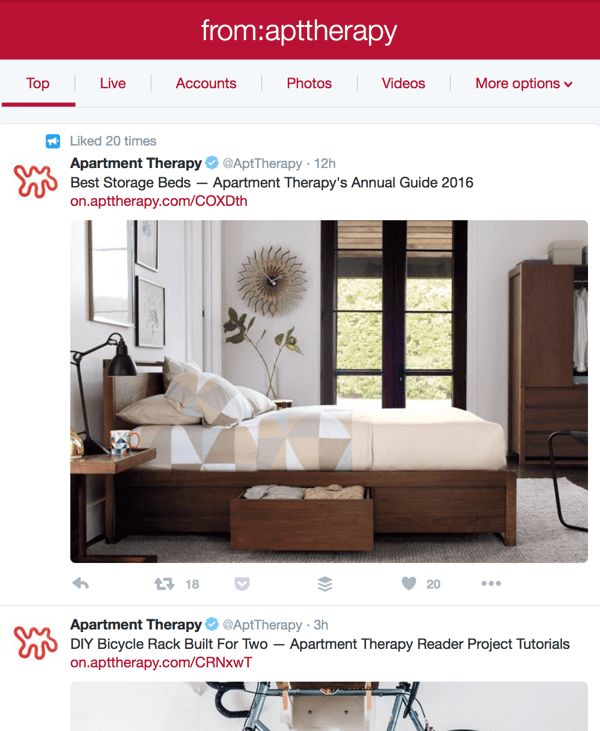 You can use a combination of these searches to create your own curated feed of Twitter content. For example, the search "twitter from:thenextweb OR from:buffer OR from:smexaminer" would generate a great list of content.
Search for Tweets to a Specific User
Similarly, you can use the "to" operator to find tweets sent to a specific user. For example, if there are competitor tools or services that are similar to your own, you could search "to:[user]" to find out what people are tweeting to that account.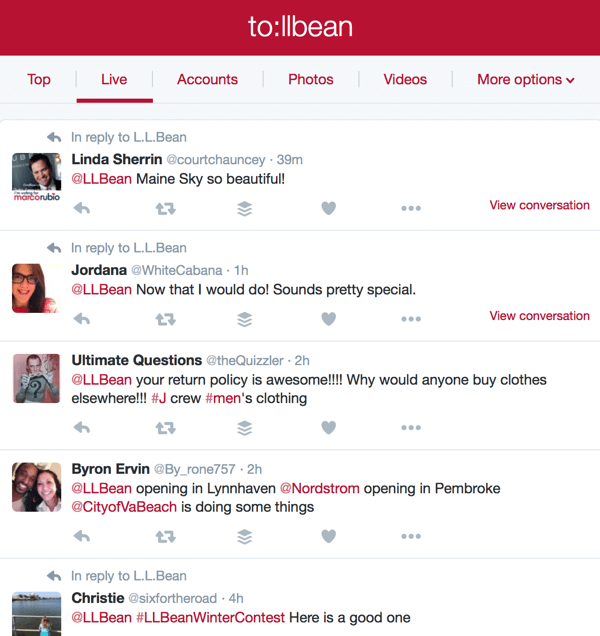 This is a great way to learn more about your customers and find out their needs. You can then provide answers through your own content or tweets.
This search also helps you uncover tweets you may not have otherwise seen. For example, when people tweet directly to another user, the tweets are hidden within Tweets and Replies and are not always viewable within the timeline.
Search for Tweets About a Specific User
To find tweets about a specific user, search with the user's full Twitter handle. For example "@zappos" will show you a long list of tweets that mention the company's Twitter account.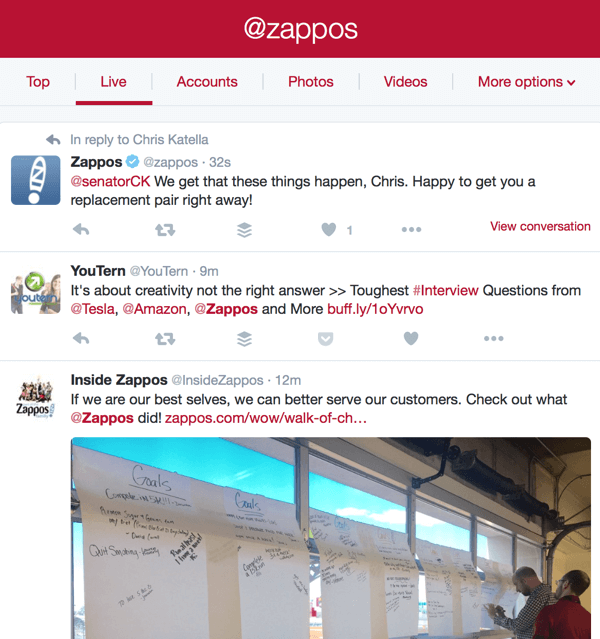 This is a great way to build your knowledge within a specific area, find new customers, and contribute to thought leadership within your industry.
#6: Fine-Tune Your Searches
To find tweets that are worth sharing or contributing to, you need to use the right combination of keywords and filters to fine-tune your results.
Here are a few of the ways you can use Twitter's Advanced Search to cut out the noise.
Exclude Retweets
When you're looking for great articles to share, you want to share the direct source or a clean tweet, rather than a retweeted share from another user.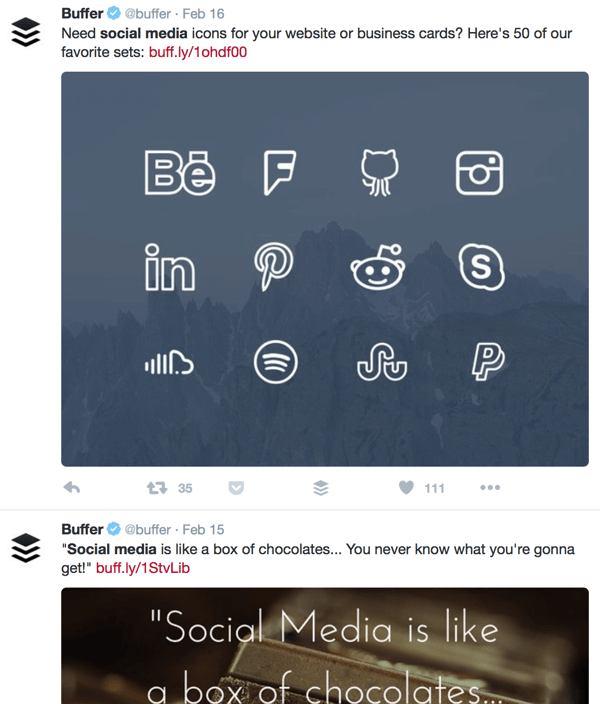 To ignore retweets in your Twitter searches, simply add "-RT" to your search. For example, if Buffer Blog has a new post on social media that would be interesting to share, you can search for @Buffer "social media" -RT.
This search won't exclude all shares of the article, but will ensure you don't retweet another retweet. It allows you to connect directly with the original sharer and a cleaner post.
Filter Tweets With Links
One way to develop thought leadership is to engage with other users and talk to them as you would in everyday life.
To filter your feed to show only tweets that contain thoughts or comments, exclude tweets containing links. To do this, enter the prefix "http" into the None of These Words field or simply add "-http" into your search box.

Then dig into the rich conversations and thought pieces you've discovered.
See Only the Most Popular Posts
To become a thought leader, it's important to curate high-quality posts that are already popular with users.
To find this content, use the minimum retweets advanced search. Search for "from:[account] min_retweets:10" in the Twitter search box or Advanced Search panel.
For example, a search for "from:thenextweb min_retweets:300" reveals tweets that received more than 300 retweets, which is serious traction.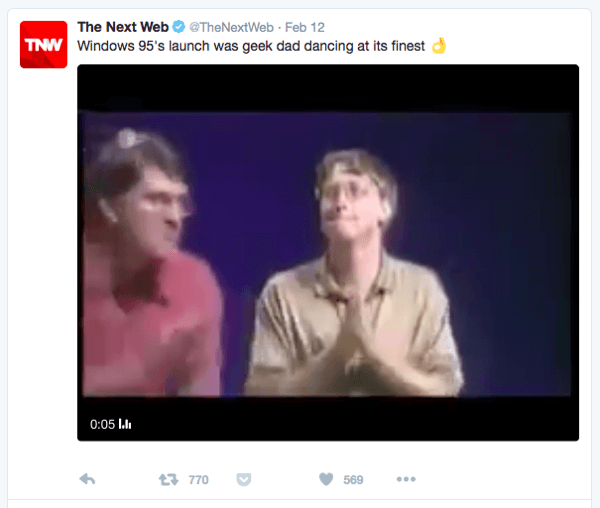 You can also reverse the exclude function to include specific results. For example, if you want to find blog posts or web pages to share, include "http" in your search along with a keyword such as "marketing" or "fashion trends."
In Conclusion
Many people turn to Twitter when looking for thought leaders, recommendations, and insightful comments within their industry. By becoming a master of Twitter Advanced Search, you can hunt down leads, uncover new opportunities, and position yourself as a thought leader.
What do you think? How do you use Twitter to establish yourself as a thought leader? Please share your thoughts and experiences in the comments!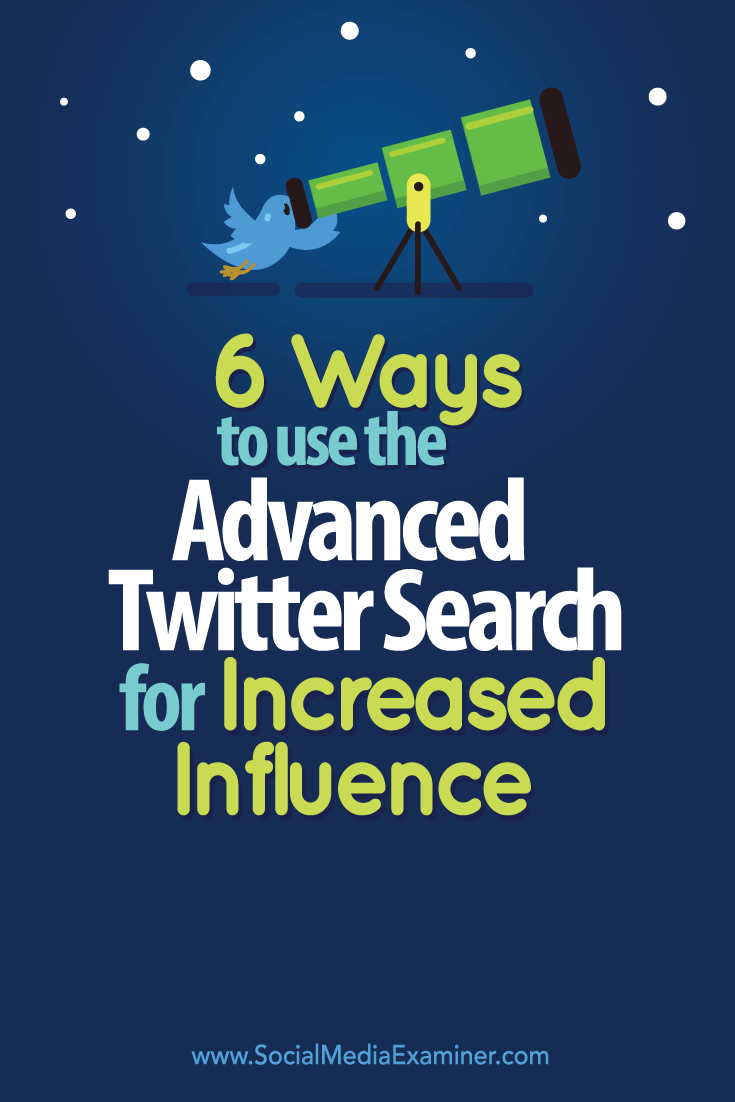 Get Your FREE Course: Web3 for Beginners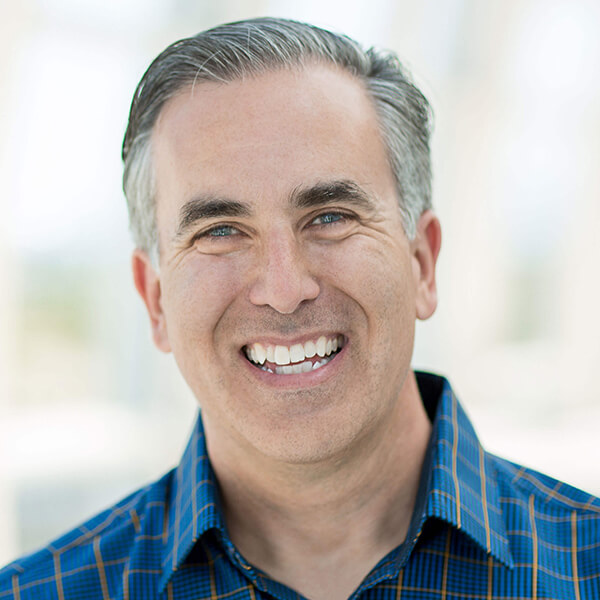 Curious about Web3, but don't know where to start or who to trust?

Introducing Web3 for Beginners, a course taught by Michael Stelzner, the founder of Social Media Examiner.

Learn the basics of Web3 and apply it to your business with this FREE comprehensive course.
CLICK HERE TO GET FREE ACCESS