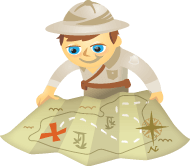 Interested in working with social influencers to promote your product?
Wondering how to find and connect with the right influencers?
Social media influencers can help share your brand message to a wider, yet tailored, audience.
In this article, you'll discover six steps to running an effective influencer program for your business.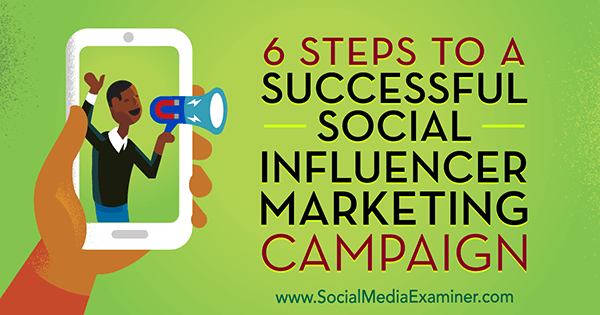 #1: Identify the Goal for Your Influencer Marketing Campaign
To build a successful influencer marketing program for your business, you'll need to determine how the program fits into your overall goals. Every marketing channel plays a role in moving the needle for the business and your influencer marketing program should be no different.
Typically, businesses look to influencers to help create and promote brand content around an event or product launch. But these aren't the only reasons why marketers leverage influencers.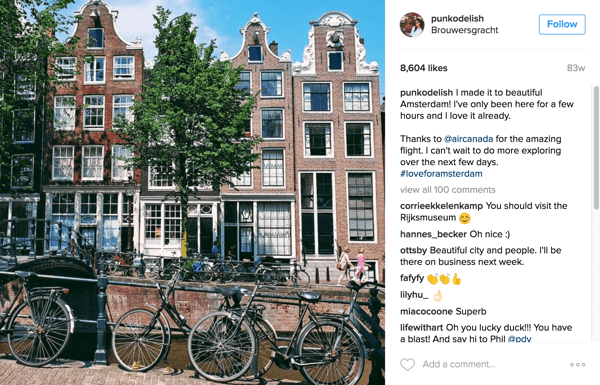 According to Augure's State of Influencer Engagement 2015 study, participants cited these reasons for working with influencers:
Content promotion
Product launch
Content creation
Event management
Corporate communications
SEO
Crisis management
Once you've settled on the overarching goal of your program, attach 2-3 key performance indicators (KPIs) for each of these goals. For example, if you want to improve content promotion, think about your business's social media reach, post engagement, and follower growth.
#2: Define Your Ideal Influencer Profile
Social media influencers are social media users who have an established credibility and audience. These are users who can persuade others by virtue of their trustworthiness and authenticity.
The number-one challenge that marketers cite when rolling out an influencer marketing program is identifying the right influencers to work with. There are many different types of users who have built large followings online.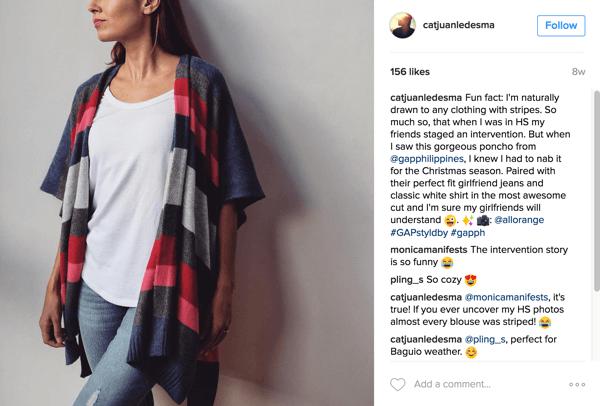 To tailor the selection process, consider these five golden rules for potential influencers:
Have a large and engaged audience
Relevant to your customers
Appear to be authentic
Active on social media and post frequently
Have a tone and style that match those of your brand
However, avoid confusing size with influence. The key to a successful influencer program is to uncover and align with the people who have the attention and respect of their audiences, not just people with the most followers. In fact, Digiday published a study that shows that the influencers with the most engaged audiences have between 10,000 and 100,000 followers, not followings in the millions.

#3: Find Potential Influencers
Now that you know which types of influencers are a good fit for your brand, you'll need to identify the influencers you want to partner with. If you aren't using influencer marketing software, there are several ways to find influencers manually.
Get Your FREE Course: Web3 for Beginners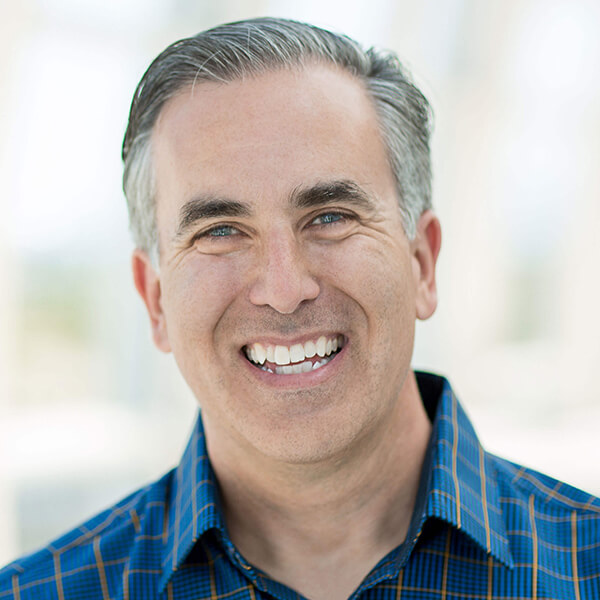 Curious about Web3, but don't know where to start or who to trust?

Introducing Web3 for Beginners, a course taught by Michael Stelzner, the founder of Social Media Examiner.

Learn the basics of Web3 and apply it to your business with this FREE comprehensive course.
CLICK HERE TO GET FREE ACCESS
Do a Hashtag Search
The easiest way to find your brand influencers is to explore who's already posting about your brand online. Conduct a simple hashtag search to see if you already have brand advocates in your midst. You can also look up relevant keywords in social media searches to find influencers who post about your industry or competitors.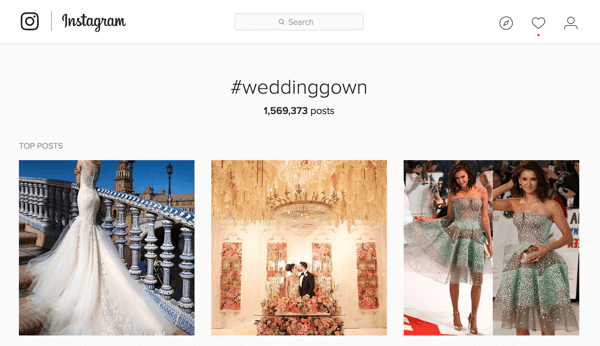 Use an Influencer Marketing Tool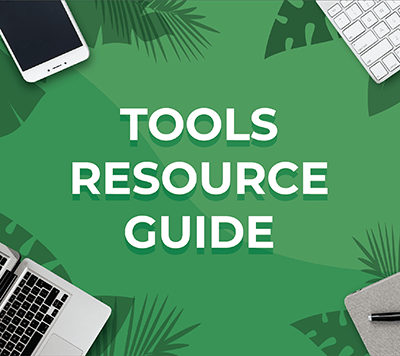 Looking for something to make your life easier?
Discover the tools we recommend to drive engagement, save you time, and boost sales across your entire marketing funnel or business.
Whether you need help planning content, organizing social posts, or developing your strategy, you'll find something for every situation.
FIND YOUR NEXT FAVORITE TOOL
There are many tools that can help you identify influencers across social media. When looking for influencer software, use your program's objectives to guide your technology platform selection. The five key capabilities to look for in influencer marketing technology are the ability to discover, connect, engage, recruit/pay (influencers), and measure (success) via the platform.
Ask for Recommendations
Social influencers tend to know other influencers. Once you've identified influencers whom you enjoy working with, ask them to recommend others who are similar. Some social media networks, such as Instagram, will even give you recommendations of their own when you follow an influencer on the platform.
#4: Reach Out to Influencers
Once you've identified a list of brand influencers you'd like to work with, build out these partnerships. To start these relationships off on the right foot, make sure you reach out directly, get to know them, and keep track of your goals.
Reach Out Directly
Businesses often rely on the agencies they work with to drive communication with influencers. However, 79% of social influencers prefer businesses to reach out to them directly. While it's tempting to outsource your outreach to your agency, influencers are most responsive when they're contacted by the business itself.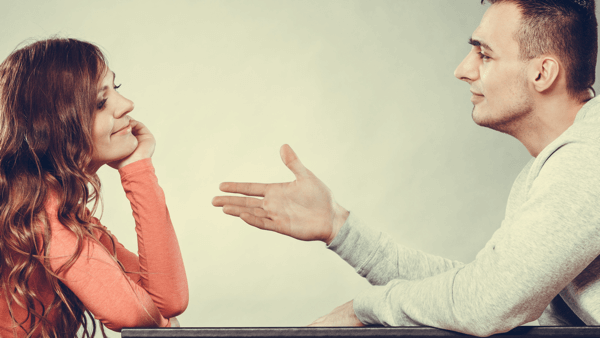 Get to Know Them
Brand influencer relationships should be mutually beneficial. Before reaching out, find out everything you can about your influencer. Going through this exercise will help you better align your brand with your influencer's and will result in a win-win for both of you. A key part of the outreach process is proving to the influencer that your opportunity is relevant to their audience.
Monitor Progress
If you don't have an influencer marketing platform, use an Excel spreadsheet to keep a record of your influencers' information and posts. By using a consistent method to manage your influencer relationships, you'll be able to keep track of your progress and measure the health of the relationship.
#5: Provide Rewards
One of the largest prevailing myths about influencer marketing is the assumption that all brand influencers want to be incentivized with money. However, when it comes to influencers' motivations, several factors actually outweigh cash rewards. The participants in Augure's study cited these as the most common motivations:
55% Increase their reach/grow their audience
45% Create quality content for their audience
29% Shape their image
25% Get perks (discounts, free samples)
24% Earn money
22% Living new experiences (trips, events, …)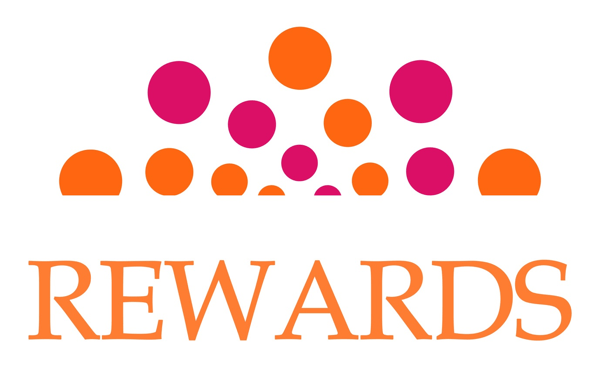 While traditional incentives are monetary payment or branded products, businesses can cultivate influencer relationships through unique experiences and perks.
For example, Tissot, the official timekeeper of the Tour de France, sponsored influencers to attend the event and share their experience on social media. Roxy Quicksilver sent its influencers free clothing and discount codes for their followings.
#6: Measure Your Results
Once your influencer marketing campaign is up and running, you'll want to assess whether your campaign has helped you meet your business goals. Think back to the KPIs that you defined in Step 1. Have you made progress on these metrics? What business insights have you learned?
If you're using your influencer marketing program to promote content, for example, report on how much cheaper each influencer's cost per engagement was compared to other marketing channels. If you're using your influencer marketing program to expand brand reach, look into how many impressions you were able to generate with your influencers, and so forth.
Conclusion
Digital marketers are always looking to connect with their audience in ways that build brand visibility, expand product awareness, and strike the right note with today's consumers. As studies continue to highlight the ways in which social media marketing influences purchasing behaviors, marketers have acknowledged that social channels are more than just a nice-to-have.
Today, social media platforms play an integral role across the entire buyer journey. However, it's not the social media channels themselves that are influencing purchasing decisions; it's the peer-to-peer content and personal storytelling present on these channels that affect sales.
Even more, it's the social proof that social media influencers and everyday customers are creating for brands and sharing on these channels that allow companies to reach and resonate with customers in a more natural and effective way.
What do you think? Have you partnered with influencers to promote your business? Were you happy with the results? Please share your thoughts in the comments below.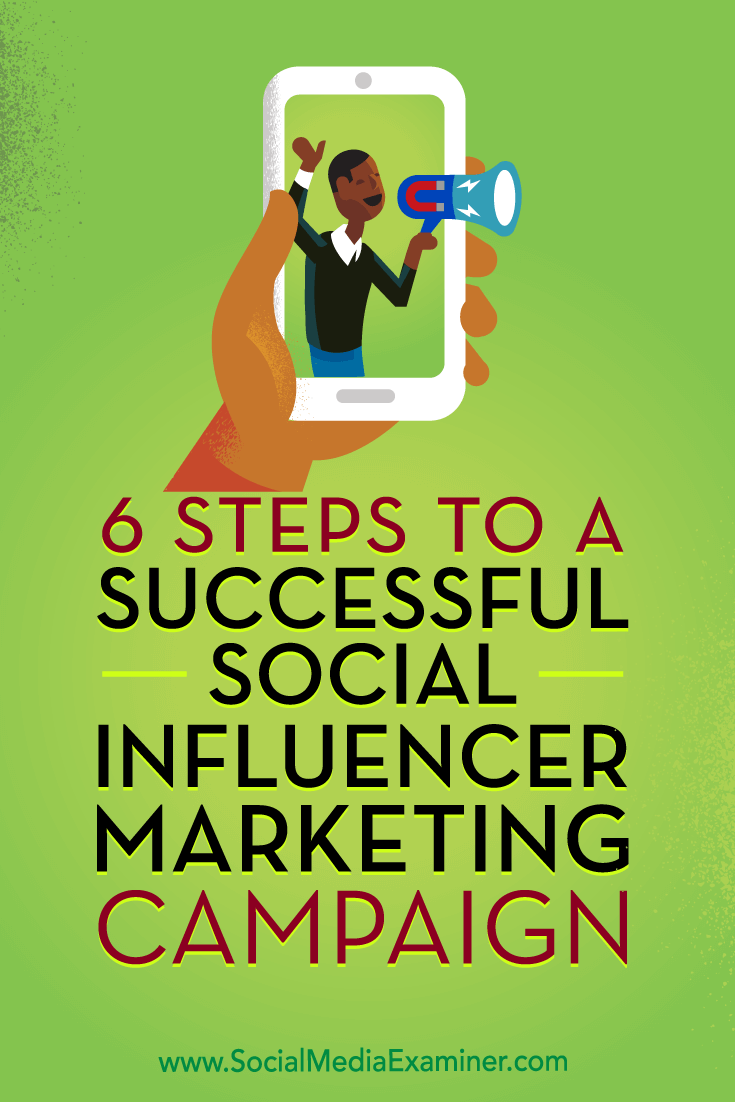 Get Your FREE Course: Web3 for Beginners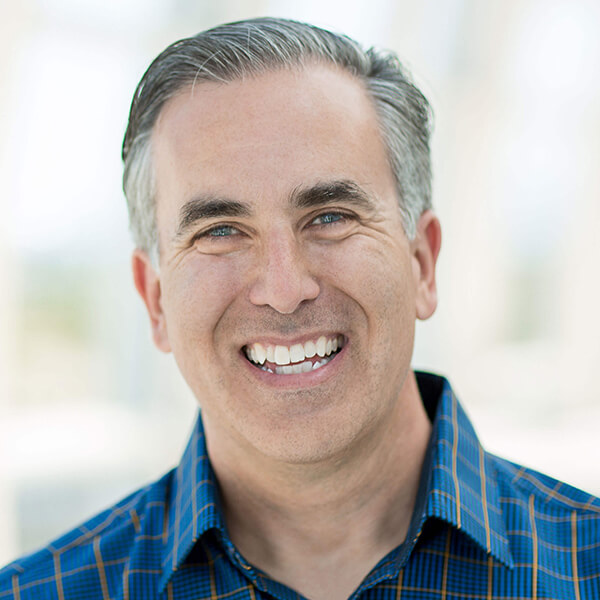 Curious about Web3, but don't know where to start or who to trust?

Introducing Web3 for Beginners, a course taught by Michael Stelzner, the founder of Social Media Examiner.

Learn the basics of Web3 and apply it to your business with this FREE comprehensive course.
CLICK HERE TO GET FREE ACCESS