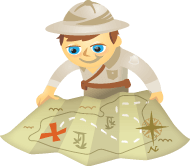 Do your customers message you with questions, comments, or complaints on Facebook?
Want to automate the most common customer interactions?
Customers expect lightning-fast responses from businesses on Facebook. Chatbots can help you deliver the right answer the moment a customer asks.
In this article, you'll discover five types of Facebook Messenger bots your business can integrate for better customer service.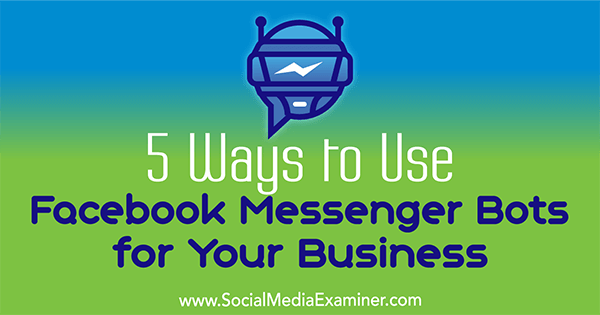 Why Use Chatbots?
Increasing numbers of consumers are turning to social media messaging, including Facebook Messenger, to contact businesses with questions, comments, and complaints. While there are tools that will help you manage the influx of customer messages, sometimes they're just not enough, particularly when social users are accustomed to a timely response from you.
Facebook Messenger chatbots will let you automatically provide consumers with immediate responses. They can answer basic questions like "What is your return policy?" (even though it's posted in three different places on your site), freeing up your customer service team to handle more serious customer concerns or issues.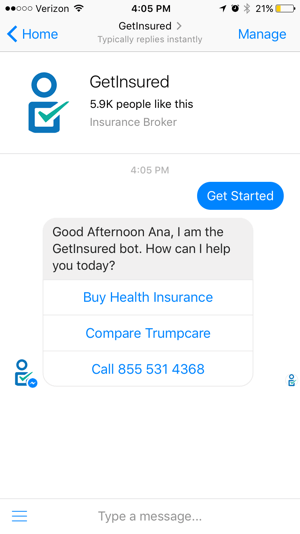 Suppose you're a customer service representative for a small jewelry business and you spend three hours every day sending customers tracking numbers that they've already received via email. A chatbot can take care of this task for you.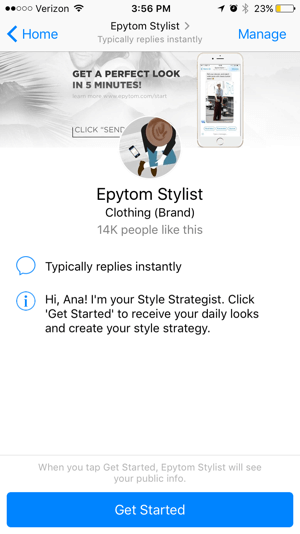 Certain chatbots can even provide automated services like wireless bank transactions or help customers book a ride on Lyft, simplifying the process. Remember, the easier you make it for consumers to work with you, the more money you'll make.
Chatbots are extremely valuable, and part of this value comes from their flexibility. When you create a chatbot, you can customize your chatbot to fit your business, your customers' needs, and a variety of purposes.
Here are five Facebook Messenger chatbots you can set up, all of which serve a unique purpose that can benefit your business.
#1: Deliver Personalized Content Experiences
Some businesses use chatbots to focus solely on content; the chatbots serve as an extension of their content marketing strategy. These bots nurture relationships with clients and provide immediate value without any work on the user's part.
For example, the Whole Foods chatbot is geared toward helping users find new recipes. They can enter requests like "soup recipes" to browse suggestions for different types of meals or cuisines, or move through a series of questions for personalized recipes.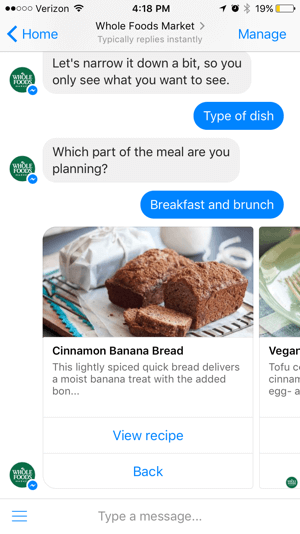 When users tap to view a recipe, the chatbot takes them to the recipe on the Whole Foods website. This is an ingenious way to generate more traffic from social media without it feeling forced or too much like spam. You'll help customers find relevant content and provide a ton of value.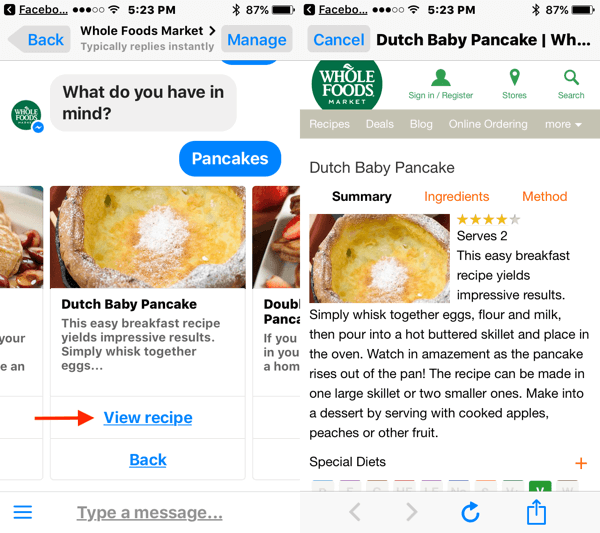 When you create a chatbot to provide customized content to your audience, keep these best practices in mind:
Treat your chatbot like content marketing. Selling shouldn't be your primary objective, but you can use content to send users to your site.
Ensure your site is mobile-responsive.
Inform customers how and where to contact you if they need additional help, including customer service issues.
Include browsing menus if possible. This makes it easier for users to find content they're interested in, even if they don't know exactly what they're looking for yet.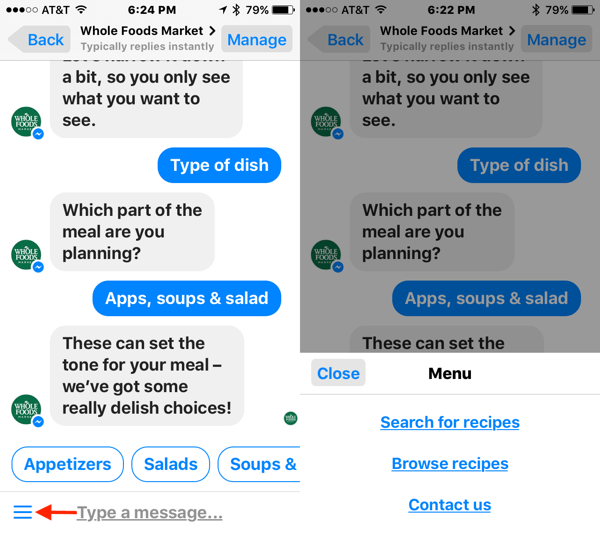 #2: Answer Common Customer Service Questions
One popular use of chatbots is to provide customer service. If your customer service team is asked the same questions over and over, a chatbot is a great way to field some of those questions. You just have to teach it what to say.
The Domino's Pizza chatbot is a good example of this. Customers can order directly from the bot and track their order. The "track order" option is a simple, effective customer service tool. Imagine how many calls Domino's gets from impatient customers wanting to know when their pizza will be delivered.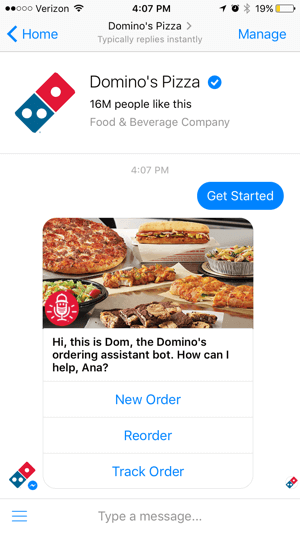 When creating a customer service chatbot, follow these best practices:
Make sure customers can contact a customer service agent if necessary. Offer a "Did we answer your question?" option that can direct still-stumped users to an actual customer service agent.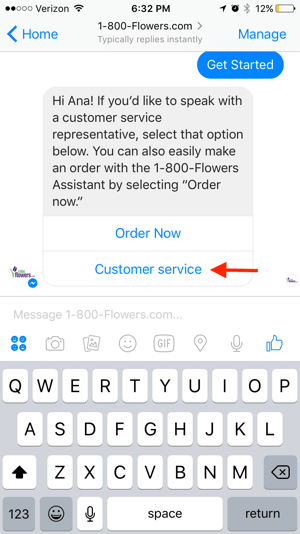 Let users know up front that they're working with an automated response system. You can't trick people into thinking they're talking to a real person, especially when it comes to customer service issues.
If you need personal information to verify a user's identity, direct that person to customer service via your website or a phone number. Asking for this information via Facebook Messenger is normally not a good idea for security reasons.
#3: Streamline Product Purchases
While no artificial intelligence can be as effective as a talented salesperson (at least not yet), chatbots that are designed to sell can help you boost sales and increase your profit. Use the chatbot to show customers the products they're looking for and process simple sales right in the Messenger app.
The 1-800-Flowers chatbot is designed primarily for selling, making it easy for consumers to order flowers through Messenger. The bot asks for the recipient's name, phone number, and delivery address. Then it prompts customers to choose what category of products they're looking for and displays relevant products.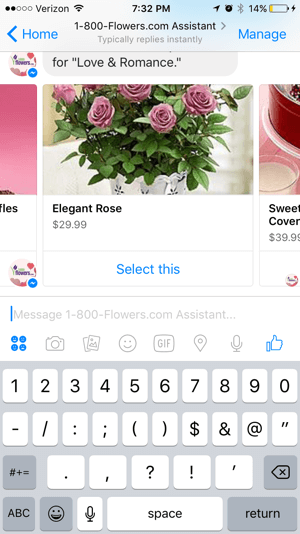 Once users select an item, the chatbot asks them to schedule the delivery and provide billing information. The process is simple and likely easier than trying to navigate a mobile site and check out on a smartphone.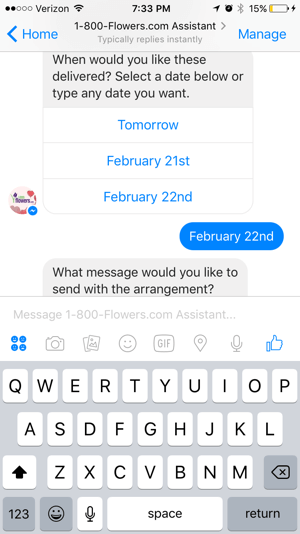 Here are some tips for creating a selling chatbot:
Make sure your chatbot can answer frequently asked product questions; this can help drive sales significantly.
Use a chatbot builder that allows you to accept payments through services like Stripe or PayPal. This functionality can generate more sales than just sending people to your mobile site.
Always ask "Did you want to look at anything else before you check out?" because users may be willing to look at and purchase add-on items.
#4: Cultivate Connections via Entertainment
If you want to build and nurture relationships with your customers, consider designing your chatbot simply to entertain them (assuming this approach fits with your brand). Users can opt to receive future messages from you, and you can send fun facts, games, and content meant purely to entertain them.
The Trivia Blast chatbot, for example, focuses only on entertainment. Once people send their first message, the chatbot will regularly send messages to them with game suggestions and calls to action to play them. Users can sort the trivia games by topic and some games even offer the option to "see how it works" or "challenge a friend," inviting more users to the chatbot.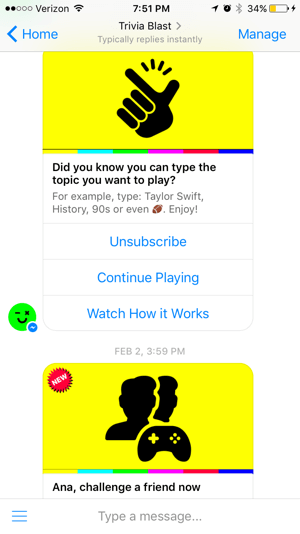 Keep these points in mind when building a chatbot to entertain users:
If you plan to reach out to users in the future, always ask users to opt into receiving new content; otherwise, you may have unhappy users on your hands.
Make sure all of your content is mobile-responsive.
Use lots of non-text media like videos and images. Your messages should be as dynamic as possible.
#5: Offer Specialized Services
Plenty of businesses have their own mobile apps that offer automated services, but you can take this a step further by creating chatbots that offer these services in the Messenger app itself.
RemitRadar's money transfer service is one of the best examples of this type of chatbot. Chatbot users can use automated services to send money, pay for international mobile while abroad, request exchange rates, and find other money transfer locations. All of these services are streamlined and easy to use.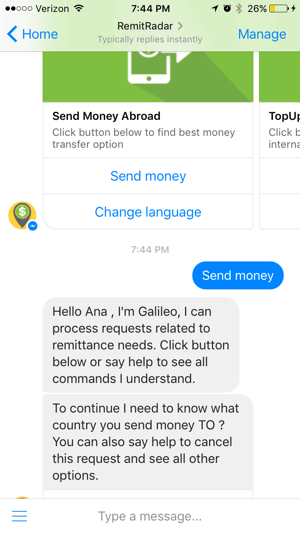 Keep these best practices in mind when creating this type of chatbot:
Provide preset, clickable menus to navigate your automated services. This will simplify the process and make it clear what services you offer.
For services your chatbot can't handle, refer people to the appropriate place on your site if possible.
Test services thoroughly on different types of devices before the chatbot goes live.
Final Thoughts
Facebook Messenger chatbots have soared in popularity among businesses. They can deliver automated responses to users who contact you through Messenger and are now being used for a wide array of purposes, including customer service and selling.
What do you think? Do you use Facebook Messenger chatbots for your business? Which types of chatbots have been most beneficial to you? Share your thoughts and knowledge in the comments below!